Written by Staff on August 13, 2017 – 4:40 pm -
There are some names in the Southern Gospel Music industry that are synonymous with Southern Gospel. One such name is Hinson.
Weston Hinson and his wife Christy, along with daughter Jordan and newest vocalist Logan Smith, currently carry on the family legacy left by the original Hinsons.
We recently caught up with the group. Their feedback is as follows …
Jimmy Reno: The original Hinsons were a legendary group in Southern Gospel and turned out numerous hits like "The Lighthouse," "Call Me Gone," "That I Could Still Go Free," and so many others. Does the Hinson Family follow in the same style of songs and arrangements, or do you feel your ministry is moving in a different musical direction of its own while still reaching back to the roots laid by the original Hinsons? 
Weston Hinson: I think it's important to draw from influences while at the same time be true to who you are, and I believe if my dad were alive he would tell me, "be yourself."
Reno: Kenny Hinson won numerous awards and impacted so many other artists with his voice and ministry, including myself. Growing up with your father achieving so much success in the Southern and Country Gospel genres, Weston, how soon did you know that your calling would also be in singing?
Weston: I think being in and around music and ministry my whole life, I may have looked over – or to be honest, didn't take being called seriously – until I reached my early 20s. It would be easy to see the success of my dad and assume his children would want to follow in that, but I wanted to make sure success and accolades were not the reason I followed the call of God on my life. I can assure you it's not why my dad followed the call either.
Tags:
Christy Hinson
,
gospel music
,
Hinson Family
,
Jordy Hinson
,
Logan Smith
,
Weston Hinson
Posted in
artists
,
Christian interest
,
sgn scoops magazine
|
Comments Off

on Catching up with the Hinson Family  
Written by Staff on February 13, 2017 – 3:47 pm -
By Erin Stevens [From the December 2016 issue of SGNScoops magazine]
A word from the writer…
Tis the season for yuletide cheer, fa la la la's and Grandma's famous cookies. But it's also time to give a little more and be a little sweeter. There's a young fellow I thought of when I was preparing for this Christmas edition. Not a kinder, sweeter, more down-to-earth guy came to mind than Logan Smith. You may already be a fan of his pipes, but perhaps there are some things you don't know about him…quite yet. With that said, let's jump right in!

Erin: For those that might not know your backstory, when did your love for music begin?
Logan: My parents and grandparents raised me on classic Southern Gospel groups such as The Happy Goodmans, The Hinsons, The Rambos and The Speers. I admired them all, but the Goodmans brought an excitement to the stage like I'd never seen before. They inspired me to start singing this incredible music that lifts and encourages. I've been hooked ever since!

Erin: It appears you have successfully bridged the gap from being "the boy who sings like Vestal" to the talented young man you are now who has come into his own. How have you accomplished this and was it a smooth transition?
Logan: It's been very smooth. It's an honor to carry on the legacy of such a dynamic vocalist. I'm enjoying mixing in new songs from such talented writers of our time today, and still throwing it back and singing Goodman classics every night! The music never gets old. The singers fade, but the message in these songs is timeless.
Tags:
Erin Stevens
,
gospel music
,
Hinson Family
,
Logan Smith
,
The Stevens Family
,
Vestal Goodman
Posted in
artists
,
sgn scoops magazine
|
Comments Off

on Younger Perspective on Logan Smith
Written by Staff on January 6, 2017 – 2:30 pm -
Caddo Mills, TX – The Hinson Family has welcomed renowned soloist Logan Smith to their ranks. Logan periodically filled in with the family throughout 2016 beginning in May when Christy Hinson, the soprano of the group, was diagnosed and underwent surgery and treatment for Thyroid Cancer.
"We began to see the versatility that we had with Logan in the mix and the many different ways that we can arrange harmonies having 4 people that have such wide ranges and can each hear and sing so many different parts!" – Weston Hinson, Lead Vocals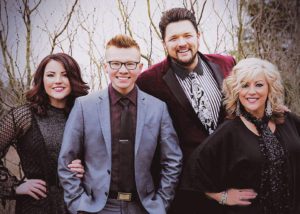 Logan will be joining The Family in the studio in the coming weeks to finish their latest recording with Song Garden Music Group. This project will be the group's sixth in their discography and first to include four vocalists since the 2009 release of "Home With You Tonight" when they were known as "Weston Hinson & By Faith."
"I am honored to be a part of a group and family with such a rich musical heritage! God has put together a dynamic ministry team here and we have such good chemistry together both on and off the stage. I am excited to see all the doors that God opens and where He takes us!" – Logan Smith
A memorable moment took place during a Christmas concert performed by the Hinson Family and Logan Smith at Community Church of Praise, Logan's home church in Stockbridge, Georgia. After a duet performance of the song "It Feels Like Christmas Again," written by Sheri Easter, Logan proposed to his girlfriend of six months, Jordan Honea of the Hinson Family … and she said yes!
"I am going to be inheriting a wonderful young man for a son-in-law and am so excited about seeing what the future holds for these two crazy love birds," said Weston, stepdad to Jordan.
In addition to his main role with The Hinson Family, Logan will continue his solo ministry and will honor his current scheduled solo appearances.
For more information on The Hinson Family click here.
For more Gospel music news click here.
Tags:
christian country
,
Christy Hinson
,
gospel music
,
Hinson Family
,
Jordy Hinson
,
Logan Smith
,
Weston Hinson
Posted in
announcements
,
artists
|
Comments Off

on THE HINSON FAMILY OFFICIALLY WELCOMES LOGAN SMITH
Written by SGN Scoops Staff on April 6, 2016 – 10:34 pm -
Coming soon…new music from The Hinson Family!! A 12 song cd of unplugged acoustic style records of timeless church classics like Sweet Hour of Prayer, It Is Well, In the Garden, Unclouded Day, and many others. Pre-Orders as well as audio previews will be made available soon!
Find Out More About The Hinson Family HERE
Tags:
Hinson Family
,
Southern Gospel News
Posted in
artists
|
Comments Off

on Hinson Family New Music Coming Soon
Written by Staff on January 16, 2016 – 12:07 pm -
I believe that anyone who has ever followed Southern Gospel music will recall the legendary family group, the Hinsons. Originally from California, the group consisted of siblings Ronny, Yvonne, Larry and Kenny. This dynamic group has remained a mentor and musical influence for countless artists. Songs such as "The Lighthouse" and "Call Me Gone," cannot be heard without the unforgettable Kenny Hinson crossing your mind. Kenny graduated to his heavenly reward July of 1995, at the young age of 41, after fighting a battle with cancer. Kenny not only left a wife and two children behind, but a legacy.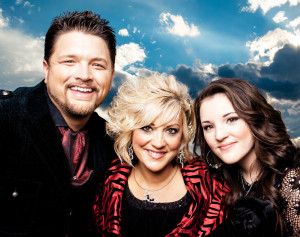 Picking up the mantle that has been left to him is Kenny's son, Weston Hinson. He began his singing adventures around age 12. Weston led worship for his youth group before his solo ministry commenced at age 20. In August of 2010, he and Christy hit the stages as a duo. They traveled under the name Weston and Christy Hinson for several years. Two years ago, they added Jordan and recently changed their name over to The Hinson Family.
"We first started the group as Weston Hinson and By Faith with Christy's mom and step-dad. We released an album titled Home With You Tonight under that name," Weston tells us. "Christy and I then decided to go full time in August of 2010 as Weston and Christy Hinson. We released three albums under that name, one of which contained songs that my father did, Tribute to the Original Hinsons. Then in April of 2013, our daughter Jordan joined the group, prompting a final name change to The Hinson Family a short time later." This trio won the Artist Spotlight Showcase on Wednesday at the recent National Quartet Convention, granting them an appearance on main stage later that evening. These talented vocalists rightly deserved the win. Read more »
Tags:
gospel music
,
Hinson Family
,
Kenny Hinson
Posted in
artists
,
sgn scoops magazine
,
special feature
|
Comments Off

on The Hinson Family: Creating Their Own Legacy
Written by Staff on September 25, 2015 – 6:56 am -
SGN Scoops was thrilled to be a part of the second annual Gerald Crabb Gospel Music Fest held in the North Georgia Trade and Convention Center this
past July. From Wednesday, July 8, through Sunday, July 12, fans were treated to great music, amazing vocalists, uplifting worship and wonderful fellowship.
The Gospel Fest started with a bang as many of the artists gathered at Heritage Park in Dalton, Georgia, on Wednesday night for a Crabb cookout, prepared and served by Alisa Asbury and her family. Some of the musicians got out their guitars and had a Gospel jam session. What a great time of singing!
The evening concerts of the Gospel Music Fest were a delight for audience and artist alike. Host of the weekend, Gerald Crabb, welcomed various family members to the stage. His daughter Terah Crabb Penhollow appeared, along with Adam, Jason, and Jason's daughters Ashleigh and Emma
Crabb.
Tags:
Adam Crabb
,
brian free and assurance
,
Christian Music
,
Freemans
,
gerald crabb
,
Hinson Family
,
Jason Crabb
,
southern gospel
,
Terah Crabb Penhollow
,
wilburn and wilburn
Posted in
announcements
,
artists
,
christian entertainment
,
Christian interest
,
gospel events
|
Comments Off

on Gerald Crabb Gospel Music Fest hosts Jason Crabb, Adam Crabb and more