Written by Staff on August 4, 2020 – 11:05 am -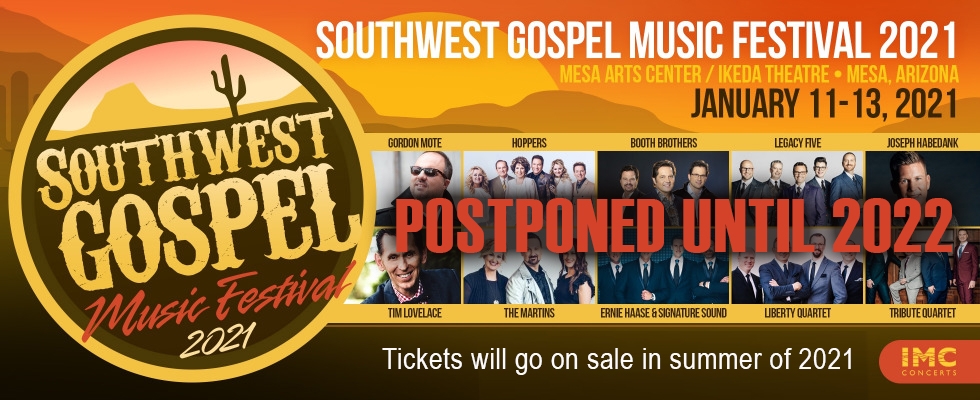 Johnson City, TN – In compliance with local and state mandates and recommendations limiting public gatherings due to COVID-19, IMC Concerts has announced plans to postpone the 2021 Southwest Gospel Music Festival, originally scheduled for January 11-13 in Phoenix, AZ.
"We are deeply saddened by having to postpone the SWGMF until 2022," IMC President, Landon Beene states. "It was a very difficult decision, but our team has been closely following updates by the CDC, as well as the local officials in the greater Phoenix area, and we felt this was the best decision to make at this time."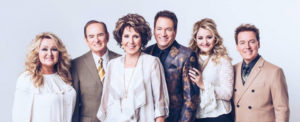 According to Beene, the postponement was made in the best interest of the event attendees, as well as the artists featured at the event.
"The health and well-being of our patrons is of the utmost importance. At this time, unfortunately, we are not able to provide a definite date as to when to expect things to be back to normal, which puts us in a challenging position."
Although a definite date is not being announced at this time, the new date is tentatively set for January 13-15, 2022.
"This is the date we are hoping to be able to make happen," Beene continues, "and we plan to offer the same wonderful line-up of artists that we had scheduled for the 2021 event."
Beene also states that all ticket holders from the 2020 event will be contacted directly by IMC representatives and will have the first option to renew their same seats once the event goes on sale in the summer of 2021.
"Unfortunately, the capacity restrictions in place make it impossible for us to plan, promote and host our event in January, 2021. With that said, we WILL RETURN, and we are already looking forward to this event in 2022. Our prayers are with the artists and the great fans of Gospel Music during these difficult and unprecedented times."
Did you know that you can receive the printed, full-color version of SGNScoops Magazine by subscription? Find out more 
HERE
.
Find SGNScoops Magazine On Facebook 
HERE.
You can download the latest edition of SGNScoops Magazine 
HERE.
Read the latest edition of SGNScoops Magazine online
HERE
.
Listen To Today's Gospel Music
HERE
Tags:
2021 Southwest Gospel Music Festival
,
gospel music
,
hoppers
,
imc concerts
,
legacy five
,
Southern Gospel Music
Posted in
announcements
,
artists
|
Comments Off

on IMC CONCERTS ANNOUNCES POSTPONEMENT OF SOUTHWEST GOSPEL MUSIC FESTIVAL
Written by Staff on March 15, 2016 – 11:27 am -
Johnson City, TN – The successful promotions company, IMC Concerts, has announced plans for the addition of several of Southern Gospel Music's most popular and talented recording artists to be featured during the 2016 Texas Gospel Music Festival. The event will take place November 4 & 5, 2016 at the McGorman Performing Arts Center in Ft. Worth, TX.
In the past, the event has featured the Cathedrals Family Reunion. This year's Texas Gospel Music Festival will again feature the Reunion with Legacy Five, Greater Vision and Ernie Haase & Signature Sound, as well as the Mark Trammell Quartet. The Cathedrals Family Reunion will serve as the finale for the weekend.
Additionally, the weekend will highlight The Booth Brothers, The Collingsworth Family, The Erwins, Mark Lowry and brand new trio Cana's Voice, featuring TaRanda Greene, Doug Anderson and Jody McBrayer. "We are very excited about the additions we have made to the Texas Gospel Music Festival," IMC President, Landon Beene, states. "Texas boasts a rich gospel music tradition. It is where many  gospel music legends got their start, including long-time Cathedral Quartet member Glen Payne, who called Rockwall, TX, home. We are very excited about what we believe will become another rich Texas gospel music tradition."
For those attending the weekend, IMC has created a number of lodging packages that will feature special activities with several of the artists featured on this event. "After a great night of music, there is nothing better than being able to go back to hotel and enjoy great fellowship with other event attendees and some of the artists featured on the program," Beene explains. "We are planning some very special activities for those who take advantage of the special lodging packages we are creating. This will be a really fun opportunity for those out of town guests who will be attending."
According to Beene, accommodations have been made for current ticket holders who have already purchased tickets for the 2016 event. "Revamping this event is something we believe will have a very positive impact. Current ticket holders who would like to make any changes to their reservations or upgrade their seats before tickets go on sale to the general public will have the opportunity to do so. IMC representatives will be available to assist. Current ticket holders may call
800.965.9324
to obtain assistance or any information."
Make plans now to be a part of the 2016 Texas Gospel Music Festival. Complete information, including lodging packages for this exciting weekend, is available at 
www.imcconcerts.com
.
Tags:
Cathedral Family Reunion
,
Ernie Haase & Signature Sound
,
Greater Vision
,
imc concerts
,
Legacy 5
Posted in
announcements
,
artists
|
Comments Off

on CATHEDRAL FAMILY REUNION AT SALUTE TO TEXAS GOSPEL MUSIC FESTIVAL
Written by SGN Scoops Staff on January 26, 2016 – 10:36 am -
Johnson City, TN – One of Christian Music's leading concert promoters, IMC Concerts will host the Wisconsin Gospel Music Festival during the weekend of May 27 & 28. The event is the first of its kind in Wisconsin and will take place at the beautiful and intimate Crystal Grand Music Theatre in picturesque Wisconsin Dells, WI.
The event will feature several of Southern Gospel Music's most popular recording artists. "We are thrilled to present this exciting event in this beautiful city that lies on the Wisconsin River," states Landon Beene, President of IMC Concerts. "This is the only multi-day gospel music event in this region of the country. There are many gospel music fans in the region. The music that will be featured at this event, paired with a wonderful vacation destination such as the Dells, offers fans a GREAT reason to pack up the car and head to this beautiful town to enjoy a great Memorial Day Weekend filled with gospel music." Wisconsin Dells features numerous theme parks and entertainment centers, as well as Mirror Lake State Park, making the area a wonderful destination with enjoyable activities for the entire family.
This exceptional two-day Gospel Music event will feature daily and nightly concerts during three great sessions. "We believe we have put together an exceptional slate of artists for this event," states IMC President, Landon Beene. "We have the entire spectrum covered with musical variety."
Popular comedian Ken Davis will be featured, as well as award -winning recording artists Ernie Haase & Signature Sound, Legacy Five, The Jim Brady Trio, The Browns, The Ball Brothers and recently organized vocal group, Cana's Voice, featuring TaRanda Greene, Doug Anderson and Jody McBrayer.
This two-day, three-session festival will feature a 
7:00 PM
 concert 
on Friday
 evening, as well as 
Saturday
 sessions at 
2:00 PM and 7:00 PM
. Festival package ticket prices are inclusive for all sessions. Tickets may also be purchased for individual sessions. A complete schedule of artists is available at 
www.imcconcerts.com
. The Wisconsin Gospel Music Festival promises to be one to remember. Tickets are on sale now and good seats are still available and may be purchased by calling 
877-392-9710
.
This event will be one the entire family will enjoy. Plan to join many of Southern Gospel Music's most popular singers and musicians at the Crystal Grand Music Theatre, located at 560 Wisconsin Dells Parkway in Wisconsin Dells, WI, during Memorial Day weekend,  
May 27 & 28
, as the Wisconsin Gospel Music Festival comes to The Dells, WI.
Tags:
imc concerts
,
Southern Gospel News
Posted in
announcements
|
Comments Off

on IMC CONCERTS BRINGS GOSPEL MUSIC FESTIVAL TO WISCONSIN
Written by SGN Scoops Staff on August 3, 2015 – 9:51 am -
Johnson City, TN – Southern Gospel Music lovers will have a brand new option for cruising on the high seas in 2016. IMC Concerts has announced plans for the Gospel Music Celebration to set sail along the Mexican Riviera. IMC first offered this option to Southern Gospel Music lovers in 2010 and after a tremendous demand to return, IMC will once again offer this Mexican adventure. "The very first cruise IMC ever hosted was to the Mexican Riviera back in 2010," states IMC Concerts President, Landon Beene. "The Gospel Music Celebration Caribbean Cruise sold out in record time this year, after only four months, and with the growing fan base of Gospel Music lovers on the West Coast, we decided that 2016 would be the perfect time to offer this wonderful cruise, sailing in the Pacific, along the western coast of Mexico."
The GMC Mexican Riviera Cruise will set sale from beautiful San Diego, CA, with stops in such picturesque destinations as Mazatlan, Puerto Vallarta and Cabo San Lucas. "San Diego is an exceptional port for departure," Beene explains. "It is conveniently located for those driving to the port, with economical parking. Additionally, there is great pricing for flights and a variety of options for those choosing to fly."
IMC has announced that for the first time ever, Ernie Haase & Signature Sound will be among the popular groups featured on the this Gospel Music Celebration. "This is the first time Ernie and Signature Sound have been a part of a GMC Cruise, and we are thrilled to have them for this great event," Beene states. Other newcomers to the GMC Cruise to Mexico will be popular Inspirational Christian recording artist Jody McBrayer, and popular comedian, Tim Lovelace. Jody garnered more than two dozen #1 hits during his time with popular recording artist, Avalon, while Tim became a favorite among Southern Gospel Music lovers during his years with The Florida Boys and The Kingsmen. Tim is now the host of the popular Music City Show, which airs weekly on RFD TV.
The 2016 GMC Mexican Riviera Cruise will also feature many of the same artists who are regularly featured on GMC Cruises, including The Booth Brothers, Legacy Five, TaRanda Greene, The Liberty Quartet and pianist Trey Ivey. Many special musical extravaganzas will be featured throughout the seven-day Celebration. "We promise that there will be lots of fun surprises throughout the week," Beene says. "The Booth Brothers and Signature Sound will merge together to present the Brotherhood program. Also, since Cathedral Quartet alumni Scott Fowler and Ernie Haase will be on board the ship, they will pull members of their respective groups together to sing some of the hits The Cathedrals made popular during the 1990s. There is always lots of antics and fun when Tim Lovelace is around, so who knows what will happen when he gets all the groups together and they start sharing funny stories from the road. This will be a week that Southern Gospel Music lovers and long time fans will not want to miss."
 The GMC Mexican Riviera Cruise will set sail
November 12-19, 2016
and reservations will be accepted beginning at 9:00am (Pacific) on Monday, August 3. Inspiration Cruises, the leader in Christian Cruises and Tours since 1981, will be coordinating the reservations.  To obtain complete information call
888-245-4284
or visit
www.GospelMusicCelebration.com
.
Tags:
imc concerts
,
southern gospel concerts
,
Southern Gospel News
Posted in
announcements
|
Comments Off

on IMC CONCERTS ANNOUNCES GOSPEL MUSIC CELEBRATION CRUISE SAILING TO MEXICAN RIVIERA IN 2016
Written by Staff on December 19, 2014 – 12:28 pm -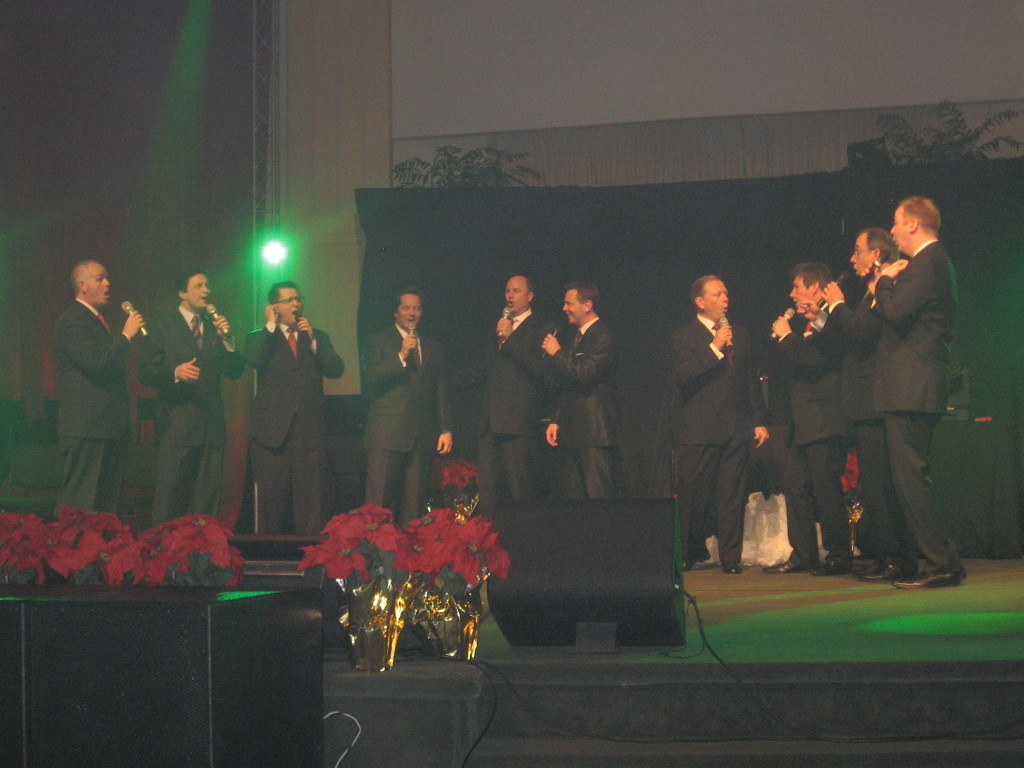 The Jubilee artists were recently in Ontario, Canada to present a Jubilee Christmas and SGM Radio caught up with them to talk about everyone's favorite, Christmas vacation.
[Editor's note: See below for link to the Jubilee Christmas concert review.]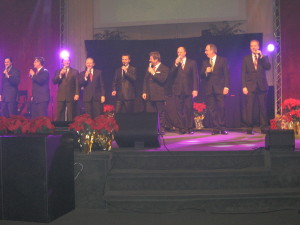 IMC Concerts and Greater Vision, Booth Brothers and Legacy Five bring the Jubilee series to many States throughout the year, as well as performing a special Christmas series in December. Gerald Wolfe who does most of the emcee work for the Jubilee presentation, is looking forward to having some time off from the stage work. "By the time I get home, our house will be in full Christmas mode, probably have a half-dozen trees up. We go out and run around, look at lights, go to the mall, eat, do what everybody else does. Then right after Christmas week, we get right back on the road. I'm looking forward to it though, I'm looking forward to putting my feet up!"
Wolfe is not the only one looking for a bit of rest. Fellow Greater Vision singer, Chris Allman says, "I look forward to relaxing, but that usually doesn't happen. Because we are out here so much, when I get home there is a lot that my wife wants me to do. Then I will be just hanging out with the family. I always take my wife and my two daughters who still live at home (my two sons are married), to a city like Atlanta or Cincinnati and we shop for a couple of days. We like to go to big cities to get away. So when I'm away, I'm on the road, and when I get back home, I'm on the road! But it's just different when you are with your family." Allman adds, "And this year of course my grandkids are going to be with us. My two grandbabies are going to spend Christmas Eve and Christmas Day with us. So Santa is going to come to see them at our house, so that's going to be fun."
Rodney Griffin is looking for to a couple of celebrations once he gets off the Greater Vision bus. "I'm looking forward to seeing my wife and two daughters. The day after we get home is my wife's and my 20th anniversary. So that will be a fun day. I've got her a gift kind of hidden away. I hope she doesn't find it!" (Note: Rodney told us where but we aren't saying!) Griffin continues, "A couple of years ago we moved back to Kentucky where we are from. My mom and dad are there as well as my wife's mom. I look forward to home cooking from my mom. She cooks as often as we will come over! We love that."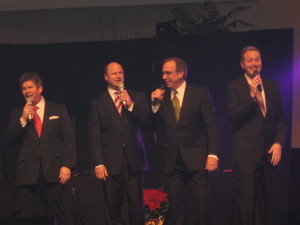 Legacy Five's Matt Fouch comments, "This Jubilee stretch is 12 days and last year was 17 days. So we got five days less this year, so that's good. I look forward to doing what everyone else does at Christmas: spending time with the family, especially after having been gone for 12 days. I get to see my little boy and my wife. I look forward to just relaxing and getting to go see our extended family." The other Legacy Five members may need some rest, but Scott Howard isn't planning on going home to put his feet up; at least, not for his entire vacation. "We finish on the 15th in Chattanooga and I will get home the morning of the 16th. My family will already be out of town for our little Christmas get-together. My son and I will catch up with them in Texas. We are doing a big deer-hunt down in south Texas. We'll get back home around Christmas Eve and spend a few days there and then start in on the New Year's sing. It's right around the corner…it's amazing how quickly it's gotten here."
With the New Year swiftly approaching, we asked the guys about their New Year's Resolutions. Trey Ivey intends to keep abstaining from soda pop, and Scott Fowler intends to stop making New Year's Resolutions! Scott Howard says, "I'm not a good resolution maker because I'm not a good resolution keeper. I think my resolution will be to try to be healthier in 2015. I have discovered that the older I get, the faster my health deteriorates." He laughs and continues, "So I think that is going to be a resolution of mine; to eat a little bit healthier, live a healthier lifestyle, work out a little bit more, try to be not quite so fat and happy as in 2014." Howard smiles and says, "Well, I still want to be happy, just less of the fat and more of the happy!"
IMC's Landon Beene comments, "I say 'lose weight' every year, but this year it needs to be a reality. And to find a nice balance of being at home and spending time with my babies, and doing more of what I love and less of what I don't." Matt Fouch remarks, "It's too early! I still have a month or so before I have to decide that. We do a New Year's Eve thing at the Opryland Hotel so I try to hold all of my resolutions off until after that because the food they have in the green room is awesome. So any type of diet or food resolutions, I try to hold off on until after that event."
Gerald Wolfe is not a Resolution maker. "I don't make them because I'm no good at keeping them. My New Year's Resolution, this coming year, is to eat. That's the only one I can keep!" Chris Allman says he wants to keep his weight off. Rodney Griffin comments, "I want to draw closer to the Lord. I want to read my Bible more intently. I try to read it through every year but I don't want it to become mechanical. I want the Lord to speak to me next year, give me songs He wants me to write, to live for Him and be a blessing to someone."
It seems that Michael Booth is also on a health-kick for his New Year's Resolution. "It's pretty much just my health, to exercise and have a little better diet. I'm 43 now and that is still young, but I'm feeling the miles more than I used to. And I can feel it in my voice too. If you want to sing well into your sixties, you need to be really careful and eat right. And you know, God says it's a temple. I've ignored that because it's hard to do on the road. This is the hardest part of the day [following the evening concert] because I'm starving, and we will soon be going to bed. If you eat wrong then you get acid reflux and all that stuff. It's really challenging."
Ronnie Booth is working on his spiritual health for the New Year. "Keep walking closer, staying more in the Word and being more obedient. True success in life is doing the will of God."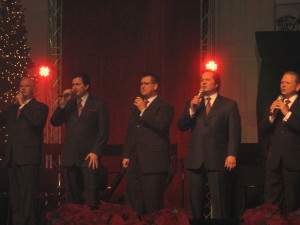 We also asked some of the men what they foresee for the coming year and whether there were any changes ahead. Scott Fowler comments, "The older I get, the more I don't like change. I hope there are no changes on the horizon. When things are going well, I like for them just to stay put. I'm hoping things will just stay as they are and life is good." He says there won't be a new Legacy Five release for a little while. "We are still kind of enjoying our latest recording which is Great Day, and we've had two radio singles off of that so far. We will start recording again in 2015, but nothing in the next couple of months." Scott Howard echoes Fowler's remarks when he says, "I don't know of anything I would predict. There's always change and the older I get, the less I like it. I don't really plan for change but I've grown to kind of accept it. I don't foresee anything changing. Our group will still be out doing our thing, unless the Lord tells us something different. I feel like we are doing what we are supposed to be doing now. I tell people all the time that it is subject to change. Sometimes God will steer you in a different direction, for whatever reason. I don't foresee that, but I never know. So I just wait and see what happens."
The Legacy Five men are looking forward to their New Year's Concert and Fowler is also looking forward to his family's New Year's celebrations. "We usually spend New Years Eve at our event in Nashville, Tennessee. We have a three-day event at the Opryland Hotel. 12-million Christmas lights are up, 12 life-sized nativity scenes, and it's just a lot of fun. When the hustle and bustle of that is over, we'll have a delayed New Year's party and celebration dinner at my in-laws. They are of Norwegian descent, so they have some Norwegian dishes they prepare for us, so it's a lot of fun to taste that culture."
Gerald Wolfe is looking forward to the New Year, though maybe not so much any of the inevitable alterations that life brings. "There's always change. That's the only certainty in life. We are releasing a new album in March, the first major one we've released in two years. Also, we are now getting into our 25th year, so all of 2015 will be leading up to our 25th anniversary. So we will do some special events along the way, we are giving away a cruise to the Caribbean, all kinds of special stuff like that!"
In 2015, Chris Allman is looking forward working on his personal projects and with Greater Vision. "There are different goals that I have. I enjoy producing. I'm producing a group right now called The Wrights from Kansas; we just did tracks with them. I'm very excited about what is happening there. They have a great CD that is going to be released next year. I'd like to produce some more groups and do several more of those during the year. So we'll try to get that underway." He continues, "We have a new project coming out in 2015; it's already in the can as they would say. It's already mixed and ready for release. It has some new songs I've written and some new ones that Rodney's written." Allman notes, "This past year was the busiest we have ever been. Ever, ever, ever. It's good and bad. It's good because there is a demand, and bad because it wears you out. You have to have a balance and this year we got close to crossing that balance. So we are getting pretty tired here at the end of the year. We are still enjoying it though."
Rodney Griffin is looking a little closer to home for changes in the New Year. "The biggest news in the Griffin household for 2015 will be if we get a dog. We had two family dogs and both of them lived about 19 years, and we lost both of them this year. It was a tough 'dog year' at our house as both of them had lived the extent of their lives."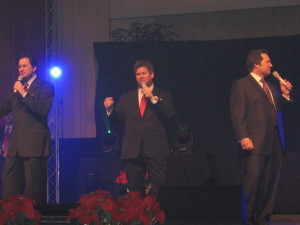 Legacy Five's Matt Fouch is excited about an unusual trip that they will be making in the fall. "In 2015, Legacy Five is going to Israel! We are doing a Holy Land trip and that is exciting and something new for me; I have not done that before. As you hear from other people who have gone there before, it's one of those things that is an experience of a lifetime especially for Christians, because you get to see with your eyes and walk the places, physically, that you read about in the Bible. I am looking forward to that and I know most of the guys in the group are looking forward to it as well. We are going in October 2015, so I have a little time to wait, but that is one of the things I am most excited about in the New Year."
Fouch says the unrest in the Middle East doesn't worry him, when it comes to the Israel trip and personal safety. "Scott went there with Dr. Charles Stanley and In Touch, as well as Greater Vision. Scott wanted to check it out and he was there when the fighting was at its peak. He said that he never heard anything, or saw anything, because it was taking place in a different part of the country. He said that with all the different religions of the people that lived in that area, everyone was peaceful. I think it's a thing where everyone understands that this is a tourist area, so they stay away from it. Scott said there were no problems, no issues with security, so we are not really concerned about that at all."
A Social Media interview guru; Matt plans to continue his On The Couch With Fouch in 2015. "I love doing it. For those who are reading, one of the really unique things about the interview series is that the audience gets to ask the questions! It's Social Media driven. So if you are reading this, you are probably on the Internet, or on Facebook. I read a statistic that about 70 or 80% of Americans have a Facebook account. So I put out there whom I am interviewing and you guys get to tell me the questions. I ask the questions you guys want me to ask. That's what makes it so unique. So if you want to follow me on Facebook, you can go to Matthew Fouch – Bass Singer, or if you are on Twitter you can follow me @L5bass. When I do have upcoming interviews you guys can let me know what you want to know!"
With a big smile, Fouch adds: "I love Legacy Five, I love being here, and everything is going wonderfully. I've been here for over two years now. September 2012 was my first date with the group. It fit like a glove from the beginning. They made me feel very comfortable. I guess they don't have a problem with me because they haven't run me off yet!"
We hope you have enjoyed these insights into the lives and hearts of the men from the Jubilee series and Jubilee Christmas. To read the concert review on Jubilee Christmas, visit https://www.sgnscoops.com/2014/12/11/jubilee-christmas/
For more information on the following groups, visit their websites:
IMC Concerts   http://www.imcconcerts.com/
Greater Vision   http://www.greatervisionmusic.com/
Booth Brothers   http://boothbrothers.com/
Legacy Five   http://www.legacyfive.com/
Find them on Facebook and Twitter too
First published on SGM Radio website in December 2014
For more artist features, visit SGM Radio today! Click on the button to listen to Gospel music 24 hours a day, seven days a week.
Tags:
booth brothers
,
Chris Allman
,
Gerald Wolfe
,
Greater Vision
,
Gus Gaches
,
imc concerts
,
Jim Brady
,
Jubilee Christmas
,
Landon Beene
,
legacy five
,
Matt Fouch
,
Michael booth
,
Rodney Griffin
,
Ronnie Booth
,
Scott Fowler
,
Scott Howard
,
Trey Ivey
Posted in
artists
,
SGM Radio
|
Comments Off

on Jubilee Artists Look Forward To Christmas and 2015  
Written by SGN Scoops Staff on December 9, 2013 – 3:27 pm -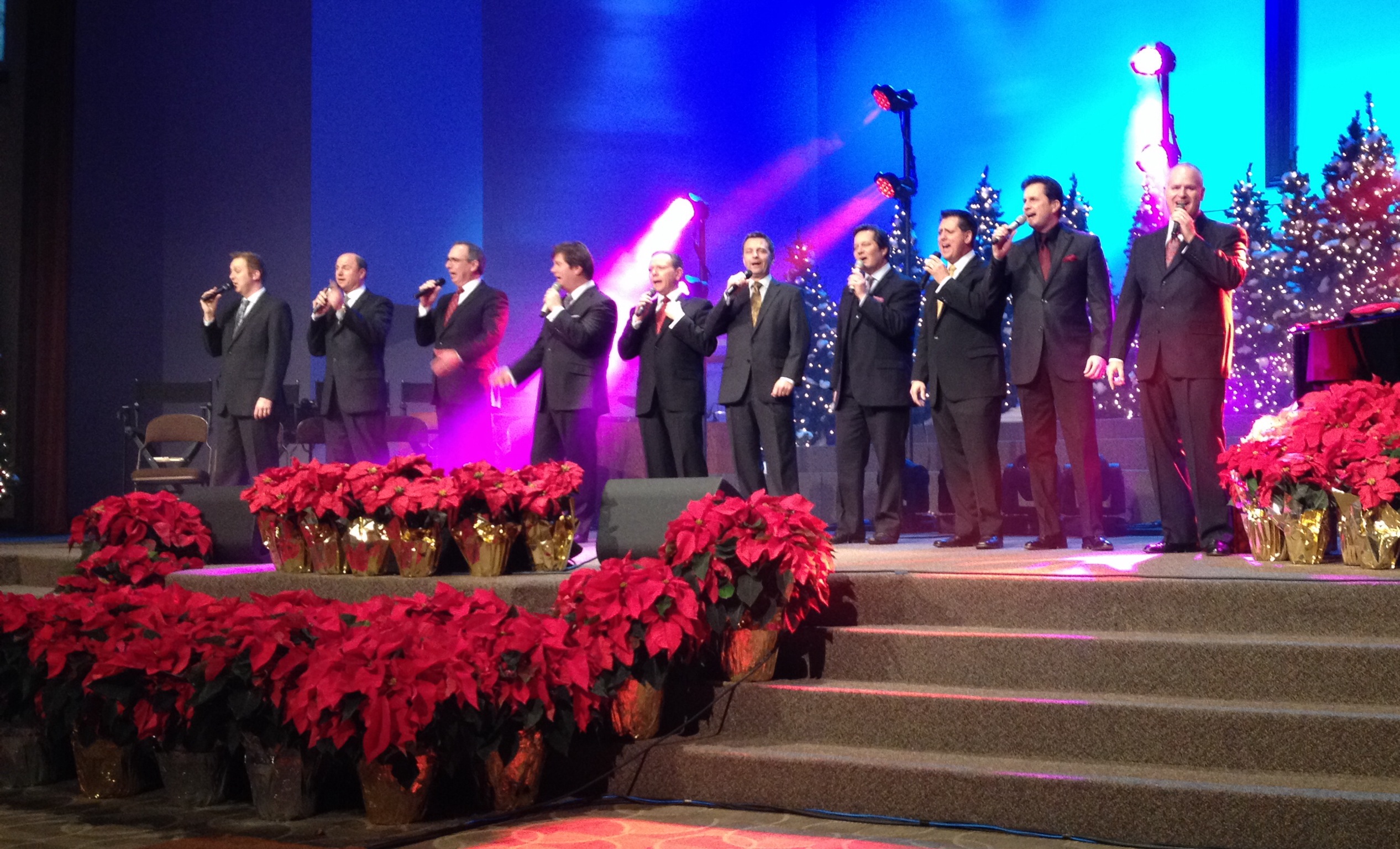 I haven't yet seen a review on a Christmas Jubilee, and so I thought I'd give one so anyone who may be
on the fence to spend the money for tickets to this event can have some more information.
I got to catch the 10th promoted by IMC Concerts in Sacramento, which is about 100 miles from my home. But hey, with these three high-powered groups, I convinced myself that it had to be a good concert.
First, let me preface everything I'm about to say with this statement: I've never been a "Jubilee" fan.
Really!!! Don't get me wrong. I was one of the two original Greater Vision fans out here in CA that
helped convince them and a promoter get GV to come out to the west coast. Legacy Five has been my
wife's favorite group since they began, and I love their music in addition to being good friends with the
band. And I've been a huge fan of the Booth Brothers ever since I heard them sing "This Love is Mine",
and that love for their music hasn't ever diminished. That said, the Jubilee CDs have never been my cup
of tea. The CDs I have and the concerts I saw were good, but for me were just not up to the level of each
group's individual efforts in the studio or on stage. Yes, I'm a pretty critical guy when it comes to music, but that's who I am and always will be.
I say all this above to point out that I went into the concert very skeptical of what I would get. I was
literally thinking as I found my seat before the concert, "Ok, Gerald, let's see what you've got."
And Gerald and the gang "knocked it out of the park"! The Christmas "Magic" really made this concert a
special event – one that's now probably in my Top 10, maybe Top 5 concerts of all time. And I've been to
A LOT of concerts.
They started out singing altogether with a Carol Medley, and it was followed by some new Christmas
music. Hearing this introduction of music really got me in the mood for the rest of the concert, a
concert of classic Christmas songs as well as new Christmas songs. Here are some of the highlights of the
concert:
Our Twelve Day of Christmas: Gerald introduced this song right by saying that most people can't stand
the song because it's so long and monotonous. So they re-wrote it! And believe me, this song was the
most fun of the night. They really sold the new lyrics, and the accompanying screen graphics made the
song really go over (hat tip to Ben Wolfe).
Carol of the Bells: This was performed acappella and was THE highlight of the night. If all you do is pay for your ticket, sit down for this song, and then walk out, you got your money's worth. The arrangement was just amazing, and by the time they hit the end, it was a feeling of euphoria all over the building. Just amazing. It was that moment you go to a concert to see/hear, and I'll never forget it.
Christmas Jubilee, as they said from stage, on Sunday December 8th
Oh Holy Night: Here's where I expected Gerald to take it. Instead, they went with the Legacy 5
arrangement of this song (my personal favorite arrangement). It started with Trey Ivey playing on the
piano, then Legacy 5 singing the 2nd right before intermission. Another "moment". It's rare to get two of these in a concert, much less the first half.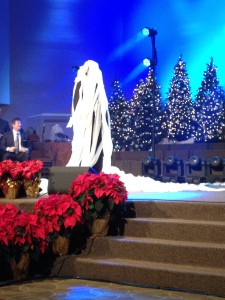 White Christmas: This is usually a great song on its own. But it's also a time when Scott Howard
introduces the audience to his Redneck Snowblower. All I can say is that I've never laughed that hard in
the middle of any Christmas song. And my 6 year old son will probably never stop talking about it. Some
people say they're "gonna make it rain". Well, Howie can now say he's "gonna make it snow."
Celebrating Christmas: Ronnie Booth did his Elvis thing to this old Carmen song, and he did it perfectly.
But what really made it great was the "Sweet Inspirations" backing him up. Michael, Rodney, and Howie – nuff said.
Finale: This wasn't one of those bring the house down finales. They took the last cut from the Cathedrals
A'Capella Christmas album in the 1980s and sang that as a benediction, if you will. It was beautiful and
completely preserved the "Magic" and overall precious feeling of the Christmas concert.
There were other highlights, such as Rodney's "special instrument", Michael Booth's crazy antics as well
as his down-to-earth message to the audience, and Gus Gaches and Chris Allman doing incredible on
their solo songs. I really liked when Trey did his "Classical Christmas" song, where he takes a Christmas
carol and mixes it with a "Sonata" (you may have seen something similar in a Legacy5 concert). I really
enjoyed how the Jubilee gang responded in very comical manner. Gerald and Howie's back-and-forth
was hilarious during and after Trey's song. I can't describe it – you just have to see it to appreciate it.After three hours of incredible music, I could say that my cup was overflowing. The guys didn't need to come off the stage and spend an hour meeting with the folks after the last song – the folks already loved them by the time we said Amen. But they stuck around anyway talking to countless people, and that's
one of the reasons I love this music so much. You won't see Demi Lavato or Tim McGraw doing anything
like that. I love the "family" feeling of Southern Gospel Music.
Like I said above, this is one of my all-time favorite concerts. If you're on the fence about checking this event out, stop wrestling with the decision. GO! And if you're not interested at all and just happen to read this, GO! If you're fan of Southern Gospel music, Christmas music, or music, GO! Don't make a
mistake of missing this event. Here's hoping they do it again next year!
Tags:
booth brothers
,
Chris Henry
,
Christmas Jubilee 2013
,
Greater Vision
,
imc concerts
,
Legacy 5
,
southern gospel
,
Southern Gospel Concert
,
White Christmas
Posted in
exclusive report
|
Comments Off

on Christmas Jubilee 2013 Review By Chris Henry
Written by SGN Scoops on February 8, 2012 – 2:24 pm -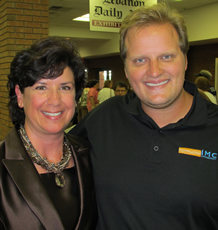 Nashville, TN – February 8, 2012 – IMC Concerts/Innovative Management, LLC announced today that it has completed its acquisition of Garden Spot Promotions adding the legendary company to it's concert promotions business. Although Garden Spot Promotions is changing ownership, the name will stay the same.
Landon Beene, CEO, states: "Twila Rohrer has built a history of excellence in concert promotion with Garden Spot Promotions and we honor that in keeping the name. We are looking forward to carrying on the vision and wonderful tradition of Gospel music in Pennsylvania."
Nathan Goble, managing partner, comments: "It is with great excitement and great responsibility that we step into Twila's shoes as owners of Garden Spot Promotions. The leadership of Twila is an inspiration to us as we continue this legacy."
Garden Spot Promotions was founded in 1969 by Richard "Dick" and Mary Carpenter out of a love of Gospel music. The company transferred ownership to Twila Rohrer on January 1, 2004. Twila's involvement with the company started as she volunteered at concerts. Twila casually mentioned that she would be interested in buying the business from Mary if she ever decided to retire. In Mary's words "Twila attended concerts and asked to help. She later said if I ever retired, she would be interested in taking over. Of all the people who wanted to buy Garden Spot Promotions, I found Twila was the best for the job." The tradition of excellence continues with the transfer of ownership to Landon Beene and Nathan Goble of IMC Concerts / Innovative Management.
Twila Rohrer comments: "I am delighted and honored that Landon Beene and Nathan Goble have taken on the leadership of Garden Spot Promotions. As I ponder the journey that I have taken during the past eight years, I recall many exhilarating moments and wonderful memories. It has been a privilege to work with the artists, develop lifetime friendships and to promote the greatest music on earth. Thank you to everyone who has ever volunteered and worked with us. A very special thanks to my husband, Dale, and my children, Christy, Hillary, Dresdon and son-in-law Neil Hershey for all the work through the years – I am very proud of them. Please continue to pray for Landon, Nathan and their staff. I also ask you to pray for the success of the mission to continue to bring the message of salvation through our Lord and Savior, Jesus Christ.
Connect with Garden Spot Promotions through their brand-new website at www.gardenspotpromotions.com, on Facebook.com/GardenSpotPromotions and Twitter.com/GardenSpotPromo. For more information, call 423-239-6262
Tags:
garden spot promotions
,
imc concerts
,
Southern Gospel News
,
twila rohrer
Posted in
announcements
|
Comments Off

on GARDEN SPOT PROMOTIONS AQUIRED BY IMC CONCERTS / INNOVATIVE MANAGEMENT, LLC