Written by Staff on November 14, 2018 – 6:58 am -
Chapel Valley is pleased to announce a new addition to their Sanctuary label. Meadow Lane is a Southern gospel trio from Cleveland, Tennessee consisting of three members of the Epperson family: Jeremy, his daughter Anais (20) and his son, Bryson (18).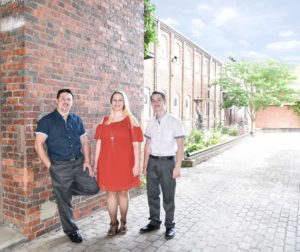 Jeremy recalls sitting next to his grandmother at just three years old, watching her put on her makeup on the way to the concert while she taught him to harmonize with the music from their family group, the Singing Echoes. Les Beasley put him on stage to sing at a concert when he was just five years old. When he started kindergarten, his mom came off the road and he went to school, but his concerts continued from the front yard. Neighbors would go outside to water flowers in the morning on Saturday and hear he and his brothers singing. They would go back out in the afternoon and the concert would still be going on. Now, they've passed that down to their families. Anais started singing before she could talk and even got a paddling her second week in kindergarten for singing in class.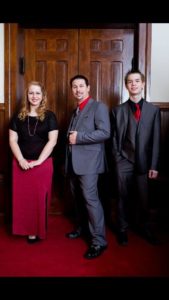 Jeremy traveled with the Singing Echoes for over 20 years, singing every part from bass to tenor, playing multiple instruments, and writing a number of favorite Singing Echoes songs. In February of 2014, Jeremy stepped down and shortly after, he and his two children formed Meadow Lane. The trio has toured several states and performed at many churches and prestigious venues across the country.
Shane Roark said, "We were impressed with this family from our first meeting. Jeremy's history in the music ministry is well-rooted, and Anais and Bryson have grown up immersed in the music they sing. They sing from their hearts. We're looking forward to producing some incredible albums together." Meadow Lane is inspired to take their calling seriously and continue to take the songs on their hearts to the places the Lord sends them. They're excited about joining the Chapel Valley family.
Meadow Lane's current radio single, "I Want to be Singing" from their album entitled "Blood, Grace, and Tears" is climbing the charts. Meadow Lane is working on song selection and songwriting for a brand-new album, which will be recorded with Chapel Valley on their Sanctuary Label. Visit Meadow Lane at www.meadowlaneministries.com
and be sure to like them on Facebook to learn more about upcoming news from this talented family trio.
Read the latest online edition of SGNScoops Magazine HERE
Download The PDF Version Of SGNScoops Magazine HERE
Find SGNScoops Magazine On Facebook HERE
Tags:
Chapel Valley Music
,
Christian Music
,
gospel music
,
Jeremy Epperson
,
Meadow Lane
,
Shane Roark
Posted in
announcements
,
artists
|
Comments Off

on CHAPEL VALLEY SIGNS MEADOW LANE ON THEIR SANCTUARY RECORD LABEL
Written by Staff on September 21, 2015 – 11:42 am -
From Cleveland, Tennessee comes a family trio whose history is rich in Christian music and faith being passed down through generations. Jeremy Epperson's family began the ministry of the Singing Echoes over 45 years ago. He grew up in the group and when he left in 2014, he began a new season with his own family. Jeremy now sings with his daughter Anaïs and son Bryson. Meadow Lane just happens to live on Meadow Lane, though their foundation is on the Rock of Jesus Christ.
Today, Jeremy Epperson answers our Fast Five for Meadow Lane.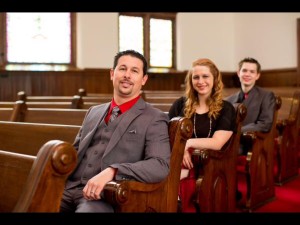 SGN: Tell us how Meadow Lane Began.
JE: I led the music in our home church's Wednesday night middle school youth program for several years. Anaïs had been singing with me for a couple of years or more and then Bryson showed some interest in helping sing the baritone part. We practiced a few songs and sang them there. At the time of course I still traveled and sang with the Singing Echoes. Before long the three of us began getting requests to sing together in times of intermission after the Singing Echoes sung. God had been dealing with me for some time about a different direction in my ministry. One evening as I stood on the stage with my family, I felt as if though God just whispered in my ear that my place was to be singing with my children. I stepped down from the Singing Echoes that night and the very next week we began singing as Meadow Lane.
Tags:
Anaïs Epperson
,
Bryson Epperson
,
Jeremy Epperson
,
Meadow Lane
,
Singing Echoes
,
southern gospel
Posted in
announcements
,
artists
,
christian entertainment
,
Christian interest
|
Comments Off

on SGN Scoops' Fast Five with Meadow Lane
Written by Staff on March 3, 2015 – 9:08 am -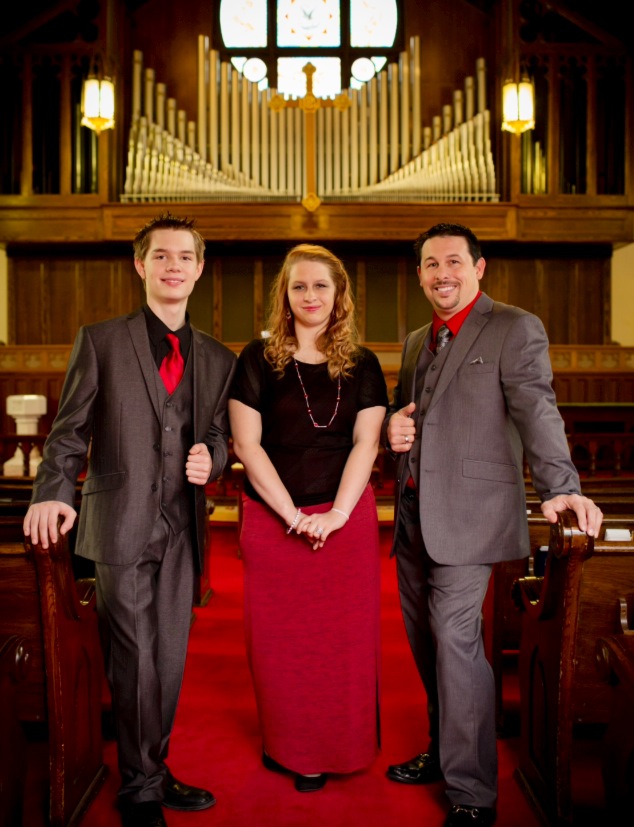 Meadow Lane's "Praise the Lord" to be sent to radio in March.
Cleveland, TN – March 1, 2015:  Jeremy Epperson, formerly of The Singing Echoes, introduces his new group, Meadow Lane and subsequently the release of their first single "Praise the Lord" going out to radio in March. The single will be available on Hey Y'all Media March/2015 Comp, and Lyric Press Music Compilations.
Jeremy is quoted as saying " We are extra excited about this opportunity to present the message of our Lord and Savior in song. Vonda is such a pleasure to work with and we just hit it off from the start. Barry McDonald with Lyric Press is just a great long time family friend and of course is the writer of this song. It is truly an honor to be able to sing one of his songs and an honor to be working with these two fantastic companies. My children, Bryson and Anaïs have just been singing their hearts out for the past year and we are proud of our new project. Bryson sings lead on the first of this song and he just knocks it out of the park. I am one proud Dad to have them singing next
to me on stage every night. We are looking forward to seeing some old friends and making new ones on the way."
Look for the release of their new album "Lift Your Voice" in late March.
Find Meadow Lane on the net HERE
Visit Meadow Lane on Facebook HERE
Tags:
Christian Music
,
gospel music
,
Hey Ya'll Media
,
Jeremy Epperson
,
Lyric Press
,
Meadow Lane
,
Singing Echoes
,
southern gospel
Posted in
announcements
,
artists
|
Comments Off

on Meadow Lane Set to Release First Single with Hey Y'all Media and Lyric Press Music