Written by SGN Scoops Staff on July 10, 2019 – 2:06 pm -
KENNEDY, AL – 7/10/19 – John Lanier, who will celebrate thirty years of full time ministry next month, suffered a heart attack over the Independence Day weekend.
Experiencing severe chest pains, John was rushed to the nearest local hospital around 7:00am Thursday morning, July 4th. He was then air lifted to DCH Medical Center in Tuscaloosa, Alabama, where he received emergency medical attention.
He is back home and recovering well. However, due to strict doctor's orders, John's appearance dates for the next two weeks have been cancelled and will be rescheduled at a later time.
John says he hopes to be back on the road again soon. In the meantime he appreciates everyone's prayers for a speedy recovery
Tags:
John Lanier
,
Southern Gospel News
Posted in
announcements
|
Comments Off

on JOHN LANIER SUFFERS HEART ATTACK
Written by Staff on November 4, 2017 – 8:34 am -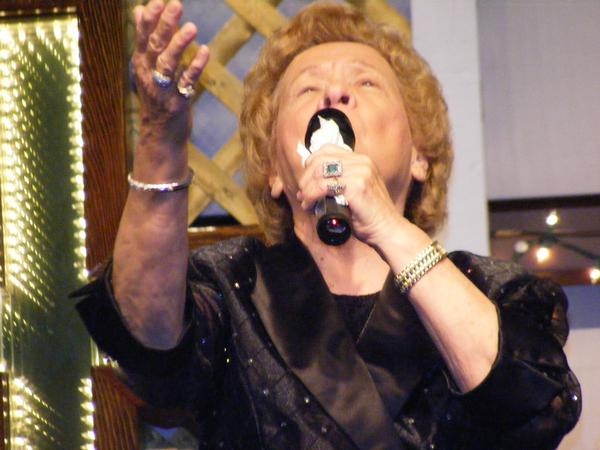 Those of us who have been around Southern Gospel Music for any length of time know who Naomi Sego is. I think I have mentioned before how I bumped into Naomi Sego – literally. I was at the quartet convention in Louisville several years ago. I was wandering around and I remember stopping to look at the Nelon exhibit. When I turned to go again I walked right into Naomi Sego. I was so embarrassed and apologized a dozen or more times. She looked at me with that kind face of hers and said, "Please excuse me, I'm so sorry." That little gesture spoke to me and I've never forgot it. It is just more testament of the kind of Godly woman that Naomi Sego is.
Naomi was born in Enigma, Georgia as Naomi Easters. This pioneer of Gospel Music has been ministering in song since 1958. Who inspired her to be the person that she is today? Naomi said that her parents had been a great influence on her life. She said that they were Godly parents and that her dad was a minister. Ironically, her dad was saved under the Sego Brothers' ministry.  Naomi said that she was born into a family of seven children. There were four girls and three boys but one of them died at the tender age of ten when Naomi was only three years old.
Naomi met James Sego in 1948 when the Sego family came to Enigma for a homecoming.  They were married in 1949 and had two children, Carlton and Ronnie. Ronnie  eventually played the drums for the Sego Brothers and Naomi. The group became very popular in their hometown of Macon, Georgia.  Later that local popularity became national when they performed their song, "Satisfied With Me".  It is rumored that Naomi and the Sego Brothers were the first Southern Gospel group ever to sell over a million records when they recorded, "Sorry, I Never Knew You". That was back in 1964.
Following this success they appeared on the nationally best known and longest running television program, Gospel Singing Jubilee. They later were invited to perform at The Grand Ole Opry.
From the start, the Sego Brothers and Naomi consisted of James Sego, Walter Sego, Lamar Sego and Naomi Sego. Naomi was married to James. The group changed several times over the years. Lamar left the group back in 1967. James Sego died in 1979 at a very young 51 years old. The other brothers stayed on until about 1979. In 1983, Naomi married Vernon Reader and officially changed the group name to Naomi and the Segos.
Naomi has most certainly had her share of sorrow as well as accomplishments. She lost her first husband James at a young age and her second husband Vernon passed away in 1998. Naomi has also lost her son Ronnie, who passed away in 1996. He had been a diabetic since five years of age.  Naomi has eight grandchildren and ten great-grandchildren. Despite the circumstances, Naomi has continued to live the legend that began in 1958. She said that the most wonderful day of her life was when she was saved. She loves the Lord with all of her heart and she has never let anything hinder her ministry for Him.
In spite of the many heartaches and hardships she endured, Naomi pressed on. A string of hit songs, many awards and accomplishments will all serve as a testament to Naomi's talent, integrity and her dedication over the many years.
In 2001, Naomi Sego was inducted into the Southern Gospel Music Association Hall of Fame and sang with the group for another six years.  In 2007, it was announced that Naomi and the Segos would do one more concert. In November of that year, the group sang their last official farewell concert. In 2008, Naomi and the Segos released their final album, Happy Ending. This completed a career for Naomi spanning over 50 years in Gospel Music. [Editor's note: Naomi Sego continued to do limited appearances with band members Jerry Gill and Jerry Mullaly.]
Kasey Kemp, who was a member of the group when Naomi announced the tour would end, said this, "I consider it a great honor to have been a part of the final years of Naomi's career.  Singing alongside her has been a dream come true for me.  I hated to see it end, but I have peace in knowing that this is all in God's timing."
John Lanier, who sang tenor with Naomi's last group, also spoke to SGM Radio about his dear friend, Naomi. "My childhood is filled with fond memories of singing with my family, going to gospel concerts, and meeting some of the musical heroes of the day," Lanier said. "On Sunday mornings, I'd wake up to get ready for church while watching the Gospel Singing Jubilee."
"I also remember my parents taking me to the big gospel concerts at the Atlanta Civic Auditorium, where I was first exposed to live Gospel music by artists like The Florida Boys, The Happy Goodmans, The Hinsons, The Downings, The Gaithers, The Sego Brothers & Naomi and many others." Lanier continued, "It was through my Mom's involvement in the music business that I personally met some of these artists. The Sego Brothers & Naomi was one of the artists that stayed in our home, and it was that group, especially Naomi, that made a profound imprint on an eight-year-old boy's heart. To me, there was no group better than The Sego Brothers & Naomi. I loved their camp meeting-style and, back then, they had the best kicking' band in the business!"
"But more than anything, I remember being drawn to the anointing that rested on Naomi, both on stage and off. As a young child, I didn't recognize at the time that's what it was (the anointing), but there were so many times when watching the Segos on stage that I just wanted to raise my hands and shout in praise. And I do remember many times how the tears would flood down my cheeks as the Spirit of God flowed through Naomi. What a joy and privilege it was for me to join Naomi and The Segos and travel with her later in my life. That's where I got my start in full-time gospel music ministry in 1989." Lanier's life and career was profoundly touched by Sego.
"That dear lady is the real deal," Lanier shared. "Like the apostle Paul in Romans 1:16, Naomi has never been ashamed of the gospel she has sung about for so many years. She always sings with boldness and conviction, and she has never let fame or professional etiquette stop her from praising the God she serves. In fact, some of my most cherished memories are those moments when the Holy Spirit would overcome her in the middle of a song and she'd begin singing in a Heavenly language, or even dance before the Lord; what a precious, beautiful sight. Memories of those moments are forever etched in my mind."
Lanier recalls some private memories he has of this precious saint. "I know first-hand what kind of prayer warrior she is. I'll never forget the first time I heard her praying when she thought no one was around. We had arrived on location for a scheduled performance and the rest of the group and I stepped off the bus to unload and set up while Naomi remained inside. About 30 or 40 minutes later, I ran back to the bus and to grab something we needed when an unusual noise caught my attention. I stopped for a moment to listen, then walked toward Naomi's dressing room in the very back of the bus. On the other side of the closed door of that dressing room I could hear a little lady tearfully praying in the Spirit. It was one of the most beautiful sounds I'd ever heard and it made a huge impact on my life. I can't tell you how many times after, during my years of traveling with the Segos, that I would leave the rest of the guys setting up and quietly sneak back inside the bus just to hear Naomi pray."
"Naomi is truly a Living Legend. She has won numerous awards and accolades in her 50-plus-year career; she has sung on some of the most prestigious stages in the nation and abroad; she has appeared on television, had hit songs on the radio, and has sold millions of recordings. Yet, she is the most down to earth, most humble lady you'll ever meet. I learned the virtues of humility and gratitude by her example." Lanier concludes, "She may never realize until Eternity how she has helped shape the person I've become; and she is still a positive, spiritual influence in my life today."
Naomi Sego has touched many through the years and has had a positive impact on the spiritual lives of artists and fans alike. This lady is truly a legend and only Eternity will show how far her influence stretched across the nation.
For more information on Naomi and the Segos: http://www.georgiamusicchannel.com/Naomi_The_Segos.html
Post your encouraging comments and memories of Naomi on Facebook:
http://www.facebook.com/pages/Naomi-The-Segos/172559729425877
Special thanks for Danny Bartlett for his assistance.
Thanks to the following for their contribution:
John Lanier http://www.johnlanier.com/home.cfm
Kasey Kemp http://declarationtrio.com/about.htm
By Philip Foster
First published by SGMRadio.com, January 8, 2013.
Tags:
John Lanier
,
Naomi and the Segos
,
Naomi Sego
Posted in
artists
|
Comments Off

on Naomi Sego: Portrait of a Legend
Written by Staff on October 25, 2015 – 6:31 am -
John Lanier sent the following note to his email subscribers last night regarding the arrangements for his mother, Joyce Lanier,  who passed away on Friday :
On behalf of the entire family, we are overwhelmed with gratitude for such a compassionate display of love and support at the announcement of my mother's passing. As promised, here are the details regarding visitation and memorial service…
Visitation, homegoing/memorial, and graveside services will be held Monday, October 26, 2015.
Visitation: 11:00am – 1:00pm
Homegoing/Memorial Service: 1:00pm
Graveside service will follow at conclusion of Homegoing/Memorial service.
Location:
Horace A. Ward Fairview Chapel
376 Fairview Road
Stockbridge, GA 30281
Phone: 770-474-1231
Services officiated by Rev. John Long and Rev. Tina Deese
Music by Tony Gore & Majesty
Mom was watching and waiting for that moment when the Lord would take his Bride. Yet, she knew the possibility of crossing over by way of the grave some day. With that in mind, she left for us her final wishes.
First, she wanted her homegoing to be a time of celebration. It was her desire that loved ones left behind would rejoice in knowing she is forever with the Lord. She wanted to be remembered for the life she lived before us all, and rejoice in her new life hereafter. So, it is our prayer that her homegoing service will indeed be a time of worship, remembrance, and celebration.
Secondly…although any and all expressions of love, condolence, and sympathy are deeply appreciated, Mom's desire is that, in lieu of flowers, memorial donations be made to the family to help defray funeral costs. In the end, she had no life insurance.
To that end, as we endeavor to fulfill her wishes, the family has set up a "Funeral Fund" account where donations can be made by those who may desire to support the family in this way. We are deeply grateful for your prayerful consideration. Please click HERE to view the "Funeral Fund"
page for more information: https://www.funeralfund.com/project/joyce-lanier
Also, an obituary page is being created where friends and loved ones may post comments, share memories or express condolences by signing the Guest Book. You will find the Obituary page HERE.
Finally, for anyone wishing to mail cards or letters to the family, please mail to:
Lanier Family
150 Hardwick Drive
Covington, GA 30014
Again, on behalf of the family, we sincerely love and appreciate you.
Heaven is surely sounding sweeter every day!

For artist news and information visit SGN Scoops Facebook page.
Tags:
gospel music
,
John Lanier
,
Joyce Lanier
Posted in
announcements
,
artists
|
Comments Off

on John Lanier shares homegoing arrangements for his mother
Written by Staff on October 23, 2015 – 6:41 am -
Gospel music vocalist, John Lanier, sent a sad email this morning to his subscribers. John Lanier's mother, Joyce, has battled with cancer twice in recent years. This brave lady has fought long and hard, but early this morning, she stopped fighting and went home to be with our Lord. Joyce was 68 years old.
John shared his mother's passing in his email blast this morning as well as on his Facebook page. He says, "My heart is breaking, yet I am at peace knowing she is with the Lord and will never hurt again."
Announcements regarding visitation and services will be coming shortly.
Please visit John's Facebook page to message your notes of condolences.
Also visit John's website for more information.
SGN Scoops sends their prayers to all of the family of Joyce Lanier.
Tags:
cancer
,
John Lanier
,
Joyce Lanier
,
Prayer
Posted in
announcements
,
artists
|
Comments Off

on Sad news from John Lanier
Written by Staff on June 12, 2015 – 9:25 am -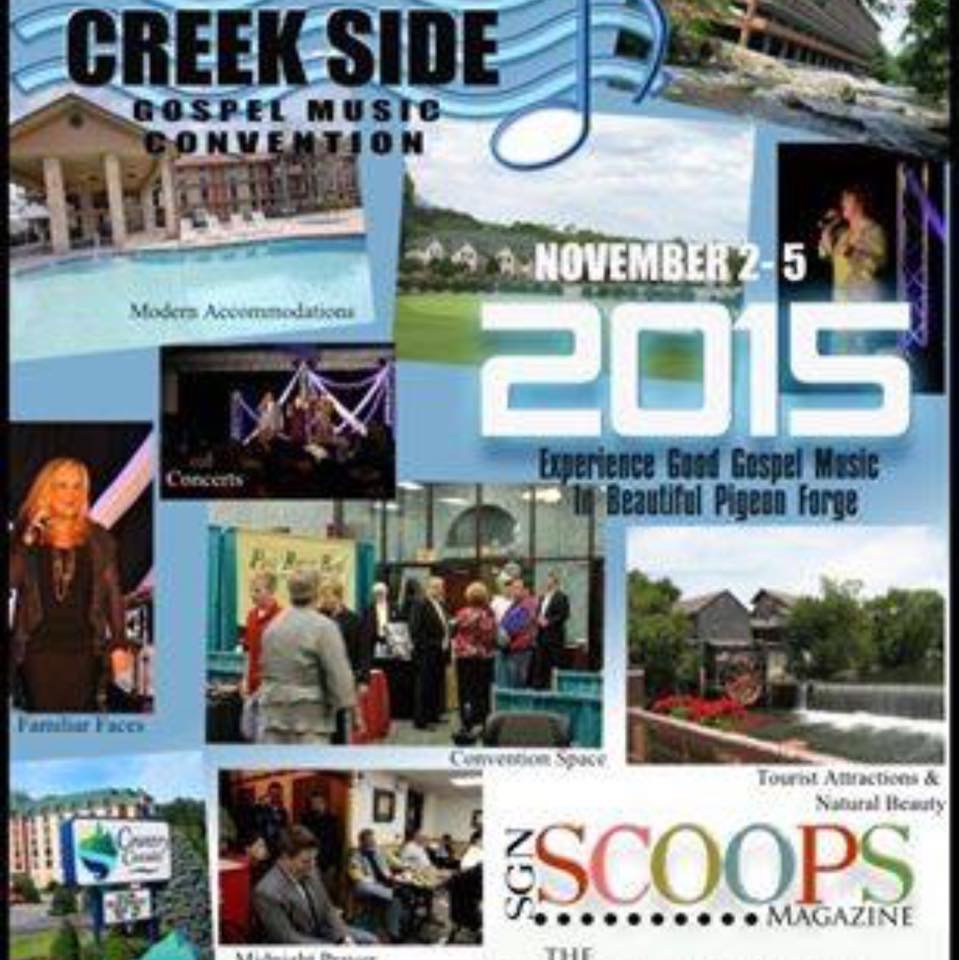 Creekside Gospel Music Convention is coming soon to beautiful Pigeon Forge, Tennessee. Join us as we listen to great Gospel music, enjoy the majestic Smoky Mountains and have a great time in fun and fellowship with other fans and artists of Creekside. Please reserve your ticket soon on the Creekside website (link below).Creekside tickets are free but must be reserved. Please make your plans to join us in Pigeon Forge, Tennessee on November 2nd through 5th at the Smoky Mountain Convention Center.
Our news this month includes the unveiling of more artists and special guests. Creekside is known for excellent showcases Tuesday through Thursday afternoons, exciting evening concerts every night and the worshipful, intimate Midnight Prayer.
Monday night is the Lou Hildreth Honors, where the legendary Lou Hildreth joins us to celebrate the life of a guest artist that has done great things in Gospel music. Stay tuned to find out who this year's honoree is!
Tuesday night we will present the 2015 Diamond Awards. You won't want to miss this evening where we honor the best in Gospel music. We are pleased to welcome Dr. Jerry Goff and Little Jan Buckner-Goff as our hosts for this special evening. The Diamond Award voting continues now on the SGN Scoops website, so drop by to click on the link and vote for your favorites in The Diamond Awards Top Ten. Make sure your voice is heard and vote today! www.sgnscoops.com/2015-diamond-awards.
Wednesday and Thursday nights we continue with great music and special guests, as well as the Red Back Hymnal Choir.
Artists confirmed to date include the Freemans, the Guardians, Jordan's Bridge, the
Hoskins Family, John Lanier, Pine Ridge Boys, Ascension Quartet, Billy Hodges and many more. Keep checking Creekside updates on Facebook and on the web. If you like to hang out with your favorite artists, the Exhibit Hall will be filled with artist booths and the singers waiting to chat with you.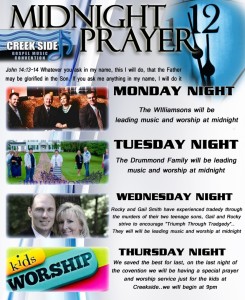 This year we have VIP Packages, which include lodging, tickets and special events. VIP guests will be invited to a special backstage party as well. Creekside Gospel Music Convention 2015 rates start as low as $176 Per Person* (Based On Double Occupancy.) Call Rob at 360-933-0741 to reserve your room today.

Keep watching for more exciting announcements. Don't miss four days of great Gospel music, fellowship and fun. Artists and attendees, please call Rob Patz for more information at 360-920-4057 or email him at rob@sgnscoops.com.
Live Creekside Updates Every Week!

Rob Patz of Coastal Media is chatting with Vonda Easley of Strictly Southern With Vonda Easley, live on the air every week, bringing updates about Creekside. Be sure to listen to Strictly Southern With Vonda Easley, which can be heard every Friday at 10am CST on www.wpilfm.com.
Final Notes
Creekside Gospel Music Convention would like to hear from you! Tell us what you want to see and hear in November. Creekside also needs your help. If you would like to volunteer through various promotional activities throughout the year, or with onsite tasks during the convention, please email Rob at rob@sgnscoops.com. For
more information, latest news and artists scheduled to appear, visit the Creekside page on Facebook  or you can find Creekside on the web.  
www.creeksidegospelmusicconvention.com.
Tags:
2015 Creekside Gospel Music Convention
,
2015 Diamond Awards
,
Exodus
,
Freemans
,
Guardians
,
Hoskins Family
,
John Lanier
,
Jordan's Bridge
,
Lou Hildreth Honors
,
Midnight Prayer
,
Pigeon Forge TN
,
Pine Ridge Boys
,
sgn scoops
Posted in
announcements
,
artists
,
christian entertainment
,
Christian interest
,
diamond awards
,
gospel events
,
sgn scoops magazine
|
Comments Off

on 2015 Creekside Gospel Music Convention Update
Written by Staff on May 29, 2015 – 12:55 pm -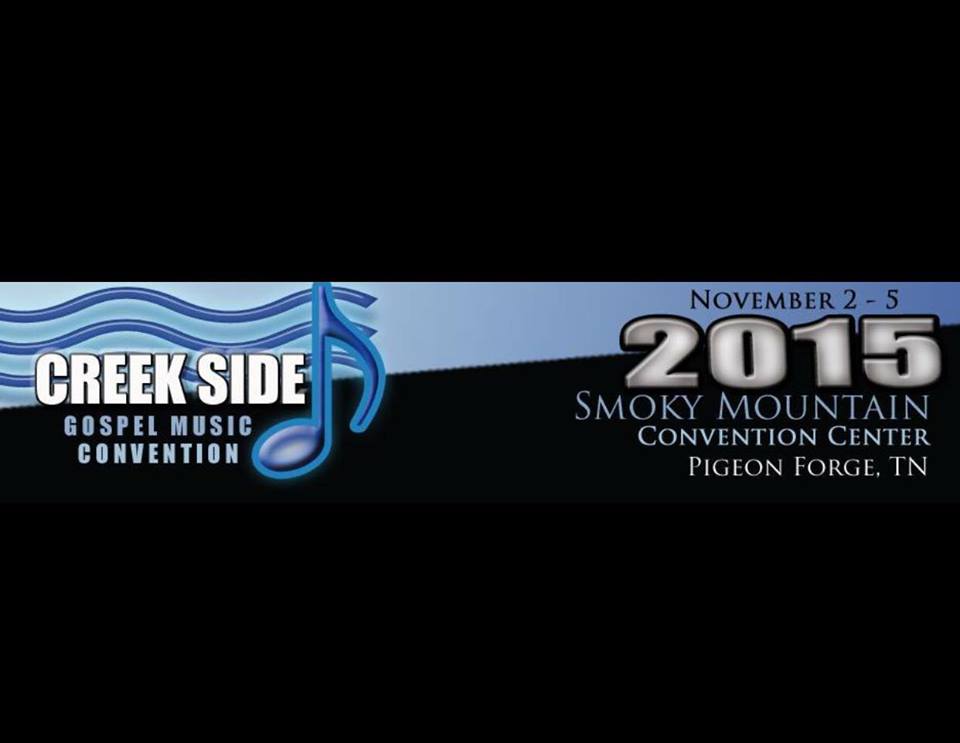 Pigeon Forge, TN – Creekside Gospel Music Convention welcomes the return of one of last year's favorite events, Midnight Prayer. Fans and artists gathered together after the concerts before heading to sleep. They prayed and sang and had fellowship with each other, seeing hearts touched and lives changed. Everyone so enjoyed these services that Creekside is bringing them back in 2015.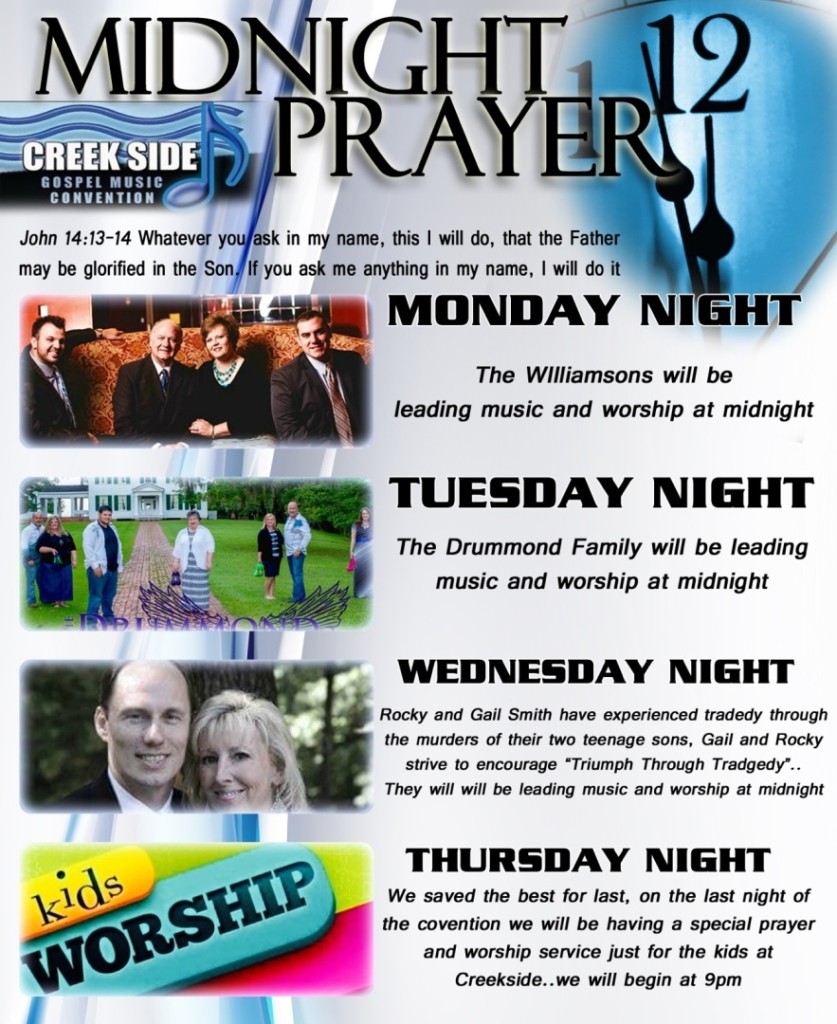 "Midnight Prayer is a very special time at Creekside," says Rob Patz of SGN Scoops. "It really gives us all a chance to respond to the message we have heard during the singing all day long. I can't wait to see what happens this year!"
Vonda Easley, of Hope's Journey adds, "I am so excited that midnight prayer is not only back, but back by popular demand. I am thrilled to be part of an event where artists can come together and pray for one another. Creekside is not just a Convention, it is an experience that you do not want to miss!"
The Creekside Gospel Music Convention includes daytime showcases, evening concerts, the Lou Hildreth Honors, the 2015 Diamond Awards, and much more. Creekside organizers have already announced several artists who will be appearing, including The Freemans, Jordan's Bridge, The Hoskins Family, John Lanier, Pine Ridge Boys, Dr. Jerry Goff and more.
Tags:
2015 Creekside Gospel Music Convention
,
2015 Diamond Awards
,
Creekside Gospel Music Convention
,
Dr. Jerry Goff
,
Hope's Journey
,
John Lanier
,
Jordan's Bridge
,
Lou Hildreth Honors
,
Midnight Prayer
,
Pine Ridge Boys
,
rob patz
,
sgn scoops
,
the freemans
,
The Hoskins Family
,
Vonda Easley
Posted in
announcements
,
artists
,
sgn scoops magazine
|
Comments Off

on Midnight Prayer returns to Creekside Gospel Music Convention
Written by Staff on November 7, 2014 – 3:09 pm -

Tony Gore and Majesty to Appear at Concert for Mother of John Lanier
Dear Friend & Prayer Partner,
In November of 2012, my mother was diagnosed with breast cancer. She bravely fought and endured a year of doctor visits, tests, chemo treatments and, ultimately, surgery. In 2013, she was declared cancer-free and has enjoyed good health for the past year. As some know, she sang publicly for the first time in many years at my 25th Anniversary event this past August and touched many lives – including mine.
My sisters, brother, and I have no doubt that God touched my mother the first time she faced cancer, and we are just as confident that God is working in her life yet again. The devil is a liar, and we believe only the report of the Lord, our God. Our faith that she will be healed and restored once again has not been shaken one bit.
In the meantime, we are also believing God for a financial miracle.
Both of my parents had retired. But now, at age 67, my dad has returned to the floor covering business to help make ends meet. Of course, my mother can't return to work in her condition. (She worked in the medical field for nearly 20 years.)
Since retiring, my parents have no insurance. Of course, they do have Medicare. But even that does not pay 100%, and the medical bills from this bout with cancer now mounting on top of the expenses they are still paying from the first bout has simply caused a huge financial hardship on them.
In an effort to relieve them of some of the financial stress and catch up on past due bills, our family and friends have organized a benefit concert for my parents. Trusting God to meet their needs, we are reaching out to the body of Christ for help.
YOU are invited to attend this special concert event at Stockbridge Assembly of God, 3910 N Henry Blvd, Stockbridge, GA. Saturday, November 8. Doors open at 5pm, concert begins at 6pm, featuring Tony Gore & Majesty. This is Tony Gore & Majesty's first appearance in the Metro Atlanta area in more than ten years and I am really excited about this special occasion. Also singing tomorrow night is Robin Collins and Reyna Barrios. These ladies will absolutely bless you. Also, depending on how she feels, my mother may be singing as well, along with my dad and me.
This is a FREE concert…there is no admission charge. A love offering will be received on the night of the concert. For those who cannot attend, or for those who may simply wish to give online, we have provided a donation link for online giving. Please prayerfully consider a gift of any amount.
There are no words to convey my deepest gratitude for your kindness. But I want to thank you in advance for your offering. Your kindness and generosity are deeply appreciated. Please know that 100% of the donations received will go towards the bills and medical expenses as mentioned above. Again, thank you for your prayerful consideration during this trying time. I know God IS able!
I hope to see you Saturday night. Click Here For More Information.
Love & Prayers,
John Lanier
Tags:
benefit concert
,
cancer
,
gospel music
,
John Lanier
,
southern gospel
,
Tony Gore and Majesty
Posted in
announcements
,
artists
|
Comments Off

on Benefit Concert For Joyce Lanier, Saturday November 8
Written by Staff on November 6, 2014 – 2:52 pm -
Creekside Gospel Music Convention continues in Pigeon Forge Tennessee at the Smoky Mountain Convention Center.  Day three began with the Morris Music Group Showcase, continued with the Red Back Hymn Book Choir and the evening concert and ended with the Midnight Prayer session.
The Morris Music Group showcased some of their best talent and friends. Appearing were Hope's Journey, The Stephens, Higher Hope, Clearvision Quartet, Angela Marie, Exodus, The Drummond Family, Linda Foster, Billy Hodges, Tina Wakefield and Faith's Journey.
Following this showcase, the Red Back Hymn Book Choir full of artists took to the stage. They were met with much enthusiasm from the audience!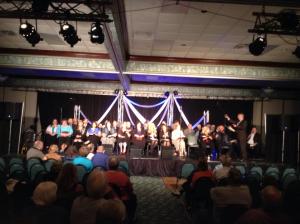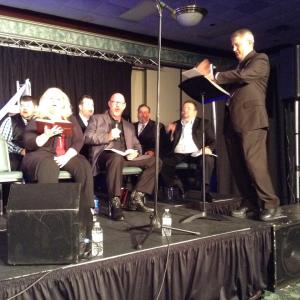 The evening concert continued with terrific performances by The Griffins, The Stephens, John Lanier, The Steeles, and many more. The Kramers appeared with Willie Wynn and Woodie Wright to celebrate the release of their latest CD.
For more pictures, log onto www.sgnscoops.net
Thanks to Vonda Easley, Michelle Drummond and Robert York for the wonderful pictures!
More information on Creekside can be found at http://www.creeksidegospelmusicconvention.com/
Creekside continues today with the last evening concert beginning tonight at 5:30pm.
Tags:
2014 Creekside Gospel music Convention
,
Country Gospe
,
Faith's Journey
,
gospel music
,
Hope's Journey
,
John Lanier
,
Morris Music Group
,
Red Back Hymn Book Choir
,
southern gospel
,
The Griffins
,
The Kramers
,
The Steeles
,
The Stephens
,
The Williamsons
,
Willie Wynn
,
Woody Wright
Posted in
announcements
,
artists
,
gospel events
,
sgn scoops magazine
|
Comments Off

on Creekside Gospel Music Convention Day Three – Nov 5/14
Written by SGN Scoops Staff on August 6, 2014 – 9:07 am -
Cleveland, TN  AG Publicity is proud to announce the signing of, an inspiring and anointed man of God known for his dynamic preaching and singing, to an extensive publicity contract. John has received multiple top ten and top five nominations for various awards as presented by The Singing News Fan Awards, The SGM Fan Awards, ICGMA's Gold Cross Awards and The Diamond Awards. In 2007, the SGM Fan Awards honored John as "Favorite Soloist" as voted by Gospel music fans. In 2010, John was the recipient of "Favorite Tenor" as a member of Tony Gore & Majesty.
"I've known Deon Unthank for years and I'm glad to finally be able to work with him and AG Publicty. They have a great reputation in the world of Gospel music and I'm sure we can go far together." Lanier said.
Unthank commented "John Lanier has been a friend for a long time and I am still impressed with the amount of energy his ministers with night after night. Watching John on stage is contagious. I always find myself moving my hands and feet and almost jumping up and down like John does. He preaches with the same enthusiasm.
As a singer, John exuberates the joy of serving Jesus Christ and encourages believers to worship freely. As an evangelist, John's passion is to win the lost to Jesus Christ and to rekindle the fires of revival in the church.
John began his singing career in 1989 as a vocalist with Naomi & The Segos. In 1993, he relocated to Alabama and joined friends Tony Gore and Calvin Thornton to form the new trio, Tony Gore & Majesty.
John will be celebrating 25 years of Ministry with old fashioned campmeeting style services in Oxford, Alabama on August 8th and 9th. There will be great singing and preaching with amazing concerts after each service. Make plans to attend now.
For more information about John Lanier go to http://www.johnlanier.com or https://www.facebook.com/JohnLanierMinistries .
You can book John Lanier for a concert or revival at New City Talent – office@newcitytalent.com – 205-596-4371 .
Tags:
John Lanier
,
SGM Fan Fair Awards
,
southern gospel
,
Southern Gospel News
Posted in
announcements
|
Comments Off

on John Lanier Signs Extensive Agreement With AG Publicity
Written by SGN Scoops Staff on March 9, 2013 – 10:49 am -
Wow! We sure have the scoop for you this month! The March Edition is jammed packed with exciting news. We're thrilled to present Jason Crabb as this month's cover story. Not only does Jason share details about his new CD, "Love Is Stronger," but he shares his heart regarding ministry and family. Also in this issue, the spotlight is on Karen Peck and her latest solo record, plus we're highlighting several ministries this month: Charlton Jordan, The Diplomats, Paul's Journey, John Lanier, The Cargils, Promise, Jayc Harold and Shannon Shelby. As always, SGNScoops keeps the roads hot! This month Angela shares Omega in Concert and Rhonda shares Gospel Boot Camp with Gerald and Adam Crabb as well as the Southern Gospel Music Guild's 2013 Harmony Honors. Sandi Duncan Clark covers music reviews featuring Red Roots, Tammy Jones Robinette, David Staton and Tommy Brandt. Enjoy a word of encouragement from John Mathis Jr, memories from Lou Hildreth, a fitness challenge from Laurette Willis and chronicles of a Singing English Teacher with Jeff Hawes of Karen Peck & New River. We have a couple of very exciting announcements regarding the Creekside Gospel Music Convention too, so watch the Publisher's Point with Rob Patz, and don't miss the Creekside update (hint hint….Ed O' Neal… The Singing Cookes). All of this is neatly tucked in one place- a beautifully designed online magazine. The best part? It is absolutely FREE! Tell your friends, family and friends- and don't forget to vote for your favorite artists! Round One Diamond Awards Voting is open NOW! Thank you SGNSCoops staff for an MARVELOUS MARCH issue. Our prayer is for God to be glorified in all we say and do.
Download The Magazine Here
Tags:
absolutely free
,
Adam Crabb
,
Angela Griffin
,
Charlton Jordan
,
Creekside Gospel Music Convention
,
diamond awards
,
Dixie Phillips
,
Ed O' Neal
,
Faith
,
gerald crabb
,
Gospel Boot Camp
,
Jason Crabb
,
Jayc Harold
,
jeff hawes
,
John Lanier
,
john mathis jr
,
Karen Peck
,
Laurette Willis
,
Lorraine Walker
,
Lou Hildreth
,
Love Is Stronger
,
Paul's Journey
,
Pigeon Forge TN
,
Promise
,
Red Roots
,
Rhonda Frye
,
rob patz
,
Sandi Duncan Clark
,
Shannon Shelby
,
southern gospel concerts
,
Southern Gospel Music Guild's 2013 Harmony Honors
,
The Cargils
,
The Diplomats
,
The Singing Cookes
,
Tommy Brandt
Posted in
announcements
,
sgn scoops magazine
|
1 Comment »