Written by SGN Scoops Staff on November 21, 2014 – 1:35 pm -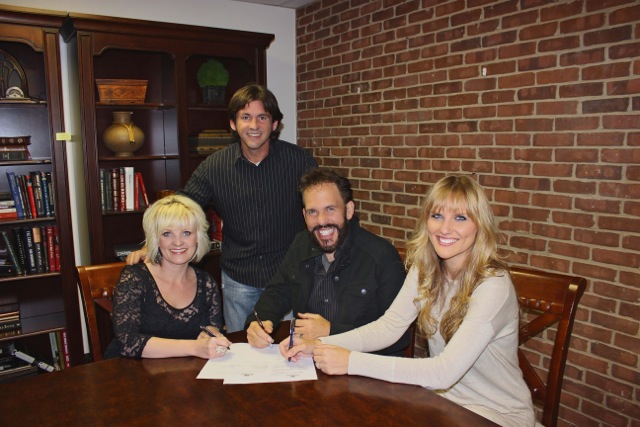 Franklin, TN (Mansion Entertainment) November 21st, 2014 – The vocal and instrumental group, Crosby Lane, recently joined the Mansion Entertainment family of artists by signing to its newly formed Mansion Americana label.
Crosby Lane, named for one of the most prolific hymn writers of all time, Fanny Crosby, is comprised of singer-songwriter Tonja Rose, multi-Dove nominated songwriter, singer and instrumentalist John Lemonis, and vocalist/instrumentalist Michaela Lemonis. The trio shares a ministry passion for hymns and have been traveling the country not only sharing their arrangements of some of America's most-loved hymns but creating a unique ministry event in which many of the circumstances and stories behind the lyrics of the timeless hymns are shared in a unique Crosby Lane presentation.
Mansion Entertainment's John Mathis shares, "Over the past year John Lemonis has been keeping me updated with a lot of the happenings with Crosby Lane out on the road. How people are responding to not only the Crosby Lane arrangements and presentation of the music, but they gasp or cry or just have these emotional reactions and responses to hearing the stories behind some of these great songs. The ones who love the hymns are loving the presentation Crosby Lane is giving them, and yet there is a generation that are not familiar with these great, uncompromising lyrics and the moments in the writer's life which caused them to be born. John, Tonja and Michaela are introducing and educating a new group to some of these great words we've all sang for years. We definitely wanted to be a part of this in some small way and support what Crosby Lane is out there doing!"
Craig Adams of Lifeway Worship Resources in Nashville previously commented on Crosby Lane's musical endeavors as well; "These folks have a deep sense of commitment to the theology we sing, as well as enriching stories behind the enduring hymns that have been anchors of faith for untold generations. Their musical approach is endearing, warm, and infectious – a refreshing retreat from mainstream worship stylings."
The debut project from Crosby Lane is entitled, 'Story & Song', and will be released in 2015. Radio programmers and listeners will become acquainted with Crosby Lane in February of 2015 as they slated to receive the debut radio single. For more information on Crosby Lane visit CrosbyLane.com.
Tags:
Crosby Lane
,
John Lemonis
,
John Mathis
,
Lifeway Worship Resources
,
Mansion Entertainment
,
Southern Gospel News
Posted in
announcements
|
Comments Off

on Crosby Lane Signs With Mansion Entertainment
Written by SGN Scoops Staff on February 15, 2013 – 2:05 pm -
Franklin, TN (February 7th 2013) – Mansion Entertainment, label home to Grammy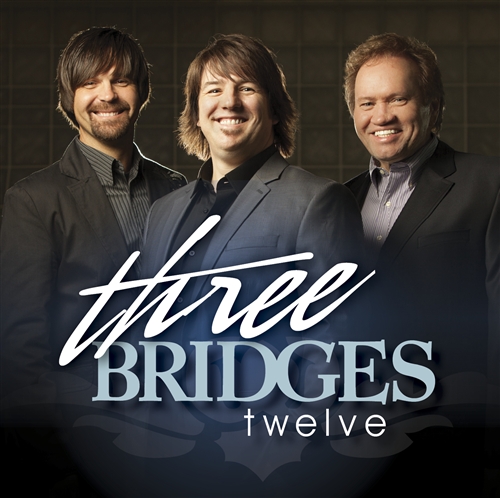 nominated and Dove Award winning Gospel artists, has enough experience to know when a song
begins to take on a life and persona of its own. Three Bridges newest single "Forgive Myself",
off their latest album Twelve, is just such a song.
Twelve has been an important number for Three Bridges – Twelve is the title of their newest
project, it describes the number of songs on the album, their number of years in ministry, and
the number of studio albums they have recorded. At a time when the music industry struggles
creatively to capture audiences, Three Bridges has released one of its strongest and most
powerful singles, "Forgive Myself".
"Forgive Myself" written by John Lemonis and Amy Keffer, stresses the importance of learning
to forgive yourself of past sins just as Jesus does. This strong message hits home with the very
foundation of the Church and has resonated in the hearts of concertgoers and followers of social
media.
Shannon Smith, who sings lead on "Forgive Myself", stated that "When we perform this song
people are obviously moved by it – you can almost see a healing take place. It's amazing to see
what God to do through a three or four minute song."
Shelia Harper, founder of SaveOne Ministry, states, "Forgive Myself is quickly becoming
the theme song for our ministry, SaveOne. We are an abortion recovery ministry and the
line, 'Mercy has no memory, grace has no regret' speaks to the very heart of what we're
about…forgiving ourselves through accepting Jesus' mercy, grace, and forgiveness. Thank you
to Three Bridges for sharing this song with the world!"
One fan on social media said that the song "Greatly blessed me. I have struggled my entire life to
forgive myself…" Another fan said, "Moving on from the past and learning forgive yourself of
past mistakes is something that everyone struggles with and is relatable to so many."
"Forgive Myself" debuted on the Singing News Top 80 Chart for March and has already
achieved success on other industry charts. As the popularity and exposure of the song grows, so
does the feedback from fans who hear it.
For more about Three Bridges newest album Twelve, purchasing information, and upcoming
concert dates please visit www.threebridges.net.
Tags:
amy Keffer
,
Dove Award
,
Forgive Myself
,
grammy
,
John Lemonis
,
Mansion Entertainment
,
Southern Gospel Music
,
Southern Gospel News
,
three bridges
Posted in
announcements
,
Christian interest
|
Comments Off

on "Forgive Myself" Finds Place on Industry Charts and In the Hearts of Listeners
Written by SGN Scoops Staff on November 14, 2012 – 2:16 pm -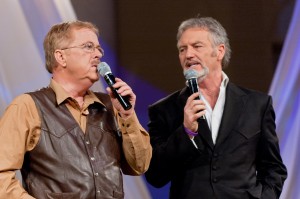 Larry Ford: Little Is Much When God Is In It
By Sandi Duncan Clark
One of the nicest, most gracious couples in Southern Gospel music is Larry and
Sherryl Ford. No matter where you meet this charismatic couple, they greet you with a
smile, a hug and a warm handshake. This IS Larry and Sherryl Ford. More than forty
years of marriage, six children and eight grandchildren, have melded this couple into a
ministry of faith and family that God has used all around the world.
Larry's first performance was on the stage of his home church in Levelland,
Texas. Standing on a chair, singing "How Great Thou Art," and accompanied by his
Mom at the piano, Larry began an illustrious music career. Larry credits his mother for
instilling in him and his brother, Bruce, a love for God and a love for music.
"Our musical training began at home and at church. We learned to sing shaped notes;
the old fashioned way to read music. Mom saw to it that we were also trained by an
Italian vocal coach, who began our formal, classical training" Larry stated. Later, Larry
attended Eastern New Mexico University on a music scholarship.
During those years, the family; Larry, his brother Bruce, along with his Mom and Dad,
would sing and his Mom would play piano. On Sunday mornings, they often sang for
their church's live radio program before going to the morning service and singing. "More
importantly, my mom and dad modeled for us a life of faith and trusting God." Larry
adds.
From that early beginning to some of the grandest stages all around the world, Larry
Ford has ministered and entertained thousands of people with his testimony and vibrant
tenor voice. Larry has appeared at many Gaither Homecoming events and on a number of
videos. As an ordained minister, former pastor and evangelist, he has shared the love of
God and the plan of salvation wherever he is called.
Tags:
Because He Lives
,
Gaither Homecoming
,
John Lemonis
,
Ken Turner
,
Kenna West
,
Larry Ford
,
Southern Gospel News
,
Sue C. Smith
Posted in
special feature
|
Comments Off

on Larry Ford: Little Is Much When God Is In It
Written by SGN Scoops on October 3, 2012 – 11:46 am -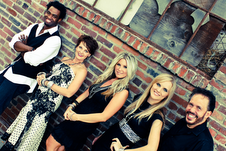 10-03-2012- To debut a brand new group has been a long-standing tradition of The Diamond Awards and this year, there is no exception. With much excitement SGNScoops announces the official debut performance of Christian Music's newest group, Crosby Lane! Crosby Lane is based out of Nashville and consists of five music veterans, Erin Johnston, Tonja Rose, Michaela Lindsey, John Lemonis, and E.J. Ford. The group CROSBY LANE is named for the most prolific hymn writer of all time, Fanny Crosby.  The music of CROSBY LANE is enthusiastic, and includes fresh arrangements of hymn classics and powerful renditions of praise and worship songs. It is about the music that has moved – and still moves – generations to worship the Lord!
"The Diamond Awards has always been known as a place to introduce new artists and we are tremendously excited to introduce to our audience, Crosby Lane," says Rob Patz,owner of the Diamond Awards.
Group member, John Lemonis adds, "Crosby Lane is absolutely thrilled to be debuting at the 2012 Diamond Awards! It is the perfect place for our first public performance. We are greatly indebted to all of the artists and fans who support Southern Gospel music! We look forward to being with you in person and have the deepest respect for everyone who makes and supports music that lifts the name of Jesus. We are honored to be in that number and can't wait to see you all in Pigeon Forge!"
The 2012 Diamond Awards Show is hosted by the Creekside Gospel Music Convention and is scheduled to take place Tuesday, October 30 at the Smoky Mountain Convention Center in Pigeon Forge. Admission to all events at the Creekside Gospel Music Convention is free to the public.
To find out more about Creekside Gospel Music Convention, visit http://www.creeksidegospelmusicconvention.com/
For more information about Crosby Lane, visit  http://www.crosbylane.com/
Tags:
Creekside Gospel Music Convention
,
John Lemonis
,
Lou Hildreth
,
rob patz
,
Smoky Mountain Convention Center
,
Southern Gospel News
,
The Diamond Awards
Posted in
announcements
|
Comments Off

on Debut Perfomance From CROSBY LANE At Diamond Awards
Written by SGN Scoops Staff on September 27, 2012 – 3:31 pm -
NASHVILLE, TN- Creative Vision Entertainment was launched earlier this week by music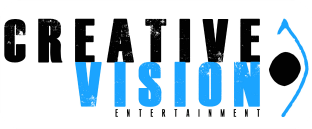 industry veteran, April Potter Holleman. The Hendersonville, TN based business is located just
outside of Nashville and specializes in tour booking, artist management and song publishing.
American Idol finalist, Phil Stacey; CCM frontrunner, FFH; popular Christian vocal group, the
Ball Brothers; singer, songwriter and speaker, John Lemonis; family favorites, the Browders and
debut INSPO group, Crosby Lane are already working with the multi-faceted company.
"Performing and ministering at around 200 different events a year means I need an experienced
booking agent who knows how to get the job done! April and CVE not only get the job done,
but understand the unique dynamic of working with churches and ministry events. April's
professionalism, work ethic and passion for Christ makes her a perfect fit for my team. In the
short amount of time I've already partnered with CVE, the dedication and personal attention is
unparalleled and I am excited where God is taking this team!," commented Phil Stacey
Daniel Ball of the Ball Brothers continued, "We are ecstatic about the opportunity to work with
April and CVE. Not only does she have a heart for the ministry, she has the experience and
work ethic to get things done. As we continue to grow, God brought the right person along at the
right time to facilitate that growth."
Creative Vision Entertainment has a passion to expand music to new areas and levels with a
cutting edge, out-side-of-the-box marketing approach. April Potter Holleman founder/president
graduated from the University of North Alabama with a Bachelor of Science in Music combined
with a Concentration in Commercial Music (Music Business). April has worked in the music
industry for over 16 years. She formally owned her own booking agency, April Potter Agency
from 2002-2006 and has worked eight years as an agent with the Harper Agency. Along with
booking, April has worked in management, consulting, radio promotions and most recently
publishing. She has been married to Greg Holleman for 11 years and together they have one
adopted daughter from Guatemala, Hannah Chloe, age 5.
For more information on Creative Vision Entertainment or to inquire about one of their
artists, call 615-479-0954, email april@creativevisionentertainment.com or log on to
www.creativevisionentertainment.com.
Tags:
April Potter Holleman
,
Ball Brothers
,
Browders
,
Christian News
,
Crosby Lane
,
FFH
,
John Lemonis
,
Phil Stacey
,
Southern Gospel News
Posted in
announcements
|
Comments Off

on APRIL POTTER HOLLEMAN LAUNCHES CREATIVE VISION ENTERTAINMENT
Written by SGN Scoops on July 20, 2011 – 10:54 am -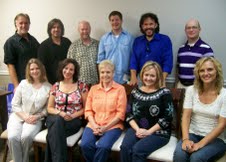 Franklin, TN (Mansion Entertainment) July 20th, 2011 – Mansion Publishing hosted a gathering of its songwriters and publishing partners July 14th at its Franklin, TN offices.  Mansion Entertainment added a publishing department to its array of company divisions in the past year and recently invited their network of songwriters and music publishing partners to gather and share its vision and goals for its immediate and long-term future in Southern Gospel Music. Director of Publishing John Mathis stated, "We simply want to create a family of writers that take their passion and love for The Gospel and combine it with their passion and love for crafting songs that encourage, uplift and edify those who may hear them." Mansion's BMI publishing catalog, Eaglestreet Press, is currently celebrating its first Southern Gospel Top 20 charting song with "Don't That Sound Like Heaven", a joint publishing venture with Songs of Peaceful Valley/BMI (Larry Strickland). The success of this single also marks Palmetto States' return to top of the Southern Gospel charts and notes the success of what has been termed as the "New PSQ".  You can find more information regarding Mansion Entertainment by visiting www.themansionentertainment.com or by following them on Facebook
(Pictured: Back row L to R. Bill Traylor, John Mathis, Kent Holland, David Bryan, John Lemonis, Brian Monehan. Front row L to R. Angela Monehan, Roz Merchant, Angela Thompson, Rhonda Frye, Michaela Lindsey)
Tags:
Angela Monehan
,
Angela Thomspon
,
bill Traylor
,
BMI Publishing
,
Brian Monehan
,
David Bryan
,
Gospel Music Song-writers
,
John Lemonis
,
john mathis jr
,
Kent Holland
,
Mansion Entertainment
,
Mansion Publishing
,
Michaela Lindsey
,
Palmetto States
,
Rhonda Frye
,
Rox Merchant
,
Southern Gospel News
Posted in
industry news
|
Comments Off

on Mansion Publishing Hosts Songwriter Gathering
Written by SGN Scoops Staff on February 28, 2011 – 12:55 pm -
Franklin, TN (Mansion Entertainment) February 28th, 2011 – Mansion Entertainment's Music Publishing
Division has signed award winning songwriter John Lemonis to an exclusive songwriting agreement.
The songs of John Lemonis include radio hits such as "Live to Worship", "Forever Changed", "Die Another Day" and numerous others. The artists who have recorded John's songs cross several genres of music and include Michael W. Smith, Brian Free & Assurance, Point of Grace, The Talley Trio, The Kingdom Heirs, The Greenes, Scott Krippayne, Barbara Fairchild, Reggie and Ladye Love Smith and many, many others.
John's talent in composing has covered musicals, choral pieces, and special projects (videos and collections) such as 'One Bethlehem Night', 'Once Upon A Time Shop', 'Eyes of Faith: The Fanny Crosby Story', 'For the Lord Alone', 'From Sea to Shining Sea', 'The New Jerusalem Makeover', 'In God We Trust', 'Tails from the Ark', 'Invitation to Worship (I & II)', 'America's Favorite' Series, 'Once and For All', 'Grace Covers All', 'The Precious Name of Jesus' and more.
John's own recording projects include: 'Love One Another', 'Living Proof', 'The Power and The Grace', 'In My Own Words' and 'The Glory of You'.
John Mathis of Mansion Entertainment's Music Publishing Division states, "John Lemonis is such a versatile and experienced writer and artist. His background covers so many areas from writing and performing his own songs, to decades of working as a Minister of Music, writing conferences and his involvement with Gospel Music Association and Nashville Songwriters Association International. All this has given him such a broad view in fulfilling what the artist and the church are looking when it comes to songs that relate and encourage the Christian listener. He has such a great heart and vision for conveying a message through a song! We're looking forward to our new endeavor together and where that will lead."
For more information regarding John Lemonis visit www.johnlemonis.com. For more information regarding Mansion Entertainment visit their website at www.themansionentertainment.com.
Tags:
Barbara Fairchild
,
Brian Free & Assurance
,
John Lemonis
,
Michael W. Smith
,
Point of Grace
,
Reggie and Ladye Love Smith
,
Scott Krippayne
,
The Greenes
,
The Kingdom Heirs
,
The Talley Trio
Posted in
announcements
,
christian entertainment
|
Comments Off

on Mansion Signs John Lemonis To Exclusive Songwriting Agreement