Written by scoopsnews on October 3, 2016 – 8:29 am -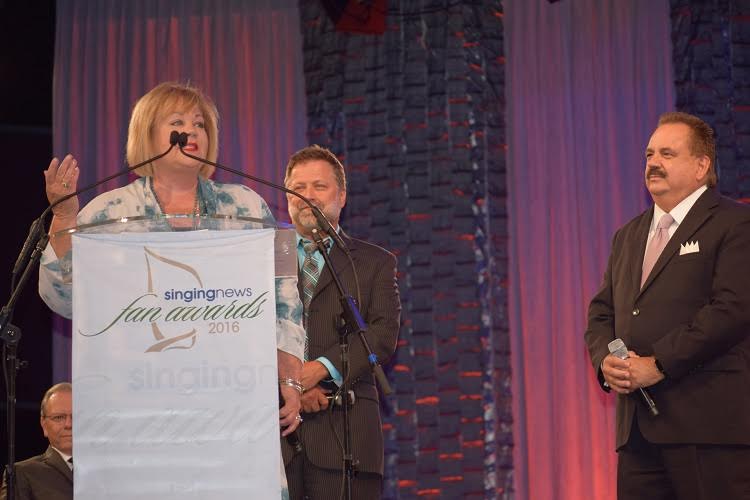 Goodman Revival Named Favorite New Artist in 2016 Singing News Fan Awards
 Nashville, Tennessee – Award-winning trio Goodman Revival added another award to its growing list of accomplishments as the trio of veterans won its first Singing News Fan Award this week. The seasoned talent in this group caused it to soar to the top of fans radars as they won the illustrious Favorite New Artist Award.
The Awards were presented on Wednesday, September 28, 2016 in conjunction with the National Quartet Convention held in Pigeon Forge, Tennessee. This phenomenal group performed during the program that afternoon.
Consisting of all former members of the The Happy Goodmans, this new group captures the spirit and expression of the latter group. When Goodman Revival hits the stage, instantly the excitement is stirring and you know that this will not just be a concert, but an experience.
Johnny Minick started with the The Happy Goodmans as a pianist and then moved on to vocalist when Sam Goodman passed away. Tanya Goodman Sykes, daughter of Rusty Goodman, cut her teeth on the Goodmans music, while Michael Sykes, Tanya's husband, played in The Happy Goodman band. All three members are Goodman family at heart.
Johnny Minick commented, "It is totally amazing to stand back and watch as God continues to pour His blessings on us as a group. He is opening doors we never imagined He would open."
Earlier this year, Goodman Revival was nominated for several Absolutely Gospel Music Awards and took home the coveted Ovation for Traditional Recording of the Year for its critically acclaimed Gaither Music Group debut Songs In the Key of Happy.
If you would like to interview Johnny Minick or Goodman Revival contact AG Publicity at 
info@agpublicity.com
.
Twitter Johnny at @JohnnyMinick .
Tags:
Goodman Revival
,
Johnny Minick
Posted in
announcements
|
Comments Off

on Exciting News For Goodman Revival
Written by Staff on January 29, 2016 – 2:44 pm -
Nashville, Tennessee (January 29, 2016) Pastor, Singer, Songwriter, and Campmeeting speaker, Johnny Minick is known around the world for his singing and preaching, but also for his years spent with the Happy Goodman Family.
After two Doctorate Degrees the point has come in his career that he is ready to reach out a little further with his ministry. He chose AG Publicity to help him do that.
AG Publicity President, Deon Unthank stated, "I have known Johnny Minick for over 15 years, sitting under his ministry as Pastor, so it is a privilege to call him my friend. It is an even greater privilege to represent his total endeavor in reaching the world, whether it's his preaching and singing at campmeetings, singing on stage with Goodman Revival, or featured on a Gaither Homecoming video."
Johnny commented, "I'm very excited about signing with AG Publicity. I've been looking for a way to get the word out concerning all the doors that have been recently opened to me. This opportunity is one I'm truly looking forward to exploring."
If you would like to interview Johnny Minick contact AGPublicity at info@agpublicity.com.
Learn more about Johnny Minick Ministries at http://www.johnnyminick.com/ or on FaceBook at https://www.facebook.com/johnny.d.minick/.
Twitter Johnny at @JohnnyMinick .
####
About Johnny Minick
Johnny Minick was born and raised in Little Rock, Arkansas. He began his musical journey at the age of 3. Johnny's parents enrolled him in piano lessons at age 6 where he began to study to be a classical pianist. Those years of classical training gave Johnny an important foundation for the artistry he now enjoys. In his teens, Johnny followed a familiar path that many other classically trained musicians follow; the road to jazz.
In August of 1974, Johnny and his sweetheart, Sherry McDonald married. In the Summer of 1975, Johnny and Sherry packed up and moved to become a part of The Happy Goodman Family. The next few years made an indelible mark on Johnny's life and musical career. Even though he had founded River Of Life Church in 1992 in Smyrna, TN Johnny reunited with Howard & Vestal Goodman to revive the Happy Goodman brand. With the success of the Bill Gaither Homecoming videos and concerts, The Happy Goodmans found a platform to promote their music around the world. From 1995 through 2002, Johnny traveled 3 days a week singing to 1.3 million people per year attending their concerts from coast to coast and in Europe. At the same time, River Of Life continued growing and enjoying their new worship facility at their Sam Ridley Parkway location. The years with the Goodmans were productive and continues to bear fruit to this day. His relationship with Howard, Vestal, Rusty & Sam continued until their deaths.
In 2014, Johnny, Tanya Goodman Sykes and her husband Michael Sykes started singing together as Goodman Revival. In February of 2014 they went into the studio and recorded their debut project, "Songs In The Key Of Happy." Spring House Music heard the recording and leased the project to be distributed through the Gaither Music Network and in October 2014 a companion video was produced at the Gaither Studios in Alexandria, IN.
For or more news click here.
Tags:
Goodman Revival
,
Johnny Minick
,
southern gospel
Posted in
announcements
,
artists
|
Comments Off

on Johnny Minick Signs Agreement With AG Publicity
Written by Staff on August 11, 2015 – 11:12 am -
The name Goodman is synonymous with Southern Gospel Music. This legendary group will forever be remembered for their timeless classics, such as, "I Wouldn't Take Nothing for My Journey Now" and "Who Am I."  While Howard, Vestal, Rusty, and Sam are now singing on Heaven's shores, another generation of Goodmans has stepped up to continue the family's musical legacy. Tanya Goodman Sykes, Michael Sykes, and Johnny Minick are singing songs in the key of happy. What was thought to be a one-time special performance at Johnny's church, River of Life Assembly of God Church, in Smyrna, Tennessee, has now blossomed into a new ministry. Goodman Revival seeks to not only maintain the uniqueness of the Happy Goodman Family musical style, but to also preserve the purpose of ministry: to share the love of Jesus Christ every time God opens the door.
Sometimes, it is evident that God works in mysterious ways. Tanya says the formation of this new ministry was a complete surprise, yet a tremendous blessing. She discussed their decision to move back to Tennessee: "When we first moved back here, we were staying with Johnny and Sherry while we were looking for a house. One Sunday, I sang, 'Who Am I?'  Just different things, and Johnny would play, and he and Michael would sing harmonies. Then one Sunday, we decided to sing, 'Until You've Known the Love of God.'  We worked it up on Saturday night and we did it on Sunday. At that time, they were posting the services online and putting stuff on YouTube. I saw it on YouTube and it had like 10 or 15,000 hits. We were just shocked. A few months went by and a promoter called us. He said, 'I want to know about how I can get Johnny, Tanya, and Michael to come and sing.' We said, 'We don't have a group.'"
According to Tanya, the promoter wanted to schedule the group for a reminiscing night of Gospel Music, featuring Tanya, Johnny, and Michael, along with the Rambos and Hinsons. Tanya said they decided it would be fun, but they had to learn more songs to sing, since they had only prepared a couple for church. She said someone got very excited about their limited performances and gave them the money to make a record.  Soon the Gaithers wanted them to do a video and as they say, they rest is history. That's how Goodman Revival was born.
Goodman Revival has, of course, a strong musical influence from the original Happy Goodman Family.  As the daughter of Rusty Goodman, Tanya shares her father's heart for ministry. So do Johnny and Michael.  Tanya added, "My dad was a stickler for a good song. A lyric was really important to him and it was also really important that the melody marry that lyric and really represent what that lyric was about, so we all are very picky about songs. One of the things that Michael, Johnny, and I learned by example from my family is that you just need to use the gift that God put in you." Read more »
Tags:
Goodman Revival
,
Goodmans
,
Johnny Minick
,
Michael Sykes
,
SGNScoops Magazine
,
Southern Gospel Music
,
Tanya Goodman
Posted in
artists
,
christian entertainment
,
Christian interest
,
industry news
,
sgn scoops magazine
|
Comments Off

on Goodman Revival: A Happy Surprise
Written by SGN Scoops Staff on July 3, 2015 – 9:15 pm -
This week's program on "Good News Music Radio with Woody Wright" features Part 1 of our interview with Johnny Minick and music from Guy Penrod, The Gaither Vocal Band, Gordon Mote, Willie Wynn, Jason Crabb, The Hoppers and MORE!
Tune-in to one of the stations listed on our site or listen online for an hour of great gospel music, inspiring ministry and fun with Woody Wright and D. Scott Kramer at:
http://GoodNewsMusicRadio.com
Find Good News Music Radio On Facebook Here
Tags:
Good News Music Radio
,
Johnny Minick
,
Southern Gospel News
Posted in
announcements
|
Comments Off

on Johnny Minick On This Weeks Good News Music Radio With Woody Wright
Written by SGN Scoops Staff on October 9, 2014 – 9:25 am -
NASHVILLE, Tenn.—October 9, 2014—Gaither Music Group is excited to announce a partnership with newly formed trio Goodman Revival, of Smyrna, TN. Tanya Goodman Sykes, Michael Sykes and Johnny Minick, each of whom are seasoned Christian music veterans, have joined together to perform and record as a trio, capturing the musical styles and heritage that have endeared them to countless people around the world.
"This music has become the fabric of our lives," describes Goodman Sykes.  "The legacy of my family has contributed to each of us. They were our mentors. They taught us to not do what everyone else does…but to be true to what you are. So we chose the songs we loved and put our fingerprints on them.  If we can honor our roots and sing with the same spirit that inspired us, we will feel accomplished."
Accomplishments are nothing new to this team of veteran singers and musicians.  After singing with her family, including her father, Rusty Goodman, as a teenager, Tanya performed solo concerts and toured with Michael whom she had met and married while traveling.  Amidst becoming a mother to two daughters, she found time to be a member of the trio Heirloom, record a GRAMMY® Award-winning album of lullabies for children, sing on numerous recordings as a Nashville studio singer and become a featured soloist in Nashville's Christ Church Choir.
Before playing piano on the road with The Goodmans, Michael toured with artists including the Hemphills, Ponder, Sykes & Wright, Sammy Hall and Willie Wynn and the Tennesseans. He then began working as a producer where he blossomed, shaping the recordings and careers of artists including the Gaither Vocal Band, The Martins, The Oak Ridge Boys, J.D. Sumner & The Stamps, The Imperials, Dottie Rambo, Russ Taff and Michael English among others.
On the road since the age of 17, Minick performed with The Happy Goodman Family in the mid-'70s as a piano player before starting his own family group.  In 1996, he rejoined The Goodmans, forming a trio with Howard and Vestal Goodman.  The three of them toured together for five years, recorded several projects and appeared regularly on the 
Gaither Homecoming
 events. In addition to his singing career, in 1993, Minick started
River of Life Church
, in Smyrna, TN, which he still pastors today.
"Singing with Goodman Revival feels like more of a gift than anything," explains Minick.  "God has given us something with this. We love what we do, and we spend a lot of time laughing!"
"There is a trust between us," says Goodman Sykes.  "Friendship is at the core of what we are doing, and we have a wealth of shared experience, growing up in church all the time and having this music as such a big part of our lives.  We are taking things a day at a time, walking through doors as they open and enjoying this adventure."
Part of that adventure has resulted in their debut recording, Songs in the Key of Happy (Gaither Music Group), which is scheduled to release in January of 2015, along with a companion live performance video hosted by Bill Gaither.
"We are all 'family,' so we have a good time," explains Sykes.  "Our time together in the studio, well, I can hardly talk about it.  It's real.  I didn't expect to feel this. It just feels right."
The
Songs in the Key of Happy
CD and DVD will be exclusively distributed by
Capitol Christian Distribution
and will be available throughout general market stores and the Christian marketplace in addition to online retailers including
iTunes, Amazon
and 
www.gaither.com
.
Tags:
Goodman Revival
,
Johnny Minick
,
Michael Sykes
,
Songs in the Key of Happy
,
southern gospel
,
Tanya Goodman Sykes
Posted in
announcements
|
Comments Off

on GOODMAN REVIVAL: Singing in the Key of Happy
Written by SGN Scoops Staff on April 23, 2012 – 4:03 am -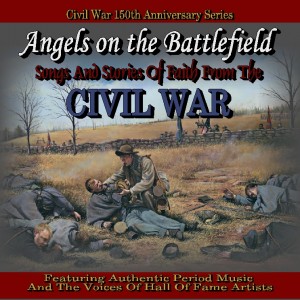 Nashville: Popular Southern Gospel artist Matt Felts has released a new project, Angels On The Battlefield, featuring original Civil War hymns. The historic album features songs familiar to the soldiers of both the North and South, each played on period instruments by Nashville best musicians. The album also includes gripping narrations that honor the role faith played during America's greatest conflict. Felts was joined in the studio on select songs by an all-star cast including Johnny Minick, Mike Allen and Aaron Minick. "This project has been years in the making. I wanted this to be as accurate to what you would have heard if you joined soldiers around a campfire." Felts stated.
     Angels On The Battlefield comes out as the Civil War community celebrates the 150th anniversary of the conflict. The project is scheduled to be carried by all National Parks across America as well as museums and historical gift shops. It will also be sold by major retailers both in the Christian market as well as secular business's such as Best Buy and Borders. "From the beginning, my goal has been to present God's love to people that may never come to a Gospel concert or church service. I am overwhelmed the response that we have already received. God is opening huge doors." added Felts. The project was debuted in Gettysburg in March of this year. "I have heard many Civil War projects and this album is by far the best I have ever heard. It is a must have for any Civil War enthusiast or fan of great music." Said George Lomas, Civil War expert.
     Due to the overwhelming repsonse of this album throughout the Civil War community, Felts will be making select appearances at battlefields such as Gettysburg, Fredricksburg and also in Washington, DC.
To purchase a copy of this highly anticipated album or to learn more, go to www.AngelsOnTheBattlefield.com
Tags:
Aaron Minick
,
Civil War
,
Civil War hymns
,
Fredricksburg
,
Gettysburg
,
Johnny Minick
,
Matt Felts
,
mike allen
Posted in
announcements
,
Christian interest
|
Comments Off

on Matt Felts Releases Civil War Project, Angels On The Battlefield