Written by scoopsnews on July 5, 2020 – 10:14 am -
For Jeff and Sheri Easter, gospel music is genetically programmed into their DNA. As members of acclaimed musical families—Jeff's father is one of the Easter Brothers and Sheri's mother is a member of The Lewis Family—they grew up surrounded by the sound of people praising God through their musical gifts.
In August of 1984, both were at the Albert E. Brumley Sundown to Sunup Gospel Singing in Arkansas. Jeff, who was playing bass for the Singing Americans at the time, took the opportunity to reintroduce himself to Sheri's mother Polly; they had met on a previous occasion. Polly introduced Jeff to Sheri and the two were married ten months later.
They traveled and performed as part of The Lewis Family for several years. But in 1988 they decided it was time to strike out on their own, and they haven't looked back since. Also joining Jeff & Sheri on the road now is their daughter, Morgan and Son-in-law, Landon Smith, and cousin, Jarred .
Last night, the Easter's stopped by People's Tabernacle in Savannah, Tennessee where Josh and Ashley Franks serve as Pastor and music ministers.  They sang a mixture of their hit songs and some new ones. It was a wonderful night!
Here are a few photos from the Independence Day Celebration.
For More information on Jeff and Sheri Easter: HERE
Check out upcoming concerts and events at People's Tabernacle: HERE
Tags:
jeff and sheri easter
,
Josh and Ashley Franks
,
People's Tabernacle Church
Posted in
announcements
|
Comments Off

on Jeff and Sheri Easter in Savannah, Tennessee
Written by scoopsnews on June 23, 2020 – 3:13 pm -
Are you ready for some great gospel singing? If your answer is yes, Gulfport, Mississippi is the
place to be this coming Saturday night at the 48th Annual Bibletones Homecoming with Special Guests, Josh
and Ashley Franks & The LeFevre Quartet.
Ticket are $20 and will be available at the door. Come early. Doors open at 5 pm. The concert will begin
promptly at 6 pm.  All details and directions to the venue are on the poster above.
Hope to see you there!
Tags:
Josh and Ashley Franks
,
The Bibletones
,
The LeFevre Quartet
Posted in
announcements
|
Comments Off

on The Bibletones 48th Annual Homecoming …THIS WEEKEND!
Written by scoopsnews on June 4, 2020 – 8:21 am -
Ellisville, MS- Jack Armstrong and The Bibletones Quartet Announce Plans for 48th Annual Homecoming  Sing.  The event will take place on June 27th, 2020, at 6:00 pm CST, at Campground  Baptist Church in Gulfport, Mississippi. The doors will open at 5:00 pm.
Tickets are $20.00 and will be available at the door. Children 12 yrs old and under will be free admission.
"I am so excited that it worked out for us to have our Homecoming this year, states Jack Armstrong. We are thrilled to have our friends, The LeFevre Qt and family, Josh and Ashley Franks as our special guests. We hope you will make a special effort to be with us. I think a great concert and reunion of our Bibletones fans and friends will be a breath of fresh air for us all."
The church address is 20577 MS 53, Gulfport, Mississippi 39503.
For more information, call 256-310-7892 or 601-310-2991.
Tags:
Josh and Ashley Franks
,
The Bibletones
,
The LeFevre Quartet
Posted in
announcements
|
Comments Off

on Bibletones Quartet Announce Homecoming Plans
Written by Staff on June 1, 2020 – 5:05 pm -
Save the date of Tuesday, June 9th for a special evening of Gospel Music! This LIVE concert will be available on FaceBook and YouTube, shown from Nashville.
Watch the concert for FREE and support the "Southern Gospel Artist Relief Fund".
Featuring: The Booth Brothers, Gold City Quartet, The Perrys, The Bowling Family, Josh and Ashley Franks.
Tuesday, June 9, 2020
Time: 8:00 PM  EDT, 7:00 PM  CDT
Presented by Bill Bailey
Did you know that you can receive the printed, full-color version of SGNScoops Magazine by subscription? Find out more
HERE
.
For more information click HERE.
Tags:
bill Bailey concert
,
Gold City Quartet
,
gospel music
,
Josh and Ashley Franks
,
Southern Gospel Music
,
the booth brothers
,
The Bowling Family
,
the perrys
Posted in
announcements
,
artists
|
Comments Off

on Booth Brothers and more at Free Online Concert June 9
Written by Staff on May 6, 2020 – 10:33 am -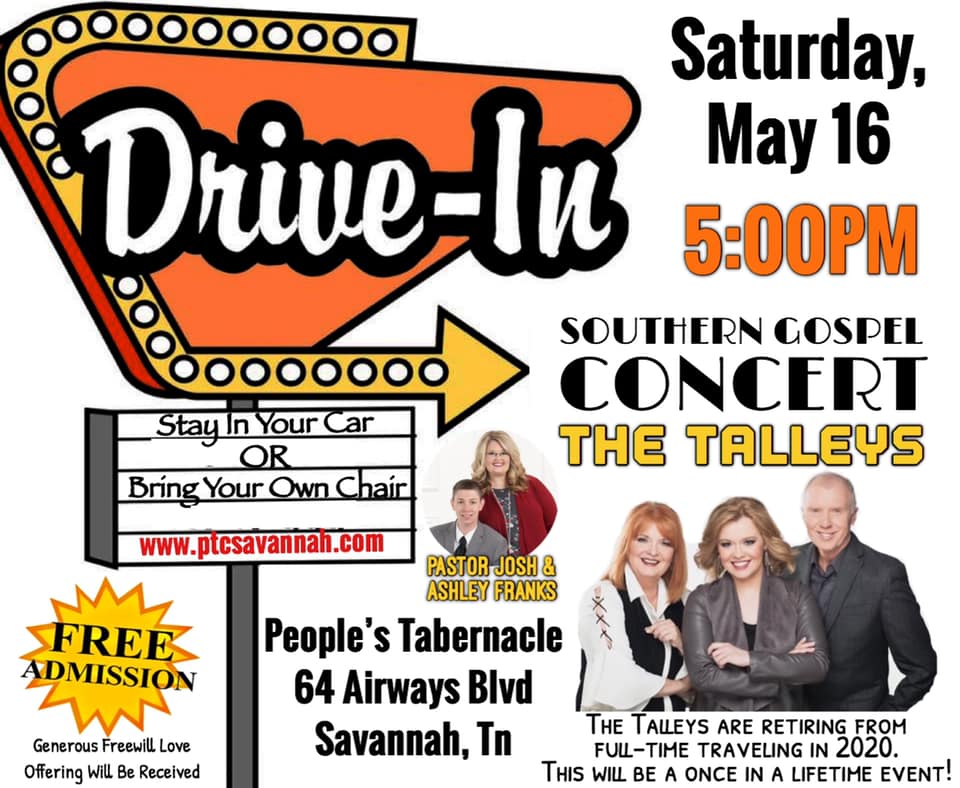 People's Tabernacle Church, 64 Airways Blvd, Savannah, Tennessee, will welcome award winning Christian artists, The Talleys, on Saturday, May 16, 2020, at 5:00PM.
This is a DRIVE-IN, outside concert. You can stay in your car or you can bring your own chair and sit outside.
The Talleys, which have enjoyed many years of success, including a Dove Award, numerous Singing News Fan Awards, and 11 top No. 1 songs, recently announced they will be retiring at the end of 2020, which makes this concert more special and could be a once in a lifetime event. It could be one of the last opportunities to see them in the greater West Tennessee/North Alabama/North Mississippi area.
Pastor Josh and Ashley Franks will also appear.
No admission will be charged, however a generous freewill love offering will be received.
In case of rain, this event will be moved into the church's gymnasium.
For more information, go to www.ptcsavannah.com
Find out more about the Talleys and Lauren Talley in the April edition of SGNScoops Magazine HERE.
Did you know that you can receive the printed, full-color version of SGNScoops Magazine by subscription? Find out more 
HERE
.
Tags:
gospel music
,
Josh and Ashley Franks
,
Savannah
,
Southern Gospel Music
,
talleys
,
Tennessee
Posted in
announcements
,
artists
|
Comments Off

on The Talleys to appear in Savannah, Tennessee
Written by Staff on April 2, 2020 – 1:03 pm -
As Vonda Armstrong walked out of Sunday school class, the choir director informed her that her daughter, Ashley, would be singing that morning for the service. Ashley Franks was just four years old at the time. She sang, "Jesus Loves Me," during the invitational, and it was apparent to those in attendance that her voice touched people that day.
"I knew God had a special purpose for her life," recalls Vonda.
After that morning, Ashley knew singing was what she wanted to do with her life. Some things are by divine design and Ashley's talents are no exception. She comes from a musically gifted family. Her grandparents played and sang bluegrass and her mother sings gospel music. Ashley's soaring soprano is supremely showcased in the couple's music, meshing well with her husband's powerful range.
Josh Franks was born in Florence, Alabama, and he can't remember life without music. Having musical talent on both sides of his family, it was something that was a part of him from the beginning. He would gather his stuffed animals as a boy and they served as his audience while he sang and preached to them. What he didn't realize at the time was that he was being prepared for his ministry.
In 2006, Ashley attended the National Quartet Convention with her family to sing, and Josh Franks appeared on the same showcase.
"I remember thinking he had such a big voice inside such a small person," she muses.
After they both returned to their homes, Josh and Ashley reconnected, and by the following February they were engaged. That December, they were married.
God had a purpose for their lives and it began unfolding. Just eight days after their wedding, Ashley and Josh recorded their first gospel album together. God began weaving together their ministry, guiding them like a tapestry where every thread was carefully laid in place. He has used their love of music to help reach others that were lost and hurting.
When reflecting on the songs they have recorded, Ashley says, "Oh my, it's hard to pick a favorite. I don't think I have a favorite, per se. Right now, a song from our latest album that has really been ministering to me is called, 'Just As Blessed.' It talks about how we are just as blessed in the bad seasons of our life as we are in the good ones. Such a great reminder that I think we all need."
Josh began feeling led to minister on a deeper level and accepted the position of senior pastor at his home church.
"Josh and I, both at separate times, heard God say that he wanted us to go home and work there. When we finally had the conversation, we knew that was our next step. We did not know how it would even happen. Josh has never been affiliated with any denomination. But all the pieces just sort of fell into place," Ashley recalls.
"We started with around 12 people for our church attendance. It's grown now into around 125 per service," states the blonde beauty.
The couple continues to travel and sing in addition to their duties serving as senior pastor for Peoples Tabernacle Church in Savannah, Tennessee.
When Josh and Ashley reflect back on their ministry, there is something they desire for others to see.
Ashley shares, "For me, I would just want people to say that we were real. That we did not hide the ugly to keep up a good image…but that we gave Jesus even through tough times and that we gave everything we had, every time we had a chance."
The calling on the lives of Josh and Ashley Franks is to assist in building the kingdom of Heaven. Like that carefully threaded tapestry, where each thread was divinely placed and held together by hundreds of other threads, their singing and preaching has touched others and brought them into the family of the Almighty. They are helping to build God's kingdom, one soul at a time.
By Jimmy Reno
Find out more about Josh and Ashley Franks HERE
First published by SGNScoops Magazine in January 2020
Did you know that you can receive the printed, full-color version of SGNScoops Magazine by subscription? Find out more 
HERE
.
Tags:
diamond awards
,
gospel music
,
Josh and Ashley Franks
,
SGNScoops Magazine
,
Southern Gospel Music
Posted in
artists
,
sgn scoops magazine
|
Comments Off

on Josh and Ashley Franks are Building the Kingdom
Written by scoopsnews on February 18, 2020 – 2:13 pm -
The annual "JOSH & ASHLEY FRANKS ALABAMA HOMECOMING" is set for Friday, February 21, at Liberty Hill Church, 77 Co Rd 142, (off Hwy 431), in Heflin, AL. Diamond Award Winner for Duet of the Year and host, Josh & Ashley Franks, have included special guest Hope's Journey and one of Southern Gospel's Favorite Songwriters and Artist, Phil Cross & Poet Voices (pictured).
Phil Cross is celebrating 40 years of gospel songwriting with songs such as "When I Get Carried Away", "Champion of Love", "I Am Redeemed", "Wedding Music", and many many more. Dinner will be served beginning at 5:30 PM and the concert will begin at 7:00 PM CST. The concert is FREE admission, however, a generous love offering will be received. For more information visit
www.joshandashleyfranks.com
Tags:
ALABAMA HOMECOMING
,
Hope's Journey
,
Josh and Ashley Franks
,
Poet Voices
Posted in
announcements
|
Comments Off

on "JOSH & ASHLEY FRANK'S ALABAMA HOMECOMING" This Week!
Written by Staff on January 18, 2020 – 8:31 am -
Happy New Year! We are excited to present to you the first issue of SGNScoops Magazine for 2020. This is also the first issue that is a color magazine, sold by subscription and available on the record tables of your favorite artists. If you don't see the SGNScoops Magazine, condensed hard copy, on an artists' record table, then please ask them to carry it. We would love for you to see it!
The January issue of SGNScoops Magazine is usually one where our cover highlights an artist that we feel will make waves in Gospel Music in the new year. This year, we bring you Josh and Ashley Franks, whose music has been climbing the charts and whose talented family is well-known in the industry. We hope you enjoy this great article by Jimmy Reno.
Be sure to read all about the Erwins, Eli Fortner, Citizens of Glory, Mark Bishop, and Andy Leftwich; artists whose styles span the breadth of Gospel music. JP Miller reaches a milestone, and we pay tribute to Dr. Buck Morton. All this plus our DJ Spotlight, Coastal Events Update, Publisher's Point, and the top songs across the country. Thanks to all of our writers this month, including Jantina Baksteen, Justin Gilmore, Lyndsey Chandler, Marcie Gray, Les Butler, Vonda Armstrong, and Rob Patz. Some of these talented people are doing double-duty this month, and all are gracious when asked for something at the last minute. Please check out their biographies at the end of the issue.
We hope you start the year with SGNScoops, but more than that, we hope you start the year with Jesus. He is our Rock and our Foundation, and if you don't know Him, you are missing out on peace and security that can only be found in a relationship with our Lord and Savior, Jesus Christ. If you have any questions or comments, please write to me at lorraine@sgnscoops.com
Read the latest SGNScoops Magazine online BELOW
You Can Download SGNScoops Magazine Here
Find SGNScoops Magazine On Facebook
Here
Listen To Todays Gospel Music
Here
Tags:
Andy Leftwich
,
Christian Music
,
Citizens of Glory
,
Dr. Buck Morton
,
Eli Fortner
,
Erwins
,
gospel music
,
Josh and Ashley Franks
,
JP Miller
,
Mark Bishop
,
SGNScoops Magazine
,
Southern Gospel Music
Posted in
announcements
,
artists
|
Comments Off

on January 2020 SGNScoops Magazine
Written by scoopsnews on December 12, 2019 – 9:23 am -
My favorite Christmas memory happened just a few years ago.
Josh and I are enjoying Christmas much more in recent years because our kids are old enough to get excited about what Santa brings!
Just about 2 years ago, Eli (then 3 or 4 years old) woke up before the sun on Christmas morning to go look at his presents! He tried to wake myself and Josh up, and we were attempting to come alive after just a few short hours of sleep.
He finally gave up on us and took off running to the living room, only to smack his head into the side of our dresser on his way out the door because he turned the corner too quickly.
It was not funny then, but we get a good laugh every now and again thinking about that day now!
Tags:
Favorite Christmas Memory
,
Josh and Ashley Franks
Posted in
announcements
|
Comments Off

on Favorite Christmas Memory- Ashley Franks
Written by Staff on November 15, 2019 – 10:18 am -
There was a young man from Florence, Alabama who met a young lady from Anniston, Alabama in 2006 at the National Quartet Convention. They were both singing in a showcase. Was it love at first site?
Ashley Franks says, "Absolutely not!" 
Ashley has many childhood memories of making mud pies at her grandmother's house. She was born in a musical household with her grandparents playing and singing bluegrass music. 
"My pawpaw loved to pick and grin!" Ashley smiles.
Ashley has two brothers, Brad and Michael, and attended Cleburne County High School. Later in life she sang with New Desire from Aragon, Georgia. When she was a junior in high school, she and her mother (Vonda Armstrong) formed Hope's Journey where she would stay until 2007.
There isn't enough space for Josh Franks, an only child, to tell about his childhood years. He attended Hardin County High School. 
"Both sides of my family has some musical talent, however none of them ever did it professionally," says Josh. "I was born into it. So I don't know a life without music."
God blessed Josh with the ability to play numerous instruments. 
"Now I don't claim to be the best, but I know a few chords and notes on most instruments," says Josh. "I have so many wonderful people who have been a great influence in my life. I've been influenced by every day normal people, then there are church people, and of course many singers and musicians.  Pastors and evangelist have also influenced my life. I am grateful for each person."
Josh proposed to Ashley at Taco Bell with a sauce package that said, "will you marry me?" 
They were married on December 8, 2007, at Liberty Hill Congregational Methodist Church, and began singing together as a duet known as Josh and Ashley. 
"I got to sing background vocals on Josh's last solo album," Ashley says. "He recorded a song I wrote called 'He Loves Me.' We also sang on a couple of other songs. We first performed together in Columbia, Tenn. on New Year's Eve 2007."  
Lauren Talley has been a big musical influence in her life. However, Ashley states that if she could be like anyone, it would be Karen Peck, with Karen's heart and spirit.
A lot of milestones have been reached throughout the Frank's 12 years of marriage and ministry together. They have had two great children, Priscilla and Eli. 
"A couple of years ago, Priscilla loved to watch a show with a character named Michael," says Ashley. "When she would play with her brother, she would pretend they were the show's characters and called him Michael. For several months, Eli was totally convinced his name was Michael. We got a good laugh."
Josh and Ashley Franks have had God's true blessings and God has given them the desires of their heart. They have been privileged to sing on many stages including N.Q.C., Singing in the Sun, Gospel Music Winter Convention, Gatlinburg Gathering and many, many more. Also, Josh has been asked to speak at the Creekside Gospel Music Convention this year. 
In addition to singing, the couple is involved in several other ministries including pastoring at Peoples Tabernacle Church in Savannah, Tenn., where they are getting ready to start construction of a brand new sanctuary. They also work with gospel music promoter Bill Bailey promoting concerts while doing some promoting on their own. 
"Pastor Bill has been a dear friend of our family," says Josh. "We are so much alike, yet we are 30 years apart in age. It is sometimes scary. We enjoy so many of the same things of life. I count it a high honor to be apart of such a wonderful ministry and share the same vision reaching people for Christ through Southern gospel music." 
The couple now have a regular TV program on WATC-TV that airs on Saturday afternoon, The Josh and Ashley Show.
What does the future hold for Josh and Ashley Franks? They don't travel as much as they did. At one time they were up to 200 dates a year, but with their church and other activities they are only doing around 70 dates a year. This is still a great number for a pastor and his wife with all their church obligations where they try to be at every Sunday and Wednesday. They are thankful that God has given them a chance to do both. 
"While we have a home base and wonderful church family who supports everything we do, I don't ever see us off the road completely," says Josh. "I think there will also be a part of us that travels and ministers to other people outside our home church. Either way, whether we are on the road or on the platform of our church, we are going to sing for Christ and pray that our music and message blesses people."
You can learn more about Josh and Ashley and keep up with them and their TV schedule HERE  
By Robert York
First published by SGNScoops Magazine in August 2019
For more information on Creekside click HERE or email rob@sgnscoops.com.
For more Gospel music features, read the latest SGNScoops Magazine HERE.
Download SGNScoops Magazine In PDF 
Here
Find SGNScoops Magazine On Facebook 
Here
Listen To Todays Gospel Music Here
Tags:
gospel music
,
Josh and Ashley Franks
,
Southern Gospel Music
Posted in
artists
,
sgn scoops magazine
|
Comments Off

on Josh and Ashley Franks