Written by Staff on November 15, 2020 – 1:12 pm -
Beyond the Song by Jantina Baksteen
For this edition of Beyond the Song, I reached out to Avenue Trio who have had some member changes. The Trio have sent an amazing new song to gospel music  radio.
I talked to Kasey Kemp about the changes with Avenue Trio.
Jantina Baksteen: Avenue Trio is a sparkling group! Where did you find Daniel Rivera and Kyle Smith?
Kasey Kemp: I have known Daniel since he was in Bible college. We have been friends many years and when I knew he was available, we talked about the ministry of Avenue, and both felt God opening this door. 
Kyle is new to gospel music and I met him at the Steve Hurst School of Music. He is from Mississippi and a great young man. 
JB: Kasey, how do you enjoy standing alongside those two young men on stage?
KK: It's awesome! They are both good Christian boys and I have a blast with them. 
JB: You have an awesome single out called, "They Could Not," that features Kyle. Please share how this song came to you, its message, and what it means to you personally? 
KK: It's an old Sandi Patty song that I had not heard in years. I actually had forgotten about it. Our record company mentioned this song and said they felt it should be redone, trio style. Josh Townsend of Legacy Five arranged and produced it. It's an amazing arrangement and very vividly tells the story of Christ's earthly journey up to the cross and his resurrection. I can't help but tear up every time we sing it. 
JB: Now you have these two young men on board, do they do all the hard work setting up stuff before the event starts?
KK: Are you kidding!? All joking aside, everyone has their jobs, and then helps the others after getting their part done. It's a great team effort.
JB: Who is the joker on the Avenue team?
KK: Uhm…everyone! Hah!
JB: Do you have a fun road story to share?
KK: Oh, wow, there are so many. I'll pick one. Lots of restaurants have special birthday songs if it's your birthday. Sometimes even desserts. We enjoy playing jokes on each other and telling the waitress it's one of our birthdays. Of course, we always tell them it's a joke, but they go through with it anyway. The best part is when we go to a Mexican restaurant and they smash whipped cream in your face. It's always fun to see which one will have a birthday that day!
JB: Has Kyle, Daniel or you have a testimony to share?
KK: We would all be quick to say that we are blood bought, born again children of God. God has saved us, blessed us with a measure of talent to service Him. 
JB: As well as Avenue, Kasey and Haley have another ministry. Could you share some about that?
KK: My wife, Haley, and I, have a church service and revival ministry. We have recorded our first cd called, "Living In Love," with songs she has written and a few other great songs. We enjoy going into a church to sing, play my trumpet and preaching the word. God is allowing us to see people saved and revived through this ministry. We are so blessed to do this together as a married couple. 
JB: Are Avi and Autry joining you every family date? Is Avi interested in stepping up and singing a song?
KK: They both love to sing and can match pitch. We are really excited about that. When they hear our songs come on the radio, they start bouncing around and moving their heads back and forth. Autry can sing a few words but Avi can sing them all! She even recorded a chorus of "King Of The World," on our recording. We are so proud of both of them. 
JB: Do you have any stories about being on stage with Haley? 
KK: Long story short, she got shocked by some grounding issues at a church through the sound system. God blessed by Haley not being harmed even though it was severe, and a young lady that was a Buddhist came to Christ through the experience. It was an amazing few days.
JB: You and Haley have also got a great song out, called "Blood Bought." Please  share some about that.
KK: "Blood Bought," is an old McGruders' song. I had been watching some of their stuff on YouTube and Haley heard "Blood Bought." She had been wanting to do a song about the blood of Jesus, and when she heard it, she said, "That's it!" We love singing it and people really seem to enjoy it. 
JB: What do Avenue Trio members do when you have time off? 
KK: Lots of things.I work on mine and Haley's schedule, the group schedule, and spend as much time with my family as possible. Daniel has an internet gospel music radio station called, Good News Southern Gospel. Aside from that, he enjoys time with his wife and children.
JB: Where and how can we contact Avenue Trio and your family ministry?
KK: Our website is the best place: www.AvenueMusic.net  Haley and I can be reached at www.KaseyAndHaleyKemp.com
We hope you enjoy Avenue Trio singing, "They Could Not:"
Thanks to Avenue Trio for sharing your ministries with SGNScoops. Many blessings and safety on ministry roads. We pray that the message in the songs and words you share on stage change the lives of your listeners across the world.
For more news read the SGNScoops Magazine Here
Phone Friendly SGN Scoops Magazine Here
Find SGN Scoops Magazine On Facebook Here
Download SGN Scoops Magazine PDF Here
Listen To Today's Southern Gospel Here
Tags:
Avenue Trio
,
Daniel Rivera
,
gospel music
,
Kasey and Haley Kemp
,
Kasey Kemp
,
Kyle Smith
,
Southern Gospel Music
Posted in
artists
,
Beyond the Song
|
Comments Off

on Beyond the Song: Avenue Trio sings "They Could Not"
Written by Staff on August 7, 2020 – 11:44 am -
Nashville, TN (August 7th, 2020) –Up-and-coming Gospel trio, Avenue, is proud to announce its newest members.
In a video release this morning, industry veteran Kasey Kemp welcomed two newcomers to the group. Mississippi native Kyle Smith will be stepping in as the trio's lead singer while accomplished vocalist Daniel Rivera takes the tenor position.
The new line up has already spent time in the studio together working on brand new music, including a new single that is expected to be at radio next month.
For more information about the new group members, as well as the future of Avenue, watch the video link below:
To find out more about Avenue, visit avenuemusic.net.
Did you know that you can receive the printed, full-color version of SGNScoops Magazine by subscription? Find out more 
HERE
.
Find SGNScoops Magazine On Facebook 
HERE.
You can download the latest edition of SGNScoops Magazine 
HERE.
Read the latest edition of SGNScoops Magazine online
HERE
.
Listen To Today's Gospel Music
HERE
Tags:
Avenue
,
Avenue Trio
,
gospel music
,
Kasey Kemp
,
Southern Gospel Music
Posted in
announcements
,
artists
|
Comments Off

on Avenue Welcomes New Members
Written by Staff on February 16, 2020 – 11:14 am -
Kasey Kemp, of gospel music artists the Kemp Family, wrote on his Facebook page this morning of an accident that happened while they were singing.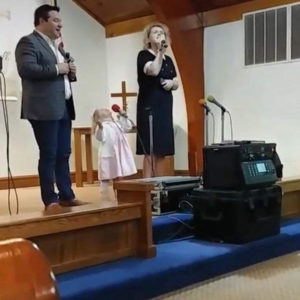 He tells of the following
Prayers appreciated!
This morning after our first song, there was a major equipment malfunction and it caused Haley to get shocked by a microphone. It was shocking enough that it caused her body to freeze, drop to the floor and she was unable to get the microphone out of her hand. I pried it out of her hand as it shocked me, too!
Haley has been taken by ambulance to the hospital short of breath and with major shaking.
Avaline was on stage with us and was headed to grab a mic to as to help us sing when Haley grabbed it first, shielding Avi from this happening to her.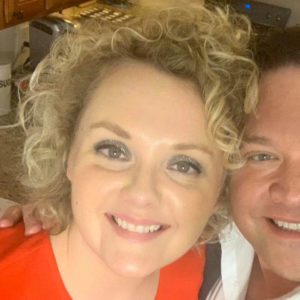 We are at the hospital now and I will update everyone asap. Please pray for Haley and our family. We appreciate your prayers and love.
Kasey
PS Tonights service has obviously been canceled and will be rescheduled soon. Thank you for understanding.
Please be in prayer for Haley Kemp and her family.
Tags:
Electrical shock
,
gospel music
,
Haley Kemp
,
Kasey Kemp
Posted in
announcements
,
artists
|
Comments Off

on Kasey Kemp asks for prayer
Written by Staff on August 25, 2019 – 2:06 pm -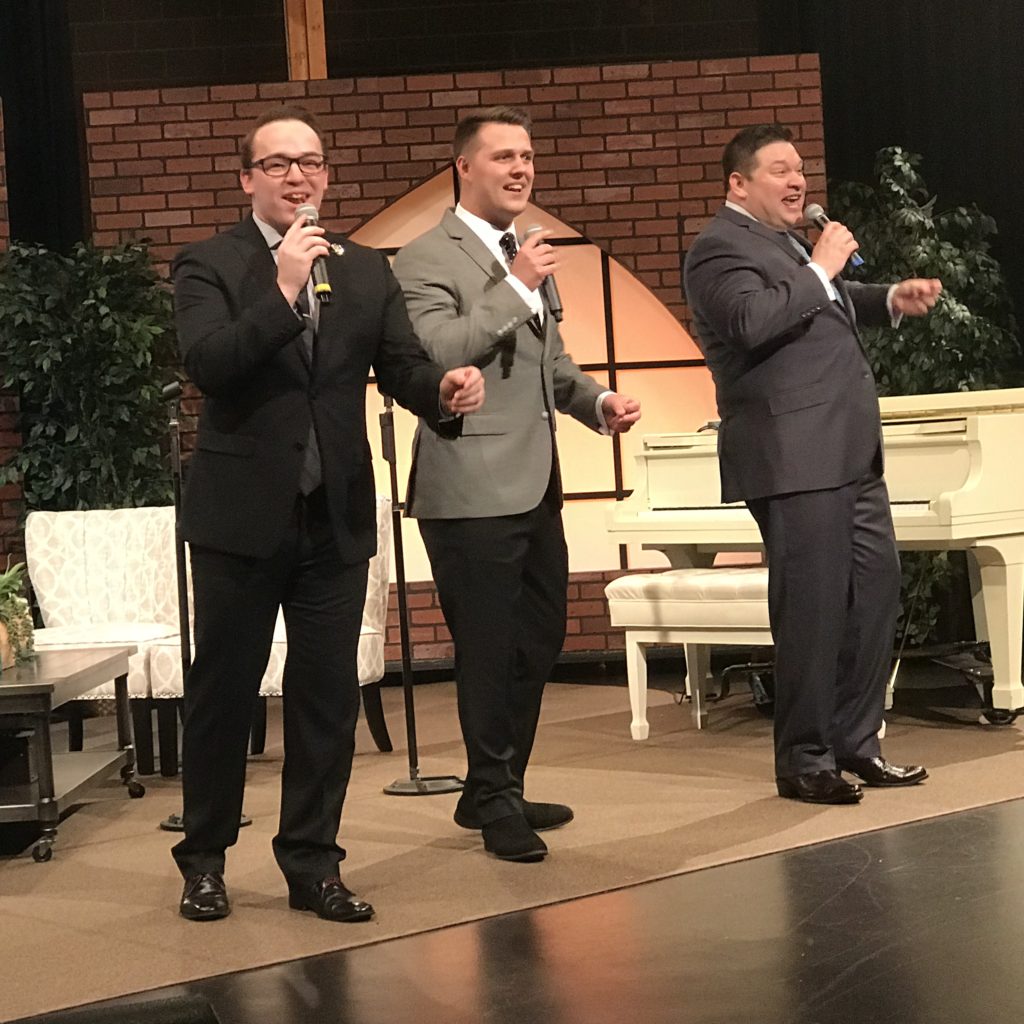 Recently, I had the opportunity to catch up with an up-and-coming trio in Atlanta when they were in town to tape Gospel Music USA at WATC TV. Avenue, based out of Nashville, Tenn., is climbing the radio charts across the country.
LP
Formed by Kasey Kemp, a name known to many in gospel music, Avenue records on the Song Garden Label. Their current project, "Songs For Every Mile," includes the radio singles, "One Of These Mornings" and "Reach the World," the latter which was originally recorded by the Bishops. 
"We sang ("Reach the World") 20 years, four times a week, (for) many years," says Mark Bishop. "(I'm) proud Avenue has put their touch on it and recorded it."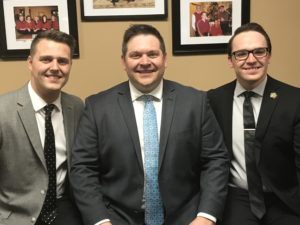 Kemp was a member of Naomi and The Segos for several years, as well as with the Toney Brothers, and Allegiance. In Avenue, he is joined by Jacob Lagesse who sings lead, and Corey Lackey, on tenor. 
Lagesse and Kemp sang together in Allegiance, and they met Jacob through their pastor, Steve Hurst. Steve Hurst and Gary Casto helped Kemp create Avenue. 

"We are passionate about the Gospel and music," says Kemp. "We believe music is a great avenue in which to share the gospel. Plus, those of us that are born again are on the avenue to heaven."  
Avenue recently made their first appearance in Akron, Ohio, opening their concert with the popular gospel song, "The Heavenly Choir." 
Kemp is pleasantly surprised at the reception Avenue has received. "We choose songs that everyone is familiar with and that we feel would work together well on stage," says Kemp. "Our first project was meant to be nothing more than a table project; meaning no radio releases. However, when it was complete, we felt it deserved more than (being) just a piece to sell on our table. We sent 'One Of Those Mornings' to radio and it topped out at number 23." The song was on national charts for two months.
Kasey is the oldest member of the group. He is married to Haley and they have two children, Avaline, age two, and Autry, four months old. Growing up, Kemp was influenced by the Cathedrals. He took private vocal, piano and trumpet lessons as a child, and also went to the Steve Hurst School of Music. Avenue's audiences are blessed when Kemp brings out his trumpet during their performance on stage. 
Lackey, 24, is a college student who is majoring in business management. Being from Wayne, Michigan, Lackey has been influenced musically by a trio with its roots also in Michigan, the Booth Brothers. The group's tenor has great support in his career from his parents, sisters and brother.
Lagesse, 22, just graduated from Trevecca University in Nashville, where he studied music business and performed in school musicals. He likes to spend his time off at the beach or at a baseball field. When asked about special memories at university, Lagesse says, "Not sure on embarrassing college moments, but one of my highlights was getting to perform on the Grand Ole Opry stage." His experiences have seasoned both his vocals and performance ability.
All three artists in this group are ready for this moment that God has brought them together to be his avenue to share his love to the world, including the audience of WATC TV. Avenue's "Gospel Music USA" episode is scheduled to air July 27.  
WATC TV has taped over 200 episodes of "Gospel Music USA" with more than 80 artists and airs on numerous stations across the nation. It airs in the Atlanta area on Saturday afternoons at 2:30 p.m.(EST)., and is also available on the internet at www.watc.tv.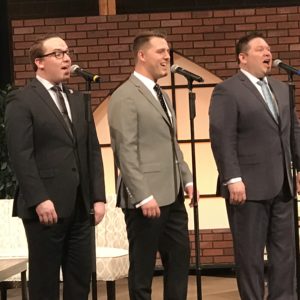 This powerful trio's strong vocals are sure to put them on the charts often and to grace stages across the country. Find out more about Avenue at avenuetrio.com 
By Robert York
First published by SGNScoops Magazine in June 2019
For more Gospel music features read the latest SGNScoops Magazine HERE.
Download SGNScoops Magazine In PDF
Here
Find SGNScoops Magazine On Facebook
Here
Listen To Todays Gospel Music
Here
Tags:
Avenue
,
Christian Music
,
Corey Lackey
,
gospel music
,
Jacob Lagesse
,
Kasey Kemp
,
Southern Gospel Music
,
Trio
Posted in
artists
,
sgn scoops magazine
|
Comments Off

on Avenue Trio is singing songs along every mile
Written by Staff on June 21, 2019 – 7:47 am -
Kasey Kemp of Avenue Trio recently announced changes to the group through a video on the group's Facebook Page.
Avenue Trio is losing Corey Lakey from the singing lineup. June 9, 2019, was the last engagement for Lackey, who has been with the group from the beginning. The tenor confirmed that he is stepping back from singing but will still be very much involved with gospel music, as well as continuing his involvement with the Steve Hurst School of Music.
Kemp has confirmed that Riley Harrison Clark will be temporarily filling in for the trio, as they continue to audition vocalists for this position.
For more information on this powerful gospel music trio, click HERE.
Avenue released their first album, "Songs For Every Mile," one year ago. Spokesman Kasey Kemp is an ordained minister and has been involved with Southern Gospel Music for 17 years. The trio records with Song Garden Music and is booked by the Dominion Agency. Avenue can also be found on Twitter, Instagram and other media outlets.
Read the May SGNScoops Magazine Online HERE
Download SGNScoops Magazine On PDF
HERE
Find SGNScoops Magazine On Facebook
HERE
Listen To Todays Gospel Music
HERE
Tags:
Avenue
,
Avenue Trio
,
Corey Lackey
,
gospel music
,
Jacob Lagesse
,
Kasey Kemp
,
Southern Gospel Music
Posted in
announcements
,
artists
|
Comments Off

on Avenue Trio announces changes
Written by Staff on May 24, 2019 – 7:12 am -
Jantina de Haan Baksten recently went Beyond the Song to talk to Kasey Kemp of Avenue gospel trio about the song, "Reach the World." Avenue is a male trio with members Kasey Kemp, Corey Lackey, and Jacob Lagesse, making their home in Nashville, Tennessee. Their latest album with Song Garden Music Group is called, "Songs for Every Mile," which includes the track "Reach the World."
What does the song mean to you?
Kasey Kemp tells us, "Traveling and singing in a gospel music group is lots of fun!  You get to sing the music you love, with the people that you love, all while traveling to places and meeting people you might not get to otherwise. However, as much fun as it is, there has to be more to it than enjoying the road life. After a while, the miles get long, your heart yearns for loved ones that are at home and your body gets extremely exhausted from your day to day routine. It's in these moments that you must remember why you do what you do. In 1 Samuel 17:29, David says, "Is there not a cause?" That question is the answer to what the song, 'Reach The World,' means to me and why we as Avenue recorded it.

"Our group started out of a strong desire to "Reach The World" with the gospel of Jesus Christ, a desire that continues today," Kemp asserts.
What is the message of the song?
"'Reach The World,' reminds us that all Christians are given the great  ommission in Matthew 28:16-20. We are reminded that while we are only one voice, that voice reaches another and another and so on. Before long there is a mighty chorus singing about the life changing power of Jesus Christ," says Kemp.
He concludes, "'Reach The World' is my personal anthem and the theme our group is built on. Christians, let's remember that we have an important job to do.  Each voice is another chance to reach the world."
We hope you enjoy this song by Avenue Trio. Find out more about Avenue HERE.
Thanks again to Jantina for another look Beyond the Song.
Download the latest edition of SGNScoops Magazine
HERE
Tags:
Avenue
,
Avenue Trio
,
gospel music
,
Kasey Kemp
,
Reach the World
,
Southern Gospel Music
Posted in
announcements
,
artists
|
Comments Off

on Beyond the Song: Avenue sings "Reach the World"
Written by Staff on January 21, 2019 – 4:25 pm -
Hendersonville, TN (January 20, 2019) – The world of Southern Gospel has grown with the birth of Autry Clark Kemp.  Autry was born Friday, January 18, 2019, to proud parents Kasey Kemp of Avenue and Haley Kemp.  Big sister, Avaline is also proud of her baby brother.
Shortly following the birth, Autry began showing signs of respiratory distress.  As a precautionary measure, the baby was admitted to the neonatal intensive care unit at a Nashville area hospital.  Reports indicate significant improvement as Autry is breathing with little assistance.  Autry was delivered at 37 weeks to avoid diabetes-related complications.  Haley Kemp, a Type 2 diabetic, is recovering well following the Caesarian section delivery.
"We know that God has Autry in his hands.  Your friendship and love encourage us more than you will ever know," commented Kasey Kemp.
Avenue and the Kemp family ask for continued prayers on their behalf.
The Southern gospel group Avenue is comprised of Kasey Kemp, who sings baritone; the lead part is sung by Jacob Lagesse, while the tenor part is carried by Corey Lackey.  Avenue expects to continue their ministry dates as scheduled.
Read the latest issue of the SGNScoops Magazine HERE.
Download SGNScoops Magazine PDF 
Here
Find SGNScoops Magazine On Facebook 
Here
Listen To Today's Gospel Music 
Here
Tags:
Avenue
,
gospel music
,
Gospel Trio
,
Kasey Kemp
Posted in
announcements
,
artists
|
Comments Off

on Gospel trio Avenue welcomes new baby, requests Prayer
Written by Staff on January 6, 2017 – 7:30 am -
Nashville, TN (January 4, 2017) –Allegiance Trio is excited to announce big changes for 2017. Corey Lackey has been named to the position of tenor singer.
"Corey is ready to step up. He brings a charisma to our ministry that will be exciting to watch," said Kasey Kemp, spokesman of the group. "We have formed a strong team and God is growing us. Allegiance Trio is positioned for the doors that are opening," Kemp continued.
Lackey, 22 years old, joined the Trio after relocating to Nashville from the Detroit, MI area. Previously, Lackey has been serving the group as the road manager and providing sound engineering.
"I am thrilled that Kasey and Jake are providing this opportunity. I have traveled many miles with these men and know that their hearts burn to sing. Standing beside them every night will be a distinct honor," Lackey responded.
Allegiance Trio further announces the "Time to Sing" Internet video program. Under the direction of Jake Sammons, the program features Southern Gospel artist testimonies that drive them to sing. The interviews provide a poignant view into the lives of these individuals.
Allegiance Trio is comprised of three men who combine their voices for one purpose, to align themselves to honor God with one voice. Along with Kemp and Lackey, Jake Sammons sings baritone and writes much of their music.
The acclaimed Wayne Haun and Nick Bruno skillfully produced the music for the Trio's newest project, It's Time To Sing. Gus Gaches directed the project under Song Garden Records label. Allegiance Trio has plans to release the next single from the project soon.
To keep abreast of news from Allegiance Trio, watch for their new website or click on their site on Facebook.
For more Gospel music news click here.
Tags:
ALLEGIANCE TRIO
,
Corey Lackey
,
gospel music
,
Jake Sammons
,
Kasey Kemp
,
Nick Bruno
,
Wayne Haun
Posted in
announcements
|
Comments Off

on Allegiance Trio Announces New Tenor Singer
Written by scoopsnews on October 12, 2016 – 3:21 am -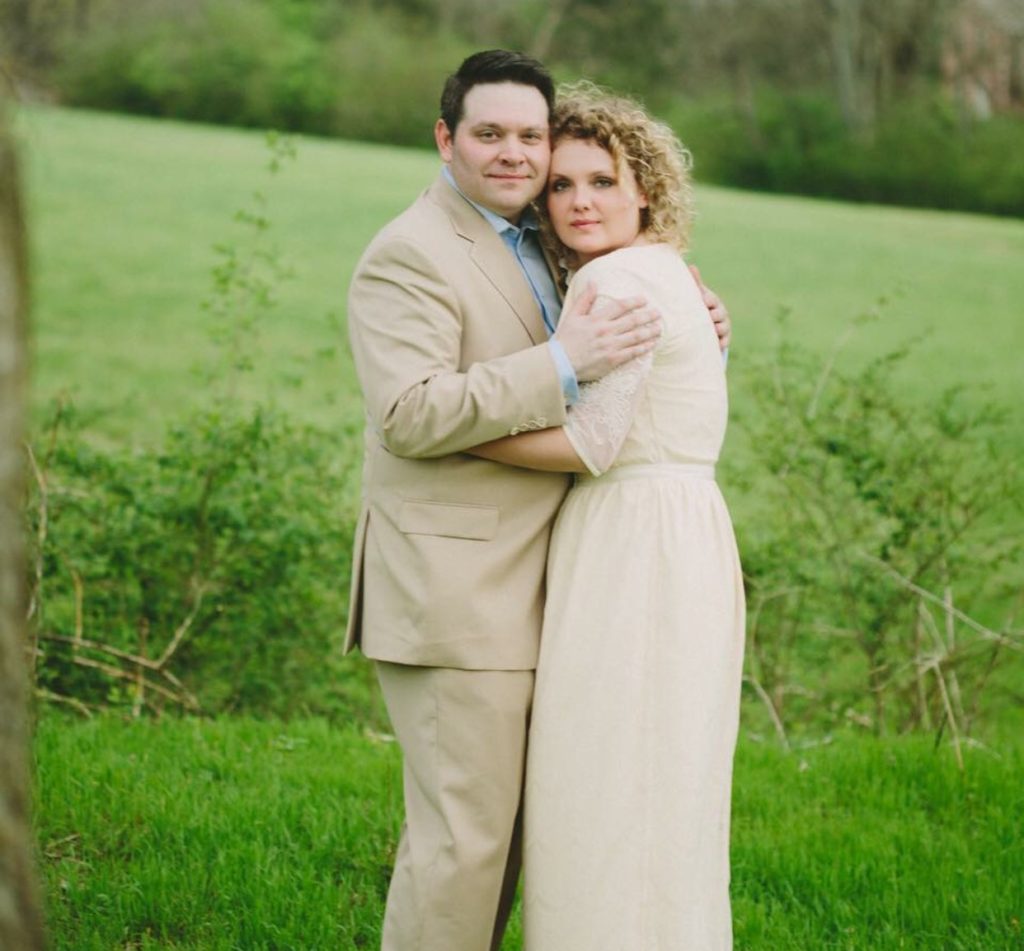 From Kasey:
Our little Avaline entered the world on 10/11/16 at 7:54pm. She weighed in at 8 pounds 7 ounces and is 19 inches long. Here are a few pics. More to come! Both baby and Mom are doing great. Thank you for your prayers.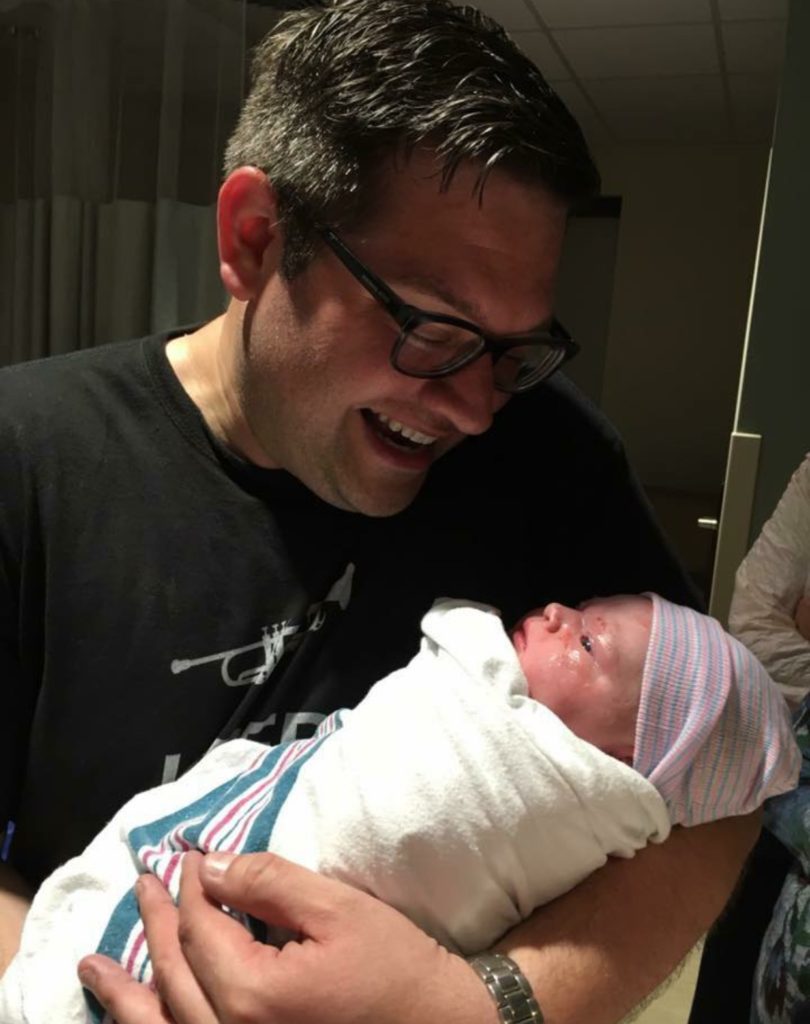 Tags:
Allegiance
,
Kasey Kemp
Posted in
announcements
|
Comments Off

on Congratulations Kasey and Haley Kemp….
Written by Staff on May 7, 2015 – 12:08 pm -
SGN Scoops is pleased to present these postings which focus on prayer, for the National Day of Prayer. We hope they draw you nearer to the Almighty, the focus of our prayers.
Bobby Carter of the Jay Stone Singers:
Not to sound like a broken record, but PRAYER truly is the key to heaven. So many times in my personal life and in the ministry of Jay Stone Singers have we seen God move and answer prayer!
When we are out on the road, I usually do most of the bus driving and one of my favorite times is early morning hours driving down an Interstate! God still answers prayers and I know He heard my prayer!
Kasey Kemp of Allegiance:
When I was growing up, we had a family bible on our family coffee table. The table was built by my grandpa and was the place I knelt to pray, at the age of seven, when my Dad led me to Jesus to Christ. Now, years later, I still have that little table and it is still a very special place for me to pray. I thank God for the gift of prayer knowing God does hear and answer what He knows is best for us.
Recently, a huge prayer request was answered when God sent me my beautiful wife Haley. I prayed for many years and on April 7 (my birthday) of this year we said "I DO!" God answered prayer by blessing me with a Godly, beautiful wife.
I praise God for answered prayer each week as Allegiance travels. God continues to keep us and our families safe and allows us to see people saved and encouraged. Prayer truly is an amazing gift from God.
Do you have a specific place to pray? Have you had a specific answer from God? Share it with us today! lorraine@sgnscoops.com
Tags:
Allegiance
,
Bobby Carter
,
gospel music
,
jay stone singers
,
Kasey Kemp
,
national day of prayer
,
Prayer
,
sgn scoops
Posted in
artists
,
Christian interest
,
sgn scoops magazine
,
special feature
,
Uncategorized
|
Comments Off

on SGN Scoops National Day of Prayer with Bobby Carter and Kasey Kemp