Written by scoopsnews on August 26, 2020 – 2:04 pm -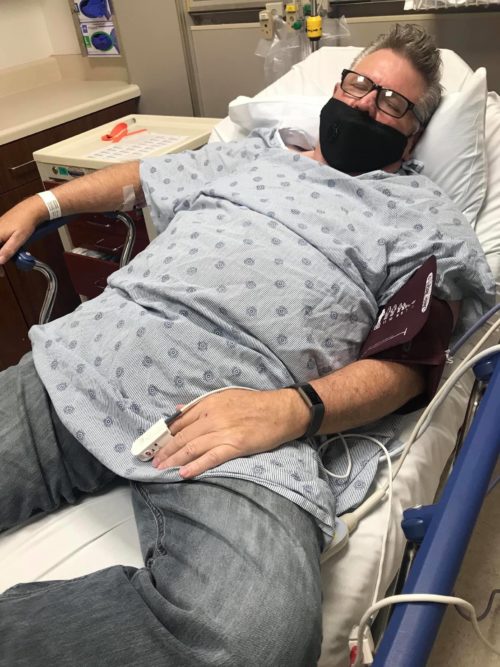 From Staff at WVOB… Dothan, Alabama
After being on the radio a short while this morning, Keith started having chest pains! When nitro didn't work, he got a NEW prescription thinking the others were just too old to work. The Pharmacist had him take the NEW nitro while they observed him, and when it didn't help, they advised him to immediately go to the ER where he was later admitted to the hospital for observation. He will know more tonight as to whether a heart cath will be done. He believes in prayer! Your prayers are appreciated for him, that this will not be anything major!
-Gospel 91-WVOB Radio Staff-
Tags:
Keith Brady
Posted in
announcements
|
Comments Off

on Please Pray For Keith Brady
Written by SGN Scoops Staff on August 26, 2020 – 2:00 pm -
After being on the radio a short while this morning, Keith started having chest pains! When nitro didn't work, he got a NEW prescription thinking the others were just too old to work. The Pharmacist had him take the NEW nitro while they observed him, and when it didn't help, they advised him to immediately go to the ER where he was later admitted to the hospital for observation. He will know more tonight as to whether a heart cath will be done. He believes in prayer! Your prayers are appreciated for him, that this will not be anything major!
-Gospel 91-WVOB Radio Staff-
Tags:
Keith Brady
Posted in
announcements
|
Comments Off

on Pray For Keith Brady From WVOB
Written by SGN Scoops Staff on January 17, 2020 – 9:27 am -
Keith Brady from WVOB RADIO in Dothan, AL is home recovering after a heart related health scare on Sunday January 12 th ! Keith, who is an open-heart surgery survivor, had been experiencing minor chest pains for about a week when major heart pains hit him while attempting to lead music at New Life Gospel Center near Headland, AL where he is Music Minister.
Upon arrival at the ER it was stated that he possibly was on the verge of a heart attack and steps were taken to prevent that! He was admitted to the hospital for observation and on Monday January 13 th he went straight from a heart cath, to surgery. They repaired and stented the main artery that surrounds the heart and carries blood to the back of the heart, which was between 80 to 90 percent blocked! Thankfully, it is now at 0% blocked!
The Doctor stated they also checked on the condition of the previous open-heart and stent surgeries and were happy to report that all arteries that had been repaired were still open and functioning as they should! Keith is recuperating at home and hopes to be back at Gospel 91-WVOB Radio next week! He asks for prayers as he continues to recover!
Keith Brady
PO Box 301
Cowarts, AL 36321
Tags:
Keith Brady
,
WVOB
Posted in
announcements
|
Comments Off

on Pray For Keith Brady WVOB
Written by scoopsnews on May 19, 2016 – 7:30 am -
From Sylvia Green :
For those who have prayed for Keith Brady…….
GOOD NEWS! The Dr. said the story has CHANGED!!! He is changing some meds and doses and adding some other things, but believes Keith will NOT have to have another cath or surgery at this point!!!! He said tell you that the prayers from so many not only made the difference but meant the world to him! THANK YOU!
Praise the Lord!!!!
Share the Good News….
Tags:
Keith Brady
Posted in
announcements
|
Comments Off

on Great News ….. Update on Keith Brady!
Written by SGN Scoops Staff on May 18, 2016 – 6:18 pm -
For those wondering why Keith Brady wasn't on the air today; he had to be admitted to the hospital with severe chest pains! Since nitro did not faze the pain, after various test his heart Dr decided to keep him over night in an observation room. They will take blood every 3 hrs and those test should reveal if he has had a heart attack are is on the verge of one. The Dr. will review all test tomorrow evening and decide wither increased meds is the answer, heart cath, or straight to surgery. We are praying that increased meds will solve the problem and no cath or surgery is needed! He would appreciate you joining with us in prayer for this! His faith is strong and He says he knows he is in God's hands!
Find More News HERE
Tags:
Keith Brady
,
Southern Gospel News
Posted in
announcements
|
Comments Off

on Pray Now For Keith Brady
Written by Staff on September 23, 2015 – 10:31 am -
After a heart CATH procedure on Monday September 21st, Keith Brady of The BRADYS was told that he needed to make immediate plans for open heart surgery that included 5 bypasses! The surgery was done on Tuesday September 22! It was a lengthy surgery but the Heart Surgeon declared it to be a definite success! However, the Surgeon did indicate that only 3 bypasses were able to be performed out of the five that were needed, due to the fact that the other two remaining damaged arteries were too far gone to be repaired! In spite of this fact, the Surgeon stated he was very pleased with the outcome! In his words, the three arteries that were repaired were already producing a far greater increase in blood flow than Keith's pre-surgery condition! As with all surgeries of this type, the first 48 hours are very critical and there is a rather lengthy recovery period!
There were literally thousands of people praying for Keith and in fact in the few moments before surgery there were 6 preachers from three different states in the room praying with he and the family! PRAYER made the difference! The Bradys have had to cancel several weeks of bookings and it is undetermined at this time how many weeks may yet have to be canceled. This will be a weekly decision based on Keith's continued progress, but they are believing that through the prayers of God's people Keith will soon be back on the road ministering in song for the Lord as he so desires to do!
The BRADYS are asking for their friends across the country to keep Keith and the group in their prayers! Those wishing to send cards, letters, or financial donations to help with expenses, may send them to: Keith Brady, C/O The Bradys, 210 Crossing Lane #C-23, Dothan AL 36303.
Tags:
Keith Brady
,
Prayer
,
southern gospel
,
The Brady's
Posted in
announcements
,
artists
|
Comments Off

on KEITH BRADY OF THE BRADYS UNDERGOES BYPASS SURGERY