Written by Staff on September 18, 2014 – 12:10 pm -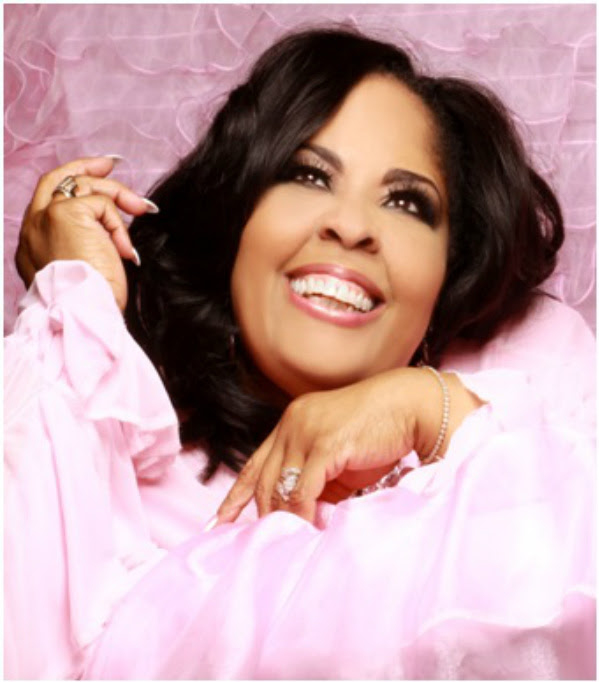 Nashville, TN (September 18, 2014) Angela Primm is no doubt known for being the most successful backup singer in the recording industry throughout all of Nashville. You have her melodious voice on such recordings as Reba McEntire, Aretha Franklin, Dolly Parton, Andre' Crouch, Barbara Mandrell, Patti Austin, Bill Gaither, and even the late Vestal Goodman. This phenomenal singer who has sung as backup for some of the greatest singers in the world is poised to enter that same arena as a powerhouse Gospel singer in her own right.
After Bill Gaither tapped her on the shoulder and designated her as one of his featured soloists on his famous Gaither Homecoming Videos, it was evident that the time had come for Angela to stretch herself and produce a major recording of herself.
What better atmosphere to record in than the songs of one of her heroines, namely mega-star herself, Mahalia Jackson. Mahalia Jackson was known for being able to sing the simple songs of the Gospel and bring them to life with her spirited singing. No one can bring as much enthusiasm to Mahalia Jackson's songs than Angela Primm. Angela will be bringing the old standard hymns and spirituals with all the dignity they deserve, yet adding her own personal touch which is sure to rapture your soul to new heights of ecstasy.
Now for a couple of stark facts. Angela is not one of those artists born with a silver spoon in her mouth, nor does she have a big record label to finance this exciting project. The truth is recording such a monumental project as this requires money, and a good bit of it. Producers, engineers, musicians and studios all have to be paid at the time of the recording.
This is where you come in. Angela Primm needs your help and support to accomplish this enormous task. The total cost of this memorial project, which is sure to touch the lives of millions of souls, is $28,000.00. That sounds like a tremendous amount, but in actuality if Angela's friends and fans who believe in what she does will help just a little, this mountain can become a molehill.
The Kickstarter program allows you to be a vital part of the ministry of Angela and also allows you to get a much greater insight into who and what Angela is. There will be many surprises for you the supporters as well as some very nice benefits. How would you like to give a private concert for you and your close friends in the Nashville, TN area? How would you like to have Angela sing Happy Birthday to you or one of your loved ones on the phone, the day of that big birthday? How about on your anniversary? A lot of very exciting things will be happening as a result of this Kickstarter program, plus you will be helping Angela go on about doing the Father's business.
Your time to help is NOW!!!!!!
Click the link below to help Angela TODAY!!!!!
<iframe width="480″ height="360″ src="https://www.kickstarter.com/projects/1650821011/angela-primm-spirituals-the-songs-of-mahalia-jacks/widget/video.html" frameborder="0″ scrolling="no"> </iframe>
$10 – MP3 download of a song from her current CD
$25 – A signed copy of one of Angela's previously recorded CD's (you choose which one) and a personalized hand-written Thank You note from Angela.
$50 – An ADVANCE copy of the NEW CD and a personalized hand-written Thank You note from Angela.
$100 – INCLUDES an ADVANCE copy of the NEW CD, an autographed picture and a personalized hand-written Thank You note from Angela.
$250 – Want Angela to personally call you on the phone and sing your favorite song to you? Here's your chance! INCLUDES an ADVANCE copy of the NEW CD and a – Includes personalized hand-written Thank You note from Angela.
$500 – Personalized video greeting from Angela and her singing a song of your choice! Includes an autographed Angela Primm picture, an autographed copy of the NEW CD as well as her current CD and a personalized hand-written Thank You note from Angela.
$1000 – (Limit 6) Be in the studio as Angie records the new project. A view from behind the scenes for one day. Includes an autographed copy of the NEW CD as well as her current CD and a personalized hand-written Thank You note from Angela.
$2500 – (Limit 4) Here's your chance to have Angela sing LIVE at your church! Angela will come to your church and perform a concert and/or perform as part of the worship service, whichever you desire. (within 250 mile radius of Nashville) Also includes a private meeting before the concert for you and a few close friends as well as an autographed copy of the new CD.
$5000 – (Limit 2) Not close to Nashville but still want Angela to sing at your church? Here's how! Angela will visit your church (anywhere in the continental US) and perform a concert and/or perform as part of the worship service, whichever you desire. (Travel and lodging accommodations INCLUDED) This also INCLUDES an autographed copy of the NEW CD.
$10,000 – (Limit 2) WOW!!! Come to Nashville and spend the day with Angela! She will show you around Music City and take you on a tour of one of Nashville's famous recording studios! INCLUDES an autographed copy of the NEW CD. (you must provide your own travel and lodging) Your name will be printed in a special thank you section inside the CD booklet of my new album.
To learn more about Angela go to www.angelaprimm.com or https://www.facebook.com/angela.hewlettwrightprimm .
If you would like to book Angela for you church or concert E-mail her at angela@angelaprimm.com or Twitter her at https://twitter.com/AngelaPrimm .
****
About Angela Primm
Angela Primm is one of the premier voices of our time. Her musical history spans genres, continents, and audiences. She has commanded the attention of mega-stars from Aretha Franklin, Barbara Mandrel, and Brooks and Dunn to Southern Gospel music legends, Dolly Parton, and the late Vestal Goodman.
Angela's background is what dreams are made of, and she is only beginning to step into the fullness of her purpose. Singing behind musical geniuses, Andre Crouch, Patti Austin, Bill Gaither, Gretchen Wilson and others, her four-octave soprano voice added rich tones and depth of sound to each artist's recording. Angela Primm whose gift of song, love of the Gospel and Gospel music has catapulted her, as the Bible says, "before great men."
Her current and inevitable step as solo artist is the natural progression of a life divinely designed. Angie is also a wife and business woman. True to her down-to-earth personality, she considers her most important achievement to be marrying her soul mate, John Primm. A successful business man as well as fine vocalist himself, he is Angie's biggest fan, chauffeuring her and caring for her on many of her personal appearances. He knew how to love her 20 years ago and continues to do so to this day. Together, they established "Still Waters, Christian Light Club, Inc.," a live Christian cabaret that never compromises the Gospel. The fresh and exciting show is a huge hit in Nashville!
Angela was raised in the church by her precious mother, who was also a singer. Angie's mom would sing the foot-stompin' and joyful, "Couldn't Keep It To Myself!" with such fervor, she would often lose her wig; but she would swoop it up and place it back on her head – backwards, and not miss one beat of her favorite song! Church members would laugh and shout right along with her! (Telling this particular memory of her mother makes Angie rear back in laughter herself!) "Couldn't Keep It To Myself!" is also a favorite song of Gospel legend, Bill Gaither and is featured on Angela Primm's sophomore project, Sanctuary. This CD along with her debut CD, A Little Bit of Heaven have been selling out wherever Angie performs – from concerts to cruises.
Bill and Gloria Gaither have embraced her as a daughter and always make room for her to sing in their sold-out concerts and Gaither videos. Angie's beautifully wide smile lights up a room and her fun-filled disposition carry an exuberance that is electric and contagious! Moreover, her anointed and powerful voice makes the cares of this world melt into puddles at your feet. Angela Primm is "a little bit of heaven" to those blessed to know her, or experience her music, her joy, and her wonderful laugh!
What lies ahead for Angela Primm? Her future rests securely in God's hands. But one thing we know for sure is that wherever Angie goes, and whatever Angie does, she will be giving her heart and soul to the people God loves, for the love of her Lord. That's the way it was, the way it is, and the way it always will be.
Tags:
Angela Primm
,
bill gaither
,
Gospel artist
,
gospel music
,
Mahalia Jackson
Posted in
announcements
,
artists
|
Comments Off

on Angela Primm Initiates Kickstarter For New Memorial Project
Written by Staff on May 29, 2014 – 9:27 am -
I am asking God to use me this year, any way He wants to use me. I am a yielded vessel and am listening to His voice to give me new songs, new sermons and new places to minister.  I am excited and looking for great things in 2014." (1)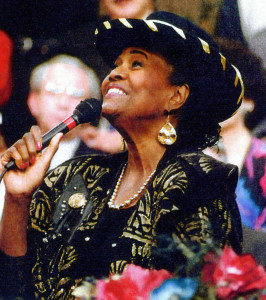 In our ongoing effort to pay tribute to long time Gospel singers, allow me to introduce Ms. Lillie Knauls. This beautiful, never married, woman of God has been singing and preaching Jesus for over 35 years.  Miss Lillie (as she likes to be addressed) is a regular on the Gaither videos. If you are a viewer of the Gaither videos, Ms. Lillie is not hard to spot.  Her beautiful smile seems to illuminate those around her.  Ms. Lillie is also known for the many hats she wears. She is respectfully known as the hat lady.  The reason for these hats is not just for style as Ms. Lillie explains, "I grew up in the church and as a little girl I played the piano and tambourine and sang in the choir. The first Sunday of the month was Communion Day. All the women wore hats to the services."
Being respectfully recognized as the hat lady has opened many doors for Ms. Lillie.  She has had countless opportunities to speak and sing at ladies breakfast and luncheon meetings. There is much more to Ms. Lillie Knauls than her hat ministry, which can be traced back to the '60's, where she was a soloist for her home church in San Jose, California.
In 1969, she became part of the Edwin Hawkins Singers and traveled the world. The Edwin Hawkins Singers are perhaps best known for their arrangement of "Oh Happy Day." "That was a great time in my life, being able to sing with that fabulous choir.  It opened so many doors for me, but since I had a full time job working at a telephone company, I did not have the time to work all the bookings that came my way, so in August of 1978, I resigned and a whole new world opened up to me!"
One of the first assignments from God to Ms. Lillie was to travel to Hawaii to work with a beach ministry that conducted a Sunday church service for the tourists.  Ms. Lillie says, "We ministered at the most beautiful church in the world!"  Hawaii has become Ms. Lillie's most favorite place.
I had the good fortune to speak with Ms. Lillie on the phone, from her California home. During our conversation, I learned that Ms. Lillie has been a part of the Gaither videos for over 20 years! I asked her if she had any favorite moments from the videos and she replied, "Quite honestly, every moment I'm there is a favorite moment.  Just being with all those legends and singing the songs I grew up with that still move me.  I am so grateful for Bill and Gloria Gaither for blessing the world, with these videos." Read more »
Tags:
Bill and Gloria Gaither
,
Dove Award
,
Edwin Hawkins Singers
,
Gaither Homecoming
,
gospel music
,
Grand Old Opry
,
Hat Lady
,
Lillie Knauls
,
Mahalia Jackson
,
Philip Foster
,
Rosetta Tharpe
,
sgm radio
,
Vestal Goodman
Posted in
SGM Radio
|
Comments Off

on Homecoming Sweetheart Lillie Knauls
Written by SGN Scoops Staff on May 10, 2012 – 4:26 pm -
NASHVILLE, Tenn. – May 10, 2012 – The GMA Foundation (GMAF) has announced that it will induct Aretha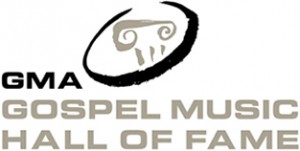 Franklin, Ricky Skaggs, Dallas Holm, The Hoppers, Love Song and Rex Humbard into the GMA Gospel Music Hall of Fame.
"The diverse talents represented in this years class of inductees have impacted millions of people around the world. It is an honor to induct these individuals" said Charles Dorris, Chairman, GMA Foundation.
The GMA Foundation (GMAF) will induct the honorees into the GMA Gospel Music Hall of Fame on Tuesday, August 14, 2012 at Trinity Music City Auditorium in Hendersonville, TN at 6:00 PM. Admission is free to the public.
The GMA Gospel Music Hall of Fame, established in 1971, has inducted more than 150 members since its inception. Previous inductees include Johnny Cash, DeGarmo & Key, Dolly Parton, Elvis Presley, Mahalia Jackson, Amy Grant, the Statler Brothers, the Winans, the Blind Boys of Alabama, Andrae Crouch, Sandi Patty, Bill & Gloria Gaither, Andrae Crouch & the Disciples, Vestal Goodman, Tennessee Ernie Ford, Shirley Caesar, The Oak Ridge Boys, the Blackwood Brothers, Petra, Bill and Gloria Gaither, the Happy Goodman Family, Larry Norman, George Beverly Shea, Albertina Walker, Pat Boone, Dottie Rambo, Evie, Larry Norman, Richard Smallwood, Jake Hess, The Lewis Family, Cliff Barrows, Thomas A. Dorsey, the Cathedral Quartet, the Fairfield Four, Billy Graham and the Jordanaires. The GMAF is dedicated to fostering an appreciation of the historical development of gospel music and its impact on our culture by collecting, preserving, exhibiting and interpreting its collections for a global audience, as well as honoring those who have made outstanding contributions to gospel music. A full list of GMA Gospel Music Hall of Fame Inductees is available at gmahalloffame.org web site here.
ABOUT THE INDUCTEES:


ARETHA FRANKLIN
Although born in soul's capitol city, Memphis. The Franklin family soon moved to Detroit, MI, where her father, Baptist minister Reverend C. L. Franklin, soon became one of the most revered public figures in black America. During her late preteens, Franklin was regularly singing solo numbers in her father's New Bethel Baptist Church. She grew up with local and national celebrities visiting in her family home, including gospel greats Albertina Walker and her group The Caravans, Mahalia Jackson and Clara Ward, three women who played a pivotal role in her vocal development.
In 1972, she released the gospel album Amazing Grace. The album eventually became her biggest-selling release ever, selling over two million copies and becoming the best-selling gospel album of all time. In 1987 she again returned to her gospel roots with the album, One Lord, One Faith, One Baptism, which though it did not repeat the success of Amazing Grace despite a powerful rendition of "Oh Happy Day", featuring Mavis Staples, but did reach the Top 10 of Billboard's gospel chart.
Rolling Stone magazine ranked her atop its list of The Greatest Singers of All Time as well as the ninth greatest artist of all time. She has won 18 competitive Grammys and two honorary Grammys. She has 20 #1 singles on the Billboard R&B Singles Chart and two #1 hits on the Billboard Hot 100: "Respect" (1967) and "I Knew You Were Waiting (For Me)" (1987), Since 1961, she has scored a total of 45 Top 40 hits on the Billboard Hot 100. She also has the most million-selling singles of any female artist. Between 1967 and 1982 she had 10 #1 R&B albums—more than any other female artist. In 1987, Aretha became the first female artist to be inducted into the Rock and Roll Hall of Fame. She was the only featured singer at the 2009 Presidential Inauguration.
DALLAS HOLM
Dallas has earned his influence in today's Christian music throughout more than 40 years of writing, singing and ministry in some 4,000 concerts in every state in the USA as well as many countries abroad.  His 38 recordings have garnered gold records, multiple Dove awards, Grammy nominations, number one songs, and countless accolades.
Artists such as Steven Curtis Chapman, Twila Paris and Greg Long of Avalon all make reference to Holm's significant impact on their lives and ministries.  Holm can be seen on several of the Bill Gaither Homecoming videos.  On one video Gaither introduces Dallas by saying, "This is one of the nicest guys in our entire industry."  This broad appeal and respect by peers has undoubtedly been one of the reasons for Holm's amazing longevity and relevance. They became the first Contemporary Christian band to receive an RIAA certified Gold Album for Dallas Holm and Praise LIVE.
THE HOPPERS
Multi-award winning family group The Hoppers have been singing to global audiences for over 55 years with appearances ranging from presidential religious inaugural ceremonies and New York's Carnegie Hall to singing conventions and church platforms.  They have performed throughout the United States as well as in Israel, Europe and Africa. Their unique blend of harmonies and song choices have created a legacy of musical excellence embraced by leading pastors and event organizers. Known as America's Favorite Family of Gospel Music, they are favorites on the Gaither Homecoming videos and tours, and their recordings frequently land at the top of the BILLBOARD sales charts and The Singing News radio charts.
Comprised today of family members Claude & Connie, son Dean and his wife, Kim, and son Mike Hopper, The Hoppers were formed in 1957 in the rural-farm town of Madison, NC, and have grown continuously for decades, touching countless lives around the world. A cancer survivor, Connie has been honored with the prestigious Marvin Norcross Award, in addition to numerous industry and fan honors; and she has been inducted into the Southern Gospel Music Hall of Fame. Sons Dean and Mike have continued the family legacy with their musical talents and business abilities; and Kim, Dean's wife, hails from her own nationally acclaimed musical family, The Greenes. She is noted for the excitement she brings to any live performance, and her unmistakable, rafter-ringing soprano vocals have taken The Hoppers to new heights for many years.
REX HUMBARD
In 1932, Rex Humbard did his first radio program on KTHS Radio, Hot Springs, Arkansas; at the age of 13. His father, Alpha Rex Emanuel Humbard, ran an orphanage and church in downtown Hot Springs. In the midst of the Great Depression, church attendance was poor and offerings for the orphanage suffered greatly. Rex did his radio program every week, singing, playing his guitar and telling the listeners about his father's church. One year later the seats were full to capacity and the orphans had a new lease on life. From that time forward, Rex Humbard realized the power of the media and the importance of the "life changing" message contained in gospel music.
From 1945 through 1952 (during the war years), Rex and his wife, Maude Aimee, traveled to every section of the USA and Canada conducting tent crusade meetings. In each of these cities they purchased radio time and appeared daily singing gospel music and promoting the tent crusades. In 1949, Rex did his first TV show in Indianapolis, Indiana on the local CBS station. Once again, gospel music was the center piece of the program.
The Rex Humbard Ministry program ran from 1952 to 1985. In the early 1970's, Time Magazine did a feature story on Rex Humbard and coined the phrase "tele-evangelist" to describe Rex. In 1999, Rex was named as "one of the 25 shapers of the 20th century" by US News and World Report because of his visionary use of the media to promote his message of hope, love and salvation. One of the most vital parts of his ministry was gospel music.
LOVE SONG
In the early 70's, during the beginnings of what became known as the "Jesus Movement," a group of young, longhaired, "hippie" musicians called LOVE SONG began to use their music to express their newfound faith in Jesus Christ. A mixture of rock and pop, LOVE SONG's music was entirely new and unique for the Christian music world.
The music was fresh, sometimes radical, and yet truly inspirational for a generation of young people searching for truth. It helped blaze the path for what we know today as Contemporary Christian Music. They flourished amidst the swirl of national media attention from top record labels and interviews with magazines including ROLLING STONE. God used them in a powerful way to bring many people to Himself. "In a world of imitators, Love Song has been an originator, the first domino that started the others going"
RICKY SKAGGS
Fourteen-time Grammy Award winner and two-time Dove Awards winner, Ricky Skaggs, is affectionately known as one of bluegrass music's most recognized ambassadors. Singing comes naturally to Skaggs, and singing Gospel songs even more so.  At the tender age of 3, he began by harmonizing with his mother as she sang Gospel songs.  He began to perform in his church, singing with his parents there.  His illustrious path to stardom has always included Gospel songs, as he loves to sing about Jesus and His love for all of us.
From there, Skaggs went on to put his own stamp on the mainstream country and bluegrass formats, resulting in twelve #1 hits, eight Country Music Association Awards and eight Academy of Country Music Awards. 1997 marked Ricky Skaggs' triumphant return to bluegrass and the establishment of his own Skaggs Family Records label, which has gone on to break new sales records in the genre. Now in his 40th year as a professional musician, he continues to record and tour with his band Kentucky Thunder as one of music's most sought after live performers.
Tags:
amy grant
,
Aretha Franklin
,
Dallas Holm
,
DeGarmo & Key
,
dolly parton
,
Elvis Presley
,
GMA Gospel Music Hall of Fame.
,
Johnny Cash
,
Love Song
,
Mahalia Jackson
,
Rex Humbard
,
Ricky Skaggs
,
southern gospel
,
Southern Gospel News
,
The Hoppers
,
THE STATLER BROTHERS
,
the Winans
Posted in
announcements
,
christian entertainment
|
Comments Off

on Aretha Franklin, Ricky Skaggs, Dallas Holm, The Hoppers, Love Song and Rex Humbard Announced as GMA Gospel Music Hall of Fame Inductees