Written by Staff on March 25, 2020 – 7:48 am -
SEVIERVILLE, Tenn. (March 24, 2020) – NQC (the National Quartet Convention) has announced that NQC's Spring Break festival will now be held on April 23 & 24, 2020. The fourth annual event will once again be held at First Baptist Church in Sevierville, TN. Produced by NQC – Gospel Music's Largest annual event drawing nearly 40,000 from 40 states and half dozen foreign countries to its annual fall festival at the end of September – NQC Spring Break is designed to give gospel music fans a taste of the big fall convention and give gospel music fans an opportunity to enjoy the Smoky Mountains in the Spring as well as the fall.
Featured on the event this year will be last year's biggest winners at the annual Singing New Fan Awards, the Triumphant Quartet as well as Dollywood's host group, the Kingdom Heirs, both of whom reside in Sevier County. Also featured will be many artists often featured on the popular Gaither Homecoming series such as the Hoppers, Greater Vision, Mark Trammell Quartet, Jim & Melissa Brady along with the very popular Primitive Quartet and Singing News Fan Awards two-time Soloist of the Year, Joseph Habedank.
In addition to these popular Gospel Music artists, the event will also feature an appearance by the East Tennessee Mass Choir featuring the choir members of First Baptist Sevierville, and several other area choirs. Being lead by First Baptist Sevierville Worship Pastor, Scott Andrews, the choirs will be performing a special to open the second half as well as singing with several of the featured artists.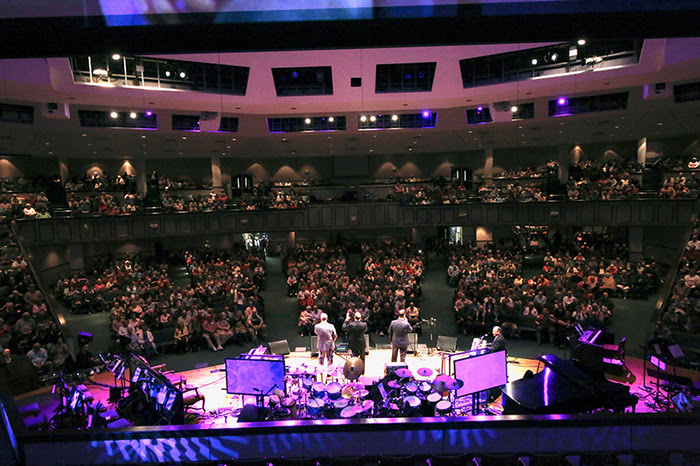 A packed house at 2019's NQC Spring Break in Sevierville, TN. Photo by Chip Woods
NQC organizers are set to make an exciting announcement about the future of the Spring event during both the Thursday night and Friday night performances.
The event takes place April 23 & 24, 2020 at First Baptist Sevierville.  Door open at 4:00 and the concerts start at 6:00 p.m. each night.  Additional information can be found at 
www.nqconline.com
Did you know that you can receive the printed, full-color version of SGNScoops Magazine by subscription? Find out more 
HERE
.
Find SGNScoops Magazine On Facebook 
HERE.
You can download the latest edition of SGNScoops Magazine 
HERE.
Read the latest edition of SGNScoops Magazine online
HERE.
Listen To Today's Gospel Music
HERE
Tags:
Christian Music
,
gospel music
,
Greater Vision
,
hoppers
,
Jim & Melissa Brady
,
Joseph Habedank
,
Kingdom Heirs
,
mark trammell quartet
,
national Quartet Convention
,
nqc
,
Primitive Quartet
,
Sevierville
,
Southern Gospel Music
,
Spring Break
,
Tennessee
,
triumphant quartet
Posted in
announcements
,
artists
|
Comments Off

on UPDATED!! NQC Spring Break To Be Held April 23 & 24, 2020
Written by Staff on February 29, 2020 – 3:00 pm -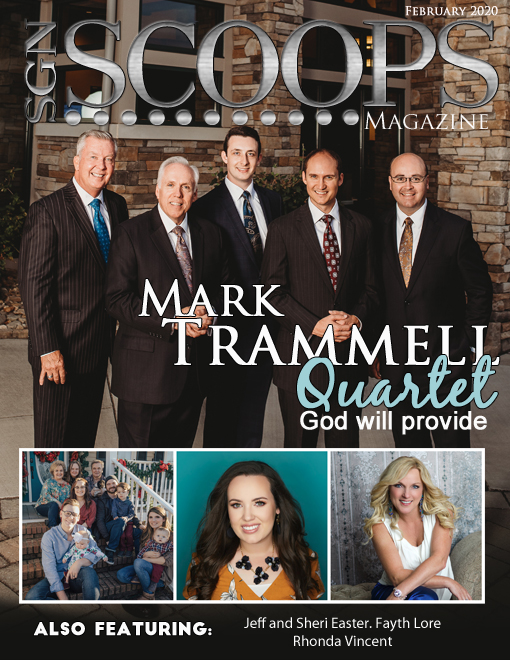 Editor's Last Word for February 2020 SGNScoops Magazine by Lorraine Walker
Thank you for reading the February, 2020, edition of SGNScoops Magazine. Whether you are looking at the online version, or the condensed print version, I do hope that you have enjoyed reading about some of my favorite people. What better way to celebrate February, the month of love, than to celebrate the artists that love their savior, his music, and his people? I need to bring your attention back to the story of Kirsten Alting, and make sure you have prayed for her today. 
I remember hearing Mark Trammell with the Cathedral Quartet years ago when I was only little, well maybe a little more than a baby, and then forming an acquaintance with him in his Gold City days. I have always regarded him as one of the most committed men of God in Southern gospel. His advice was always spot on. As is his dry sense of humor. I've kind of lost connection with him but I'm glad Justin Gilmore was able to connect with him and his men, to draw them to our attention again. 
Jeff and Sheri Easter and their family are some of the nicest people you will meet, and I so enjoyed Jennifer Campbell's article about them and their love for each other and for Jesus. I have to say, it was a toss-up between the Easters and Mark for the cover story, as they were both timely. I hope you enjoyed both and were able to sense the love of God throughout those features.
Special thanks to Lynn Whitely for sharing the story of the Turn Around Church. It's great to read such positive results for a church family when so many of the smaller ones are fading away. 
Dixie Phillips brought us the story of Kirsten Alting, and I knew this was something we all needed to read. Life is fleeting and we need to treasure it. To Kirsten and all who live with chronic, debilitating pain, I understand and urge you to look to Jesus for peace and strength.
I hope you enjoyed the rest of our artists: Fayth Lore, Jimmy Reno, Sammy Ward, and the uber talented Rhonda Vincent. Our writers are also some of the best, and we thank Lyndsey Chandler, Jantina Baksteen, Les Butler, Vonda Armstrong, and Rob Patz. Special thanks to my proofer and encourager, Joan Walker. Of course, you wouldn't see any of this without our creative and design team, Staci and Pete Schwager, and Stephanie Kelley.
How are your resolutions going as we head into month number two of 2020? Are they touch-and-go like mine? Why is it so much easier to create bad habits than to create good ones? I think it may be because bad habits usually come with instant gratification. You eat chocolate, you get a burst of happy juice, also known as serotonin. However, this bad habit usually comes with delayed bad results, such as weight gain. 
Developing good habits is more difficult, I guess, because often the immediate result is discomfort or pain. You begin new exercises, your muscles become sore. Of course, there is the delayed gratification of a stronger body, happier heart, and perhaps weight loss. 
What about that new spiritual habit you are trying to form? More consistent prayer life, more in depth study of the Bible, or perhaps more regular church attendance? Does it interrupt your screen time or sofa time, or perhaps it disturbs some of your predetermined thoughts about God? However, does it also provide the immediate gratification of feeling closer to Jesus, more grounded in your belief, or developing a different outlook on the church family? Be watching for the delayed gratification too, which is experiencing a closer relationship with your Lord. A win-win for sure.
I do hope your habits are good ones to form. By this time next month, they may almost be ingrained in your lifestyle. March on, Christian soldier!
By Lorraine Walker, Editor SGNScoops Magazine
Tags:
Fayth Lore
,
gospel music
,
Jeff and Sheri
,
Lorraine Walker
,
mark trammell quartet
,
Rhonda Vincent
,
SGNScoops Magazine
,
Southern Gospel Music
Posted in
Christian interest
,
sgn scoops magazine
|
Comments Off

on SGNScoops Magazine: Remember making those Resolutions?
Written by Staff on December 9, 2019 – 6:46 pm -
It's that time again. Christmas is a time when family and friends come together and celebrate the birth of Jesus Christ, the greatest gift to humankind. While I enjoy opening presents, listening to music, and eating great food, I have realized more and more that none of that matters much compared to Jesus and family.
Over the years my family has struggled financially and experienced loss, but we always manage to have a fun and meaningful holiday season. I will always cherish being with family playing games, eating food, and going to look at Christmas lights. It is my hope that reading the following memories from your favorite Southern gospel artists will get you in the spirit of Christmas and remind you to cherish the time you have with family and friends. 
Merry Christmas…
Matt Fouch (Legacy Five): "Being able to now be the head of my family and read the story of Jesus birth on Christmas Day to my family."
Matt Dibler (Inspirations): "My favorite Christmas memory was a tradition we had. Every Christmas Eve we would turn out all the lights and use only candles and the lights from the Christmas tree. We would sing Christmas Carols and read the Christmas story from Luke 2 and have family prayer. I think of it every year.."
Jeff Collins (Producer): "I have several great Christmas memories, as my parents made Christmas very special for my sister and I throughout our childhood. But there was one particular year that was extra special. I was around 11 or 12 years old and had asked Santa Claus for a minibike. After what seemed like years, Christmas Eve arrived, and I was hoping and praying Santa would make my wish come true. Lo and behold, on Christmas morning when Mom and Dad let us come down the hallway and around the corner to the living room, there sat my minibike. I was so happy. I was itching all morning to get outside to ride it, but first we had to open all of our presents, eat breakfast, and then finally go outside. 
We finally got the bike out in the carport and Dad says, 'Start her up, Jeff.' This minibike was a bare-bones kind of minibike with a basic Briggs and Stratton lawn mower engine. Anyhow, I started pulling on it, trying to start it. I pulled until my arm was like Jell-O. No start. My dad pulled on it for another 30 minutes. A neighbor was there by then, pulled on it for 30 minutes. Man, was I getting frustrated. I should mention here that there is an on and off switch between the handlebars and the seat. We had it in the 'on' position. Another neighbor had showed up by now. It was getting close to lunch. He reached down and haphazardly turned the switch to the 'off' position, pulled the engine, and it started. Just like that. But finally… I got to ride my minibike. I was one happy 11 year old."
Arthur Rice (Kingdom Heirs): "In the fall of 1987, my dad had a brain aneurysm. I was with the Kingsmen at the time and they had folks praying all over the country. He came out of the surgery great and the only paralysis was his memory. He didn't know who we were or what had happened. Just before Christmas he said it was like he heard a switch in his head go on and he started remembering us little by little. He was able to come home for Christmas and shortly after that all his memory returned. The Lord gave us 14 more years with him. It was a very thankful Christmas."
Mark Trammell (Mark Trammell Quartet): "The year my dad and mom went without Christmas so they could buy my first bass guitar. I didn't know it until years later. Priceless lesson in unselfish lifestyle."
Josh Feemster: "I think it would have to be the last Christmas with my grandma. She was so much fun. This particular Christmas she stayed at our house. My dad, brothers and myself went to a Christmas event without my mom and grandma. She just wasn't feeling well so they decided to stay home. This particular trip was memorable because of the sleeting going on during the drive,kinda rare in Alabama in December. Anyway, it was Christmas Eve and when we got back to our house Santa had already been there. All of our presents were out and Grandma convinced me that she helped him unload them. She was the greatest. We had a great time and I'll never forget eating her chicken and dressing one last time the next day. Within a month she was in heaven. I don't really remember what toys I got but I'll always remember how happy she was to be with us."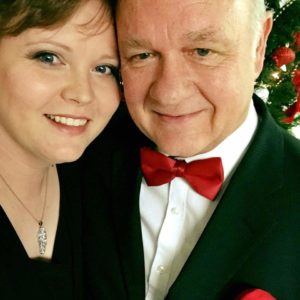 Lisa Williamson (The Williamsons): "When I was 16, my family and I were going through a pretty tough time. My mom had broken her ankle so our spirits were down. We hated to even ask, but my sister Rachel and I really wanted a PlayStation for Christmas. We didn't want to get our hopes up, but we sure were hoping to see that thing under the tree on Christmas morning. A week or so before Christmas, Mom came into the living room on her crutches wearing a brand new tee shirt. The back of it had a very bright, colorful, and recognizable logo…PlayStation. We kept asking her where she got her shirt, but all she would do was smile. Needless to say, we opened a PlayStation on Christmas morning."
Randy Crawford (Formerly of The Kingsmen): "Not so much a memory as it is something I miss. My grandmother on my father's side always used to have a "sock" for us grandkids. It truly was a sock. But it was filled with fruits, candy, and old fashioned peppermint stick candy. We used to cut a hole in our oranges and suck the juice out through the peppermint candy. I miss my grandmother so much, and love she put into our 'socks'."
Maria Kramer Wolfe (The Kramers): "My favorite Christmas memory, or tradition, is putting up the Christmas tree while listening to traditional Christmas music and baking Christmas cookies. I love family time the most, so getting together with family during the Christmas season is a rich blessing."
Steve Ladd (The Old Paths): "My favorite Christmas memory is my first Christmas as a father. Christmas took on a whole new meaning to me since then… my children's face and the excitement made me not care if I ever got another gift."
Tammy Burns (Troy Burns Family): "My favorite Christmas memory was 1974. My oldest brother got married right after Christmas and our whole family was together for the last time on this earth. It seemed like it was the happiest time we had ever had with family and friends. That next year my little brother, Tommy, went home to be with the Lord after battling cancer for 12 years. He was only 12. I will always cherish that Christmas."
Judy Nelon: "Rex and I had been dating a while. We spent a few days with his 98-year-old mom and his other family members in his hometown Asheville, N. C., during Christmas. It was the sweetest time. We exchanged gifts and it was interesting –  we gave each other exactly the same Christmas card, he bought his in Atlanta and I bought mine in Nashville. It said 'Only You.' We knew from the start we were a match. As he was driving me back to Nashville we stopped in Waffle House. He asked if I had expected a engagement ring for Christmas and I was honest and said. 'Yes, I did.' He said, 'Okay then, will you marry me?' He had plans for a ring but he couldn't wait. He was the funniest, sweetest and most unique man. I'll always love Rex Nelon."
Les Butler (Butler Music Group): "Christmas 1971, I was nine. My parents bought me an upright piano. Little did I know that instrument would play such an integral part in my life."
Riley Harrison Clark (Tribute Quartet): "Every year while growing up in Oklahoma, my family went to Silver Dollar City for Christmas. So many memories were made and even more funnel cakes were eaten. Going there is a Christmas tradition I will never forget."
Stephen Adair (Dixie Echoes): "One year my dad was in the hospital after a series of strokes during the Christmas season. He was still in the hospital on Christmas Day, so my mom and I packed up all of the gifts that were under the tree and took them to his hospital room. We had Christmas there complete with hot chocolate, the Macy's Christmas Day Parade, and the best hospital food we could find. We were together, and that's what made that Christmas so special."
Bob Sellers (Soloist): "When I was about 10 years old, my parents asked my sister and I to clean out our closets of any toys, clothing, etc. that we could live without (only good stuff), and we took it to this one room cinder block home where a family with about six or eight kids lived. My dad had cut them a load of firewood and we gave them that, plus all the stuff my sister and I had put together. I'll never forget the look on those kids' and their parent's faces. They were about our same age, and although we were far from wealthy, they looked at us and my parents like we were angels or something. I guess to them we were, at least that year. I'm thankful for godly, loving parents who instilled the true meaning of Christmas in me."
Nic Holland (Poet Voices): "Probably my last Christmas with my mom before she died, 2003. We knew she didn't have long to live and enjoyed every second of just being together. I have no memory of one single present I got that year but my time with Mom I'll never forget."
Duane Allen (Oak Ridge Boys): "My wife gave birth to Jamie, our baby girl, on Dec. 13. Early on Christmas morning, Norah Lee slipped out of bed, dressed Jamie up real pretty, put her in her little portable bed and placed her under the Christmas tree. Then, Norah Lee came back to the bedroom, woke me up and led me to the living room to see my Christmas present."
Scott Brand (Gold City): "I couldn't possibly narrow it down to one. Christmas is my favorite time of the year. When I was a kid, my grandparents, along with my great grandmother, would come spend four or five days with us around Christmas. The Brand tradition was to cook a ham in Coca Cola all night on Christmas Eve. I can still to this day smell that cooking through the house. Just family getting together and keeping traditions alive would be my Christmas memories as a kid."
Randa Jordan (Jordan Family Band): "I was eight years old, and money was something we never had much of. I knew that Daddy and Mama didn't have enough money to go out and buy me and my brother new toys, and yet somehow I was okay with that. I was a dreamer, and I enjoyed the most simple things that surrounded me. We lived in what seemed like to me the most wonderful apartment in downtown Rome. Two stories, hardwood floors, a screened in back porch, huge living room, and the front yard was next to the busy road where the town's bus and trolley would pass throughout the day. I loved that apartment so much. The staircase was huge to me and I loved dressing up and and walking up and down them like a princess out of a fairy tail book. The morning of Christmas, 1989, I wasn't sure what to expect, but my brother and I woke up, and at the direction of Daddy and Mama, we waited on the big staircase till they instructed us to come into the living room. Bubbling with joy and wearing my little white gown and house shoes, I walked into a living room that was covered in gifts. Clothes, toys, games everywhere. The couches and chairs were covered, items set up all across the floor and gifts under the tree. It was like a dream. Dad and Mom had went "yard sale-ing" and "goodwill-ing" and loaded up without spending much at all. That was one of the best days of my life."
Sarah Davison (HighRoad): "When I was a young girl we had a huge snowstorm come through – probably 13-14 inches of snow – and it was so heavy that we lost power for several days including Christmas Eve and Christmas day. I remember Dad firing up the wood stove and Mom making homemade soup on top of the wood stove. We played board games and got some old hymnals out and gathered around the piano. It was the most quiet, peaceful Christmas I can remember and by far my favorite one too."
Amber Nelon Kistler (The Nelons): "My favorite Christmas memory is sitting around the table playing games with my whole family and grandparents at their house. Then eating the dinner my grandmama cooked …twice a year… Thanksgiving and Christmas."
Compiled by Justin Gilmore
First published by SGNScoops Magazine in December 2018
Tags:
Arthur Rice
,
christmas
,
gospel music
,
Inspirations
,
Kingdom Heirs
,
legacy five
,
mark trammell quartet
,
Matt Fouch
,
Southern Gospel Music
,
The Oak Ridge Boys
Posted in
announcements
|
Comments Off

on A Southern Gospel Christmas: Christmas Memories from Your Favorite Artists
Written by Staff on July 30, 2019 – 10:50 am -
The Mark Trammell Quartet  announced on Facebook the addition of new tenor Stephen Adair:
***Special Announcement***
The Mark Trammell Quartet is pleased to announce that Stephen Adair is joining the group as tenor vocalist. Adair has been a member of The Dixie Echoes since the year 2015.
"I am so thankful for my time with The Dixie Echoes," says Stephen, "and I greatly appreciate their investment into my life and calling. I look
forward to the future with The Mark Trammell Quartet, and I am excited to see what God has in store. Please be in prayer for not only myself, but also both of these fine groups during this
time of transition."
"It is a joy to have Stephen become a part of the MTQ family," adds Mark Trammell. "He comes from one of the finest groups in all of Gospel music. Please join us in welcoming Stephen to Alabama, and to his new position."
Adair's first official appearance with The Mark Trammell Quartet will take place in early September. In the meantime, long-time Mark Trammell Quartet friend Jeff Hawkins will be
filling the tenor role.
"Jeff is from Cookeville, Tennessee, and is a seasoned singer in his own
right," says Mark. "We greatly appreciate Jeff's assistance during this transition period, and we are truly humbled that these men are answering the call to help move this ministry into the future. To God be the glory!"
Several minutes later, after a time of stirring the little grey cells, Scoot Shelnut, aka Randy Shelnut, Jr., of the Dixie Echoes, posted the following rebuttal, reprinted by permission:
The REAL "press release"….😏
It is with mediocre sadness we announce the defection…uh…I mean…departure of our long time (relatively speaking) tenor, Stephen Adair.
"I've travelled with many…and I mean MANY tenors, and Stephen is certainly one of them," states bass player, Scoot Shelnut. "He has become like a 3rd cousin to all of us and we wish him average, at best."
Stephen will be joining another great quartet, Mark Trammell and the Trammellaires. Mark, as if anyone didn't know, is the former baritone/bass player for the Cathedrals…and Greater Vision…and Gold City…and the 2nd Half Quartet…and the Southmen…and the Kingsmen…and the Mark Trammell Trio.
The Dixie Echoes are currently accepting auditions for tenor/bus washing engineer/trash taker outer, so please send your resume', photo, demo (CD or cassette), $25 cash, and a bag of Skittles to:
Dixie Echoes Tenor Training Program
481 Ronda St
Pensacola, FL 32534
Please continue to pray for the Dixie Echoes and the Trammelltones+ Randy & Trevor during this transition.
John 11:35
For more on the Mark Trammell Quartet click Here
For more on the Dixie Echoes click Here.
For more Gospel Music news read the latest issue of the SGNScoops Magazine HERE.
Download the latest SGNScoops Magazine PDF Here
Find SGNScoops Magazine On Facebook Here
Listen To Today's Gospel Music Here
Tags:
Dixie Echoes
,
gospel music
,
mark trammell
,
mark trammell quartet
,
Stephen Adair
Posted in
announcements
,
artists
|
Comments Off

on Stephen Adair joins the Mark Trammell Quartet
Written by SGN Scoops Staff on June 24, 2019 – 8:55 am -
From Mark
Mark shares the following: "It is with heavy hearts that we announce the departure of our wonderful tenor, Blake Buffin. Blake has shared his belief that God is directing him back to Ohio and back to his family business, and spending more time at home.
Blake has quickly become one of the finest voices in all of Gospel Music, so to say we will all miss him is a tremendous understatement. He and his precious wife Lauren have become like family to us. We ask that you pray for the Buffin's as well as MTQ as we begin this transition into the next chapter of our lives. While we grieve the Buffin's departure, we also look forward with great anticipation, to see what God has in store for this ministry that He has blessed so very much!
We want to publicly thank the Buffin's for 4 wonderful years of service to this ministry. There are no better people anywhere.
Blake plans to be with us until the completion of the MTQ Homecoming the last week of July.
Today we begin the process of finding the next man. Please email demos to mark@marktrammellministries.com Stay tuned!! It's gonna be good!!"
Find SGNScoops On Facebook HERE
Tags:
mark trammell quartet
,
Southern Gospel News
Posted in
announcements
|
Comments Off

on Blake Buffin To Exit Mark Trammell Quartet
Written by Staff on September 28, 2018 – 8:31 am -
PIGEON FORGE, Tenn. (September 26, 2018) –  It was a terrific Thursday filled with music and message at NQC. The day started bright and early with morning chapel service as the Mark Trammell Quartet and Mike Speck led the crowd in worship, followed by a message from one of the most dynamic preachers today, C.T. Townsend.
Moving forward into the day, Dennis Swanberg gave convention-goers a laugh-break with his comedy.
Next up was Bill Gaither and his Homecoming Friends, filling the LeConte Center with classic songs made popular on the Gaither videos.
The evening concerts were hosted by Josh Franks. Tonight's performers were: Gaither Vocal Band, Ernie Haase & Signature Sound, Hoppers, Legacy Five, Jonathan Wilburn, Gold City, Ball Brothers, Greater Vision, Tribute Quartet, Mark Trammell Quartet, Jim Brady Trio, Dr. David Jeremiah, Primitive Quartet, Three Bridges, Kingdom Heirs. Power half-hour performances by Tim Menzies, Torchmen, Jordan Family Band, Debra Perry & Jaidyn's Call
Among tonight's highlights were the classic harmony of the Gaither Vocal Band, and the comedy of Bill Gaither and his sidekick, Kevin Williams and the moving testimony of Josh Townsend – pianist for Legacy Five – as he told of suffering abuse at the hands of his father in the womb before he was even born. The abuse left his twin dead before birth and Josh suffered a stroke before being delivered. Due to this, doctors told his mother that he would never have use of his left hand, to which Josh testified tonight – "they were wrong." The crowd – with tears streaming down their face – gave Townsend a standing ovation after he performed the song, "God's Been Good."
NQC – the National Quartet Convention – continues until Saturday, September 29, 2018, at the LeConte Center in Pigeon Forge, TN. Over 40,000 people are expected to enjoy the concerts and festivities planned.
Coming up tomorrow, Friday, September 28, 2018:
Chapel with Jim Brady Trio and the First Baptist Church Indian Trail Choir and message by Dr. Mike Whitson
Blazing Pianos
Dr. David Jeremiah
Matinee Extravaganza
Evening Concerts featuring: Erwins, Dixie Echoes, Nelons, LeFevre Quartet, Taylors, Mark Trammell Quartet, McKameys, Lynda Randle, Perrys, Jeff & Sheri Easter, Isaacs, Joseph Habedank, Hoppers, Triumphant, Karen Peck & New River and Ernie Haase & Signature Sound
NQC – the National Quartet Convention – was founded in 1957 by gospel music legend and former backup vocalist for Elvis Presley, J.D. Sumner who co-produced the event with James Blackwood. The annual convention was moved in later years to Nashville, TN and then to Louisville, KY where it was held for 20 years.
Tags:
Ball Brothers
,
C.T. Townsend
,
Dr. David Jeremiah
,
Ernie Haase & Signature Sound
,
Gaither Vocal Band
,
gold city
,
Greater Vision
,
hoppers
,
Jim Brady Trio
,
Jonathan Wilburn
,
Kingdom Heirs
,
legacy five
,
mark trammell quartet
,
nqc
,
Primitive Quartet
,
three bridges
,
Tribute Quartet
Posted in
announcements
,
artists
|
Comments Off

on NQC RECAP: THURSDAY, SEPTEMBER 27, 2018
Written by Staff on August 31, 2017 – 2:25 pm -
11th Hour member, Jaquita Lindsey, talks about the group's first visit north of the border.
11th Hour had the privilege in July of this year of being part of Canada's Gospel Music Celebration, held annually in Red Deer, Alta. This event is comparable to our National Quartet Convention that is held in Pigeon Forge, TN.
Many great groups were in attendance for this year's event, such as the Booth Brothers, Collingsworth family, Mark Trammell Quartet, Greater Vision, Triumphant Quartet and Legacy Five. We also had the opportunity to meet and hear a few Canadian groups.
Traveling to Canada was a first for Grant (Gibson), Amber (Eppinette) and I. We call Grant our world traveler, having visited about every state and several countries. But Red Deer was a first for us all. The people greeted us warmly and made us feel so special. Many friends came to our product table and wanted to put "faces to the voices they had been hearing on the radio".
Gerald Wolfe, of Greater Vision, emceed the nightly concerts. He also held one of his Hymn Sings on Friday afternoon. Second Half Quartet sang a few songs to open up the sing. Stan Whitmire graced us with his phenomenal piano skills for the sing-a-long. 11th Hour was asked to sing "Love of God," which Amber sang better than I had ever heard her. She laughed that it was because Stan was playing for her.
The only fun we had time for was Saturday morning when we spent a little time in downtown Calgary. Mark Trammell Quartet was in charge of Chapel that morning. Since we skipped it to "go have fun", his guys turned our backdrop upside down and rearranged our product table. We all had a good laugh about it.
We hope to get invited back in the future to Canada's Gospel Music Celebration. That trip was memorable for all three of us.
About 11th Hour
(http://11thhourgg.com/bio/, August 31, 2017)…In 2012, 11th Hour signed a recording contract with Crossroads Music Group. "The doors of opportunity that a recording contract opened up were incredible. We had a support that would help
us reach more and more people for the Kingdom," says Amber. And with that support, 11th Hour has done just that. They've had multiple Top 10 hits and been nominated for numerous awards in Southern Gospel music such as Trio of the Year and Album of the Year, while Amber was nominated for Soprano of the Year. In 2014, 11th Hour took home the Sunrise Award at the SGN Scoops Diamond Awards. "It has been such an honor receiving support from people you respect and admire," shares Amber. "God has so much more in store for us as we travel and bring glory to His name."There's so much more work to be done as these three continue to step out in faith. Amber, Grant, and Jaquita, are ready to go wherever the Lord opens doors, singing and proclaiming the good news of Jesus… Read more here. 
Read more about 11th Hour here.
Find more Gospel music news
here.
Find more features and stories about Gospel music in our
latest
SGNScoops Magazine.
Tags:
11th Hour
,
Amber Eppinette
,
booth brothers
,
collingsworth family
,
Grant Gibson
,
Greater Vision
,
Jaquita Lindsey
,
legacy five
,
mark trammell quartet
,
triumphant quartet
Posted in
artists
,
Christian interest
,
special feature
|
Comments Off

on 11th Hour experiences memorable first trip to Canada
Written by Staff on July 17, 2017 – 8:52 am -
Gadsden, AL – After five years of looking for the right man to sit at the keyboards, 2017 Singing News Top Five Traditional Quartet nominee, The Mark Trammell Quartet announces today that nineteen year old Trevor Conkle from Arab, Alabama will be that man. Mark says, "We are thrilled that Trevor expressed interest in being an active part of our ministry. We believe this young man has a bright future in Gospel Music, and we are pleased that he wants to grow with us!"
For the last three years, Trevor has enjoyed traveling with the multi-award winning first family of gospel music, The Hoppers, from Madison, NC. Trevor states, "While I am truly grateful for this family and the daily investment they have made in me, my first love is convention style and quartet music. Upon hearing of The Mark Trammell Quartet genuinely looking for a keyboard man, I began to enquire and that enquiry led to my gaining this position. I couldn't be more pleased, and look forward to traveling with this great quartet. The Hoppers have been wonderful to me and I will always cherish my time with them."
Trevor will be boarding the MTQ bus on Thursday, July 20, 2017 to begin the next chapter in his musical life. When you see MTQ, be sure to welcome this young man to his new home.
For more Gospel music news click here.
For Gospel music features click here. 
For the latest SGNScoops magazine click here.
Tags:
gospel music
,
hoppers
,
mark trammell quartet
,
Travor Conkle
Posted in
announcements
,
artists
|
Comments Off

on Mark Trammell Quartet welcomes Trevor Conkle
Written by Staff on May 4, 2017 – 7:37 pm -
The Great Western Fan Fest is happening right now in California.
One of the many groups appearing  there is the Mark Trammell Quartet. We are happy to present an image from their performance tonight.
The Great Western Facebook Fest continues through Saturday night.
#fanfest2017
For more Gospel music news click here.
Tags:
Great Western Fan Fest
,
mark trammell quartet
Posted in
announcements
,
artists
|
Comments Off

on Mark Trammell Quartet appears at the Great Western Fan Fest
Written by Staff on January 15, 2017 – 3:02 pm -
Mark Trammell is a legendary figure in this field and has one of the most recognizable baritone voices with a clear and smooth tone. Trammell, an artist many consider one of the greatest quartet men of his time, has graced the Southern Gospel stage for over forty years as of 2016 and shows no sign of slowing down.
Trammell has sung with many great groups including: The Senators, The Kingsmen, The Cathedrals, Greater Vision, Gold City, and now his own group, Mark Trammell Quartet. After leaving Gold City in 2002, Trammell decided to form his own group, The Mark Trammell Trio.
Trammell's son Nick has a unique perspective of the early days of the group. "I could write a book on the formation of this ministry from my perspective," Nick explains. "To keep it short, every single detail that needed to be in place, every door that needed to be opened, and every sign that needed to be given,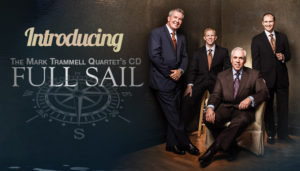 took place with only the willingness of my father to take the step of faith away from what was comfortable, into what he felt like God was calling him to do.
"I can remember standing in our driveway the week after he left Gold City. He said look around you and remember this moment. There was literally nothing there to start a group with. No other singers, no sound system, no mode of transportation, not even a microphone. Within three months, most of that was provided with little more than prayer and patience. I still to this day stand in the driveway and look around every once in a while to remind myself of what we have seen God orchestrate." 
Tags:
Blake Buffin
,
gospel music
,
Justin Gilmore
,
mark trammell
,
mark trammell quartet
,
Nick Trammell
,
Randy Byrd
,
SGNScoops Magazine
Posted in
artists
,
sgn scoops magazine
,
special feature
|
Comments Off

on Full Steam Ahead for the Mark Trammell Quartet