Written by Staff on June 27, 2019 – 1:48 pm -
More than thirty years ago, Chris and Darrell Freeman began the family musical legacy known as the Freemans. Their name is synonymous with gospel music. The Freemans have recorded 25 albums and garnered seven number one songs, and the foundation of their success has been the blessing of close-knit family ties paired with a passion for music that glorifies the name of the Lord Jesus Christ.
Having been influenced by the very roots of gospel music at the young age of 10 years old, Chris Freeman said her earliest memories of gospel music stem from hearing gospel music legends like Andraé Crouch and the Disciples, the Speers, the Happy Goodmans, and the Oak Ridge Boys. Yet the biggest musical influence on her life would be none other than her dad. "My dad was a pastor and a preacher. In fact, he also sang. He made his kids practice. We hated practicing. I don't regret it now, but I hated it then. But he's probably been my greatest influence," said Chris.
Although her dad pastored a church and was also a singer when she was a young girl, Chris always felt down deep in her heart that there was more out there in the way of ministry. She auditioned more than once for positions singing gospel music, but rejection sent her home from Nashville, and back to California. Still, she now sees how God's hand was working in her life all along, even from the very beginning. 
Tags:
Caylon Freeman
,
Chris Freeman
,
Darrell Freeman
,
Freemans
,
gospel music
,
hinsons
,
Jennifer Campbell
,
Joe Freeman
,
Misty Freeman
,
SGNScoops Magazine
Posted in
artists
,
sgn scoops magazine
|
Comments Off

on The Freemans: Gospel roots run deep
Written by scoopsnews on May 11, 2019 – 4:45 am -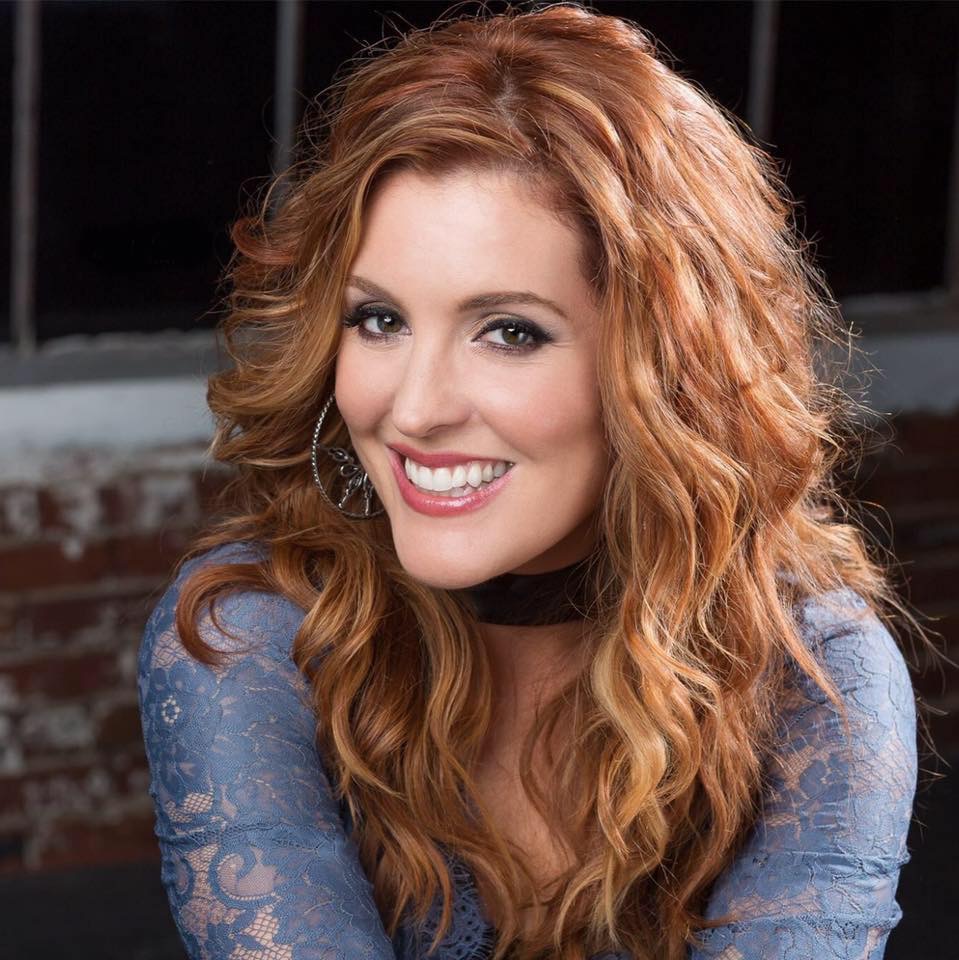 Have you heard this great song by Misty Freeman?
(From Misty)
Mothers never stop raising their children, even as they grow up "Too Fast". This Mothers Day I hope you pause to embrace your children and this unique season of motherhood.
Tag and share with the special moms in your life.
Tags:
Misty Freeman
,
Too Fast
Posted in
announcements
|
Comments Off

on Misty Freeman- "Too Fast"
Written by Staff on April 10, 2017 – 3:56 pm -
Spectacular Lineup  For The Music City Show Cruise 2018 Features Fan Favorites Michael English, Nelons, Jeff & Sheri Easter, Karen Peck & New River, Joseph Habedank, Erwins, Tim Lovelace, and more!
Cabins On Sale Now!

Nashville, TN (April 5, 2017) – Some of gospel music's most beloved artists and inspiring new talent will come together for one amazing week when the 2018 Music City Show Cruise sets sail from March 18-25, 2018. Filled with music day and night, and exotic ports of call – including Haiti, Jamaica and Mexico – this is a vacation you don't want to miss!
Talent for the cruise is as follows: The Nelons, Michael English, Jeff & Sheri Easter, Karen Peck & New River, Browders, Joseph Habedank, Erwins, Amber Nelon Thompson, Jay Stone Singers, Jeff Stice, Misty Freeman, Allegiance, along with The Music City Show's Jim Sheldon and Tim Lovelace.
In addition to the music, world-class accommodations and amenities await guests aboard Royal Caribbean's amazing Oasis of the Seas, including an ice rink, aqua theatre, a 'living central park,' rock climbing walls, zip lines, and so much more.
Cabins start at $798.00 and are on sale now at www.themusiccityshow.com or by calling 1-855-346-7735.
For more Gospel music news click here.
Tags:
Allegiance
,
Amber Nelon Thompson
,
Browders
,
Erwins
,
jay stone singers
,
Jeff & Sheri Easter
,
Jeff Stice
,
Jim Sheldon
,
Joseph Habedank
,
Karen Peck & New River
,
Michael English
,
Misty Freeman
,
Music City Show
,
the nelons
,
Tim Lovelace
Posted in
announcements
,
artists
|
Comments Off

on THE MUSIC CITY SHOW CRUISE ANNOUNCES TALENT FOR 2018
Written by SGN Scoops Staff on December 19, 2016 – 3:03 pm -
Hendersonville, TN  – Misty Freeman is no stranger to Southern Gospel music, having spent most of her life on a tour bus with her family, The Freemans.  An accomplished artist and musician in her own right, Misty Freeman is a welcomed addition to the Daywind Roots label.
Influenced by artists such as Allison Krauss and Dolly Parton, Misty's raw and honest vocals resonate with the soul and deliver the truth of the Gospel with transparency and grace.  Although Misty has released solo albums in the past, her project with Daywind Roots will be the first solo release in nearly a decade.  Slated for early Spring 2017, the EP will contain six new songs, and feature a special bonus Christmas track.
"We have worked with the Freemans for many years and when we talked to Misty about doing a solo project, I knew that it would be a very special and unique CD," comments Daywind VP Scott Godsey. "The songs and arrangements are fresh and contain a strong message. Daywind is proud to partner with Misty and have her as part of the Daywind Roots family!"
Daywind Roots strives to fill a void left in Christian music. The rich, classic sounds of Christian, country and gospel artists are the foundation of the label; providing these timeless artists with a home to create new, quality music to be heard by fans around the world.
Daywind Music Group is home to Daywind Records, Daywind Music Publishing, Daywind Studios, Daywind Soundtracks, Daywind Concert Series, DMG Concerts and daywind.com.  Daywind Instrumental is distributed to retail through New Day Christian Distributors, Sony Red, and all major digital outlets, including iTunes.
For more information, visit www.daywindrecords.com or contact Dani Phillips at publicity@daywind.com.
Tags:
Misty Freeman
Posted in
artists
|
Comments Off

on Daywind Roots Welcomes Misty Freeman
Written by Staff on April 21, 2015 – 6:03 pm -
By Sheri LaFontaine
We've heard it said that blondes have more fun, but there is a group of gingers that will tell you a very different story. According to a Clairol Color Attitude survey, 71% of redheads think that the word "bold" best describes them, which is 24 points ahead of blonds. This certainly makes sense, being that redheads are known for their fiery passion.
​Just like Little Orphan Annie, Opie Taylor, Lucy, Prince Harry and Reba, our Southern Gospel industry has experienced many carrot-tops in the spotlight. From the ultimate Irish tenor, Larry Ford, to the living legend, Lou Hildreth, no one can deny the talent that comes with those orange locks.
Scientists say that red hair and blue eyes are the rarest combination in the world, which makes Olivia Collingsworth a unique beauty.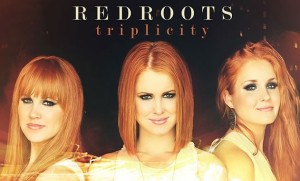 Sheri: Where did your red hair come from?
Olivia: My red hair actually came from my great Grandpa. After I was born my parents could not figure out where it came from, because nobody in our family had red hair except for one of my cousins and she got it from a different side of her family. My parents had only seen black and white photos of my dad's Grandpa, but one day they saw one in color and realized he had red hair. Kinda put two and two together!
Sheri: Do you like it?
Olivia: Since I was little, I never really minded my red hair! I always kinda liked being different than everyone else!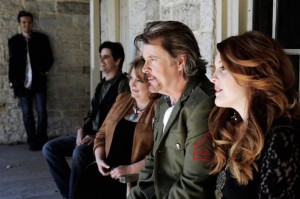 Moving from one baby of a talented family to another. Miss Kennedy Hayes of the Mylon Hayes Family is winning the hearts of audiences across the country. Born on October 31st, she truly is the perfect little pumpkin.
Sheri: What's the best part of having red hair?
Kennedy: The best part about being a redhead is that it is rare! And to have brown eyes is unique, and it's how God made me! Sometimes I wish I didn't have red hair when people ask if I have a temper to go with it.
Sheri: Have you ever been made fun of because of your hair?
Kennedy: Since I am home-schooled, I have never been teased, unless you count my brothers. When I was maybe four years old, we were walking on the beach and a lady asked my mom if she colored my hair! Wow…some people can ask funny questions!
We couldn't possibly write an article like this without speaking to the amazing tenor with the bushy red mustache, Larry Ford.
Sheri: Are you actually Irish?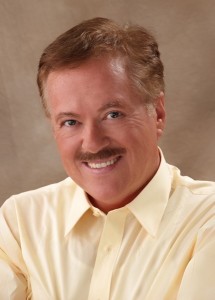 Larry: Yes, I am very Irish. My dad's family is, of course, Fords. My mom's family is Kennedy.
Sheri: Have you ever been to Ireland?
Larry: Our first trip to Ireland was in 1995 and it was really a homecoming for me.
Sheri: Is there a downside to being a true redhead?
Larry: Along with the red hair there's often a tendency to have really white skin that doesn't much like the sun. I've always had a "farmer's tan" and more freckles on my left arm (driving with the window rolled down) than my right arm. One time I was at a church in the Florida Keys. On Saturday the pastor and I went out to snorkel and catch lobster. Always mindful of how easily I burn, I applied Bullfrog sunscreen to my face, neck and arms. We probably spent two or three hours out on the water. Later that afternoon, I felt a burning sensation. The two or three inch strip between where my swim shorts and T-shirt did not meet, was cooked. Also, the backs of my knees were cooked. I couldn't even bend my legs to walk. I was walking stiff legged when I walked into church the next morning. Note to self: ALWAYS take the time to apply sunscreen to every area that might even possibly be exposed to Florida sun. If you don't, it can be extremely painful and dangerous for your skin. However, the lobster was really good.
Next we spoke with the triplets that named their group after the hue of their beautiful hair.
Sheri: So, how do you like having/being Red Roots?
Red Roots: We love being redheads because it makes us different in a lot of ways. We aren't crazy about the sunburns but everything else is all right.
Sheri: Where did you get it from?
Red Roots: We got our red hair from our mom and she said that when she was young, people used to tease her about being red headed by saying a funny phrase. "I'd rather be dead than red on the head."
Poor Momma Red Roots.
Josh Singletary is one of the brightest people in the business today. And I'm not just talking about his hair.
Sheri: What are some of the things you hear a lot from the fans?
Josh: I'm constantly asked if I color it. And the red hair confirms to people that I'm from Ireland, even though they know tons of redheads that live down the street that are as redneck as they come.
Sheri: Any perks that come with having orange hair?
Josh: Well, regardless of the hundreds of folks in line for the ride, my youth director never had any trouble at theme parks, knowing where we were in the line for a roller coaster. And he seemed to ALWAYS know when MY turn on the roller coaster was done!
A true sweetheart in this industry is the beautiful, Misty Freeman.
Sheri: Do you have any Irish in you?
Misty: I'm a mutt so I'm sure there is Irish in there somewhere.
Sheri: So how has life been for you, as a redhead?
Misty: Growing up, it was never popular to have red hair. Only older people thought it was pretty. But as a teenager I started loving it. I felt different but in a good way. My husband jokingly says he married me in spite of my red hair. When our daughter was born I just knew she'd have red hair. It was the first thing I asked the nurse "does she have red hair?" To which she sternly replied, " She's healthy!" She had pretty dark brown hair! Which Bryce was happy about.
Fast forward two years, I'm having my son and never ever thought I'd have a redheaded son. But the first thing I hear is Reba Rambo in the delivery room saying, "look at that red hair!"
They showed him to me and his hair was bright orange and all I could do was giggle!! What a fun surprise. We definitely get a lot of attention with those red curls but we've also had a lot of negative comments too. One man in line with us one day said, "poor little guy having to grow up with that hair". I hope he grows up to love his.
Sheri: Where did you get it from?
Misty: I get it from both sides of the family. My mom had red hair and my dad did when he was a baby. I have aunts and cousins that are redheads too. The older I get the more I love it!
Only 1-2% of the world's population are natural redheads. Although parting the red hair can hardly be compared to parting the Red Sea, it is still a rare and extraordinary miracle of God. Some could call it luck, but I think that Joel Hemphill said it best when he penned the song, "Don't Call Me Lucky, Call Me Blessed."
Tags:
josh singltary
,
Lou Hildreth
,
Misty Freeman
,
Olivia Collingsworth
,
Red heads
,
Red Roots
,
Sheri LaFontaine
,
southern gospel
Posted in
announcements
,
christian entertainment
,
Christian interest
|
Comments Off

on The Luck of the Red Head in Southern Gospel
Written by Staff on September 8, 2014 – 10:29 am -
This week, SGN Scoops caught up with uber-busy Misty Freeman Callaway of the popular Gospel singing family, The Freemans. The group hit the charts this year with the single, "Lead Me Home" from their latest recording, Voice In The Desert.
Misty admits that her list of things to do on her days off might be different from other people in the industry. As a wife, mother of two, and owner of a busy hair salon, Misty says that when she gets home she hits the ground running.
Fast Five "Things I Do On My Days Off" by Misty Freeman Callaway:
1) Laundry and lots of it, especially kids' clothes.
2) I'm usually getting kids off to preschool and I head to the salon to take care of my hair clients two to three of the days I'm home. Some weeks I go straight from the bus to the salon back onto the bus. No days off!
3) Grocery shop and cook. After eating fast food and bus snacks for a few days I'm ready for healthy home cooking.
4) Spend time with my husband. Since he doesn't travel with me, we have to work really hard to connect during the week. We love to go on dates but most weeks our goal is to just get the kids to bed early enough for us to make popcorn and watch a movie alone…before we both pass out!
5) Attend and serve in our home church as a family.
Thanks to Misty for sharing some of her spare minutes with us to answer the SGN Scoops Fast Five. For more information on the Freemans please visit their website at http://www.the-freemans.com
By Vonda Easley and Lorraine Walker
Tags:
Christian Music
,
gospel music
,
Lead Me Home
,
Lorraine Walker
,
Misty Freeman
,
Misty Freeman Callaway
,
sgn scoops
,
southern gospel
,
the freemans
,
Vonda Easley
Posted in
announcements
,
artists
,
christian entertainment
,
Christian interest
,
sgn scoops magazine
,
special feature
,
Uncategorized
|
Comments Off

on Fast Five with Misty Freeman Callaway
Written by Staff on June 17, 2014 – 12:37 pm -
By Lorraine Walker  Once upon a time there were two family Gospel singing groups. A single man from one family caught a glimpse of the single lady from the other and… Stop me if you've heard this one before. In the late '70's, The Hinsons were one of the most sought-after artists in Southern Gospel. As co-hosts of The Gospel Singing Jubilee, the line-up of Kenny, Ronny and Larry Hinson with Chris Hawkins had a popular sound that generated many fans across the country. At the same time, The Pathways were traveling the roads, singing Country Gospel and comprised of both Darrell and brother Eddie Freeman with their family. However, real love isn't like the fairy-tales and the courtship of Chris and Darrell took more than just a glimpse. But only a little more! Darrell Freeman had driven to Tampa Bay for a Foosball Tournament, a popular activity at the time. He heard the sound of a gospel group and went across the building to hear The Hinsons. He saw Chris Hawkins for the first time, but they didn't meet. "The first time we actually spoke was at the Union Hall in Lorain, Ohio," says Darrell. "The Hinsons performed that night and I drove to be there and truly met her finally. Sparks flew right away as I was attracted to her personality, what she looked like, her voice and just how wonderful she was and still is."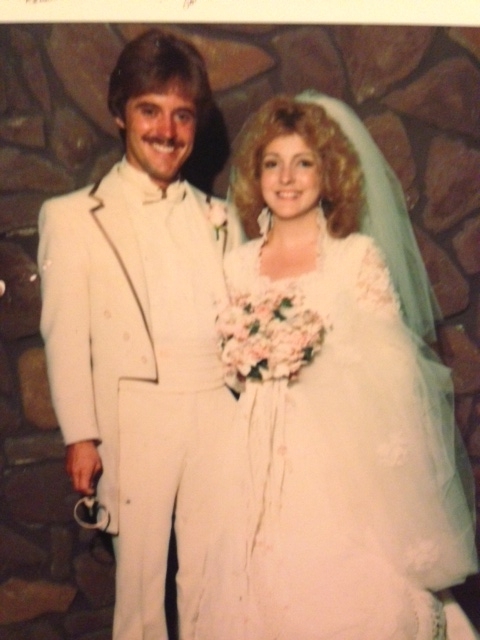 "The first time I remember meeting Darrell was at a concert when I was with The Hinsons," says Chris. "I really loved his smile and thought to myself, 'I'd really like to kiss him.' We actually met a couple more times before we officially started dating." Chris lived in Hendersonville, Tennessee and Darrell lived in Sandusky, Ohio, so 'dating' meant a long-distance relationship of three years before they were married on August 2, 1980 in Hendersonville. Chris remembers that the Hinsons were all present at the wedding. "Ronnie Hinson's daughter Kim was my flower girl and his son Bo was an usher and candle lighter." 
Chris joined the Pathways and soon she and Darrell were on their way to Nashville to begin The Freemans with Darrell's cousin Joe. The Freemans family expanded, and as their children Misty and Caylon grew older and began to flex their musical wings, Misty joined the group on vocals and acoustic guitar. Caylon joined as the drummer and also added vocals for The Freemans. Together they have continued their Country-Southern-Progressive sound that has made the group unique. Chris had won "Queen Of Gospel Music" while still in her teens with The Hinsons, and her distinctive vocals have brought The Freemans much success with singles such as, "Going Back" and "Hello In Heaven." Other top hits have included "He Chose Me" and "Three Rugged Crosses," along with Misty's debut tune, "What Judas Didn't Know." Many top songs and honors from SGM Fan Fair, Absolutely Gospel and the Diamond Awards have followed.
The Freemans have the right combination of vocal and instrumental talent to keep them at the top of their peer group for many years to come. The relationship between Chris and Darrell still seems to be the glue that holds this wonderful family group together. As they hit the road every week to minister to hundreds and thousands of people, this couple seem to radiate a strong love and respect for each other, even after 30-plus years of marriage and singing.
"Traveling together is a marriage in itself," says Darrell. "Traveling hasn't really affected our marriage because we are together most of the time anyway. I believe our marriage is as strong as it's ever been. I think we've raised two great kids and for them to be traveling all their lives, they've done well." 
"Traveling and working together does have its advantages and disadvantages," Chris adds. "I can honestly say that Darrell is not only my husband and business partner but also he is my best friend and so through the many years of working together we have grown stronger in our marriage. Darrell is the leader of this ministry and head of the household but we always make business and personal decisions together." Read more »
Tags:
Calon Freeman
,
Chris Freeman
,
Christian Country Music
,
Christian Music
,
Darrell Freeman
,
gospel music
,
Making Love Last
,
Misty Freeman
,
SGN Scoops digital magazine
,
the freemans
Posted in
artists
,
sgn scoops magazine
|
Comments Off

on Chris and Darrell Freeman: Making Love Last