Written by Staff on October 25, 2020 – 7:33 am -
Beyond the Song by Jantina Baksteen
It was the song "Let's Carry On," from the group New Ground, that caught my attention for this edition of Beyond the Song. I got in contact with Robbie Fortner Maxwell, who is one of the founders of New Ground, and she agreed to join me in this interview. Robbie is joined by Dale Maxwell and David Owens to form this exciting trio. Read on.
Jantina Baksteen: Please share a little background on how you got started with New Ground.
Robbie Fortner Maxwell: On June 19, 1993, we started our group New Ground as a quartet with a full band. Our first singing was held at our home church, and needless to say, we (were) a bunch of scared individuals on a new journey to share our music. After just singing where we were called locally, we began to venture out a little further with our message. During this time, we saw our group go from a quartet to a trio, and full band, to piano and tracks. We have been traveling this way for the past 23 years.
JB: Who are your music influences?
RM: The McGruders, Hinsons
JB: Do you have a testimony to share?
RM:  My testimony was when Dale was traveling with the groups, I wanted to be a part of a group – I just wanted to sing. I couldn't carry a tune, but I loved the music. I was reading my Bible one day and read the verse Psalm 37:4 "Delight thyself also in the Lord, and He shall give thee desires of thine heart." (KJV). Wow. I got ahold of that verse and began to believe that the Lord would do that for me, and at 26 years old, I just began to sing! What an awesome God we serve.
JB: How is it like to travel as a couple and with ýour longtime friend David Owens?
RM: David is on year 23 (of) traveling with Dale and I. He has been a part of our family for many years. We love David and his entire family (wife – Stacy, children – Brandon, Chelsea and Celeste). David is an only child and he says that if he had ever had a sister it would have been me!
JB: You have Mickey Bell back on board again?
RM: Mickey has been a friend since New Ground first got started in 1993. He has been with us on three different stints. Mickey still plays piano for us on special occasions but he has embarked on a Christian Comedian Tour and is doing great. Check him out at www.themickeybell.com.
JB: You already celebrated 25 years of singing. Can you share a little about that?
RM: Well we are working on year 27 now. When Dale and I started the group many years ago, we had said that we were gonna sing as long as the Lord allowed (and He) is with this group. I'd never dreamed that it would have been going this long, with no breaks. He keeps blessing us more each day to sing His songs. Who knows where I'll be at age 80. I hope it is still singing for Him!
JB: You have a single put out to radio that's called 'Let's Carry On' that caught my attention, and I've requested it almost every day. Can you share the message of that song?
RM: The message actually tells us that the path was paved before us through the Word of God that we received by the many pastors/preachers/instructors – and we should be found faithful carrying on what we were taught to a lost and dying world.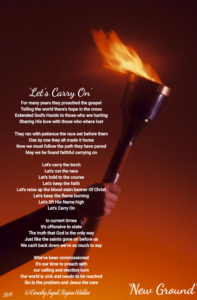 JB: Who is the writer? What does this song mean to you personally?
RM: A great friend of ours by the name of Tim Fugatt, co-wrote the song with Regina Walden. We were at Tim's church a little over a year ago and he sat down and sang the song to us and we knew then we wanted to record the song. We have known Tim for probably 20 years. He was a 13-year-old young man and he was at our studio and told Dale that he wanted to be able to work in music when he grew up, and at 20 years later he has written some phenomenal songs (as a matter of fact, we have recorded four of them) and is an unbelievably talented musician. He is a music minister in a church near Mobile, Alabama sharing his talents. The song encourages us to keep singing and carrying His message!
JB: You travel all over the country and made it even to Scotland. Is there a difference in how the audience receives the message or in how they respond?
RM: We have been so blessed to travel to many different places to sing. One of the biggest events in our lives was to be a part of the Scotland Music Convention. We were chosen to come and share our ministry with fellow Christians in Scotland. When fellow Christians unite to worship, it is the same no matter where you are. We had so much in common being His children and just inviting Him in with us. Everyone has a common connection – no matter where we are at.
JB: What is on top of your bucket list?
RM: My bucket list: Just continue to sing, sing, sing wherever He sends us!
JB: What is your favorite Bible quote to hold on to?
RM: Like I already mentioned, it is Psalm 37:4 – that's my promise.
JB: What is ahead for you?
RM: Every singing is a special time for us! Just looking at many more great days in the Lord.
JB: Where can we find you on the web?
RM: You can find us at www.newgroundministries.com on the web and on Facebook at www.facebook.com/NewGroundMinistries
We hope you enjoy New Ground singing "Let's Carry On." You can hear it on Facebook HERE.
Thank you Robbie for taking time out of your busy schedule to share your wonderful ministry. Hope God keeps blessing you and New Ground to "Carry On" and reach out to those who are lost and share the Gospel with them.
By Jantina Baksteen
Jantina Baksteen is a gospel music writer and a regular contributor to SGNScoops magazine and website.
Jantina Baksteen – biography:
I live all the way overseas in the Netherlands. I'm married and I have three adult children. I grew up in a Christian home and knew in my early years that I wanted to belong to Him. I surrendered my life to Christ was baptized one day before I turned 11 years old. Somehow, the seed of loving gospel music was planted by the style of music my parents played at home. Around 2006/2007, I was listening to Gaither homecoming music that I found on the internet. The song, "Oh, What A Savior," by Ernie Haase hit me with the so-called Southern gospel bug. From there, I've been reading /studying all I can find. I found the digital SGNScoops Magazine. I started praying for God to please give me a job in the Southern gospel industry. Now I do the "Beyond the Song" article that really has my heart as I am reaching out to artists, asking about a current song and having a sneak peak behind the scenes.
For more news read the SGNScoops Magazine Here
Phone Friendly SGN Scoops Magazine Here
Find SGN Scoops Magazine On Facebook Here
Download SGN Scoops Magazine PDF Here
Listen To Todays Southern Gospel Here
Tags:
Beyond the Song
,
gospel music
,
Jantina Baksteen
,
Let's Carry On
,
New Ground
,
Robbie Fortner Maxwell
,
Robbie Maxwell
,
Southern Gospel Music
Posted in
artists
,
Beyond the Song
|
Comments Off

on Beyond the Song: New Ground sings Let's Carry On
Written by Staff on February 6, 2020 – 2:48 pm -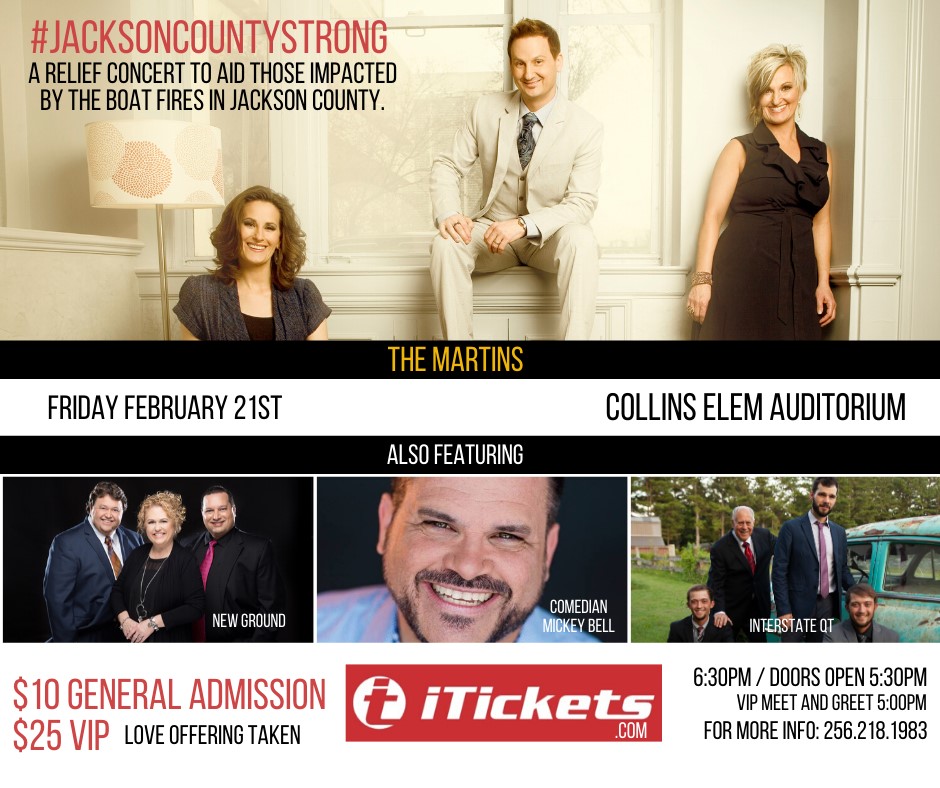 #JacksonCountyStrong
Scottsboro, AL (Feb. 5, 2020) — On January 27, a deadly boat fire engulfed Jackson County Park Marina dock. A lot of the boats were recreational, but several families made some of the boats tied to a long wooden dock their home. The fire started on the end closest to land, which made the blaze on the inland side of the dock, blocking the only exit to safety. Residents were forced to flee in boats or jump in the water and swim from danger. Several people were rescued from the water and treated for minor injuries and hypothermia, but eight people died—six from the same family.
In less than 20 minutes the dock was an inferno. 35 boats, houseboats, and pontoons burned and were completely destroyed. A tight-knit community was changed forever.
The Jackson County Coroner identified the eight victims as: Grace Annette Watson Miles (40), Christopher Zane Long (19), Bryli Long (16), Traydon Miles (10), Kesson Miles (9), Dezli Miles (7), Amanda Foster (39), and Yancy Roper (59).
The Church has always been and always will be the hands and feet of Jesus in times like these. Once again, the Body of Christ rises to help the community of this recent tragedy come together and begin the healing process.
Scottsboro is the hometown of New Ground, Interstate Quartet, and comic Mickey Bell. These seasoned artists knew God was calling them to put feet to their faith. Interstate Quartet contacted New Ground and set into motion plans for a relief concert.
Robbie Maxwell of New Ground shared, "The Utechs (Interstate Quartet) had previously lived on the dock with the ones who were killed. They had just recently sold their boat and moved. So, this was especially close to their hearts."  
Comedian Mickey Bell contacted his good friends, The Martins, to see if they would be interested in helping. The Grammy-nominated group was on board immediately and never hesitated to show their support. After a few more phone calls the date, place, and time was set. 
On February 21, a relief concert dubbed #JacksonCountyStrong will be held at Scottsboro's Collins Elementary School. The Martins, Mickey Bell, New Ground, and Interstate Quartet will be performing. There will be a VIP Meet and Greet at 5:00 p.m. The concert begins at 6:30 p.m. with doors opening at 5:30 p.m. General admission tickets are available for $10 and VIP tickets are $25. An offering will also be taken and 100% of the proceeds will go to help the victims and their families. 
For more information call Robbie Maxwell at 256.218.1983 or email her at robbie@newgroundministries.com. 
By Dixie Phillips
Special to SGNScoops Magazine
Tags:
#JacksonCountyStrong
,
Interstate Quartet
,
Martins
,
mickey bell
,
New Ground
Posted in
announcements
,
artists
|
Comments Off

on Martins headline Relief Concert planned for Jackson County, Alabama
Written by Staff on May 15, 2019 – 8:38 am -
The Gospel Music Expo has been an annual event in Mississippi for some time. Recently, it has been run by good friends and gospel music artists, Southern Image and New Ground.
"Gospel Music Expo has been an important concert series for 20 years in the Tupelo, Mississippi area. The event is held at the Barnes Crossing Mall the last full weekend of April each year. Over the past 20 years, 100 quartets/duets/trios/soloists from all around the nation have taken the stage at the Mall and shared their ministries to the masses. This event started in 1999 by local D.J. Jon Eric, and continued under his tutelage for three years. Then, friends New Ground, from Scottsboro, Alabama, and Southern Image, from Tupelo, Mississippi, came together to carry it another 17 years. We are excited to announce that Coastal Media from Seattle, Washington, under the leadership of Rob Patz, will be taking over this exciting event to carry it into the new decade with new and exciting events for the weekend. We look forward to supporting Rob in this event to continue to make this a success for upcoming GME events," states Robbie Maxwell of New Ground.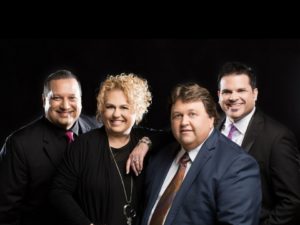 Dale and Robbie Maxwell, founding members of New Ground, are still going strong in their belief that the Lord appointed this union to carry His Word thru music. They are joined by David Owens, who is celebrating 21 years with New Ground, and Mickey Bell, who has recently returned from his previous stint with the group, as the piano player. The group is from Scottsboro,  Ala., and can be found on Facebook HERE.
Buddy Tennison, of the Southern Image Quartet, says, "For 20 years, it has been our distinct honor and privelege to be involved, along with our best friends New Ground, with Gospel Music Expo in Tupelo. We have made many friends and associations, and treasure each of those. However, after much prayer and deliberation, we feel it is time to move on to other projects that we feel God has in store for us. We are pleased and excited that Rob Patz and SGNScoops has decided to assume Gospel Music Expo. We know from the various projects that they conduct each year, that they will continue and expand the traditions and tenents of GME and (we) look forward to any changes they may make. Southern Image and New Ground will still be participants in the great event, and encourage all our friends to continue with their participation as well. Again, we want to thank each of you for your faithfulness and look forward to seeing you at the future GME events."
Southern Image is made up of Michi Guess, Shay Guess, Troy Cresap, and Buddy Tennison. They are a Southern gospel vocal band, featuring four-part harmony, from Tupelo. Known for their covers of classic gospel songs as well as current favorites, this group is centered on the ministry of traditional gospel. They can be found on Facebook HERE.
Both of these groups sang at the recent GME 2019, along with M.C. Dr. Buck Morton, and such artists asthe Masters Quartet, Joyful Noise, Charley Lucas, Chris Tucker, the Trailsmen Quartet, Day 3, Jessica Horton, and Still Standing Quartet, among others. Many of these artists have voiced their desire to return in 2020.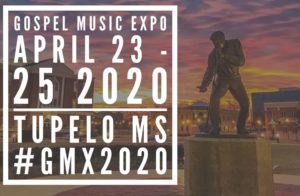 Rob Patz recently announced the acquisition of Gospel Music Expo by his company, Coastal Media. The next GME will be presented April 23 – 25, 2020.
"I know many of the artists that have been involved with Gospel Music Expo and especially appreciate the friendship of New Ground, as well as Southern Image," says Patz. "These are fine people and I'm so glad to be associated with them. The way this transition occurred, the way the acquisition was orchestrated, was totally God. I am confident that we are following His lead. And I'm excited about all the new things He has in store for us!"
Gospel music fans and artists are encouraged to make their plans now to attend the Gospel Music Expo, April 23 – 25, 2020, in Tupelo, Mississippi, at the Barnes Crossing Mall. For more information, contact Rob Patz, at 360-933-0741, or visit the website at http://www.gospelmusicconvention.com.
Find Gospel Music Expo On Facebook HERE
Tags:
coastal media
,
GME
,
Gospel Music Expo
,
Mississippi
,
New Ground
,
rob patz
,
Southern Image
,
Tupelo
Posted in
announcements
,
artists
|
Comments Off

on Gospel Music Expo all about friendship
Written by Staff on March 22, 2019 – 5:28 pm -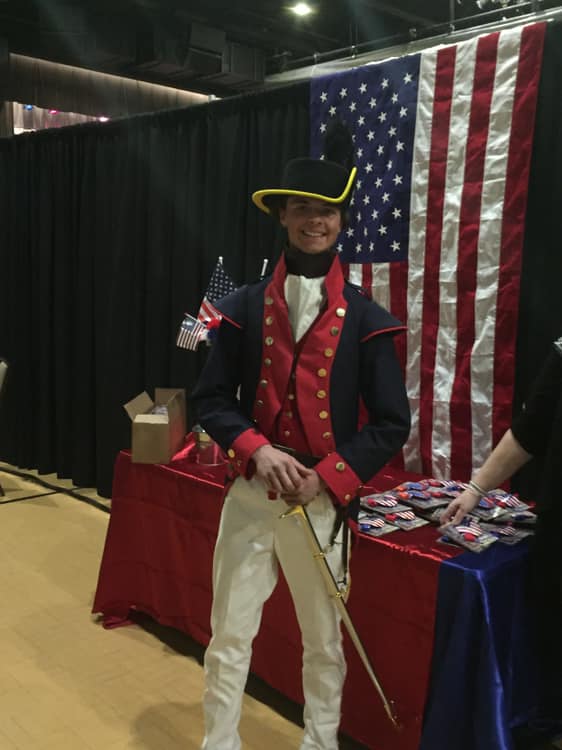 Oxford, Ala. (March 22, 2019) – The first day of Southern Gospel Weekend was filled with numerous gospel artists and styles, from the Bluegrass sound of Eagle's Wings to the Country gospel stylings of Tonja Rose and Jessica Horton. Fans began filling the auditorium at 5:00 p.m. and the excitement grew as the First Responders and Veterans began entering the hall, after a special private reception with the artists.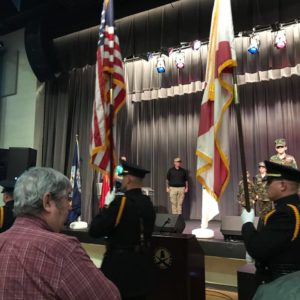 The Veterans Appreciation event began the evening with the presentation of the flags, followed by keynote speaker Ken Rollins, who honored the Veterans and First Responders for their service. Special music by Mark209 and Matthew Wilson of Eagles Wings.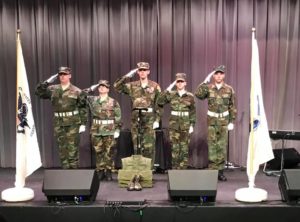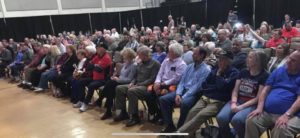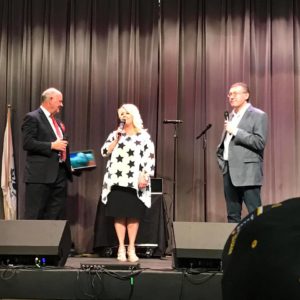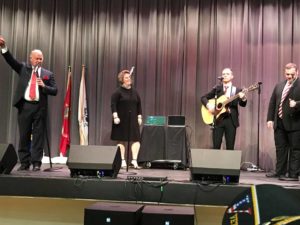 The musical portion of the evening was very well received, with artists like Mercy Rain, the Williamsons, New Ground and ClearVision Quartet.
After the concert, many went to eat at Hubbard's Off Main, where the Midnight Prayer portion was led by Tonja Rose.
We hope you enjoy the images we have captured for you.
Please note, for any that are in the Oxford, Ala., area:  All day Saturday there are events in the Civic Center. Most are free admission. Be sure to catch the Diamond Awards Top 10 big reveal.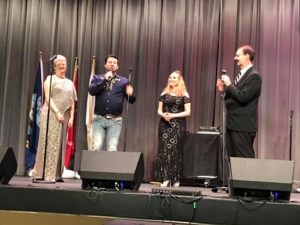 For more information please call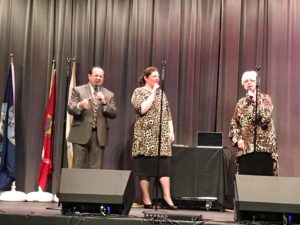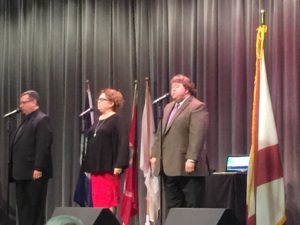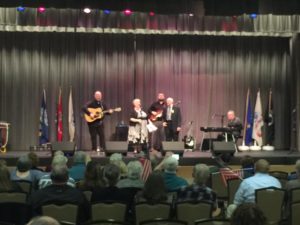 256-310-7892.
Tags:
bluegrass
,
christian country
,
Clearvision Quartet
,
country gospel
,
Eagle's Wings
,
gospel music
,
Jessica Horton
,
Mercy Rain
,
New Ground
,
sgnscoops
,
Southern Gospel Music
,
Southern Gospel Weekend
,
The Williamsons
,
Tonja Rose
,
Veterans appreciation
Posted in
announcements
,
artists
|
Comments Off

on First Day of Southern Gospel Weekend a blast!
Written by scoopsnews on November 15, 2018 – 2:26 pm -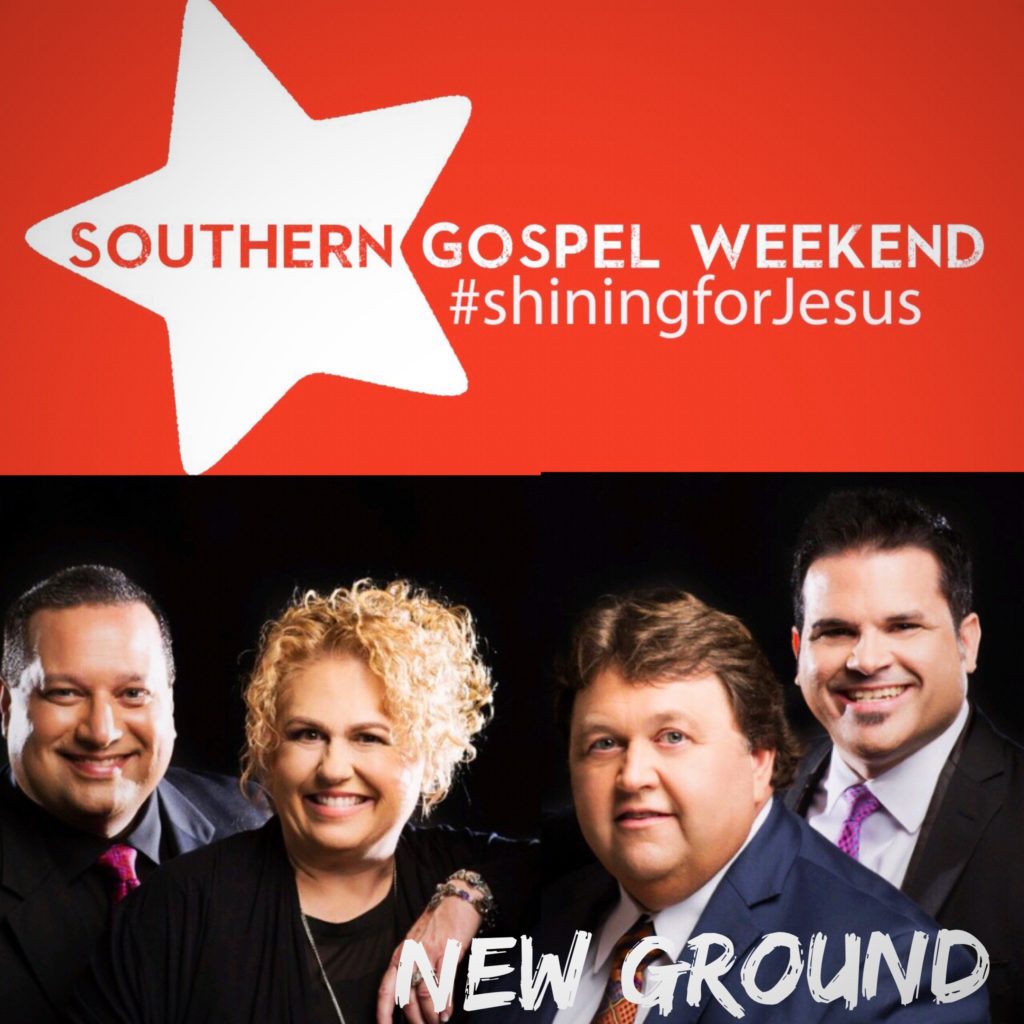 What's Been Going On In The Ministry?
Well, we are finishing up our 25th year as New Ground with about 170 dates under our belt.   Got to go to a few new events this year and share our music and are already looking forward to a very eventful 2019 with new places and new faces for our group.
What Is The Groups Favorite Place To Eat?
Anywhere there is food.  LOL   We enjoy eating at a lot of different places – not just one sticks out as our favorite.   We do frequent Cracker Barrel and Waffle House a lot but we all LOVE Mexican!!!
What is the website and booking information??
Our website is www.newgroundministries.com and you can call me (Robbie) at (256) 218-1983 for bookings!!!!  
Tell us something we probably don't know about the group?
Hmmmm – A lot of people don't know that I am a Mortician, Dale is an Engineer & Consultant, David is a Voice Teacher and Mickey – he's Mickey – LOL – nah, Mickey is a Pastor.
Share a funny road story?
We were in a church and I was singing "He'll Hold My Hand No Matter What Comes My Way".   We heard a lady scream – well, being Holiness that didn't affect me – but then another lady screamed – and then the two ladies jumped up and starting fighting – yep, right there in the middle of our song.   We never let up – just kept on singing.  The Pastor and a few ladies from the church came over and separated the two women and took them outside – and we continued the singing like nothing ever happened!!!!  Come to find out – the first lady thought the second lady had pulled her hair when she placed her hand on the back of the bench – but I wasn't gonna ask if she really did??????
New Ground will be a featured artist at Southern Gospel Weekend 2019 in Oxford Alabama.
Over 20 artists will be singing . Josh and Ashley Franks , The Diplomats, The Bibletones, Hopes Journey, Eagles Wings, and many more.
Daytime showcases on Friday and Saturday and a breakfast on Saturday morning hosted by Oxford Alabama's own, ClearVision Quartet.
Bring the entire family and meet us at Southern Gospel Weekend.
For more information: 256-310-7892
Tags:
New Ground
,
Southern Gospel Weekend 2019
Posted in
announcements
|
Comments Off

on "Shining For Jesus" …..New Ground
Written by SGN Scoops Staff on January 17, 2018 – 2:36 pm -
Twenty-five years ago a group of friends met just to see what it would "sound like" as a gospel trio and possibly begin a ministry singing songs for Him!!!  With the intention to sing a few church services, gospel events and wherever the call came from this chance meeting is now celebrating their Silver Anniversary.
New Ground is enjoying  gospel music without compromise. It's been an extraordinary quarter of a century, with over 3500 sings behind them — from their hometown of Scottsboro, Alabama to Juneau, Alaska, then onwards to Scotland with many states and countries in between, the group remains true today and as they continue to  look ahead for more opportunities to further His Name in song!!!
Dale and Robbie Maxwell, founding members of New Ground, are still going strong in their belief that the Lord appointed this union to carry His Word thru music.   They are joined by David Owens, who is celebrating 21 years with New Ground, and Mickey Bell, who has recently returned from his previous stint with the group, as the piano player.
Be watching for many year long celebration events from this exciting Trio during 2018!!!!
Tags:
Gospel Music News
,
New Ground
Posted in
announcements
|
Comments Off

on New Ground Celebrates Silver Anniversary
Written by Staff on August 14, 2017 – 5:29 pm -
Webster defines a convention as 'an assembly of persons, met for a common purpose.' That's what the Alabama Quartet Convention is all about, a common purpose to praise God. The fourth annual ALQC was held July 27 –  29, 2017 at the Forest Hill Church of God in Mobile, AL.  
Over thirty national, regional and local artists assembled together to sing songs of encouragement, salvation and to uplift the body of Christ. The Perrys, the Jordan Family Band, New Ground, Day Three, Answered Prayer, Barry Rowland and Deliverance, Ricky Atkinson and Compassion, plus many others all crossed the platform to present the best in Southern Gospel Music.  
Co-founders Scott Washam and Amy Dunnam began this journey four years ago with a simple concept: How do we want to be treated as an artist when we attend a music convention, and, if we were fans, what would we want to hear and see? This idea has helped the two achieve one of the most sought after conventions by artists in the nation.  
This year's theme was 'Sowing Seeds – One Testimony At A Time.' Over the three day event, many seeds were being sown, including the ALQC giving back to each artist. On Saturday morning, the ALQC hosted an artist-only prayer breakfast event. This year's guest speaker was Jonathan Goodwin of Redemption World Records. His message followed along with the theme and taught that we sow
seeds in three ways; our time, our talent and our treasure. What a great message it was.
Washam said in an earlier statement, "Every year, the event gets bigger and better. But this year was a different kind of better. There was such a feeling of unity and family. We brought in 12 new groups this year, and our fans and ALQC 'seasoned' artists fell in love with them."  Some of the new groups included: The singing Epps Family from Lincolnton, Georgia; Master Peace Quartet from Dalton, Georgia; The Connell's from Jacksonville, Alab., Heart's Song from Shannon, N. C., and many more. Amy Dunnam said, "We are so honored that these groups would want to come spend their weekend with us. It's humbling."  
On Thursday night, the Perrys really brought their best. There was such a sweet anointing in the house that the atmosphere was thick.  Other crowd favorites included The Jordan Family Band, Day Three and New Ground. Mickey Bell, DJ for the Dixie Gospel Caravan in Birmingham, Alab.,
kept the crowd on their heels with laughter, encouragement and sometimes tears.  
Both Amy and Scott agreed that for them the most special moment of this year's ALQC was when all 30 artists gathered in the altar around Exodus to pray for Mike Watson's complete healing.  Mike has been fighting cancer and had finished his last treatment. Everyone looks forward to him being on the road again soon.
If you've never been to an Alabama Quartet Convention, Scott Washam asks,
"What are you waiting for?"   
For more information on the ALQC, please take a moment and visit their facebook page @thealqc or website at www.thealqc.com.   
For the latest issue of SGNScoops Magazine click here.
For Gospel music news click here.
For more artist features click here.
Tags:
Alabama Quartet Convention
,
Answered Prayer
,
Barry Rowland and Deliverance
,
Day Three
,
gospel music
,
New Ground
,
Perrys
,
Ricky Atkinson and Compassion
,
the Jordan Family Band
Posted in
announcements
,
artists
|
Comments Off

on Alabama Quartet Convention welcomes Perrys, Jordan Family Band, more
Written by SGN Scoops Staff on April 8, 2016 – 8:12 am -
Scottsboro, Alabama – New Ground, of Scottsboro, Alabama, announces their very first LIVE DVD recording to take place on Friday, April 8, 2016 at 7:00pm. This DVD will be filmed at the Grace Church Bessemer located in Bessemer, Alabama. The filming will also include a personal look with the New Ground members with interviews and special stories about their 23 year span of singing Southern Gospel Music.
Known for their energetic powerful worship thru song, New Ground will be singing some of the old standards and mixing in new songs for this anticipated recording with expected release date of Summer 2016.
Join Dale & Robbie Maxwell, David Owens and Scott Brand for this great night of worship. For additional information you can call (256) 574-0138 or visit them at www.newgroundministries.com.
Tags:
New Ground
,
Southern Gospel News
Posted in
artists
|
Comments Off

on New Ground to Record First Live DVD
Written by Staff on June 4, 2015 – 9:49 am -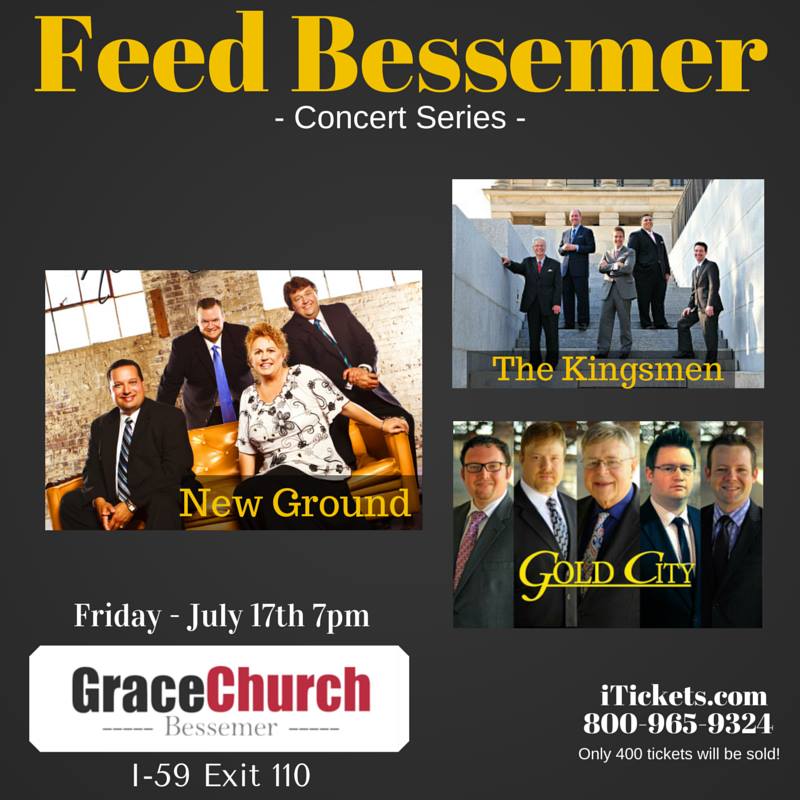 Bessemer, Alabama is not a great place to raise a child. Not only has Bessemer been named in the Top 10 of the most dangerous places to live, but this past year, the local school system was deemed to be in the 80% poverty level.
Grace Church Bessemer
is just 19-months-old but is already making a huge impact in their city. Last year on the
Sunday
before Thanksgiving, food boxes containing the traditional Thanksgiving meal were given to more than 600 families.  Pastor Mickey saw the great importance of this distribution, so he is doing it again with the hopes of reaching even more who are in need.
In addition to the holiday food boxes, Grace Church Bessemer gives out hundreds of food boxes every month and partners with the Bessemer City School system to feed their students during the summer months.
To cover the cost of the food boxes, Mickey has called on his friends to come in and help. Gold City, The Kingsmen and New Ground will be doing a concert on Friday, July 17th with 100% of the ticket prices going to provide for the families of Bessemer.
If you would like to purchase your tickets you can do so by going to the events page of www.GraceChurchBessemer.com or by calling 800-965-9324. If you are unable to attend but would love to be a part of this vision, please make a donation on the church website and that money will be used to help Feed Bessemer.
Tags:
Bessemer AL
,
Feed Bessemer
,
Feed the poor
,
gold city
,
gospel music
,
Grace Church Bessemer
,
Kingsmen
,
mickey bell
,
New Ground
Posted in
announcements
,
artists
|
Comments Off

on Kingsmen, Gold City, New Ground help to Feed Bessemer
Written by SGN Scoops on July 2, 2012 – 5:42 am -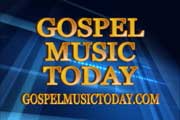 The members of Greater Vision are the guests on the current edition of Gospel Music Today. The Feature Group is The Harper Brothers, and Ken and Jean Grady host southern gospel news and concert updates. Gospel Music Today visits The Southern Gospel Worship Gathering in Broken Arrow, OK, to hear The Dixie Echoes sing. Jean reviews a new CD by Tane Miller, and the show features singing by New Ground, a Vintage Video by The Blackwood Brothers,and a look at southern gospel history with Triumphant Quartet. The latest edition of Gospel Music Today is online now at the Gospel Music Today website,
www.gospelmusictoday.com
.
Tags:
Blackwood Brothers
,
Dixie Echoes
,
Gospel Music Today
,
Greater Vision
,
Ken & Jean Grady
,
New Ground
,
triumphant quartet
Posted in
announcements
|
Comments Off

on Greater Vision Special Guests on Gospel Music Today!