Written by SGN Scoops Staff on June 25, 2016 – 10:44 am -
Donald Trump, according to a new report, has accepted Jesus as his Lord and Savior. The post mentioned that Dr. James Dobson says that he has and it is recent. If you would like to read the blog go HERE
At this time in our country we are reminded to pray for our leaders and to seek God in our future.
"1 I urge, then, first of all, that petitions, prayers, intercession and thanksgiving be made for all people— 2 for kings and all those in authority, that we may live peaceful and quiet lives in all godliness and holiness. 3 This is good, and pleases God our Savior…" -1 Timothy 2:1-3
Tags:
news
Posted in
announcements
|
Comments Off

on Has Donald Trump Become A Christian?
Written by Scoops Staff on September 2, 2009 – 7:18 pm -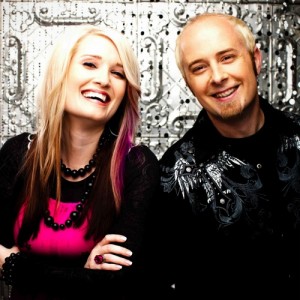 BIRMINGHAM, Alab. – Dove Award nominee Wendy Word + forgiven has recently seen success with their current radio single.
The song – "You & Jesus" – has broke on to several leading industry charts. It will debut at #61 on the upcoming October 2009 edition of the Singing News Top 80 chart. In addition, the song also debuted on the Christian Voice Magazine Top 100 Southern Gospel chart this month and has been a steady fixture on the GospelMusicTimes.com Top 100 Fan Chart. This week – the song landed at #21 on the popular chart.
Wendy Word said, "This song has such a personal message to me. I'm very excited to see that radio has supported the song as much as they have. People seem to really like it everywhere we sing it."
"There's a really strong and catchy quality about this song that most radio singles don't have," mentioned Chris Unthank of SouthernSpinRadio.com. "Our listeners are absolutely eating this song up. If a station hasn't picked this song up yet – they are definitely missing out on one of the strongest cuts of the year."
"You & Jesus" was written by Wendy Word and was inspired by the life of her grandmother. The song is being pushed to radio by Jim Stover of Crossroads Music.
Wendy Word + forgiven are currently recording vocals for their new mainline recording. The new album is being produced by Dove Award winning producer Kevin Ward and should be available by the end of the year.
The popular duo recently signed a booking agreement with Thomas Spradlen and Spradlen Promotions.
More information on Wendy Word + forgiven can be found at http://wendywordandforgiven.com.
Fans are encouraged to stop by Wendy Word + forgiven's MySpace at http://www.myspace.com/wendywordforgiven/.
From the Facebook files:
Wendy and Tony are in London, Kentucky this week leading revival. They were initially scheduled for a one night service there on Sunday and then asked by the pastor to stay on through the week. Wendy reported, "Well praise our living God. The alter was full tonight of people ready to be what God wants them to be.. I can't wait to see what God is going to do."
About Wendy Word + forgiven
Wendy Word + forgiven is a husband and wife team based out of Sterrett, Alabama. Wendy Word, joined by her husband Tony, travels all across the United States ministering the Gospel through their brand of country-tinged Southern Gospel music. The duo's current release is entitled Heartfelt and features the hit singles "That's Enough", "I Just Feel Like Something Good Is About to Happen", and "Lowest Time".
Tags:
artists
,
facebook files
,
news
Posted in
breaking news
|
Comments Off

on Wendy Word + forgiven's "You & Jesus" Breaks on to Multiple Charts
Written by Scoops Staff on August 27, 2009 – 2:53 pm -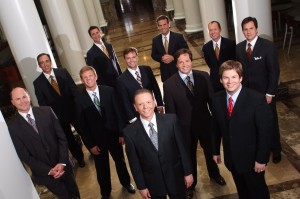 Hendersonville, TN– Every Labor Day weekend Daywind Records' artist, Legacy Five, puts together an incredible concert celebration at the Gaylord Opryland Resort®. This year they are including a very special event, along with Greater Vision and the Booth Brothers, as these three dynamic groups come together to film a live concert DVD entitled Jubilee.
The event will take place on Sunday, September 6th. The evening will begin with a concert from Legacy Five, Greater Vision, and the Booth Brothers, along with Mark Lowry and Stan Whitmire. The concert will begin at 6:00pm, and then following intermission the three groups will take the stage to film Jubilee. The recording will feature songs from the individual groups as well as groups created from within the three groups. It will finish with a grand finale of all three combined. The concert will last a total of 4 hours.
Scott Fowler of Legacy Five shared, "I am especially excited about the live video because we actually make up groups from within our three groups and it is just going to be SO MUCH FUN! This is one of those moments of a lifetime. It's history in the making."
Typical of his humor and wit, Michael Booth, tenor for the Booth Brothers, had this to share about the concert. "This particular live concert event is the most exciting thing since the invention of attention deficit disorder medication!"
Join Legacy Five, Greater Vision, and the Booth Brothers for this memorable event. Tickets for the concert and live filming on Sunday evening are $20 in advance. For more information on this event and the entire weekend celebration, visit legacyfive.com and click on Special Events. You can order tickets today by calling the Legacy Five office at 615-794-9125.
Daywind Records is based in Hendersonville, TN, and is distributed worldwide through New Day Christian Distributors. In addition to Legacy Five, Greater Vision, and the Booth Brothers, Daywind is home to such great artists as Austins Bridge and the Perrys, among others. For more information on all the talented artists at Daywind, visit daywindrecords.com.
Tags:
events
,
news
Posted in
gospel events
|
Comments Off

on Legacy Five, Greater Vision, and the Booth Brothers To Film Jubilee, A Live Concert Event At Gaylord Opryland Resort
Written by Scoops Staff on August 26, 2009 – 11:43 am -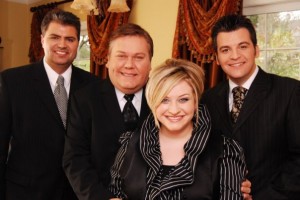 According to the official website of The Greenes, both Tony & TaRanda Greene are stable after surgery yesterday to transplant a kidney from TaRanda to Tony. Spokespersons for The Greenes are asking for continued prayer in the coming days, as the organ acceptance process takes weeks and recovering from donating an organ is lengthy  as well.
More information can be found about The Greenes' progress and their group ministry at http://www.thegreenesgospel.com/
SGN Scoops joins many partners in gospel music and ministry in praying continued healing and strength for both Tony and TaRanda.
Tags:
news
Posted in
breaking news
|
Comments Off

on The Greenes recovering from transplant surgery
Written by SGN Scoops Staff on August 17, 2009 – 12:38 pm -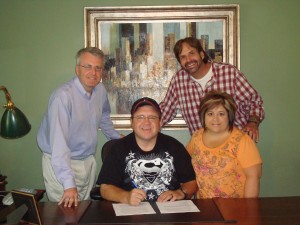 Daywind Records is honored to announce that the Perrys have renewed their recording agreement with Daywind, continuing a relationship that began in 1997, as a joint effort to strive to make great music that reaches hearts and changes lives. Both the Perrys and Daywind have enjoyed tremendous success though this relationship and they look forward to the years ahead.
Ed Leonard, President of Daywind Records shares "We are thrilled that the Perrys have extended their relationship with the Daywind family of artists. After so many lives blessed and great music created together, we are honored to go into the future with one of Gospel music's greatest treasures."
The Perrys are currently celebrating one of the fastest rising songs at Southern Gospel radio with "If You Knew Him." Group member, Joseph Habedank, and Rodney Griffin wrote this incredible song together. The response has been overwhelming. The entire album, entitled, Almost Morning, is being reviewed as one the best Perrys releases to date.
Tracy Stuffle, along with all of the Perrys, is equally pleased to continue at Daywind Records. Tracy expressed, "We are excited that, after 12 years, Daywind is still our family. We look forward to continuing our relationship of recording quality projects. We are very excited about our future to come."
For more information on the Perrys, visit perrysministries.com.
Tags:
artists
,
news
Posted in
breaking news
|
Comments Off

on The Perrys Plan For The Future With Daywind Records
Written by Scoops Staff on August 13, 2009 – 9:44 pm -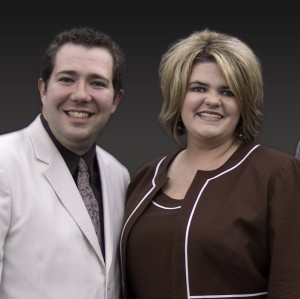 From the Facebook files: Rindy Nehrkorn of The Nehrkorns notified friends on Wednesday evening that she was facing a minor medical procedure the following day to remove a tumor-like mass from her right ear canal.
Twenty four hours later, both Rindy and her husband Justin were spreading a testimony of miraculous healing. Justin says, "[The doctors] went into [Rindy's] ear, and the 'tumor-like' thing they went to remove wasn't there! Isn't God awesome!?"
Yes, He is.
Meanwhile, Rindy reports she is back home doing laundry, thankful for all the prayers on her behalf.
The Nerhkorns are based in southern Illinois and have a full concert schedule throughout the fall. More information can be found at http://www.nehrkorns.com or by calling 618-998-4656.
Tags:
artists
,
facebook files
,
news
Posted in
artists
|
Comments Off

on A bit of a miracle for Rindy Nehrkorn