Written by Scoops Staff on April 14, 2011 – 11:49 am -
The mother of Brian Free passed away on Tuesday.
Mrs. Frances Free is survived by three sons: Mr. & Mrs. Jimmy (BJ) Free; Mr. & Mrs. Brian (Pam) Free; and Mr. Mike Free. Also surviving are seven grandchildren, six great-grandchildren, and several nieces and nephews.
Our prayers are with the family at this time.
For more about the arrangements and updates from the Brian Free and assurance, visit their Facebook page at http://www.facebook.com/pages/Brian-Free-Assurance
Tags:
brian free and assurance
,
obituaries
Posted in
artists
|
Comments Off

on Condolences for Family of Frances Free
Written by Scoops Staff on January 5, 2011 – 8:44 am -
SGN Scoops offers our prayers up for the entire Unthank family. Susan's legacy has always been an inspiration to us and her friendship was treasured.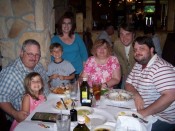 MURFREESBORO, Tenn. – (January 5, 2011) – Susan Unthank, founder and Editor-In-Chief of AbsolutelyGospel.com (formerly SoGospelNews.com) and husband of Deon Unthank (Sunday Edition), passed peacefully into the arms of her Lord and Savior Jesus Christ this morning, January 5, 2011 at approximately 6:30 a.m. CST.
Deon Unthank said, "Our hearts are breaking now more than any other time in our lives. Susan was my wife, confidant, mother of our children, and my best-friend for the last 33 years. She was the back-bone of our family and the site. Susan put more time and energy over the course of the last 15 years in SGN than most people put in in their life. She lived and breathed Southern Gospel for the past 15 years. While our family grieves the loss of this very important member of our family, surely the industry must mourn the loss of one of its most prized possessions."
Susan was born on November 23, 1955 in Belleville, IL. She and her husband, Deon, founded SoGospelNews.com (now known as AbsolutelyGospel.com) in the mid-90s, and the site quickly became the most read e-zine on the web devoted to Southern Gospel music, its artists, and its fans. The family currently resides in Murfreesboro, TN where they have ran the site for the last 10 years.
Susan is survived by her husband of 33 years Charles Deon Unthank whom she started and raised a blended family with. Their family included three sons, Aaron (Tia) Unthank of Jacksonville, FL, Scott Bandy and Christopher Unthank of Murfreesboro, TN and two daughters, Leslie Hill of Branson, MO and Amy Marie Unthank of Murfreesboro, TN. Susan had five grandchildren, Eli and Anna Cate Unthank and Donovan, Ashlee, and Emma Hill.
There will be no funeral or visitation for Susan. Rather, the family will host a Memorial Service in her honor. Details of the Memorial Service will be announced later.
In lieu of flowers, the family has requested that donations be made to help with medical and burial costs via SoGospelNews.com (AbsolutelyGospel.com). Donations may be mailed to the following:
Unthank Family
SoGospelNews.com
220 Indian Park Dr #3702
Murfreesboro, TN 37128
Or, you can visit the following link to make a donation online:
http://absolutelygospel.com/index/community/support/
Tags:
absolutelygospel.com
,
obituaries
,
sunday edition
,
Susan Unthank
Posted in
Prayer Requests
|
Comments Off

on Susan Unthank, Founder of AbsolutelyGospel.com, Passes Away
Written by Scoops Staff on December 30, 2010 – 9:44 am -
Cornie Talley, mother of singers Roger and Kirk passed away during the evening of Tuesday, December 28, 2010. She had battled Alzheimer's for ten years, and had been in declining health for some time.
She is survived by her husband of 61 years, R.C. "Red" Talley, sons Roger and Kirk, daughter-in-law Debra, granddaughter Lauren, daughter Diane Lunsford, son-in-law Marty Lunsford, grandson Matthew and brothers Sam and Henry Kirkpatrick.
The family will receive friends at Broome Funeral Home in Rogersville, Tennessee, on Thursday evening, December 30, 2010, at 7:00 p.m. Funeral services will be held Friday, December 31, 2010, at Shady Grove Free Will Baptist Church in Whitesburg, Tennessee, with visitation at 6:00 p.m., and the funeral to follow at 7:00 p.m. She will be laid to rest at Hamblen Memory Gardens in Morristown, Tennessee, on Saturday, January 1, 2011, at 11:00 a.m.
The staff of SGN Scoops joins with so many in prayer for the Talley family.
Tags:
cornie talley
,
kirk talley
,
obituaries
,
roger talley
,
talley trio
Posted in
Prayer Requests
|
Comments Off

on Pray for Talley Family in Passing of Cornie Talley
Written by Scoops Staff on December 14, 2010 – 8:19 am -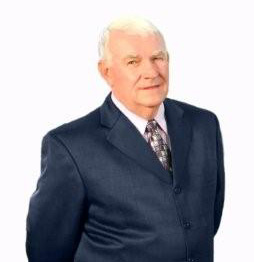 From Lamp Music Group:
We received word in our office a few minutes ago that Elbert Southall formerly of the Georgians quartet has passed away due to injuries that he sustained from a fall while jogging on Friday.
Elbert was well known for his work with the Georgians and other groups that he sang with. Elbert was also a former University of AL football player, and most recently a State Farm Agent from Starke, FL.
Arrangements have not been announced yet. Please remember this family in your prayers.
Tags:
elbert southall
,
georgians
,
obituaries
Posted in
Prayer Requests
|
Comments Off

on Elbert Southall of Georgians Has Passed Away
Written by Scoops Staff on December 8, 2010 – 1:05 am -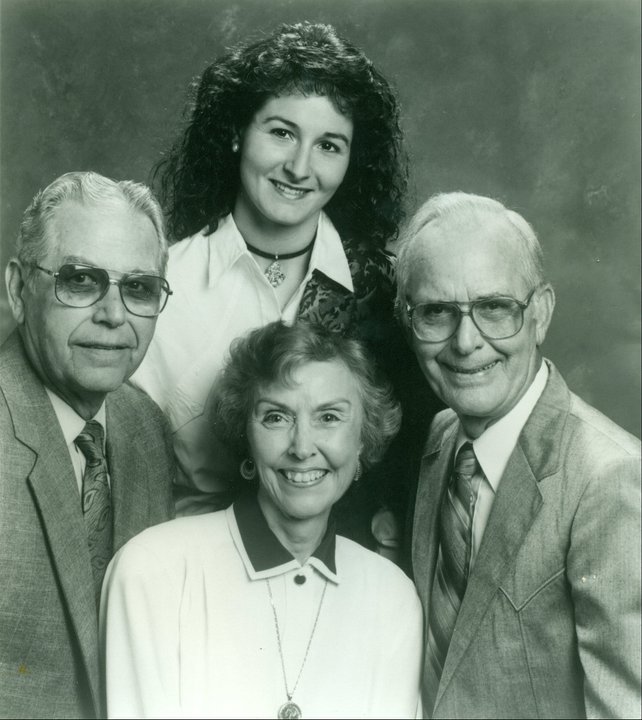 Eddie Carter, the last living son of Dad and Mom Carter, passed away on Monday morning, December 6, 2010 in Texas from complications from pneumonia. He was 91 years old.
He was born Nov. 15, 1919 in Noel, MO, and was the middle child of the Carter siblings. He met his wife, Carrie, in 1940, and recently the couple celebrated their 70th wedding anniversary. He retired in 1984 as service manager for Maynard Foods. He was preceded in death by his daughter, Rebecca Ann (Becky) Stout, and son, David Parker Carter III.
After D. P. "Dad" Carter retired from active participation with the Chuck Wagon Gang in 1955, Eddie became his replacement. In the mid-50's, the Chuck Wagon Gang headquartered in Knoxville, TN for a couple of years, and were promoted and booked by Rev. and Mrs. J. Bazzel Mull of Knoxville. Prior to this time, all recordings by The Chuck Wagon Gang were recorded in Texas. With the move to Knoxville, the Chuck Wagon Gang began recording all sessions in Nashville.
On October 6, 1956, Eddie recorded his first eight songs with the Gang, along with his sisters Rose and Anna, his brother Roy, and his brother-in-law Howard Gordon, guitarist and husband of Anna. Songs recorded were: I'll Walk and Talk With My Lord", "When I Looked Up and He Looked Down", "Sing On The Way", "I Know (Yes, I Know)", "He's My Lord and King", "Inside the Gate", "There's Gonna Be Singing", and "I'm Headed for the Promised Land." While the songs were of the old-time flavor, they were different with the "new" Nashville Sound. They were released as singles to gospel and country music stations, and the songs dominated the airways.
Eddie's time was short lived with The Gang at this time, but he later returned for some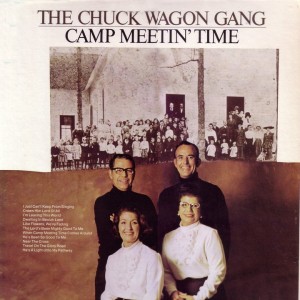 tour dates in the early to mid 70's, and recorded on all Chuck Wagon Gang Columbia Records sessions from 1971-1975. The 1975 sessions marked an end to a 39-year association with Columbia Records. Eddie, along with his sister, Anna, made their final recordings with The Gang, on February 13, 1978, as "Old Fashioned Singing," This was a collection of 20 greatest recorded for TV on an independent label, Tame Records.
Eddie made some later special appearances at Grand Ole Gospel, National Quartet Convention in Nashville, and other events. He was on tour again for some special appearances in 1993-4 with Ruth Ellen Carter Yates, Roy Carter, Shaye Smith. He was present for The Chuck Wagon Gang's induction into the GMA Hall of Fame in Nashville in 1998.
Survivors include his wife, Carie; son, Clyde (Buster) Carter; daughter-in-law, Sheri Carter; son-in-law, Jerry Stout; grandchildren, Eddie III and wife, Vicki, Danny Stout, Jonathan Stout and wife, Ashley, Nicole Carter Hawthorne and husband, Matt, Aaron Carter and Alayne Hollis and Jake Carter; great-grandchildren, Carley, Kelsey, Madison Carter, Merek and Maddox "Peanut" Hawthorne, Evan Stout, Zoey and Parker Carter and Gaige Carter; and sisters, Ruth Ellen Yates and Betty Goodwin
Funeral arrangements: 10 a.m. Wednesday, December 8 at Victory Baptist Church (2910 Layton Ave., Fort Worth, TX 76117 – 817-834-1502). Interment will be at Mount Olivet Cemetery. Visitation: 6 to 8 p.m. Tuesday, December 7 at Mount Olivet Funeral Home.
Tags:
Chuck Wagon Gang
,
eddie carter
,
obituaries
Posted in
announcements
|
Comments Off

on Clyde Edward Carter (Eddie Carter) Former Chuck Wagon Gang Tenor Passes Away