Written by Staff on February 6, 2015 – 10:47 am -
The Booth Brothers packed the house again while in concert at Shiloh Hills Baptist Church recently. The Brothers h
ave been coming to the area for several years and every time additional space has to be added. They attract all age groups to their concert. There were several children there as well as a lady that was 99 years old. She said after the concert if she made 100 she would be back to hear The Booth Brothers again!
After opening remarks, introductions  and announcements, Pastor Vic Bledsoe introduced the Shiloh Hills Choir under the direction of Matt Bledsoe.  A great music program from the choir concluded with "How Great Thou Art."
The Booth Brothers took the stage 
​
to a standing crowd, singing many of their new songs that featured their newest member Paul Lancaster.  Michael introduced a special guest in the audience: Stan Whitmire. He invited Stan to the piano and Michael, Ronnie and Paul gathered around the piano to sing. Stan accompanied the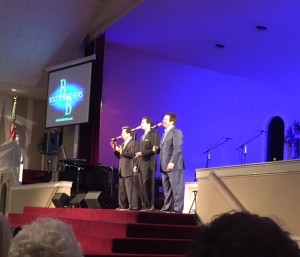 group throughout the second half of the concert on the piano also playing a couple of piano solos.  Michael closed the program with prayer and folks hung around for about an hour talking with the guys. I must say that Paul Lancaster is a great fit for the Booth Brothers.
The next concert at Shiloh Hills Baptist Church will featured the departed member of The Booth Brothers, Jim Brady and the Jim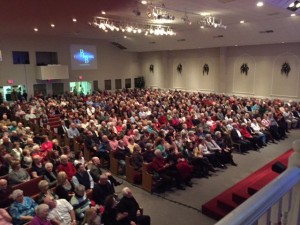 Brady Trio. This concert will be

March 13 at 7:00 pm

.  Former Mark Trammell Quartet bass singer, Pat Barker, will open for the Jim Brady Trio.
Tags:
booth brothers
,
Christian Music
,
Jim Brady
,
Jim Brady Trio
,
mark trammell
,
Michael booth
,
Pat Barker
,
Paul Lancaster
,
Ronnie Booth
,
southern gospel
,
Stan Whitmire
,
Tim Parton
Posted in
artists
,
concert reviews
|
Comments Off

on BOOTH BROTHERS AT SHILOH HILLS BAPTIST CHURCH
Written by SGN Scoops on September 3, 2012 – 9:16 am -
NASHVILLE, TN:  The all new vocal line up of Palmetto State was in the studio this week working on a brand new project.  The session was interrupted when Beckie Simmons, Dixie McKeithen and Melinda Hames from BSA World stopped by to celebrate the group's recent success.  The charts in both Cashbox Magazine and Christian Voice Magazine have group's radio single, "Moment of Grace" in the number one spot for the month of July and August.   According to group member, Paul Lancaster, "Moment of Grace is such a great song.  Every night we watch people connect with the message.  It just really gets to the heart of what Christianity is all about.  In spite of all of our faults or what we've done wrong, it only takes a moment to have an encounter with God's love and that can forever change everything".   The new Palmetto State project will be released by the end of this year.
Photo Info:
(Pictured from left to right, back row:  Palmetto State's Casey Martin, Paul Lancaster, Jeremy Easley, Mike Allen, Larry Strickland & David Staton.  Front row: BSA World's Melinda Hames, Beckie Simmons & Dixie McKeithen)
Tags:
Beckie Simmons
,
cashbox magazine
,
christian voice magazine
,
David Staton
,
mike allen
,
palmetto state quartet
,
Paul Lancaster
,
Southern Gospel News
Posted in
announcements
,
new music
|
Comments Off

on Palmetto State Celebrates Number One Song
Written by Rhonda on November 12, 2010 – 10:59 am -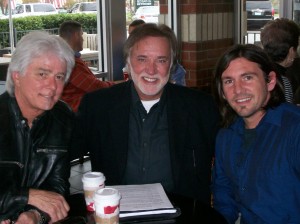 Brentwood, TN (Mansion Entertainment) November 12th, 2010 – Mansion Entertainment has announced the addition of Palmetto State Quartet to its roster of Mansion Record artists.
 
For almost 70 years Palmetto State Quartet has been an integral part of providing a contributing legacy of notable personnel and chart-topping songs to Southern Gospel Music. Larry Strickland, bass singer for the group, acquired Palmetto State in 2009 and has created a talented vocal collection with Paul Lancaster providing lead vocals, Robert Fulton singing tenor and David Darst contributing the baritone. Concert attendees, radio listeners and television audiences are already embracing this tradition-laden group with their fresh arrangements of new songs and timeless Southern Gospel classics. Palmetto State is also scheduled to perform with The Judds during "The Last Encore" tour this November and December.
 
A new single from Palmetto State Quartet is currently shipping to radio, "Don't That Sound Like Heaven" on the Mansion Radio Hits Volume 2. The new project entitled, "Grace", will be available in stores during the first quarter of 2011. For more information regarding Palmetto State Quartet visit their website at www.psqworld.com or for information regarding scheduling the group contact The Beckie Simmons Agency at 615-595-7500. For more information on Mansion Entertainment visit www.themansionentertainment.com.
Tags:
Beckie Simmons Agency
,
David Darst
,
larry Strickland
,
Mansion Entertainment
,
palmetto state quartet
,
Paul Lancaster
,
Robert Fulton
Posted in
announcements
|
Comments Off

on Mansion Announces The Addition of Palmetto State Quartet