Written by Staff on March 19, 2020 – 6:07 pm -
Let's Come Together While Staying Apart
Initial Slate of Concerts Announced
NASHVILLE, Tenn. (Thursday, March 19, 2020) – Godsey Media Management is proud to present a chance for all of us – fans and artists alike – to come together and unite while practicing social distancing. Thousands of concerts have been postponed for Christian artists and we don't want you to miss a moment of the music. Godsey Media Management is set to present a new online concert series, "HOPE SINGS," featuring your favorite artists live in concert from our TV studio in Nashville, Tennessee, directly to you, wherever you are.
The process is easy: a "Family Pass" to each concert is one low price of $20.00 per concert. Click the concert link below, fill in your email address, create a password, choose your method of payment – that's it! You can enjoy the concert at the scheduled time and it will be available for 24 hours after the live broadcast. You can watch easily on your Smart TV, computer, tablet or phone. (one pass per household)
We as artists, creators, listeners, and as a community can continue to share the light, love, and hope of Christ in this troubled time. For many artists this low ticket price to their online concert will be there main source of revenue while touring continues to be limited. We know many friends and fans need encouragement and want to support the artists they love.
Scott Godsey says, "You can buy multiple tickets and gift them to your friends and family. This is truly a time for us to come together and give the world access to personal, interactive concerts that will bring hope and encouragement in a time of crisis. The artists need your support more now than ever and they are putting together some unique ideas to make these online concerts even more special for those who are willing to purchase a pass! We will be producing a high quality production with staging, lighting and multiple cameras to give the consumer a real experience like never before."
The initial schedule of concerts will feature Greater Vision, Ivan Parker, Legacy Five, Perrys, Gold City, Brian Free and Assurance, 11thHour, Aaron Wilburn and friends, Jim and Melissa Brady, Tribute, Freemans, Nelons, Jeff Stice, LeFevre Quartet, The Old Paths, and more to be announced.
Godsey Media Management is known for the nationally syndicated Music City Show as well as producing and broadcasting live events through TV networks and streaming platforms for many years.
Tags:
11thHour
,
Aaron Wilburn and friends
,
brian free and assurance
,
Freemans
,
Godsey Media Management
,
gold city
,
gospel music
,
Greater Vision
,
Hope Sings
,
ivan parker
,
Jeff Stice
,
Jim and Melissa Brady
,
lefevre quartet
,
legacy five
,
nelons
,
Perrys
,
Southern Gospel Music
,
The Old Paths
,
Tribute
Posted in
announcements
,
artists
|
Comments Off

on HOPE SINGS Introduced by Godsey Media Management
Written by Staff on November 24, 2019 – 11:25 am -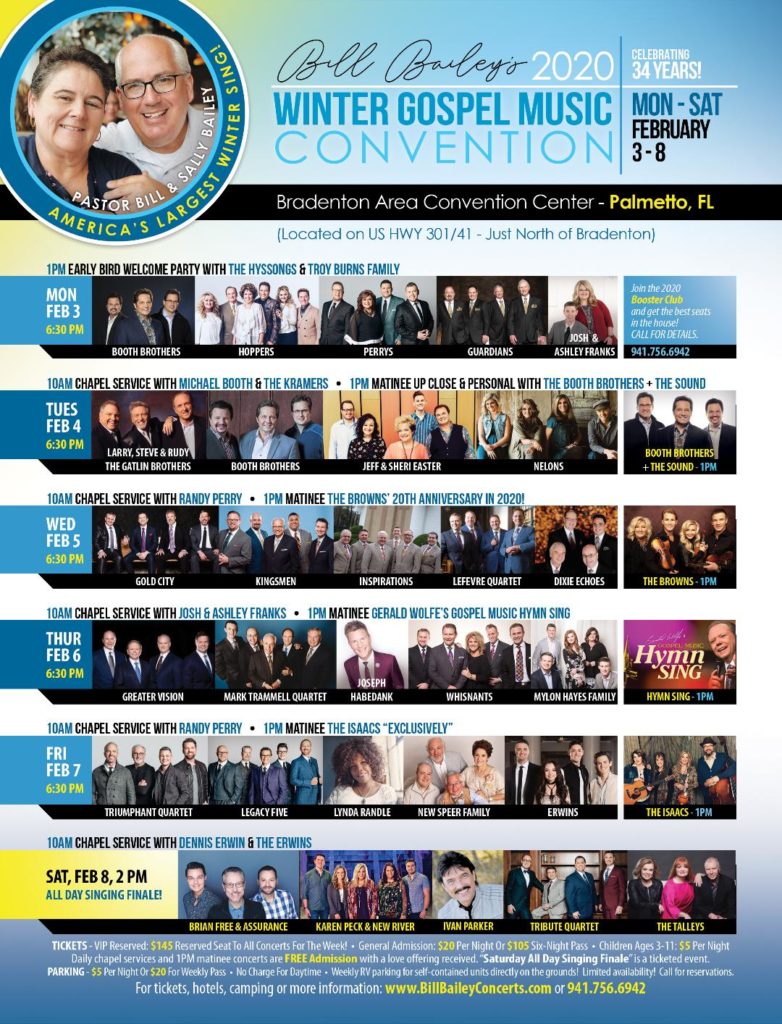 Bill Bailey's 2020 Winter Gospel Music Convention
will be held Monday-Saturday, February 3-8, 2020 in Palmetto, Florida at the Bradenton Area Convention Center.  Over 40 of gospel music's top artists will be appearing throughout the week – including special guest artist, 
Larry, Steve, & Rudy – the GATLIN BROTHERS,
 along with 
the BOOTH BROTHERS, HOPPERS, GREATER VISION, ISAACS, TRIUMPHANT QUARTET, LYNDA RANDLE, LEGACY FIVE, PERRYS, GOLD CITY, KINGSMEN, JOSEPH HABEDANK, KAREN PECK & NEW RIVER, INSPIRATIONS, and many others
!
This event is recognized as the largest southern gospel concert event in the nation during the winter.  This year's event also marks Bill Bailey's 34th anniversary promoting southern gospel concerts throughout the United States.
Monday, February 3rd  1pm
"Early Bird Welcome Party" with the Hyssongs and Troy Burns Family
Monday, February 3rd  6:30pm
"Grand Opening Night" with the Booth Brothers, Hoppers, Perrys, Guardians,
Josh & Ashley Franks
Tuesday, February 4th  1pm
"Up Close & Personal" with the Booth Brothers, and special guests, The Sound
Tuesday, February 4th  6:30pm
Larry, Steve, & Rudy – the Gatlin Brothers, Booth Brothers, Jeff & Sheri Easter, Nelons
Wednesday, February 5th  1pm
The Browns' 20th Anniversary in 2020!
Wednesday, February 5th  6:30pm
"All Male Quartet Night" with Gold City, Kingsmen, Inspirations, LeFevre Quartet, Dixie Echoes
Thursday, February 6th  1pm
Gerald Wolfe's Gospel Music Hymn Sing
Thursday, February 6th  6:30pm
Greater Vision, Mark Trammell Quartet, Joseph Habedank, Whisnants, Mylon Hayes Family
Friday, February 7th  1pm
"Exclusively" The Isaacs
Friday, February 7th  6:30pm
Triumphant Quartet, Legacy Five, Lynda Randle, New Speer Family, Erwins
Saturday, February 8th  2pm
"All Day Singing Finale" with Brian Free & Assurance, Karen Peck & New River,
Ivan Parker, Tribute Quartet, Talleys
Ticket options are available for the entire week or just specific nights. (Saturday "All Day Singing Finale" is a ticketed event.)
DISCOUNTED GROUP TICKETS ARE AVAILABLE FOR GROUPS OF 10 OR MORE!
Mon-Fri 1pm matinee concerts and 10am chapel services are free admission events, with a love offering received.  Limited amount of overnight parking for self-contained RV's is located on the grounds.
For tickets, camping reservations, hotels, or general information, call (941) 756-6942.
The Bradenton Area Convention Center is located at One Haben Blvd in Palmetto, just off US Hwy 301/41.
Read more Gospel Music News in the latest SGNScoops Magazine Online HERE.
Download The SGNScoops Magazine PDF
Here
Find SGNScoops Magazine On Facebook
Here
Listen To Gospel Music
Here
Tags:
2020 Winter Gospel Music Convention
,
Bill Bailey
,
booth brothers
,
Christian Music
,
Gatlin Brothers
,
gold city
,
gospel music
,
Greater Vision
,
hoppers
,
Inspirations
,
Isaacs
,
Joseph Habedank
,
Karen Peck & New River
,
Kingsmen
,
legacy five
,
LYNDA RANDLE
,
Perrys
,
Southern Gospel Music
,
triumphant quartet
Posted in
announcements
,
artists
|
Comments Off

on Bill Bailey's 2020 Winter Gospel Music Convention
Written by Staff on November 13, 2018 – 8:53 am -
Bill Bailey's Thanksgiving Gospel Music Spectacular comes to the Southeast Technical College in Vidalia, Georgia, on Sat., Nov. 24 at 6:00 p.m.
Featured in concert will be the KINGSMEN, GOLD CITY, McKAMEYS, and the PERRYS.  
This year's concert will be extra special because the McKameys have announced their retirement in 2019, which means this will be one of the last times they appear in south/central Georgia.
No tickets are required for admission.
A $15 donation per person will be requested at the door for the concert, and a love offering received during the concert for FCC Ministries.
Doors open at 5pm, and all seating is general admission.
Southeast Technical College is located at 3001 East First Street(Hwy 280) in Vidalia.
For more information, call (941) 756-6942.
Read the latest online edition of SGNScoops Magazine HERE
Download The PDF Version Of SGNScoops Magazine HERE
Find SGNScoops Magazine On Facebook HERE
Tags:
Bill Bailey's
,
Christian Music
,
Gold City Quartet
,
gospel music
,
Kingsmen
,
McKameys
,
Perrys
Posted in
announcements
,
artists
|
Comments Off

on Bill Bailey's Thanksgiving Gospel Music Spectacular featuring Kingsmen, Gold City, McKameys, Perrys, comes to Vidalia, Georgia on Nov. 24
Written by scoopsnews on February 9, 2018 – 5:24 pm -
Libbi Perry Stuffle of the Perrys
From Bill Bailey:
Libbi, Jared, and all of the Perrys will be on stage tonight for their first major concert appearance, since Tracy's home going, at the "Winter Gospel Convention" in Palmetto, FL at approximately 8:35pm est. We will be going LIVE on Facebook for their entire performance. Share this with your friends and tune in!
Tags:
Bill Bailey
,
bill Bailey concert
,
Perrys
Posted in
announcements
|
Comments Off

on Bill Bailey's Winter Convention
Written by scoopsnews on February 4, 2018 – 6:45 pm -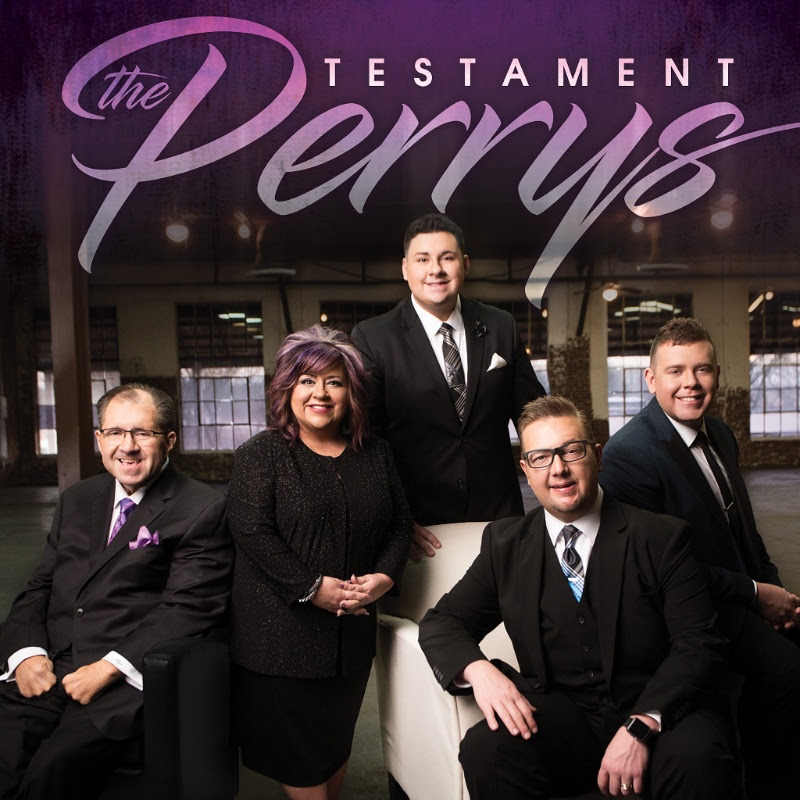 SGN Scoops chats with the group back in August….. Today has been a special day filled with Memories of the Perrys.
Tracy… It's not goodbye, it's see you later…
Check out this special Scoops Memory…
Tags:
Perrys
Posted in
announcements
|
Comments Off

on SGN Scoops Chats With The Perrys – Post From The Past
Written by Staff on February 4, 2018 – 4:27 pm -
From SGNScoops Magazine November 2010. By Dee Ann Bailey
"I Know What I'm Singing About"
is a cut off The Perrys new project
Blue Skies that is due out in late
November. In 1970, their song be-
gan but it was born from sorrow. In
the midst of that sorrow, they gath-
ered around a piano and began to
sing. And sing they did!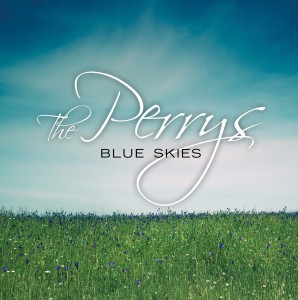 The talent roster that has passed
through The Perrys as they have
made this incredible journey is im-
pressive. Of course, originally it
was the Perrys themselves Randy,
Debra and Libbi, "God's little peo-
ple." Then as God began to move
the family members in other direc-
tions and toward other ministries,
Libbi Perry Stuffle and her husband
Tracy continued to carry the banner.
Nicole Watts Jenkins, Mike Bowling,
David Hill, Loren Harris, Justin Ellis,
Nick Trammell, Matt Holt, and more
recently Troy Peach and Bryan Elliot
are some of the talented individuals
that have helped make this group a
fan favorite year after year.
But at the core, at 4'8" is a dynam-
ic alto that has been here since the
beginning, Libbi Perry Stuffle. As
Tracy often says 'What she is lack-
ing in height God made up in vocal
chords." Consistently nominated as
fan favorite alto of the year, Libbi is
still amazed when she is awarded
that title.
"I don't deserve this but I'm so
thankful." In 2009, Libbi stated at
the awards that she often feels like
the problem child when it comes
to the group and sound. "Having
about 20% hearing means that I
must have sound in my ear buds
and when there are problems with
the sound, I'm in trouble. At times
it seems too difficult and I feel like
giving up but then someone shares
a song touched them or the fans
bestow an award that lets me know
they appreciate the message I'm
trying to give. It affirms that I'm
where God wants me to be."
The road hasn't been easy and
there have been times when it the
valleys were too dark. In Novem-
ber 2003, The Perrys lost their #1
supporter as their dad left us to go 15
listen to the heavenly choir sing. He was a man loved not only by his family but by group members, past and present and the fans. His race was run and he was now on the other side cheering them on. Still they carried on.
Then on August 11, 2010 a time came that neither of them were really prepared for. Tracy was experiencing
pain and once the doctors saw him, things began to move really fast. In addition to having multiple block-
ages Tracy learned he was a diabetic and also there was a small heart aneurysm. After determining that
would this not be a problem, Tracy's surgery was set for August 13th.
What the hospital wasn't prepared for and what Tracy and Libbi didn't fully understand, was how much they
were loved! The hospital switchboard was overwhelmed and the waiting rooms were overflowing. The love this
couple had inspired was now surrounding them as gentle prayers was being whispered for them not only across the country but around the world.
This outpouring of love caused the hospital to ask them to begin a Caring Bridge website to keep everyone updates as their lines could not handle
the influx of calls. As he made it through the surgery and Libbi and Jared were allowed to see him, a collective sigh of relief was heard in many homes that had been praying for
them.
Tags:
libbi perry stuffle
,
Perrys
,
Tracy Stuffle
Posted in
announcements
,
artists
,
sgn scoops magazine
|
Comments Off

on More Perrys Memories
Written by Staff on February 4, 2018 – 2:40 pm -
Memories: Libbi Perry Stuffle By Laura Kennedy, July 2012. Published by SGNScoops Magazine 
    One of six children, Southern Gospel's most beloved alto singer recently allowed SGN Scoops the privilege of some talk time. Singing, as Libbi is quick to share, has been her whole life. "I had just turned seven. We started singing on Christmas day, 1970 after the loss of my 13 year old brother, Johnny, that previous July 30, 1970. The Perrys decided to go full time after the loss of my baby brother George who was also 13 at the time of his death on June 5, 1982."
    The Perrys, in the mid 1980's, signed with former pianist for the Happy Goodman Family, Eddie Crook on his Morning Star Records label. Libbi later met and married Tracy Stuffle who would then become the group's longtime bass singer. For over 40 years and throughout various personnel changes, the group has not only been well received, but is one of the leading Mixed Groups in the industry today.
    In my opinion, receiving awards and recognition is evidence of diligence to a skill and craft.  In southern gospel music, the most important ingredient to the success of any writer, musician, or vocal artist is the rich indwelling and guiding force of the Lord Jesus Christ.  And when the Lord allows, an artist can touch and deeply affect the spiritual walk or even awakening of their listener. Libbi is that kind of artist. And as such, has been awarded Singing News Fan Awards for the 2005 Female Vocalist and Alto Singer Of The Year and the 2006 Alto Singer of the Year.  While at the 2009 National Quartet Convention, Libbi was voted Favorite Alto in the 2009 Singing News Fan Awards. Both she and The Perrys received 11, Top 5 nominations in the 2010 Singing News Fan Awards for Favorite Artist, Mixed Group, Male Vocalist, Female Vocalist, Horizon Individual, Young Artist, Alto, Lead, Songwriter, Album, & Song. And most recently, Libbi was awarded Singing News Fan Awards, for the 2011 Favorite Alto of the Year. 
  Clearly, the traditional tone and strength of Libbi's voice is what makes her a fan to many. When asked how that particular quality speaks to her, Libbi replies; "It overwhelms me! I never dreamed in a million years that people would even consider my singing anything to be awarded for. To say that I am honored would be an understatement!"
    Late last year, and with much encouragement from her husband, Libbi finally agreed to and has released her first solo album titled, JOURNEY.  "I am excited about my first solo CD! At first when approached about doing it, I said absolutely not. I am not a solo singer, but after a lot of persuading from Tracy, I gave in." Shares Libbi, "I finally got to sing with some of my heroes that I had dreamed of for so long!  We all have a bucket list and this was on mine. I got to bring in Gerald Wolfe, Mark Trammell, Dailey & Vincent, Randy Perry, Debra Perry Reed, Wayne Haun, Tracy Stuffle, the Sisters and Jeff & Sheri Easter. I was like a little kid on Christmas morning in the studio listening to my heroes sing on my CD! The CD is not fancy, but it's just me and who I am and the music I love! It's been a long JOURNEY, but I've always had a song!"
 Upon asking if the music on Journey is similar to her group's musical sound, Libbi offers; "I'm more of a traditional style singer. I'm not a fancy singer. I've listened to a lot of other people's solo projects, just beautiful singers and then listen to mine and think, 'That's real country.' But you know, we all have our own style. I tried to stick with MY style; what's ME. I picked songs that fit me. Nor did I use a lot of orchestration. Sometimes I think our message gets lost in the music so I wanted a lot of stuff very traditional. I hope everybody likes it."  
    Under Daywind Records label, produced by Wayne Haun, JOURNEY is indeed doing very well. Perhaps it's the easy friendships she has with her heroes that lend such a comfortable tone to the project.  Even more so is the conviction with which Libbi sings.  A poignant moment on the project is the opening of "Reunited" when we hear the Perry children; Randy, Debra and Libbi singing, "Daddy Sang Bass" as children. With deep family harmony, the story of the Perry Family takes a focal view.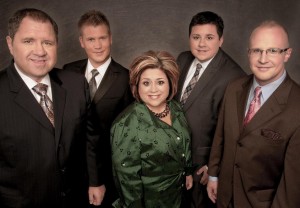 It will most assuredly be difficult to pin down a favorite.  When asked if she has one, Libbi offers, "There are 12 songs on the album and to pick a favorite is hard, but probably right now my favorite is a song when I first started singing with my family.  My dad worked away from home and would be gone for two weeks at a time so my mom would have to take us to all of our singings. So on the way back home, my brothers and sisters would get in the back and try to go to sleep. Me and my mom would sit up front.  While she would drive, I would sit on the armrest which we called the hump (this was in  PRE SEATBELT LAW days). I would put my arm around her neck and we would sing "Jesus Hold My Hand" all the way home. We only knew the first verse and the chorus. And we would sing it over and over… My brothers and sisters would wake up and say, 'Could y'all please sing another song!?!' Or, 'Just learn the words to this one!'  So, when I started putting the songs together for the album, the first one I thought of was "Jesus Hold My Hand."  My mom had a massive stroke in 2000 so I wanted to do something for her. It's a little bluegrassy so I brought in my friends Dailey and Vincent and they just did a killer job on it. We've sang it out and the crowd really seems to embrace it. It kind of throws them off because they don't think of me singing bluegrass, but I'm a BIG Bluegrass FANATIC!  This was for my mom and you know what, I still don't know the second verse!  So when we sing it out, I tell the people, 'I still don't know the second verse, so if I miss the words …nothing's changed in 41 years!' It's my favorite song right now, but you go through seasons in your life where one song in this season may mean a lot to you. Then you go through another season and a song that maybe you didn't look at a whole lot before and it will take on a whole new meaning. For this season, this is my favorite."
    Many of us have continued to be in awe of the health changes that Libbi and her husband, Tracy have woven into their lives.  Tracy Stuffle experienced cardiac arrest almost two years ago. He had five blockages and needed to undergo open heart surgery, also discovering that he was suffering from diabetes as well. After Tracy's 7-hour surgery, he recovered sufficiently to return home less than a week after the cardiac incident.  Libbi explains; "We have had to learn the hard way that your health is important! We are not getting any younger and being on the road can be brutal to your body if you don't try to take care of it. So, we are trying to do our part to keep it in check!"  She continues; "Eating healthy is the way that Tracy and I have lost so much weight. The food is low-fat, low-carb, low cholesterol and low sodium. Basically- a bale of hay and a glass of ice water. Haha We eat a lot of grilled food, a lot of fresh vegetables.  He eats much like the way God really intended for us to eat to keep our temple in shape. It's a lifestyle change. We don't say the "d" word because when you say the "d" word, your brain starts freaking out saying 'Oh No! That means I can't have food!'.  If you fall off the wagon, get back on it! Don't beat yourself up. Don't go back to eating; just get back on the wagon."  
  With NQC 2012 just around the corner, I always like to remember years past and all that is still ahead at the next convention.  And after Libbi's great advice on healthy eating, I'm going to diligently resolve to bypass one of my favorite things at NQC… the waffle cones!  But seriously though, there are those beautiful moments that the artists create for us that we take back home with us after NQC week.  And there are also those impromptu moments that are just divine pieces of Heaven.  Libbi shares one of hers with us; "My most memorable NQC was back when it was in Nashville, in 1991. One of my biggest heroes was Vestal Goodman. We had just recorded a Dottie Rambo song called, "Tears Will Never Stain The Streets of that City" and Dottie was at the convention so we asked her if she would come on stage to sing this song with us. She said, "Yes!" And it really shocked us. So, we're on stage singing and she's singing with us.  It just so happened that Tracy looked at the side of the stage then said to me, 'Vestal Goodman is sitting on the side of the stage watching!'  I was like, 'No she's not,' because he's always kiddin' me. But he said, 'I promise you Libbi. She is sitting over there watching.' So I just kind of eased over there and looked and sure enough, she was!! When we came off the stage from singing, Tracy said you need to go up and talk to her. I said, 'I can't. She doesn't know me.' I was bawling because she's like Elvis to me!  So Tracy went up to her and said, 'My wife is so shy and the biggest dream she's ever had is to meet you.'  She looked at me and said, 'Darlin', you come over here. Don't ever be afraid to come and talk to me.' She grabbed my hand and immediately prayed. I was crying. She didn't even know me but yet she was praying for me!  She just treated me like I'd never been treated before."
    Libbi is ever moving forward, working to convey the message of Christ to as many individuals as possible.  She offers, "There's an urgency to tell people that Jesus Christ is SOON returning and if you've not accepted Him as your personal Savior to please not wait until it's too late!! We don't know the day or the hour of His returning, so it's important to be prepared!!"
On the road with The Perrys, Libbi Perry Stuffle is taking care of herself and the boys as much as any moment calls for.  "My boys are really a good bunch of guys. I don't have to pick up after them. Now, I do have a 20 year old son that I have to pick up after but as far as the other guys, they are very clean fanatics. I'm the mom though so when they get sick, I'm the Dr.  When they pop a button off a suit, I'm the seamstress. So I wear different titles for whatever is needed, but it's not bad. I learn a lot. We sit and talk…a lot. It's really fun."
    "And they take care of me too," Libbi continues; "When Tracy was sick the guys came together and just helped me with him and whatever I needed, they were there. They were like family and very thoughtful to me."  When not on the road, Libbi tells me they will do just about anything to get off that bus. "We watch hockey!  We are big hockey fanatics! The Nashville Predators!!! If we have a day off, we will stop and go to the movies or if we're in Florida, we'll go to Disney.  We're just like a family, where one goes, we all go together like the Partridge Family. We'll make anything fun!"
  The Perrys are working on releasing a new album, but "Blue Skies", their current CD is still going strong! "It's had two number 1 songs; "Blue Skies" & "Celebrate Me Home."  And also, "Celebrate Me Home" won a Dove Award in April for Southern Gospel Song of the Year! So with my solo CD doing great, and people seeming to really like it, I am happy, happy, happy!" says Libbi.
     In April of this year, the Perrys released CELEBRATE ME HOME DVD recorded live in Nashville at Oak Tree Studios. Libbi offers; "It's something cool for the listeners. We're sharing stories behind the songs.  We realize that sometimes when you know the story behind the song; it gives the song a whole new meaning. We even brought the pastor of our church in and interviewed him."
   Thank you Libbi, for sharing your family, your music, and your heart for the Lord with us. And make sure to visit her at www.perrysministries.com to connect and say hello.
Tags:
libbi perry stuffle
,
Perrys
,
Tracy Stuffle
Posted in
artists
,
Christian interest
|
Comments Off

on Memories: Libbi Perry Stuffle
Written by Staff on February 4, 2018 – 9:29 am -
Younger Perspective With Jared Stuffle By Erin Stevens
If you are an avid Southern Gospel fan, then you would have some idea what the The Perrys have been through with regard to Tracy's health this past year. This family is a testimony to what true, unwavering faith in a sovereign Lord really looks like. This month, I had the chance to talk with Tracy & Libbi's son, Jared. Life has undoubtedly been rough for this young man as of late, but instead of focusing on that today, I thought Jared deserved to talk about why he loves traveling and singing. Take it away, Jared…
Erin: How old were you when you started traveling with your family?
Jared: I was cleared by a doctor to travel when I was two weeks old and I have been on the road, full-time since then.
Erin: It's no small thing that while your dad was still recovering in the hospital, you stepped up to the plate and started singing with the group. What was that transition time like for you personally?
Jared: It was challenging to say the least. It has been very different, but I'm starting to get more comfortable, and am relaxing into it more.
Erin: When you're off the road, what would you usually be found doing?
Jared: It would have to be one of five things: either a hockey game, golfing, church, going to the movies or just hanging out around the house with my friends.
Erin: What is the funniest thing a fan has ever said to you?
Jared: That's a tough one. Several people lately have come to the table and think I'm Dad, so that's always interesting!
Erin:  Night after night in concert, what song touches you the most and why?
Jared: I really love "Calvary Answers For Me." I've always loved that song, and now getting to sing it is great. The song title pretty much sums up why it's my favorite.
Erin: Share something about yourself that no one would ever guess?
Jared: Let's see, it would probably have to be that I collect vinyl records, and that I am absolutely terrified of snakes…I can't stand those things!
Erin: Who are the top 5 artists you would be found listening to most often on your iPod?
Jared: Tough one, because I'm constantly listening to music, and I like such a wide variety…but here goes:
1.Michael Bublé
2.Justin Timberlake
3.Kari Jobe
4.Coldplay
5.Imagine Dragons
Erin: What would you consider to be your most embarrassing moment on the road?
Jared: Oh wow! I try my best to avoid embarrassing moments, but just the other night, our soundboard decided to completely reset itself in the middle of a concert. I had to leave the stage, and entirely reset the sound, while the group kept singing – that was pretty embarrassing!
Erin:  Who is/are the biggest musical influence(s) in your life?
Jared: Well definitely Mom and Dad, but the other would probably be Michael Bublé. He's such an incredible singer and has a huge voice!
Erin: In your professional roadie opinion, what is the greatest and the hardest part about traveling around the country with your family?
Jared: The hardest part would be missing out on a lot at home, but the greatest would be seeing places that most people only dream of, along with meeting great people.
Erin: Who do you usually hang out with most on the bus?
Jared: Probably our bus driver Mark. I've known him for a long time, and I usually stay up late talking to him while he drives.
Erin: Where do you see yourself in 5 years?
Jared: Hopefully singing! That's what I want to do, plus I wouldn't mind having my own studio.
Erin: And in closing, how would encourage your fellow roadie friends as they minister week in and week out? (and for those wondering – they need encouragement as much as anyone!)
Jared: Remember why we do this. It isn't just a job, and you always have to remember that because it isn't about fame or awards, it's about leading people to Christ and encouraging those who need it!
Thank you, Jared, for opening up and sharing a little glimpse of your heart for ministry with the readers. To you, the fans, I urge you the next time you're at a Perrys concert to take a moment to encourage Jared for a job well done. Let him know just how thankful you are for what an example he is to the young and old alike. Until next month, Scoops fans…
And that's my take on it.
By Erin Stevens
Tags:
Jared Stuffle
,
libbi perry stuffle
,
Perrys
Posted in
artists
,
sgn scoops magazine
|
Comments Off

on Younger Perspective With Jared Stuffle of the Perrys
Written by Staff on August 14, 2017 – 5:29 pm -
Webster defines a convention as 'an assembly of persons, met for a common purpose.' That's what the Alabama Quartet Convention is all about, a common purpose to praise God. The fourth annual ALQC was held July 27 –  29, 2017 at the Forest Hill Church of God in Mobile, AL.  
Over thirty national, regional and local artists assembled together to sing songs of encouragement, salvation and to uplift the body of Christ. The Perrys, the Jordan Family Band, New Ground, Day Three, Answered Prayer, Barry Rowland and Deliverance, Ricky Atkinson and Compassion, plus many others all crossed the platform to present the best in Southern Gospel Music.  
Co-founders Scott Washam and Amy Dunnam began this journey four years ago with a simple concept: How do we want to be treated as an artist when we attend a music convention, and, if we were fans, what would we want to hear and see? This idea has helped the two achieve one of the most sought after conventions by artists in the nation.  
This year's theme was 'Sowing Seeds – One Testimony At A Time.' Over the three day event, many seeds were being sown, including the ALQC giving back to each artist. On Saturday morning, the ALQC hosted an artist-only prayer breakfast event. This year's guest speaker was Jonathan Goodwin of Redemption World Records. His message followed along with the theme and taught that we sow
seeds in three ways; our time, our talent and our treasure. What a great message it was.
Washam said in an earlier statement, "Every year, the event gets bigger and better. But this year was a different kind of better. There was such a feeling of unity and family. We brought in 12 new groups this year, and our fans and ALQC 'seasoned' artists fell in love with them."  Some of the new groups included: The singing Epps Family from Lincolnton, Georgia; Master Peace Quartet from Dalton, Georgia; The Connell's from Jacksonville, Alab., Heart's Song from Shannon, N. C., and many more. Amy Dunnam said, "We are so honored that these groups would want to come spend their weekend with us. It's humbling."  
On Thursday night, the Perrys really brought their best. There was such a sweet anointing in the house that the atmosphere was thick.  Other crowd favorites included The Jordan Family Band, Day Three and New Ground. Mickey Bell, DJ for the Dixie Gospel Caravan in Birmingham, Alab.,
kept the crowd on their heels with laughter, encouragement and sometimes tears.  
Both Amy and Scott agreed that for them the most special moment of this year's ALQC was when all 30 artists gathered in the altar around Exodus to pray for Mike Watson's complete healing.  Mike has been fighting cancer and had finished his last treatment. Everyone looks forward to him being on the road again soon.
If you've never been to an Alabama Quartet Convention, Scott Washam asks,
"What are you waiting for?"   
For more information on the ALQC, please take a moment and visit their facebook page @thealqc or website at www.thealqc.com.   
For the latest issue of SGNScoops Magazine click here.
For Gospel music news click here.
For more artist features click here.
Tags:
Alabama Quartet Convention
,
Answered Prayer
,
Barry Rowland and Deliverance
,
Day Three
,
gospel music
,
New Ground
,
Perrys
,
Ricky Atkinson and Compassion
,
the Jordan Family Band
Posted in
announcements
,
artists
|
Comments Off

on Alabama Quartet Convention welcomes Perrys, Jordan Family Band, more
Written by Staff on August 11, 2016 – 12:57 pm -
August 11, 2016 (Nashville, TN)… In just its fifth year of existence, StowTown Records amassed a record-setting 9 nominations during the Gospel Music Association's 2016 Dove Awards Nominee Press Conference held Wednesday morning on the campus of Lipscomb University.
The 47th Annual GMA Dove Awards are scheduled to take place Tuesday, October 11 at Lipscomb's Allen Arena.
StowTown co-founder Wayne Haun once again was named as a nominee for the prestigious Producer of the Year award. One of Southern Gospel's most popular and well-known performers, producers, songwriters, and arrangers, Haun is a multiple Dove Award winner.
Ernie Haase & Signature Sound's recent popular album, Happy People, and The Collingsworth Family's fan-favorite project, That Day Is Coming, were each announced as a finalist for Southern Gospel Album of the Year.
Meanwhile, StowTown's Ernie Haase & Signature Sound along with The Perrys were each named nominees for Southern Gospel Artist of the Year.
"Jesus Changed Everything", the popular radio single by Ernie Haase & Signature Sound written by Haase, Haun, and Joel Lindsey as well as "Keep On", the 2016 powerhouse hit by The Perrys written by Haun and Lindsey were both listed as finalists for Southern Gospel Recorded Song of the Year.
For Country Recorded Song of the Year, "Love Covered My Sin" by Doug Anderson, written by Haun, Randall Garland, and Val Dacus was named as a 2016 nominee.
In the Special Event Album of the Year category, Blessed Assurance: The New Hymns of Fanny Crosby with producers Bobby Blazier and John Hartley earned a spot among the top nominations.
All winners will be announced at the awards show Tuesday, October 11th. The GMA Dove Awards, which will begin at 6:30 p.m. CT, will air globally on Trinity Broadcasting Network (TBN) on Sunday, October 16.
ABOUT STOWTOWN RECORDS:
Founded in 2011 and expanded in 2014, StowTown Records reflects the musical vision of Ernie Haase and Wayne Haun, in partnership with Landon Beene and Nate Goble. The independent label is the creative home for top artists including Ernie Haase & Signature Sound, The Perrys, The Collingsworth Family, Doug Anderson, Devin McGlamery, The Taylors, Cana's Voice, The Browns, The Little Roy & Lizzy Show, Triumphant, TaRanda Greene, The Erwins, Trey Ivey, Jody McBrayer, Rambo McGuire, Charles Billingsley and selected classic music from The Cathedrals, their legendary bass singer, George Younce, and The Cathedrals Family Reunion. Distributed worldwide through Provident/Sony Distribution, StowTown Records has quickly garnered industry attention with multiple GMA Dove Awards and chart-topping releases from their highly respected artist roster.
For more Gospel music news click here.
Tags:
collingsworth family
,
Doug Anderson
,
Ernie Haase & Signature Sound
,
Joel Lindsey
,
Perrys
,
StowTown Records
,
Wayne Haun
Posted in
announcements
,
artists
|
Comments Off

on StowTown Records amassed a record-setting 9 nominations for Dove Awards