Written by Staff on January 3, 2018 – 4:42 am -
Bill Gaither is having more fun than ever as the Gaither Vocal Band embraces change, releases "We Have This Moment" 
By Craig Harris
Bill Gaither seems to be loosening the reigns … and at the same time, he's smelling the roses. The 81-year-old gospel music icon admits that he's currently having more fun than he's ever had.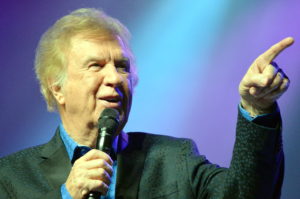 "I'm having the most fun I've ever had in my whole life, not only on stage, but coming home and eating with the sweet lady (his wife Gloria) I've lived with for more than 54 years," Gaither shares. "I'm singing with some of the greatest guys I've ever sung with. I love life.
"I encourage young artists all the time … I say, 'if the lights shine brighter on stage than they do at home, you're in bad trouble' … but these are great days."
Oct. 13 was one of those days as the Gaither Vocal Band unveiled its latest CD, "We Have This Moment." Former Gaither Homecoming Tour pianist Gordon Mote produced the project.
"We had another change in personnel last spring with Reggie Smith (joining the group after the departure of tenor David Phelps), who is no stranger to our field," Gaither points out. "He's been around a long time with us. I've said this 100 times … you don't replace anybody. We've had some of the best singers in our industry I feel … Marshall Hall, David Phelps, Michael English, Russ Taff, Mark Lowry, Larnelle Harris … those are incredible singers. But this is one of the best blends we've ever had.
Tags:
Adam Crabb
,
bill gaither
,
david phelps
,
Gaither Vocal Band
,
Reggie Smith
,
Todd Suttles
,
Wes Hampton
Posted in
Christian interest
,
sgn scoops magazine
|
Comments Off

on Bill Gaither is still Giving the World a Smile
Written by Staff on April 10, 2017 – 6:30 pm -
International Gospel Music Icon Returns to Gospel Music's Largest Annual Event
Gaither Vocal Band and Homecoming Sing-Along Appearances Headline NQC's All-Star 60th Anniversary Celebration

Pigeon Forge, TN (April 6, 2017) – Clarke Beasley – Executive Vice President, NQC – took the stage during the NQC Spring Break Event at First Baptist Sevierville, TN to make a special announcement that Bill Gaither would be returning to NQC 2017. The 60th Anniversary of NQC – Gospel music's largest annual event – will feature appearances by the Gaither Vocal Band and the Homecoming Sing-Along on Thursday. The appearances mark a return for Gaither after a 3 year absence at the convention.
"The entire NQC Board is thrilled that we are able to present Bill Gaither and the Gaither Vocal Band at the 60th Anniversary celebration of the NQC," stated Beasley. "Our participants and attendees are overjoyed at Bill's return."
Bill Gaither shared, "I am excited to be back at NQC this year with the Gaither Vocal Band celebrating NQC's 60th Anniversary and we are looking forward to the Homecoming Sing-along on Thursday afternoon with all our friends."
The 60th anniversary celebration of the National Quartet Convention will be heldSeptember 24-30, 2017 in Pigeon Forge, TN at the LeConte Center. An all-star lineup of the best in gospel music will delight fans during the week with performances including GMA Gospel Music Hall of Fame members The Hoppers, Grammy award winner Jason Crabb, and award-winning artists such as Ernie Haase & Signature Sound, Booth Brothers, Greater Vision, Kingdom Heirs, Whisnants, Joseph Habedank, the Jim Brady Trio, Mark Trammell Quartet, the Collingsworth Family, Tribute Quartet, The Erwins, Karen Peck & New River and so many more.
In addition to the evening concerts, many other events and activities await thousands of gospel music fans throughout the week including the Singing News Fan Awards, Dr. David Jeremiah's keynote address, Gerald Wolfe's Gospel Music Hymn Sing and more.
Connect with NQC:
www.NQConline.com
www.Facebook.com/NQConline
www.Twitter.com/NQConline
For more Gospel music news click here.
Tags:
Adam Crabb
,
bill gaither
,
gaither
,
Gaither Vocal Band
,
nqc
,
Reggie Smith
,
Todd Suttles
,
Wes Hampton
Posted in
announcements
,
artists
|
Comments Off

on Gaither returns to NQC
Written by Staff on March 1, 2017 – 7:37 am -
Gaither.com announced the following changes this morning:
Gaither Vocal Band Personnel Changes    
Since the Gaither Vocal Band's genesis in the early 1980s, the group has been a proverbial incubator of great talent.  Names like Steve Green, Larnelle Harris, Mark Lowry, Guy Penrod and Michael English have become beloved favorites to listeners all over the world. Today, we announce a coming transition that continues the legacy of the Gaither Vocal Band, not only as a Grammy-winning vocal group but also a launching opportunity and nurturer of rising talent.
Throughout the past 20 years, David Phelps has become a defining influence in the Gaither Vocal Band.  His powerful tenor voice and gift for artfully communicating the heart of a song has won the hearts of listeners across the globe.  Because the demand on David's time has exploded during recent years, he is departing from the Gaither Vocal Band to concentrate on his solo career full-time.
Gaither Music will release David's newest recording, Hymnal, on March 22, and we are incredibly proud of what he is doing and will continue an ongoing relationship with him for years to come.  David will sing selections from that recording during our upcoming big events, including Texas Homecoming Spectacular, Family Fest in the Smokies, the 2017 Alaskan Homecoming Cruise, and undoubtedly many other gatherings in the future.
David reflects, "It has literally been a dream-come-true to be a part of the GVB.  I remember the first time I was standing behind Bill in the group as he began 'There's a line that's been drawn though the ages…' I knew I'd finally made it.  Now the journey that's been filled with deep-conversations-over-morning-coffee, not-always-appropriate-belly-laughs, sad tears, happy tears, and always-great music has led us to a fork in the road.  I've been in school for 20 years.  It still shocks (and scares) Bill a little bit when I quote, word for word, something he said years ago.  I've been soaking it all in.  He is my teacher, mentor, friend, and a welcome critic.  We are family.  As things change and evolve over this transition, that will remain the same.  Lori and I are excited about the wonderful future that God has in store for all of us as we embark on this new chapter.  We are so grateful for the invaluable love and support of all our fans, friends and family!'
"David is a rare talent and we are so grateful for his presence in the Gaither Vocal Band for all these years," Bill states. "We will continue to include him on the program for our special weekend events as he is available."
Beginning April 1, Reggie Smith will become the newest member of the Gaither Vocal Band, joining Bill Gaither, Wes Hampton, Adam Crabb and Todd Suttles. Reggie is a graduate of the University of Mississippi, where he graduated with a Bachelor's degree in Music Education with a vocal emphasis; and where he has also completed work toward his Master's degree in vocal performance.  Reggie, along with his wife Ladye Love, has been a featured artist on the Gaither Homecoming stage for more than fifteen years. Reggie has performed in more than 25 countries and in such prestigious venues as the Super Bowl, New York's famed Carnegie Hall, and the Kremlin in Moscow. His voice can be heard on countless recordings, including the original The Lion King movie soundtrack. Reggie is also an accomplished music producer who has worked with country music's finest, including Josh Turner and Michael Martin Murphy.
Reggie is honored to join the ranks of the Gaither Vocal Band and states, "I consider this a great honor. Bill has been a great coach to me for many years, and I am thrilled to be able to work with these talented men who are already dear friends."
Bill Gaither is ecstatic about the future, stating, "I love working with so many great singers, and I am thrilled about all that Reggie Smith brings to the Gaither Vocal Band.  His voice folds in beautifully with the other group members, as does his genuinely sweet spirit.  Great days are ahead!"
Visit Gaither.com for a complete list of tour dates, plus information on the latest releases featuring the Gaither Vocal Band, David Phelps, and the Gaither Homecoming family.
Watch EXCLUSIVE BEHIND-THE-SCENES video of the GVB's first photo shoot and rehearsal with Reggie here!
Left to right: Todd Suttles, Reggie Smith, Bill Gaither, Adam Crabb, Wes Hampton
Tags:
Adam Crabb
,
david phelps
,
gaither
,
Gaither Vocal Band
,
Reggie Smith
,
Todd Suttles
,
Wes Hampton
Posted in
announcements
,
artists
|
Comments Off

on Gaither Vocal Band announces changes