Written by Staff on January 30, 2015 – 9:32 am -
By Vivian Belknap
Roanoke, Texas, a quaint town in North Central Texas has been proclaimed by the Texas House of
Representatives as The Unique Dining Capital of Texas. There are several restaurants in the newly revamped downtown area of Roanoke, but in my opinion the most unique is Dove Creek Café. The food is just good "down home" cooking, and the atmosphere is just as if you are enjoying breakfast, lunch or dinner in your own home surrounded by friends and family.
In February 2009, Bob Wills, who lives in the Roanoke, Texas area, was enjoying
breakfast at Dove Creek Café when a staff member approached him. The owner of Dove Creek had been told about Bob Wills and his family of great Southern Gospel singers. Dove Creek had been featuring Country music on Friday nights hoping to draw more people into the café, but with not as much success as they had hoped. So the owner asked Wills if he would be willing to bring Southern Gospel music to Dove Creek with the hope of bringing in new customers.
Bob Wills agreed to try for three weeks, and if successful he would continue. So that first night, The Wills Family, The Splawn Family and Homer Belcher, local talent, were featured, and the café was full. He continued the next two weeks with great local talent and again was successful. After about a year as national artists learned about Bob Wills and Dove Creek Café, he started getting calls asking if they could be featured artists as they
come through our area. And of course the answer was yes and still is! We in the Ft. Worth/Dallas area are so blessed to have wonderful local talent like Bob Wills had and we still have a wealth of diversified talent to share with our area.
National artists who have performed at Dove Creek Café are legends in Southern, Country and Blue Grass Gospel. This is a list of only some who have graced the stage of Dove Creek Café in Roanoke, Texas with their talents and ministry: The Melody Boys, Phil Cross, Joel and LaBreeska Hemphill, Sharron Kay King, Greg McDougal, Shannon Bunch, The Telestials, The Texans, Barbara Fairchild and her husband, Roy Morris, The South Men, The Song Fellows, Rick Strickland, The Chuck Wagon Gang, Jerry Bennett, Paul's Journey, Billy Blackwood and The Blackwood Brothers, Beyond The Ashes, Chuck Day, and Reynold Rutledge.
Some may ask, "Who is Bob Wills?" Bob Wills is a member of The Wills Family who has their roots in Texas, and he was named after the legendary singer who made Western Swing popular in the 1940's. Bob Wills' father was first cousin with the legendary Bob Wills. However, Bob Will's father chose to follow Gospel music instead of secular music, and started a group with his children.
In the early '50's Bob and his siblings, Bill, Calvin, Lou, Betty and Joe formed The Singing Wills Family and enjoyed many successful years touring together. In 1958, Bob Wills was asked to join the group known as The Inspirationals. Beginning in the early '60's and '70's, Bob led the group as they toured the nation. Bob and the group were featured on the nationally syndicated TV series, Wills Family Inspirational Time. The family
legacy continues with his daughter, Angel, enjoying ministering as a soloist, as well as his son, Bobby Lee, his wife Annette, and their two children, Landry and Bethany.
Bob's sister Lou Wills Hildreth is also one of the Gospel music elite and her story can be read in the SGN Scoops digital magazine every month.
Would you like to be part of the elite who have been at Dove Creek Café? Please contact Bob Wills at: bobwillsfamily@yahoo.com, or feel free to call Bob Wills at: 817.535.0136.
By Vivian Belknap
For more artist features by Vivian Belknap and all SGN Scoops' writers, visit www.sgnscoops.com for the latest issue of SGN Scoops magazine.
Tags:
Ann Downing
,
Bob Wills
,
Christian artists
,
christian country
,
Chuck Day
,
Dove Creek Cafe
,
Roanoke Texas
,
southern gospel
,
The Blackwood Brothers
,
The Galileans
,
the telestials
,
The Texans
,
The Wills Family
Posted in
announcements
,
artists
,
christian entertainment
,
Christian interest
,
guest
,
sgn scoops magazine
|
Comments Off

on The Dove Creek Café: Three Weeks Becomes Six Years and Counting
Written by Staff on March 6, 2014 – 2:22 pm -
BEYOND THE ASHES CONCERT REVIEW
Roanoke, Texas
February 28, 2014
By Vivian Belknap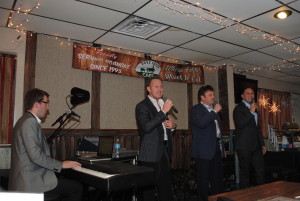 "These guys will make you want to go to Heaven," exclaimed Bob Wills after hearing the first set of music presented by Beyond The Ashes at Dove Creek Café in Roanoke, Texas, February 28, 2014.  They began by singing "So Amazing," a great song of praise that set into motion an atmosphere of worship.  Then Anthony Facello, the featured tenor and group owner led the crowd as they sang "Amazing Grace."
"The Coming of the King," a real toe-tapper featuring David Staton who was filling in as their lead singer really had the audience engaged. This was the first time David had performed with the group. And wow! His energy was contagious to everyone in the café.
We were blessed to hear "Oh Happy Day," a very familiar song to southern gospel fans, again featuring David.  "Over for Good," a song with a modern country feel and "God Is So Good," featured the great tenor voice of Anthony. His range and control easily makes him one of the best tenor singers in Gospel music.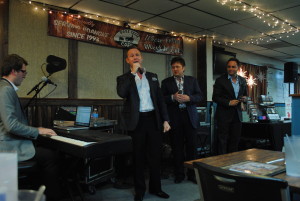 Anthony then introduced each group member: Casey Shepherd, baritone; Tyler Vestal, pianist and vocalist; David Staton, guest lead vocalist; Anthony Facello, tenor and emcee.  Their energy, both physical and spiritual, was on display with every song. It is very obvious these guys love our Lord and they have made it their mission to go and tell!
The first set was completed with David featured on "Every Knee Shall Bow," also written by him and recorded by several other artists. Fabulous words: "Bow now, or bow then."
Every song we heard mentioned Heaven, therefore the comment by Bob Wills at intermission was appropriate: "These guys will make you want to go to Heaven."
They returned to sing "Glimpse of Your Glory," another song written by David and "I Can't Even Walk." Of course the crowd was singing along on this one too. In fact Anthony had the audience singing often. So it really was a worship experience, not just a concert. Beyond The Ashes has a very unique way of capturing your attention, and holding it to the point that it seems to the listener it's just you and them.
Another special treat was to hear the piano solo by 22-year-old Tyler Vestal. His talent rivals any pianist in gospel music. In my opinion, he even displayed traits of Howard Goodman, with his hands dancing on the keyboard.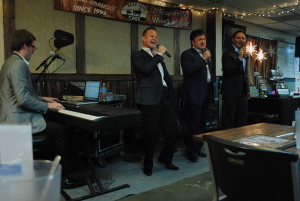 Beyond The Ashes ended the night by singing "Who Am I," featuring Tyler, and "No Sin Greater Than Grace," written by Anthony. This song drove home the strong Gospel message of the love and grace of our Father.
What did we, the audience take away from this concert? Assurance of God's love, mercy and grace and that Heaven is very clearly in view for those of us who have been born again. There is no doubt that the ministry of Beyond The Ashes is focused on seeing the lost come to Jesus and to bring joy to the body of Christ through their uplifting music and dynamic energy and personalities.  When you have the opportunity to attend one of their concerts, I think you will also leave saying, "These guys will make you want to go to Heaven."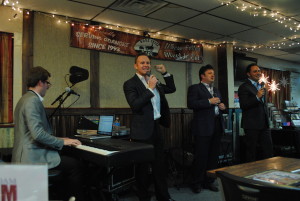 Beyond The Ashes online: http://www.beyondtheashesonline.com/
Beyond The Ashes on Facebook: https://www.facebook.com/beyondtheashes
Tags:
Beyond the Ashes
,
Christian Music
,
gospel music
,
Heaven
,
Roanoke Texas
,
Vivian Belknap
Posted in
christian entertainment
,
Christian interest
|
Comments Off

on Beyond The Ashes: Making You Want To Go To Heaven