Written by SGN Scoops Staff on September 23, 2020 – 6:13 am -
Are You Invested or Committed?
by Roger Barkley, Jr.
I am sure you have all heard the story about the farm where the animals got together and had a talk. They decided that they loved living there so much and the farmer took such good care of them that they would surprise him with breakfast.
The horse gathered the wheat and took it to the mill for the flour. The head rooster decided they should make the following menu: milk, butter, a cheese omelet with ham, sausage, and bacon. The old heifer bellowed out that she was proud to serve her delectable milk and cream with which they could make anything their little hearts desired.
The cackling hens were all a twitter and started collecting eggs right away.
The pig was silent. Everyone was rushing around doing something for the farmer and yet the pig was scorned because it seemed he was doing absolutely nothing.
As a tear rolled down his cheek, the pig spoke up and said, "It's true the cow and the chickens, while serving a much-needed place, only have an investment while I have a decision to make and a commitment of my entire self."
The barnyard was silent.
We can all relate, in one way or another, to the animals in the barnyard: the old heifer bragging on what she was doing; the cackling hens running around without thinking because they were so busy or so heavenly-minded that they were of no earthly good; and even to the pig.
A pastor friend told me once that we were all brought up out of the same mire of sin as that Prodigal son. It might have been one of us he was sitting by when he made a decision.
The decision is yours today of investment or commitment–wholehearted or halfhearted. Dad used to tell us boys that he didn't care what we did for a living as long as we did it to the best of our ability. Whether you work on cars, work at a factory, sing, or shovel out a barn, do it the best you can. Be committed to what you do.
As this crazy world needs God more than ever, from our worship to ministry and to our daily walk, we likewise need to be committed more than ever. We need to be committed and not just invested. 
Tags:
Roger Barkley
,
southern gospel
Posted in
announcements
|
Comments Off

on Are You Invested or Committed?
Written by Staff on March 22, 2019 – 5:25 am -
Why are we here? This is a question so many people have asked, I am sure. I have heard this question in science classes, churches, on the city streets, and the list goes on. But if you are sitting in your house of worship, or heading to that sacred place, or getting ready to go, or gearing up for the next service or meeting let me ask again…. Why?
Some do it for the vain glory of being seen in front of people (or even just seen in church) and getting that pat on the back. There are those that are there because it is just a habit, and nothing more than a routine instilled in them from childhood. Some come because they think if they spend an hour at a church once a week that they have "put their time in" for God and makes them okay for the week.
Some who are blinded by their misguided reasons will be sitting in church and complaining about how long the service runs, whining about too many scriptures being read, and will likely show more reverence during a movie in a theatre than in a sanctuary of God. So again, why are we here?
In a time such as now when liberties seem to be slipping away; when people are sick, and cancers and new sicknesses are showing up on every corner; when you or loved one's friends still do not know the love that is Jesus Christ and will pass through this life into eternity without the knowledge of his saving grace…… should we not know for a certainty why we are here?
Joshua 24:15 wraps it up succinctly when Joshua said, "But if serving the Lord seems undesirable to you, then choose for yourselves this day whom you will serve, whether the gods your ancestors served beyond the Euphrates, or the gods of the Amorites, in whose land you are living. But as for me and my household, we will serve the Lord."
If you know Christ personally, you are a minister, and your walk should show that you are his servant. When I say "know," I mean a personal walk with him and continual growth in his light. Satan and his demons know Christ and the scriptures better than most Christians.
We should strive to be as Christ and not worry about what time it is, whether or not we will be missing our show on TV if the preacher does not shut up, or that we may miss our ballgame if the song leader sings two more verses. Maybe if that is our mindset going into the service, we are not really into the service anyway.
Maybe we should have done one of two things: Either prayed to prepare for the service before, or if that was our attitude toward the service, stayed home as to not dampen the spirit of the service, or distract those trying to worship and glean the portions of God's Word being delivered.
I know why I am here. I will refer back to Joshua 24:15. Let me leave you with a different question. Why are YOU here?
By Roger Barkley, Jr.
Read the latest issue of the SGNScoops Magazine HERE.
Download SGNScoops Magazine PDF 
Here
Find SGNScoops Magazine On Facebook 
Here
Listen To Today's Gospel Music 
Here
Tags:
Christian life
,
God
,
Jesus
,
Jr
,
Mercy Road
,
Roger Barkley
,
Why am I here
,
Why are you here
Posted in
Christian interest
,
sgn scoops magazine
|
Comments Off

on Mercy Road Minute: Why are we here?
Written by Staff on December 8, 2018 – 11:41 am -
Lonesome Road Ministries recently hosted their sixth annual 3 Fold Cord Conference in Carmi, Illinois, to celebrate the life changing work that God is doing on the highways throughout the country.
Lonesome Road Ministries was started by Gary Rayburn as a tape ministry to truck drivers in early 2000. It has evolved into a "whosoever will" ministry that distributes thousands of free CDs each month with music, testimonies, and messages about the love of Jesus through their mailing list and the network of 150 plus Channel 21 chaplains around the country.
The ministry has expanded to also include radio programs on several stations around the country plus a television show. Lonesome Road Ministries is truly "a church without walls" as they receives calls and messages daily about the life changing effects of sharing the gospel through the various ministry outlets.
Six years ago Lonesome Road Ministries (formerly RIG Ministries) decided to start the 3 Fold Cord Conference in Carmi, Illinois as a way to bring drivers from around the country together and those partnered with the ministry for a few days to celebrate the life changing work that God is doing through the CD ministry. They decided on the name 3 Fold Cord Conference because of the principle found in Ecclesiastes 4:12 which says, "And if someone overpowers one person, two can resist him. A cord of three strands is not easily broken."
The 2018 conference was held recently at Trinity Assembly of God which is the new home to Lonesome Road Ministries.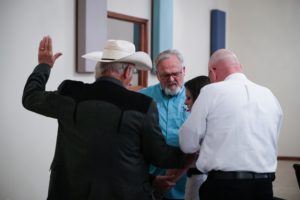 "It is an honor to partner with Lonesome Road Ministries, Chaplain Gary, and his staff. The work they do daily to spread the gospel around the USA is in line with our mission at TAG (Trinity Assembly of God). When Lonesome Road needed a new home for their ministry, it was a NO Brainer for us at Trinity Assembly of God to step up to the challenge. Soul winning is their heart. Soul winning is our heart. Most importantly, soul winning is GOD's heart!!" The 3 Fold Conference was exactly what we prayed it would be: uplifting, inspiring, and challenging. Soul winning through sharing personal testimonies is the Gospel at its best!" – Pastor Lee Hicks, Trinity Assembly of God
The 3 Fold Cord Conference was jammed packed with music, prayer, testimonies, preaching, fellowship, food, laughter, celebration and so much more. The conference kicked off on Friday at noon and continued through Sunday at noon. The weekend featured artists and speakers from around the country such as Barbara Fairchild and Roy Morris, James Payne, McKay Project, Joe Arview and family, Dan Duncan, Roger Barkley, Jr., Sonshine Road, Jim and Ann Davenport, Jackie Bowling, and Bill Schell.
There were many amazing moments throughout the weekend. Gary Rayburn shared recorded testimonies and we heard personal testimonies from those in attendance about the impact of Lonesome Road Ministries on their lives. Thousands of letters were laid out on the altar and we were called on to come up and pray over those needs and thank God for the blessings. On Saturday, Pastor Lee Hicks of Trinity Assembly of God, challenged everyone to go deeper and get out of our comfort zone.
Other highlights during the weekend included a Friday night session with music and testimony by Barbara Fairchild and Roy Morris. Saturday night was a double feature with the combined music, testimony, and preaching of McKay Project and James Payne. The conference wrapped up on Sunday with worship and a dynamic message by James Payne.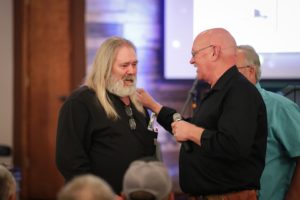 Of course, a gathering such as this wouldn't have been complete without great food and volunteers. A team of wonderful ladies from Trinity Assembly of God provided food for everyone on Friday night, Danny and Roda Dennis of Rodan Trucking provided lunch for everyone on Saturday, and Kevin Whitten of God's Grill provided lunch on Sunday. We honor those wonderful volunteers for giving of their time and resources to bless everyone that attended the conference.
"We had some great participation from my new church family – Trinity Assembly of God. They went above and beyond anything I expected from them.  We had great participation from our youth in our church. The ladies were great with decorating the church and gymnasium to making sure the hospitality room was stocked up. I can't say enough good things about Trinity. The men were great in helping set up tables, parking, security, cleanup crews, and shuttle drivers for our truckers who had to park about a mile away.  The sound crew was excellent and we appreciate Jack Baker Photography for all the great pictures.
Of course, I want to say a very special thanks to my Pastors Lee and Robin Hicks. Without their support and bringing Lonesome Road Ministries to Trinity, we couldn't have continued this conference.  This was our sixth year and by far the best as far as participation.  I am looking forward to our seventh 3 Fold Cord Conference in June 2019." – Gary Rayburn, Lonesome Road Ministries
For more information about Lonesome Road Ministries, check them out online at one of these locations:
Lonesome Road Website: www.lonesomeroad.org
Lonesome Road TV: www.rigtv.org
Lonesome Road Podcast: https://rigpodcast.podomatic.net/
*Photos Courtesy of Jack Baker Photography (www.jbakerphotos.com)
Tags:
Barbara Fairchild
,
Bill Schell
,
Dan Duncan
,
Jackie Bowling
,
James Payne
,
Jim and Ann Davenport
,
Joe Arview and family
,
McKay Project
,
Roger Barkley
,
Roy Morris
,
Sonshine Road
Posted in
announcements
,
artists
|
Comments Off

on Lonesome Road Ministries Hosts Sixth Annual 3 Fold Cord Conferenc