Written by Staff on February 6, 2015 – 10:47 am -
The Booth Brothers packed the house again while in concert at Shiloh Hills Baptist Church recently. The Brothers h
ave been coming to the area for several years and every time additional space has to be added. They attract all age groups to their concert. There were several children there as well as a lady that was 99 years old. She said after the concert if she made 100 she would be back to hear The Booth Brothers again!
After opening remarks, introductions  and announcements, Pastor Vic Bledsoe introduced the Shiloh Hills Choir under the direction of Matt Bledsoe.  A great music program from the choir concluded with "How Great Thou Art."
The Booth Brothers took the stage 
​
to a standing crowd, singing many of their new songs that featured their newest member Paul Lancaster.  Michael introduced a special guest in the audience: Stan Whitmire. He invited Stan to the piano and Michael, Ronnie and Paul gathered around the piano to sing. Stan accompanied the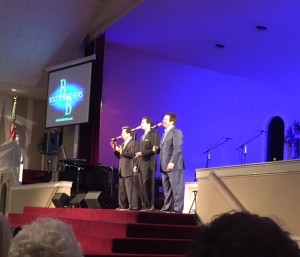 group throughout the second half of the concert on the piano also playing a couple of piano solos.  Michael closed the program with prayer and folks hung around for about an hour talking with the guys. I must say that Paul Lancaster is a great fit for the Booth Brothers.
The next concert at Shiloh Hills Baptist Church will featured the departed member of The Booth Brothers, Jim Brady and the Jim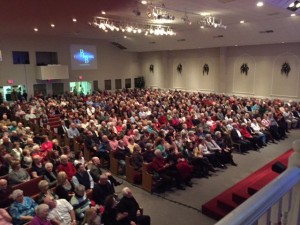 Brady Trio. This concert will be

March 13 at 7:00 pm

.  Former Mark Trammell Quartet bass singer, Pat Barker, will open for the Jim Brady Trio.
Tags:
booth brothers
,
Christian Music
,
Jim Brady
,
Jim Brady Trio
,
mark trammell
,
Michael booth
,
Pat Barker
,
Paul Lancaster
,
Ronnie Booth
,
southern gospel
,
Stan Whitmire
,
Tim Parton
Posted in
artists
,
concert reviews
|
Comments Off

on BOOTH BROTHERS AT SHILOH HILLS BAPTIST CHURCH
Written by Staff on December 19, 2014 – 12:28 pm -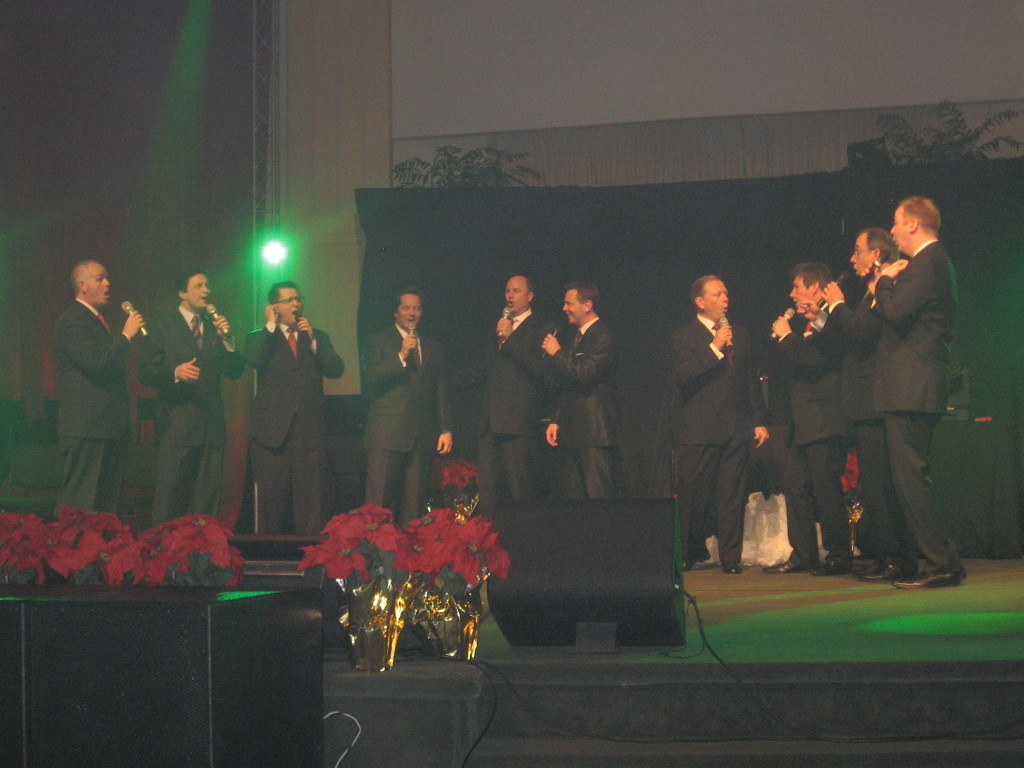 The Jubilee artists were recently in Ontario, Canada to present a Jubilee Christmas and SGM Radio caught up with them to talk about everyone's favorite, Christmas vacation.
[Editor's note: See below for link to the Jubilee Christmas concert review.]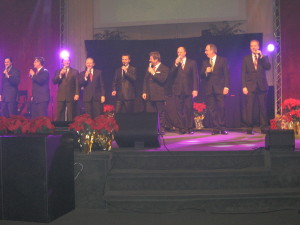 IMC Concerts and Greater Vision, Booth Brothers and Legacy Five bring the Jubilee series to many States throughout the year, as well as performing a special Christmas series in December. Gerald Wolfe who does most of the emcee work for the Jubilee presentation, is looking forward to having some time off from the stage work. "By the time I get home, our house will be in full Christmas mode, probably have a half-dozen trees up. We go out and run around, look at lights, go to the mall, eat, do what everybody else does. Then right after Christmas week, we get right back on the road. I'm looking forward to it though, I'm looking forward to putting my feet up!"
Wolfe is not the only one looking for a bit of rest. Fellow Greater Vision singer, Chris Allman says, "I look forward to relaxing, but that usually doesn't happen. Because we are out here so much, when I get home there is a lot that my wife wants me to do. Then I will be just hanging out with the family. I always take my wife and my two daughters who still live at home (my two sons are married), to a city like Atlanta or Cincinnati and we shop for a couple of days. We like to go to big cities to get away. So when I'm away, I'm on the road, and when I get back home, I'm on the road! But it's just different when you are with your family." Allman adds, "And this year of course my grandkids are going to be with us. My two grandbabies are going to spend Christmas Eve and Christmas Day with us. So Santa is going to come to see them at our house, so that's going to be fun."
Rodney Griffin is looking for to a couple of celebrations once he gets off the Greater Vision bus. "I'm looking forward to seeing my wife and two daughters. The day after we get home is my wife's and my 20th anniversary. So that will be a fun day. I've got her a gift kind of hidden away. I hope she doesn't find it!" (Note: Rodney told us where but we aren't saying!) Griffin continues, "A couple of years ago we moved back to Kentucky where we are from. My mom and dad are there as well as my wife's mom. I look forward to home cooking from my mom. She cooks as often as we will come over! We love that."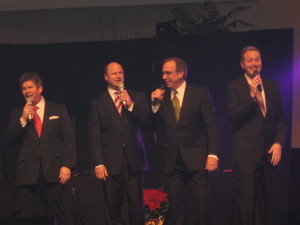 Legacy Five's Matt Fouch comments, "This Jubilee stretch is 12 days and last year was 17 days. So we got five days less this year, so that's good. I look forward to doing what everyone else does at Christmas: spending time with the family, especially after having been gone for 12 days. I get to see my little boy and my wife. I look forward to just relaxing and getting to go see our extended family." The other Legacy Five members may need some rest, but Scott Howard isn't planning on going home to put his feet up; at least, not for his entire vacation. "We finish on the 15th in Chattanooga and I will get home the morning of the 16th. My family will already be out of town for our little Christmas get-together. My son and I will catch up with them in Texas. We are doing a big deer-hunt down in south Texas. We'll get back home around Christmas Eve and spend a few days there and then start in on the New Year's sing. It's right around the corner…it's amazing how quickly it's gotten here."
With the New Year swiftly approaching, we asked the guys about their New Year's Resolutions. Trey Ivey intends to keep abstaining from soda pop, and Scott Fowler intends to stop making New Year's Resolutions! Scott Howard says, "I'm not a good resolution maker because I'm not a good resolution keeper. I think my resolution will be to try to be healthier in 2015. I have discovered that the older I get, the faster my health deteriorates." He laughs and continues, "So I think that is going to be a resolution of mine; to eat a little bit healthier, live a healthier lifestyle, work out a little bit more, try to be not quite so fat and happy as in 2014." Howard smiles and says, "Well, I still want to be happy, just less of the fat and more of the happy!"
IMC's Landon Beene comments, "I say 'lose weight' every year, but this year it needs to be a reality. And to find a nice balance of being at home and spending time with my babies, and doing more of what I love and less of what I don't." Matt Fouch remarks, "It's too early! I still have a month or so before I have to decide that. We do a New Year's Eve thing at the Opryland Hotel so I try to hold all of my resolutions off until after that because the food they have in the green room is awesome. So any type of diet or food resolutions, I try to hold off on until after that event."
Gerald Wolfe is not a Resolution maker. "I don't make them because I'm no good at keeping them. My New Year's Resolution, this coming year, is to eat. That's the only one I can keep!" Chris Allman says he wants to keep his weight off. Rodney Griffin comments, "I want to draw closer to the Lord. I want to read my Bible more intently. I try to read it through every year but I don't want it to become mechanical. I want the Lord to speak to me next year, give me songs He wants me to write, to live for Him and be a blessing to someone."
It seems that Michael Booth is also on a health-kick for his New Year's Resolution. "It's pretty much just my health, to exercise and have a little better diet. I'm 43 now and that is still young, but I'm feeling the miles more than I used to. And I can feel it in my voice too. If you want to sing well into your sixties, you need to be really careful and eat right. And you know, God says it's a temple. I've ignored that because it's hard to do on the road. This is the hardest part of the day [following the evening concert] because I'm starving, and we will soon be going to bed. If you eat wrong then you get acid reflux and all that stuff. It's really challenging."
Ronnie Booth is working on his spiritual health for the New Year. "Keep walking closer, staying more in the Word and being more obedient. True success in life is doing the will of God."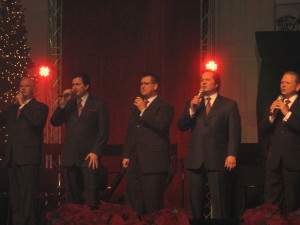 We also asked some of the men what they foresee for the coming year and whether there were any changes ahead. Scott Fowler comments, "The older I get, the more I don't like change. I hope there are no changes on the horizon. When things are going well, I like for them just to stay put. I'm hoping things will just stay as they are and life is good." He says there won't be a new Legacy Five release for a little while. "We are still kind of enjoying our latest recording which is Great Day, and we've had two radio singles off of that so far. We will start recording again in 2015, but nothing in the next couple of months." Scott Howard echoes Fowler's remarks when he says, "I don't know of anything I would predict. There's always change and the older I get, the less I like it. I don't really plan for change but I've grown to kind of accept it. I don't foresee anything changing. Our group will still be out doing our thing, unless the Lord tells us something different. I feel like we are doing what we are supposed to be doing now. I tell people all the time that it is subject to change. Sometimes God will steer you in a different direction, for whatever reason. I don't foresee that, but I never know. So I just wait and see what happens."
The Legacy Five men are looking forward to their New Year's Concert and Fowler is also looking forward to his family's New Year's celebrations. "We usually spend New Years Eve at our event in Nashville, Tennessee. We have a three-day event at the Opryland Hotel. 12-million Christmas lights are up, 12 life-sized nativity scenes, and it's just a lot of fun. When the hustle and bustle of that is over, we'll have a delayed New Year's party and celebration dinner at my in-laws. They are of Norwegian descent, so they have some Norwegian dishes they prepare for us, so it's a lot of fun to taste that culture."
Gerald Wolfe is looking forward to the New Year, though maybe not so much any of the inevitable alterations that life brings. "There's always change. That's the only certainty in life. We are releasing a new album in March, the first major one we've released in two years. Also, we are now getting into our 25th year, so all of 2015 will be leading up to our 25th anniversary. So we will do some special events along the way, we are giving away a cruise to the Caribbean, all kinds of special stuff like that!"
In 2015, Chris Allman is looking forward working on his personal projects and with Greater Vision. "There are different goals that I have. I enjoy producing. I'm producing a group right now called The Wrights from Kansas; we just did tracks with them. I'm very excited about what is happening there. They have a great CD that is going to be released next year. I'd like to produce some more groups and do several more of those during the year. So we'll try to get that underway." He continues, "We have a new project coming out in 2015; it's already in the can as they would say. It's already mixed and ready for release. It has some new songs I've written and some new ones that Rodney's written." Allman notes, "This past year was the busiest we have ever been. Ever, ever, ever. It's good and bad. It's good because there is a demand, and bad because it wears you out. You have to have a balance and this year we got close to crossing that balance. So we are getting pretty tired here at the end of the year. We are still enjoying it though."
Rodney Griffin is looking a little closer to home for changes in the New Year. "The biggest news in the Griffin household for 2015 will be if we get a dog. We had two family dogs and both of them lived about 19 years, and we lost both of them this year. It was a tough 'dog year' at our house as both of them had lived the extent of their lives."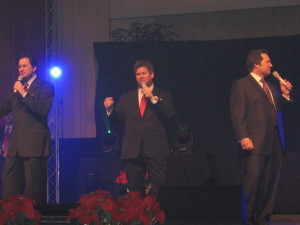 Legacy Five's Matt Fouch is excited about an unusual trip that they will be making in the fall. "In 2015, Legacy Five is going to Israel! We are doing a Holy Land trip and that is exciting and something new for me; I have not done that before. As you hear from other people who have gone there before, it's one of those things that is an experience of a lifetime especially for Christians, because you get to see with your eyes and walk the places, physically, that you read about in the Bible. I am looking forward to that and I know most of the guys in the group are looking forward to it as well. We are going in October 2015, so I have a little time to wait, but that is one of the things I am most excited about in the New Year."
Fouch says the unrest in the Middle East doesn't worry him, when it comes to the Israel trip and personal safety. "Scott went there with Dr. Charles Stanley and In Touch, as well as Greater Vision. Scott wanted to check it out and he was there when the fighting was at its peak. He said that he never heard anything, or saw anything, because it was taking place in a different part of the country. He said that with all the different religions of the people that lived in that area, everyone was peaceful. I think it's a thing where everyone understands that this is a tourist area, so they stay away from it. Scott said there were no problems, no issues with security, so we are not really concerned about that at all."
A Social Media interview guru; Matt plans to continue his On The Couch With Fouch in 2015. "I love doing it. For those who are reading, one of the really unique things about the interview series is that the audience gets to ask the questions! It's Social Media driven. So if you are reading this, you are probably on the Internet, or on Facebook. I read a statistic that about 70 or 80% of Americans have a Facebook account. So I put out there whom I am interviewing and you guys get to tell me the questions. I ask the questions you guys want me to ask. That's what makes it so unique. So if you want to follow me on Facebook, you can go to Matthew Fouch – Bass Singer, or if you are on Twitter you can follow me @L5bass. When I do have upcoming interviews you guys can let me know what you want to know!"
With a big smile, Fouch adds: "I love Legacy Five, I love being here, and everything is going wonderfully. I've been here for over two years now. September 2012 was my first date with the group. It fit like a glove from the beginning. They made me feel very comfortable. I guess they don't have a problem with me because they haven't run me off yet!"
We hope you have enjoyed these insights into the lives and hearts of the men from the Jubilee series and Jubilee Christmas. To read the concert review on Jubilee Christmas, visit https://www.sgnscoops.com/2014/12/11/jubilee-christmas/
For more information on the following groups, visit their websites:
IMC Concerts   http://www.imcconcerts.com/
Greater Vision   http://www.greatervisionmusic.com/
Booth Brothers   http://boothbrothers.com/
Legacy Five   http://www.legacyfive.com/
Find them on Facebook and Twitter too
First published on SGM Radio website in December 2014
For more artist features, visit SGM Radio today! Click on the button to listen to Gospel music 24 hours a day, seven days a week.
Tags:
booth brothers
,
Chris Allman
,
Gerald Wolfe
,
Greater Vision
,
Gus Gaches
,
imc concerts
,
Jim Brady
,
Jubilee Christmas
,
Landon Beene
,
legacy five
,
Matt Fouch
,
Michael booth
,
Rodney Griffin
,
Ronnie Booth
,
Scott Fowler
,
Scott Howard
,
Trey Ivey
Posted in
artists
,
SGM Radio
|
Comments Off

on Jubilee Artists Look Forward To Christmas and 2015  
Written by Staff on December 11, 2014 – 11:22 am -
By Lorraine Walker
 Jubilee means 'celebration' and that's exactly what we had when the Jubilee singers came to Hamilton, Ontario on December 5, 2014. IMC brought the Jubilee Christmas with Greater Vision, Legacy Five and the Booth Brothers all the way to Canada and the audience couldn't have been any more grateful. Over a thousand people filled Bethel Gospel Tabernacle, where they were delighted to see a platform full of lit Christmas trees, ready to host this special musical celebration.
Having traveled many hours through the night to reach their destination, Landon Beene of IMC said, "It's been a wonderful trip. We've had great weather and great ticket sales. A lot of people are excited about this tour. It was a breeze through the border last night, so as the Road Manager, that makes me really happy! We'll see how it goes tonight on our way back through." He added, "This is the first time that we've ever presented one of the Christmas Jubilee programs in Canada. We are sold out tonight, so I think the people are excited about the guys being here."
The crowd certainly was eager as the ticket holders burst through the doors to find their seats. The decorated foyer was filled with the colors of the season and the merchandise of the artists. Preparing for the evening, Scott Fowler of Legacy Five remarked: "It's good to be back in Canada. We always look forward to coming here and the Canadian folks are fun to sing to, so we are glad to be back. This is our last tour of the year and we are doing 12 Christmas shows in 12 days, so we call it the 12 days of Christmas. The Christmas Tour is the highlight of our year."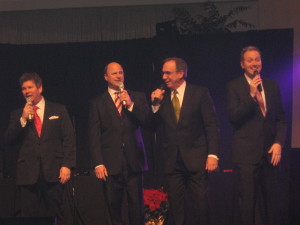 The artists were as energized as the audience as they filed on stage for the opening number. What a delight to hear 10 voices in four-part harmony fill the sanctuary with the opening notes of "Hark the Herald Angels Sing," along with a huge quartet-ending. Following this, Chris Allman of Greater Vision entertained the crowd with "The Most Wonderful Time Of The Year." Allman later remarked, "My favorite thing about the Jubilee is hanging out with the guys, of course. We love the shows and we love to see the people enjoy themselves. Tonight was a great crowd. If we can see them having fun, it's a lot of fun for us. We have fun on the stage, just hanging out with the guys. It's a really special experience."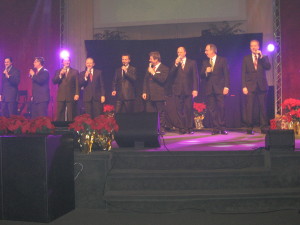 Everyone certainly did have fun during the course of the evening, with emcee Gerald Wolfe of Greater Vision often playing the straight man to jokesters Scott Howard, Michael Booth and Rodney Griffin. One example was the "Twelve Days of A Gospel Singers' Christmas," where even Trey Ivey joined in the hijinks. Howard remarked, "It's always fun when we get together with all our buddies from Greater Vision and Booth Brothers, our best friends out on the road. We always have a good time. I tell people that we are going to have fun and we just hope you do too! The Christmas stuff is fun to do and I think everyone enjoys Christmas music. We only do it one month a year but I think people would like it year-round. So we may extend this tour next year." There were several hints of a tour extension and a return to Canada during the evening, but as we know, a lot can change in a year!
One group who is dealing with change is the Booth Brothers, who sang the Evie Karrlson classic, "Come On, Ring Those Bells!" Jim Brady, who is leaving the Brothers to form his own group, the Jim Brady Trio, in the New Year, blessed the crowd with leading the Booths in "It Came To Pass," written by Gerald Wolfe. Ronnie Booth showed his 'crooner' side by smoothly singing about "Chestnuts Roasting On An Open Fire." The addition of Rodney on saxophone was a surprise to the crowd and one of the many laugh-out-loud moments of the evening.
Legacy Five sang such Christmas favorites as, "I'd Sure Like To Go To Grandma's House For Christmas," and "Christmas With A Capital C." Their pianist, Trey Ivey showed his prowess on "Here Comes Santa Clause," "O Little Town of Bethlehem," and this writer's personal favorite, "O Holy Night," on which Legacy Five lent their vocals to bring the carol to a powerful, worshipful end. Bass singer Matt Fouch had his work cut out, as he was the only bass on the platform. His rendition of "I'm Dreaming Of A White Christmas" turned dreams into reality with more comedy from his fellow singers.
Several times during the evening, different members of the groups would join together to bring different songs, carols and comedy. Rodney Griffin stated later, "My favorite part is how the three groups kind of forget their identities as individual groups. As Ronnie Booth explains it, when we get on this tour, the three groups become one. So there is no Greater Vision, Legacy Five and Booth Brothers. It's just a team of 11 of us working toward the same goal. Right now we are hauling everything out together. A few moments ago we were greeting the people together and now we are hauling out Christmas trees together. We do as much as we can to make it a success together."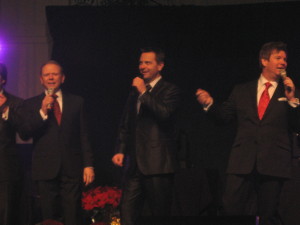 From the big ballads to the acapella numbers to newer songs like, "It Will Always Be Christmas To Me," as well as fun songs like "Hunting For Christmas," the men kept the audience on the edge of their seats. Wolfe led the crowd in the favorite carol, "Silent Night." Later in the evening, Wolfe commented, "The best thing about the Jubilee is hearing the audience sing. They are better than we are! You heard it tonight: "Silent Night"…that's my favorite part of the whole evening." He added, "I would do it all year. I just love this kind of music, I love the guys and it's a lot of fun. It's different every night because our memories [of how it was done the night before] aren't that good!"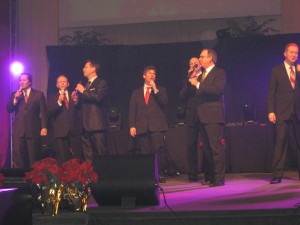 At the end of the second half, Ronnie Booth opened up the Bible to Luke 2 and reverently began the Christmas story. Scott Fowler followed this with "Welcome To Our World," beautifully sung as only he can do. The men then sang the energizing, "Go Tell It On the Mountain," and the lovely, "Christmas Benediction." Ronnie said later, "My favorite part is the Benediction and the arrangement of that particular one by Larry Goss. That is my favorite of all the songs we do. The other one is the one we sing called, "The Right Time," written by Mosie Lister. It says so much in such a little space. Obviously there is a lot of fun and people need that, but we are not here just to have fun, we also get very serious at the end, presenting Christ and the Gospel."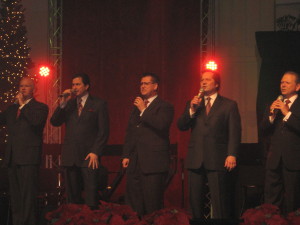 Matt Fouch agreed with Ronnie. "I enjoy the laughter, the fun stuff; but one of my favorite spots is coming to the very end when Gerald brings it all together and shares with everyone, 'You know, we've talked about how the story began with Jesus, and that's the season that we celebrate. But let me tell you the rest of the story…' That's the part I look forward to every night, because that is where we see the hope with His resurrection."
Michael Booth, one of those who certainly kept up his part in the comedy routines said, "Selfishly, my favorite part is that it is an easy night for me because in our programs I do all the emceeing, for the most part and I'm singing on every song. So it is a very easy program for all of us because we share the load. I also just like being with the guys. We are all pretty good friends. People ask us if we are having as much fun or getting along as well as it looks we are, and we do. We will get up on each other's buses tonight and ride across the border, then when it gets around 2:00 or 3:00am we will get in our own buses to sleep."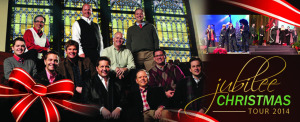 Many thanks to IMC and Greater Vision, Legacy Five and The Booth Brothers for presenting a beautiful, professional program, suitable for all those who enjoy Christmas music. If they come near your area, be sure you attend and bring an unsaved friend. The music will thrill them, the comedy engage them, and the presentation of the Gospel will bring them closer to the Christ of Christmas. Special thanks as well to Landon Beene, Brian Hutson, the Jubilee crew and the staff and ushers of Bethel Gospel Tabernacle, Hamilton, Ontario. We certainly had a Celebration of Christmas!
For more information, visit http://www.imcconcerts.com/tour
Tags:
booth brothers
,
Chris Allman
,
Gerald Wolfe
,
Greater Vision
,
Gus Gaches
,
Jim Brady
,
Jubilee Christmas
,
legacy five
,
Matt Fouch
,
Michael booth
,
Rodney Griffin
,
Ronnie Booth
,
Scott Fowler
,
Scott Howard
,
Trey Ivey
Posted in
artists
,
concert reviews
|
Comments Off

on It's a Jubilee Christmas!
Written by SGN Scoops Staff on December 2, 2014 – 8:31 am -
HENDERSONVILLE, Tenn. (Dec. 2, 2014) – Following the success of the first two projects in the series, Ronnie Booth releases "A Tribute to the King, Volume 3" today. The 10-song, Daywind project is the third in a series that includes the gospel songs of Elvis Presley, as performed by Booth.
Booth is the lead singer of award-winning trio, the Booth Brothers. He has won the last six Singing News Fan Awards for favorite lead singer and the last four Singing News Fan Awards for favorite male singer.
Gary Prim has produced all three of the "A Tribute to the King" projects. The first in the series was released in 2008 and included "He Touched Me" and "Peace in the Valley," while the second volume was a 12-song collection that contained "A Thing Called Love" and "If the Lord Wasn't Walking By My Side."
"I think Ronnie did a fantastic job with his take on the old Elvis gospel arrangements," emphasizes Prim. "He gets the essence and heart of the sound without being a sound-alike. It is always a pleasure to work with Ronnie Booth."
Volume three includes classics such as "Without Him," "Where Could I Go But to the Lord," "Amazing Grace," "Take My Hand Precious Lord," and "If We Never Meet Again."
"Elvis Presley was one of the most beloved individuals in history, and his music continues to be enjoyed by countless numbers of individuals," says Daywind president Ed Leonard. "Ronnie once again has tastefully placed his vocal stylings on some of those classic hits that are immediately recognizable. This project is certainly first class."
Daywind projects are distributed to retail through New Day Christian Distributors, Select-O-Hits, and all major digital outlets, including iTunes. For more information, visit www.daywindrecords.com  or contact Amanda Martin at publicity@daywind.com.
For more information on Ronnie Booth, visit the Booth Brothers' web site at www.boothbrothers.com.
Tags:
Elvis Presley
,
gospel music
,
Ronnie Booth
,
southern gospel
,
Southern Gospel News
Posted in
announcements
|
Comments Off

on The third time is another charm as Ronnie Booth releases volume three of "A Tribute to the King"
Written by SGN Scoops Staff on May 2, 2014 – 10:07 am -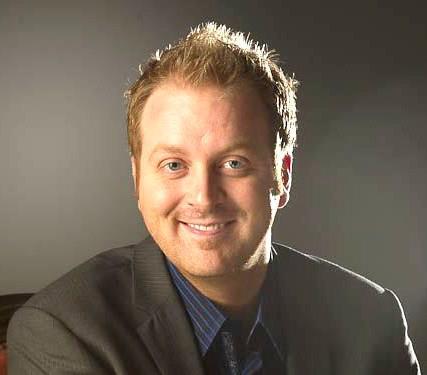 Find Out More About Matt Here
Tags:
On the Couch With Fouch
,
Ronnie Booth
,
Southern Gospel Music
,
Southern Gospel News
Posted in
video
|
Comments Off

on On the Couch with Fouch – Ronnie Booth On SGNScoops.com
Written by SGN Scoops on October 8, 2012 – 9:32 am -
Hendersonville, TN (Oct. 4, 2012) –The Singing News held its annual Fan Awards, along with inductions to the Southern Gospel Music Hall of Fame, on Wednesday at Dollywood in Pigeon Forge, TN. Daywind artists took home ten of the awards presented, with the Booth Brothers garnering seven of the awards.
Recipients included the Booth Brothers' Ronnie Booth for Male Vocalist and Favorite Lead, Michael Booth for Favorite Tenor, and Jim Brady for Favorite Baritone. The Booth Brothers were also awarded Favorite Trio, Favorite Artist and Favorite Song of the Year with She Still Remembers Jesus' Name. Libbi Stuffle (Perrys) received recognition as Favorite Alto of the Year while Rodney Griffin (Greater Vision) was once again named Songwriter of the Year for the 14th consecutive year. Wilburn and Wilburn received the Horizon Group of the Year award as well as Jordan Wilburn taking home Horizon Individual of the Year.
We are thankful for the opportunity to partner with such a talented and committed group of artists," shares Norman Holland, Vice President and Director of A&R at Daywind. "The artists that we at Daywind have the privalage of working with are some of your favorite artists and we count it a joy to be a part of their ministries."
The Singing News Fan Awards are voted upon each year by subscribers of the Singing Newsmagazine. The awards celebrated their third year at Dollywood, in conjunction with the SGMA inductions, after previously being held at Freedom Hall during the National Quartet Convention. For more information on the Singing News, visit www.singingnews.com. For more information on the Southern Gospel Music Association, visit www.sgma.org.
Daywind Records is based in Hendersonville, TN, and is distributed worldwide through New Day Christian Distributors. For more information on Daywind Records and their award-winning family of artists, visit www.daywindrecords.com.
Tags:
booth brothers
,
daywind
,
Dollywood
,
Jim Brady
,
Jordan Wilburn
,
Libbi Stuffle
,
Michael booth
,
national Quartet Convention
,
Ronnie Booth
,
sgma
,
Southern Gospel News
,
The Singing News
,
wilburn and wilburn
Posted in
announcements
,
awards
|
Comments Off

on Daywind Artists Shine At The 2012 Singing News Fan Awards
Written by SGN Scoops on October 13, 2011 – 6:11 pm -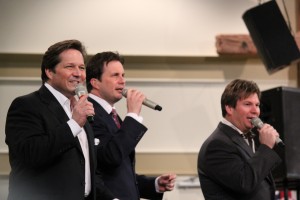 There's no doubt about it, the Booth Brothers are one of the most respected and adored groups in the Southern Gospel Music Industry. In 2011 alone, they received ten awards including Singing News and SGM Fan Awards , a  Diamond Award for Favorite Trio and an Absolutely Gospel Award for "Best Live Performer of the Year."  Fans have made it clear that the Booth Brothers are their FAVORITE! 
What a treat it was for Cleveland, TN to host the "favorite trio" in concert! Southern Gospel Fans from Illinois, Alabama, Tennessee, Georgia, Kentucky and Florida packed out Mount Olive Ministries in Cleveland, Tennessee on Sunday evening, October 9, 2011 for an evening with the ever popular, Booth Brothers.
After the Church Staff welcomed the crowd and opened with prayer, Michael Booth took the stage.  Using the "turtle on a fencepost" scenario, Michael explained that he was grateful for those in the industry that helped them in their early days of music ministry.  Like a turtle on a fencepost, the Booths know there is no way they could have gotten where they are today without help.  The Booth Brothers have made an effort to do the same for a trio on the rise, "Declaration."
Declaration consists of Kasey Kemp, Jake Sammons, and Joshua Horrell.  The trio of young men opened with "Come To The Water."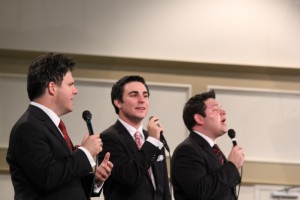 Many in the congregation sang along with their second song, "I Feel Like Traveling On," and 19 year old tenor, Joshua closed out the set with "Blessed Assurance."  Declaration took to the stage as if they had been singing together for years.  Their enthusiasm, tight harmony and evident love for God was well received by the crowd.
Michael Booth, his brother Ronnie Booth and Jim Brady took the stage following Declaration.  The crowd received them well and clapped along with the first song.  The guys moved right on in to "I See Grace," getting their set off to a great start. They sang the tender "Masterpiece of Mercy," penned by Jim Brady and Rodney Griffin from their latest album, Let It Be Known. The Booth's then sang a beautiful version of Squire Parson's "Look For Me at Jesus Feet." Following the two ballads, the guys kicked it up a bit with a crowd favorite, "Welcome To The Family" as many sang and swayed along.
After an official group introduction, Michael teased about how they had all grown up with the black leather, red letter edition of the King James version of the Bible in an Independent Baptist Church singing hymns.  He explained that whoever said "Music brings the world together" was wrong! "Music is divisive," Michael said, "Just get grandparents and kids in the car together and let them find a radio station they both like." In a more serious way, Michael explained their love for great hymns of the church and explained that since hymns have been effective in the church for many years, we need to keep them.  With that said, the Booth Brothers toned down their power-house vocals and sang a medley of hymns A Capella. It was absolutely beautiful!
The Booth's introduced the next song, "She Still Remembers Jesus' Name," by sharing about their Grandmother that suffered with dementia. "It's a difficult thing to see someone's (that once was sharp and strong) body and mind fail," Michael explained. He went on to say that we have to remove our feelings from truth. "People may forget places and names, but if you start quoting scripture or sing a hymn, you can see life bursting forth beyond the death and decay because there is life in Christ," Michael shared.  A great lyric in the song says, "He (Christ) left a mark on her heart that time cannot erase!"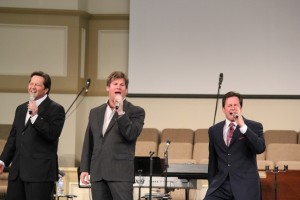 Before the first set was over, the Booth's changed the environment from the sweet acoustic tune to a much more powerful and orchestrated song.  As the song came to an end, fans were on their feet worshiping the Lord.  During a brief break, Declaration came back to the stage to sing.  As Declaration sang, the crowd enthusiastically participated.
The second half of the concert was amazing.  Ronnie Booth opened up by dedicating "Blind Man" to anyone who had never had a song dedicated to them before. The crowd laughed and you could hear voices all over the church singing along to the hit tune.
Michael then introduced Jim Brady's life changing song, "When You Bow At Jesus Feet."  Michael explained, "Jesus came to give us life and give it abundantly.  Simply, money can't buy the abundant life.  I believe part of that abundant life is the ability to walk in freedom from the past and from the guilt and shame from past sin." This song is perhaps the best song Brady has written as yet. 
The music of only the piano and live strings on this ballad serves as a padding to nestle the sweetest message of freedom and forgiveness.  There is no doubt God will use this piece of musical art to lure many to the cross. The heart of the song is found in these lyrics: "There's no need to be held captive beneath the weight that blame can bring. Just pour your heart out to the Savior; He alone can break the chains."  (Read all the lyrics at http://www.boothbrothers.com/lyrics.asp)
The Booths then sang the triumphant tune, "See, What A Morning," from their latest album.  This song is about the resurrection and streams in the familiar "Up From The Grave He Arose" as part of the song.  The crowd loved it and Michael stomped his socks down as he sang, literally!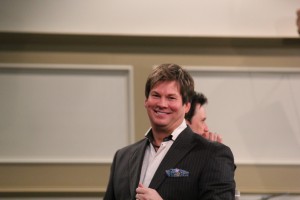 There is no doubt; the precious Spirit of God had been ushered into the church in the sweetest way. A serious moment returned as Michael  poured out his heart concerning genuine salvation. He explained how many people live with a false sense of security because they once walked an aisle or repeated a prayer.  He shared the deep truth of how genuine conversions will result in specific evidences. These evidences are found in scripture.  Scripture tells us if we are really God's children, we will love our brothers and sisters, we will be drawn to God's word and we will be heart-broken at our sin. 
Michael gently preached a moving message about Lordship and how it relates to salvation in the most easily understood way.  It was evident he obeyed the Holy Spirit by challenging everyone there to search deep within and evaluate their relationship with God.  Michael began singing another amazing song written by Jim Brady, "What About Now," which surely grabbed every heart there.
Brady shared with SGNScoops following the concert that it took him 3 years to finalize this song. The message is powerful, yet Brady wanted it to come across gently, "from a friend" so to speak.  "What About Now" pierces the heart by confronting the listener to evaluate their relationship with God and it also explains what salvation is NOT. With God's help, Brady was able write the song to be challenging yet non-threatening. 
The Booth Brother's final song was a convincing performance of "Statement of Faith."  The crowd rose to their feet in agreement with the declaration. 
The Booth Brothers are clearly "Fan Favorites," but honestly- they didn't seem to try to impress anyone or win anyone over.  Despite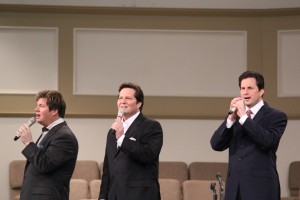 such popularity, the Booth Brothers have stayed grounded to their mission.  They explained that when they minister, they're dealing with three different groups of people: The spiritually mature, weaker Christians-still on milk and the not really converted Christians who think they are.  Their mission is to encourage the Christians, challenge the weak ones to become mature in Christ, and to convince the non-converts to begin a true relationship with Christ.  In Cleveland Tennessee on October 9, 2011 their mission was accomplished!  In addition to an accomplished mission, the night was filled with laughter, amazing music and worship!  Thank you, Booth Brothers!
To learn more about the Booth Brothers, visit their website at  http://www.boothbrothers.com/index.asp.  To learn more about Declaration, visit http://www.declarationtrio.com/.
Concert Review by Rhonda Frye
Photos by Eric Frye
Tags:
booth brothers
,
Declaration
,
Jim Brady
,
Michael booth
,
Rhonda Frye
,
Ronnie Booth
,
southern gospel concerts
,
Southern Gospel News
Posted in
exclusive report
|
Comments Off

on Exclusive Concert Report The Booth Brothers