Written by Staff on September 20, 2015 – 12:02 pm -
Robert York's Concert Rambling's: Hope's Journey's Homecoming
I recently found four great reasons to return to Alabama.  One was Hope's Journey annual Homecoming.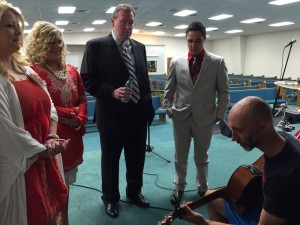 Vonda Easley founded Hope's Journey in 2003 along with her daughter Ashley Easley and Chris Clay. Starting out as a trio,  after two years they added a bass singer, Trent Adams, to become a quartet. When Trent departed from the group in 2008, they returned to a trio.Vonda and Chris had said many times they would like to go back to a quartet and finally a few months ago, they hired Jordan Wilson as their bass singer. Lauren Miller-Huckabee was added just a few weeks before Jordan as they lost a member of the group.
Reason number two was the person that was going to be there to emcee the program. Rob Patz, CEO and founder of Costal Media Group and also publisher of SGN Scoops was to be there. Rob is a great supporter of Southern Gospel music. He promotes several multi-day events a year across the nation. He is a great emcee and speaker. With Rob and Vonda on stage together you get many laughs, but he had to be nice at this concert because Vonda's mom was there.
Then the third reason was that former Hope's Journey member Ashley, who left the group in 2007 to marry Josh Franks, was there. When Ashley married Josh they started singing as a duet and traveled almost every where to share the gospel. Josh, also being a preacher, often held revivals. These two together are a dynamic duet with Ashley's great voice and Josh's energy.
The final reason was The Browders from Hinton, VA, were there. This great family group with Dad Tommy and his testimony will give you one of the greatest uplifting you can receive.
Tommy shares how he developed polio at age two and was not expected to live until age 19, but God saw different and Tommy in the wheel chair continues to sing and play, something that was never expected in his condition. His sons Matthew and David along with Matthew's wife Sonya make up the group.
Vonda introduced Rob, making sure that everything was in line for the door prizes and then Chris had the opening prayer. Rob introduced Josh and Ashley Franks who got the evening off with an up beat song. During their set they brought up their children Priscilla and Eli. You could just see the sparkle in Grandma Vonda's eyes when these two were singing.
Hope's Journey was up next, starting off with "Happy Rythmn." Often their new bass singer Jordan was featured on songs as well as the others in the group.
The Browders came on the stage with "Lift Up His Name" and "He's Alive." Following Tommy's testimony he sang "I Am Blessed," saying, "God has blessed and been so good to me." What a time we all had!
Just prior to the concert beginning, I got a text from Penny Shelnut saying her group Sacred Calling was going to be at a church in Powder Springs the following morning. If you know me, I had to make that event as it was on my way home. Got up early to hear them. 
Sacred Calling has been singing for five years and current members are Nicole Buchanan, Penny Shelnut, Rachel Elkins and Andrew Alder on the piano. Rev. Snyder Turner sang "My Brand New Home" for their 41st Annual Homecoming. He made a comment after the service how he liked Scared Calling. He said he was not much on jokes and appreciated a group that doesn't tell jokes but sings the message. I thoroughly enjoyed Sacred Calling and their Homecoming. 
Thanks to Robert York for this feature.
For more artist features keep reading SGNScoops.
Tags:
Hope's Journey
,
Josh and Ashley Franks
,
Sacred Calling
,
southern gospel
Posted in
announcements
,
artists
,
christian entertainment
,
Christian interest
,
concert reviews
|
Comments Off

on Robert York attends Hope's Journey's Homecoming
Written by Staff on October 9, 2014 – 9:48 am -
The Diamond Awards have a long history of being a gala event with surprise guests, great music and an evening of worship. This year, the Awards are being held at Creekside Gospel Music Convention at Pigeon Forge on November 3rd through 6th. These Awards recognize the best in Southern, Country and Bluegrass Christian music and are hosted by SGNScoops digital magazine and Coastal Media Group.
We urge you to reserve your FREE tickets HERE
SGN Scoops would like you to meet our top-five finalists for each category of the 2014 Diamond Awards.
Today's category is the Sunrise Award, given to a new or developing artist who has seen growth in their career during the past year.
Last year, we were happy to present this award to Morgan Easter.
The 2014 Nominees for the Sunrise Award are:
11th Hour
His Mercies
Master's Promise
Sacred Calling
Adam's Call
The Diamond Awards are swiftly approaching. Reserve your free tickets today!
Tags:
11th Hour
,
2014 Creekside Gospel music Convention
,
Adam's Call
,
diamond awards
,
His Mercies
,
Master's Promise
,
Morgan Easter
,
Sacred Calling
,
sgn scoops
Posted in
announcements
,
artists
|
Comments Off

on 2014 Diamond Awards presents the Nominees for the Sunrise Award
Written by SGN Scoops Staff on June 11, 2013 – 7:45 am -
We're excited about the June issue of SGNScoops Magazine. What a BUSY month! Scattered all over the country, our writers have captured some of the most exciting events and happenings in Gospel Music. A lot of cool things have been going on in the ministry of the Kingdom Heirs. The Kingdom Heirs are featured as the cover story this month, so don't miss their story. Also this month, Adam Crabb talks about his new album, Ava Kasich shares a powerful testimony, the Jay Stone Singers and Sacred Calling share their latest too. Enjoy the latest in Christian Country news with Paul Summers, and get a younger perspective with Dustin Leming. Be encouraged by Dr. Jeff Steele's devotion and be inspired by Lou Hildreth's Life, Love and Legends. Laurette Willis of Praise Moves shares an article regarding Christian Fitness. The June issue is a special edition due to all of the events covered. Enjoy the inside scoop on the Great Western Fan Festival, Singing in the Sun, Inspiration Pop 2929 Movie Premier, as well as a Union Street concert review. Don't miss the inside scoop and look ahead to the Gospel Legends Reunion too. This issue also includes June Music Reviews and a book review on New York Times Best-Selling Author, Ken Abraham's WHEN YOUR PARENT BECOMES YOUR CHILD. June is indeed a busy month of spotlighting the world of Southern Gospel Music! SGNScoops Magazine is free, so please share with your friends, fans and family!
Tags:
Adam Crabb
,
Allison Durahm Speer
,
Ava Kasich
,
Biblical Times Theater
,
Christian Country News
,
Creekside Gospel Music Convention
,
Dixie Phillips
,
ew York Times Best-Selling Author
,
Gospel Legends Reunion
,
Great Western Fan Fest
,
Inspiration Pop 2929
,
jay stone singers
,
Ken Abraham
,
Lorraine Walker
,
Paul Summers
,
Pauline Patterson
,
Rhonda Frye
,
Rick Kiser
,
rob patz
,
Sacred Calling
,
Sandi Duncan Clark
,
southern gospel concerts
,
Southern Gospel Music
,
Southern Gospel News
,
The Kingdom Heirs
Posted in
announcements
,
sgn scoops magazine
|
Comments Off

on June 2013 SGNScoops Magazine