Written by Staff on August 29, 2017 – 1:42 pm -
The Carolina Quartet is rich in talent and legacy. Most of the group members have been together off and on for 20-plus years. When you attend one of their concerts, you will enjoy energetic performances, great songs, clean vocals, enthusiasm and a true love for the people they sing for and the Lord they serve. Those Carolina characteristics are the ingredients of a professional music group that can only be said for a few in today's gospel music circles.

The group's sound is defined by the recognizable lead voice of Scott Whitener. Now, Whitener is no stranger to gospel music. His first singing experience was with the church trio where his dad pastored. He was an influential member of the regional powerhouse quartet the Regals for many years. In 1987, he joined the award-winning Singing Americans. His dynamic voice and interpretations really grabbed the attention of Gospel Music fans in this time.


After leaving the Singing Americans, Whitener also sang lead with Jericho – which was formed along with Dwayne Burke of the Singing Americans – until 1996. This group was recognized for their smooth, focused vocals in a church ministry setting.

Subsequently, Whitener transitioned to the Melody Masters in the mid-1990s as lead singer. During that time, the group lineup of Chris Roberts, Whitener, Roger Burnett, and Richard Sanders achieved success with performances at the National Quartet Convention and the Canadian version of the NQC, which was held in Canada's in Red Deer, Alta.

As in life, things come full circle. After more than 20 years in full-time Gospel Music, Whitener is now an ordained minister, serving as senior pastor of Temple Baptist Church in Gastonia, N.C., and as lead pastor of Gateway Cowboy Church in Stanley, N.C.
Tags:
Carolina Quartet
,
Chris Roberts
,
christian country
,
gospel music
,
Roger Burnett
,
Scott Whitener
,
southern gospel
Posted in
christian entertainment
,
Christian interest
,
sgn scoops magazine
|
Comments Off

on Sights and Sounds of the Carolina Quartet by Charlie Griffin
Written by SGN Scoops on September 20, 2011 – 10:22 am -
Bessemer City, NC (Son Sound Studios, Inc.) Rev William McRea, of Northern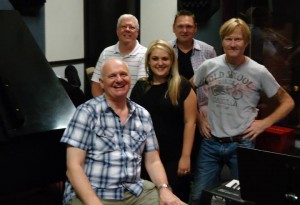 Ireland was recently state-side completing his brand new recording project. The production team of Chris Roberts and Scott Whitener along with the musicianship of David Johnson, Richard Putnam, Mark Fain and Donnie Marshall made this recording project one of the best we have produced for Rev. McRea.
 
Stay tuned for more details regarding this recording and visit daybreakrecordings.com  for more information on William McRea.
 
For more information on Son Sound Studios and all our services visit www.sonsoundstudios.com .
Tags:
Chris Roberts
,
Scott Whitener
,
Son Sound Studios
,
Southern Gospel Music
,
Southern Gospel News
,
William McRea
Posted in
announcements
|
Comments Off

on WILLIAM MCREA OF NORTHERN IRELAND VISITS SON SOUND STUDIOS
Written by SGN Scoops Staff on January 29, 2011 – 6:05 pm -
Bessemer City, NC – January 28th, 2011 – Tim Davis, Jeff Moore, Michael Brooks and Tim Perry of Fortress were recently
at Son Sound Studios, recording vocals for their latest 2 CD releases. The quartet enlisted the help of producer, Scott Whitener, formally of  The Singing Americans and Son Sound staff engineer, Ritch Robinson. These recordings will feature many of their fan's favorites as well as many great quartet songs.
Fortress is a Clayton, NC based Southern Gospel Quartet who is committed to sharing the Good News of Jesus Christ in song. For more information on their ministry visit them at www.fortressnc.com. To learn more about Son Sound Studios visit their official website at www.sonsoundstudios.com.
Tags:
Fortress
,
Scott Whitener
,
The Singing Americans
Posted in
announcements
,
christian entertainment
,
Christian interest
|
Comments Off

on Fortress to Release Two New Projects
Written by Rhonda on November 23, 2010 – 6:18 am -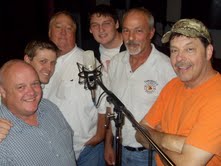 (Bessemer City, NC) Son Sound Studios announces a new recording agreement with New Grace Quartet of Trinity, NC. New Grace is a new Southern Gospel ministry featuring Curtis Small-Bass, Allen Mays-Tenor, Steven Dixon-Lead, Billy Ayers-Baritone and Jacob Wood-Baritone. The quintet has been ministering in churches throughout North Carolina over the past year. Staff producers began recording tracks back in September which featured a brand new original song penned by none other than Rodney Griffin. The guys completed vocals mid November with producer, Scott Whitener, former lead singer for the legendary Singing Americans. Son Sound and New Grace are excited about the debut, yet to be titled project that will be released the beginning of 2011. You can find out more information about New Grace Quartet and the anticipated release date by going to www.newgracequartet.com. For more information of Son Sound Studios and all their recording services visit www.sonsoundstudios.com
 
Pictured Left to Right: Allen Ayers, Steven Dixon, Billy Ayers, Jacob Wood, Curtis Small and Scott Whitener.
Tags:
Allen Mays
,
Billy Ayers
,
Curtis Small
,
Jacob Wood
,
New Grace Quartet
,
Rodney Griffin
,
Scott Whitener
,
Son Sound Studios
,
Steven Dixon
Posted in
announcements
|
Comments Off

on New Grace Quartet in the Studio