Written by scoopsnews on September 7, 2020 – 9:21 am -
Have you ever wondered what the Bible says about Labor Day?  We did too so we asked biblestudytools.com and here is what we found out.
The beginning of work is from the beginning of time. God Himself worked for six days and rested on the seventh. When God completed creation He called it "very good". We are created in the image of God and are designed to experience success and fulfillment through hard work! As Christians, we should view our jobs as an opportunity to serve God through perseverance and patience, and serve others through a Christ-like attitude. This Bible verse can be used to reflect on your work during Labor Day and any time of the year.
Colossians 3:23
23 Whatever you do, work at it with all your heart, as working for the Lord, not for human masters,
ONE DAY ONLY……..
In Celebration of Labor Day , SGN scoops is offering Buy one Get one Subscription to SGN SCOOPS Magazine. The LeFevre Quartet is on the cover of September so it's a great time to subscribe!
One for you and one for a friend, TODAY ONLY.
Subscribe Here:
Tags:
Labor Day Sale
,
sgn scoops magazine
Posted in
announcements
|
Comments Off

on Labor Day Sale at SGN Scoops
Written by SGN Scoops Staff on August 27, 2020 – 11:44 am -
We are happy to present to you the August 2020 issue of SGN Scoops Magazine. We hope you take the time to read it cover-to-cover as there are many great features inside.
Gordon Mote is our cover story this month, and I'm sure you will enjoy his recollections and comments as told to Dixie Phillips. I learned a lot about the life of this extremely talented gentleman that I wasn't aware of before and I'm sure you will as well.
Also featured are actress/ singer Rachel Jeanette,  bluegrass artists Joe Mullins and the Radio Ramblers, young artist Levi Bowman, a tribute to Ed Hill and so much more.
Don't miss the SGNScoops music charts, DJ Spotlight, Publisher's Point, and Creekside Update. All this and more await your perusal. Special thanks as always to our wonderful writers, creative team, and editorial staff.
Tags:
sgn scoops magazine
Posted in
announcements
|
Comments Off

on August 2020 SGN Scoops Magazine
Written by SGN Scoops Staff on July 23, 2020 – 9:52 am -
First off, we have a cover story of one of the Crabb Family. Adam Crabb is a soloist, as well as being a member of the Gaither Vocal Band. As you read about his life, I hope you see Adam's big beautiful heart, which has been made and moulded by God.
We have so many other great artists that we also are highlighting in this issue, including the great Guy Penrod, the top-notch Jerry Sally, and those Christian Country artists with the comedic flair, Sunday Drive. Be sure you don't miss the stories on Dallas Rogers, Beyond Grace, and Mary Burke. All of this, plus the DJ Spotlight, the Publishers Point, the SGNScoops charts, and the new release reviews. And there's even more, so be sure not to miss one page.
Special thanks to all of our wonderful writers, creative/design staff, and editorial group for the hard work and time commitment that you give to SGN Scoops every month. You are so appreciated!
Tags:
sgn scoops magazine
Posted in
sgn scoops magazine
|
Comments Off

on July 2020 SGN Scoops Magazine
Written by SGN Scoops Staff on June 22, 2020 – 2:46 pm -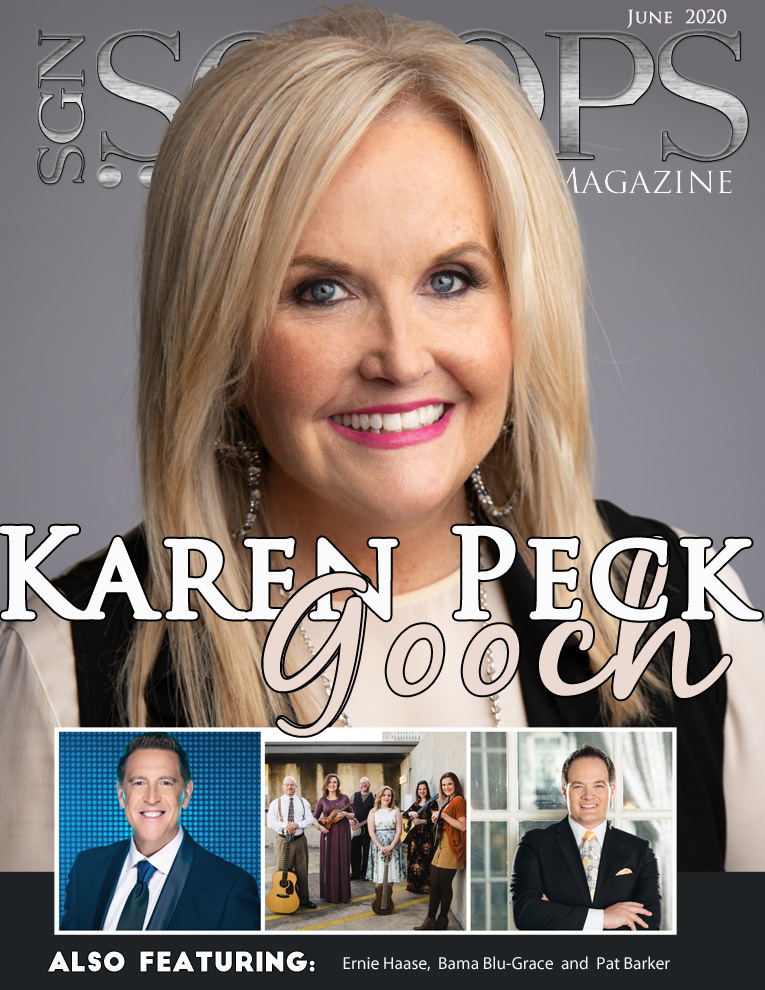 Come celebrate Summer with us at SGN Scoops Magazine! The June issue is now online and we invite you to enjoy every single page.
Our leading lady this month is none other than Karen Peck Gooch and I know you'll learn something about her in this article that you never knew before. Jennifer Campbell had a good talk with Karen and you will enjoy what Karen had to say.
Our spectacular lineup continues with Ernie Haase, Pat Barker, Levi Mills, and Jay Parrack. Meet songwriter Bernadette Negus and our Pastor of the Month, Rev. Rick Ramsey.
All this plus top song charts, new CD reviews, the DJ Spotlight, and more.
Thank you for reading the June issue and we hope you have been uplifted, entertained, encouraged, and brought closer to the God we serve. Jesus is our reason, regardless of the season!
Tags:
Outhern Gospel Music
,
sgn scoops magazine
,
Southern Gospel News
Posted in
sgn scoops magazine
|
Comments Off

on June 2020 SGN Scoops Magazine
Written by scoopsnews on June 16, 2020 – 9:42 am -
  Song Title     Artist/Label
1.There Is A God ….. Hyssongs/Chapel Valley
2.Yes…..Triumphant/StowTown/Sony
3. The God I Serve….. Karen Peck & New River/ Daywind
4. I Got The Grace, He Gets The Glory….. Old Paths/Crossroads
5. How About You….. Whisnants/UIA
6. Grace Became Amazing….. Gordon Mote/New Haven/Provident/Sony
7. I See Revival….. Crabb Family/Daywind
8. I Remember The Fish….. Greater Vision/Daywind
9. Learning To Dance In The Rain….. Jeff & Sheri Easter/Gaither Music
10. I Sang Myself Happy….. Old Time Preachers Qt/Family Music Group
11. I Believe The Book….. Legacy Five/Daywind
12. A Song To Remind You….. Steeles/StowTown
13. House Of God….. Taylors/StowTown
14. King Of Kings….. Kingsmen/Crossroads
15. Table Of The King….. Tim Livingston/Independent
16. Love Like I'm Leavin….. Gaither Vocal Band/Gaither Music
17.Love Don't….. 11th Hour/Crossroads
18. I'll Never Get Over The Blood That I'm Under….. Kingdom Heirs/Crossroads
19. Get Me There….. Talleys/Crossroads
20. Go Down Again….. Wisecarvers/Crossroads
21. Between The Prayer And The Answer….. LeFevre Quartet/New Day Records
22. Didn't He Promise….. Lore Family/Crossroads
23. Amazing Amounts Of Amazing Grace….. Down East Boys/Crossroads
24. Without Jesus….. Brian Free & Assurance/Daywind
25. We Are Not Ashamed….. Hope's Journey/Independent
26. God Has Provided Himself A Lamb….. Mark Trammell Quartet/Crimson Road
27. After The Storm….. Erwins/StowTown
28. If This Altar Could Talk….. Williamsons/Family Music Group
29. How Big Is God Medley….. Guardians/Stowtown
30. Those Same Hands….. Gold City/Sony
31. Forever Settled….. Inspirations/Crossroads
32. This Grace….. Joseph Habedank/Daywind
33. Can't Wait To Hear The Sound….. Justified Quartet/Independent
34. I Want To Live For Jesus….. Mylon Hayes Family/Independent
35. Til The End….. Freemans/Independent
36. Seeking For Me….. Mercy's Well/Independent
37. Just As Blessed….. Josh & Ashley Franks/Independent
38. Peace Like A River….. Master's Voice/Crossroads
39. Behold The Lamb….. Bowling Family/Daywind
40. I'll Say Thanks….. John Whisnant/Independent
41. Awesome Power Of Prayer….. Collingsworth Family/StowTown
42. I Will Glory In The Story….. Austin & Ethan Whisnant/UIA
43. Can I Get A Witness….. The Sound/New Day Records
44. God Is Shaking Our Land….. Sweetwater Revival/ Independent
45. I'm Saved….. Hoppers/Hopper Music Group
46. Fear Not….. Tribute Quartet/Daywind
47. Glorious God….. Lauren Talley/Crossroads
48. Happy Glad Day….. Heart 2 Heart/Family Music Group
49. When I Turn To You….. Jason Crabb/Daywind
50. Water Walker….. Kramers/StowTown
51. Angels Sing My Victory Song….. Sunday Drive/Crossroads
52. River Of Grace….. Zane & Donna King/Journey Records
53. God At His Best….. Michael Combs/Independent
54. More Than Enough….. Bibletones/Independent
55. Walking Through Fire…..Ernie Haase & Signature Sound/StowTown
56. Beginning Again….. Greg Sullivan/Resting Place Music
57. I Can't Quit …..Adam's Family/Family Music Group
58. Lord Send Me A Mountain….. Porter Family/Chapel Valley
59. March On …..Blake & Jenna Bolerjack/Independent
60. A New Look …..Blackwood Brothers Quartet/Daywind
61. It Never Gets Old….. Perrys/StowTown
62. Brand New Song….. Sisters/Independent
63. Devil's Hand….. Adam Crabb/Daywind
64. I'll Have A New Song….. Ivan Parker/UIA
65. Troubled Sea….. Hazel Parker Stanley/Patterson Music Group
66. Riding The Wind …..Jackson Heights/Mainstreet
67. Nothing But….. Three Bridges/Crossroads
68. Jesus Is Holding You….. Joy Holden/Independent
69. Heaven Is Mine….. Mike Bowling/Daywind
70. Better Off There….. Browns/Independent
71. Standing In The Need Of Prayer….. Darrel Luster/Patterson Music Group
72. Old Fashioned Way….. Joyaires/Independent
73. Heaven….. Soul'd Out Quartet/Crossroads
74. For Your Glory….. Battle Cry/ Independent
75. Countless….. Endless Highway/Crossroads
76. If God Pulled Back The Curtain….. Nelons/Daywind
77. Foundation….. Steve Hess & Southern Salvation/Mansion
78. Leavin….. Littles/Independent
79. Guilty….. Reign Down/Independent
80. Somewhere Praying….. Bates Family/Independent
81. Dear Yesterday….. Michael Booth/Daywind
82. Daddy Is Home….. Chosen/Independent
83. Fearfully and Wonderfully Made….. Journeys/Chapel Valley
84. When I Leave It In Your Hands….. Billy Huddleston/Independent
85. Never Be The Same….. Purpose/Chapel Valley
86. Just Beyond The River Jordan …..Jim & Melissa Brady/Daywind
87. There's A Hill Lone and Gray….. Chuck Wagon Gang/Crossroads
88. Heaven Is Mine …..Woodalls/Patterson Music Group
89. 39 Chapters Later …..Liberty Quartet/Independent
90. Joy Is Not Cancelled …..Collingsworth Family/StowTown
91. I Can Tell You The Time….. Dixie Melody Boys/Independent
92. He's Still There….. Lance Driskell/Independent
93. Dream Small….. 3 Heath Brothers/Crossroads
94. A Greater Healing …..Melissa Evans/Chapel Valley
95. Preacher's Daughter …..Pardoned/Mansion
96. Climb….. BloodBought/Independent
97. Broken China….. Michael Roberts/Independent
98. In Jesus Name We Pray….. Port City Quartet/Independent
99. Here I Am Lord….. 4 Calvary Quartet/Independent
100.  Build One For Me….. Ed Meadows/Independent
*This chart will be published in the July edition of SGN SCOOPS magazine.
Tags:
sgn scoops magazine
,
SGNScoops Top 100
Posted in
announcements
|
Comments Off

on Congratulations to The Hyssongs and The SGN SCOOPS Top 100 Southern Gospel (July 2020)
Written by SGN Scoops Staff on May 19, 2020 – 11:50 am -
It's May and we are happy to present the online issue of SGN
Scoops Magazine. We hope this month provides entertainment, encouragement, and maybe even some introspection.
11th Hour has become one of Southern Gospel's favorite trios, and Dixie Phillips provides an exceptional article on these vocalists. Find out everything you wanted to know about Amber, Logan, and Jaquita.
Gospel Music lost a pioneer in April and John Herndon pays a special tribute to the late Gary McSpadden. Also featured are Zane and Donna King, HighRoad, Randy Miller, and the Old Time Preachers Quartet.
All of this plus monthly radio charts, music reviews, updates, and a special article discussing the artists' response to COVID19 by Charlie Griffin.
We trust you are doing well and keeping safe as areas move out of isolation and slowly back to our new normal. Take care and remember that God is everywhere and provides healing and comfort. Have a little talk with Him today!
Tags:
sgn scoops magazine
,
Southern Gospel News
Posted in
announcements
|
Comments Off

on May 2020 SGN Scoops Magazine
Written by scoopsnews on April 21, 2020 – 5:47 pm -
These are The SGN SCOOPS TOP 20 NEW Releases as picked by the SGN SCOOPS
Reporting Stations this month.
A Special Radio Show will air on SGM RADIO this week, Thursday at 6:00 PM CST.
Tune in to hear the Top 20 songs with Host, Jack Armstrong.
Listen to SGM RADIO  HERE
Tags:
Jack Armstrong
,
New Releases
,
sgm radio
,
sgn scoops magazine
Posted in
announcements
|
Comments Off

on Top 20 New Release Show to Air on SGMRADIO This Week…. You are invited to tune in!
Written by SGN Scoops Staff on March 19, 2020 – 2:01 pm -
March is here and so is our latest edition of SGN Scoops Magazine. We hope that you will read it cover-to-cover and enjoy every feature. Read SGN Scoops Magazine HERE
Our cover story this month is the Browders. This family has been heating up the gospel music charts in the last few months with songs from their latest album, Authentic. Justin Gilmore introduces us to each member and shares their stories.
Other stories we are sharing this month include Exodus, Canaan Coffman, Tonja Rose, Kenny Smith, and Sammy Ward. Special thanks to our publisher, Rob Patz, for talking to the renowned Paul Heil.
Bill Dykes talks to Dr. Charles Keen, Vonda Armstrong talks to DJ Brian Rothwell, and the Coastal Events Update showcases Southern Gospel Weekend, in Oxford, Alabama.
All this, plus radio charts, the Publisher's Point, and the Editor's Last Word. We do hope you enjoy everything that we have gathered from the world of gospel music to share with you this month.
We also hope that you have read about Jesus Christ, how to experience faith in him, and how real people live their faith in this world.
Tags:
sgn scoops magazine
,
Southern Gospel News
Posted in
announcements
|
Comments Off

on March 2020 SGN Scoops Magazine
Written by scoopsnews on January 1, 2020 – 9:09 am -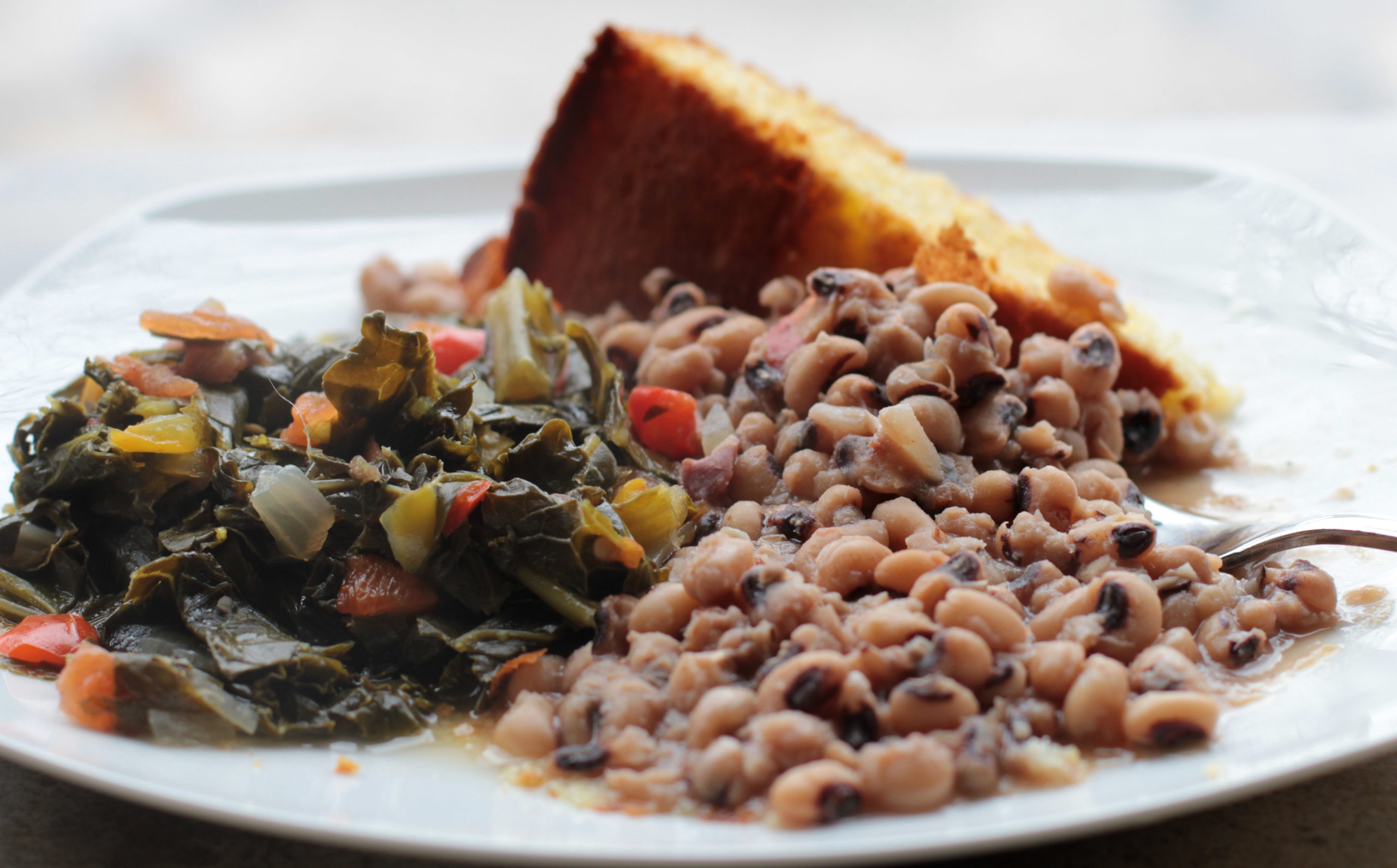 Happy New Years!
According to Southern Living Magazine,  you will have good luck for the entire year if you have the traditional New Year's  Day meal. That means a meal of greens, "hoppin' John", black-eyed peas, and cornbread.
What are you eating on New Years Day?
Tell us your plans and traditions.
May God richly bless you and your family in 2020.
Check out this cool video of New Years celebrations that took place all over the world. (CNN YOU TUBE)
Tags:
New Years Day
,
sgn scoops magazine
Posted in
announcements
|
Comments Off

on New Year's Day Traditions…. What Are Yours?
Written by SGN Scoops Staff on February 13, 2019 – 2:23 pm -
We are happy to present the February issue of SGNScoops Magazine! It's been a very wintry month so far, so we hope you have a moment to sit with a hot drink and read this month's presentation of great gospel artists.
This month, we also talk to Evidence Quartet, Surrendered, and Christian Country sweetheart, Tonja Rose. Les Butler is back with Bluegrass artist, Danny Roberts, of the Grascals. Our Bluegrass Gospel section also features Daniel Thrailkill, of the Trailblazers. We hope you enjoy all the variety of talent that each of our terrific writers unveil for you.
Tags:
sgn scoops magazine
,
SGNScoops Magazine
,
Southern Gospel News
Posted in
announcements
|
Comments Off

on February 2019 SGNScoops Magazine