Written by SGN Scoops Staff on February 25, 2014 – 7:45 pm -
Ann Downing is excited to announce the 23rd event that seeks to provide an atmosphere of encouragement and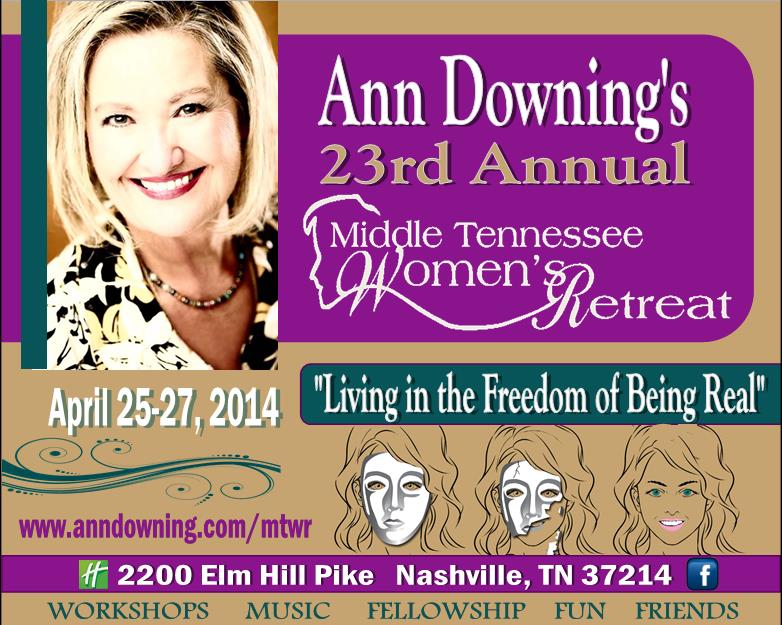 emotional safety for women of all ages, denominations, and cultures while learning more about themselves and the grace, hope and love of God.
Founders Paul and Ann Downing had a vision to provide a place where women from all walks of life could come one weekend each year for the purpose of reconnecting with themselves by taking time away from their "everydayness" and looking to Jesus for their true identities. Having lost everything of earthly value, except each other, Paul and Ann knew first-hand what the healing power of God could do in a relationship. They set their sights to what they believed was a calling of God … to establish a retreat for women. Just two months before the first retreat, Paul passed away. During the 56 day hospital stay, Ann had to decide the fate of the retreat. Knowing Paul would have it no other way, the retreat went on as planned. Amazingly, as only God can do, Ann was the one most
ministered to during that first retreat.
Her grief bore the emotional safety Paul desperately wanted the retreat to foster, and that safety contributes largely to the reputation for which Middle Tennessee Women's Retreat is known today.The weekend opens with an evening full of surprise music guests. Saturday and Sunday offer theme related workshops. This year's retreat will be held April 25-27th, 2014 (Friday evening-Sunday Noon) at the Briley Parkway Holiday Inn in Nashville. The hotel is located just minutes from Nashville International Airport, Opry Mills Mall, Opryland Hotel and the Grand Ole Opry.
Ann extends this invitation, "May I remind you that God, the Creator of the Universe, doesn't make mistakes? He ordained your days! He created you with purpose! He gifted you with a unique personality and individual characteristics! Life has a way of burying the REAL us. I invite you to join me and a host of ladies for a weekend offering insight that can change your life. We're looking for freedom as God intended… LIVING IN THE FREEDOM OF BEING REAL."
Keynote speakers for 2014 are Kendra Smiley and Sue Duffield. Workshop speakers include Sharron Kay King, Kathy Blume, Vickie Edwards, Darlene Chapman, Barbara Davis, Sheri Thrower and Jeana Traynor with special worship times also led by Sheri Thrower.
Registrations are accepted through April 25th with an early registration special until March 1st. The registration fee covers all materials for the retreat plus a luncheon and dinner banquet on Saturday. For more information visit www.anndowning.com/mtwr or contact the Ann Downing Ministries office at 1-877-886-1629 to receive a brochure.
Tags:
Ann Downing
,
Barbara Davis
,
Darlene Chapman
,
Kathy Blume
,
sharron kay king
,
Sheri Thrower
,
Southern Gospel Music
,
Southern Gospel News
,
Vickie Edwards
Posted in
announcements
|
Comments Off

on ANN DOWNING ANNOUNCES "23rd MIDDLE TENNESSEE WOMEN'S RETREAT"
Written by Staff on January 9, 2014 – 2:04 pm -
The Talleys unmistakable sound, progressive southern gospel style, and ministering hearts have made them a fan favorite and one of the most respected groups in the gospel music industry. Their accolades include ten number one singles, Dove Award nominations, Singing News Fan Awards, the Southern Gospel Music Guild Harmony Honors, the BMI Awards, SGN Music Awards and the honors aren't stopping. They keep rolling in. Although the group is noted for their powerful vocals, tight harmonies, smooth blend, and dynamic arrangements, colleagues insist The Talleys' hearts are just as pure as their sound.
The group believes in giving back and pouring into the lives of others. Every year Debra and Lauren are heavily involved in teaching at Steve Hurst School of Music (SHS). Students come from across the United States to study under them. Gary Casto, lead singer and manager of Tribute Quartet, tells us, "Debra and Lauren are incredible teachers and have been instrumental in making SHS very successful.  Their knowledge of vocal performance has benefited the students, as well as our industry."
Casto considers it an honor to know this incredible family. "They have set the bar high for many years and have paved a solid road for other artists to follow."  Casto has also enjoyed working with Roger in the studio on numerous occasions. "He demands musical excellence and at times it can be quite challenging. He will always push artists to work their hardest. He insists they come up a level, but when he is finished, they always have a product they are proud of."
Lauren has periodically provided vocal and performance coaching for groups and individuals.  She is proud that many of her students have developed into amazing performers and communicators. "When I am coaching, my purpose is to take the artist's gifts and help them tap into their hidden potential. They hit notes they never dreamed they were capable of and learn the art of communicating a song. I never get tired of seeing the newfound confidence on their faces. It is the greatest feeling in the world." Lauren's clientele include: Susan Whisnant, The Browns, The Beene Family, Jody Brown Indian Family and most recently she coached 11th Hour in preparation for their first NQC performance. "I am extremely proud of them all!"
When a student at SHS heard The Talleys sing in concert for the first time, she was deeply moved by their heartfelt performance and humility. She remarked, "Few gospel groups have left their mark and reached the pinnacle of success The Talleys have, yet they maintain lives of integrity and humility. It's evident they believe what they sing."
Sheri Thrower has been a teacher at Steve Hurst School of Music for ten years. She has worked closely with Debra and Lauren. "I don't consider them just co-workers, but genuine friends. If I could use two words to describe Debra, it would be "World Class." She always carries herself with grace and dignity, and is a great encouragement not only to the SHS students, but to our staff, as well. She portrays beauty from the inside, out. I love her like family."
Thrower considers the mega-talented group a beacon for all artists involved in gospel music. "Their tenacity, love, and heart for people is evident in everything they sing and do. They are stellar musicians. In a world where families are falling apart, they remain strong and secure, pointing others to the Good News of Jesus Christ."
Tags:
Christian Music
,
Debra Talley
,
Gary Casto
,
gospel music
,
January 2014
,
Lauren Talley
,
Lorraine Walker
,
roger talley
,
September 2013
,
sgn scoops
,
Sheri Thrower
,
southern gospel
,
Steve Hurst School Of Music
,
The Talley's
Posted in
artists
,
exclusive report
,
sgn scoops magazine
|
Comments Off

on The Talleys – A Family Affair
Written by SGN Scoops Staff on February 28, 2013 – 11:38 am -
The Littles
By Lorraine Walker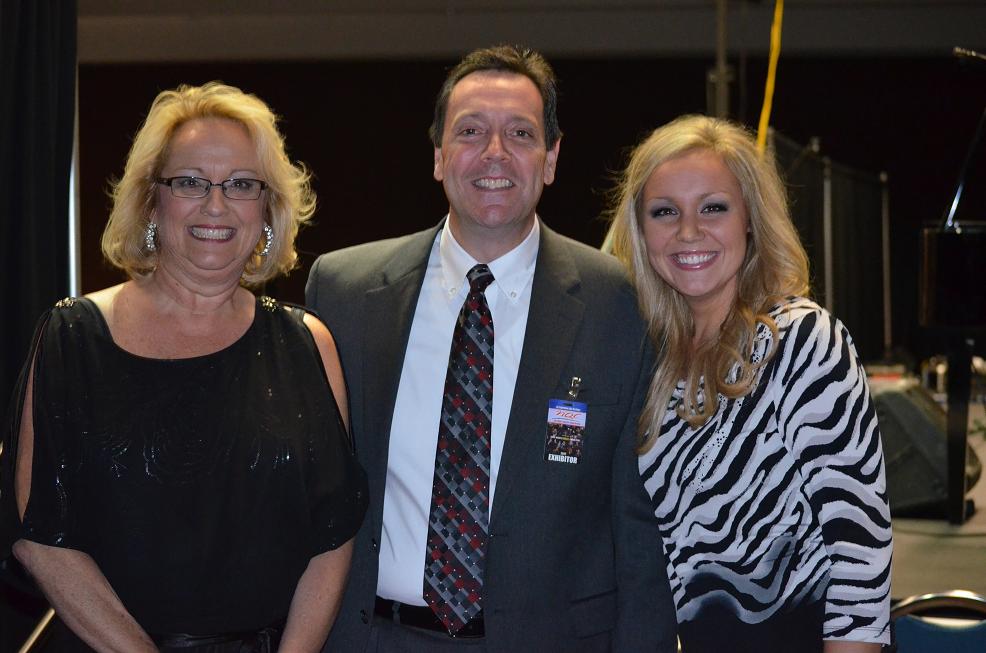 There are many venues that represent success in Gospel music, but few are as respected
as the Main Stage at the National Quartet Convention (NQC). The artists that perform on
this revered platform are the best of the best. The Littles, a family group from Monroe, North
Carolina, have been working hard to achieve their goals as Christian artists. This year they have
seen their first single release to radio hit the charts and they were thrilled to be asked to perform
on the Main Stage this September in Louisville Kentucky. Hard work, diligence to their craft and
keeping their mind on ministry has allowed these artists to begin to see their dreams fulfilled.
Someday Soon is the latest CD from The Littles, recorded at Harvest Gospel Studios in
Huntington, West Virginia. The project was arranged and produced by John Darin Rowsey and
the single "I Know" debuted on the Singing News Top 80 Chart at #64. This was also the song
The Littles chose to sing on the Main Stage of NQC, where they were asked to appear as the Top
Showcase Group. "We each felt incredibly honored and excited, but at the same time humbled
that the Lord would allow us the opportunity to share His love with so many," says Jack Little.
"Just thinking of the potential doors God will open as a result of those few minutes on the main
stage, and the hearts that He will be able to reach through us is something to be excited about!"
"We chose to sing "I Know" for a few reasons," Little continues. "First and foremost,
the message of the song is so important for believers. There are many things about life we don't
understand, but we can live with certainty that God has everything under control and He loves us
so much! Secondly, it is our current release to radio, and not only are we proud of what the Lord
is doing, but we also wanted to honor the hard work of the writers who so kindly allowed us to
record their song, Ms. Tammie Herring, and Ms. Sheri Thrower."
Singer/Songwriter Sheri Thrower says, "I sure wish I could've been at NQC this year, but
I am so thrilled to hear all the good reports. I guess I'm especially glad to hear about The Littles
who won the Regional Artist Show Case and were honored to sing on the main stage with a song
Tammie Herring and I wrote called, "I Know." They are Steve Hurst School of Music students
and have worked so very hard. Their first single ever, in the first month, has hit the charts. More
than that, this family is tight! They have been through very difficult circumstances and the Lord
has raised them up. I think your readers would love hearing how this group can sing songs
like "I'm Gonna Make It" and others on their project, because of their faith and strength in the
Lord. It's true that you can tell if a person or group has been broken by the way they sing. The
Littles don't just perform, they minister."
Ministry is something that Jack Little, an ordained Baptist preacher, has been familiar
with for over 17 years. Jack was introduced to Southern Gospel after becoming a Christian
in 1987 and then began singing with his wife Jan in various groups. In 2006, their daughter
Rebecca joined them and they began traveling locally as The Littles, while continually striving
to improve their sound and performance. They also began to attend the Steve Hurst School Of
Music. Director Steve Hurst says, "The Littles are a part of the Steve Hurst School family. We
are so glad to be a part of their ministry. The Littles have worked so hard to reach the vocal
level where they are now singing. Their love for the Lord coupled with their music abilities will
take them far. We believe that many lives are changed each day by their ministry. Churches
and promoters would be blessed by bringing the Littles to into their services and concerts. We
are blessed to know them." Read more »
Tags:
Harvest Gospel Studios
,
John Darin Rowsey
,
Lorraine Walker
,
Main Stage at the National Quartet Convention
,
Sheri Thrower
,
southern gospel
,
Steve Hurst
,
Steve Hurst School Of Music
,
The Littles
Posted in
artists
,
christian entertainment
,
Christian interest
|
Comments Off

on The Littles By Lorraine Walker
Written by SGN Scoops Staff on January 10, 2013 – 5:59 pm -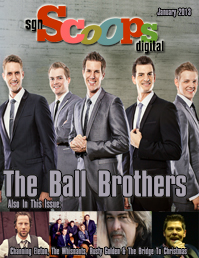 We're kicking off 2013 with a jammed packed exciting issue of SGNScoops Magazine! Get to know the Ball Brothers this month as our cover story. Other ministries highlighted this month are The Whisnants, Rusty Golden,Woody Wright, Richard Kiser, The Brady's and Sylvia Green. In this edition, SGNScoops shares details regarding the Sandi Patty, Jason Crabb Christmas Tour, the Brooklyn Tabernacle Christmas and The Bridge Ministry's "The Bridge To Christmas." Rhonda shares behind the scenes to Channing Eleton's new music video and Stephanie Kelley shares her Disney On Ice/Wigs for Children With Cancer experience. Sandi Duncan Clark reviews new music and Angela tells how the Williamsons are involved with spreading the Word of God in Kazakhstan. Other articles of interest include a devotion from John Mathis Jr, memories from Lou Hildreth, a challenge to develop professionally with special guest writer, Sheri Thrower. Rhonda begins a new series called, "Whatever It Takes" focusing on the importance of effective faith sharing. Get fit with Laurette Willis, catch up with Jeff Hawes on the road with Karen Peck and New River and read about plans for the 2013 Creekside Gospel Music Convention! Thank you for making 2012 a great year, and help us make 2013 even better. Please share SGNScoops Magazine with your friends, fans and family. Always Digital, Always Free, Always Good!
Download SGNScoops Magazine Here
Tags:
Ball Brothers
,
Brooklyn Tabernacle Christmas
,
Channing Eleton
,
Creekside Gospel Music Convention
,
Disney On Ice
,
he Whisnants
,
Jason Crabb
,
jeff hawes
,
john mathis jr
,
karen peck and new river
,
Kazakhstan
,
Lorraine Walker
,
Lou Hildreth
,
Rhonda Frye
,
Richard Kiser
,
rob patz
,
Rusty Golden
,
Sandi Duncan
,
Sandi Duncan Clark
,
sandi patty
,
Sheri Thrower
,
Southern Gospel News
,
Stephanie Kelley
,
The Brady's
,
The Bridge Ministry
,
The Bridge To Christmas
,
The Williamsons
,
Woody Wright
Posted in
announcements
,
scoops
,
sgn scoops magazine
|
Comments Off

on January 2013 Edition Of SGNScoops Magazine