Written by Staff on October 11, 2017 – 11:12 am -
David Akin, a man called of God, is a preacher, musician, singer and father of three boys. His journey started 30 years ago when God called his name while he was leading praise and worship from a piano at his home church, Harp's Crossing Baptist in Fayetteville, Ga.. For a few years, he worked with preaching evangelists, leading choirs and singing special music. When his boys became three, five and seven, God laid it on his heart to go out on his own and form a family ministry. The Akins immediately started singing, never had any stage fright, and never looked back.
Some years earlier, David had been with a friend who had lost his dad, a well-known evangelist that had traveled worldwide. That night, as he watched the tears run down his friend's face, he felt compelled to go to his room, where he fell on his knees and asked God not to let him be the one who travels the world and doesn't get to spend time with his children.
"I believed that I could win the whole world to Jesus, but if I didn't have time for my own, I would have messed up on the most important thing that God put me here to do," David says. "That night, I know that God heard a brokenhearted dad's prayer. My boys began to show interest in singing and playing musical instruments and began to flourish at an amazing rate. Only God could have done what was done in our family, and I give Him all the glory."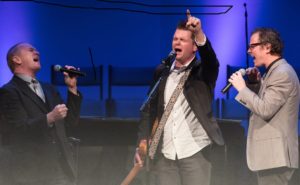 In 1990, the Akins sang their first song in public. David performed with his sons – Davey, who played bass, Nick and Eli. After 19 years, God called Davey and led him to leave the ministry and go to New Orleans Baptist Theological Seminary.
"I always want my kids to be exactly where God wants them to be," David says. "Davey was feeling that God wanted him to work with men hooked on pornography and (warn) young men the dangers of pornography. We don't feel like we lost a bass player but that we gained another minister going out from our family."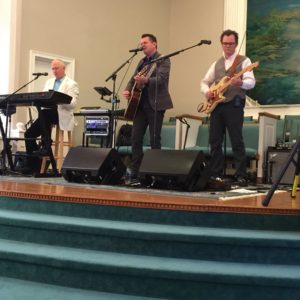 The Akins' ministry continues with David, Nick and Eli, singing and playing many instruments, leading revivals and concerts. Eli and his wife write almost all of the original songs that the group records. Their latest recording, "Eyes on the Road," includes 10 songs written by this talented couple. It is scheduled to be released on Aug. 27 at the Akins Harps Homecoming at Harp's Crossing Baptist Church in Fayetteville.
David confesses that with all of the concerts the group is doing, there is always an embarrassing moment on stage. At one concert, he realized in the middle of their first song that his fly was open. He couldn't even turn around because the choir was behind backing them up. He finally found the perfect opportunity to accidently-on-purpose drop his mic so that he could quickly close his zipper.
"I don't think that it was successful, people noticed anyway," he admits.
If God hadn't led them into the ministry what would they be doing?
"Who knows … I am a do-it-yourselfer," David shares. "I love taking on a project, doing research and completing it. I'm sure there would have been plenty of things that I might have tried if God had not chosen me for this."
Nick would probably record other people in their recording studio. God has really blessed him with an amazing ability to hear things in the mix-downs that no one else can hear. He would continue writing songs also.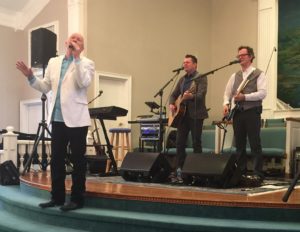 Eli is a jack of all trades. He not only plays almost every instrument that he picks up, but he has built several guitars that he plays on stage and is an amazing photographer. He also would like to have his own restaurant some day as he loves cooking and smoking meat.
David is currently writing a book entitled "You've Brought Us This Far." It is about his life and family and all the miracles that God has performed over the years to bring them to this point. He hopes to finish it someday. Nick records young artists from time to time, and Eli and his wife Whitney shoot photos and videos for realtors in Atlanta to assist with home sales.
Being Bill Gaither fans, they would like to sing on a Gaither video and share a meal with him. Dave said he would want his kids and the world to be able to say that David Akin was the same off stage as he was on stage, like their song, "My Stage Was an Altar."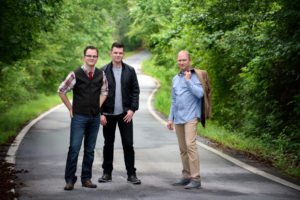 "I recently had the opportunity to share a conference with the Akins," Dr. Jerry Vines says. "My, what a blessing this talented father and young men are. They play many instruments and sing beautifully. But, most important, they sing to the heart. We are in great need of musicians who are not only musically superior, but (who are) also spiritually sensitive. The Akins are both. If you ever have the opportunity, please hear them and use them in your meetings."
Photographs courtesy of the Akins and Robert York.
By Robert York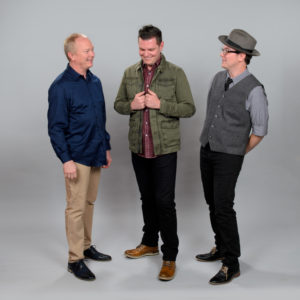 First published by SGNScoops Magazine in August 2017
For the latest issue of SGNScoops magazine click here
For more gospel music news click here.
For online gospel music click here.
Tags:
Christian Country Music
,
gospel music
,
THE AKINS
Posted in
artists
,
Christian interest
,
sgn scoops magazine
|
Comments Off

on The Akins: Singing To The Heart
Written by SGN Scoops Staff on November 22, 2014 – 8:58 am -
 Tim Livingston, High Road III, The Akins and Southern Raised
Signal Mountain, TN November 21, 2014, This week's special Harmony Road TV program features never before seen on TV videos including the concept/performance videos "Joyful, Joyful, We Adore Thee" from the Akins, Southern Raised with "Grandpa's Fiddle", and Tim Livingston's "I Just Miss You" as well as High Road III and  "How Deep the Father's Love for Us"  from the Les Butler and Friends DVD from Dugger Mountain Music Hall.
"Over the past two years of broadcasting Southern Gospel videos, we've had the honor of premiering several great productions.  This is the first time we've been able to present an entire program of videos that have never been broadcast on television" remarked Roger Spears, Harmony Road producer.  "We appreciate all the artists and producers who have the talent and vision to provide quality videos that help spread the Word through music  and are excited to air them to our viewers across the country" he concluded.
Now available to over 80 million television homes across the country in addition to online streaming, ROKU, mobile app and more, Harmony Road is a weekly southern gospel television program hosted by Singing News, Butler Music Group and Solid Gospel Radio veteran Les Butler.
Information on, Its affiliates and time slots can be found at www.harmonyroadtv.com.  Viewers can also interact with the program on Facebook at Harmony Road TV and on twitter@harmonyroadtv.
Harmony Road is produced and distributed by Harmony Road Productions and features the best in Southern Gospel music and video. It can be found each week on The Heartland Network, The NRB Network (including DirecTV, streaming and mobile app), WATC57 in Atlanta, WGNM-TV in Macon, WYBU-TV in Columbus, GA/Phoenix City, AL.  Also find the program on the WALKtv network (including ROKU), Harmony Gospel in Greeneville, SC,  DCT3in Middle Tennessee, TV24 in Anniston/Gadsden, Charter Cable in Clarksville, Cookeville/Crossville, Sevier County, Lebanon and Jackson, TN and  WMJN29 in Decatur/Athens/Cullman, AL.  Harmony Road has recently added affiliates www.bbntv.org, where the program will be streamed online several times a week.
Affiliates have also been added in Jackson, TN, Beaumont, TX,  and Harrogate, TN.
Allan Rhodes of Rhodes Media Center is the programs technical director.
Tags:
Dugger Mountain Music Hall
,
harmony road
,
southern gospel
,
Southern Gospel News
,
Southern Raised
,
THE AKINS
,
tim livingston
Posted in
announcements
|
Comments Off

on This Week's Harmony Road Features All Broadcast Premiere Videos
Written by SGN Scoops Staff on January 3, 2014 – 3:42 pm -

Signal Mountain, TN, January 2, 2014 This week's special Harmony Road TV program features an exclusive interview with Aaron and Amanda Crabb, recorded at the National Quartet Convention as well as music from the couple. The program also features "Beaulah Land" performed by The Akins.
Aaron and Amanda Crabb have been award winning fan favorites for several years. During the extended interview, you'll hear about their newest project, their move to Texas and plans for the future of their ministry. Music includes "Please Come Down to Me" and "Miracle". Also The Akins perform their beautiful rendition of "Beaulah Land". This special program is available to tens of millions of homes
nationwide. For more information on stations and networks visit www.harmonyroadtv.com or email stations@harmonyroadtv.com. Harmony Road is a 30 minute weekly television program featuring thebest in Southern Gospel music along with exclusive interviews and information.Hosted by Singing News Publisher and Solid Gospel Radio host Les Butler, Harmony Road airs Sunday Mornings on The Heartland Network and other outlets throughout the weekend. For more information on The Heartland Network and its growing list of affiliates go to www.watchheartlandtv.com. You can followHarmony Road on Facebook at www.facebook.com/harmonyroadtv.
You can also find Harmony Road Saturday afternoons at 2 Eastern on WATC57 in Atlanta, streamed on www.watc.tv , Saturday evening and Sunday morning on WMJN29 in the Huntsville/Decatur, Alabamaarea and at www.wmjn29.com. The program is also shown on Sunday afternoons in the Anniston/Gadsden Alabama area on tv24, Harmony Gospel in Greeneville, and Charter Cable in Clarksville and Jackson, TN where it's also available "on demand". Harmony Road is broadcast Saturday evenings on theWALKtv where it's available on ROKU. For a list of affiliates and information on streaming, go to www.thewalktv.com.
Other members of the Harmony Road team are Cody McVey with "Stories From the Road", Allan Rhodes, Technical Director and Roger Spears, producer. For information and video submissions email roger@harmonyroadtv.com
Tags:
Aaron and Amanda Crabb
,
Beaulah Land
,
Southern Gospel Music
,
Southern Gospel News
,
THE AKINS
Posted in
announcements
|
Comments Off

on Harmony Road TV Program to Feature Aaron and Amanda Crabb
Written by SGN Scoops Staff on April 22, 2013 – 7:16 am -
Tags:
Dixie Melody Boys
,
gold city
,
Gospel Harmony Boys
,
Ken & Jean Grady
,
randy & wendi pierce
,
skyline Boys
,
southern gospel
,
Southern Gospel Music
,
Southern Gospel News
,
THE AKINS
,
Tony Dean Family
Posted in
announcements
|
Comments Off

on Gospel Music Today On SGNScoops.com
Written by SGN Scoops on July 3, 2012 – 7:59 am -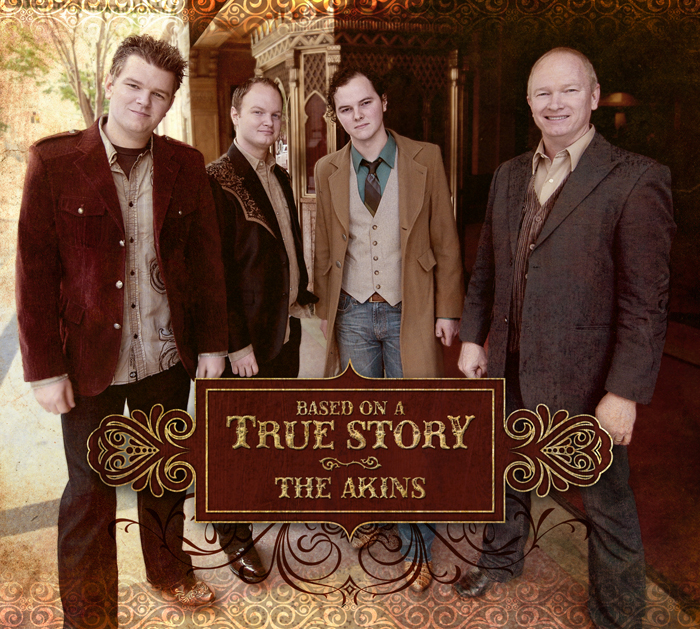 From the group who brought you the songs "I Want My Stage to be an Altar,"  "What if God Says No," and "Any Day Now" comes the highly anticipated follow-up release to their self-titled album.  The Akins- Based on a True Story hits retail on July 17!
Based On A True Story consists of ten new original songs based on truths found in God's word, and illustrate how those truths apply to events that happen in our everyday lives.  The first single, "Kneel" was released to radio by Crossroads Music on June 25th.  To hear the new single, visit www.facebook.com/theakins and click on the music tab.
About the Akins:
The Akins consist of  three brothers and a dad whose faith and family values shape everything they do.  Their musical talent, tight family harmonies, and live instruments create a unique sound that is enjoyed by all ages.
In recent years, God has nationally expanded The Akins' ministry with their fresh sound and original songs.  They have had multiple chart-topping songs including their #1 song, "I Want My Stage To Be An Altar."  They are two time "Horizon Group of the Year" nominees by Singing News Magazine, and have received multiple nominations at the Inspirational Country Music Awards, including "Entertainer of the Year," "Vocal Group of the Year," and "Christian Country Song of the Year."

To pre-order The Akins- Based On A True Story visit www.crossroadsmusic.com/akins/based-on-a-true-story/.  For more information about The Akins, visit www.theakinsonline.com.
Tags:
crossroads music
,
Southern Gospel Music
,
Southern Gospel News
,
THE AKINS
Posted in
announcements
,
new music
|
Comments Off

on New Music From The Akins! The Akins- Based On A True Story Releases July 17!
Written by SGN Scoops on June 5, 2012 – 3:52 pm -

Arden, NC – June 5, 2012 – The Telly Awards has named Crossroads Entertainment & Marketing Inc, and Viewfinders Inc., as a Bronze winner in the 33rd Annual Telly Awards for their piece titled The Akins: Live In Concert.   With nearly 11,000 entries from all 50 states and numerous countries, this is truly an honor.
The Akins: Live in Concert is a nineteen-song DVD featuring songs from the Akins' first two national releases, including their #1 Southern Gospel hit "I Want My Stage to be an Altar." Band members David Akin, Eli Akin, Nick Akin, Dave Akin, and drummer Josh Kirk put on an energetic live show that fused elements of Southern Gospel and modern country to create an unforgettable recorded experience.
The Telly Awards was founded in 1979 and is the premier award honoring outstanding local, regional, and cable TV commercials and programs, the finest video and film productions, and online commercials, video and films.  Winners represent the best work of the most respected advertising agencies, production companies, television stations, cable operators, and corporate video departments in the world.
For its 33rd season, The Telly Awards once again joined forces with YouTube to give the public the power to view and rate videos submitted as part of the People's Telly Awards.  In addition to recognition from the Silver Telly Council, the judging panel that selects the Telly Awards winners, the Internet community helps decide the People's Telly Awards winners.
A prestigious judging panel of over 500 accomplished industry professionals, each a past winner of a Silver Telly and a member of The Silver Telly Council, judged the competition, upholding the historical standard of excellence that Telly represents.  The Silver Council evaluated entries to recognize distinction in creative work – entries do not compete against each other – rather entries are judged against a high standard of merit.  Less than 10% of entries are chosen as Winners of the Silver Telly, our highest honor.  Approximately 25% of entries are chosen as Winners of the Bronze Telly.
"The Telly Awards has a mission to honor the very best in film and video," said Linda Day, Executive Director of the Telly Awards.  "Crossroads' and Viewfinders' accomplishment illustrates their creativity, skill, and dedication to their craft and serves as a testament to great film and video production."
Crossroads Executive Officer and spokesman Chris White said, "Combining the production skills of Viewfinders, Inc., and the multi-talented efforts of the Akins, resulted in an exceptional recorded live  concert experience.  We are honored to be recognized by the industry professionals associated with the Silver Telly Council. And the timing couldn't be any better; with their next project, Based on a True Story, releasing on July 17, the Akins are poised to attain new heights."
To find out more about the Telly Awards visit www.tellyawards.com.
Tags:
crossroads entertainment and marketing Inc
,
Southern Gospel News
,
telly awards
,
THE AKINS
Posted in
announcements
,
awards
|
Comments Off

on CROSSROADS ENTERTAINMENT & MARKETING and VIEWFINDERS, INC SELECTED AS A WINNER IN THE 33rd ANNUAL TELLY AWARDS
Written by SGN Scoops Staff on November 14, 2011 – 4:29 pm -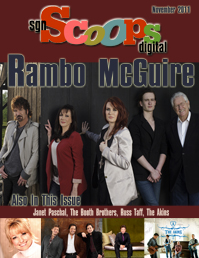 We are excited and blessed  to present a THRILLING Thanksgiving edition of SGNScoops Magazine. You may want to sit down for this! Neatly tucked into the November issue, you'll find features on RAMBO-MCGUIRE, THE BOOTH BROTHERS, JANET PASCHAL, RUSS TAFF, THE AKINS, JOEL LINDSEY, DUSTIN WISECARVER and a special audio interview by Jonathan Edwards featuring THE LESTERS! As always, we provide new music reviews and several inspirational articles. We're excited about a book review featuring the "must-have" Christmas book, "A Homecoming Christmas" written by Bill and Gloria Gaither. This month we also present part 2 of Media and the Gospel, tips for eating smart during the holidays and we're highlighting a tourist spot in the Northwest. And…. because it's the month of Thanksgiving, find out why the Scoops Staff is thankful also read Thanksgiving thoughts and comments from your favorite artists. We pray you enjoy this month's magazine from cover to cover and please share it with a friend.
Special thanks to the entire Scoops Staff for an outstanding November issue of SGNScoops Magazine. With a combine experience totally nearly 100 years in the Gospel Music Industry, we strive to be a trusted source bringing you the latest developements in the Gospel Music Industry! Download the Magazine Here
Tags:
A Homecoming Christmas
,
Bill and Gloria Gaither
,
booth brothers
,
DUSTIN WISECARVER
,
Janet Paschal
,
Joel Lindsey
,
jonathan edwards
,
Rambo McGuire
,
russ taff
,
sgn scoops magazine
,
southern gospel
,
Southern Gospel News
,
thanksgiving
,
THE AKINS
,
THE LESTERS
Posted in
announcements
,
sgn scoops magazine
|
Comments Off

on November Issue of SGNScoops Magazine