Written by Staff on June 29, 2016 – 12:17 pm -
Pigeon Forge, TN (June 22, 2016) – The Nelons will present a concert celebrating Southern Gospel Music in the metro Atlanta area at North Lanier Baptist Church on July 7, 2016 at 7:00 PM.  The Southern Gospel Music Association (SGMA) and the Southern Gospel Hall of Fame Museum announce that the benefit concert is designed to ensure the past, present and future of Southern Gospel music.
Members of the SGMA Board of Directors, Kelly Nelon Clark and Travis Bridgeman are collaborating on the event.  They will produce the evening in an effort to bring awareness of the value that Southern Gospel music has brought to the lives of many generations.  Joining the Nelons for the concert will be The Bridgemans. Well-known Georgian, Melvin Klaudt will host the evening.  Klaudt is the host of a regionally broadcast television program, "Just Keep Singing" which airs weekly.
Event organizer, Travis Bridgeman said, "This museum and the SGMA represents the very best of those who brought the Gospel through music in the past.  The SGMA believes it is our responsibility to leave a legacy for the future while encouraging the next generation to be bold in their stand for leading souls to Christ".
Speaking of her father, 1999 SGMA Hall of Fame inductee, Rex Nelon, Kelly Nelon Clark said, "I'm so proud of the legacy of my father, Rex Nelon.  Because of his efforts, I now stand on a stage with my daughters and husband to share Christ.  Supporting the SGMA is a passion, we are honored to bring this concert to our friends in Georgia".
The event is open to the public, and does not require a ticket.  All proceeds are designated for SGMA and Museum.  The SGMA is a recognized 501(c)(3) non-profit charitable organization.  For those unable to attend, but wish to make a tax-deductible contribution, text any amount to: 865-264-2258.
The Southern Gospel Hall of Fame Museum is a centerpiece of Dollywood, an entertainment complex located at the base of the Great Smoky Mountain National Park.  Visitors to Dollywood will find the Hall of Fame Museum just inside the main entrance.  Along with educational exhibits, a gift shop offers patrons an opportunity to purchase items to encourage their faith.
The SGMA invites everyone to demonstrate his or her support by becoming an SGMA partner.  Partnerships can be obtained at the Hall of Fame Museum or online.
For more information on the Southern Gospel Music Association, visit sgma.org
For more Gospel music news click here.
Tags:
gospel music
,
nelons
,
sgma
,
Southern Gospel Hall of Fame Museum
,
The Bridgemans
Posted in
announcements
,
artists
|
Comments Off

on The Nelons Present An Evening of Tribute to Benefit the Southern Gospel Music Hall of Fame and Museum
Written by Staff on June 2, 2015 – 9:08 am -
Welcome to another edition of SGN Scoops' Fast Five! Today we welcome The Bridgemans from Cumming, Georgia. A husband and wife duo, The Bridgemans have been singing together for 37 years. They love to sing and share Southern Gospel as well as promote concerts in their area. Travis Bridgeman is on the advisory board of the Southern Gospel Music Association Hall of Fame and Museum in Pigeon Forge, Tennessee.
Travis and Alecia are a busy couple as they also are in full-time ministry at their church where Travis pastors. Their church home is Antioch Bible Church, where you will also find Travis directing the choir and playing the piano. Alecia is not only a singer, pastor's wife, and mother of their son Lee, she is also active in women's ministries and plays the flute.
The Bridgemans have recorded four projects and their latest is entitled Walking, But Not Alone. Be listening on the radio for their latest release, "If Not Today."
SGN: What is your all-time favorite concert event that you have attended?
Travis and Alecia:   The last Southern Gospel concert at the Georgia Mountain Center in 2012. After thirty-two years of promoting Southern Gospel music in Gainesville, Georgia, Hayne Tatum of "T & T Promotions" asked us to sing on his final program.
SGN: Where would you like to retire to?
Travis and Alecia: The north Georgia mountains.
SGN: Who in the Bible would you like to talk to?
Travis: Jesus first, and then Paul
Alecia: Jesus first, and then Mary of Bethany
SGN: What is your favorite TV commercial? 
Travis: Subaru Legacy junior driver.
Alecia: Sears Optical raccoon commercial.
SGN: What is the best thing you learned this week?
Travis: After singing and preaching at a homeless shelter, I was reminded that greater joy comes from giving to those who cannot repay you.
Alecia: From Wednesday night Bible study, Matthew 13:54-57, the people in Jesus' hometown of Nazareth saw too much of His humanity to see His Deity.
Thanks to the Bridgemans for answering our Fast Five today! Be sure to visit their webpage.
Keep watching on SGN Scoops mainpage for more Fast Five!
Tags:
gospel music
,
sgn scoops
,
SGN Scoops Fast Five
,
southern gospel
,
The Bridgemans
Posted in
announcements
,
artists
,
christian entertainment
,
Christian interest
,
sgn scoops magazine
,
special feature
|
Comments Off

on SGN Scoops Fast Five: The Bridgemans
Written by SGN Scoops Staff on June 14, 2012 – 11:01 am -
Travis and Alecia Bridgeman, a Southern Gospel duet known as "The Bridgemans", were recently awarded the 2012 "Duet of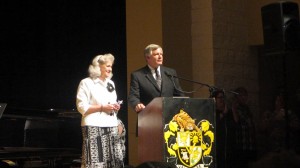 the Year" award presented by the "Southeastern Southern Gospel Music Conference" in Valdosta, Georgia.  The second-annual conference featured Ann Downing, "The Nelons", "Namoi and the Segos", and Ricky Atkinson.
"The Bridgemans" live in Cumming, Georgia, where Travis is the pastor of Antioch Baptist Church.  They have been singing for ten years, and have one son, Lee.  For more information on "The Bridgemans", go to their website,  www.TheBridgemans.com
Tags:
Cumming Georgia
,
Namoi and the Segos
,
Ricky Atkinson
,
Southeastern Southern Gospel Music Conference
,
Southern Gospel Events
,
Southern Gospel News
,
The Bridgemans
,
the nelons
Posted in
christian entertainment
|
Comments Off

on The Bridgemans Win 2012 "Duet of the Year" award presented by the Southeastern Southern Gospel Music Conference