Written by Staff on April 3, 2020 – 9:21 am -
Nashville, TN (April 2, 2020) – StowTown Records has added The Kramers to its family of artists. The Kramers have an extensive performance and recording history as an independent recording artist. Their upcoming project, The Hope of All Tomorrows, will release on the StowTown label on May 8, 2020 and will be distributed worldwide via Provident/Sony.
The Kramers include Scott Kramer, his wife Rachel, their daughter Maria and her husband, Ben Wolfe. Scott shares, "Speaking on behalf of our entire family, I can honestly say we're beyond excited and blessed to be working with the team at StowTown Records! We've known and admired all of the label's artists for years, and we've been greatly impressed with StowTown's ongoing commitment to excellence! Working with Wayne Haun on our latest project has taken everything to a new level, and we can't wait to minister with these new songs! We're so thankful The LORD has continued to open doors for our ministry, and we're looking forward to all that's ahead with the StowTown team!"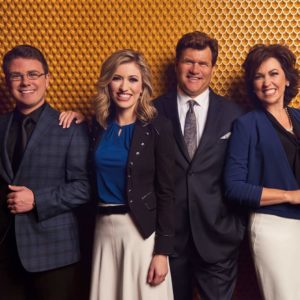 StowTown Records President Landon Beene had this to say about adding The Kramers to the StowTown roster, "We are pleased to be signing The Kramers to StowTown Records. The goal of StowTown Records has always been to provide a broad audience to our artists that would include many genres within Christian music. It is rare to come across an artist that is able to provide such a variety of styles within the same group, but The Kramers have perfected this within their family brand of music! They are widely talented and will complement our family of artists well."
More on the Kramers HERE.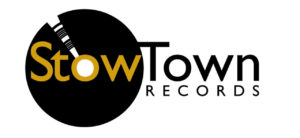 ABOUT STOWTOWN RECORDS:
StowTown Records was founded in 2011 by Ernie Haase and Wayne Haun and then expanded in 2014 with the addition of partners Landon Beene and Nate Goble. With each person bringing their individual expertise, StowTown has become a powerhouse independent Gospel Music label. As the creative home for many of today's top artists, the StowTown family of artists includes Ernie Haase & Signature Sound, Doug Anderson, Charles Billingsley, The Browns, Cana's Voice, Tiffany Coburn, The Collingsworth Family, The Erwins, TaRanda Greene, The Guardians, The Kramers, The Little Roy & Lizzy Show, Tim Lovelace, Jody McBrayer, Devin McGlamery, The Perrys, The Steeles, The Taylors and Triumphant Quartet. Distributed worldwide through Provident/Sony Distribution, StowTown Records has garnered industry attention with multiple GMA Dove Awards and chart-topping releases from their highly respected roster of artists.
Did you know that you can receive the printed, full-color version of SGNScoops Magazine by subscription? Find out more 
HERE
.
Find SGNScoops Magazine On Facebook 
HERE.
You can download the latest edition of SGNScoops Magazine 
HERE.
Read the latest edition of SGNScoops Magazine online
HERE.
Listen To Today's Gospel Music
HERE
Tags:
gospel music
,
Southern Gospel Music
,
StowTown Records
,
The Kramers
Posted in
announcements
,
artists
|
Comments Off

on The Kramers Sign With StowTown Records
Written by scoopsnews on March 27, 2016 – 6:30 pm -
The Kramers "Revive Us Again" NOW AVAILABLE!
Tags:
The Kramers
Posted in
announcements
|
Comments Off

on New Music from The Kramers
Written by SGN Scoops Staff on January 17, 2016 – 9:40 pm -
Nashville, TN – Butler Music Group Management artists,the Kramers recently kicked-off a three month, 44-date concert tour in the states of Florida, New Mexico, Arizona and California. The Kramers will be touring the state of Florida all of January and February and then the tour will take them out West for the month of March. "We're absolutely delighted with the response we're receiving so far this first week in Florida," said Scott Kramer. "The audiences have been enthusiastic and we've already been rescheduled at four of the first week's five venues for Winter 2017."
The current tour features songs from Rachel West Kramer's recent release, "Majestic Glory" project (arranged by David Clydesdale) and the Kramer's upcoming hymns and classics project entitled, "Revive Us Again". During the final week of December the Kramers worked with one of Nashville's most prolific and sought after orchestrators, Russell Mauldin. Mauldin lead the the acclaimed Nashville String Machine in "Music City" recording the final string and brass overdubs for the upcoming project. "This is our first time working with Russell and we were deeply honored and delighted to work with him," said Kramer.
"The orchestrations have taken the music to a new level and we've all been greatly inspired to share these songs at the concerts. There are so many who are moved to tears throughout each concert. We're excited for everyone to hear this new project!" Scott also produces and co-hosts the internationally syndicated radio program "Good News Music Radio" with Gaither Homecoming Artist, Woody Wright. Each weekly program can also be heard online at: GoodNewsMusicRadio.com . The Kramers' music and tour schedule can be found at: TheKramersMusic.com .
Tags:
southern gospel concerts
,
Southern Gospel News
,
The Kramers
Posted in
artists
|
Comments Off

on The Kramers, In Studio And Launch Florida And West Coast Tour
Written by SGN Scoops Staff on December 30, 2015 – 4:29 pm -
From The Kramers: We're having a great day recording string and brass overdubs for our upcoming family project at Playground Studios in Nashville, TN. We've been blessed to work with several of Nashville's finest arrangers, musicians, producers and engineers including Russell Mauldin, The Nashville String Machine, Michael Sykes, John Hammond and David Schobe
Find More About The Kramers Here
Tags:
The Kramers
Posted in
artists
|
Comments Off

on The Kramers In The Studio
Written by Staff on November 18, 2015 – 10:29 am -
Nashville, TN (November 16, 2015) – In a press release on November 9, Butler Music Group (BMG) announced the signing of the Kramers to its artist management division. Les Butler, President of BMG states, "I have watched the Kramers from afar for a while now. The Kramers produce a radio show, perform over 200 dates across America annually and have hosted the RiverLife Riverboat Cruises for over twenty years. I live and breath Gospel music, but I was unaware of the many facets that make up the Kramers. And, if was unaware, I'm pretty sure the majority of the Gospel music fans, as well as the industry, was unaware as well. Well, that needs to change today. So, I am proud to introduce the Kramers to you."
The Kramers feature D. Scott Kramer, his wife Rachel West Kramer, and their daughter Maria Kramer. This family brings much to the Gospel Music community. Scott co-hosts the Good News Music Radio show with Gaither personality Woody Wright which airs in over 32 states and 11 countries. Rachel West Kramer is an accomplished soprano vocalist with numerous solo projects to her list of accomplishments including her latest solo CD project arranged by David T. Clydesdale titled, Majestic Glory! She has performed at large events across the nation including the National Prayer Breakfast with President George W. and First Lady Laura Bush.
Although she has been singing her whole life, Scott and Rachel's Daughter Maria has only been singing with the group a few years, but has already appeared on stage with artists such as Larry Gatlin, Russ Taft, Tanya Goodman Sykes and many more. As well as being talented vocalists, the Kramers are also a multi-instrumental group and they use those abilities in their performances. Traveling with The Kramers is their son, Weston. At age two, he was diagnosed as having autism. The Kramer family is grateful for his special life and the unique ways in which the LORD uses Weston through their lives and ministry.
Gaither personality Woody Wright states, "Scott Kramer and I co-host Good News Music Radio. He produces our program and is a fine musician and worship leader. Scott's wife, Rachel West Kramer, is a most phenomenal soprano with an incredible heart for ministry. Their daughter, Maria Kramer, is a hyper-talented, bright light on the Gospel music horizon, and their son Weston brings joy to every occasion. The family harmonizes their individual giftings to form a powerful musical experience. Their sincere dedication to the mission of spreading the Gospel makes them even more endearing. You will love them too! Great family, great music, great people, great friends!"
The Kramers are currently in the studio working on a new album that will feature classic songs and favorites adding their unique touch to each song. The album is being co-produced by Grammy nominated producerDavid Staton who states, "I've always believed that the mark of a real artist was something that makes them unique. The Kramers are unique and it would be a shame fans didn't get to know this great family. Their sound is not the only thing that makes their family unique. Their love for each other is evidence of their love for the God for whom they sing. They have been able to overcome incredible obstacles and use this to relate to people inside and outside of the church. As a producer, I love working with great talent and as a minister, I love working with people who truly have a heart for people and for God! I was blessed to do both while working with the Kramers." The new album is scheduled to be released in early 2016.
"The Kramers are soon to be a household name to the fans of Gospel music and I am honored to be working with them," added Les Butler. Butler Music Group encourages fans of Gospel music to follow the Kramers through their website at www.thekramersmusic.com and through Butler Music Group at www.butlermusicgroup.com .
About Butler Music Group
Based in Nashville, Tennessee, Butler Music Group provides professional management and consulting services to Southern Gospel and Bluegrass artists including Eighth Day, Heaven's Mountain Band, Kramers, Tammy Jones Robinette and Williamsons.
BMG subsidiary, Family Music Group, is the label and radio promotion division of BMG. Label or Radio Promotion artists include the Williamsons, Canton Junction, Hagees, Matt Hagee, Jimmy Fortune, Oak Ridge Boys, Dunaways, and many others.
Les Butler has been actively involved in Southern Gospel Music for over 37 years as a musician, producer, manager, former publisher of the Singing News, and as a nationally syndicated radio host. Butler started Butler Music Group in 1978, and purchased Family Music Group in 2003. He is a past March of Dimes AIR award, as well as winner of the Paul Heil Broadcasting Awardin 2011. Butler's syndicated radio show, Les Butler and Friends, is heard across America and abroad. Butler's playing and production credits include Palmetto State Quartet, Steeles, Dunaways, Crabb Family, Easter Brothers, Marksmen Quartet, Earl Scruggs, Bowling Family, Jimmy Fortune, Marty Raybon, and many more. Butler's publishing companies are Hurry-Up Publishing/BMI and Hush Jean/ASCAP. He continues to host Harmony Road TV, a nationally televised Southern Gospel TV show, and he has recently started hosting a daily Southern and Bluegrass Gospel video blog at southerngospel365.com.
For more news and artist information visit SGN Scoops on Facebook.
0
Tags:
Butler Music Group
,
southern gospel
,
The Kramers
Posted in
announcements
,
artists
|
Comments Off

on Butler Music Group Introduces The Kramers
Written by SGN Scoops Staff on November 11, 2015 – 12:11 pm -
Nashville, TN  Butler Music Group announced last week that every Monday in November would be a Monumental Monday that will be filled with exciting news from the company. Today BMG is pleased to announce their family is growing.
Southern Gospel Music has a history of incredible family groups and BMG is excited to add the  Kramers to the BMG Management Division. The Kramers have appeared at many large events including the Gaither Fall Festival and Scott Kramer co-hosts the Good News Radio program with Gaither personality Woody Wright. Scott's wife Rachel West Kramer has performed at the National Prayer Breakfast in Washington D.C. for President George W. Bush and First Lady Laura Bush.  "When you hear this family sing they will truly knock you over.  I wouldn't be surprised if Rachel West Kramer becomes one of Southern Gospel's premier sopranos . Combined, their sound is phenomenal," stated Matt Felts of Butler Music Group.
Tags:
Butler
,
Southern Gospel News
,
The Kramers
Posted in
announcements
|
Comments Off

on Butler Music Group Signs The Kramers
Written by Staff on March 5, 2015 – 4:08 pm -
The release has already caught the attention of listeners and reviewers alike. Timothy Yap –

Hallels.com

– comments: "Rachel West Kramer has a penetrating soprano that has the ability to soar to the heights of Mt. Everest and camp there for an extended stay. But it's not just about vocal volume and heights. Even in her softer cadences, she has the ability to get beneath the skin of her notes and bring out raw emotions that we never thought existed. In short, Kramer is the singer's singer. If you are into vocalists who can sing (ala Celine Dion or Whitney Houston) and who are not afraid to shatter some glasses along the way, Kramer is simply sublime."

The ten-song release features beloved compositions of the Christian faith "Christ Arose The Victor," "I Walked Today Where Jesus Walked," "The Holy City," along with classic hymns "It Is Well With My Soul," "The Lord's Prayer," among others including an extremely stirring version of "How Great Thou Art."

"Rachel was such a joy to work with – maybe work isn't the right word," David Clydesdale commented. "Rachel is an inspiration and spiritually concerned to communicate with her listeners God's truths. I don't remember working with an artist before who cried during the recording of the orchestra. This was her dream, and it was happening and she was so gracious and thankful God had given her this moment. I KNOW you will be blessed, as I was!"

Rachel shares, "The idea for this album came while touring the Holy Land. It was my third tour there, but the first tour for most everyone else in our group. While making our way up to Jerusalem, as is tradition, everyone began singing the song, 'The Holy City.' There is rarely a dry eye when you experience this. I felt as if God said specifically to me, 'I want you to make music which tells My story and shows people the way to The Holy City (Heaven). The joys have been innumerable as we worked on this album. Working with David Clydesdale and his magnificent arrangements was a tremendous privilege. We have prayed our LORD will bless many lives through this powerful collection of songs."

Majestic Glory, 

produced by D. Scott Kramer for Electric Station Records, is available worldwide on iTunes, in select Christian retail stores and online at

www.TheKramersMusic.com

.

ABOUT RACHEL WEST KRAMER
Rachel West Kramer is a Christian Vocal Artist and Speaker. Rachel sings and speaks throughout the United States for various concerts, conferences, prayer breakfasts and women's events. She has recorded five full-length projects. Together with her husband, Scott and daughter Maria, they travel and share God's love and salvation through their family's music group, The Kramers.  Additionally for 20 years now, they host the popular RiverLife Gospel Music Cruises aboard the Spirit of Peoria Riverboat along Peoria's beautiful riverfront.  Each year, they host the Real Life: Real Joy Women's Day of Renewal, the Good News Music Radio Program & Concert Series as well as the annual Christmas Celebration Concert Series. Closest to their hearts are their two children, Maria (18) and Weston (16). Scott & Rachel are thankful for the gift of their son, Weston, who was diagnosed as having autism when he was two years old. The LORD has continued to bring much healing and progress in Weston's special life. As a wife, mother, friend and Christian artist, Rachel possesses a genuine love and compassion for others as she communicates so powerfully through song and spoken words. Her heart for the LORD and her steadfast walk with Him is evident as she proclaims His love and truth not only in her music but also in her everyday life.

Majestic Glory Track Listing:

Christ Arose The Victor
Morning Star
The Holy City
I Walked Today Where Jesus Walked
It Is Well With My Soul with Be Still, My Soul
New Jerusalem
How Great Thou Art
To The Cross
Battle Hymn of the Republic
The Lord's Prayer
Tags:
Christian Music
,
David T. Clydesdale
,
Dove Award
,
Good News Music Radio Program
,
gospel music
,
Grammy award
,
Rachel West Kramer
,
Real Life: Real Joy Women's Day of Renewal
,
The Kramers
Posted in
announcements
,
artists
|
Comments Off

on RACHEL WEST KRAMER PARTNERS WITH GRAMMY® WINNING DAVID T. CLYDESDALE FOR MAJESTIC GLORY, AVAILABLE NOW
Written by Staff on November 6, 2014 – 2:52 pm -
Creekside Gospel Music Convention continues in Pigeon Forge Tennessee at the Smoky Mountain Convention Center.  Day three began with the Morris Music Group Showcase, continued with the Red Back Hymn Book Choir and the evening concert and ended with the Midnight Prayer session.
The Morris Music Group showcased some of their best talent and friends. Appearing were Hope's Journey, The Stephens, Higher Hope, Clearvision Quartet, Angela Marie, Exodus, The Drummond Family, Linda Foster, Billy Hodges, Tina Wakefield and Faith's Journey.
Following this showcase, the Red Back Hymn Book Choir full of artists took to the stage. They were met with much enthusiasm from the audience!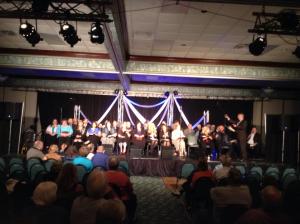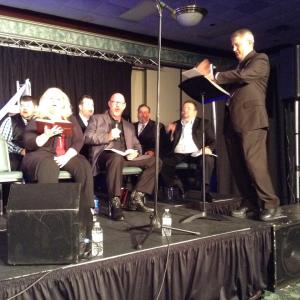 The evening concert continued with terrific performances by The Griffins, The Stephens, John Lanier, The Steeles, and many more. The Kramers appeared with Willie Wynn and Woodie Wright to celebrate the release of their latest CD.
For more pictures, log onto www.sgnscoops.net
Thanks to Vonda Easley, Michelle Drummond and Robert York for the wonderful pictures!
More information on Creekside can be found at http://www.creeksidegospelmusicconvention.com/
Creekside continues today with the last evening concert beginning tonight at 5:30pm.
Tags:
2014 Creekside Gospel music Convention
,
Country Gospe
,
Faith's Journey
,
gospel music
,
Hope's Journey
,
John Lanier
,
Morris Music Group
,
Red Back Hymn Book Choir
,
southern gospel
,
The Griffins
,
The Kramers
,
The Steeles
,
The Stephens
,
The Williamsons
,
Willie Wynn
,
Woody Wright
Posted in
announcements
,
artists
,
gospel events
,
sgn scoops magazine
|
Comments Off

on Creekside Gospel Music Convention Day Three – Nov 5/14
Written by SGN Scoops Staff on August 27, 2014 – 7:54 pm -
4 Hymn Promotions and The Pines Restaurant located in Madison Indiana are in agreement to have Gospel Dinner Concerts starting in 2015. The Pines Restaurant is located at 2700 Michigan Road in Madison Indiana. 4 Hymn Promotions is looking forward to the start of a new venture that God has allowed us to have.
The minute you walk through the doorway, you realize that dining at The Pines Restaurant will be a unique and enjoyable experience. Guests relax in a casual atmosphere surrounded by attentive servers, and find it hard to choose from generous portions of delicious entrees and hard-to-resist desserts.
At The Pines Restaurants in Seymour and Madison, Indiana, the experience involves a lot more than nice décor and comfortable surroundings. From the moment you enter, you find you're treated like a friend. It was the way that Harold and Margaret Hall treated their guests in 1950 — and it's the way that Mike and Katie Hall will treat you today. You'll find this atmosphere makes everything better! From the wave of your favorite waiter or waitress — to the aroma of your favorite foods — The Pines Restaurant is right where you want to be.
The Pines is a place the whole family can enjoy great food, in a fun-filled atmosphere at an affordable price. We proudly serve up the freshest meals in the land. And don't just take our word for it. Ask your friends and neighbors…we've been a family tradition since the 1950's. We really do have something for just about everyone.
We are looking forward to providing some of the best gospel groups anywhere in the United States along with having some of the best cooking in the tri-state area.
Some of the groups that will be in concert are The Woodsmen, The Kramers, Lineage of David, The Horn Family, Mercy's Bridge, The Mission Quartet, for starters!!!
Stay tuned for further information regarding future concert venues by calling Bill Evilsizer with 4 Hymn Promotions at 812-292-0069 or by emailing Bill at 4hymnpromotons@gmail.com
Tags:
4 Hymn Promotions
,
Lineage of David
,
Mercy's Bridge
,
The Horn Family
,
The Kramers
,
The Mission Quartet
,
The Pines Restaurant
,
The Woodsmen
Posted in
announcements
|
Comments Off

on 4 Hymn Promotions and The Pines Restaurant