Written by Staff on June 10, 2017 – 2:31 pm -
A word from the writer…
When you're raised in and around good Gospel music all your life, at some point, it seeps into your soul and you can't quite get enough! That is the case with Jordan LeFevre of The LeFevre Quartet. I'm going to have Jordan tell you, in his own words, how this great music has impacted him along the way. Pull up a chair and take a listen, friends!
Erin Stevens: Even though you've been a key member of the group from the start, let's go back farther. When did you first discover your love for music as a child?
Jordan LeFevre: Well, I guess you could say I fell in love with Gospel music at a very young age. There are numerous pictures of me at the age of around three or four, standing in a suit with a microphone my dad had given me, singing along to old Gold City and Brian Free & Assurance cassettes. So honestly, it has always been a deep passion of mine, and there really isn't a time when I'm not listening to music!
Erin: How many instruments do you play and what is your preferred instrument of choice?
Jordan: I can play two instruments: Drums and bass guitar. I am, for sure, more comfortable behind a drum kit. I got my first drum set at the age of four and taught myself to play. As I started getting older, I would practice nearly every day for hours. At that point, I'm sure my parents were regretting the drums! To this day, I love playing, and still have them set up in my studio at home; I also play drums in recording sessions.
Erin: What falls under "Jordan's responsibilities" on the LeFevre bus?
Jordan: I think the better question would be, "What is NOT Jordan's responsibility?!" Honestly, I have been working with the group for so many years now, I have learned a lot of things by default. At the age of 15, my dad started training me to drive the bus, and since then, I've become the designated driver. I also service the generator, fix anything I can, or if the bus has to go to the shop, I take care of that, too. I'm also in charge of running sound from the stage; that was actually my first job with the group when I was 13. 
Erin: How do you vocally prep for a concert?
Jordan:  Well for me, unfortunately, I can't just open my mouth and it sounds great. I actually have an all day process/ritual I try to stick to. First thing when I wake up in the morning, I drink coffee, then follow with water. For lunch, I will only drink water, and stay away from anything that might gum me up, such as cheese, milk; etc. About an hour before we sing, I will drink two bottles of water, then go into the shower room in our bus, because of the acoustics, and do my vocal exercises. What a process, right?!
Erin: How did you and Ali meet?
Jordan: Actually, [it was] thanks to Gospel music. Her family were big fans of Gold City while Dad was there and he got to know Ali's family. There are actually pictures of my dad holding Ali as a baby. Over the years, while Dad was off the road and spending time at home, they lost contact. Fast forward several years to when we started the group in 2005. One of our first trips was to Mississippi to do a concert with Ali's family group and I saw her there for the first time. I was so stunned by how pretty she was, I didn't speak; I was too nervous! Having always regretted not talking to her that night, four years ago I added her on Facebook, just to see what she was doing now. A couple of weeks went by and she happened to comment on something I posted. I finally got my chance to talk to her! Eight months later we were married and we just welcomed our first child, Jayce, on June 27th, 2016 into our family.
Erin: What's a weird/wacky quirk not many people would guess about you?
Jordan: I am an admitted clean freak. I'm to a point where I am almost OCD [Obsessive Compulsive Disorder] about it. Everything has to have its exact place and I have to know where everything is. I am especially that way with my truck and the bus. I'd say I get that from my mother, for sure.
Erin: Are there any new, exciting things coming for the group this year you can share with the readers? 
Jordan: There are a lot of things I am excited about. We are currently working on two brand new CDs that we are pouring our hearts into. I really think people will love the songs we have picked out. I have church in my truck just listening to the demos while learning the material. Also, we just had Keith Plott join our group, filling the bass position. Many people know Keith, as he was with Brian Free for several years, but he has spent the last few years as a solo artist. He is a fan favorite and he's looking forward to meeting so many of our friends.
Erin: Neck ties or bow ties? Mexican or Italian food? Netflix or theatre goer? Pandora or Spotify? Disney or Universal?
Jordan: Neck ties for me! LOVE Mexican – sometimes I eat it several days in a row! Theatre for sure, love the atmosphere. Pandora. Universal.
Erin: What is a key scripture you consider as your life verse? Why does this hold such personal meaning to you?
Jordan: Joshua 24:15 "But if serving the Lord seems undesirable to you, then choose for yourselves this day whom you will serve… But as for me and my house, we will serve the Lord." To me, it perfectly describes the ministry that we are called to do. In serving the Lord, not only are we called but our spouses have to be called just as much. For us to spend as much time away from home as we do, we have to have a support system. Without a strong and called spouse, I surely couldn't live out my calling and my dream to sing Gospel music. 
Erin: How and at what point in life did you come to know Christ?
Jordan: I was very fortunate to be raised in a godly household. Some of my earliest memories are at church with my family. At a very young age I had, what I now call, an 'experience,' where I went through the motions but didn't truly give my heart to God. Honestly, I did it just to say I had prayed a prayer and I went with that for several years. Almost two years ago, that all changed. We were booked to do a revival down in Louisiana and during part of this revival each member of the group was supposed to speak and share their testimony. I was dreading that part because deep down, I knew that I wasn't saved. So as the nights went on I started feeling a deep conviction and finally the night came for me to speak. I knew I couldn't share because I knew my heart wasn't right. Finally, I couldn't take it anymore. I found the pastor literally five minutes before the service and I prayed and accepted Jesus as my Savior! It was like a massive weight was lifted off my shoulders. So that night I got up and shared how I had been singing about Jesus all my life, but that I came to know Him that very night, and through my testimony several people were saved that night, too.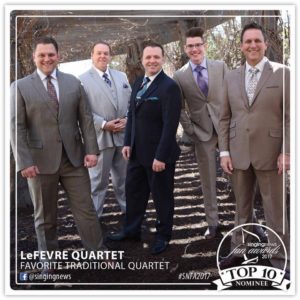 Erin: What is the legacy you want to leave behind for the next generation as you continue to carry on the family business?
Jordan: I want to leave behind a legacy that says, "It's not about the size of the stage you perform on. It's about the people you touch and that come to know Christ because of the ministry that He has blessed us with."
Closing words from the writer…
It's an audience of One. Plain and simple. No matter your occupation, all the glory should continually be pointing upward to our Heavenly Father. Thank you, Jordan, for reminding us of that today. If we aren't living lives that glorify Him, then all else will be done in vain. Colossians 3:23 tells us: "And whatever you do, do it heartily, as to the Lord and not to men." May our lives be a light that illuminates the way for someone else to find Christ.
And that's my take on it.
Until next month, Scoops fans.
Photographs courtesy of Jordan LeFevre. Find his facebook page here and the group's website here.
Connect with Erin:
Twitter – @photosforkeeps
Instagram – @photos_for_keeps
Who would YOU like to see Erin interview next?
By Erin Stevens
First published by SGNScoops Magazine in March 2017. For the latest SGNScoops Magazine, click here.
For more Gospel music news click here. 
For more inspirational articles click here.
Tags:
gospel music
,
Gospel quartet
,
Jordan LeFevre
,
The LeFevres
Posted in
artists
,
christian entertainment
,
Christian interest
,
sgn scoops magazine
|
Comments Off

on Happy birthday! Jordan LeFevre featured in Younger Perspective by Erin Stevens
Written by scoopsnews on February 18, 2016 – 4:41 am -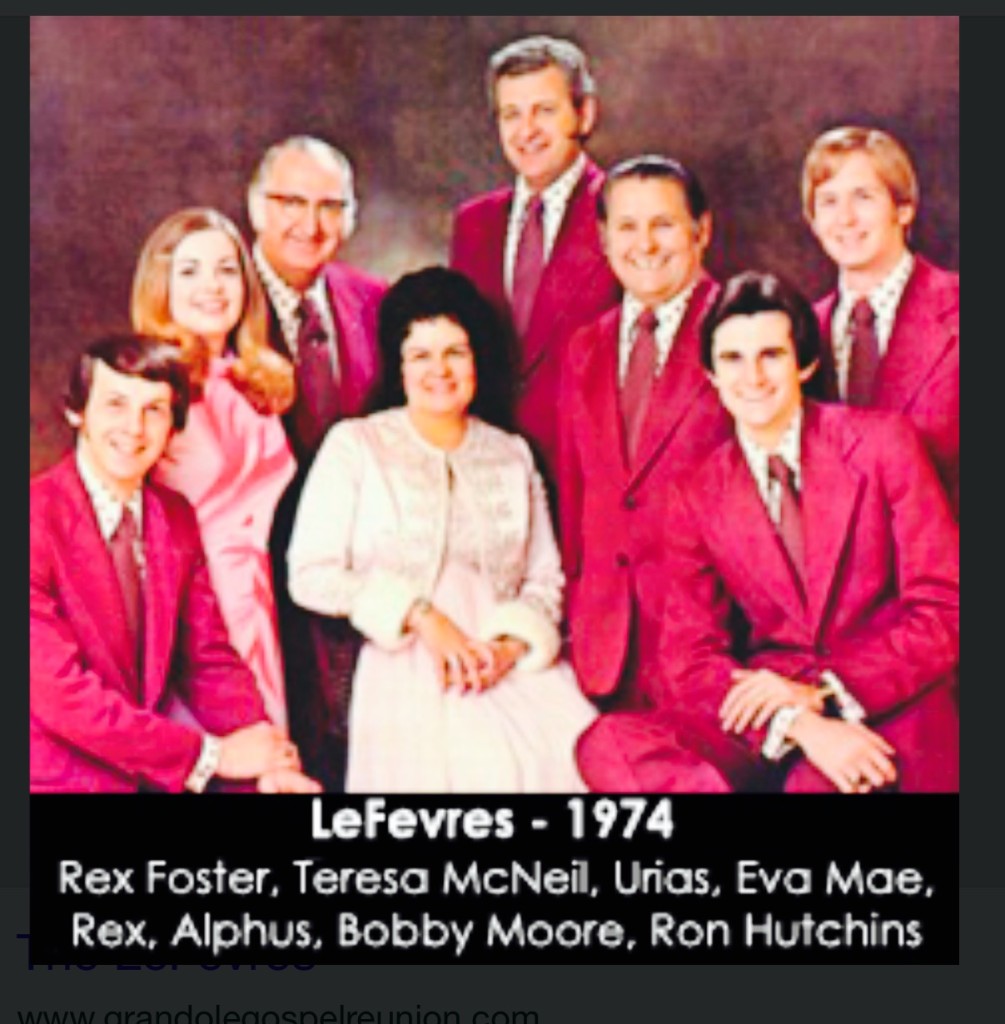 The LeFevres, or The Singing LeFevres, were an American Southern gospel singing group, active for nearly 50 years in the middle of the twentieth century.
The LeFevres were a family from Smithville, Tennessee, and their singing group centered on brothers Urias LeFevre (1910–1979) and Alphus LeFevre (1912–1988). As children, they sang with their sister Maude LeFevre until she married, then their sister Omega LeFevre (Peggy) until she married; their career as an ensemble began in 1921. Both sang in quartets at the Bible Training School in Cleveland, Tennessee. Urias and Eva Mae Whittington (1917–2009) married in 1934; she became the pianist and alto in their newly formed trio. That's how it all began…..
(Wikipedia)
Today, we honor the Lefevres on Throwback Thursday…
Tags:
The LeFevres
Posted in
announcements
|
Comments Off

on Throwback Thursday- The Lefevres
Written by SGN Scoops Staff on June 19, 2014 – 3:58 pm -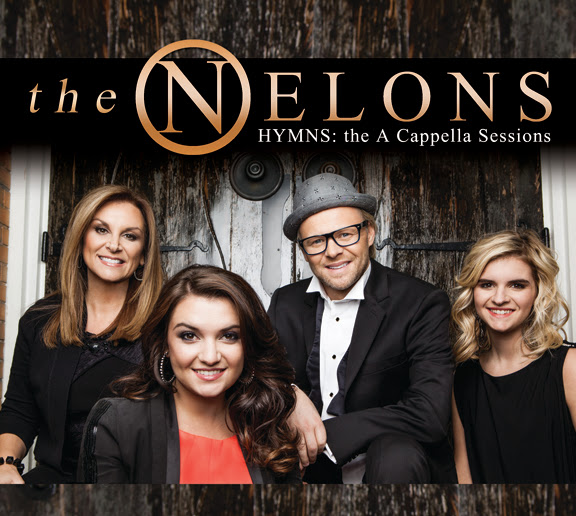 NASHVILLE, Tenn.—Multi-Dove Award-winning and GRAMMY® Award-nominated The Nelons, one of Gospel music's best-loved and most enduring families, return with Hymns: The A Cappella Sessions, releasing June 24 on the Daywind Records label. Produced and arranged by Lari Goss, with four selections produced and arranged by Goss and Jason Clark, Hymns reimagines timeless songs of the Church, placing the distinctive vocals of Kelly Nelon Clark, Jason Clark, Amber Nelon Thompson and Autumn Nelon Clark at the forefront.
Bringing together 15 of The Nelons' favorite hymns, choruses and spiritual songs, including three medleys, Hymns features "There Is A Fountain"; "I Need Thee Every Hour" and "Tis So Sweet," along with medleys "Sweet Hour of Prayer/If I Could Hear My Mother Pray Again/Pray" and "Pass Me Not/Just As I Am/Amen." The collection leads off with a stirring rendition of "The Hallelujah Chorus."
"We couldn't be prouder of Hymns: The A Cappella Sessions," said Kelly Nelon Clark. "It was so fun for us as a family to rediscover many of the songs that both Jason and I, and our children, have been impacted by through the years. We wanted the project to reflect the diversity of the music we've loved within the Church, from 'The Hallelujah Chorus' to the spiritual tones of 'There Is A Fountain,' to the fun harmonies of 'Do Unto Others.' We hope this will be a collection that families can enjoy together for many years to come."
During their legendary tenure as one of Gospel music's leading families, The Nelons have garnered six GMA Dove Awards; three GRAMMY® Award nominations; 14 Singing News Fan Awards; a Silver Angel Award; a New York Film Festival Award for the history-making short form video "Famine In Their Land"; and a People's Choice Silver Telly Award for the concept video "Excuse Me, Are You Jesus?" The group has recorded more than 35 albums, and has amassed more than 20 Top 5 Southern Gospel radio singles, including such classics as "We Shall Wear A Robe and Crown," "Come Morning," "O For A Thousand Tongues" and "Thanks." They have frequently been featured on the best-selling Gaither Homecoming recordings and videos, and have performed on The Grand Ole Opry, among other historic venues.
The Nelons continue the rich tradition initiated by family patriarch Rex Nelon, who joined Gospel Music Hall of Fame inductees The LeFevres in 1957. The group eventually became known as The Rex Nelon Singers before changing their name to The Nelons in 1982. Through the decades, The Nelons' polished harmonies and performances, and their anthology of timeless songs, have helped to expand the audience for Gospel music around the world.
Tags:
Kelly Nelon Clark
,
Rex Nelon
,
Southern Gospel Music
,
Southern Gospel News
,
The LeFevres
,
the nelons
,
There Is A Fountain
Posted in
announcements
|
Comments Off

on THE NELONS ENTER NEW SEASON WITH HYMNS: THE A CAPPELLA SESSIONS
Written by SGN Scoops Staff on May 22, 2014 – 9:10 am -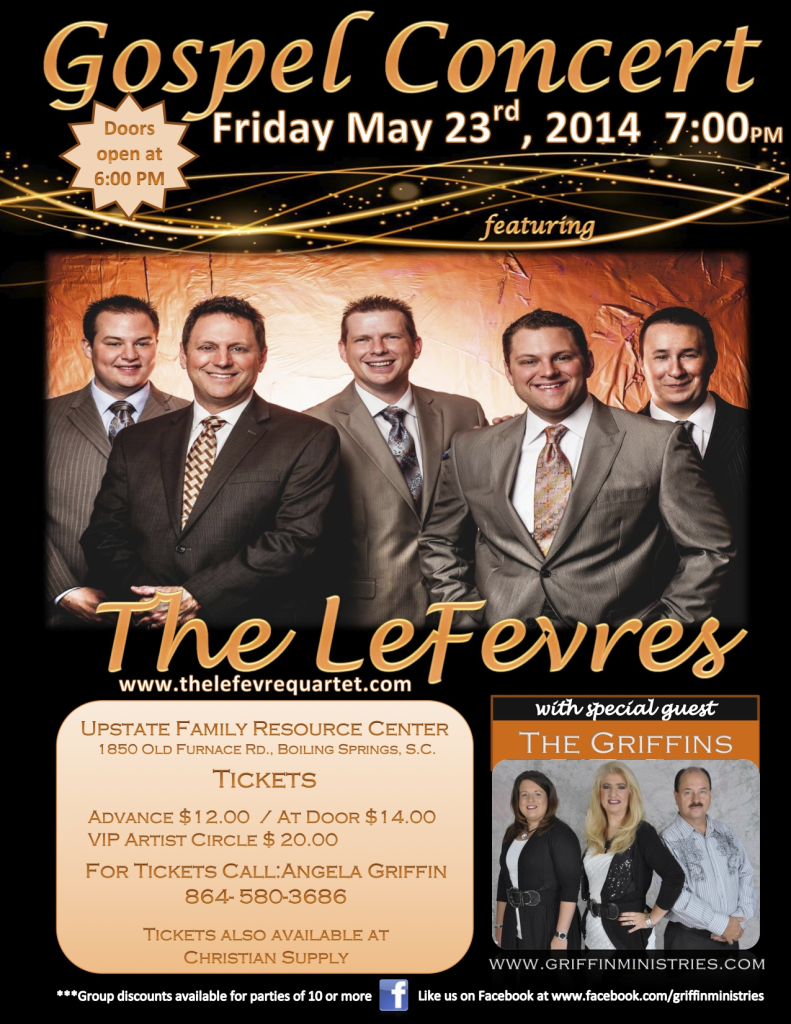 For More Information Contact Angela At 864 580 3686
Tags:
Griffins
,
Southern Gospel Concert
,
Southern Gospel Music
,
Southern Gospel News
,
The LeFevres
Posted in
christian entertainment
|
Comments Off

on THE LEFEVRES IN CONCERT TOMORROW NIGHT
Written by SGN Scoops Staff on June 9, 2013 – 4:09 pm -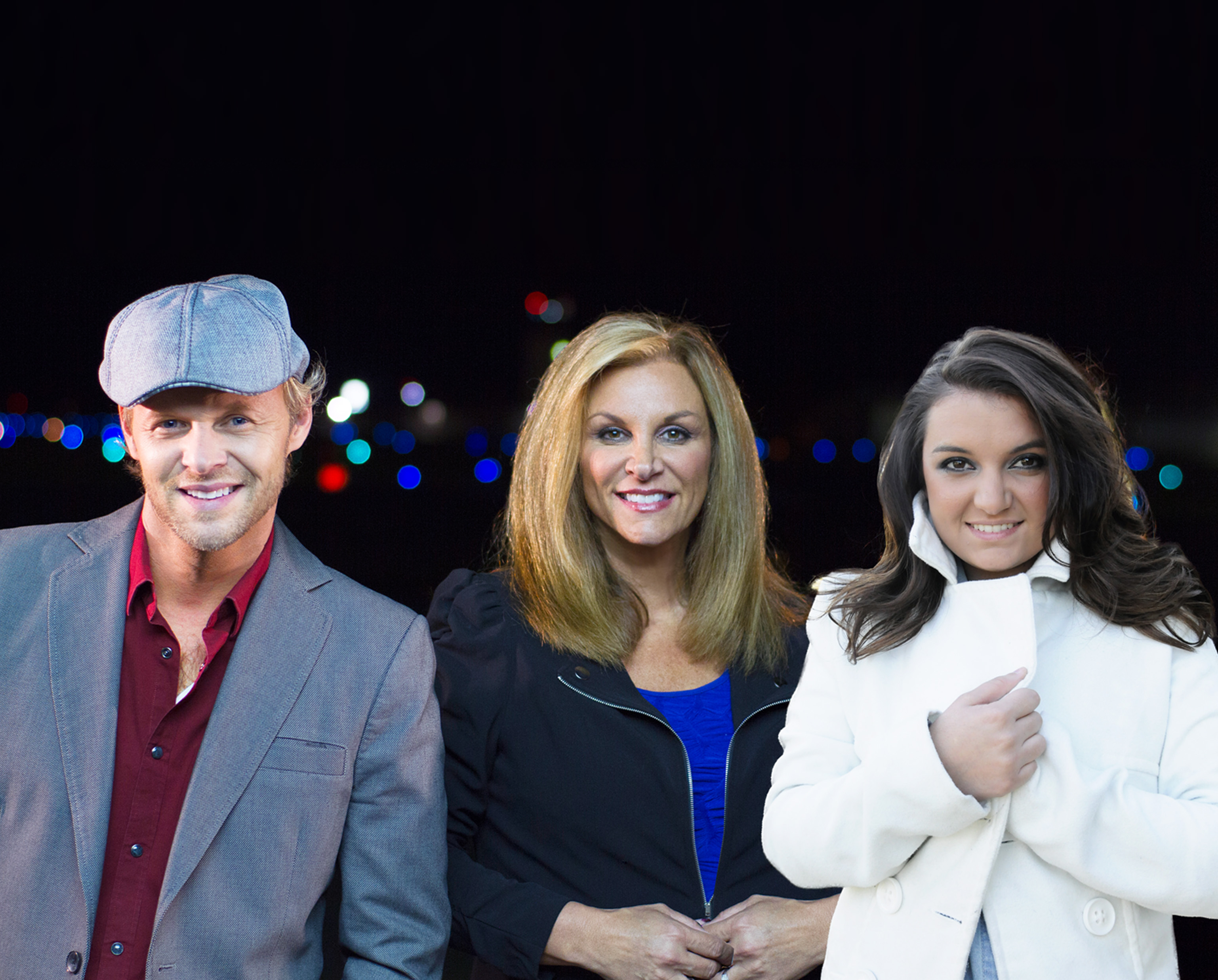 The Nelons
"Living a Legacy of Love"
By Jennifer Campbell
Southern Gospel Music is rooted in family, faith, and the mindset that musical talent should be handed down from generation to generation. The Nelons are the prime example of a family who lives this tradition every single day of their lives. Kelly Nelon Clark carries on the tradition started by her father Rex Nelon, just as her children are now a part of the legacy left by their grandfather. Kelly, Jason, Amber, and Autumn understand the value of Southern Gospel Music.
They also know that a close-knit family is priceless. Above all, they place Jesus Christ at the center of it all. Through their love for music, love for family, and love for Jesus Christ, The Nelons are living a legacy of love!
For Kelly Nelon Clark, Southern Gospel Music is a way of life. She spoke of her first recollection of Southern Gospel Music, "I'm sure I was at a concert where my father was singing with The LeFevres and if I remember correctly it was at the city auditorium in Atlanta, GA. I was probably three years old."
Rex Nelon left a legacy that will always be remembered, both by his family and the countless individuals he influenced throughout his life. "My father would be the greatest influence in my life," Kelly stated. "I watched how he handled adversities, the bus break downs, the constant staying on the phone to make sure the dates were on the books so that we could make a living. He handled so many things and he handled them well. He was such a good man and a man of great integrity. I don't think he realized how many people loved him."
Of course, Jason Clark is no stranger to Gospel Music either, having been raised alongside his bass singing father Dan Clark. Jason says, "I remember hanging out at their concerts, riding the bus occasionally, going to their rehearsals, then coming home and giving my very own pretend concerts for the audience of Mammaw & Papaw Clark in their living room. They have a picture of me in diapers, holding my microphone and giving the performance of a lifetime at the early age of two."
Amber and Autumn also grew up with Gospel Music running through their blood. Amber said that music has always been a part of her life and that she has always wanted to sing Southern Gospel Music. Autumn echoed Amber's response saying, "That's all I have ever really known."
The Nelons are comprised of husband and wife duo Jason Clark and Kelly Nelon Clark, along with their daughters Autumn and Amber. Throughout their musical career, they have garnered three Grammy nominations, six Gospel Music Association Dove Awards, and many other accolades. They have traveled from sea to shining sea and they have even journeyed "across the pond" on a Scandinavian tour.
"I love to travel because it has afforded us the privilege of seeing the world over, and experiencing so many diverse cultures," commented Jason. "The ministry is more fulfilling than I could ever explain when I think about the marvelous love of Jesus and that I get to tell others about that through the medium of music is extremely humbling, gratifying, and sometimes overwhelming."
Kelly added, "We have traveled here and abroad and the greatest thing are the friendships and relationships we have made and kept down through the years. We love and cherish our friends. Also to see a life that has been affected by something we have sung or said is worth all the miles we travel." Whether they are at home or abroad, one thing is certain: Kelly, Jason, Amber, and Autumn love what they do because they are doing what they love.
Kelly said that singing has always been her dream. She commented, "From the first day of kindergarten it was just a part of me that I would sometime sing with my father. It was my dream and my desire and thankfully God granted the desires of my heart. I spent many days on the road with my father Rex Nelon, and I can honestly say it was always a joy. We were very close and we talked every day and I could tell him anything. I really miss that." Read more »
Tags:
Atlanta
,
gospel music
,
jason clark
,
Jennifer Campbell
,
Kelly Nelon
,
Kelly Nelon Clark
,
nelons
,
Rex Nelon
,
Sam and Buddy
,
The LeFevres
,
the nelons
Posted in
sgn scoops magazine
,
special feature
|
Comments Off

on The Nelons "Living a Legacy of Love"
Written by SGN Scoops on July 23, 2012 – 5:36 pm -
Plans are underway for the 42nd Annual Seminole Gospel Sing! The Seminole Music Park, one mile south of Seminole Oklahoma, is the site of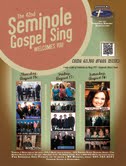 Oklahoma's largest gospel music event, hosted by The Gospel Station Network and the Seminole Gospel Singing Association.
This year's talent line-up is great, with some of the legends of gospel AND several new quality artists, including: The Dove Brothers, The Freemans, The Williamsons, Chris Hester, The LeFevers, The Blackwood Brothers, The Chuck Wagon Gang, Charlotte Richie, Gordon Mote, The Nelons, Masters Voice, Palmetto State Quartet, and Gold City.   Save $10 on Tickets if you buy them before August 13th at www.TheGospelStation.com
Over the years, the Seminole Sing and the Konawa OK Gospel Singing have attracted people from all over the U.S.  – people who love real gospel music – people who believe in the message of Jesus Christ, and love this style of singing.  "We are honored to be working with the association in Seminole to keep this wonderful singing alive and moving forward.  God is working all over the world through Gospel Music and we feel so blessed to be a part of it," said Randall Christy, President of The Gospel Station Network.
Tags:
Blackwood Brothers
,
Charlotte Ritchie
,
chris hester
,
gordon mote
,
palmetto state quartet
,
Seminole Gospel Sing
,
Southern Gospel Music
,
The Chuck Wagon Gang
,
the freemans
,
The LeFevres
,
the nelons
,
The Williamsons
Posted in
announcements
,
gospel events
|
Comments Off

on 42nd Annual Seminole Gospel Sing!