Written by Staff on March 31, 2020 – 10:33 am -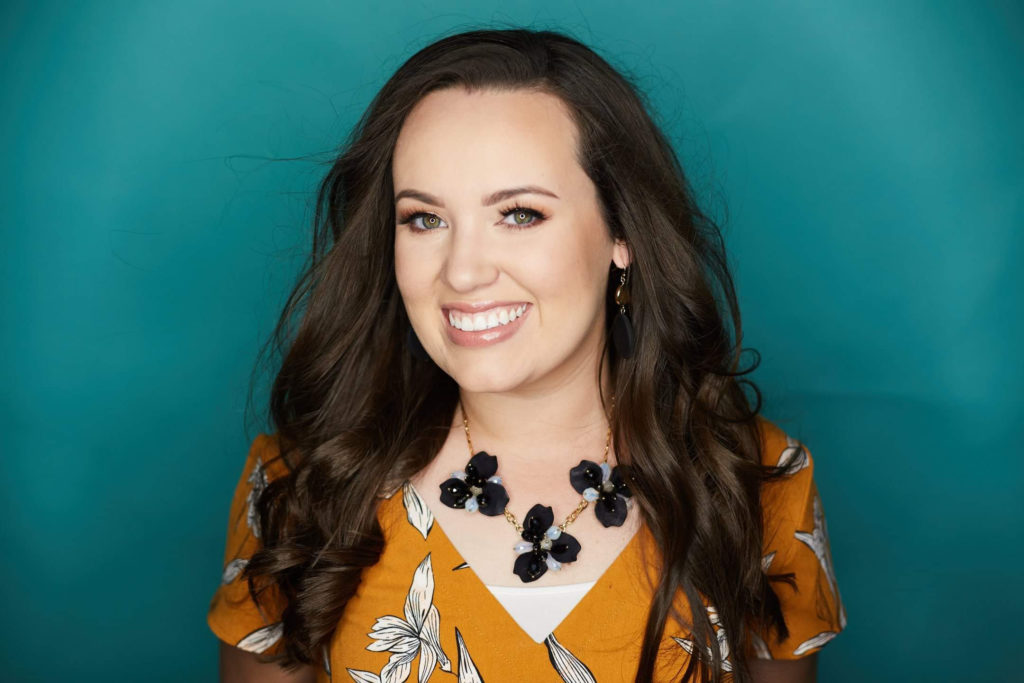 Youth in Gospel by Lyndsey Chandler featuring Fayth Lore 
I am excited to introduce to you this month's featured artist, Fayth Lore! 
Lyndsey Chandler: Where are you from? 
Fayth Lore: I am from Southern Ohio. I live in a town called Portsmouth. I like to imagine that my town could be painted like the unique small towns in all of the Hallmark movies. Everybody knows most everybody, and we have a lot of cool history. My house is in the rural part of the city. It's typical to hear 'watch for deer' when you get ready to drive home.
LC: How long have you and your family been traveling?
FL:  My family never really intended to be doing ministry like we are right now. But, that's the cool part about Christianity and letting Christ lead your life. Jesus makes life exciting. My dad was a pastor for most of my life, as well as a pharmacist. Mom took care of everything behind the scenes at home and was very active with the church my brother and I grew up at. Dad taught Samuel and I how to harmonize with him on a song that we surprised Mom with one Sunday night. I was 10 years old and Samuel was nine. The rest is history. We began singing a lot more in church, and then other churches invited us to come sing for them. In 2015, our family stepped into full time music ministry. We now call ourselves 'musicianaries'.
LC: Do you have any siblings?
FL: I have one sibling named Darren Samuel Lore, but he goes by Samuel. He recently married his lovely bride, Rebekah, in May of 2019. So, I do have a new sister by marriage now.
LC: Who's your biggest inspiration in Southern gospel music?
FL: I admire a lot of people in the gospel music world. One person I'll mention in particular, is Peg McKamey. To me, Peg represents faithfulness and authenticity. I'm a person who may try to fit a mold to make sure that someone likes me. When I look at her, though, I see a unique artist that has remained true to herself and her calling. I've never known another female singer to kick off a shoe during a song. When I hear Peg sing a song like, "God On The Mountain," I feel like I'm right there with her. Her confidence in the lyric persuades me to hold onto hope.
Another artist that I aspire to be like is Karen Peck Gooch. To me, she is the epitome of southern hospitality. What stands out to me, is that Karen makes you feel like she's singing every song on that stage just for you. When I've seen her in concert, or at places like NQC, I've always noticed that she pays attention to each and every person that approaches her product table. If she's talking to you, she's looking you in the eye, and truly listening to what you have to say. She cares for people. I love that about her and I've learned from it.
LC: What does a day off look like for you?
FL: I get this question all of the time. I'm sure most every artist sighs like I do when we hear this question. I don't think that you truly ever have a day off when you do something like touring in music. There's always bookings to be made, social media to update, marketing that needs done, laundry; the list goes on and on. So, I guess a day off would just be working with my dad on the behind the scenes work that goes into full time ministry. I live pretty close to my grandparents and family, so when we are home, I try to visit with them when I get the chance. Home is my favorite place to be.
LC: What's the funniest thing that's ever happened to you on stage?
FL: Well, I think I am gifted with the rare skill of embarrassing myself daily. My family has picked up the song, "Boundless Love," and we've been singing it acapella. My dad accidentally hit the wrong note on his keyboard, and we started singing it in the entirely wrong key. We knew something was off, but we tried to just flow with it for the first few lines. Finally, we had to stop and just start over on the right key. Of course, these are always the moments that the entire church has their phones out to record for Facebook."
LC: What is something that motivates you to keep singing?
FL: I'm going to be real. I've stopped and reflected on this question quite a bit. I mostly want to be involved in something that truly makes a difference. What motivates me to keep singing is the audiences we sing to every week. I don't want to just sing. How boring. I want to make music and sing music that people can feel. The best compliment I can get after a service or concert is when someone comes up and says that they felt something at church, inside of them for the first time in years. Some have come up to us and said that there is just something different about our group that feels real. That inspires me to keep going. And, I hope to inspire other artists to do more than just perform on stage. Jesus is real to me. The world deserves to know Him in the fullness that I am blessed to know Him.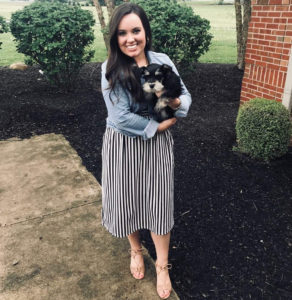 LC: What is a message you would like to get out to young people?
FL: Purpose. So many young people feel like they need to be more like the girl they wish they were more like on Instagram. Or guys feel like they need to have accomplished the same things as the other guy on the football team. God made you for a reason and a purpose that only you can fulfill. There never has been, and there never will be, another you. So, stop trying to be someone else and just be you for Jesus. He made you like you are for a reason, to fulfill your God-given destiny.
LC: I want to give a special thank you to Fayth for doing this interview with me. I hope you all enjoyed it!
To find more information about the Lore Family, you can go to thelorefamilyministries.com.
To see more Youth in Gospel articles, visit facebook.com/sgn.scoops.7.
By Lyndsey Chandler
First published by SGNScoops Magazine in February 2020
Did you know that you can receive the printed, full-color version of SGNScoops Magazine by subscription? Find out more 
HERE
.
Find SGNScoops Magazine On Facebook 
HERE.
You can download the latest edition of SGNScoops Magazine 
HERE.
Read the latest edition of SGNScoops Magazine online
HERE.
Listen To Today's Gospel Music
HERE
Tags:
Fayth Lore
,
gospel music
,
Lyndsey Chandler
,
Southern Gospel Music
,
The Chandlers
,
The Lore Family
,
Youth in Gospel
Posted in
announcements
,
artists
|
Comments Off

on Youth in Gospel: Fayth Lore
Written by Staff on October 16, 2019 – 2:45 pm -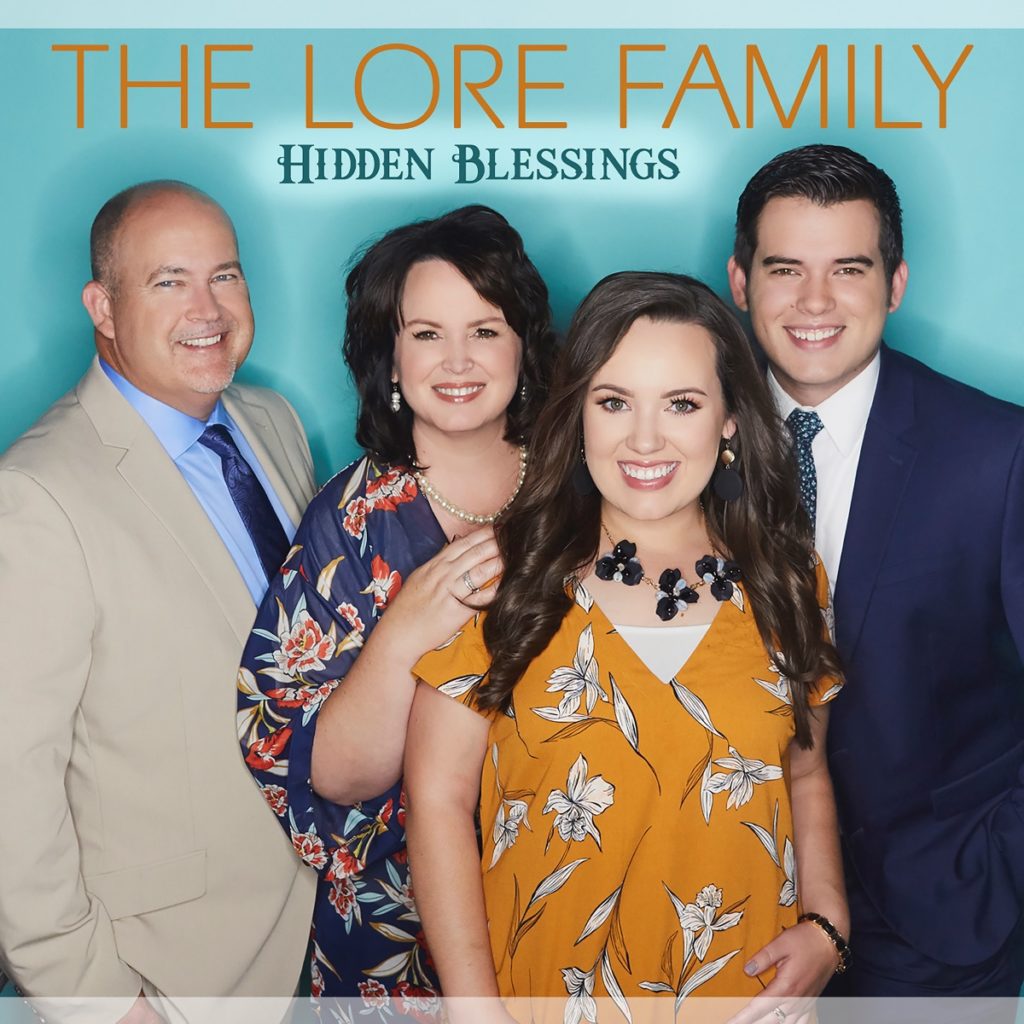 Arden, North Carolina (October 11, 2019) — On their latest album Hidden Blessings, The Lore Family (website HERE)  acknowledges the vastness of God's love and shares what wonders can be experienced with a little faith. The album, produced by Wayne Haun, is now available from Horizon Records.
Hidden Blessings begins with "Didn't He Promise," which sets the tone for the album, reminding us that God will always come through with mercy and grace, every time for all of time. The theme of the Lord's timelessness in other songs, including "That Same Power," recognizing God's everlasting influence on our lives; "The Rock That Never Ages," detailing how a firm foundation in the Lord provides comfort and safety; and "The Blood Flows From Calvary Still," the album's closing track and a powerful moment of worship featuring Sandy Lore.
On the album's first single, "His Cross Is Now Empty," The Lore Family tells the story of the death, burial and resurrection of Jesus, praising and rejoicing in Him rising to new life, singing, "Now the cross is empty and so is the grave / The lamb slain for sinners arose the third day / Glory hallelujah our debt has been paid / His cross is now empty and so is the grave."
Fayth Lore takes the lead on two up-beat tracks that capture the joy and happiness a relationship with God can bring. "I've Got A Really Good Feeling" tells of the peace and hope one feels after accepting Jesus as their savior. "Ready To Know," their second radio single, talks about being prepared to see the glory of Heaven.
The group creates quiet moments throughout the album with "In His Presence," a soft and reflective song about strength for the weary, featuring Samuel Lore; and "Keep Praying," about leaning into God no matter what's going on in life.
Written by Darren Lore, the title track, on which he takes the lead, explains we can't know healing without pain or victory without battles. "Through every testing / Hidden blessings are coming our way," Darren sings of what will happen when fear is replaced with faith.
On this album, The Lore Family shares their unshakable faith, detailing the peace, joy and hope it brings them. By sharing this message with their audiences, The Lore Family continues to grow their ministry with authentic music.
Listen to Hidden Blessings HERE.
About The Lore Family
The Lore Family consists of Darren, Sandy and their two children, Fayth and Samuel. Over the past several years, The Lore Family, which calls Portsmouth, Ohio home, has ministered at hundreds of services, making sure each concert or ministry opportunity is fulfilled with excellence and authenticity. The Lores began their ministry traveling in the tri-state region of Ohio, Kentucky and West Virginia, but have now traveled across the United States, singing a mix of classic and current Southern Gospel favorites as well as originals written by Darren. ​The Lores have sung on many well-known stages across the country, including those at the National Quartet Convention, Gatlinburg Gathering Showcase, Singing In The Sun Showcase, Gospel Music Showcase TV, Great American Gospel TV, Gospel Music USA TV, Dollywood, Silver Dollar City and more. Their radio releases have been consistently in the top 20 of the Singing News Chart, and are played regularly on satellite stations such as Sirius XM's enLighten. Fans voting in the Singing News Fan Awards have voted The Lore Family in the top 5 category for Favorite New Mixed Group for 2 consecutive years. Although charts and awards are honoring, The Lore Family understands that these things come and go. Their main purpose for radio/TV ministry is to give a message of hope and encouragement to seekers and believers. As the Lord blesses, The Lore Family will continue to record and release quality, anointed Southern Gospel Music.
About Crossroads:
Crossroads is a market leader in the Southern Gospel, Bluegrass, and Americana fields. Established in 1993, following the combination of Horizon Music Group and Sonlite Records, Crossroads now operates several divisions including Crossroads Label Group (Horizon Records, Sonlite Records, Mountain Home Music, Skyland Records, Pisgah Ridge Records, Crossroads Records, and Organic Records), Crossroads Distribution, Crossroads Radio Promotions, Crossroads Publishing Group and Crossroads Recording Studios. Led by a strong executive team of Christian music and Bluegrass music veterans, Crossroads combines cutting-edge technology with creative innovation to connect fans with our artists' life-changing music.
For more Gospel music features, read the latest SGNScoops Magazine HERE.
Download SGNScoops Magazine In PDF 
Here
Find SGNScoops Magazine On Facebook 
Here
Listen To Todays Gospel Music Here
Tags:
crossroads
,
Fayth Lore
,
gospel music
,
Horizon Records
,
Southern Gospel Music
,
The Lore Family
Posted in
announcements
,
artists
|
Comments Off

on The Lore Family releases Hidden Blessings and shares their faith
Written by Staff on June 20, 2018 – 10:06 am -
It is said that when a girl has a sister, she'll always have a best friend. Not only are these sisters best friends, but they are also in pursuit of making a lifetime career out of their shared passion. Some of Southern gospel's most beloved groups feature sisters, including Sisters (Kim Sheffield, Heather Bennett and Valerie Medkiff), Karen Peck and New River (Karen Gooch and Susan Jackson), the Collingsworth Family (Brooklyn Blair, Courtney Metz and Olivia Collingsworth), the Isaacs (Sonya Yeary and Becky Bowman) and the Martins (Joyce Sanders and Judy Hess).
Rachael and Riley Peyton began singing when they were only 5 and 6 years old, respectively, at a local nursing home. They would help their mother by offering some songs for the residents, following a devotion that she would give.
Eventually, a staff member of the nursing home asked the young girls to perform at her church for a mother-and-daughter banquet. Some local pastors' wives heard the sister duo and invited them to their churches. And so, a career was born.
The Peyton sisters have been traveling and singing now for approximately four years. Based out of southern Illinois, the girls make most of their stops in Illinois, Indiana, Kentucky, and Tennessee. They average 120 dates per year, with most of their performances happening on the weekend and an occasional concert during the week. While neither of their parents claim to be vocalists, the girls were raised with a rich understanding of Southern gospel music.
"We were surrounded by Southern gospel music growing up," Rachael says. "When Mom would clean the house, she would put (on) a Gaither video. Riley and I would sit on a blanket, play with our toys and watch Bill Gaither."
Sanders, a Gaither regular, is an inspiration to the girls.
"Joyce is our vocal coach," Riley points out. "She is also an amazing person and encourager."
Sanders was the producer of the Peyton Sisters' most recent album, and the Gaither Vocal Band laid the tracks for the project.
The ladies released the CD, featuring four original songs, at the 2017 Gaither Fall Fest. Rachael wrote two songs by herself on the project, one of which she feels has had a big impact in their concerts.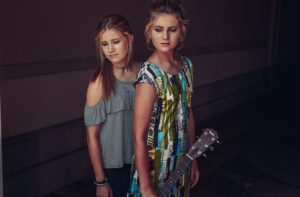 "My favorite would be 'I Am There,'" Rachel shares. "I wrote that one, and I love it to bits. It has a beautiful message to it. Wherever you are in your life and your circumstances, He is right there. It is just an awesome reminder."
These teenagers are eager to reach all generations. They want to span the gap between their peers and an older audience, as is evident in their latest project, entitled "Undivided." Half of the album is contemporary, while the other half is Southern gospel.
"So many times people put a line in between Southern gospel and contemporary," Riley says. "They think you cannot listen to both. I think it's good to span the generations. Let there be undivided unity."
Rachel adds, "The thing that sets Southern gospel apart from other genres is the lyrics and the music. It's not the singer that makes it different. Any artist can learn to sing any genre they want to."
The two have some interesting advice on the best way to reach their generation.
Tags:
Fayth Lore
,
gaither
,
Joyce Martin
,
Peyton Sisters
,
The Lore Family
Posted in
artists
,
sgn scoops magazine
|
Comments Off

on Southern Gospel Sweethearts: the Peyton Sisters by Fayth Lore
Written by Staff on March 22, 2018 – 9:13 am -
SGNScoops Magazine has recently posted the March 2018 issue, however, we are giving a taste of what you can expect in the April 2018 issue.
Fayth Lore, who not only sings with the Lore Family but also writes for the SGNScoops Magazine, has been doing a series entitled the Sweethearts of Southern Gospel. In April, her guests will be the duo who have been seen on Gaither videos, the Peyton Sisters. These young ladies pour their hearts out to Lore in a feature you will not want to miss.
You Can Download SGNScoops Magazine 
HERE
Find SGNScoops Magazine On Facebook 
HERE
Listen To The Best In Todays Gospel Music 
HERE
Tags:
Fayth Lore
,
gaither
,
sgnscoops
,
The Lore Family
,
the Peyton Sisters
Posted in
announcements
,
artists
|
Comments Off

on Peyton Sisters and Fayth Lore in SGNScoops April 2018
Written by SGN Scoops Staff on January 15, 2018 – 5:55 am -
"Sound~checking with The Lore Family"
From Darren Lore:
Samuel was doing a sound check. He didn't know I was recording. This is one of my favorite Squire Parsons song. And, we love ministering here at Good Shepherd Community Church. Notice the orange padding. Two congregations today had orange padding. Look For Me At Jesus Feet.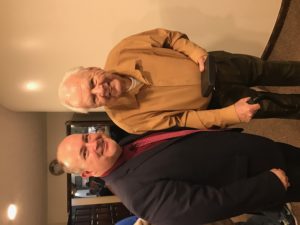 Also, Darren visited  with this fellow at the concert. He was a founding member of the SGMA. Anyone remember him?
Pay close attention to the Samuels falsetto at the end. Darren states, "By the way, Samuel has been sick! The kid has a love for Southern Gospel. His falsetto at the end is funny. He does that around the house all the time."
Thank you Lore Family for sharing this special moment with us! We love you guys…..
Tags:
Gospel News
,
Lore Family
,
The Lore Family
Posted in
announcements
|
Comments Off

on Sound~checking with The Lore Family
Written by Staff on October 28, 2016 – 8:33 am -
Rally Featured Vice Presidential Candidate Mike Pence, Conservative Activist Ralph Reed
Circleville, Ohio (October 25, 2016) Christian vocalist, Fayth Lore, of the Lore Family was privileged to perform the National Anthem as part of a Faith and Family Coalition event held in Circleville, Ohio. Her performance preceded speeches from notables such as Vice Presidential candidate, Governor Mike Pence, and nationally known conservative activist Ralph Reed.
Lore's stirring rendition of the "Star Spangled Banner" set the stage for an exciting time of prayer, inspiration and patriotism. The event was held at Crossroads CCCU Church in Circleville, Ohio.
During the event, Mike Pence told the audience, "You are committed to putting feet on our values, feet on our faith, and you are going to be the difference-makers here in Ohio." He also denounced Roe vs Wade, saying that he will fight for the "Sanctity of Life" by banning late term abortions and defunding Planned Parenthood.
Ralph Reed, Chairman of the 1.1 million member Faith and Freedom Coalition, encouraged Evangelicals to go out and vote, noting that over 17 million failed to vote in the last election. Reed's organization is distributing 1.2 million voter guides, through over 3,000 churches in the battleground state of Ohio.
Fayth Lore and the Lore Family have had a very busy and exciting summer. They recently released a new project, featuring Fayth and her brother Samuel. "Generation Now" crosses generation gaps and bridges the same through inspiring and uplifting music. The Lore Family also performed at top venues, including Dollywood, Silver Dollar City, and the National Quartet Convention. They will be featured at this week's Smokehouse Gospel Music Dinner Theater, in Monteagle, Tennessee. The Lore Family will also host the "Determined Youth Conference" on November 11th, at the Plymouth Heights Church of the Nazarene in Franklin Furnace, Ohio. National evangelist CT Townsend will partner with The Lore's during this teen conference.
More information on the Lore Family can be found on their website at www.thelorefamilyministries.com.
Fayth Lore writes a column for
SGNScoops magazine
entitled "What Love Looks Like," every other month.
Tags:
election
,
Fayth Lore
,
Mike Pence
,
Ralph Reed
,
sgnscoops
,
The Lore Family
Posted in
announcements
,
artists
|
Comments Off

on Fayth Lore Performs National Anthem at Faith and Freedom Coalition Event in Ohio
Written by scoopsnews on December 31, 2015 – 11:01 pm -
Happy New Year from The Lore Family!
A message from The Lore Family :
Happy New Year from The Lore Family!   As many of you know, our family has launched into a FULL-TIME, music-evangelistic ministry. 2015 has been an incredible year for our family ministry. We have watched God perform miracle after miracle. God has given our family protection, provision and power to do what we love. This year, God asked Darren to step out of the pharmacy. And, he said "Yes, Lord." Our entire family felt confident that this was the undeniable will of God. Fayth and Samuel both began attending Ohio Christian University online. This decision was a God-send. We are so thankful for Dr. Mark Smith and the blessing that OCU is to our family. Through a generous donation, God provided our family with a brand new sound system! And, through another donation, we have purchased a new trailer for our ministry. Our 2004 vehicle has 254K miles on it. And, we are purchasing a new ministry vehicle. We are traveling to several new states in 2016, including Al, Fl, Mo, and Ks. And, we are praying for others to open! We have witnessed more lives converted in 2015 than in any year since beginning our family ministry. The altars have been lined with seekers, throughout this year. We have ministered in Youth Camps, Senior Retreats, Women Conferences, Determined Youth Conference, as well as, many revivals, concerts and special services. We can not express how thankful we are for your continued prayers and support. This is a MINISTRY that is determined to touch lives through Christ. We look forward to worshiping with you in 2016!
Watch New Years Video:
Visit THE LORE FAMILY here!
Tags:
The Lore Family
Posted in
announcements
,
artists
|
Comments Off

on Happy New Year from The Lore Family
Written by Staff on August 21, 2015 – 9:43 am -
This Week in Gospel Music with Mickey Bell promises to be a terrific show! Mickey talks to the new tenor singer with the New Dove Brothers. He also visits with Tim Maze of Canaan's Crossing about their Diamond Award nominations. Faythe Lore has an update for us from the Gatlinburg Gathering happening this weekend.
We've been talking about the contest to win two tickets for the whole week of NQC, courtesy of SGN Scoops, This Week in Gospel Music and The Erwins. Well, this week, Katie Erwin talks about her crush on a certain Southern Gospel singer. Will he be at NQC? What will happen? Listen this week as anticipation builds for the 2015 National Quartet Convention and our ticket contest.
Register now for your chance to win two tickets to the NQC. Go to This Week in Gospel Music's website by clicking the Contest button. You can win a chance to register your name more than once by listening to Mickey each week. The Show app is on the website and ready for your download, so This Week In Gospel Music is available for you to listen to wherever you are. Go register for the contest and download the app on www.ThisWeekinGospelMusic.com
This Week in Gospel Music airs on WVSG, Virginia; KNMG in Savannah, MO;  WWIC Radio AM-1050 in Scottsboro, Alabama; WTGF 90.5 Truth Radio in Pensacola, Fl; Radio CIA Benbrook Texas;  WPIL in Heflin, AL, and many more.
Tags:
Canaan's Crossing
,
Erwins
,
gospel music
,
New Dove Brothers
,
The Lore Family
,
This Week in Gospel Music with Mickey Bell
Posted in
announcements
,
artists
|
Comments Off

on This Week in Gospel Music features New Dove Brothers
Written by Staff on July 24, 2015 – 9:27 am -
Be sure to tune into This Week in Gospel Music with your host, Mickey Bell. This week Mickey talks to the sweet and popular Susan Whisnant about her August plans for surgery.
We really
hope this doesn't take her off the road!
The Lore Family is another family group that is gaining in popularity and radio play. Fayth Lore admits to Mickey that she will be doing more than just singing at the National Quartet Convention this fall. What else will this lovely, young, single lady be doing? Mickey is just bold enough to ask!
Mickey has great music, great features, plus guests Keith Erwin of the Erwins and Rob Patz of SGN Scoops. Find out how the Erwins and Sgn Scoops are teaming with This Week in Gospel Music to give
you a chance to win a week of free tickets to the 2015 National Quartet Convention.
Don't forget to download the This Week In Gospel Music app so you can now hear the new show each week the moment it is uploaded on Thursday. Find the app today on 
www.ThisWeekinGospelMusic.com
We are still adding more stations! Stations can sign up here: bit.ly/stationsignup . Program Directors can check out more information at  www.thisweekingospelmusic.com.
Connect with Mickey Bell on his facebook page here: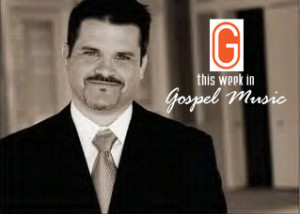 Mickey Bell
Tags:
Christian artists
,
Fayth Lore
,
gospel music
,
Keith Erwin
,
mickey bell
,
rob patz
,
sgn scoops
,
southern gospel
,
susan whisnant
,
The Erwins
,
The Lore Family
,
The Whisnants
,
This Week In Gospel Music
Posted in
announcements
,
artists
|
Comments Off

on This Week in Gospel Music features the Whisnants
Written by Staff on June 15, 2015 – 9:33 am -
Welcome to SGN Scoops Fast Five! Today we introduce you to Fayth Lore of the Lore Family. The Lore Family is based in Ohio and is a mixed family group, who recently left their church to begin a full-time music ministry. The patriarch of the group, Darren, writes some of their music and they also sing current and classic Southern Gospel music.  They have recently been seen on both the SGN Scoops Top 100 and the Singing News charts with their latest release, "The Only Way Out Is Through."
We offer you a peak inside the life of Fayth and all of The Lore Family with this edition of SGN Scoops Fast Five!
SGN: What is one venue you would like to sing at?
Fayth: As of now, our family has ministered in ten states. We have been privileged to sing on some exciting stages. We were blessed to sing on the National Quartet Convention's Main Stage for the past three years. We have also sung at Dollywood, which was a ton of fun! We will return to Dollywood again this year. But my prayer is that our family will start getting bookings all across this country. We fully believe that God is calling us into a full-time, evangelistic ministry. I loved traveling out West a few years ago. So, I would really enjoy singing at the Fan Festival in Visalia, CA. I have extended family in the Sunshine state that I would like to see!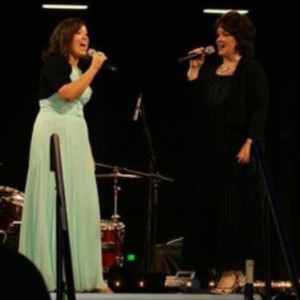 SGN: What is one talent you have that people would be surprised to learn about you?
Fayth: I don't really have a cool talent that would make a person go ooh or ahh! But, I do thoroughly enjoy public speaking. I believe that something that sets our family apart from other artists is that our ministry extends beyond singing. Each member of my family enjoys speaking; whether preaching, teaching or testifying. Also, I love conducting Women Conferences. Sometimes at these conferences I minister alongside my Mom. At other times, I'm a part of a team of workers. My passion is to speak to youth groups and young adults. I love encouraging people in their walk with the Lord.
Tags:
Christian Music
,
Fayth Lore
,
gospel music
,
sgn scoops
,
SGN Scoops Fast Five
,
southern gospel
,
The Lore Family
Posted in
announcements
,
artists
,
christian entertainment
,
Christian interest
,
sgn scoops magazine
,
special feature
,
Uncategorized
|
Comments Off

on SGN Scoops Fast Five with Fayth Lore of the Lore Family