Written by Staff on June 3, 2019 – 3:05 am -
Jantina de-Haan Baksteen went Beyond the Song and reached out to the Taylors about their current radio release, "I Pray Every Day," from their project "Faithful Again."
This song was penned by two talented writers: Scott Inman and Lee Black. 
What is the story behind the title of this album, "Faithful Again?"
Taylors: "We chose to title the project 'Faithful Again' because we wanted to follow up our previous album 'Hope and Healing,' with a declaration that God has been faithful to us in the past and we know that He will be faithful again today and in the future.
Why did you place "I Pray Every Day" on this project?
Taylors: "'I Pray Every Day' is a powerful message to remind us that we should be in constant communication with God. When we do, God transforms our thinking, attitude and heart."
What message do you want to share when you sing to the crowds who attend your concerts?
Taylors: "We want to share our experiences with our audiences and this song encourages all believers to talk to God like a friend. When we wake up and when we lie down and every minute in between, God listens to our prayers. We want everyone to practice daily prayer because prayer changes things.
Thanks so much to Jantina de Haan Baksteen for taking us Beyond the Song with the Taylors. The members of The Taylors are: Chris Taylor on baritone vocals, Suzanna Hise singing  alto, and Jonathan Taylor on the tenor vocals
Read the May SGNScoops Magazine Online HERE
Download SGNScoops Magazine On PDF
HERE
Find SGNScoops Magazine On Facebook
HERE
Listen To Todays Gospel Music
HERE
Tags:
Beyond the Song
,
gospel music
,
I Pray Every Day
,
Southern Gospel Music
,
The Taylors
Posted in
artists
,
sgn scoops magazine
|
Comments Off

on Beyond the Song: The Taylors sing, "I Pray Every Day"
Written by Staff on February 26, 2018 – 9:38 am -
A word from author, Erin Stevens about Chris Taylor of the Taylors…
Welcome back Scoopers. We're ringing in the new year in Younger Perspective style. I thought we'd kick January off on the right foot with someone you all have come to know and love. Chris Taylor of the Taylors is up first. There are aspects of his musical childhood, love story, and miraculous healing that you do not want to miss. Let's get right to it…
Erin Stevens: As many know, you grew up in a ministry home, influenced by your family's love of music. Describe for us some your earliest memories of harmonizing with your siblings. And at what point did you feel this was a calling on your life?
Chris Taylor: I was involved in church choir ever since I was old enough to speak. My mother, being the music minister at our church, began working with us on harmonizing around age 13. I remember vividly standing around the out-of-tune church piano, in our small rural church for what seemed like hours. At that point, we were each fairly good at singing the melody, but mom wanted to teach us all the parts. So, we listened as she played out each note on the piano so we could hear it exactly how it should be sung. We're all pretty fast learners, and since it was fun to hear the parts together, we quickly learned how to harmonize. So, we formed the Taylors as a four-part quartet when I was 15, and in 2008, I realized this was what God called us to do. 
Stevens: Is there a particular Taylors concert from 2017 that stands out as having a lasting impact upon you?
Taylor:  There have been so many. But there was one that was pretty special just a few weeks ago. We have been praying for a family member to get in right relationship with the Lord for over two years. He decided to attend our local concert and cried during the entire service. He told us after that he re-dedicated his life to the Lord that night. 
Tags:
Chris Taylor
,
gospel music
,
The Taylors
Posted in
artists
,
christian entertainment
,
Christian interest
|
Comments Off

on A Younger Perspective featuring Chris Taylor of the Taylors
Written by SGN Scoops Staff on July 26, 2017 – 11:05 am -
(Nashville, TN)…Popular StowTown recording artists, The Taylors, have recently made some big announcements.
First, the newly-formed trio has signed an exclusive booking agreement with Michael Davis at Dominion Agency.
"Michael has been a friend of ours for 10 years," said Jonathan Taylor. "We know that he and Martha understand our ministry needs and will be a good representation for us on the industry front."
The Taylors also named Mike Wheeler, owner of MC Productions from Kankakee, IL, to be their general manager, taking over all of their day-to-day management needs.
"Mike has been promoting gospel music in the Midwest for over 27 years," added Jonathan. "We are excited to let him take the reigns of our business needs, because he knows this industry inside and out!"
These exciting announcements were made during a concert in Bourbonnais, IL, during Mike Wheeler's Gospel Extravaganza.
"We're entering our 11th year of full-time ministry, and God has blessed us beyond what we ever dreamed! After weeks of prayer and careful consideration, we decided to assemble a team to help us meet our goals of reaching more people with the message of 'The Gospel'," said Jonathan. "We're committed to this music for the long haul, and we came to the decision that we need a strong team to keep us moving forward as the dynamics of our families change with time."
"Having Michael Davis, Mike Wheeler, Wayne Haun, Ernie Haase, Landon Beene, Nate Goble and the entire StowTown staff behind us is an exciting step toward our goal of having a top-notch ministry team to help us stay on the road well into the future!"
Comprised of brothers Jonathan and Chris, along with sister Suzanne Taylor Hise, The Taylors first StowTown project, Hope and Healing, made its very successful debut last spring.
Their current single, "Worship You Again," made an impressive debut on the Singing News chart at #42 for the month of September.
Tags:
The Taylors
Posted in
announcements
|
Comments Off

on Exciting Changes for The Taylors
Written by scoopsnews on January 3, 2017 – 11:56 am -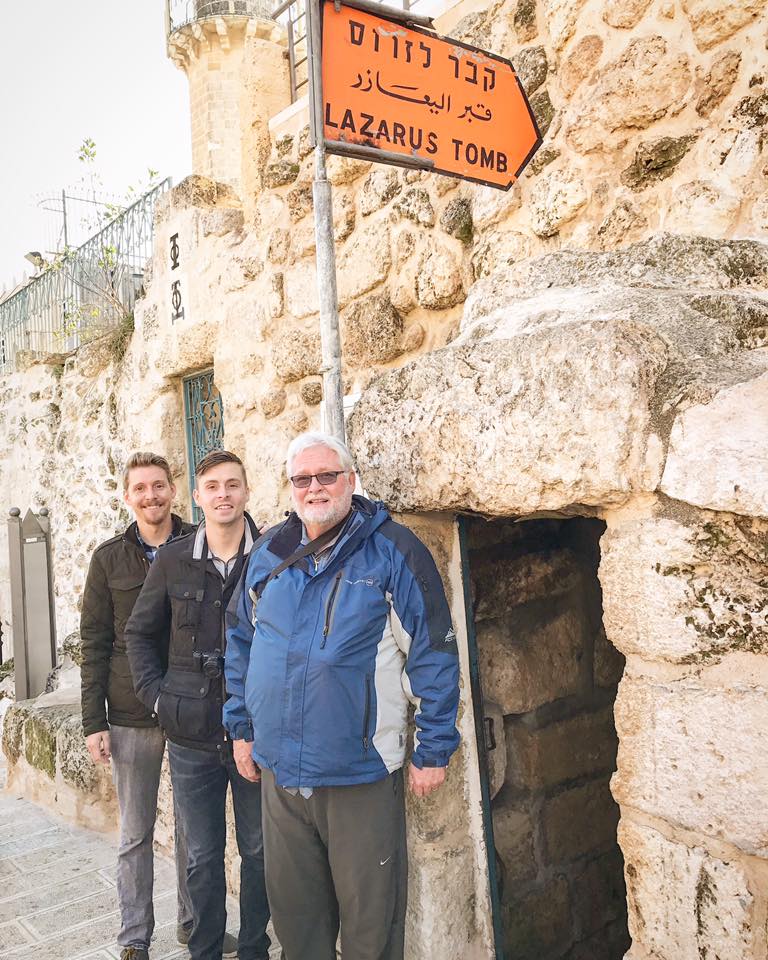 From The Taylors:
This is so amazing!! A friend of mine on our tour took this picture of our group a few days ago when we were in Caesarea Philippi. I was reading from my Papa's Bible from the passage of Matthew 16:13-19 where Jesus asks Peter, "Who do you say that I am?" This is the exact spot where Jesus revealed to his disciples that he was the Son of God. There was a feeling of holy reverence in this place as we held our devotion that morning, and it was very special to me to be able to read the words of Christ from my grandfather's Bible. It was later that my friend noticed a ray of light shining down on Papa's Bible while we read that passage! He didn't edit or alter the photo, which is why it's so special! Thanks, Jeff Crisenbery for catching this moment on camera!
This is such a cool story!
Tags:
The Taylors
Posted in
announcements
|
Comments Off

on The Taylors in Israel….
Written by SGN Scoops Staff on May 7, 2015 – 2:46 pm -
Welcome to the merry month of May 2015 edition of SGNScoops magazine! We are so glad you stopped by to read all the delectable Gospel music morsels we have cooked up for you this month. We will start with the icing on the cake: super quartet, Triumphant, graces our cover and is presented by writer Paige Givens.
May is the month for mothers and we celebrate all moms with two features: Three generations of Crabb/Bowling women talk with Tina Wakefield about their relationships, and young mother, Lindsay Huggins, talks to Hannah Webb about her song, "Praying Women."
Other artists featured include Karlye Hopper, Debra Perry and Jaidyn's Call, The Riders and The Taylors. We take you to three concert events by way of a collection of photographs, so sit back and enjoy the Southern Gospel Weekend, the NQC Spring Break and the Truthseekers Homecoming.
If Southern Gospel were compared to the NFL, how do you think it would measure up? Just ask Ike and Sheri LaFontaine. Lou Hildreth, Laurette Willis, Vonda Easley, Dusty Wells, Jeff Steele, Kelly Nelon Clark, Sherry Anne and Stephen Widener all have words to inform, entertain and intrigue you this month.
Thank you for reading SGN Scoops! Please download this issue to read again and again. Flip through it below. Tell your friends, show your family. Share the good news with someone today.
Tags:
Football
,
Karlye Hopper
,
southern gospel
,
Southern Gospel Music
,
Southern Gospel Weekend
,
The Riders
,
The Taylors
,
Triumphant
Posted in
announcements
,
sgn scoops magazine
|
Comments Off

on May 2015 SGNScoops Magazine
Written by Staff on September 26, 2014 – 9:21 am -
Photographs by Craig Harris
Once again, SGN Scoops' reporter Craig Harris gives us a look at the evening performances during the National Quartet Convention. Thursday's events also included the Singing News' Fan Awards.
Tags:
brian free
,
brian free and assurance
,
Christian Music
,
Craig Harris
,
Dixie Echoes
,
Dixie Melody Boys
,
Ed O'Neal
,
gospel music
,
Greater Vision
,
Lauren Talley
,
national Quartet Convention
,
nqc
,
Randy Shelnut
,
Rodney Griffin
,
sgn scoops
,
singing news fan awards
,
the isaacs
,
The Taylors
Posted in
artists
,
christian entertainment
,
Christian interest
,
gospel events
|
Comments Off

on SGN Scoops at NQC – Thursday
Written by Staff on September 22, 2014 – 1:39 pm -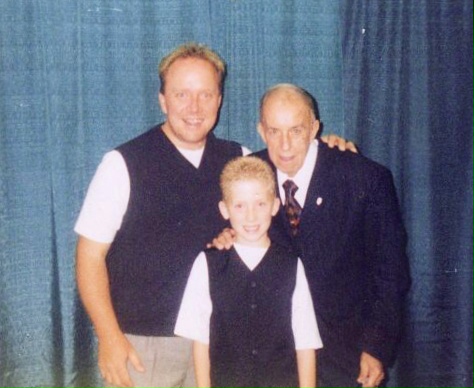 I remember when I was 11 years old at the 2001 NQC.  I was so excited to see the quartets I loved and the chance to meet them.
I got to meet some of my heroes that week like Jake Hess, Tim Riley, Howard and Vestal Goodman, Ray Dean Reese, Ed O'Neal, Bill Gaither, and others!
The moment that stands out the most from that week was when I got to meet my favorite singer of all time, George Younce, who was with the Old Friends Quartet at the time. He was so kind and joked around with me like George would always do.
About a year or two after that, he called to encourage me to keep on singing and follow the Lord's guidance. He has made a lasting impact on my life.
I believe God used George Younce to influence me to sing in Gospel music. I will never forget that NQC!
Submitted by Aaron Perkins, Sound Technician/Bass Vocalist at The Taylors
Please submit your NQC memories to sgnscoops@gmail.com
Tags:
Aaron Perkins
,
Christian Music
,
George Younce
,
gospel music
,
Jake Hess
,
nqc
,
sgn scoops
,
The Taylors
,
Tim Riley
Posted in
announcements
,
artists
,
christian entertainment
,
Christian interest
,
sgn scoops magazine
|
Comments Off

on My NQC Memories: Aaron Perkins
Written by Staff on June 12, 2014 – 8:53 am -
Young Artist Spotlight
By Rebecca Little Burke
Some people come into your life for a short season. Others come into your life and take up residence. You know the kind…they become your lifelong friends. This month's Young Artist Spotlight happens to be one of those lifelong friends of mine. In 2006 my path crossed with a young man in college at Campbell University.   Little did I know that he and his siblings would become some of my dearest friends. Honestly, a much better description would be 'family'.   In my opinion, he is one of the finest young men in our industry. His walk matches his talk, and at the age of 27 he gives himself tirelessly for the cause of Christ. I am so excited to introduce to you all the lead singer of The Taylors, Mr. Jonathan Taylor.
RLB: Tell us a little about you and your family. How did you get started in Southern Gospel music?
JT: I grew up as a preacher's kid in a small country church in North Carolina. I came from a large family of four brothers and two sisters, so there was never a dull moment growing up!   I come from a strong Christian heritage and I honestly don't remember a time when I didn't love the Lord. I remember giving my heart to Christ at VBS when I was seven years old and it's the best decision I ever made.
Mom has always led the music at our church and had us singing in her choir since we were old enough to start talking. I sang just about every Sunday at church. When someone suggested I attend the Steve Hurst School of Music in Nashville, I jumped on the opportunity. That was nine years ago and I have been hooked on Gospel Music since! I went back home and talked my younger siblings into starting a quartet, and the rest is history.
RLB: When you're not out on the road, where can we find you?
JT: When I'm not on the road, you can find me in the great outdoors. I love fishing, kayaking, hiking, and camping. I also love to travel and see new places. Every year I make plans to visit a different country. God created such a beautiful world, and I'd like to see as much of it as I can!
RLB: Since I know you are quite the traveler, tell everyone about your trips. What has been your favorite one?
JT: My favorite trip has been to Alaska. My family went three years ago, and there is so much to see there. We drive all over the state and saw Denali National Park, glaciers, and a lot of other cool things.   My favorite thing about the trip was going salmon fishing. The river was beautiful, and we caught a ton of fish. After we got off the boat, we went straight back to the cabin to grill our catch. It was the best salmon I've ever had!
RLB: Many of our readers may remember the earthquake and tsunami that hit Japan in 2011. What they may not know is that you and your sisters were visiting Japan when it hit. Tell us about that experience.
JT: My two sisters and I found ourselves in Japan three years ago when the tsunami and earthquake devastated the northern part of the country. We had planned to visit that area close to earthquake, but God changed our plans at the last minute. Instead, we traveled in the opposite direction. We were on Mount Fuji when the earthquake hit. We felt the ground move, and buses began to sway back and forth in the parking lot where we had stopped. It took us 14 hours to get back to the city, and our parents had no idea if we were dead our alive. We finally made contact and we had an emotional reunion on the phone.
When we finally got through to the airport, we were amazed that there were only three seats left on the only flight back to the US.   God orchestrated it all in a way that only He could. He sent us help through strangers who took us all the way to the airport and gave us their spots in the long lines so that we wouldn't miss our flight. God heard the cries of His children and took care of us, and my faith was strongly impacted on that day in 2011.
RLB: What are some of your goals in the coming years?
JT: Ministry-wise, our goal has always been to see people come to know Christ at our concerts. I suppose that my biggest goal for the coming years is that God would open doors for us to minister in places that would have the greatest impact on The Kingdom. Sure, it's nice to sing in churches with large crowds, but I'm not just talking about numbers. I want to see lives changed, including my own. Sometimes that means going places that are out of our comfort zone, which leads me to my personal goal: to continue to trust God wherever he may take us.
RLB: Who are some of the people you look up to in our industry? Why?
JT: Because we started traveling and singing at such a young age, I value the advice of people who have spent their entire lives in the industry. First on the list would be Mike Wheeler from Kankakee, IL. Mike and his family have promoted concerts for over 26 years and he has been gracious enough to promote our family over the last few years. Tracy Stuffle and Jeff Easter have also been encouragers of our ministry. Over the years, those two guys have given some great advice!
RLB: What advice do you have for other young people in the SG industry or aspiring to be in it?
JT: My advice to younger singers in our industry would be to avoid comparing your ministry to the ministries of other singers and groups.   If God has called you to sing, just sing. Don't worry about trying to measure up to the standards of this industry, because God's standards are the only thing that matter. He wants your best, but that doesn't mean you will always be the best. God has humbled me so many times over the last eight years when He has moved in services where I thought I did my worst.   God loves a willing heart, and He tells us that in our weakness, He is made strong. Don't get discouraged when you see other singers on bigger platforms. God has ordained you to share your gift with the audience that He has provided.   Don't forget that He has a plan, and He knows what's best.
RLB: What is the Lord currently teaching you?
JT: I know this seems strange, but the Lord is teaching me to have more confidence. I'm a type-A perfectionist, and I have always been driven to do my best. The motivation to try to be perfect is unrealistic most of the time, and God has been teaching me to stop worrying about it so much. God doesn't need me to hit every note, and He doesn't need me to always be the best emcee…He only needs me to make myself available for His purpose. I'm learning that if I trust Him completely, He can do great things through me even when I feel like I haven't measured up.
Fortunately the Lord uses us in spite of us. We will never see perfection on this side of Heaven, but somehow through His mercy and grace, He uses imperfect people to accomplish His perfect plan! What a good God He is! Thank you Jonathan for sharing your heart and ministry with us!
For more information about the ministry of The Taylors, visit http://www.thetaylorsmusic.com/home.
Facebook: https://www.facebook.com/thetaylorsmusic
Twitter: @thetaylorsmusic
Written by Rebecca Little Burke. First published May 2014 by SGM Radio Website
For current features on SGM Radio website, visit http://www.sgmradio.com/
Photos courtesy of Jonathan Taylor
Tags:
Christian music artist
,
gospel music
,
Jonathan Taylor
,
Rebecca Little Burke
,
sgm radio
,
SGM Radio website
,
The Taylors
Posted in
SGM Radio
|
Comments Off

on Jonathan Taylor of The Taylors
Written by SGN Scoops Staff on June 10, 2014 – 8:03 am -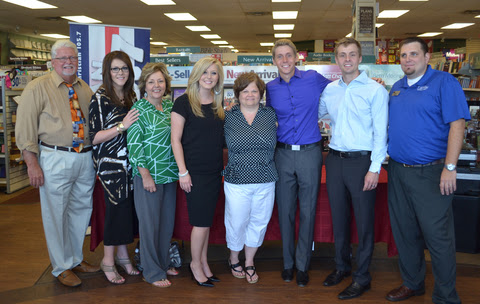 NASHVILLE, TN (June 10, 2014) – The Taylors, the 2013 Favorite New Mixed Group of the Year, celebrated their debut StowTown Records project, "Measure of Grace," with an early CD release party at Lifeway Christian Store during their Homecoming weekend in Fayetteville, NC.
The highly anticipated festivities began on Friday night with a concert at Fayetteville Community Church featuring Jeff and Sheri Easter, but that was only the beginning of a busy kick-off weekend for The Taylors. The two brothers and two sisters—Jonathan, Christopher, Suzanne, and Leslie—couldn't wait to share their new project with fans, so the happy crowd in attendance Saturday afternoon at the Fayetteville Lifeway Christian Store was treated to a live preview of the music, a meet and greet, and autograph signing opportunity with The Taylors. The special weekend concluded on Saturday evening, when The Taylors were joined by Gordon Mote in concert.
The Taylors' new 11-song CD officially releases to Christian retail stores nationwide, as well as digital outlets today, June 10, 2014, through StowTown Records and Provident/Sony Distribution. Their first single from the project, the title song "Measure of Grace," has recently been released and is expected to continue the momentum the popular group has already enjoyed on radio.
Follow The Taylors on social media
Twitter – https://twitter.com/thetaylorsmusic
Facebook – https://www.facebook.com/thetaylorsmusic
as well as their website (http://thetaylorsmusic.com) for fresh news from the group and updates on their touring schedule.
Tags:
Provident/Sony Distribution
,
Southern Gospel Music
,
Southern Gospel News
,
StowTown Records
,
The Taylors
Posted in
announcements
|
Comments Off

on The Taylors Celebrate "Measure of Grace" Project with CD Release Party During Homecoming Weekend
Written by SGN Scoops on April 16, 2014 – 6:59 am -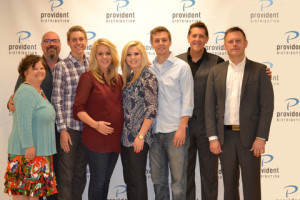 StowNASHVILLE, TN (April 15, 2014) – On Monday, StowTown Records expanded its already impressive artist roster by signing 
The Taylors
, the 
Singing News
2013 Favorite New Mixed Group of the Year.  
StowTown Records co-founders Ernie Haase and Wayne Haun celebrated their new partnership with The Taylors—Jonathan, Suzanne, Christopher, and Leslie—during a signing event at the offices of Provident/Sony Distribution. A live performance by the brothers and sisters quickly captivated the Provident sales and marketing staff, and created an air of excitement for "Measure of Grace," their debut CD release with the StowTown record label.
Ernie Haase has been anticipating the opportunity to introduce the young artists to an even wider audience. "The Taylors are a talented vocal group who have that 'sibling thing' that is hard to describe or deny. To see these brothers and sisters—all in their early 20's—perform together is something to behold. I think everyone will hear what we first heard in The Taylors—passionate, tender voices blending into glorious overtones of a
heavenly sound. You are going to love The Taylors!" Jonathan Taylor expressed his excitement about The Taylors being welcomed into the StowTown family of artists. "We've been so impressed by Ernie always wanting to do his best in everything he's been called to do. We look forward to seeing how God uses this new relationship to spread our music to unexpected places!"
The Taylors' new recording, "
Measure of Grace
," is expected to release on June 10, 2014, to Christian retail stores nationwide, as well as digital outlets. Their first single from the project will be shipped to radio soon, in anticipation of another successful climb up the charts. Follow The Taylors on 
Twitter
  and visit their 
website 
for news from the group, updates on their touring schedule, and further details on the upcoming project as the release date approaches.
Tags:
Ernie Haase
,
Southern Gospel News
,
StowTown Records
,
The Taylors
,
Wayne Haun
Posted in
announcements
|
Comments Off

on StowTown Records Signs The Taylors