Written by Staff on October 2, 2014 – 10:25 am -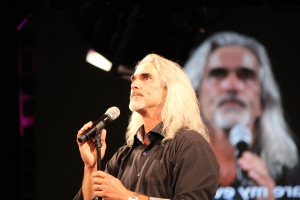 By Candi Combs
Thomas Road Baptist Church and Liberty University is all abuzz this week with anticipation of An Evening of Worship with Guy Penrod, Friday, October 3. Dress rehearsals at the church are on track for Thursday as LU students prepare to lend choral arrangement vocals for the event.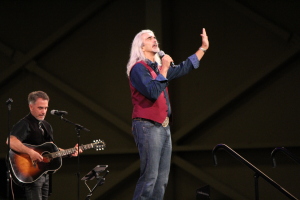 The Dove Award and Grammy Award winning vocalist Guy Penrod said, "Going to Lynchburg is a lot like going Home!"
While attending college in Lynchburg at Liberty Baptist College (now Liberty University) Guy displayed his talent with the Sounds of Liberty. He quickly became a favorite of Thomas Road Baptist Church and Liberty's student body. Shortly after graduating, Guy and wife Angie found their way to Nashville. It was there, that work as a studio vocalist led to the invitation to become the lead singer for the Gaither Vocal Band.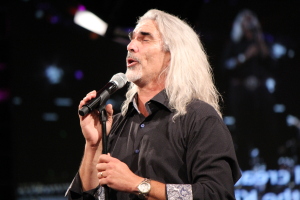 Guy has now established a solo ministry that has him booking dates internationally. With that unmistakable voice and the ability to communicate like few others can, you do not want to miss the singer recognized around the world on his special night back home.
Each time Guy comes home to Lynchburg it is an extraordinary evening. Guy's normal program takes a back seat when he comes home to Lynchburg. October 3, 2014 will be a wonderfully unique night of Praise and Worship to the King as Guy performs favorites from his debut album 'Breath Deep', selections from the award winning 'Hymns' album and his current project release 'Worship'.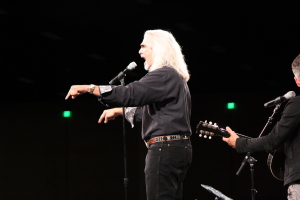 When  Penrod graces the stage at the famed Thomas Road Baptist Church, he will be joined on stage by a 240-voice choir, live background singers (coming in from Nashville just for the night) and an extensive band of Nashville best musicians.
The powerhouse vocalist wishes just one thing for the night "…..to join the younger generation and the older generation in one unified voice, lifting praise to the KING OF KINGS. We are going to mix Hymns and Worship songs for a wonderfully unique night of WORSHIP to the LORD. So everybody come join us. I would love to see you there."
Byron Davis with Lift HIM Up Events told SGN Scoops that they are thrilled to invite everyone to this special DVD taping with Gaither Music Group.
Plan to be in Lynchburg, Va., October 3rd – 6:30 pm at the Worship Center at Thomas Road Baptist Church. Tickets are still available!
Photographs by Candi Combs
Tags:
Candi Combs
,
Christian Music
,
gospel music
,
guy penrod
,
Liberty University
,
Thomas Road Baptist Church
Posted in
announcements
,
artists
|
Comments Off

on Candi's Catch-ups: An Evening of Worship with Guy Penrod ready to tape!
Written by Staff on September 22, 2014 – 2:49 pm -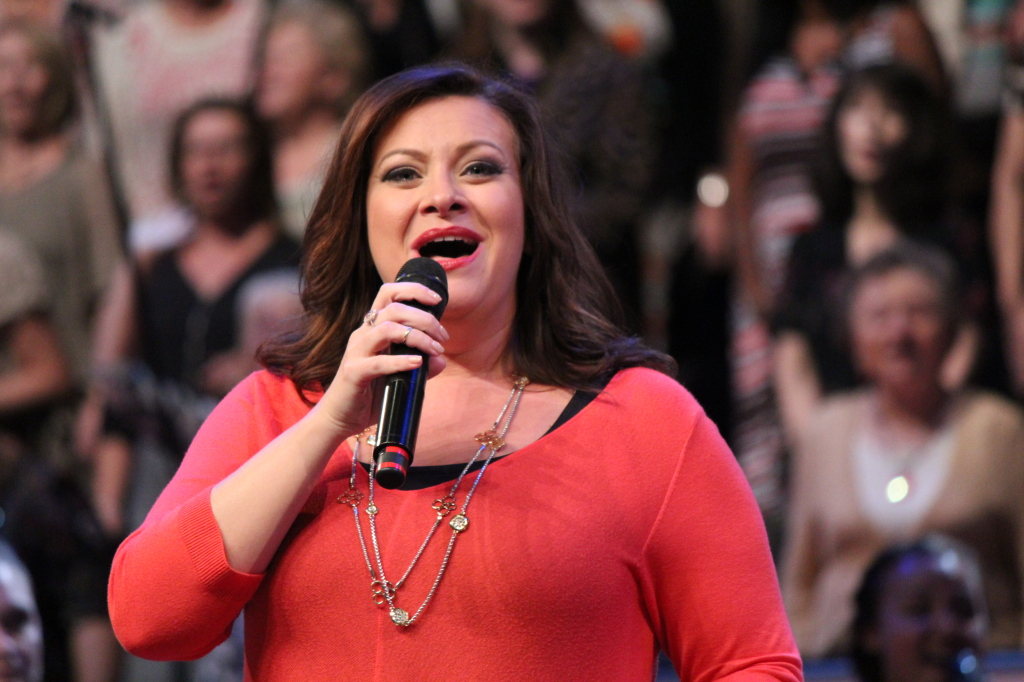 By Candace Combs
Members of Thomas Road Baptist Church in Lynchburg, VA, the home of Liberty University, have been challenged. Pastor Jonathon Falwell, son of the church's founder, Jerry Falwell, has asked to multiple campus congregations to think: 'What If…?'
There was no better choice to kick off the series than TaRanda Greene. TaRanda traveled to Virginia to join worship leader Charles Billingsley along with the TRBC choir and orchestra for a morning full of praise and worship.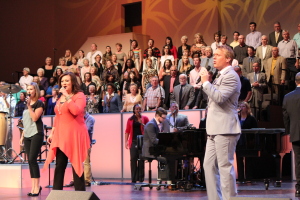 Each music selection revolved around the central theme of declaring God as Holy and culminated with focus on the Cross. TaRanda joined the praise team in leading the congregation with "You are Holy" and "For You are Holy".
Ramping up the music with the stage lighting turning red, TaRanda sang "The Wonderful Cross" with Billingsley and the entire TRBC Worship Team. The biggest treat came when TaRanda began "This Blood".   Her exquisite vocal ranges made every listener feel the power of Jesus blood. At the bridge, the full choir joined while everyone in the room was standing. TaRanda clearly shared her heart in the words, "I've come to tell you He's alive! And, He's coming back again"!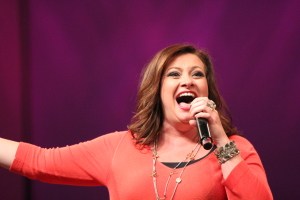 TaRanda Greene, a young girl from Tennessee met and fell in love with a Gospel singer, and together they became The Greenes. Just four years ago this week, Tony Greene was called to glory. What if God took this young woman and brought her to many stages beside her husband, and then left her alone to raise two young daughters? Surrounded by loving family and countless fans, TaRanda has faced every challenge with the strength she gets from the Lord.
Recently, TaRanda made her first pilgrimage to Israel with In Touch Ministries. "I never imagined a piece of land could change my life," stated Greene. "I knew that Jesus changed my life years ago, but the experience of walking in His steps…wow!" Greene is still continuing to process all the feelings from the experience.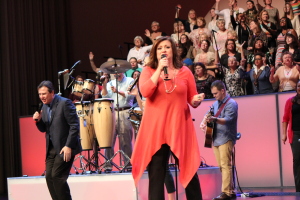 Watch for new music coming from TaRanda Greene and Stow Town Records. This new solo project encompasses several music genres. It is entirely possible that songs will appear on various charts. "I'm very excited to see where God will open new doors", Greene commented. This project is set to release November 10.
Like everyone who was in attendance at Thomas Road Baptist Church, TaRanda Greene left Virginia asking, "What if…."
Stand by; if this lady keeps singing like this, there is no limit! For more on TaRanda visit http://tarandamusic.com/
Tags:
Candi Combs
,
Charles Billingsley
,
sgn scoops
,
Taranda Greene
,
The Greenes
,
Thomas Road Baptist Church
,
Tony Greene
Posted in
artists
,
concert reviews
|
Comments Off

on Candi's Catch-Ups: TaRanda Greene at Thomas Road Baptist Church
Written by SGN Scoops Staff on June 30, 2012 – 4:39 am -
LYNCHBURG, Va., Working with church partner New Life Church in Colorado Springs, CO, Gleaning For The World is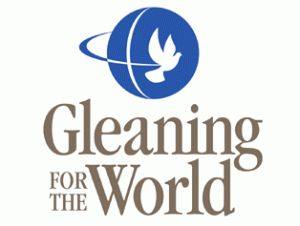 distributing water, food, personal care supplies and related items to more than 50,000 evacuees in the state. Supplies began to arrive this week.
"Evacuees are finding shelter in schools and churches; we want to make sure they have basic supplies," stated Jonathan Falwell, Chairman of Gleaning For The World, a humanitarian aid organization affiliated with Thomas Road Baptist Church. "We are praying for the people there and doing all we can to help them cope with this emergency situation."
Gleaning For the World partners with churches in times of disaster to quickly and efficiently distribute critical supplies to affected communities. New Life Church in Colorado Springs is serving as the distribution point for this effort.
For more information on how you can help the people in Colorado, visit www.GFTW.org
Tags:
Christian News
,
Colorado Fires
,
Gleaning For The World
,
Jonathan Falwell
,
New Life Church in Colorado Springs
,
southern gospel
,
Thomas Road Baptist Church
Posted in
announcements
,
causes
|
Comments Off

on Jonathan Falwell Ministry Responds to Colorado Wildfires