Written by Staff on March 14, 2016 – 3:38 pm -
Charting trio, Jim Brady Trio  is experiencing the first change after almost 15 months on the road.
Tim Parton, vocalist and pianist, has departed the group. Gus Gaches,  formerly of Legacy Five,  is currently filling in.
More news.
Tags:
Gus Gaches
,
Jim Brady Trio
,
Tim Parton
Posted in
announcements
,
artists
|
Comments Off

on Jim Brady Trio undergoes changes
Written by Staff on March 3, 2015 – 12:38 pm -
The JIM BRADY TRIO will perform at Shiloh Hills Baptist Church, Kennesaw, GA on Friday, March 13th, at 7:00 PM.
During Jim's twelve and a half years with The Booth Brothers, the trio became
a favorite among Southern Gospel audiences, collectively earning more than
100 industry honors and accolades. Jim personally has received eight Baritone
of the Year Awards, as well as three Songwriter of the Year Awards. He has also
written several Number One songs and has enjoyed Dove and Grammy Award
nominations.
In the summer of 2014, Jim and his wife, Melissa felt the time was right to answer a new call and to embark upon a brand new ministry. Thus came the announcement that Jim would be leaving The Booth Brothers to join his wife in forming The Jim Brady Trio.
With the complete support of long time friends, Ronnie and Michael Booth, Jim and Melissa began the search for just the right ministry partner. They found him in the form of multi-talented singer/musician, Tim Parton.
Like Jim and Melissa, Tim has spent the past several decades traveling with some of the industry's most gifted and talented individuals. He toured with the legendary Speer Family, as well as Gospel Music icon, Vestal Goodman, in addition to The Lesters, Gold City and Legacy Five. He is an extraordinary producer and arranger and has been regularly featured on the popular Gaither Video Series. "We can't think of a nicer guy to have on our team," Melissa shares. "He has such a smooth, warm, mellow voice and is such a  great producer and arranger. We feel very blessed to have him as the third member of The Jim Brady Trio."
The main thing that Jim and Melissa, also a talented singer-songwriter, want people to know is:"What we do is always and only about the Lord and telling others about Him. When we write and when we sing it is our desire and our goal, first and foremost, to lift Him up in praise."
Plan now to attend and enjoy this first concert in Georgia by the Jim Brady Trio.
Tickets available at the door at 75 Hawkins Store Rd., Kennesaw, GA.
Find out more about the Jim Brady Trio
HERE
Read a feature from SGN Scoops digital magazine on the Jim Brady Trio
HERE
Tags:
Christian Music
,
gospel music
,
Jim Brady
,
Jim Brady Trio
,
Kennesaw Ga
,
Melissa Brady
,
Shiloh Hills Baptist Church
,
southern gospel
,
Tim Parton
Posted in
announcements
,
artists
|
Comments Off

on SHILOH HILLS BAPTIST CHURCH to host The JIM BRADY TRIO in Concert
Written by Staff on March 3, 2015 – 12:18 pm -
Twelve years. Jim Brady spent more than 12 years of his life singing, sharing, laughing and living with the Booth Brothers. His mellow baritone and incredible range made him fit in the group like another brother. However, beginning January 1, 2015, he followed God's call to begin his own journey with his wife Melissa, and Tim Parton. So the obvious question is…why?
"Well it's been a dream of (mine)," Brady begins. "My wife and I actually sang together as The Shulers. Her father was an evangelist, and we did revivals, crusades and churches; a little bit of concert work and a lot of church work."
After 10 years, Melissa's father came off the road. Jim and Melissa continued as The Shulers with a man who would play a role in Jim's future: Paul Lancaster. Then came the call that would alter Jim's life significantly. The Booth Brothers asked him to fill in until they found another singer.
"After about three weeks of filling in, my wife came to me and said, 'you know what, if you think that's where God wants you, then I'm behind you.' The Bradys had just built a home close to her parents and Melissa's father was ill. Jim wasn't sure it was the right thing to do. In fact, he didn't even consider it.
"Melissa said, 'you know my home is wherever you are and if you feel like this is God opening a door for you, I don't want to hold you back.' We felt like God had opened up a great door and I didn't realize He was doing that, because I was truly just going to help the guys because I loved them and respected them. So, after a few weeks of filling in I said to the guys, 'If you guys are interested, you know, I'd be interested.'" Then Michael and Ronnie Booth admitted that they hadn't actually auditioned anyone else. Jim Brady was officially a Booth.
"The first night I ever sang with the guys was with the Gaithers in Nashville. I met Bill on stage, in front of all those people." Jake Hess was there, and told Brady that he really "fit" with the Booths. "That was a great compliment. You know, I'm nervous, I'm around all these heroes of mine and Mosie Lister, the great legendary songwriter, said to me: 'you could be a (Booth) Brother, you sound like a Brother.'" Terrific compliments, from a couple of gentlemen who embodied Gospel music.
Jim Brady had an amazing start with the trio that would take his voice and his music to the top of the charts and to the heart of every listener. Many thought the three men would continue on until they rode off into the sunset together.
One of those, however, was not Michael Booth. "It's one of these things that we always knew was a possibility because he had his own group before he came with us. So we are just grateful for the amount of years we got," says Michael. "You can't fault a guy for wanting to be working with his wife! She has spent an enormous amount of time alone. With our [Ronnie and Michael's] wives, we have children. Ronnie's are grown and out of the house, but my wife home schools our kids and although it is hard for her to do that job by herself, she is not alone. She has the burden of being the guy and the gal, raising our kids by herself. But for Melissa it got pretty lonely."
Michael immediately adds, "We want to make sure everybody understands that it was not a situation where Melissa talked her husband into quitting the Booth Brothers. That was NOT the case. I think it was Jim realizing that if he was ever going to do it, he needed to do it now. We are just grateful we got almost 13 years to sing with him."
Brady knew it was the right time. "I felt like God was really putting it on Melissa's and my heart to do this ministry. God has opened up doors for her and I, the last couple of years. It was hard to tour with the Booth Brothers and then do what we wanted to. We have a Ladies' Ministry and conferences that she does. We do a lot of traveling together, banquets and marriage conferences."
The Booth Brothers were doing 150 concerts a year, which kept the Bradys apart for 200 days a year. "The reason 'now' is the right time is because first of all, I'm not getting any younger, and we cherish the moments we have together. We can now minister and do what God has called us to do – together – for those 200 days. You can't get those back."
How does it feel to begin again? "It's a leap of faith, it's exciting, it's crazy and it's hectic right now, but I feel like it's the right thing. Once we made that decision, we just had peace that God was leading every step of the way."
"It's hard to leave. This is a great job! When you think about the familiar and the safe and it's all laid out for me; all I do is walk on the bus." With the Booth Brothers, everything was provided that the Jim Brady Trio may not have at the first, from the sound engineer to the driver to the product person. "I just walk on stage and they hand me my mike and I sing, and it's very easy. It's awesome, it's been rewarding to do this but I'm in some ways starting over and now it's all up to me to do all that."
Sometimes when God asks you to leap, it doesn't make sense. "You walk through those doors and He provides, and He opens. It's been amazing the doors He's already opened, the concerts that are being booked. It's like the floodgates of heaven have opened up and He's given us the opportunity that we had hoped for."
"So you take that leap of faith, and I don't know why we're surprised, we know God says He'll take care of us and walk with us and it's funny how we're surprised when He does." The Jim Brady Trio has signed on with the Harper Agency, the same booking agency that works with the Booth Brothers. The dates are coming in fast.
"Our first date is at Opryland Hotel with Legacy Five. It's kind of neat; December 31st is Paul Lancaster's first day with the [Booth Brothers] and I'll do a little bit (with them) that night. The very next day is our first date as the Jim Brady Trio. It's kind of a goodbye and then the start of a new chapter of my life." On January 4th, the Trio is scheduled to be Dr Charles Stanley's church. "What a way to start out! God has opened the doors and we hope to walk through them and just be faithful."
The Jim Brady Trio is working hard to get their new music to their audience. They have completed a project that was recorded in four days, over the Thanksgiving break, and Daywind will release it, with the first single to be determined. At press time it was tentatively self-titled, but Brady says that may change.
"We wrote a lot for this project, and a couple of songs were written directly to where we're at right now in our life (lives). One of the songs is just called, 'Stepping Out in Faith.' There's another one called, 'The God of What's to Come.' We wrote it specifically for what our life is right now. We pulled a few songs that I've written through the years that I felt would fit, and what we need for our live performances right now. I did some familiar songs that I've written that [people] would know and then we pulled some classics, then the rest are fresh and new."
Brady wanted to make sure all the songs were exactly right for the new Trio. As a prolific songwriting couple, it was hard to decide between all of their 'babies.' "You know you kind of love your 'kids' the best. We didn't want to play favorites, so we bounced it off a lot of friends. So Scott Godsey and Ed Leonard, and the people at Daywind have been really helpful to give opinions and ideas of what would be the best. I think we've got the right collection. We're excited!"
At first it was surprising for Booth Brothers' fans to see who the new voice would be in the Jim Brady Trio, a man who has been known more for his piano work than his vocals. Jim first met Tim Parton when Parton was with the Missouri family group, The Lesters.
"I've known him all these years, but we toured together for several years with the Christmas Jubilee tour and then the regular Jubilee tours, because he was part of Legacy Five. When we recorded all those Jubilee projects, he was arranging and producing and we became great friends. Through the years we've just worked together; even on some Booth Brother dates, Tim would be opening, playing the piano, and then he'd sing a little."
Jim and Melissa invited Parton to join them in their Nashville conferences entitled Something Beautiful. "We've worked with him on stage, in the studio, we've had him in our home, so we just felt a good connection with Tim. Not only is he an unbelievable talent, he's also a great singer, and he's just a great guy. He's just a great human being; he has a sweet, gentle spirit. We loved him and we knew that the personalities would click. When we started singing, the blend just worked. There's something magical that happens when three voices blend well together and that's one of the things that the Booth Brothers have been known for and people love, is that chemistry that those voices have. We actually talked to him about coming before we ever sang together. When we did, it felt right. You know as a singer if you think you can blend with somebody, and then more than that, you got to think about living together on the road in a 45-foot bus or 40-foot motor home."
"Whatever you're in, you're in tight quarters, so you have to be able to get along, work together, and be like-minded in ministry as well as music. We knew that with Tim we would also connect spiritually and in ministry." The Bradys knew that there would be harmony with Parton on and off the stage.
As exciting as this new leap of faith is for the Bradys, Jim says that there are things he will miss, from the Booths, to their driver, to all the men who work with them. "I'll miss those moments of fun with these guys. The music has been wonderful. It's those moments on stage that are so priceless to me: when you feel God working, and you feel the song with the audience. I'll miss that. I'll miss the laughs on the bus I'm sure, because we absolutely had a wonderful time."
"My wife and I love to be together and there's nothing like it, it's just wonderful, but I think sometimes you get out with the guys and you laugh a little more and it's different. We'll have that too, it'll just be a different dynamic."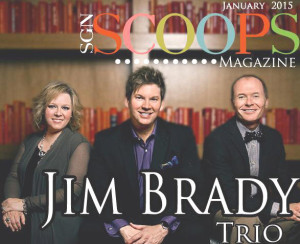 The Jim Brady Trio's goals are much the same as the Booth Brothers' and as Jim's personal goals: to bring hope. "It seems like everywhere you turn, people are hopeless; tragedies are happening, and they feel like they have no hope. But we want to remind people that there is hope, there's always hope in Christ. It's more than success, if you can help an audience, help a Christian in their walk with the Lord, to know that it's not just about the here and now. You can remind them of the things we have to look forward to. It's significant when you help people for eternity; whether it is salvation for those that do not know the Lord, or just encouragement for those who do know the Lord, who are going through a hard time. That's really what I would love, that would be huge to us if we felt that we could do that successfully. That would be fulfilling for us."
Find out more about the Jim Brady Trio HERE
Visit the SGN Scoops website to read a follow-up story called Getting Personal with Jim Brady HERE
By Lorraine Walker
First published by SGN Scoops in January 2015. Download this issue HERE.
Tags:
booth brothers
,
Christian Music
,
gospel music
,
Jim Brady
,
Jim Brady Trio
,
Lorraine Walker
,
Melissa Brady
,
Michael booth
,
sgn scoops
,
southern gospel
,
Tim Parton
Posted in
artists
,
christian entertainment
,
Christian interest
,
guest
,
sgn scoops magazine
,
special feature
|
Comments Off

on The Jim Brady Trio Takes A Leap…Of Faith
Written by Staff on February 6, 2015 – 10:47 am -
The Booth Brothers packed the house again while in concert at Shiloh Hills Baptist Church recently. The Brothers h
ave been coming to the area for several years and every time additional space has to be added. They attract all age groups to their concert. There were several children there as well as a lady that was 99 years old. She said after the concert if she made 100 she would be back to hear The Booth Brothers again!
After opening remarks, introductions  and announcements, Pastor Vic Bledsoe introduced the Shiloh Hills Choir under the direction of Matt Bledsoe.  A great music program from the choir concluded with "How Great Thou Art."
The Booth Brothers took the stage 
​
to a standing crowd, singing many of their new songs that featured their newest member Paul Lancaster.  Michael introduced a special guest in the audience: Stan Whitmire. He invited Stan to the piano and Michael, Ronnie and Paul gathered around the piano to sing. Stan accompanied the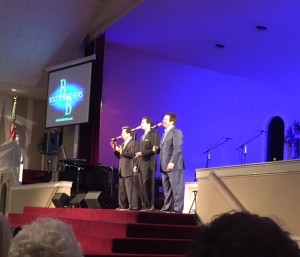 group throughout the second half of the concert on the piano also playing a couple of piano solos.  Michael closed the program with prayer and folks hung around for about an hour talking with the guys. I must say that Paul Lancaster is a great fit for the Booth Brothers.
The next concert at Shiloh Hills Baptist Church will featured the departed member of The Booth Brothers, Jim Brady and the Jim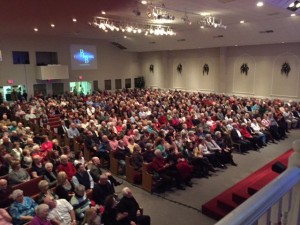 Brady Trio. This concert will be

March 13 at 7:00 pm

.  Former Mark Trammell Quartet bass singer, Pat Barker, will open for the Jim Brady Trio.
Tags:
booth brothers
,
Christian Music
,
Jim Brady
,
Jim Brady Trio
,
mark trammell
,
Michael booth
,
Pat Barker
,
Paul Lancaster
,
Ronnie Booth
,
southern gospel
,
Stan Whitmire
,
Tim Parton
Posted in
artists
,
concert reviews
|
Comments Off

on BOOTH BROTHERS AT SHILOH HILLS BAPTIST CHURCH
Written by Staff on January 13, 2015 – 8:51 am -
As 2015 began, Jim Brady joined with his wife Melissa and co-singer Tim Parton to form The Jim Brady Trio. Jim sat down with SGN Scoops to talk about the transition from the Booth Brothers to his own group and most of this interview is covered in the January 2015 edition of SGN Scoops. However, because of the length of the interview, we have continued the conversation here. So join us, as we get personal with Jim Brady.
The initiation of the Jim Brady Trio will mean a shift in some of the activities of the Bradys. Jim and his wife Melissa have been putting together marriage counseling seminars and the women's conference Something Beautiful over the past couple of years. Although the increased tour dates together will cause their schedule to become stretched even more, Jim says they have no intention of putting that part of their ministry aside.
"We're going to work those in as time will allow. We'll just do some marriage conferences and some banquets. We do kind of a two-set thing; we do a 'love song' set of classic '40's and '50's music that my mom and dad love, and then we have a set where we do original love songs that we've written from a Christian perspective. Melissa will also continue her Something Beautiful women's conference. We will not do it this year due to the starting of the new group but we plan on doing that again in 2016."
"We're also going to Norway and Sweden in March." Brady shakes his head. "It's crazy when I look at the schedule! I say thank you Lord, I'm thankful that it's so full but wow, we're going to be tired. But you know, when we are weak, He is strong. I pray our voices and our bodies hold up. But He's faithful, He's there, and we shouldn't be surprised when He takes care of us because He said He would. I'm really grateful."
Keeping their own marriage strong is extremely important to Melissa and Jim. "We try to make sure each one is a priority. When we first got married we were together 24 hours a day, we traveled and sang together, everything was together. Then the last 12 and a half – almost 13 – years I've been on the road with the Booth Brothers, so I've been gone 46 weekends of the year and she's been home alone. She said, "I really miss you when you're gone for that long." I said, "Well, lets start our own group, you're going to really want to miss me but you won't be able to," Jim says, laughing.
Brady says that even when he was home from the road, he was still caught up in the music business as songwriter, engineer and demo singer. "We try to take one day a week and say this is our day for each other. I really tried to make her my priority. I won't let anything pull me from what's important and that is 'us' and our family and our marriage. She (Melissa) does the same thing for me, even though she works out of our home. She's a writer for a lot of publications, she also writes songs and sings demos and then does some conferences. What is very cool for us is that she has really organized her time to match my schedule too. So when I'm home she tries to not take on too much, and when I'm gone, she loads up her work schedule." Read more »
Tags:
Christian Music
,
gospel music
,
Jim Brady
,
Jim Brady Trio
,
Lorraine Walker
,
Melissa Brady
,
sgn scoops
,
southern gospel
,
the booth brothers
,
Tim Parton
Posted in
announcements
,
artists
,
exclusive report
,
sgn scoops magazine
|
Comments Off

on Getting Personal With Jim Brady
Written by SGN Scoops Staff on June 11, 2014 – 1:04 pm -
NASHVILLE, TN   The buzz continues following The Collingsworth Family's recent live recording of two projects in
Spartanburg, SC. Concert-goers are still talking about the unforgettable, music-packed Saturday evening, and are already looking forward to the upcoming releases through StowTown Records and Provident/Sony Distribution. "Majestic," a live CD and DVD from piano performer Kim Collingsworth and friends will release on September 23, 2014, and the new "We Will Serve the Lord" DVD from The Collingsworth Family will be available in October, 2014.
The double event clearly energized the crowd; in fact, one audience member would have been glad for the "incredible concert" to have lasted "all night." That's high praise, but likely shared by the packed Memorial Auditorium crowd of more than 2,300 attendees who stayed through the entire five-hour marathon. The "Majestic" project was recorded first with three grand pianos, featuring Kim Collingsworth and special guest artists Tim Parton and Stan Whitmire. Two of those pianos were later moved off stage, but only to make room for the live band that joined the filming for "We Will Serve the Lord."
Phil Collingsworth, Sr. was grateful for the positive outcome of their prayers, planning and preparation. "All the elements of an incredibly successful evening came together seamlessly, and the unmistakable presence of the Almighty was in the room!" He noted that the audience response was especially moving when Kim's wounded warrior younger brother was honored; Sergeant First Class Brian Keaton has been a patient at Walter Reed for more than two years with a brain injury. More surprises and special guests are in store for those who catch the live "Majestic" CD and DVD, and the live "We Will Serve the Lord" DVD from The Collingsworth Family when the two StowTown projects release later this year.
Tags:
collingsworth family
,
Phil Collingsworth
,
southern gospel
,
Southern Gospel News
,
Stan Whitmire
,
Tim Parton
Posted in
announcements
|
Comments Off

on The Collingsworth Family Records Two Live Projects in Spartanburg, SC