Written by Staff on October 25, 2019 – 6:19 pm -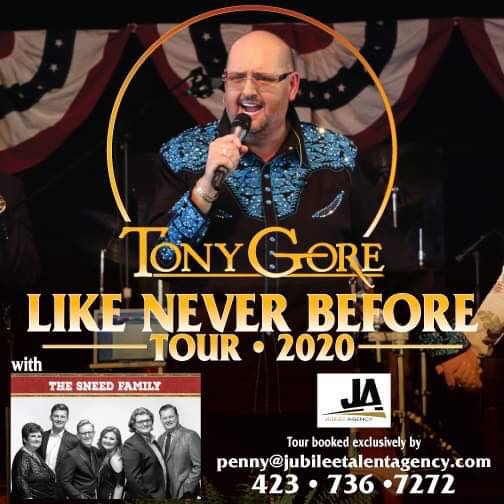 Sevierville, TN [October 25th] – Tony Gore is excited to announce the addition of a live band for select concerts in 2020. The traditional three piece band will be played by Gospel music's very own Sneed Family, and additional auxiliary players will be added to dates when able. Both Tony and the band members, are excited to bring a new level of musical texture to Tony's music.
"The idea for this happened at Gospel Fest at Loretta Lynn's Ranch on Labor Day weekend," says Tony. "The band played with me that weekend and it was so much fun. I asked the band to accompany me to Dollywood and they agreed to do it. We did 15 dates at Dollywood two weeks ago and people came up to me after the show and asked, 'Can we book this? Can you bring this to my town?'"
With such a demand for this new concert format by Tony, he asked the band if they would consider joining him for a special tour of select dates in 2020.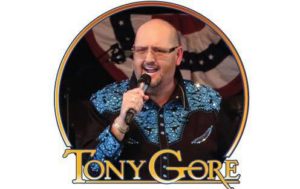 Tony says, "The band was beyond thrilled to do this." This launched the idea for the "Tony Gore Like Never Before Tour" in 2020.   
"My whole career, people have never seen me before with a live band. That's why we're calling this the 'Tony Gore Like Never Before Tour' because in my 30+ years in Gospel music, the fans have never seen one of my concerts like this. This tour will take my music to a whole new level."
"The Tony Gore Like Never Before Tour" will be in addition to Tony Gore's regular tour schedule and will be booked exclusively through the Jubilee Agency.   
About Tony Gore: 
Tony Gore's unique voice and style have made him not only a leader in the industry, but through his growth and determination, has won the hearts of fans and the respect of his peers.   Tony Gore has an exciting future as he delivers his inimitable voice, dynamic style, and anointed music that will thrill Southern Gospel promoters and fans alike.
For more Gospel music features, read the latest SGNScoops Magazine HERE.
Download SGNScoops Magazine In PDF 
Here
Find SGNScoops Magazine On Facebook 
Here
Listen To Todays Gospel Music Here
Tags:
gospel music
,
Sneed Family
,
Southern Gospel Music
,
Tony Gore
Posted in
announcements
,
artists
|
Comments Off

on Tony Gore Announces Addition of Live Band To Select Dates For 2020
Written by SGN Scoops Staff on September 5, 2015 – 7:50 am -
Tony Gore made an appearance in Savannah, TN, last night at People's Tabernacle church. People's Tabernacle is the home church of Josh and Ashley Franks, where Josh is serving as Senior Pastor. The house was full and the Spirit was present last night when Tony took the stage. He sang a lot of his hit songs, including "I Believe It All" and "Meanwhile In The Garden". A wonderful time was had by al! Following the service, everyone joined in the fellowship hall for homemade ice cream and refreshments. "We were thrilled to have Tony at our church, and can't wait to do this again!" , said Ashley. Tony is the owner of Tony Gore's Smoky Mountain Barbeque and Grill. For more info, visit www.tonygore.com. For more information on Josh and Ashley Franks or People's Tabernacle, visit www.joshandashleyfranks.com.
Find Your Southern Gospel News On Facebook
Here
Tags:
I Believe It All
,
Southern Gospel News
,
Tony Gore
Posted in
announcements
|
Comments Off

on Tony Gore In Savannah, TN Last Night
Written by SGN Scoops Staff on July 19, 2015 – 8:07 pm -
The Singing Echoes 45th Annual Blue Springs Valley Gospel Singing took place July 15th through the 18th. This is one of the best southern gospel festivals Tennessee has to offer. Here's a video of Tony Gore singing , "Where the Milk and Honey Flows."
Keep up with the latest news in Southern Gospel here at www.sgnscoops.com.
Like us on Facebook here
Tags:
Southern Gospel News
,
Southern Gospel Video
,
Tony Gore
Posted in
video
|
Comments Off

on Tony Gore singing at Blue Springs
Written by SGN Scoops Staff on April 6, 2015 – 3:12 pm -
Sevierville, TN:  Hee Haw star, Lulu Roman to appear locally on The Smoky Mountain Gospel Jubilee.
For decades, Lulu Roman has kept fans laughing at her side splitting humor in a way that only she can.  Rising to star power in the hay day of Hee Haw, Lulu was a household name across the country and even the world.  Placed in an orphanage at a young age, Roman lived a roller coaster of emotions filled with tragedy and despair as well as fame and success.  Today, Lulu has a successful career as a gospel music recording artist.
Lulu will join gospel music headliner, Tony Gore and will appear on The Smoky Mountain Gospel Jubilee, a locally produced live radio show airing on WJBZ/Praise 96.3 in addition to the televised version that will appear on a later date on both Comcast and The Christian Television Network.  The show takes place on Monday, April 6, 2015 at 6:30pm broadcasting from The Ogle Furniture Outlet on Dolly Parton Parkway in Sevierville.  There is no admission charge and seating is on a first come, first serve basis.
The Smoky Mountain Gospel Jubilee is hosted by veteran gospel music recording artist and television personality, JP Miller.  Miller kicked off his 4th year as the host of "The Jubilee" last week with a special broadcast featuring The Blackwood's and The Ray Ball Singers.  "I am so excited to have Lulu as a guest on the show Monday night.  Tony Gore, a sponsor of our show, is friends with Lulu and set it all up.  I encourage people to get there early because I believe this will be our biggest crowd yet."  Stated Miller.
The Ogle Furniture Outlet is fast becoming more than a furniture store.  People from all across the country are inquiring about the show that broadcasts from a furniture store in the Smoky Mountains.  In the past three years the show has taken place, there has been thousands of people who have attended the show in person and countless listed via radio and television each week.
Ron Ogle, store owner states:  "We had no idea this show would reach this level of success.  Just about every day when I am out working in the community, people tell me how they enjoy the show.  Some are loyal fans and never miss a program.  It is touching when people share heartfelt stories about the music or a message one of our guests shared on the show and how it has encouraged them.  That's what Betty and I wanted this program to be, encouraging.  So much of the show's "feel" is based on the way JP handles the guests and his interview style.  I told him when we started that this was his show and he could do with it whatever he wanted.  Betty and I wanted to help JP with his career.  The program has allowed him to cut back on his traveling schedule to have more time at home.  JP, Tyanne, and their children attend church with us and we consider them family.  One of the things I am most thankful for is how JP has benefited by the success of the show.  He gets invitations to sing at churches and conferences as well as host and emcee different events.
Lulu Roman isn't the first star to appear on "The Jubilee", Country legend, Barbara Fairchild, Former Oak Ridge Boy, Calvin Newton, and movie star, Grayson Russell have all graced the set at Ogle's.   Gospel greats such as Triumphant Quartet, Jeff Steele, Tim Lovelace, Arthur Rice, and Jeff Stice have performed as well as local favorites The Parton's, Tommy Spencer, and Justin Terry.
As JP Miller and his crew jump into their fourth year, it looks as if things are continuing to grow.  Because of the number of audience members, the store has increased workers to handle show logistics such as prize drawings, merchandise sales, autograph and picture areas, and sponsor involvement.  Construction is currently underway to expand the store to be around 1000sq ft.
"I wanted to say thank you to the staff of The Ogle Furniture Outlet who allow me to "move in" a show each week.  We have so many people that work hard to pull off a quality program each week.  I could not do it obviously without Ron and Betty Ogle and The Ogle Furniture Outlet.  We have also added sponsors like The Thomas Group, Tony Gore's Bar B Que and Grill, New Destiny Productions, and Senior Citizens Home Assistance Service.  I would also like to thank the community who support the show each week.  It has become a fixture in Sevier County that adds another special element to make this a favorite place to live and visit.  It's the place to be on Monday nights!"  stated Miller.
A special autograph and photo opportunity will take place prior to the show from 5:30pm – 6:15pm at the furniture store.  Guests are encouraged to come early to ensure a seat, parking, and time to visit with Lulu, Tony, and JP.
For more information log onto www.jpmillerministires.com
Tags:
Hee Haw Star
,
lulu roman
,
Southern Gospel News
,
Tony Gore
Posted in
announcements
|
Comments Off

on Hee Haw Star to appear on local Radio/TV Show
Written by SGN Scoops Staff on February 4, 2015 – 1:23 pm -
Josh and Ashley Franks along with Tony Gore performed an impromptu, unrehearsed segment at Bill Baileys booster club luncheon. The trio sang three classic songs for the crowd: "Outside The Gate" , "It's Not So Hard To Praise Him" , and "God's Promised Land".
Quote from Bill Bailey
Tags:
Bill Bailey
,
Josh and Ashley Franks
,
Southern Gospel News
,
Tony Gore
Posted in
announcements
|
Comments Off

on Today At Bill Baileys booster club