Written by scoopsnews on August 18, 2020 – 11:01 am -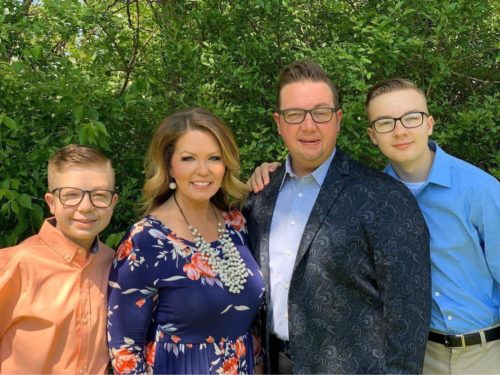 Open letter from Troy Peach:
Who would have guessed eight months ago, when this year began, what all we would face in 2020? I never dreamed that after more than 20 years of full time touring, that I would be at home for nearly 5 months. God has a way of making us stop and look around to see what is most important. I have been blessed with an amazing family. Katy and my boys, Clayton and Shelton, have always been my greatest supporters.
As life changes, so do seasons, and God has presented a phenomenal opportunity to our family. I have accepted the position as Minister of Music at Hillcrest Baptist Church in Lebanon, TN. With this wonderful season of change for our family comes the need for me to transition out of my role with multi-awarding winning group, The Perrys. It has been an honor and a privilege to serve on stage with The Perrys for nearly 10 years. I will always be grateful to Tracy and Libbi Stuffle and all The Perry Family for all they've poured into my family. I will always carry the ministry of The Perrys with me wherever I go. I believe it has prepared me for the next step that God has called me to take at Hillcrest Baptist Church. Thank you doesn't seem sufficient, but Katy and I appreciate Libbi more than she'll ever know, and we will always consider The Perrys family.
I want you all to know that I am not leaving Southern Gospel Music completely. I will still host my radio show, "Southern Nights," on Singing News Radio and will still be involved in different capacities. I'm not stepping away just taking a step back. You can't get rid of me that easily!!
Tags:
Perrys
,
Troy Peach
Posted in
announcements
|
Comments Off

on Open Letter From Troy Peach
Written by Staff on October 4, 2015 – 10:41 am -
SGN Scoops was blessed to have several of our staff and our Social Media team on hand at the National Quartet
Convention. Michelle and Pat Drummond brought us some very special pictures from the week of concerts which they attended as artists. The Drummond Family are from Florida and are an excellent family group that you need to hear! You can find out more about them here.
Be sure to return often to the SGN Scoops website page and to the SGN Scoops Facebook page for more great pictures and artist features. The October SGN Scoops digital magazine will be available soon with a cover story you won't want to miss! Watch for it!
Tags:
Karen Peck
,
Kelly Nelon
,
libbi perry stuffle
,
Loren Harris
,
mike bowling
,
nqc
,
sgn scoops
,
sonya browder
,
The Browders
,
the perrys
,
Tracy Stuffle
,
Troy Peach
Posted in
artists
,
christian entertainment
,
Christian interest
,
sgn scoops magazine
|
Comments Off

on SGN Scoops NQC Scrapbook: The Perrys, Sheri Easter, Karen Peck and More
Written by Staff on October 2, 2015 – 7:37 am -
At SGN Scoops, we love Southern Gospel music and its artists; not sure if you knew that or not! NQC has a lot of them and we have pictures.
Canton Junction, Greater Vision, Old Paths, the Perrys, Mark Trammell Quartet, the Mylon Hayes Family, Joseph Habedank, Nick Trammell, Loren Harris, Bryan Walker, Mike Bowling, Troy Peach, Libbi Perry Stuffle, Tracy Stuffle and the Voices of Lee are all shown here!
SGN Scoops is so proud of all of our contributors every month. Do you know we have artists that share their hearts with us in every issue? Kelly Nelon Clark, David Staton, Dusty Wells, Sherry Anne, Laurette Willis, and the legendary Lou Wills Hildreth all have monthly articles.  We are so thankful for them! If you see them at NQC, tell them how much you enjoy their writing.
The group whose picture is on the top of this feature, Canton Junction, was
the cover feature in our August edition. Craig Harris wrote the feature and he also provides us with these terrific photographs.
We have many wonderful writers that do their very best to bring the best of the Gospel music world to you every month. Bethany Cook, Candi Combs, Dan Duncan, Dean Adkins, Erin Stevens, Jaquita Lindsey, Jennifer Campbell, Justin Gilmore, Justin McLeod, Lorraine Walker, Lynn Mills, Marcie Gray, Matt Baker, Paige Givens, Randall Hamm, Robert York, Roger Barkley Jr., Roger Speers, Rhonda Wooten, Selena
Day, Sheri LaFontaine, Timmy Williamson, Tina Wakefield, Vivian Belknap, and Vonda Easley all share their talents with us. We are so proud of all that they do!
Thank you for reading SGN Scoops magazine every month. Be sure to share each edition with your friends and family, and to let all of our contributors know how much you enjoy their features!
For the September edition of SGN Scoops magazine with the cover story on the super Gaither Vocal Band, click
here. Look for the October edition
coming soon!
Tags:
Bryan Walker
,
Canton Junction
,
Greater Vision
,
Joseph Habedank
,
libbi perry stuffle
,
Loren Harris
,
mark trammell quartet
,
mike bowling
,
Nick Trammell
,
nqc
,
Old Paths
,
sgn scoops
,
the Mylon Hayes Family
,
the perrys
,
Tracy Stuffle
,
Troy Peach
Posted in
artists
,
christian entertainment
,
Christian interest
,
gospel events
,
sgn scoops magazine
,
special feature
|
Comments Off

on SGN Scoops at NQC on Thursday Night: Canton Junction, Greater Vision, Mark Trammell Trio, More!
Written by Staff on February 5, 2015 – 8:00 am -
New Faces in Some Old Familiar Places
By Candi Combs 
It is not uncommon for the Perrys to open their concerts with the title track from Blue Sky's Coming. What is unusual is to see a new guy and an old guy. To hear Libbi Perry Stuffle describe it, The Perrys now have, "A Yankee and a prodigal." Former Perry, Troy Peach is now in the lead vocal position with the Perrys.
Standing on either side of Libbi Perry Stuffle and Troy Peach is Libbi and Tracy Stuffle's 22-year-old son Jared, bringing the bass part for his dad, and Andrew Goldman of Evansville, IN, who joined the Perrys several months ago. Goldman is a familiar face to most fans as he was a part of the all-male quartet, Union Street. This was the line-up as we sat back to enjoy a great concert by The Perrys.
As the group settled in, Libbi took the lead with "Still Blessed." Indeed, Libbi can say that she is still blessed after the two-year adjustment to the family following Tracy's stroke in January 2013.   Tracy was at the front of the church watching the group, which was inspiring to everyone.
Troy Peach was completely comfortable in his new role as lead singer and emcee
for the Perrys' stage ministry. The new faces took time to demonstrate what they could do together. This pair worked in great harmony in a duet of "Cleft of the Rock." When Libbi and Jared joined in, the new blend was something to get excited about! Seamlessly, and as if they have always been together, they performed the radio hit single, "I Talked to God This Morning."
Libbi then shared the story of how Troy came to return to the Perrys. She shared that in a conversation, which Troy initiated, he told her, "I just feel this is where God wants me to be." Gospel music is full of personnel changes, but no one can argue with reasoning under God's direction. While discussing the departure of Bryan Walker into a full time pulpit ministry, Libbi quipped, "I feel like I sent one son to college while the prodigal came home."
Following these introductions, the group sang the Perrys' classic, "He is Mine." In a perfect segue, "I Can Trust Him" was sung with great conviction by Libbi. At this point, the group came off the platform and joined Tracy at the front. With a great big smile, Libbi stepped back while all four men sang "Three Crosses." Just a few short weeks ago, Tracy was able to sing although somewhat with weakness on stage at NQC 2014. But this day, Tracy was very much holding his own vocally. This remarkable performance was nothing short of a demonstration of God's power, touching every spirit in the room with Tracy's great courage.
Libbi, Jared, Troy and Andrew returned to the platform to sing "I Rest My Case at the Cross." This anthem was always a song of testimony for Tracy but this day, it served to speak volumes more than just what the lyrics could say. This song is now a testimony of complete surrender and dependence on God and what He did on that Cross. The message of the Gospel along with the emotion of the voices of the Perrys came through with complete clarity.
Libbi came forward with "Celebrate Me Home" which is just a natural way to communicate the need for salvation to everyone listening. Troy followed with sharing his salvation story by announcing, "I have made my reservation for that celebration! Satan will always bring things up that I regret but Calvary has a response."
New faces with the same message of Jesus! The Perrys are a living testimony of what they sing. With a shining spirit of what God can bring one family through, the Perrys are relentless in their desire to share. Libbi wants everyone to know that, "This new season brings heavy responsibility. The days are long and hard, it is easy to become discouraged. And then I look at how faithful He is; the only thing I can say is, go God go!"
Troy Peach brings just the talent and leadership that the Perrys need at this time. Andrew Goldman is a rising star who matures with every performance. Jared looks strong and tall beside his mother. As for Libbi, this tiny woman is respected more than she can imagine. Her faithfulness to the ministry amidst so many barriers makes her a pillar of which any age, any gender can be in awe of. She stands with her family and with her God, making the Perrys an example of what being a Christian should look like.
See the Perrys in person to hear the new talent at www.perrysministries.com .
For more concert updates and features by Candi Combs and other SGN Scoops staff, read the latest SGN Scoops digital magazine at www.sgnscoops.com
Tags:
Andrew Goldman
,
Candi Combs
,
Christian Music
,
gospel music
,
Jared Stuffle
,
libbi perry stuffle
,
sgn scoops
,
southern gospel
,
the perrys
,
Tracy Stuffle
,
Troy Peach
Posted in
announcements
|
Comments Off

on Candi's Catch-ups: The Perrys
Written by SGN Scoops Staff on December 9, 2014 – 8:31 am -
We asked Troy Peach ..  What is your favorite Christmas Memory?
My absolute favorite Christmas memory happened Dec 10, 2003 when I married the greatest girl in the world, Katy Peach! We had a winter wonderland Christmas wedding, but Katy was the most Beautiful bride! 11 years later I'd do it again in a heartbeat! Happy Anniversary, babe!!!
One of my favorite Christmas memories is a tradition that my family has done since before I was born and still carries on to this day. After we have spent the day Christmas Eve eating and playing games, we all load up in the car and go to our local bowling alley and bowl right up until it's time to go home and get in bed for Santa to come. The whole family bowls, from the youngest to the oldest. It's quirky but we all always have a blast. My kids think Santa can't come unless we bowl first!!
Tags:
Christmas 2014
,
Perrys
,
Southern Gospel News
,
Troy Peach
Posted in
exclusive report
|
Comments Off

on Troy Peach .. What is your favorite Christmas Memory?
Written by SGN Scoops Staff on October 26, 2014 – 10:34 pm -
"Like a son coming home," is how Libbi Perry Stuffle makes the announcement describing the return of Troy Peach to the Perrys, a position he last held four years ago.  Troy replaces the departing Bryan Walker, whose resignation was announced two weeks ago.  Troy comes to the group having most recently toured with the Bowling Family.
Troy says, "I'm thrilled to be back with the Perrys!  Libbi and Tracy are literally like family.  We live five minutes from each other.  Jared is like a little brother.  Andrew is among the best talents in our industry.   And who sings better songs than the Perrys?  After four years, it feels good to be back with Tracy and Libbi.  It is my goal to, of course, be that vocal part they need, but also to assist Libbi in all aspects of the group's ministry.  I do believe in timing and seasons for everything, and I believe that this is the right time to step back on the Perrys bus and do what I can to help the group continue to grow and prosper."
The transition to the Perrys will take place in the next two weeks.  The Perrys thank everyone for their continued prayers and support during this time.
Tags:
Bryan Walker
,
Perrys
,
Southern Gospel Music
,
Southern Gospel News
,
Troy Peach
Posted in
announcements
|
Comments Off

on Troy Peach Returns To The Perrys
Written by Staff on September 30, 2014 – 12:20 pm -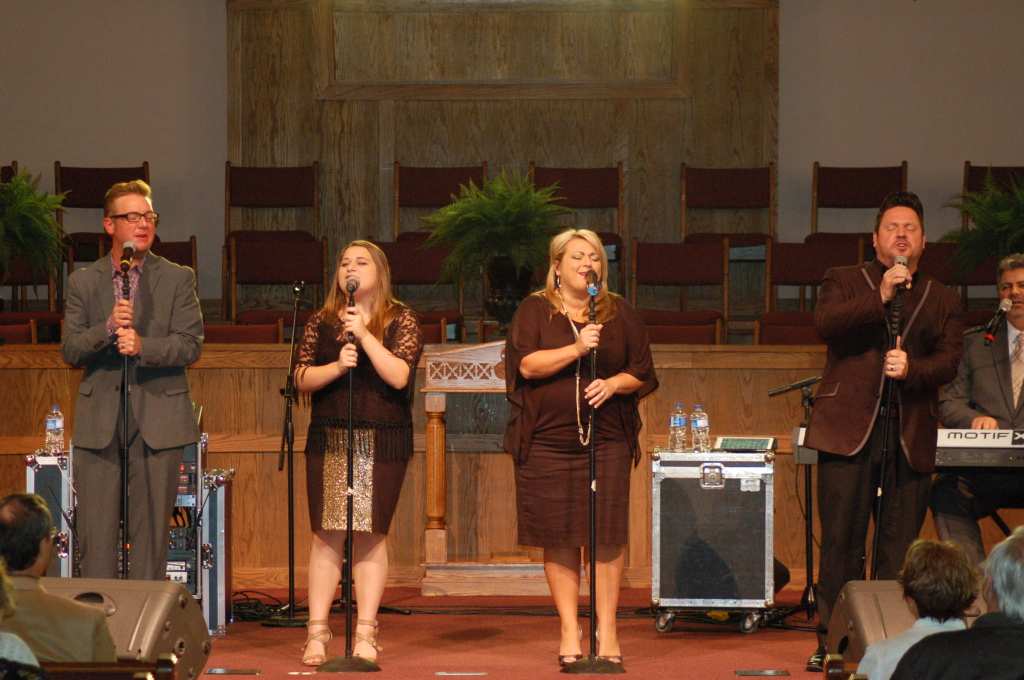 By Melissa Joy Wright
Google defines the word per-spec-tive "perspective" as a particular attitude toward, or way of regarding something; a point of view. Google defines the word fresh "fresh"as recently created or experienced, and not faded or impaired. Let's take a look at The Bowling Family with fresh perspective. This family group has deep roots in Southern Gospel music, and The Bowlings combine a beautiful bridge from a solid past to a youthful future.
Youth is the perfect word to describe the newest full time member of this mixed quartet. Hope is the 14-year-old daughter of Mike and Kelly Bowling. This sweet little face is becoming a vocal dynamo! She sings with a big voice that commands the audience's attention.   "Hope brings a fresh outlook and youthful zeal to our group," says Troy Peach. Both Mike and Kelly agree with Troy.   "She has a young perspective that is rare in our music," Kelly mentions. Mike agrees that Hope's young talent is an attribute to the group's ministry. Hope shares, "I'm an avid reader. I like reading the Bible and fiction." She has a humble spirit and shared her desire to be a Godly woman who also has a funny side!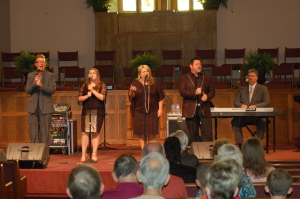 Speaking of humor, Troy Peach is this group's funny guy. He always has a smile on his face, and as Hope relays, "Troy is a people-person, who likes to interact with everyone." Troy started his gospel career playing drums for his family group when he was just five years old. This is a man who wears many hats, and does it successfully. He helps manage the group, is an audio expert who runs sound flawlessly, and sings well. His voice and style convey a passion for the truth of the lyric he is singing.
Troy believes in the true faithfulness of God. He says, "The Bible tells us God was tempted in all points, so He understands us, no matter what we get ourselves into." Troy is married to the beautiful Katy Peach and the two share twin boys Clayton and Shelton. Last summer at vacation bible school, both boys accepted Christ as their personal savior at the age of seven years old, and Troy says it is the highlight of parenting, watching his children maturing spiritually. Mike and Kelly both agree that Troy is a very hard worker, who never quits and has an excellent work ethic. Troy strives to be the 'Real Deal' that is the same guy once, twice, and every time you see him.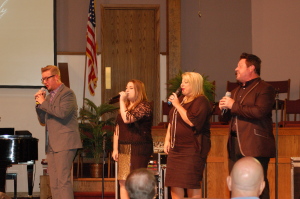 Kelly conveys the same thought. She wants to be the 'Real Deal': genuine. Everyone who knows her confirms that she definitely is. Kelly grew up singing with her brothers and sister as a member of the Singing Crabb Family, and now with her husband and three daughters, she is carrying on a legacy of ministry.
Speaking affectionately of his wife, Mike says, "Kelly has a heart for God and ministry. She loves the Lord and is a great wife and mother." Kelly's desire is that all people know that Jesus loves them, and God has a plan for them no matter who they are or what they've done. Hope says, "My Mom is the one who will go pray with someone, even if it stops the concert set."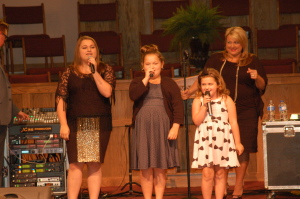 Kelly is a sensitive woman who cries every time she hears the song, "Wind Beneath my Wings", and her fans find her down-to-earth personality sweet, and very easy to talk to. Troy speaks jointly of this couple saying, "Mike and Kelly have a very special anointing on their life since the bus crash in July of 2010. God has touched them, and they don't take this anointing for granted."
Mike Bowling has had the touch of God on his life since he was very young. In fact, while he was in the 10th grade, his parents allowed him to leave public school and go on the road full time with the LeFevres, singing gospel music, while accomplishing home schooling. He's been singing and sharing the love of God for 33 years.
Hope says of her dad, "He's the face of our group, the one everyone knows." Mike has a soulful voice that allows the message in a song to penetrate the heart of the listener. "He brings wisdom and experience to our ministry, and as a man, he is even-tempered and loyal," says wife Kelly. Mike has a tremendous love for his God, family and friends, and wants people to know how much our faithful Lord loves and cares for them. He is proud of all three of his daughters, watching them grow in the Lord.
The two youngest Bowling girls, Katelanne and Gracie, join their older sister Hope on stage and sing as The Bowling Sisters. Their harmony is perfect and their sweet little spirits are uplifting to the listener's soul. Kelly beams and says of her daughters' singing for the Lord, "It is the most rewarding experience in my life, and my cheeks hurt from smiling so much just watching them."
"It is my goal in life for my kids to know Jesus and have that personal relationship with Him," says Mike. "All three of the girls have accepted Christ as their personal Savior, and my desire is they will always serve him." Hope loves singing with her little sisters, citing Gracie as the little star that makes everyone laugh and Katelanne as the sweet one that always brings a smile.
Not to be forgotten is the quiet demeanor of John Jeffrey. John helps run sound and plays the piano for the group, while doing the bus driving duties as well. He has a kind, smiling face, and is always quick with a warm greeting for fans. He doesn't miss a beat changing the set list in the middle of a concert to accommodate a request, or the leading of the Holy Spirit in a different direction.
The Bowlings are not just an anointed southern gospel group, but they are a well-practiced team. They have a beautiful sound, great songs, wonderful stage presence, and an attitude of ministry and worship that is both genuine and humble.
We hope you will attend a Bowlings concert at a venue near you. For more information, visit http://www.bowlingsonline.com/ /
Written by Melissa Joy Wright
First Published by SGN Scoops digital magazine in August 2014
For current issues of SGN Scoops, visit https://www.sgnscoops.com/
Tags:
Christian artists
,
gospel music
,
Kelly Bowling
,
Melissa Joy Wright
,
mike bowling
,
sgn scoops
,
southern gospel
,
The Bowling Family
,
The Bowlings
,
Troy Peach
Posted in
announcements
,
artists
,
sgn scoops magazine
|
Comments Off

on Perspective: A Fresh Look at The Bowling Family
Written by SGN Scoops Staff on March 12, 2012 – 4:26 am -
Tags:
Christian News
,
Faith
,
Kelly Bowling
,
mike bowling
,
Rhonda Frye
,
Southern Gospel Music
,
Southern Gospel News
,
Terah Penhollow
,
The Bowlings
,
Troy Peach
Posted in
christian entertainment
,
scoops
,
sgn scoops magazine
,
video
|
Comments Off

on The Bowlings Talk WIth Rhonda Frye Of SGNScoops Magazine
Written by Rhonda on August 16, 2010 – 6:30 pm -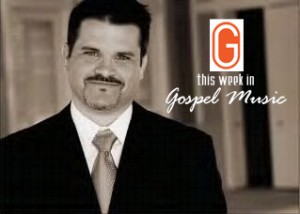 Coming up on This Week in Gospel Music with Mickey Bell… Mickey talks with Josh Cobb (Gold City) from their recording studio where they are recording a brand new project produced by Michael English.  Mickey also asked about a concert in which Josh rushes the stage while the Booth Brothers are preforming.  While that wasn't so bad – it was the dancing right in front of them that was caught on tape and can be seen on the show's website.  I think a cow bell was involved as wall.
We also talk with Troy Peach (The Perrys) who describes to us in detail what took place on the Perry's bus leading up to the heart attack of Tracy Stuffle.  We also find out what the Perry's lineup will be for the next month or so.  News about Tony Greene being taken from the stage to the hospital by ambulance when he gets short of breath and his sugar escalates to 400. 
And we announce this week's winner of our free NQC ticket giveaway.  Be sure to join us.
Tags:
Michael English
,
mickey bell
,
the perrys
,
This Week In Gospel Music
,
Troy Peach
Posted in
announcements
|
Comments Off

on This Week In Gospel Music With Mickey Bell