Written by Staff on September 15, 2019 – 10:30 am -
Friends of SGNScoops will remember that prayers were requested for Frogene Normand, mother of Rusty, Craig, and Chris Golden when she was diagnosed with cancer. 
Chris Golden posted the following on September 12, 2019:
One month ago today after weeks of nausea and pain, Mom went to the Emergency room where they found a mass in her pancreas which was blocking her biliary duct. She went by ambulance from Brewton, AL to Pensacola, FL to have more tests and a stent put in. It was about a week later after a ERCP and biopsy, the specialist determined the obstruction was adenocarcinoma… Pancreatic Cancer.
She seemed to do a little better over the next few days and was trying to gain strength to meet with the team at Vanderbilt on Sept. 5. The stent failed and she took a turn for the worse. Severly dehydrayed, she came to Nashville and spent 4 days and 3 nights at Vanderbilt Hospital where they had to put another stent in before meeting with the oncologist and surgeon for a consultation. After a couple of months of pain and suffering and a 4 day hospital stay, she was very weak..so they wanted her to go home (to my house) to rest and gain strength for the next step.
That step will be today. More scans and more labs to find out how aggressive it is and what the next step will be.
I am happy to report that after 7 days, she is up walking, her color is much better, appetite is slowly coming back, and she is hydrated and prayed up. We know many of you are praying earnest prayers. She can feel them. Keep them coming.
It's all about the next step… and we give Him praise for each small victory.
We will try to update as we have news to share.
Chris had further news on September 13, 2019:
Yesterday Rusty and I took Mom to Vanderbilt for another round of scans and labs and to meet with the Chief surgeon of the pancreatic team. After reviewing the scans he advised against doing surgery because of where the tumor is located, a little more than 180 degrees around the portal vein and also the vena cava. He was afraid he would not be able to get it all, and said if it were his mother, he would not do the surgery. We appreciate his honesty and care. So, we move on to the next step…meeting with the oncologist Monday afternoon to discuss other options.
I checked my phone and Mom had walked over a half mile yesterday which might as well been a marathon considering her condition for the last few weeks. On the way home we talked about the old Nashville restaurant Ireland's So we had steak and bisquits for supper. Although she has lost a lot of weight, she is stronger than she has been, and is prayed up. Our father came by last night after an Opry show, and they had a great visit till after midnight. This morning we enjoyed the fresh pear preserves Aunt Lanette sent.
We appreciate all the kind cards and messages, and especially the prayers. Keep them coming.
#teamfrogene
Keep informed on Chris Golden HERE
And Rusty Golden HERE
Tags:
cancer
,
Chris Golden
,
Frogene Normand
,
prayers
,
Rusty Golden
,
William Lee Golden
Posted in
announcements
,
artists
|
Comments Off

on Keep praying for Frogene Normand, mother of Rusty and Chris Golden
Written by Staff on August 31, 2019 – 11:31 am -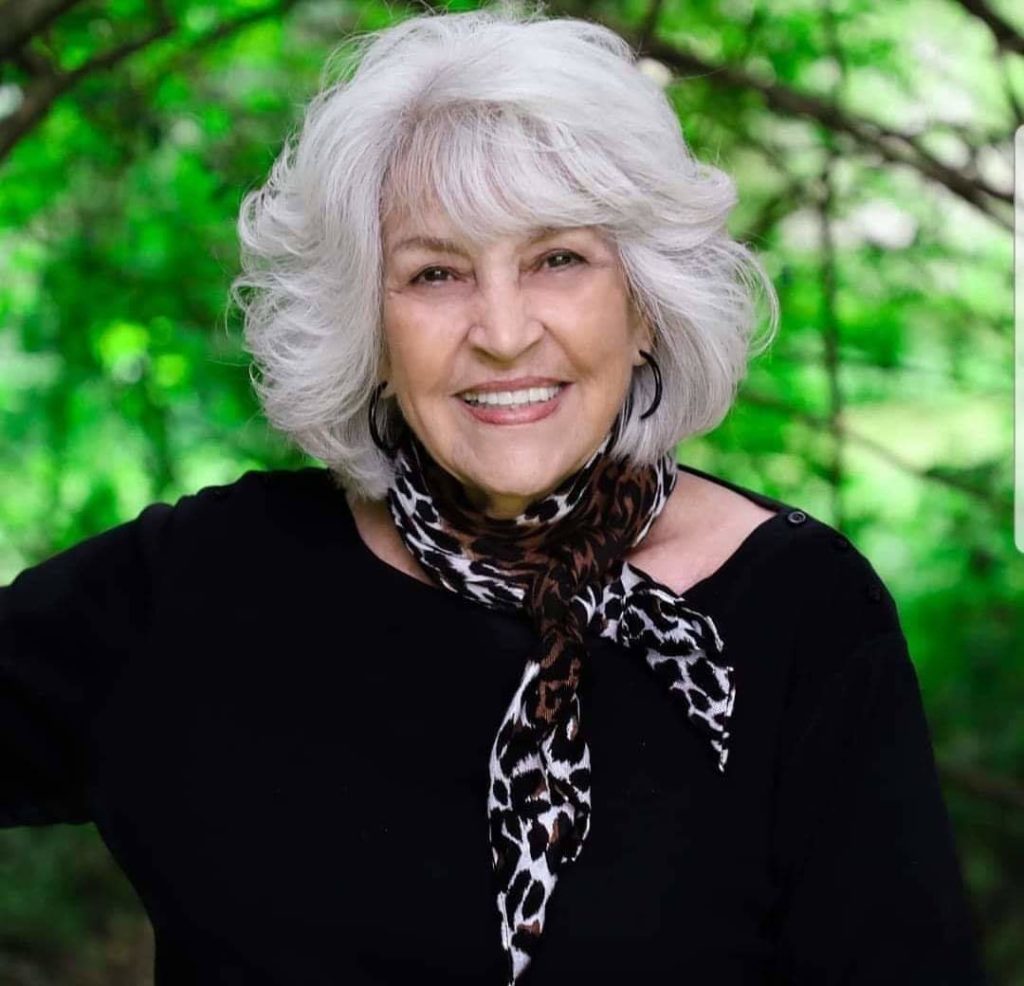 Rusty and Chris Golden, both singer/songwriters and active in the Christian music industry, have requested prayer for their mother, Frogene Normand.
Chris posted the following on Facebook earlier today:
URGENT PRAYERS NEEDED!
Our dear mother was diagnosed with pancreatic cancer a few days ago and after weeks of pain, sickness, and suffering, she is trying to gain strength enough to make the trip from south Alabama to Nashville today. Brother Rusty is with her and will be taking her straight to the hospital. We have an appointment with the team at Vanderbilt next week for consultation about the next steps and a treatment plan. Please join our family in praying for strength, guidance and direction, wisdom, and healing if it be His Will.
Chris, Rusty, and their brother Craig, are sons of Frogene Normand and William Lee Golden of the Oak Ridge Boys.
For more information please follow Chris Golden on Facebook HERE.
Tags:
Chris Golden
,
Christian Country Music
,
Christian Music
,
Frogene Normand
,
oak ridge boys
,
Rusty Golden
,
William Lee Golden
Posted in
announcements
,
artists
|
Comments Off

on Prayers requested for mother of Rusty and Chris Golden
Written by Staff on November 10, 2016 – 4:20 pm -
Suzanne Jennings and Woody Wright's Unique Circuit Rider Creation Strikes a Chord with Listeners
Award-winning Gaither HOMECOMING Artists Creatively Document
a Chapter of Our Nation's History
NASHVILLE, Tenn.—November 7th, 2016—Gaither Music Group's all-new Circuit Rider DVD rode straight to the top of this past week's Billboard Music Video chart in addition to the Christian Music Video chart, according to Nielsen Soundscan, garnering the #1 position on both. The audio version of the docu-musical also claimed the #1 position on the Southern Gospel Album Sales chart and a Top 20 spot on the Contemporary Christian Music chart.
"This project has been a labor of love and a long time in the making," stated Circuit Rider's co-creator Suzanne Jennings. "We feel excited and privileged to be releasing this docu-musical honoring the great men and women who laid the foundations of our faith here in America."
The recording features vocal performances from some of the most celebrated talents on the Gaither HOMECOMING stage, including Guy Penrod, Russ Taff, William Lee Golden, Gloria Gaither, Lynda Randle, Tanya Goodman Sykes, Mark Lowry, Benjy Gaither, Woody Wright, Buddy Greene, Judy Martin Hess, The Isaacs, Joy Gardner, Reggie Smith, Charlotte Ritchie, Angie Primm, Michael Sykes and more. The DVD is hosted by former governor of Arkansas, talk show host and presidential nominee Mike Huckabee.
Created by Jennings and Woody Wright, Circuit Rider is the real-life account of the spiritual formation of a nation and the church we have today shaped in part by the dedication and vision of these circuit riders. These musical performances and readings, sung and read by some of the most well-loved gospel artists, tell the story of these preachers who blazed the trail to share the gospel of Jesus with people of every race and nationality living in little towns and settlements across the nation. These brave men and women, from every denomination and creed, understood the meaning of perseverance and sacrifice. Their stories are not often told, but they are as much a part of the American landscape as Mt. Rushmore and the Grand Canyon.
That story of hardships, revivals, baptism, sanctification and suffering is captured through this release, which is currently airing as a TV special on a large number of networks including PBS, DirecTV, Dish TV, AT&T U-verse, TBN, RFD, GaitherTV, FamilyNet, CTN, GMC, GMTN, Guardian, Liberty, TCT and TLN. In Canada it is airing on Vision TV, The Miracle Channel, CTS and Hope TV.
Gaither Music Group brought in the esteemed Michael Merriman to direct the filmmaking, and he and Stephanie Reeves produced the LIVE performances taped at Fiddler's Grove Historic Village in Lebanon, Tennessee. Jennings and Michael Nolen teamed up for the screenwriting.
Circuit Rider is exclusively distributed by Capitol Christian Distribution and is available throughout general market stores and the Christian marketplace in addition to online retailers including iTunes, Amazon and www.gaither.com.
To enjoy a promotional video of the DVD, visit YouTube clip here:

CD and DVD SONG LISTING:
01. Burnin' (featuring Guy Penrod)
02. Circuit Rider (featuring William Lee Golden & Russ Taff)
03. The Raven (featuring The Isaacs)
04. Bluegrass Moon (featuring Buddy Greene)
05. I'm the Clay (featuring Judy Martin Hess/Charlotte Ritchie/Tanya Goodman Sykes)
06. Mine All Mine (featuring Lynda Randle)
07. We Go Alone (featuring Joy Gardner & Woody Wright)
08. So Many Miles (featuring Reggie Smith)
09. The Old Man (featuring Benjy Gaither)
10. Refining Fire (featuring Michael Sykes)
11. Against the Grain (featuring Mark Lowry)
(Top to Bottom) Oak Ridge Boy William Lee Golden and Russ Taff, Buddy Greene and cast film the new Circuit Rider DVD.
Photos by: Daniel Meigs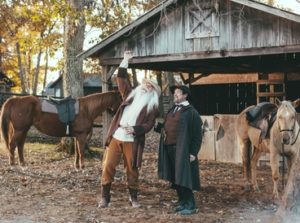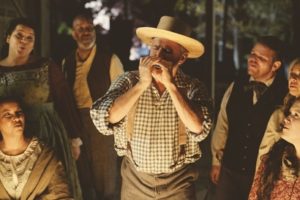 Tags:
Benjy Gaither
,
Circuit Rider
,
Gaither Gospel Series
,
Gloria Gaither
,
guy penrod
,
LYNDA RANDLE
,
Mark Lowry
,
russ taff
,
Tanya Goodman Sykes
,
William Lee Golden
,
Woody Wright
Posted in
announcements
,
artists
|
Comments Off

on Gaither Music Group's All-new Docu-musical Rides to Top of Three Music Sales Charts
Written by Staff on August 17, 2015 – 11:26 am -
Pigeon Forge, TN (August 17, 2015) – The newest event in Pigeon Forge, Christian Country Expo, is thrilled to welcome Chris Golden to the line-up which features favourites Marty Raybon and T. Graham Brown, as well as Jan Harbuck, Ava Kasich, Tina Wakefield, Jerry Branscom, and many more.  From August 24th through the 27th, Christian Country fans and artists will fill the Smoky Mountain Resort with music and the sounds of fellowship.
Chris Golden is the son of William Lee Golden, vocalist with the Oak Ridge Boys.Chris travelled with the Oaks, as well as being a member of rock bands and other musical ventures. He has recently released Sunday Shoes, a CD full of Gospel Music that has him singing the music he first heard as a young boy. Chris is sure to excite the crowd at Christian Country Expo.
During the Christian Country Expo,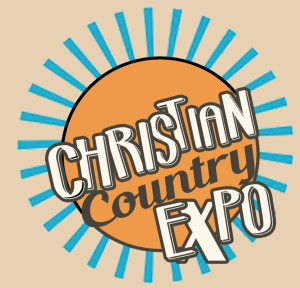 there is a special emphasis on Salute to Our Heroes, recognizing the First Responders and the hard work they do on an everyday basis.
Doors open at the Center at 5:00 pm on Monday night and again on Tuesday morning at 9:30 am for music showcases. For more information on lodging or tickets, please email Rob Patz of Coastal Media at rob@sgnscoops.com or call 360 933 0741. Find out more about Christian Country Exp on their Facebook page. 
For more information and news about Christian Country and Southern Gospel, watch the SGN Scoops mainpage and the SGN Scoops Facebook Page.
Tags:
Chris Golden
,
christian country
,
Christian Country Expo
,
oak ridge boys
,
William Lee Golden
Posted in
announcements
,
artists
,
christian entertainment
,
Christian interest
|
Comments Off

on Christian Country Expo Welcomes Chris Golden
Written by SGN Scoops Staff on November 17, 2011 – 5:08 pm -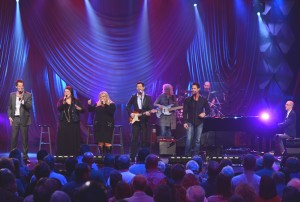 JASON CRABB and THE CRABB FAMILY on "PRAISE THE LORD"
followed by a one hour special presentation of the life, triumps and trials of
Grammy®-award winning artist JASON CRABB, "TRUSTING GOD TO GET YOU THROUGH" with host, journalist DEBORAH EVANS PRICE, featuring guest appearances by BARBARA MANDRELL, WILLIAM LEE GOLDEN, ANDY ANDREWS, and RUSS TAFF
Tags:
ANDY ANDREWS
,
barbara mandrell
,
Deborah Evans Price
,
Jason Crabb
,
PRAISE THE LORD
,
russ taff
,
tbn
,
The Crabb Family
,
William Lee Golden
Posted in
announcements
,
christian entertainment
|
Comments Off

on Jason Crabb On Praise The Lord Tonight
Written by SGN Scoops on September 2, 2011 – 9:49 am -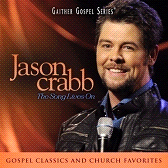 NASHVILLE, Tenn.—September 1, 2011—For GRAMMY® Award winner and Christian music mainstay Jason Crabb, there is nothing like performing LIVE in front of an audience.  On April 19th, 2011, his adrenaline was running high as he stepped onto the stage, following an introduction by friend, mentor and legend Bill Gaither, to record his first LIVE recording, The Song Lives On (Gaither Music Group), which is set to release on DVD and CD on October 18th.
Filmed at Nashville's historic Loveless Café Barn, this all-new collection finds Jason, along with his stage band, putting his own twist to some of the most popular Gospel classics and church favorites of the past few decades.  The rustic venue at the Loveless accentuated the rich emotion and soul of Crabb's vocal talents as well as the intimate, down-home charm that has made this "boy next door" a 14-time GMA DOVE Award-winning, nationally acclaimed communicator.
Known for a uniquely commercial vocal style that blurs the lines between musical genres, Crabb, along with Gaither, collaborated to select songs for this recording that have now become classics—songs that Crabb grew up singing in his hometown church, tunes that remain fan favorites today and messages that Jason could bring to life with his unique flair that ranges from sheer, powerhouse force to "raw," vulnerable interpretations.
"I wanted to record songs that have stood the test of time," Crabb describes, "and as Bill Gaither suggested, 'songs that have sound theology.'  Many of these songs I first heard in church while growing up in Kentucky.  Some of them were sung as a congregation, and some were performed as what we called 'specials' at our country church."
Some of those "specials" include hits such as "Who Am I," "Beulah Land," "God on the Mountain,"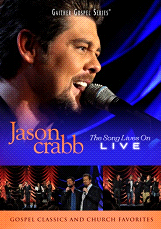 "Midnight Cry," "I Saw the Light," "Until Then" and "Why Me" among others.  The evening featured special performances by The Gaither Vocal Band, including a new rendition of "Please Forgive Me," a Crabb Family hit penned by Crabb's father, songwriter of the year Gerald Crabb.  The song, which was recently re-recorded by Crabb's longtime friend and inspiration Michael English with the Gaither Vocal Band, included a special reprise that brought Crabb and English together on stage.
Another highlight of the evening occurred when Gaither and Oak Ridge Boy William Lee Golden stepped onto the stage spontaneously to join Crabb singing his version of the Kris Kristofferson hit "Why Me."  Other standout moments included a cameo appearance by Sonya Isaacs Yeary and Becky Isaacs Bowman, who joined Jason for the classic "Who Am I" as well as a guest appearance by The Crabb Family, who joined their brother for the family tradition "Through the Fire."  Performers and studio vocalists Reggie and Ladye Love Smith and Angela Primm sang background vocals that evening.  Jason's band includes Lorie Sikes, Blaine Johnson and Michael Rowsey.
"This was a night I had looked forward to for so long," Crabb describes with his usual "aww, shucks" grin.  "To get to sing these classic songs and have my band do what we do live is something I've wanted to do for a while now.  To look into the front row and see the faces of people I've looked up to for years was intimidating…what an honor!  For several of them to join me on stage, well, that's just beyond belief for this small-town boy…what a night!  I'll treasure it forever."
The Song Lives On will also include a new version of Crabb's GMA DOVE Award-winning Song of the Year for 2011 "Sometimes I Cry," which Crabb recently re-recorded at the Billy Graham Library in NC, as part of the filming for the fall releases of the two new Gaither Homecoming videos—Tent Revival Homecoming and The Old Rugged Cross.
The Song Lives On DVD and CD, produced by Gaither, will be available in stores and online on October 18th.  The projects will be featured on multiple tv networks as part of a direct campaign this fall and will be strategically positioned across retail and online accounts.  Both releases are distributed exclusively by EMI CMG Distribution.  For a SNEAK PREVIEW of the DVD, please visit http://youtu.be/NhmHabgfw_E.
In addition to his heavy touring schedule, Jason can be seen at various HOMECOMING arena concerts and video recordings.  For further information, contact Celeste Winstead at CWinstead@springhillmusic.com or visit www.gaither.com or www.jasoncrabb.com.

Tags:
Becky Isaacs
,
bill gaither
,
Cafe Barn
,
Dove Awards
,
Gaither Music Group
,
gerald crabb
,
Jason Crabb
,
Michael English
,
sonya isaacs
,
Southern Gospel News
,
William Lee Golden
Posted in
new music
|
Comments Off

on AWARD-WINNING JASON CRABB Captures LIVE Performance from Historic Nashville Venue