Written by scoopsnews on October 11, 2019 – 5:37 am -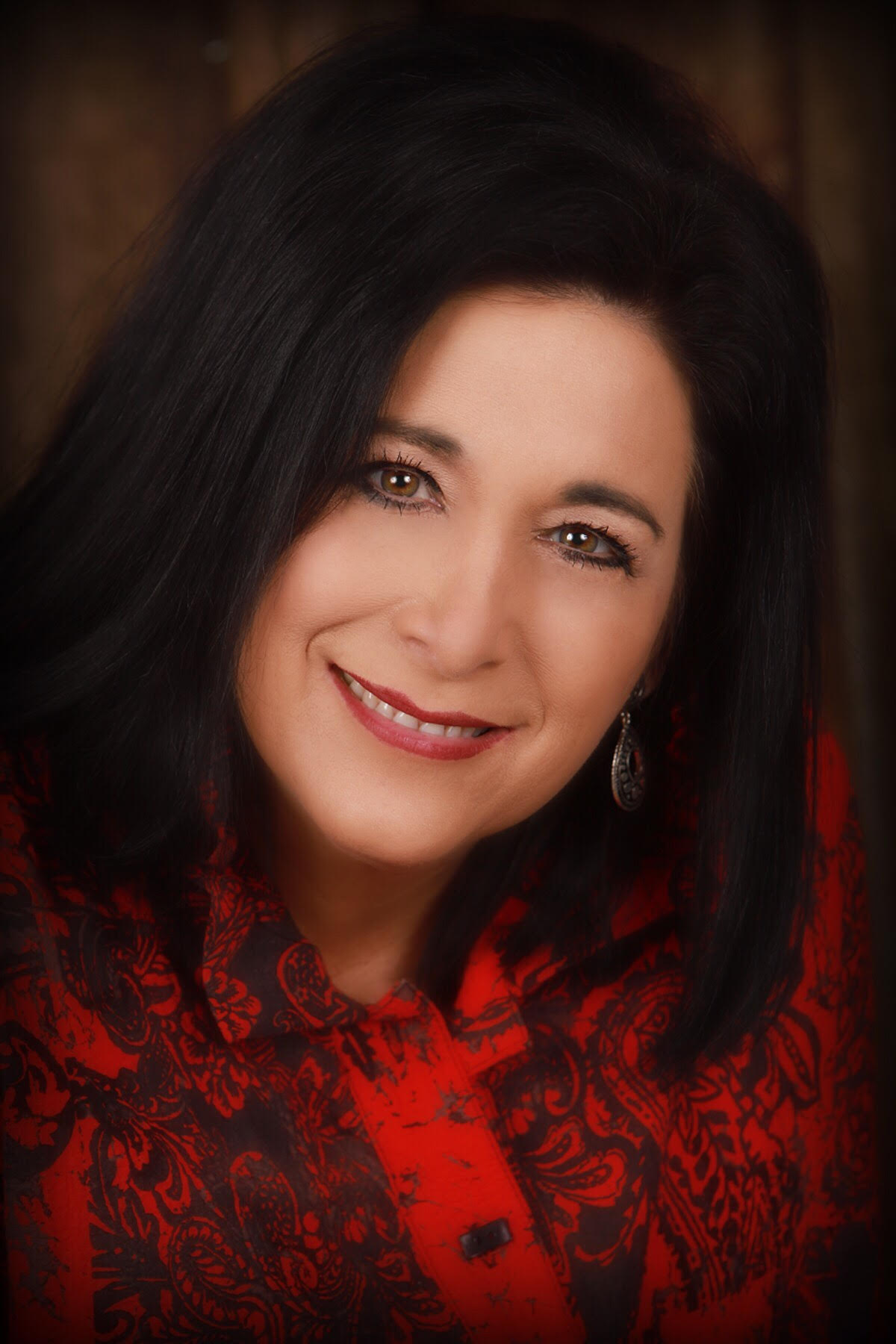 BJ Jenkins wears many hats including Gospel singer, songwriter, author and most importantly, child of God. With her many talents and variety of interests she is able to direct people to what she is most passionate about. Her love for Christ is reflected in all that she does and we are privileged to feature her on our Fast Five.
1. So tell us, Who is BJ Jenkins?
I am a child of God who is loved by Him, blessed by Him and equipped by Him to prepare the
way for His second coming.  I can say that I am married, and I have been for 36 years now, but if
something were to happen to my husband, that could change. I can say I am a mother
and grandmother, and I am. We have 2 daughters and 5 grandchildren, but (heaven
forbid) something could happen and THAT TOO could change. I could tell you I am a
gospel singer, songwriter, worship leader, speaker, and a published children's author
living in the deep south of Mississippi… do you see where this is going?
Although these are very important things to me, and they do properly describe my life
today, the MOST important thing about BJ Jenkins, is that she is a Child of God. I alone,
will stand before God one day to account for how I spent my time here on this earth.
My goal is to please God and I want to strive EVERYDAY, to do exactly what He wants
and needs for me to do.
2. Not only are you a wonderful singer BJ, but we hear that you are also an author? Tell us about the book. How did this all come about?
Last summer, just over a year ago, I was reading Psalm 139:16 "all the days
ordained for me were written in your book, before they ever came to be."
So, I was thinking, everything I am supposed to do in this life is written in this book in
heaven. I WANT TO READ IT? Wouldn't you? So, I bowed my head right then and
said, "Father, show me what's in the book, and reveal to me what I am supposed to
do during my lifetime on earth". The very NEXT day, I had this great idea to write a
song for my grandkids about the fruit of the Spirit. I was not even a songwriter yet,
but the words were coming as fast as I could write them down. When I finished
writing, I quickly realized it was WAY too long to be a song. I laughed out loud and
told myself, it looked more like a book than a song! I pushed it aside and began
praying for another "shorter song" and I heard the Holy Spirit quickly speak to my
heart and say "I will not give you anything more until you do something with what I
have already given you". How many of us continue to ask God for gifts and abilities,
when we are NOT even using the ones, He has already given to us?
Knowing nothing about the publishing industry, I told Him…If He wants this book
published, He will have to do it. But in faith, I began to search for a publisher. Within
a few days, I not only had a publisher, but I had an agent as well to help me.
When you trust God to do HIS WILL for you, it is absolutely guaranteed to happen.
He is GOD and He will do abundantly more than you can ever imagine. In one year,
I have written 9 books that are now being published and 5 songs we have already
recorded. (Apparently, I am having to quickly make up for the many years of NOT
correctly following His will for my life). I encourage everyone, pray for God to reveal
to you what He has written in "your" book in heaven.
I believe He will, if YOU believe He will!
3. Can you give us information on how to purchase the book and your music?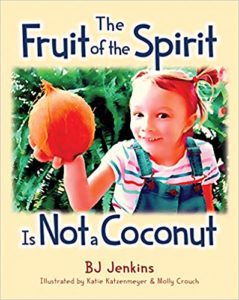 The "Fruit of the Spirit is Not a Coconut" is available on our website
www.bjjenkinsministries.com. It is also available on Amazon and Kindle. I did write a
shorter song to go along with the book, so with each purchase, there is a "free
download" of the audio book and song to sing along at the end of the book.
Every parent, grandparent, Sunday school teacher and church library
NEEDS this book, and here is why.
Most people, and most Christians, do now know how the fruit of the Spirit operates in
a person's life. We are always thinking we need to have more patients, to stop
worrying, and try our best to love one another. Did you know that all those things are
the Holy Spirit's job, NOT ours? Jesus said, "I am the vine and you are the branches,
abide in me and you will bear fruit". This book teaches how the Holy Spirit comes
into your heart and how He grows HIS fruit in your life. It shows the children how
each fruit can be recognized in their daily life, as the Holy Spirit Himself, works
through them.
One neat thing about this book is, our two daughters, Katie and Molly are the
illustrators. (one is an artist and the other a photographer) and all our grandkids are
featured in the book. The book was staged in my hometown of Kosciusko,
Mississippi at one of our local elementary schools and features kids from our city,
church and family. The cost of the book is $10. We will post the other children's
books and curriculum as soon as it becomes available.
You will also find on the website my 6 CD's including our brand NEW project
"A Heart Like His" featuring some new songs written by Jeff Steele and also a few by
me. I also have a new Children's CDs I think your kids will like!
4. What are some "bucket list" items on your list of things to do?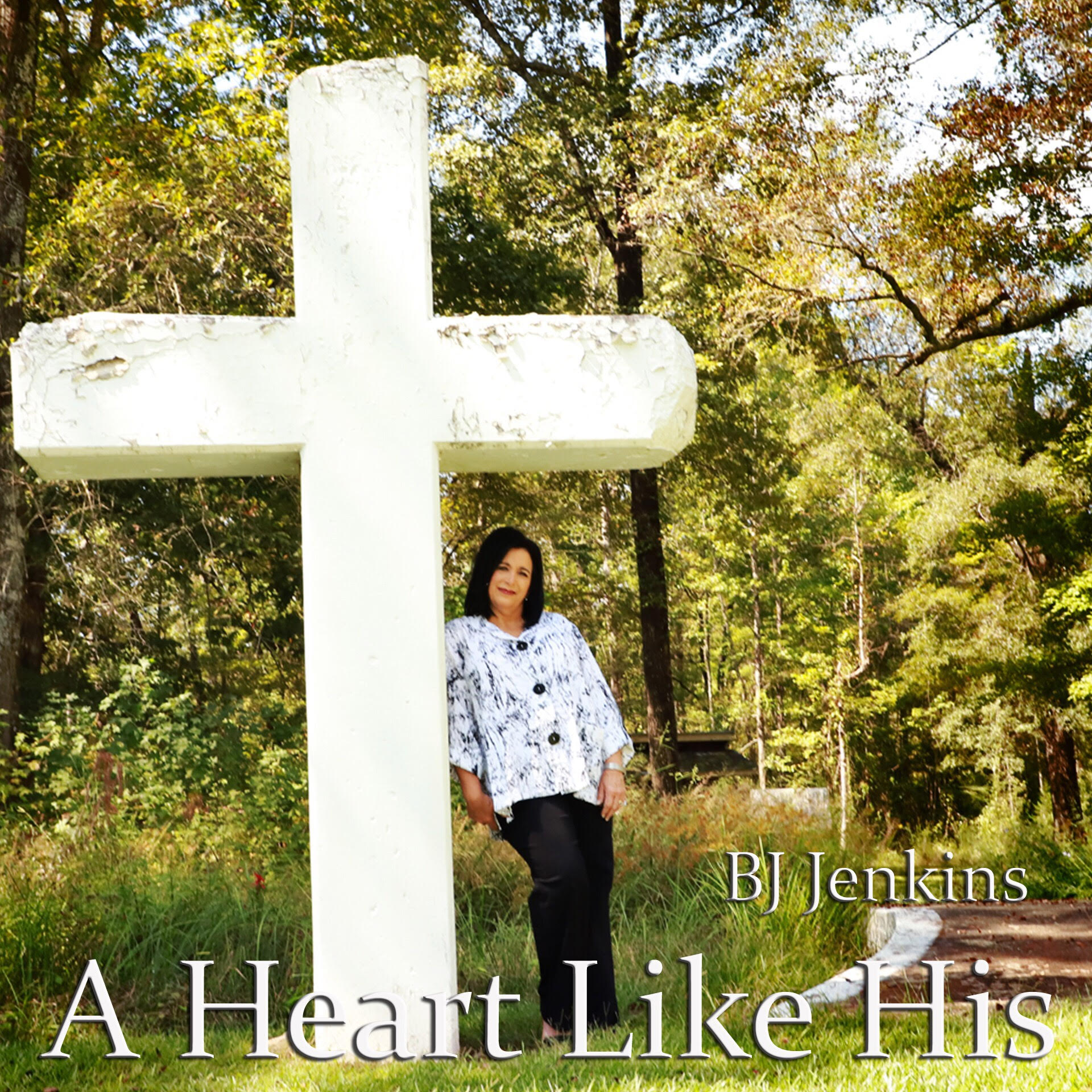 Going to Israel was always on my bucket list. I visited there 4 years ago, and it
inspired me write a song about it on my new album. Other than Israel, I know this
may sound crazy, but if I could do anything, I would want to visit Heaven.
You know, like Paul, in the body or out of the body, I do not know. Peter and John
were caught up to Heaven. Enoch went so many times, he just got to stay.
God said, He didn't play favorites and that Elijah was just a regular person, like us.
The difference was, his faith! So, if all these folks in the Bible can visit Heaven, why
can't I go too? So, that's the bucket list. I know I am going there when I die, but
getting to visit…..now, that would be amazing!!!!
5. Share your testimony.
I grew up like many kids in the south, going to church with my family. My dad was
the chairman of the Deacons and my mom taught Sunday School. One day while I
was sitting in church, I was reading the songs in the Hymnal….
"He walks with me and He talks with me, and He tells me I am His own. And the joy
we share as we tarry there, none other has ever known."
I turned the page…
"I have found a friend in Jesus, He's everything to me. In sorrow He's my comfort, in
trouble He's my stay. I should roll all my cares over to Him, because He loves me.
Then….
"No one ever cared for me like Jesus, Since I found in Him a friend so strong
and true, and that He just wanted to put His arms around me and show me the way
to go."
Then…
"Jesus is all the world to me, He gives me strength, and without Him I would
fall, that when I was sad to Him I'd go, and He would make me glad. He was MY
FRIEND! This is my story, this is my song, praising my Savior all the day long…"
And…
"Turn your eyes upon Jesus, and all the things of earth will grow dim."
I Believed in God, I knew all the Bible stories. I even believed Jesus died on the
cross and rose again, but I didn't know Him like THIS! I knew I was missing
something. I didn't have the spirit of God living in my heart!
So, I was honest with God, I prayed and told Him I was sorry for thinking I was a
Christian because I was a good person and went to church, prayed before meals
and was baptized when I was a child. At the age of 15, I asked Him to forgive me for
everything I had done wrong. I told Him I was lost and really didn't know Him.
I asked Him to come into my heart and fill up my cup up with the Holy Spirit, just like
the song said. And He did.
So, as you can see, I found God speaks to the heart through music and lyrics.
I should have seen a Music Ministry was soon to follow. I was a voice major in
college and was called to Music Evangelism at age 18. Before I married and moved
to Mississippi, my father and I hosted a monthly Gospel Music Sing in Oviedo
Florida, (near Orlando) at the local High School. It was there I was introduced to
Southern Gospel Music and sang with some of the gospel greats like The Masters
Five, The Blackwood Brothers, The Hinson Family, The Florida Boys, The
Cathedrals, and many more. This would kick start a music ministry that would last for
decades.
Thank you for joining us as we learned more about this multi-faceted and talented woman. And thank you to BJ Jenkins for sharing her story. To learn more about Jenkins and her ministry, visit her website at: 
www.bjjenkinsministries.com
Tags:
BJ Jenkins
,
The Fruit Of The Spirit Is Not A Coconut
Posted in
announcements
,
Fast Five
|
Comments Off

on Fast Five With BJ Jenkins
Written by Staff on July 25, 2018 – 4:09 am -
Today, SGNScoops would like to highlight the mixed group, Living Faith, from Cullman, Alabama. This group has been traveling and singing quartet music for 24 years, releasing their latest album, "This is Why," this past spring, through 3rd Avenue Sound Recording Studio.
With a beautiful blend of melodic bass, crisp lead, sweet tenor and spot-on baritone, Living Faith is bringing their brand of Southern gospel to many new audiences through their current radio release. If you haven't yet heard their recent single, you will soon. "I See Jesus" is an incredible expression of faith and vision. Ask your favorite gospel music dj to spin it for you today.
SGNScoops is pleased to chat with Living Faith and to share with you their answers to today's Fast Five.
SGNScoops: Tell us how and when Living Faith began.
Living Faith: Our ministry started in 1994 at our local church with Roger James, his son Rodney James, and Mary Mooney, as our church asked us to sing special music during our services. After about a year of seeing God touching hearts in our home church, God started opening doors for us to minister in other local churches and our ministry has grown from there.
Mark Byrd joined the ministry after about three years, when they sang at his home church. After about eight years of singing with the group, Mark became really involved in his church and ministries there and left Living Faith. In 2015, God brought him back to the group.
In 2016, Roger stepped down and his grandson, Rodney's son, Nathan James, took his place.  
In the last few years, God has really began to open so many doors and bless our ministry as only He can do. He recently led us to songwriter, Debbie Davis, who pitched us her song "I See Jesus." We just released this song as our first single on June 29.  We are all excited to see where He leads our ministry from here.
SGNScoops: At what age did you feel God calling you into ministry? Explain.
Rodney: At the age of 26. I've been around gospel music since I was nine years old, hearing my dad sing, and I have always loved it but never thought I would be able to stand on stage in front of people and sing. I started singing solos at church and was inspired by how God was using me to be a blessing to others.
Mark: At the age of 21, I was asked to sing in with a group of friends in the small country church that I attended. When God started opening doors for us to minister, I knew that God would use my effort to spread the good news in song.
Nathan: Around the age of 18. I've been around gospel music all of my life watching my dad and granddad sing, but have always been a really shy person. I was finally convinced by my dad and granddad to try singing and when I finally did, it just felt right. From that time I felt that I would be part of a gospel music ministry, but just didn't know what God's timing would be. When my granddad decided it was time for him to step aside, I knew this was God's timing.
Mary: At the age of 43. I started singing gospel music with my dad when I was five years old, but got away from church. When I was 43 years old, I gave my life to God and felt this was the ministry that He wanted me in.
SGNScoops: Other than singing, what else keeps you busy?
Living Faith: Rodney has a Lawn Maintenance and Landscape Business. He enjoys spending quality time with his wife Cathy and their three children and four grandchildren, with another grandchild on the way. He serves in the music ministry at his home church, Bellview Heights Baptist Church, as his schedule allows. When he's not singing, he enjoys being around horses and spending time on his small farm.
Mark and his family, which includes his wife Sandy, sons Perry and Rodney, have a farming operation that includes poultry barns, corn, soybean, wheat, cotton, and cattle. Mark serves on the praise team at his home church, Temple Baptist Church, when his schedule allows. As for hobbies, Mark just smiles and says, "Silver Eagle buses."
Nathan works for Pepsi as a route driver. He enjoys spending quality time with his wife Tiffany and their boys, Rhett and Rhenden. They are expecting their third son in October.  Nathan is active in his home church, Bellview Heights Baptist Church as his schedule allows.

Mary is retired. She babysits her great-grandchildren. She enjoys spending time with her husband Terry, their three children, four grandchildren and four great-grandchildren.  Mary serves as treasurer at her home church, Living Faith Baptist Church, and sings regularly there. In her spare time she enjoys sewing and cooking. She is currently spending a lot of time organizing and decorating the home they just finished building.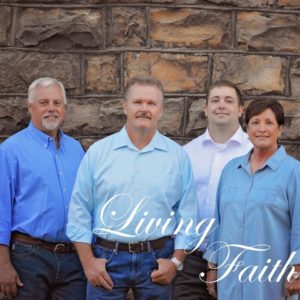 SGNScoops: Will you please share your testimony with us?
Rodney:  I was in church regularly from the time I was nine years old, when my parents were saved. When I was 17, I got away from the church and followed my own path. At the age of 22, the Lord started dealing with my heart and I realized I needed Him to be Lord of my life. That's when I gave my life to Him and since that day my life has never been the same. I only wish I had realized my need for Him at an earlier age.
Mark: I have been in church all my life. When I was 11 years old, our church was in revival and a group of my friends went to the altar, I didn't want to be left out so I went also. I thought I was saved, but two years later, God convicted me of my sins and at that point it was real. I went to the altar and God saved me that night. Years later, after going through a time of being a prodigal son, God got a hold of me and I've never been the same since.
Nathan:  I was raised in church my whole life. At a very young age I thought I had gotten saved, but as I got into my teenage years I realized I still had a lot of sin my life and something just wasn't right.  At the age of 15, I woke up from a nightmare where dad, who I have always been very close to, and I were walking down a path together. We came to a gate being guarded by two angels. Dad was in front and received a hug and was welcomed in. As I stepped up to be next, I was violently taken away by two demons.  That's when I woke up with the realization that things weren't right in my life. When we woke the next morning, I found my dad and described my dream. There in our living room we knelt and prayed and I asked God to become the Lord of my life.
Mary: I was in church with my parents until I was 16 years old, then I just stopped going. Years later, Terry, my husband, came home one Saturday afternoon and said, "I think I need to go to church tomorrow, will you go with me?" God had been dealing with me during that time and I had ignored Him. That next Sunday we went to church and we both walked the isle and were saved. I was always looking for something and never felt complete, until I gave my life to Him.
SGNScoops: Your new single, "I See Jesus," is now receiving airplay on gospel music stations across the country. What does the message of that song mean to you?
Living Faith: The song starts out telling that just before the prophet Stephen was stoned, the Heavens opened up and he saw Jesus at the right hand of God, the Father. There are many people that have witnessed a family member, moments before their life ended, have a moment of unexplained activity both physical and mental. Things like looking upward, and seeing and talking about what they see in Heaven. I believe this is God's way of letting those of us that are left here and experience this with a friend or family member know that Heaven is real. Our hope is that multitudes of people will listen to this song, feel the message in the words, and seek to have that assurance that when their life is over that Heaven will be waiting for them.
SGNScoops would like to thank Living Faith for all they do to spread the good news of Jesus Christ, and for being our guests on Fast Five. If any of our readers would like to talk to the group about booking or purchasing their latest album, you can contact Living Faith by e-mail here or by calling Mark Byrd at 256-303-0983. If you would like to download their latest single, "I See Jesus," you can find it on iTunes here .  Read all about Living Faith and find their schedule on Facebook here.
Tags:
gospel music
,
I See Jesus
,
Living Faith
,
Mark Byrd
,
Mary Mooney
,
Nathan James
,
Quartet Music
,
Rodney James
,
southern gospel
Posted in
artists
,
Fast Five
|
Comments Off

on SGNScoops' Fast Five with Living Faith
Written by scoopsnews on February 23, 2017 – 2:03 pm -
Five Questions From SGN SCOOPS and Five Answers from THE CONNELLS……
Check it out below!
Question 1: For each member: What is your favorite song to perform live and why?
Chris:
A song that has made a strong impact on our ministry is "It Is Well." The last seventeen years have been a challenge for The Connells. We have walked through the loss of a baby, the death of my parents, the development of my cancer and the redevelopment two years later. I have also had to deal with kidney failure and our most recent journey has been Karen's liver transplant. Through it all we have been able to say "It Is Well," because of the sweet peace that only a relationship with Christ can bring. I have learned through this journey that my joy is not determined by my circumstance, but my joy is in Christ Jesus who abides in me.
Karen: Probably "His Life for Mine." First of all, I just absolutely love watching Hannah and Heather carry this song. It thrills me to no end that they sing with passion and KNOW who they are singing about. Secondly, the song has touched me on a very personal level since I first heard it. How in the world is it possible? Why in the world would He trade his life for mine? All I know is He did and I am grateful.
Hannah: "When God Has Another Plan," is my favorite song to sing. I like to sing this song because it helps people going through a hard time. So many times we think we have life figured out, but many times God has a bigger and better plan for us. It reminds me to trust God with things going on in my life and it will work out better.
Heather: "Did I Mention," because it's a song of thankfulness to God for remaining faithful to His children. It has become my anthem of praise to God because I have seen His faithfulness time and time again.
Question 2: For each member: What is your favorite activity when you are off the road? 
Chris:
I enjoy camping and spending some quality time with my family. I have also enjoyed preaching and sharing the gospel over the last thirty-two years.
Karen: Reading, Facebook (keeping in touch with family and friends old and new.) I enjoy watching the Food Network, but it hasn't helped my efforts in the kitchen yet; some sketching, and I'd like to learn more about photography.
Hannah: I like to read, shop, and go on adventures with my family.
Heather: I love to watch old Hollywood movies.
Question 3:  For each of you: Please tell us one personal and spiritual goal you have for this year!
Chris: My personal and spiritual goals are one goal. I have been trying to keep a spiritual journal of the time God speaks and what He shares with me during my prayer time and bible study. This helps me to know His direction and to reflect on the blessings He has so richly provided.
Karen: While recovering from my recent transplant, I feel like I learned a lot things and benefitted from it for more than just a new liver. I gained a whole new appreciation for those around me from family to the medical experts including all those in between. I learned that God is always speaking to us if we'll just listen and realize that He can use an older hospital janitor to deliver a message to you (true story!) as well as He can use a mega church pastor. Sometimes not even a "body" at all. You just KNOW if you're listening for him. Another thing I learned is compassion. I always thought I was compassionate before, but beyond the "I'll be praying," to "God be with Joe;" that was about it. Throughout my illness, surgery, and recovery so many people have reached out to us, putting feet on their prayers. I've been humbled at the generosity and sincerity of so many. My prayer is that I would be SINCERELY compassionate and do more than recite a small prayer out of duty. My personal goal is to live a healthier lifestyle, take the best care possible of my liver, to be able to actually enjoy being active with my family, to cherish these remaining years my girls are at home, and to eventually see sons-in-law, grandbabies, and Disney World a few more times.
Hannah: This year my goal is to get even closer to God and have the boldness to share my family's testimony of God's faithfulness to us.
Heather: To have continual encounters with God and to share our testimony.
Question 4: Can each of you tell us who your favorite artists are currently and whose music has been the greatest influence on your singing?

Chris: I enjoy the solid quartet sound of the Kingdom Heirs, Mark Trammell Quartet and Triumphant. The greatest musical influence in my life has been Leroy Abernathy. I was blessed to be a vocal student of Leroy's for three and a half years. He taught this shy and backwards young man the importance of being more than you think you can be. He taught me to give all that I have to every note, remember to keep the tone placement, and knowing the importance of every lyric you sing.
Karen: There are really too many to name, but I seem to be drawn to the songs of Brian Free and Assurance. I will always love the Cathedrals. Most influential would have to be the Nelons. Growing up our family would always listen to them. I would always listen for Kelly's voice learning to sing harmony somewhere along the way. Now my girls are enjoying her influence with their own vocal pursuits.
Hannah: Some of my favorite singers are Melissa Brady, Karen Peck, and Kelly Nelon. There have been many groups out there that have influenced my singing. I have always wanted to sing, and have wanted to sing Southern Gospel, my whole life. The Hoppers were probably my first influence because when I was little I would sing along with their music putting on a little concert for my parents. Some of my favorites Heather and I would always do was "Shoutin' Time," and "Yes I Am."
Heather: My favorite singers are Karen Peck, Karen Wheaton, George Younce, and Vestal Goodman. Kelly Nelon has been one of the biggest influences in my life whether it has been with words of encouragement or through her music. Being her vocal student, I have learned so much from her and found confidence in my singing because of her. I will always be thankful for the influence she has on my life.
Question 5: For each member: What is a song that you wish you had written?
Chris: Many times, I have found myself singing the lyrics to Leroy Abernathy's classic song "Prayer Is the Key To Heaven." This is one of those songs that drives home the simple but profound truth that prayer must be coupled with faith if the doors of Heaven are to be opened. I have long admired those who can help us to see the simplicity of faith in a profound way.
Karen: Oh my! Where to start? I'm not sure there's any that I wish I had written, but there are several that are very meaningful to me. Most recently: "Say Amen," by Brian Free and Assurance and "God's Been Good," by Legacy Five. I LOVE both of those as they fit me and my story. One other that truly speaks to me and has for years is Don Moens' "I Will Sing." Many times this song has spoken to my heart.
Hannah: I wish I would have written "Four Days Late," because it is such a powerful and touching song.
Heather: I wish I had written "It Is Well."
The Connells will be appearing at Southern Gospel Weekend.
Find out more about the Connells HERE.
For more Gospel music news click HERE.
Tags:
Fast Five
,
gospel music
,
sgnscoops
,
The Connell's
Posted in
announcements
,
artists
,
Fast Five
|
Comments Off

on SGNScoops' Fast Five with The Connells
Written by Staff on January 4, 2017 – 9:12 am -
By Lorraine Walker
On December 31, 2016, SGNScoops was in the audience to participate in a New Year's Eve concert with the Nelons and Jeff Stice. It was a tremendous evening of music as each artist opened up and delivered the best of their skills and talents to an appreciative audience.
Afterward, we were able to talk to the artists and quiz them with an SGNScoops' Fast Five:
Lorraine: What is your main goal for 2017?
Jeff Stice: As I get older, I really truly do just want to finish well; whatever I can do, to do improve
myself as a person. I'm not into the whole performance thing. Jesus died on a cross for me and said, "It is finished!" I don't have to earn my way into anything anymore but why would I not want to try and live a better life. I want to keep working on my music and enjoying my family. I'm  just waiting to see what He has open for me next! He overwhelms me everyday.
Kelly Nelon Clark: My main goal is to spend time with my family and do things that are important to us as a family, not always the business. I wrote about this on Facebook the other day. I want to spend time thinking about our accomplishments, being thankful for what the Lord has allowed me to do; and to take more time with our family.
Amber Nelon Thompson: My main goal is to drink more water. I drink too many sodas.
Autumn Nelon Clark: I really want to get in shape. I say that every year but this year I really want to do it. When I go to the gym and I leave out of breath, I know that I'm not in shape.
Jason Clark: I want to rest in God's provision. I've asked God to take me to new places. We've been blessed with a wonderful platform that has sustained itself for 40 years. I've asked God to do new things in our ministry. He has already begun to start some works that are brand new, whether it's the film industry or the documentary industry, where we are doing some things, telling some stories. We are doing an Americana Tour. Forty-something cities have already booked us. It's basically a non-Christian crowd. So God is already answering that prayer: "Lord, I'm an open door right now, I want you to just use me. If it means in a nursing home on a Saturday afternoon, or if it means into a brand new audience that's never heard the Gospel story, I'm ready." So we're just open. It's exciting.
Lorraine: What is your favorite City?
Kelly: My favorite city is Honolulu!
Amber: My favorite city is Atlanta, where I'm from. My other favorite city would be New York. I love New York City, especially at Christmas time.
Autumn: New York. Love it so much!
Jason: New York City is amazing, but if I want to relax, I have to go to Hawaii. We just had two weeks in Oahu and I have to say that is the most relaxed I have ever been. It was like I was in another world.
Jeff: I love Toronto/Hamilton area, I love New York, I love Orlando; I don't know if I have a favorite. And then I like little towns like Shipshewana IN. My favorite vacation destination would probably be Florida. I've got kids, so they like Disney, Universal, the beach, etc.
Lorraine: What is your favorite way to exercise?
Amber: I love basketball. Very fast-paced, fast-moving. We won the State Championship in my senior year (of high school) and then I got offered a full scholarship to play for the State of Georgia but I turned it down because I wanted to sing more than I wanted to play basketball. Go Kentucky Wildcats!
Autumn: I run. Yes, I am one of those.
Jason: I'm a walker. Every day I walk. When I began to have those (chest pains), the doctor said, "You need to start walking." I was trying to run and it was hurting my knees. You know who else is a walker? Bill Gaither, who has really encouraged me. When we are out on the road (together), we walk. I can't hardly keep up with the guy! It's unbelievable the pace that he keeps. It has truly inspired me because I see the enthusiasm and energy he has at 81, so I want to have that. Diet and walking is a big part of that, so he tells me, and I want to have that.
Jeff: I run. I love running. I'm 56 and I'm trying my best to outrun Old Age but 'he's' so fast!
Kelly: Walking.
Lorraine: What is your favorite book, or what book are you reading now?
Autumn: A book called "Uninvited." (Christian non-fiction by Lysa TerKeurst).
Jason: I just started reading a book I read every January first. It's called "The Adventures of Spirit-filled Giving," by Bill Stafford. It's basically teaching us that if we are just merely tithing, we are only paying a debt. God wants us to give without expecting anything in return. When you begin to open up your heart and give in this way what the Lord has already given to us, he says it unleashes a lifetime of adventure and the flow of the Holy Spirit through us. When God can trust us with more resources than we need… Sometimes we know what we need and we hang on to it. God says the righteous will never be begging for bread. We are always going to have what we need if we hang on to God. God wants to give us more than we need, if He can trust that we will be a conduit and allow that to flow through us to others. That's basically the teaching of that book. It's a small book but I like to be reminded of that concept. I want to be generous in my time, generous in my spirit and in my compassion for others, especially for those who can't give anything in return. That book really challenges me so I'm reading it again.
Jeff: "Abba's Child," by Brennan Manning.
Kelly: "Grace Awakening."(Charles Swindoll).
Amber: Right now I'm reading a book called, "Hurting People Hurt People." (Joyce Meyers). I'm getting my Masters degree in Counseling, and that book is required. I've been reading it and it is SO good. I encourage everyone to read it.
Lorraine: What is your favorite Parable or Scripture verse?
Jason: I'm really intrigued by the Parable of the Sower. I was just reading that a couple of days ago. The seeds that we plant and the different ground that Jesus was teaching about. He said we are going to cast that seed, just throw it out there. But sometimes, it will be discouraging because we won't see the fruit, or anything tangible. That is just how we are wired. We want to see the blessing now; we want to see the provision now. To see whatever that is, right before us. Even with the Children of Israel. They wanted a King, and God said, "No, I'm your King!" But they said, "No we want to see someone on the throne!" He said, "Well, I will give him to you, but he is going to tax you and you are going to work in his barns, filling his coffers." They had to endure a lot of hardship because they couldn't trust the unseen hand of God. So the Parable of the Sower helps us to trust. Just cast your seed out there and let God do what He's going to do. There are going to be times when we aren't going to see the return. But then there are times that seed lands on fertile soil and it begins to take root, bloom and blossom, blessing others. That's a great way to live. We can't be discouraged when we don't see it. So many seeds were planted in that parable and only one type of soil was fertile.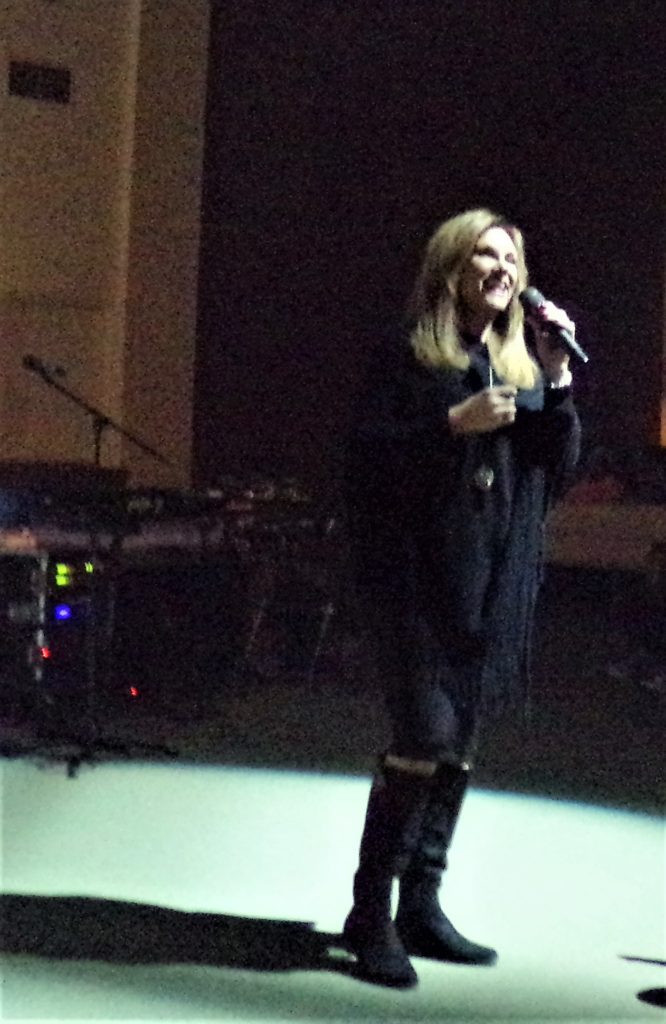 Jeff: My favorite Scripture is Psalm 130, verse 7. "Hope in the Lord, for in the Lord there is mercy and with Him there is abundant redemption." I hang my hat on that every day.
Kelly: I love the parable of the Prodigal Son. My favorite Scripture is Jeremiah 29:11. "For I know the plans I have for you," declares the Lord, "plans to prosper you and not to harm you, plans to give you hope and a future." We have hope!
Amber: I love the Good Samaritan because I think we need more of that in today's time; people who show kindness. We need more kindness right now.
Autumn: "He heals the brokenhearted and binds up their wounds." (Psalm 147:3) There are times in my life when I feel brokenhearted; you've been through a breakup or one of your family members dies. I can always open up my Bible and know that God is always there. He will heal my broken heart.
Thanks to all of The Nelons and to Jeff Stice for participating in a NYE Fast Five for SGNScoops! It was great to hear your hearts on the last day of 2016. 
For more on Jeff Stice, click here.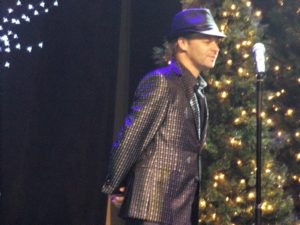 For more on The Nelons, click here.
For more Gospel music news, click here.
Amber Nelon Thompson is featured in the January issue of SGNScoops. Available soon on SGNScoops.
Tags:
Amber Nelon Thompson
,
Autumn Nelon Clark
,
gospel music
,
jason clark
,
Jeff Stice
,
Kelly Nelon
,
Kelly Nelon Clark
,
nelons
Posted in
artists
,
Fast Five
,
sgn scoops magazine
,
special feature
|
Comments Off

on The Nelons and Jeff Stice participate in a Final Fast Five for 2016 with SGNScoops
Written by Staff on August 22, 2016 – 2:25 pm -
Welcome to a new edition of SGNScoops' Fast Five! Today we talk with Carla and Redemption Ministries, a mixed group from Lumberton, North Carolina. This family group presents Country-flavored Southern Gospel and Worship songs with a live band. It is a pleasure to hear artists sing with live music and the band allows Carla and Redemption Ministries (C&R) a lot of flexibility in style and format. C&R presents current and original music with an honesty and skill you will enjoy, in a style reminiscent of the McGruders and the Crabb Family.
We were happy to see that C&R also has young people as a part of their group, training up the youth to become leaders in the Gospel music industry. Carla Monds is joined by Jordan Monds, Helen Oxendine, Earl Monds, Tim Bledsole, Kilynn Kline and Colton Locklear. The group travels throughout North Carolina, and into South Carolina, West Virginia, Georgia, Pennsylvania, from Florida to Arizona. We hope you enjoy reading more from Carla Monds, sharing about Carla and Redemption Ministries!
SGN: Tell us when Carla & Redemption Ministries was formed?
C&R: We began as a ministry in 1993.
SGN: Would you share your testimony with us? 
C&R: Our ministry is centered around deliverance and healing. We have been a witness to God's miraculous power over the years. We have seen folks come out of wheelchairs, come off drugs and God has placed a special anointing on our ministry to pray for folks to have children.
When I was 10 weeks pregnant with my only (natural) child, I began to hemorrhage. I was rushed to the hospital and told that I had miscarried and I should contact my OBGYN to follow up, and I was given paperwork on what to do after a miscarriage.  About an hour later, after prayer,  the bleeding got worse. I returned to the hospital because I was weak.
We sincerely asked GOD to save our baby, we declared HIS word and asked for an ultrasound. We were told that no technician available but, after insisting,  someone was brought in and the ultrasound report read as follows: fetus intact, heartbeat strong, due date 6/25/95.  What a mighty GOD we serve!
The remainder of the pregnancy was tough. They said the baby would likely be premature, possibly wouldn't make it, but "GOD said live" and our son was born late and at 10 lbs.  Jordan, is now 21 years old. He is our drummer, singer and a rising senior at Campbell University, where he is studying Business. Jordan plans to be a corporate attorney.
Over the years God has lead us to pray for numerous people struggling with this issue and when we come back to church many of them present bouncing, beautiful babies that GOD has sent.  I wouldn't wish the pain on anyone that we faced but knowing that God sends His anointing where we faced the greatest problems makes it all worth while, we give Him all the glory!
SGN: Tell us how and where we can buy your CD and hear your music?
C&R: You can visit our Carla & Redemption Facebook page or call us (910) 736-1226.
SGN: What are some future goals for the ministry of Carla and Redemption Ministries? 
C&R: We hope to be able to reach new areas of ministry and touch hearts that have never heard of us before. Most of the group members are Native American from the Lumbee Tribe out of N.C. We want to continue to tell the story that people may be changed and live a better life and ultimately see Jesus one day.
SGN: Carla, Of all the years you have been traveling, has there been one singing, concert, or event that stands out and why? 
C&R: Several years ago we were headed home from Virginia and we began to have trouble with the van, something with the electrical system. For some reason everyone wasn't with us that weekend (of course) and none of us knew anything about vehicles. We had stopped in Kenly, NC and called our friends at Lucoma Church of God and they helped us.
We thought the problem was fixed and they asked if we wanted them to follow us but we told them we would be okay. We headed down the road and started talking about how good it is to have friends and most of all to have GOD in front of us watching out and in back of us.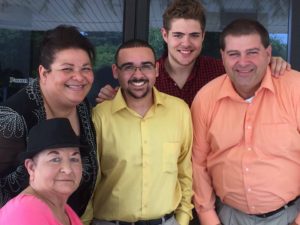 Suddenly the phone rang. It was the pastor's wife. She said, "Sister Carla, just wanted to let y'all know that we are following you until you get to the exit your family lives on!" Wow! I thought, "God is so good!" I told her we would be okay, so they turned around.
In few moments, on a very dark section of I-95, the van stopped right in the middle of the road. We couldn't push it so we were sitting ducks. We called the police, but it took a bit for them to arrive. Meanwhile, the van sat in the black night, no lights, in the middle of I-95. As we stood beside the road, we began to notice that all of the tractor trailers and cars that were flying by us were in the other lane. I looked down the road and it literally looked like someone was directing traffic, telling everyone to move over. I knew it was GOD. When the trooper arrived, he said,  "Ma'am are you telling me y'all have been standing beside this road, and that van has been in the road like that and hasn't been hit?" I replied, "Yes sir!" He replied, "That had to be GOD!"
Carla and Redemption have a lot of blessings to share with their audiences and a lot of good music as well. We hope you try to hear this group when they are in your area. Thanks so much to Carla for sharing what God is doing through Carla and Redemption. For booking information, contact Carla Monds at 
(910)736-1226
 or 
carlaspersonal@hotmail.com
.
Tags:
Carla and Redemption
,
Carla& Redemption Ministries
,
Fast Five
,
gospel music
,
healing
,
Prayer
,
sgnscoops
,
southern gospel
Posted in
artists
,
Fast Five
|
Comments Off

on Carla and Redemption Ministries guest star in SGNScoops' Fast Five
Written by Staff on August 5, 2016 – 10:58 am -
The Booth Brothers recently traveled from Tennessee to the town of Coburg, Ontario, home of Lakeshore Pentecostal Camp. The Camp hosts a huge Tabernacle where thousands of Gospel music fans enjoy their favorite artists every year. This trio is a favorite here, having made the trip north many times, beginning when the group was known as Ron Booth and the Booth Brothers. This year the Camp is celebrating their 80th Anniversary, and on this night of their 2016 Concert Series there was almost a full house to enjoy the Booth Brothers.
The Booth Brothers changed personnel at the beginning of 2015 and for some in the crowd this was their first time to hear Michael and Ronnie Booth with newcomer Paul Lancaster. From all indications, Paul was accepted and enjoyed by all. The Brothers went from older favorites like "All Over
The World," and "Welcome To The Family" to newer songs off their project Still, such as "Touch of the Master's Hands," "Still," and the jazzy, "Happy Rhythm."
These men are still singing the intricately woven harmonies that they are known for, such as in the powerful "Jesus Saves," one of this writer's personal favorites.  As Ronnie and Michael picked up guitars, and Paul picked up a pair of rhythm sticks, they moved into a more Country feel with Alabama's "High Cotton," and from Still: "Down By The River," a song which would chart easily on the Christian Country area and possibly gain airplay on regular Country stations. It is not short on the Gospel message, but if Carrie Underwood can chart with "Something In The Water," possibly the Booth Brothers can get their music played on secular stations as well.
After the concert ended with the Booth Brothers' iconic hit, "He Saw It All (The Blind Man Song)," Ronnie, Michael and Paul agreed to a bit of an interview with SGNScoops, including a quick Fast Five quiz. Keep watching for the rest of the interview with one of the top artists in Gospel music!
The Booth Brothers' Fast Five
We did a true Fast Five with the three men, looking for the first answer that came to their mind.
What is your favorite food?
Ronnie: Pizza
Paul: PF Changs. Chinese.
Michael: Pizza, although I don't eat it much. The only way I can stay trim is I have expensive suits and I cut them tight, and I can't afford to replace them!
What is your favorite color of footwear?
Paul: Black
Michael: Black for my suits, earth tones when I'm casual.
Ronnie: Black
What is your favorite city to visit or vacation in?
Michael: We never go on vacation.I want to go to the Grand Canyon with my family. We [The Booth Brothers] go to a lot of places but we never see anything. I've seen some of the best dumpsters in the world, the best backs of buildings in the world.
Ronnie: There's so many. I love the Bahamas. So I have to say Nassau. I also love history, so I have to say Boston. Also Victoria, B.C. The architecture of some of the buildings is stunningly beautiful. I like to know all the history behind them.
Paul: Destin, Florida. Love the beach.
What is your dream car?
Ronnie: '69 Camaro. Black. Jet black. Not red. I had a red Firebird once and it was just a target. I got hit three times! So I lost my interest in red.
Paul: Buick Regal. I'm a simple guy. If I won a million dollars tomorrow, I'd still buy a Buick Regal. Black metallic, tan leather interior; all the bells and whistles.
Michael: Mercedes S – 500. It's a high end car. That's why I don't have one. My pickup truck's gonna have to do.
What is your favorite character in the Bible other than Jesus?
Paul: I guess my namesake, Paul.
Michael: I love Paul. I guess because I read his letters so much that I feel I know him.
Ronnie: The apostle Paul or David.
Thanks so much to The Booth Brothers for participating in the interview with SGNScoops. We hope you enjoyed your evening at Coburg. We hope you return to Canada soon.
For more on the Booth Brothers, click here.
Be sure to watch for the SGNScoops September 2016 magazine. We will be featuring a story on the Booth Brothers and their health habits! Does Michael eat gluten? Does Ronnie drink coffee? What does Paul do to keep active? Stay tuned to SGNScoops for all the answers.
For more Gospel music news click here.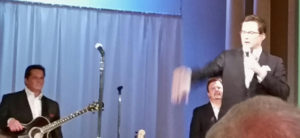 Posted in
artists
,
exclusive report
,
Fast Five
,
sgn scoops magazine
,
special feature
|
Comments Off

on The Booth Brothers: A Canadian Camp and an SGNScoops' Fast Five
Written by Staff on March 17, 2016 – 12:21 pm -
Welcome to another edition of SGN Scoops' Fast Five! Today we talk to Deborah Avans-Peek about her solo ministry as a Christian Country and Southern Gospel artist. Her clear soprano vocals have a definite tinge of Country and her story will amaze you as it is a reminder how God keeps us all in His hands. From adoption to abuse to cancer, she has kept on singing. After a foray into Country music, Deborah once again sings for the Lord. I know you will be encouraged by her story. Be sure to follow the links to listen to her music as well.
Deborah Avans-Peek, we present to you the SGN Scoops' Fast Five!
SGN: Hi Deborah! We'd love to know more about you. Tell us about the beginning of your ministry!
DAP: Singer/Songwriter Deborah Avans-Peek grew up on Cumberland mountain,  in a rural area at Hytop, Alabama, just three  miles south of the Tennessee state line.  She grew up singing in church and gives credit for her ability to sing to God. She sang in school events and church and was a member of a Gospel quartet at the early age of 15.  She says, "My uncle was a preacher and I had another uncle that was a song leader. I have a lot of close relatives that sing Gospel music too."  In 2008, Deborah recorded her first Gospel CD titled Living In The Rain, a cover song that was recorded by Jeff and Sheri Easter. The project was recorded with Eddie Crook Company, on the Cedar Hill Records label, and was produced by A&R director, Scott Godsey.  The album received much radio play in 2008.
SGN: Please tell our readers about your walk with Christ.
DAP: Deborah was born in a small town on the outskirts of Chicago, IL.,  and was adopted at the age of two by a couple from Alabama.  Deborah says, "I always knew I was adopted, and I am so proud I have Christian parents who took me to church. I am so thankful for my raising." When Deborah graduated high school, she married and the marriage developed into an abusive one. After being married for 14 years, it ended in divorce.  She recorded a Country music CD and moved close to Nashville to pursue a career in Country music.  She made a lot of friends in the music business and was a regular backstage at the Opry. "I even sang on the Opry and I got to sing at the Ryman," she states.  She toured and sang with a band for about six years. Deborah says, "Everywhere I sang, people would always say, 'You should be singing Gospel music.'"  It didn't take long to realize that Country music was not what God wanted for her.  
In 2007, Deborah moved back to Alabama to help her mother after her father passed away. She felt as if she had come full circle. "God watched over me and brought me back to where He wanted me."  In 2008, she recorded her first Gospel CD titled Living In The Rain, and she began sharing her testimony and sharing the Gospel while singing at churches.  Deborah was diagnosed with breast cancer in 2013 and had to put her ministry on hold for a while to recover. After undergoing a double mastectomy, 28 radiation treatments, 12 rounds of chemotherapy and several surgeries, she has made a full recovery and is now cancer free.  "I know God has healed me and watched over me and for some reason he is not finished with me yet. There is more of His work to do. My mother and my mother-in-law both are also breast cancer survivors."
SGN: What about your family? Please tell us about your children and grandchildren.
DAP: Deborah lives close to Scottsboro, Alabama with her husband Chris and two sons that are school age. They are members of Agape Baptist Church in Scottsboro, Alabama.  They have three sons, two daughters, and six grandbabies. Her hobbies include singing, songwriting, and cooking because she loves trying new recipes. "I love sewing and I make my grandbabies clothes sometimes. I also love painting and making crafts and things that I see on Pinterest." She also takes care of her mother who is now in nursing care and has Alzheimer's.  Once a month she sings at the nursing home where her mother lives.
SGN: How do we find out more about you, your tour schedule and how to contact you?
DAP:  If you would like Deborah to visit your church or venue and share her ministry, you can call  256-244-1550 or send a message via email at deborahavans@hotmail.com. "Like" Deborah's Facebook page at www.facebook.com/AvansDeborah and purchase songs at www.cdbaby.com/Artist/DeborahAvansPeek. Deborah is currently booking for 2016.
SGN: What are some of the goals you have for your ministry?
DAP:  "I just want to be out there with the people who have hurt and struggles, to encourage them and let them know you CAN be strong. God will never leave you; even when you think He's so far away, He's not, and He will always rescue you when HE decides it's time," she states. "Going through divorce, abuse, abandonment, homelessness and brokenness in the past and then cancer, I know what it's like to struggle, BUT GOD is Good!"
Deborah is looking forward to working on a new cd project for this year which will allow her to keep sharing the gospel.
Thank you so much Deborah for sharing your incredible story with us and reminding us about the goodness of God. We encourage our readers to visit Deborah's Facebook page and CD Baby page to find out more about this amazing woman. Contact her to find out more about her ministry. We know your church or women's ministry outreach will enjoy hearing her story and her music. Thanks Deborah for answering our SGN Scoops' Fast Five!
More news.
Tags:
abuse
,
breast cancer
,
christian country
,
Deborah Avans-Peek
,
southern gospel
Posted in
artists
,
Fast Five
|
Comments Off

on Deborah Avans-Peek on this edition of SGN Scoops' Fast Five
Written by Staff on March 2, 2016 – 4:04 pm -
Thank you for joining us on another edition of SGN Scoops' Fast Five. Today, we talk with soloist, Carol Barham. Carol is a Christian Country singer, songwriter from Vernon, Alabama who records on the M.A.C. Records label. A pastor's wife and grandmother, Carol has a passion for ministering to hurting people with her God given talent of songwriting and performing. Her message to others is that God loves them and will save, heal and deliver.
Let's get to know Carol a little better as she answers SGN Scoops' Fast Five questions.
SGN: Tell us about Carol Barham and what we can expect when we come to your concert or ministry/worship service?
Carol: I was born and raised in Tuscaloosa, Alabama and grew up with two brothers, playing guitar and singing Country music.  Music has always been a part of my life and I am thankful for the God-given gift of songwriting. All of my songs are originals and recording them is a dream come true.
My partnership with M.A.C. Records is definitely not an accident. Dennis McKay of M.A.C. Records and I had known each other for several years but lost contact until one day our paths crossed and my dream began to unfold. I knew this was no accident but God had placed Dennis and me in the right place at the right time.
I was one of the first artists to join M.A.C. Records and soon after released my first project, America Come Back, as well as my first single by the same name which was well received. Since then, I have released my second project, God's Gonna Do Great Things, with M.A.C. Records. From this project, the song "You're My Mama," was released to radio through Double E Promotions and charted in both Cash Box Christian Country and Christian Voice Country Gospel.
Ministry has been a part of my life for a long time. My husband Paul and I have pastored Fountain of Life Church in Vernon, Alabama for several years. In addition to pastoring a church, I enjoy traveling and ministering through word and song at conferences and meetings. I have been involved in a number of events such as Gospel Music Fan Fair, Victory Voyage, ICGMA, and M.A.C. Night of Worship. Last year I had the privilege of singing at John Lanier's 25 Year Celebration for his ministry. It was a very memorable opportunity and I am thankful to God for opening that door. This year I am adding two new events and look forward to being a part of both Christian Country Expo and Creekside Gospel Music Convention in Pigeon Forge, TN.
When you come to one of my concerts or ministry events, you can expect God's presence and His anointing to touch and minister to your life. My songs are originals and they resonate with both the saved and the lost. They will always lift up Jesus and bring glory to God. My testimony is one about God's love and His amazing grace to save, heal, and deliver no matter where you are in life. There's no doubt that I believe in miracles from God because He raised my daughter up from total kidney, liver, and lung failure. She is healed and God has blessed her with a wonderful family and children (my grandchildren).
My message to others is this: I believe dreams come true when you are faithful to God. Keep believing and never give up. God is bigger than your lost opportunities.
SGN: Tell us about your current radio single and how you are seeing God use it?
Carol: I am so excited about my new radio single that was just released in January. It is called "Reach Out For The Life Line."  It was recorded and produced by Dennis McKay with M.A.C. Records and released to radio by Double E Promotions (Comp #188).
This song will resonate with everyone that has struggled with any kind of addictions or the person that has been the best that they can be, but they were lost without God. It tells a story of someone very close and special to me traveling down the wrong road of destruction and getting to a place of total despair and hopelessness when they hear a voice telling them, "Child, reach out for the life line. I've come to save your soul today." I am expecting this song to bless many people across the country as they hear it on radio or in my live performances. People have been saved through the song and I am expecting more to give their life to Christ.  I hope people will call their local radio stations and request, "Reach Out For The Life Line."
SGN: When you are out on the road, what is your favorite place to eat?
Carol: I have a few favorites depending on where I may be traveling. Johnny Rockets is such a cool, fun place with the old tunes playing in the background. Jason's Deli has great soups, subs, and a full salad bar. Yummy! Then there is Waffle House. It is always an all-around good place with friends especially late at night after a concert. They have plenty of good coffee!
SGN: You write your own songs, so tell us about your songwriting process.
Carol: I am so thankful to God for the gift of songwriting. My songs come from real life experiences, family crisis, a friend's pain, or a preacher's message. Most of my songs originate from spending time in prayer and praise to God, which is a must as part of my songwriting process. It's just who I am. The Holy Spirit is definitely the one that helps me pen the words and music. Without Him there would be no song. My song, "You're My Mama," is a true story of my childhood with my Mama and how I felt as I grew older and recognized the sacrifices she made for me.
SGN: How can we book Carol Barham and buy your product?
Carol: You can visit me on Facebook (www.facebook.com/carol.barham.37) or email me at carol_g_barham@yahoo.com. You can also give me a call at 205.712.0721
Thanks so much to Carol for her graciousness in answering our SGN Scoops' Fast Five questions. We have enjoyed this look at Carol's music and her heart, and we know our readers have as well. We encourage you to find out more about Carol, see her on tour at Creekside or CCX and listen to her music. You will be blessed.
For more news click here.
Tags:
Carol Barham
,
christian country
,
Double E Promotions
,
M. A. C. Records
,
southern gospel
Posted in
announcements
,
artists
,
Fast Five
|
Comments Off

on Carol Barham on SGN Scoops' Fast Five
Written by Staff on February 23, 2016 – 12:30 pm -
Thank you for joining us for another sampling of the SGNScoops' Fast Five! Today we chat with Annette Bingaman from southern Illinois. Annette is one of the newest female vocalists on the Southern Gospel scene, although she has been in and around it most of her life. She has been a part of groups and choirs while living in Louisville and dreaming of singing at the National Quartet Convention.
Annette has now released two recordings as a soloist and has sung on the stages of both the National Quartet Convention and the Great Passion Play.
Join us as we ask Annette the SGNScoops' Fast Five!
SGN: Annette, tells us all about your ministry.
Annette: My ministry is focused on touching hearts and offering comfort and peace to those who are suffering or searching for something to fill a void. I long to be used as His vessel in finding a love like none other: The unconditional love of God.
SGN: You have a new radio single! Tell us about the song and why you chose it?
Annette: This song, "I'll Trust You with Tomorrow," was written by Dianne Wilkinson. It is a very personal song to all of us with a powerful message the world needs to hear today. We take our burdens to the Lord in prayer and ask Him to take care of the situation, but we have a hidden agenda on how He should take care of it. When the situation is not taken care of the way we think it should be, we allow ourselves to worry and fret about it, stealing our joy.
God does not always work on the frontline, but many times on the sidelines or in the background. If we would just learn to "Trust Him with tomorrow and pray about today," what an act of faith we would emanate to our Heavenly Father. Faith is rewarded. I pray the Lord's blessings on each of you as you listen to the words of this song.
SGN: Will you please share your testimony with us?
Annette: I have been singing in church since I was a very small girl of about six years of age. A true sincerity for serving the Lord was placed in my life through my amazing parents. My dad was always a very active assistant to the pastor in our church as well as an amazing singer, and my mother wrote many songs, as well as played the piano. Even today, my father (now 93 years old) and my mother (now 80 years old), still play the same active parts in our church with my dad still singing solos and my mother still playing the piano. Their amazing examples placed something in my heart. Then, at the age of 10, I asked the Lord to come into my heart.
I have had tests and trials I have had to go through in my life; I have had struggles and heartaches, as we all have; but the one thing that has always remained true is the love I have always felt from the Lord, and the love I have kept in my heart for the Lord – the sincere desire to help others, to serve the Lord with a servant's heart, to show my Heavenly Father how grateful I am to Him for the ultimate sacrifice He gave when He gave His only begotten Son for me and for you.
In return, it is my humble honor to offer my life, my talents, my voice for Him to use as His vessel. I cannot imagine the pain He must feel each time He sees us turn the wrong way, take the wrong path, or fall by the wayside. My prayer is that my ministry will help direct those who might have lost their way back to Him, for one day I would like to hear Him say "Well done, thou good and faithful servant."
SGN: If our readers would like to book you or purchase product, how can they do that?
Annette: If our readers would like to contact me they can contact me through www.annette-bingaman.com .
SGN: What are some of your goals for your ministry for 2016?
Annette: I have a goal in 2016 to get on the road and touch as many hearts in as many churches across the United States as I am blessed to visit. I would like the United States to find out who "Annette Bingaman" is, and see and feel the sincerity of my heart. If the Lord sees fit to bless my ministry in making it on the charts this year, then to God be the glory.
Thanks so much to Annette Bingaman for being a part of this edition of SGNScoops' Fast Five! We hope all of our readers have enjoyed getting to know this fine soloist.
Listen to one of Annette's songs from YouTube here:
For more news click here.
Tags:
Annette Bingaman
,
Great Passion Play
,
national Quartet Convention
Posted in
announcements
,
artists
,
exclusive report
,
Fast Five
|
Comments Off

on Annette Bingaman answers SGNScoops' Fast Five!
Written by Staff on February 15, 2016 – 9:04 am -
Welcome to another edition of SGNScoops' Fast Five! Today we talk to Surrendered, a mixed trio from Gadsden, AL, who record with Chosen Records. This trio appeared at 2015 Creekside Gospel Music Convention and thrilled the crowd with their heartfelt renditions of such songs as "I Bowed On My Knees" and "I Choose Christ." You can hear their close harmony on a Southern Gospel radio station near you, as they perform the beautiful single, "I See My Name."
Surrendered at times becomes a quartet, as they bring along a bass singer and a pianist to add versatility. However, this trio has a great mix of voices and with their evident desire to serve Christ in everything they do, their message and music will always bring a blessing to audiences.
We hope you enjoy this look into the ministry of Surrendered.
SGN: Introduce us to the group….
S:Surrendered is a Southern Gospel trio from Northeast Alabama. Sadie Renae
(age 16) sings lead and harmonies. She plays the acoustic guitar and has been performing since she was three years old. John "Bitt" Fugatt sings tenor and lead. He has been a member of several gospel groups, plays a plethora of instruments and can sing some awesome high notes. Group leader Russell Wise sings lead and baritone. He was a long time member with Wendy Bagwell and The Sunliters. He plays the bass guitar. We are busy in the studio writing for our next project.
SGN: You have a new radio single!! Tell us all about it and why you chose the song.
S:This new year has been so exciting. Our FIRST single to radio was released mid-January through Jan Puryear Promotions. The song is entitled "I See My Name" and was written by Kenna West and Daryl Williams. Daryl, a long time friend of Russell's, sent several songs for the group to peruse. When we heard "I See My Name," we all knew immediately we wanted to record it. The song has an eloquent and reverent simplicity. The message touched us all. When hearing our song on air for the first time, there were sincere tears, a little jumping for joy and a whole lot of gratitude! The song is now available on iTunes also.
SGN: When Surrendered is out traveling the highways, what is the group's favorite place to eat?
S:Traveling is increasing monthly and we cannot be more humbled and grateful. We have accepted bookings in Texas, Alabama, Georgia, Tennessee, North Carolina and several other surroundings areas. Each time we travel, we end up at a Mexican restaurant. Sadie is our chips and salsa little lady. We have enjoyed many late night conversations around a bowl of cheese dip.
SGN:Russell, will you share your testimony?
I have had the great opportunity of having Gospel music in my life since a young age. My dad was a pastor, my mom played the piano and we all grew up singing in our home and at church. When other churches and friends heard us, the invitations began. Hence, we saying as The Wise Family for many years. It was great having music in our lives at such an early age.
When the family decided to stop traveling, I continued singing. I sang with The Chancellors, The Servants, and several others. I then had the opportunity to travel as a long time member with Wendy Bagwell and the Sunliters. It was a great time in my music career.
Following my time with Wendy, the Wise family got together for some reunions and anniversary singings. However, due to jobs, families and miles apart, we did not choose to go back on the road.
I returned to Gadsden six months prior to my mom's passing. It was a very difficult time losing the matriarch of our family. I made the choice to remain in Gadsden to be near family and friends.
After some time of healing, we decided that we would sing again as we knew it's what our parents would have wanted also. However, soon after kicking off the group, my brother-in-law was diagnosed with stage four liver cancer and my niece was actively raising a family.
So I truly felt my days of singing and traveling had come to an end. I had begun visiting and communicating with churches that were looking for a song chairman. I figured this was where I could still help carry the message through music.
Prior to the family endings their travel days, we sang at Southern Gospel Weekend in Oxford and Sadie, my 16-year-old niece by marriage, came to help set up and enjoy the music. It was her first Gospel Convention. She really enjoyed the fellowship and on the last day was truly touched when she heard Jay Parrack and Vocal Event sing "Sometimes He Whispers."
Sadie began listening and learning many songs, and soon she and I were excepting our first bookings. Since then, we were blessed to have John "Bitt" Fugatt join us.
I know God lives and He calls us to be disciples. All things come together in His time. I stand amazed at His tender mercies on me. Please pray for this music ministry. We pray for directive daily.
SGN: What are some goals for 2016 for the group?
S: We have several personal and group goals this year. We want to be more prayerful and study our scriptures more. We ask daily for directive in our music ministry and thank GOD for opening doors. We choose our songs carefully and prayerfully. Bringing lost souls to our Savior is why we do what we do. Each time we see someone surrender to Christ, we know we are right where the Lord wants us. Our prayers are to extend our music ministry into other areas, but only as God so chooses and directs.
The friendships we are making in this industry goes way beyond words. There is a closeness you feel and we stand in awe at the diligence of such servants hearts. We pray for those out spreading the word through their music. Together with God's tender mercies, we pray we will change one heart at a time.
SGN: And….. Give us your website and booking information.
S: We would love the chance to worship with you. Please visit and like our Facebook page or our website . Feel free to email us at: Surrendered2015@yahoo.com or you may call 205-937-1185 anytime.
Surrendered is also on Facebook here.
Thanks so much to Surrendered for visiting with us today on the SGN Scoops' Fast Five! We trust our readers have enjoyed getting to know these artists and hearing their heart for ministry. If you haven't heard their latest single, be sure to call and request "I See My Name," by Surrendered.
For more news click here.
Tags:
John "Bitt" Fugatt
,
Russell Wise
,
Sadie Renae
,
Surrendered
Posted in
announcements
,
Fast Five
|
Comments Off

on Surrendered featured artist on SGNScoops' Fast Five!