Written by Staff on July 8, 2019 – 4:58 pm -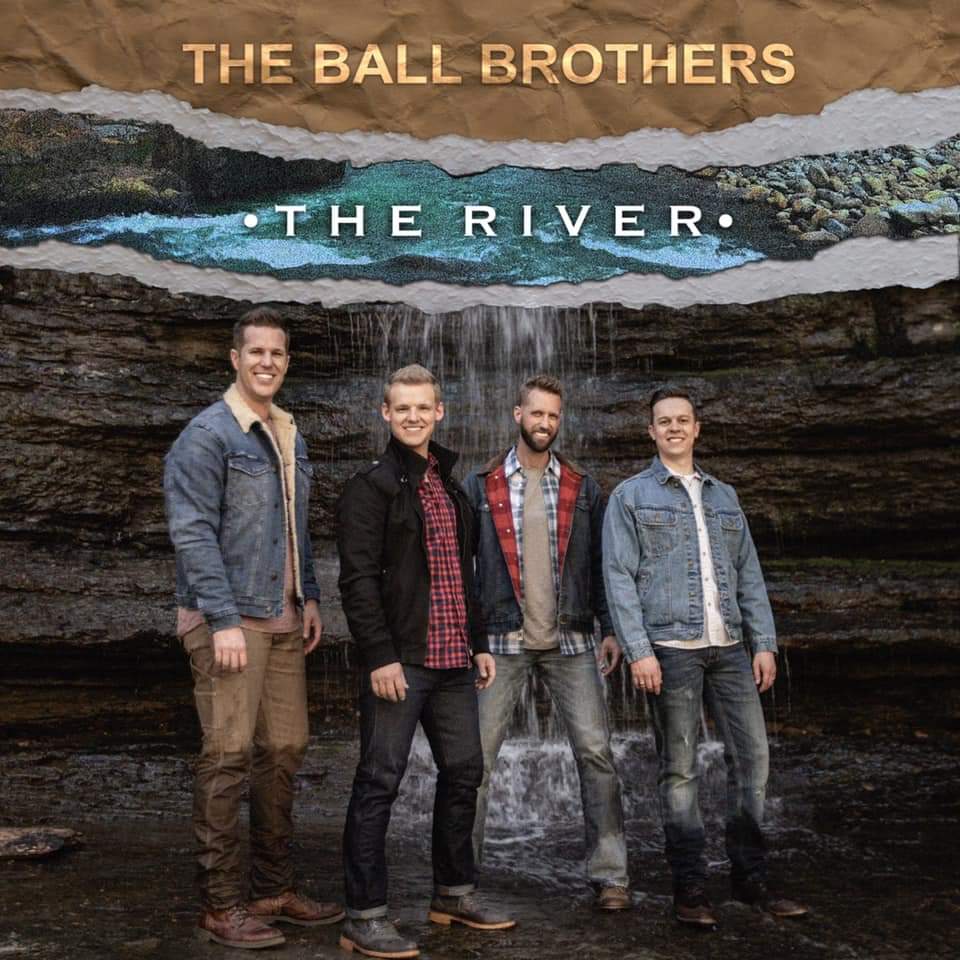 For this edition of Beyond The Song, Jantina de Haan Baksteen talked to Daniel Ball of the Ball Brothers, who was willing to be interviewed about their song "The River."
This dynamic group, the Ball Brothers started their career in 2006. They started with four brothers: Andrew Ball, Daniel Ball, Steven Ball, and Josh Ball.
The current lineup is: Andrew and Daniel Ball, Chad McCloskey, and the newest edition, Rhett Roberts ,who takes the bass part.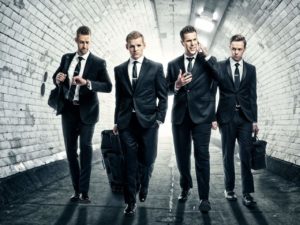 I wanted to know more about the song that was released to radio called "The River," written by Jordon Felix.
1. What made you pick this song to record?
Daniel says, "We met Jordan Felix last summer at an event we were both performing at called 'Fan Fest.' We heard the song and we decided to cover it. At this point we're not sure if it will be on the new project or just stay a single."
2. Can you tell us more what the song means to you personally?
Daniel shares: "The songwriter based it on John 7: 38. 'He that believeth on me, as the scripture hath said, out of his belly shall flow rivers of living water.' We love to sing about the joy of our salvation."
3. What is the message you want to share the to crowd you sing for, or listener who bought a copy?
Daniel says: "That a life in Christ is completely different than life without Him."
4. What is your vision for this year, because you travel a lot even outside of the U.S.? Do you have tours planned to other countries?
Daniel shares, "In 2020, we will be touring in Germany and Sweden. We're also working on stops in Scotland and Northern Ireland."
5.Are there other things in the making you want your fans to know about?
Daniel: "We are working on a new project over the next few months."
Thanks Daniel for taking us along on your journey. The SGNScoops' team wish you God's blessing on your tours, national and international.
For more on the Ball Brothers click HERE.
Read the June SGNScoops Magazine Online HERE
Download June SGNScoops Magazine On PDF
HERE
Find SGNScoops Magazine On Facebook
HERE
Listen To Todays Gospel Music
HERE
Tags:
Ball Brothers
,
Beyond the Song
,
gospel music
,
the river
Posted in
artists
,
Beyond the Song
|
Comments Off

on Beyond the Song: the Ball Brothers sing "The River"
Written by Staff on September 28, 2018 – 8:31 am -
PIGEON FORGE, Tenn. (September 26, 2018) –  It was a terrific Thursday filled with music and message at NQC. The day started bright and early with morning chapel service as the Mark Trammell Quartet and Mike Speck led the crowd in worship, followed by a message from one of the most dynamic preachers today, C.T. Townsend.
Moving forward into the day, Dennis Swanberg gave convention-goers a laugh-break with his comedy.
Next up was Bill Gaither and his Homecoming Friends, filling the LeConte Center with classic songs made popular on the Gaither videos.
The evening concerts were hosted by Josh Franks. Tonight's performers were: Gaither Vocal Band, Ernie Haase & Signature Sound, Hoppers, Legacy Five, Jonathan Wilburn, Gold City, Ball Brothers, Greater Vision, Tribute Quartet, Mark Trammell Quartet, Jim Brady Trio, Dr. David Jeremiah, Primitive Quartet, Three Bridges, Kingdom Heirs. Power half-hour performances by Tim Menzies, Torchmen, Jordan Family Band, Debra Perry & Jaidyn's Call
Among tonight's highlights were the classic harmony of the Gaither Vocal Band, and the comedy of Bill Gaither and his sidekick, Kevin Williams and the moving testimony of Josh Townsend – pianist for Legacy Five – as he told of suffering abuse at the hands of his father in the womb before he was even born. The abuse left his twin dead before birth and Josh suffered a stroke before being delivered. Due to this, doctors told his mother that he would never have use of his left hand, to which Josh testified tonight – "they were wrong." The crowd – with tears streaming down their face – gave Townsend a standing ovation after he performed the song, "God's Been Good."
NQC – the National Quartet Convention – continues until Saturday, September 29, 2018, at the LeConte Center in Pigeon Forge, TN. Over 40,000 people are expected to enjoy the concerts and festivities planned.
Coming up tomorrow, Friday, September 28, 2018:
Chapel with Jim Brady Trio and the First Baptist Church Indian Trail Choir and message by Dr. Mike Whitson
Blazing Pianos
Dr. David Jeremiah
Matinee Extravaganza
Evening Concerts featuring: Erwins, Dixie Echoes, Nelons, LeFevre Quartet, Taylors, Mark Trammell Quartet, McKameys, Lynda Randle, Perrys, Jeff & Sheri Easter, Isaacs, Joseph Habedank, Hoppers, Triumphant, Karen Peck & New River and Ernie Haase & Signature Sound
NQC – the National Quartet Convention – was founded in 1957 by gospel music legend and former backup vocalist for Elvis Presley, J.D. Sumner who co-produced the event with James Blackwood. The annual convention was moved in later years to Nashville, TN and then to Louisville, KY where it was held for 20 years.
Tags:
Ball Brothers
,
C.T. Townsend
,
Dr. David Jeremiah
,
Ernie Haase & Signature Sound
,
Gaither Vocal Band
,
gold city
,
Greater Vision
,
hoppers
,
Jim Brady Trio
,
Jonathan Wilburn
,
Kingdom Heirs
,
legacy five
,
mark trammell quartet
,
nqc
,
Primitive Quartet
,
three bridges
,
Tribute Quartet
Posted in
announcements
,
artists
|
Comments Off

on NQC RECAP: THURSDAY, SEPTEMBER 27, 2018
Written by SGN Scoops Staff on November 27, 2017 – 10:40 am -
Nashville, TN,  – Award winning and internet viral sensation The Ball Brothers have become a family holiday staple all across the country with their Christmas spectacular that has been touring for over a decade.  Covering 12 states in a matter of weeks, The Ball Brothers perform timeless classics and soon-to-be-favorites with tones reminiscent of The Beach Boys or The Four Freshmen.
The Ball Brothers Christmas tour is more than a concert. With staging, lighting, candy and comedy, it is truly an experience!  Even fans who live further South get to enjoy the Christmas show complete with Christmas snow!  Attendees have the unique opportunity to share the reason for the season with children all across the globe.  And through the participation of Ball Brothers concert-goers,  over 1,000 children's lives have already been changed.  Those who help to change lives overseas walk away with some Christmas CD's, including the brand new release, CHRISTMASTIME Volume 1.  This album contains classics like "Cradle in Bethlehem," and "Angels We Have Heard On High," vintage favorites like "Little Saint Nick," and a few new selections like "Christmas Is" and "Give Your Smile Away."
The tour kicked off last week with packed out crowds in Illinois and Michigan, and will stretch up into New England and back through the Midwest before concluding in Georgia just before Christmas.  In addition to fun for the whole family,  the musical road is clearly paved from the manger to the cross.  For Andrew, Daniel, Chad, and Matt, it's not all about a manger, the shepherds, or the angels. "It's About The Cross." Now nearing 40 million views and having held #1 download on iTunes,  the song heard around the world is still touching hearts and increasing hope this Christmas season.
The Ball Brothers Christmas Tour 2017
12/1 – Fountain Inn, SC
12/2 – Murfreesboro, TN
12/3 – Findlay, OH
12/6 – Winston Salem, NC
12/7 – Pottstown, PA
12/9 – Vineland, NJ
12/10 – Liberty Corner, NJ
12/14 – Appomattox, VA
12/15 – Baltimore, MD
12/16 – Paris, IL
12/17 – Columbus, OH
12/19 – Dalton, GA
For times and locations, visit: www.TheBallBrothers.com/tour
Tags:
Ball Brothers
,
Southern Gospel News
Posted in
announcements
|
Comments Off

on THE BALL BROTHERS TAKE 12 STATE CHRISTMAS TOUR
Written by Staff on September 12, 2017 – 1:27 pm -
A word from Erin…
Today, we turn our attention to one of the most underrated and incredibly talented young men in our industry. Chad McCloskey masterfully fills the baritone position for the Ball Brothers. Aside from the strong vocal abilities the Lord has blessed him with, what matters most is his soft-spoken manner and tender spirit, which is noticeable the moment you meet him. Whether you've been a faithful Ball Brothers fan for years, or if you're newer to their music, this is your chance to get to know Chad a little better.
Erin: Being born in Wisconsin and growing up in Michigan, what did those early days look like once you discovered your love of singing? 
Chad: I come from a very musical family. My dad was the music director at our church, and my mom was heavily involved with various musical outlets such as choir, ensembles, and church specials. Growing up, I was fairly shy musically. I wasn't particularly fond of the idea of standing up in front of people for anything, let alone to sing. As I got older, I was given somewhat of an ultimatum when it came to music. It was either sing or nothing, so I chose to sing. Once I got over my apprehension of crowds and my incessant fear of critique, I grew to love singing and jumped at the chance to sing whenever an opportunity presented itself. Fast forward 20 years, I now sing for a living, and I love what I do.
Erin: How did you and your wife Sarah meet?
Chad: I've actually known Sarah since I was around 10 years old. Her family, while in evangelism, used to come to our church and sing, and my family would occasionally take them out to eat while they were in town. We lost contact over the years, but in 2006, (we) reconnected at the church her dad was pastoring when my family went into evangelism. 
Erin: An early congratulations on the newest addition to your family coming soon. How do you personally juggle being a gospel singer, a husband, and a father to Brooklyn and Mason?
Chad: Thank you. We are excited about the new addition. When it comes to juggling family and work, I find it prudent to keep the two separate. When I'm at home, I always try to focus on my family's needs above anything else. We have dinner around the table every night and try, if we can, to do an activity together any chance we get. When I'm traveling, I try to focus on the task at hand to ensure I do my job accurately and efficiently, but at the end of the day, I always call home to check in on everyone. Fortunately, with the development in technology, staying in touch with my family while I'm away is pretty easy. 
Erin: What are some new and exciting happenings the fans can be expecting from the Ball Brothers for the last half of this year?
Chad: We are currently working on a couple different projects. We have been in the studio working on a new Christmas album. We're hoping to have it finished and out this year. We are also getting ideas together for some music videos we are hoping to shoot later in the year. 
Erin: With the Ball Brothers' incredible internet success, how has it impacted your ministry and opened new doors of opportunity?
Chad: The impact from our online success has been substantial at the very least. With the change in the market, almost anything can be accessed online, so we see it as beneficial to cater to that outlet more. Since the views on the Ball Brothers' Facebook videos have skyrocketed over the last few years, we've seen immense growth in our fan base, as well as concert dates. God has truly blessed our ministry and we are so humbled by everything He has done for our group.
Erin: The jazzy, Michael Bublé-influenced tones to your voice are obvious to the listener. Besides him, who else are some of your top musical influences, and who would you normally be listening to?
Chad: I have a pretty wide range of music that I enjoy. I grew up listening to the Gaither Vocal Band, so they are an absolute must in my musical lineup. But I love groups from Journey to MercyMe to the Mullins. Some of the more singular influences would include Marshall Hall, Stevie Wonder, David Phelps, Michael Bublé, Frank Sinatra, and Bryan Duncan.                                                                                        
Erin: What's the strangest thing a fan has ever said to you?
Chad: Where to start? While I was dating my wife, I had a man approach me after a concert asking if I would be interested in his daughter. After I told him I was already dating someone, he quickly took the defense and came behind the product table, got in my face and very angrily asked why I thought his daughter was ugly. I just slowly backed into the crowd in a desperate attempt to get away. Who does that?
Erin: Favorite food on the road/favorite food at home?
Chad: Mexican food. It's a favorite at home and on the road.
Erin: Is there a particular song you sing night after night on stage that has a profound, personal impact on your heart?
Chad: The song "It's About the Cross" is a definite favorite of mine. The message of the song to me is too penetrating to ignore. It's an unbelievable and humbling thought that a sinless, perfect Jesus willingly laid down His life for mine. 
Erin: It's true that music speaks when words fall short. But after all the songs have been sung, how would you encourage that listener out there who has come to the end of their rope?
Chad: I know this sounds cliché – and we hear it all the time – but the most comforting thing to me when I'm at my weakest is prayer. We may not have all the answers, but God does. One passage in the Bible that stands out to me on this particular topic is Isaiah 40:29-31 … "He gives power to the weak, and to those who have no might, He increases strength. Even the youths shall faint and be weary, and the young men shall utterly fall. But those who wait on the Lord shall renew their strength. They shall mount up with wings like eagles. They shall run and not be weary. They shall walk and not faint."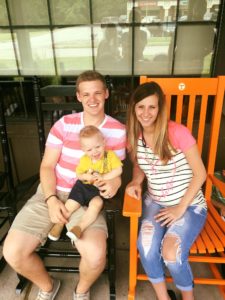 Closing thoughts from Erin…
Our strength doesn't come from our own efforts. It comes from Christ. When we're on the mountaintop, we sometimes forget to give Him the thanks that He deserves. But it's in our weakest moments that we remember that we are nothing without Christ. He is the breath in our lungs and the fire in our souls. May we not fall prey to forgetting that all glory and honor are due His mighty name. Isaiah 40:29-31 was an excellent reminder Chad gave us. I appreciate his heart, and I'm thankful we have men like him still singing the gospel and spreading the good news for all to hear.
And that's my take on it.
Until next month, Scoops fans.
Connect with Erin: Twitter – @photosforkeeps Instagram – @photos_for_keeps
Who would you like to see Erin interview next?
By Erin Stevens
First published by SGNScoops Magazine in July 2017
For the current issue of SGNScoops Magazine click here
Read more Gospel.music news 
here
.
Listen here to Gospel music online 
here
.
Tags:
Ball Brothers
,
Chad McCloskey
,
Erin Stevens
,
gospel music
,
Quartet Music
,
southern gospel
Posted in
artists
,
sgn scoops magazine
|
Comments Off

on Erin Stevens' Younger Perspective on Chad McCloskey of the Ball Brothers
Written by SGN Scoops Staff on April 27, 2016 – 8:07 am -
From The Ball Brothers: Here is a tribute to all Mothers. Please share this video and comment one word that best describes your mother. #pleaseshare #heymama
Tags:
Ball Brothers
Posted in
announcements
|
Comments Off

on Check this out from The Ball Brothers!
Written by Staff on February 1, 2016 – 7:53 am -
Chickamauga, GA – February 1, 2016 – The Ball Brothers welcome 21-year-old Matt Davis, as new bass vocalist.
Originally from Fairfield, Maine, Matt makes his home in Cleveland, TN, where he graduated from Lee University with a Bachelor of Arts in Music with a Vocal Emphasis. Matt traveled with the "Voices of Lee" for two and a half years.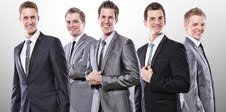 Daniel Ball states, "We are thrilled to have Matt join the Ball Brothers. He loves the Lord and has a passion to reach people through music. People will love Matt's wide vocal range and versatility."
The Ball Brothers have already begun work on a new project with Song Garden Records that will be released this summer.
Tags:
Ball Brothers
,
gospel music
,
Matt Davis
Posted in
announcements
,
artists
|
Comments Off

on Ball Brothers welcome Matt Davis
Written by Staff on December 23, 2015 – 6:46 am -
ROBERT'S CONCERT RAMBLINGS – BALL BROTHERS' CHRISTMAS TOUR
The Ball Brothers wrapped up their 20-concert, ten-state Christmas tour recently. Their last weekend included their home church in Rock Springs, GA and Columbus, OH. The group currently consists of brothers Daniel and Andrew Ball, brother-in-law Chad McCloskey and Jon Epley.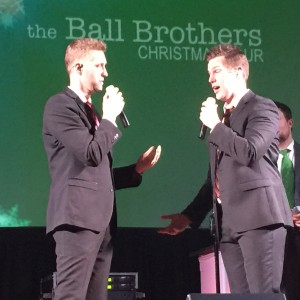 When the group stated back in Illinois, it was four brothers including Steven and Josh. They toured with their Dad who was an evangelist  from 2001 through 2005. Dad started pastoring a church in Chickamauga, Ga and they moved south. In 2006, the brothers started singing full-time and have appeared on main stage at NQC,  Gaither videos, Silver Dollar City and Dollywood.
They began doing a Christmas tour in 2007 and have continued each year since. Brother Steve had to leave the group because of a hearing loss and Josh later left the group for a Church staff position. They also had Cody McVay who was a brother-in-law as their pianist. Cody left the group when he was offered a position at Dr. Charles Stanley's church in the music department.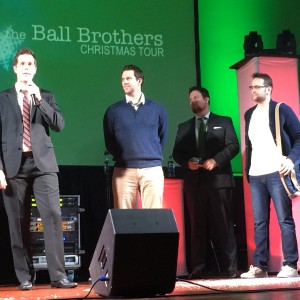 I had the opportunity to attend the Ball Brothers' Christmas concert in Rock Springs. This was a great evening with a good mixture of secular and religious Christmas music. They kicked off the evening with a video presentation of the Ball Kids, where the kids were asked questions, which turned out to be very funny at times. 
The Awana Childrens Choir sang a song, and the Ball Brothers then hit the stage with "Go Tell It On A Mountain."  Some of the other songs they included were: 'Joy To The World," "O Holy Night," "Jingle Bells," The Grinch song and "Mary Did You Know." Daniel brought Steven and Josh to the stage and introduced them, explaining about the health issues that both of them had, and thanked everyone for praying for them.
The group used a beautiful set with several types of lights and when they sang, "Let it Snow," the snow machines worked full time, blowing snow all over the stage with Daniel kicking it and picking up some and wiping in on Andrew. As usual, Daniel and Andrew drew lots of laughs with their comedy during the program. They also had a game in the program called, Know It or Throw It. Participants  from the audience were invited to the stage and they drew balls with gift cards attached out of Santa's bag and were asked a Christmas question.  If they knew the answer they got the gift card, if they didn't know the answer the ball was pitched into the audience and the person that caught it got the gift certificate.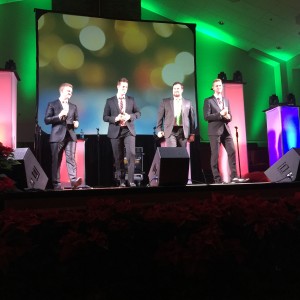 The Ball Brothers closed the program after a brief intermission with several Southern Gospel songs and then sang their signature song, "It's About The Blood."  You can keep in touch with The Ball Brothers on Facebook or their website www.theballbrothers.com.  If you are interested in having the group they are booked by The Harper Agency.
By Robert York
Tags:
Ball Brothers
,
christmas music
,
southern gospel
Posted in
artists
,
christian entertainment
,
Christian interest
,
sgn scoops magazine
,
special feature
|
Comments Off

on BALL BROTHERS' CHRISTMAS TOUR
Written by Staff on December 9, 2014 – 12:29 pm -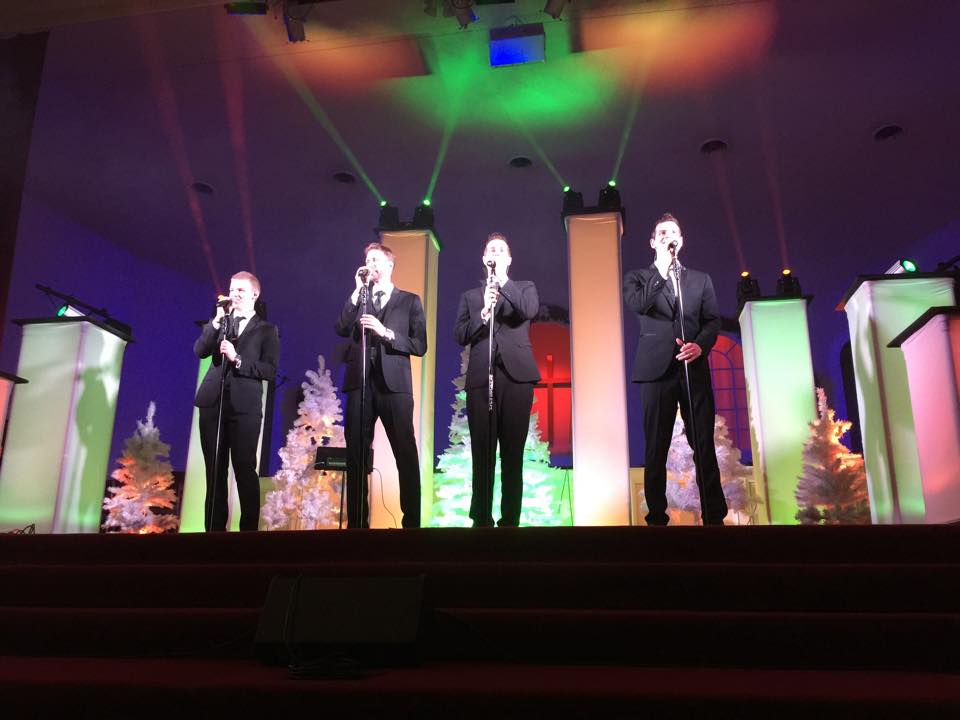 By Robert York
On December 6th, 2014, the Ball Brothers brought their Christmas Tour to Kennesaw, Georgia. This is their seventh year of doing the Christmas Tour. They were returning from Canada where they were in minus 16 degree weather and glad to be in the south where it was a little warmer. They carry lights, Christmas trees and a set with them on tour which also includes two snow machines.
The Ball Brothers arrived at Shiloh Hills Baptist Church around 2:30pm. We had just picked up a big sack of Arby's sandwiches for them and Daniel gobbled two of them down before they started unloading. Each of them had a specific task to do. Trees were set up, then the lighting stands and lights were put up. They had two bars of led lights with four lights on each as well as 12 revolving lights on top of the stands. Sound check was next. They finished all this in about two and half hours for a 6:30 concert time.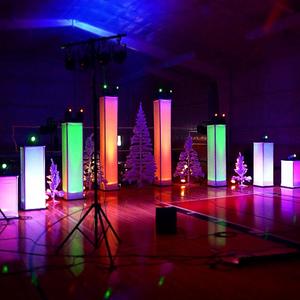 The Brothers opened the concert with Joy To The World, sang numerous Christmas songs and included a few of their other hits mixed in the program. They used the snow machines on a few songs that were snow related and it was so much snow that Daniel made a snow ball and threw at Andrew. Daniel and Andrew mixed up a lot of comedy scattered through out the program. After the first set they took an intermission and came back afterwards to conclude the program.
I have done concerts for the past 12 years, including two years at Shiloh Hills Church in Kennesaw, GA. There were about 50% of the folks there that had not been to one of the concerts I've promoted. Most were from the Metro area but had some from TN, SC and one from Broken Arrow, OK.
The Ball Brothers spent the night at the Church after taking down their set and sang for the Sunday morning worship service before heading to North Georgia for a concert that evening. They will be hitting the road again on Thursday Dec 11 for another northern state tour including IL, OH, IN, MI and TN. You can check their website www.theballbrothers.com for their schedule. If they are within driving distance you need to catch the concert.
Tags:
Ball Brothers
,
Christian Music
,
Christmas songs
,
Georgia
,
gospel music
Posted in
announcements
,
artists
,
concert reviews
|
Comments Off

on Ball Brothers Christmas Concert In Georgia
Written by SGN Scoops on December 27, 2013 – 12:05 pm -
Signal Mountain, TN, December 27, 2013 This weekend's Harmony Road TV program features award winning "Dying to Live" by Canaan's Crossing,  The Kingdom Heirs with "When You Look at Me" written by Dianne


Wilkerson, The Mark Trammel Quartet performs "I Believe, I Believe, I Believe" and The Ball Brothers with "It's About the Cross".  The program also includes an exclusive interview with Canaan's Crossing.
Hosted by Singing News Publisher and Solid Gospel Radio host Les Butler, Harmony Road airs Sunday Mornings on The Heartland Network and other outlets.  For more information on The Heartland Network and its growing list of affiliates go to www.watchheartlandtv.com, or www.harmonyroadtv.com.  You can follow Harmony Road on Facebook at www.facebook.com/harmonyroadtv.
Harmony Road is now available to tens of millions of homes across the country.  You can also find Harmony Road Saturday afternoons at 2 Eastern on WATC57 in Atlanta, streamed on www.watc.tv , Saturday evening and Sunday morning on WMJN29 in the Huntsville/Decatur, Alabama area and at www.wmjn29.com. The program is also shown on Sunday afternoons in the Anniston/Gadsden Alabama area on tv24, and on Charter Cable in Clarksville and Jackson, TN where it's also available "on demand". Harmony Road is broadcast Saturday evenings on theWALKtv where it's available on ROKU. For a list of affiliates and information on streaming, go to www.thewalktv.com.
Other members of the Harmony Road team are Cody McVey with "Stories From the Road", Allan Rhodes, Technical Director and Roger Spears, producer.  For information and video submissions email roger@harmonyroadtv.com
Tags:
Ball Brothers
,
harmony road
,
Kindom Heirs
,
Mark Trammel Quartet
,
Southern Gospel News
Posted in
announcements
|
Comments Off

on Harmony Road to Feature Kingdom Heirs, Mark Trammel Quartet, Canaan's Crossing and Ball Brothers
Written by SGN Scoops Staff on September 20, 2013 – 9:40 am -
SIGNAL MOUNTAIN, TN This week's Harmony Road features a variety of artists and performances including "You

Were Faithful Yesterday" from Greater Vision, The Hinsons with the classic "The Lighthouse", "God Rides on Wings of Love" from Janet Paschal, Mark Lowry with "House of Gold" and "The Rock's Between a Hard Place and You" from The Kingdom Heirs.
Hosted by Singing News publisher and Solid Gospel radio host Les Butler, Harmony Road can be found each Sunday morning at 8 Eastern on TNN, The Nashville Network. Information on TNN and its growing list of affiliates can be found at www.watchtnn.com. Other outlets in the Harmony Road TV Network, include theWALKtv , TV57 in Atlanta, and WMJN29.com. For more listings visit www.harmonyroadtv.com. Viewers can "like" Harmony Road on Facebook at www.facebook.com/harmonyroadtv for weekly updates, contests, special features and interviews not seen on the television program.
This week's program originates from Jim Oliver's Smokehouse in Monteagle, Tennessee. Learn more about the Smokehouse at www.thesmokehouse.com. Harmony Road is a weekly television program showcasing videos from top Southern Gospel artists as well as exclusive interviews, news and more. Other members of the Harmony Road team include Ball Brothers pianist, Cody McVey, doing interviews and stories "from the road", as well as Allan Rhodes, Technical Director and Roger Spears, Producer.
Tags:
Ball Brothers
,
Christian TV
,
Cody McVey
,
Greater Vision
,
Harmony Road TV Network
,
Janet Paschal
,
Jim Oliver's Smokehouse
,
Kingdom Heirs
,
Les Butler
,
Mark Lowry
,
southern gospel
,
Southern Gospel News
,
The Hinsons
Posted in
announcements
|
Comments Off

on This Week's Harmony Road Features Mark Lowry, Janet Paschal, Kingdom Heirs