Written by Staff on June 2, 2015 – 10:49 am -
By Candi Combs
Daywind Music Group Hosts Greenbrier Quartet Festival 2015
Amongst the snow-topped mountains of White Sulphar Springs,West Virginia, Daywind Music Group held the first Greenbrier Quartet Festival at the extraordinary Greenbrier Resort. The event drew attendees from New Jersey to Florida and even a few Canadians. This endeavor marked an inaugural attempt by Scott Godsey and Daywind to host a multi-day event at a luxury resort. This geographic location is very different from the typical Southern Gospel venues that fans are accustomed to attending.
The Greenbrier welcomed each person with a smile and a large sweet tea! From that point forward, everything was presented on a whole new level. Even the seats in the concert hall were velvet covered while multiple stations in the room held pitchers of ice-chilled water.
Tribute Quartet, led by Gary Casto, started off the first night with their usual flair and energetic music. The lively group performed many charting songs and favorites, including, "Homesick Angel" and "Good News From Jerusalem," featuring Josh Singletary. Read more »
Tags:
Blackwood Brothers Quartet
,
brian free
,
brian free and assurance
,
Candi Combs
,
Daniel Riley
,
daywind
,
Gary Casto
,
Gene McDonald
,
gold city
,
Greenbrier Quartet Festival
,
Jay Parrack
,
Josh Singletary
,
legacy five
,
Quartet Night Across America
,
Scott Fowler
,
Scott Godsey
,
Tribute
,
triumphant quartet
Posted in
announcements
,
christian entertainment
,
Christian interest
,
sgn scoops magazine
|
Comments Off

on Candi's Catch-ups: Greenbrier Quartet Festival
Written by Staff on February 5, 2015 – 8:00 am -
New Faces in Some Old Familiar Places
By Candi Combs 
It is not uncommon for the Perrys to open their concerts with the title track from Blue Sky's Coming. What is unusual is to see a new guy and an old guy. To hear Libbi Perry Stuffle describe it, The Perrys now have, "A Yankee and a prodigal." Former Perry, Troy Peach is now in the lead vocal position with the Perrys.
Standing on either side of Libbi Perry Stuffle and Troy Peach is Libbi and Tracy Stuffle's 22-year-old son Jared, bringing the bass part for his dad, and Andrew Goldman of Evansville, IN, who joined the Perrys several months ago. Goldman is a familiar face to most fans as he was a part of the all-male quartet, Union Street. This was the line-up as we sat back to enjoy a great concert by The Perrys.
As the group settled in, Libbi took the lead with "Still Blessed." Indeed, Libbi can say that she is still blessed after the two-year adjustment to the family following Tracy's stroke in January 2013.   Tracy was at the front of the church watching the group, which was inspiring to everyone.
Troy Peach was completely comfortable in his new role as lead singer and emcee
for the Perrys' stage ministry. The new faces took time to demonstrate what they could do together. This pair worked in great harmony in a duet of "Cleft of the Rock." When Libbi and Jared joined in, the new blend was something to get excited about! Seamlessly, and as if they have always been together, they performed the radio hit single, "I Talked to God This Morning."
Libbi then shared the story of how Troy came to return to the Perrys. She shared that in a conversation, which Troy initiated, he told her, "I just feel this is where God wants me to be." Gospel music is full of personnel changes, but no one can argue with reasoning under God's direction. While discussing the departure of Bryan Walker into a full time pulpit ministry, Libbi quipped, "I feel like I sent one son to college while the prodigal came home."
Following these introductions, the group sang the Perrys' classic, "He is Mine." In a perfect segue, "I Can Trust Him" was sung with great conviction by Libbi. At this point, the group came off the platform and joined Tracy at the front. With a great big smile, Libbi stepped back while all four men sang "Three Crosses." Just a few short weeks ago, Tracy was able to sing although somewhat with weakness on stage at NQC 2014. But this day, Tracy was very much holding his own vocally. This remarkable performance was nothing short of a demonstration of God's power, touching every spirit in the room with Tracy's great courage.
Libbi, Jared, Troy and Andrew returned to the platform to sing "I Rest My Case at the Cross." This anthem was always a song of testimony for Tracy but this day, it served to speak volumes more than just what the lyrics could say. This song is now a testimony of complete surrender and dependence on God and what He did on that Cross. The message of the Gospel along with the emotion of the voices of the Perrys came through with complete clarity.
Libbi came forward with "Celebrate Me Home" which is just a natural way to communicate the need for salvation to everyone listening. Troy followed with sharing his salvation story by announcing, "I have made my reservation for that celebration! Satan will always bring things up that I regret but Calvary has a response."
New faces with the same message of Jesus! The Perrys are a living testimony of what they sing. With a shining spirit of what God can bring one family through, the Perrys are relentless in their desire to share. Libbi wants everyone to know that, "This new season brings heavy responsibility. The days are long and hard, it is easy to become discouraged. And then I look at how faithful He is; the only thing I can say is, go God go!"
Troy Peach brings just the talent and leadership that the Perrys need at this time. Andrew Goldman is a rising star who matures with every performance. Jared looks strong and tall beside his mother. As for Libbi, this tiny woman is respected more than she can imagine. Her faithfulness to the ministry amidst so many barriers makes her a pillar of which any age, any gender can be in awe of. She stands with her family and with her God, making the Perrys an example of what being a Christian should look like.
See the Perrys in person to hear the new talent at www.perrysministries.com .
For more concert updates and features by Candi Combs and other SGN Scoops staff, read the latest SGN Scoops digital magazine at www.sgnscoops.com
Tags:
Andrew Goldman
,
Candi Combs
,
Christian Music
,
gospel music
,
Jared Stuffle
,
libbi perry stuffle
,
sgn scoops
,
southern gospel
,
the perrys
,
Tracy Stuffle
,
Troy Peach
Posted in
announcements
|
Comments Off

on Candi's Catch-ups: The Perrys
Written by Staff on January 29, 2015 – 2:10 pm -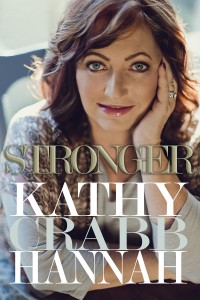 With steadfast determination, Kathy Hannah has penned her autobiography that has been appropriately entitled, Stronger. The book is a sometimes very raw look at the woman who was the matriarch of the famed Crabb Family.
The book details Hannah's life from a near fatal stabbing in her youth, through the challenges of managing a blended family with incredible talent, through a heart wrenching divorce. The story is one of many peaks and low valleys that needed to be told in God's timing.
As quoted by Hannah, "The first week of November 2014, the Lord instructed me in specifics. He said, "Go to a mountain, I will meet you there." I know this sounds a bit super spiritual. However, this is exactly what happened. I went to the mountain. I poured my heart out to Him for days upon days. I talked. He listened. I cried a river of tears during those days on that mountain with God, and I wrote 90,000 words, some of which were gut wrenching chapters, but together, WE did it."
Hannah is hopeful that by telling her poignant story in a transparent way through her own words, that others will be encouraged. Hannah states through her website that, "I pray as you walk through my life, my journey, you will be encouraged and realize that YOU TOO are going to make it."
Known to thousands of fans, Hannah shares her particular brand of thoughts and insights almost daily using several forms of social media.
Today, Hannah resides in a suburban community near Nashville, TN with her incredibly supportive new husband, Steve Hannah. Their home is always accommodating to the many lives that find inspiration in her unwavering Christian worldview.
Through all the fires in her life, Hannah has become Stronger.
The book is available for purchase now at kathycrabbhannah.com and soon to be released to media outlets nationwide.
Review by Candi Combs
(Include photo of book cover)
Tags:
Candi Combs
,
Christian artist
,
gospel music
,
Kathy Crabb Hannah
,
Stronger
,
the Crabbs
Posted in
announcements
,
artists
,
christian entertainment
,
Christian interest
,
reviews
|
Comments Off

on Stronger An Intense Autobiography Of Kathy Crabb Hannah
Written by SGN Scoops Staff on November 15, 2014 – 7:14 am -
It's November and we are thrilled to present the latest edition of SGNScoops for you to read and enjoy. Creekside Gospel Music Convention was a blast and we have lots of pictorial coverage in these pages, as well as on the fabulous front cover. Inside we have an update on the event with a list of the Diamond Award winners and so much more. We say an extra thank you to all of those who went above and beyond to help make Creekside the best ever. If we were to make a list, we might leave someone out, so to each and every one of you: we are so grateful to have you as part of our team.
Thanks to our artists for brightening our pages this month! Featured guests for November are: Soul'd Out, Tim Parton, Melanie Walker, the LeFevre Quartet, Triumphant, Hannah Webb, Canaan's Crossing, Sherry Anne, the Jordan Family, Quinton Mills and DJ Ron Foster.
Thanksgiving is quickly approaching and you will find several articles with different views on this holiday. We appreciate all of our artists for contributing what they are thankful for and also their favorite holiday food!
Our monthly devotional writers are back with more insights, as well as a new column entitled "Pastor's Corner". This month we welcome Music Pastor, Terry Snyder.
Since this is the month of giving thanks, we would like to thank all of our current authors that spend so much of their time and talents on SGN Scoops. Special thanks to Candi Combs, Chris Clay, Craig Harris, Dan Duncan, Dean Adkins, Dixie Phillips, Erin Stevens, Hannah Webb, Jennifer Campbell, Laura Kennedy, Lynn Mills, Marcie Gray, Paige Givens, Scott Rhoades, Tina Wakefield, Robert York, Sandi Duncan Clark and Vonda Easley. There are others who contribute in other ways and we are thankful to you as well: Vivian Belknap, Michelle Drummond and Bev Byrd.
We so appreciate all of our columnists, including Lou Wills Hildreth, David Staton, Laurette Willis, Jeff Steele, Kelly Nelon Clark and Sherry Anne.
SGN Scoops would look really dull without the artistic team of Stephanie Kelley and Staci and Pete Schwager. Joan Walker makes sure all of our i's are dotted and our t's are crossed. Lorraine Walker as acting editor pulls it all together. And of course, SGN Scoops' Publisher Rob Patz keeps us all focused and enthusiastic about the future of the magazine. And SGN Scoops would not exist without our founder, Dr. Allen Smith.
Above all we give thanks to our Lord Jesus Christ, for Whom we give our gifts and to Whom we give all praise and thanksgiving.
Happy Thanksgiving!
Tags:
Candi Combs
,
Chris Clay
,
Craig Harris
,
Creekside Gospel Music Convention
,
Dan Duncan
,
Dean Adkins
,
diamond awards
,
Dixie Phillips
,
Erin Stevens
,
Hannah Webb
,
Jennifer Campbell
,
Laura Kennedy
,
Lynn Mills
,
Marcie Gray
,
Paige Givens
,
Robert York
,
Sandi Duncan Clar
,
Scott Rhoades
,
SGNScoops Magazine
,
Tina Wakefield
,
Vonda Easley
Posted in
announcements
,
sgn scoops magazine
|
Comments Off

on November 2014 SGNScoops Magazine
Written by Staff on October 30, 2014 – 12:30 pm -
By Candi Combs
The colorful Virginia mountains in October seem to cry out the glory of God's creation. Out of a desire to bring folks home, a small Virginia church asked The Williamsons to lead them in an old-fashioned Homecoming. The Williamsons came all the way from Oklahoma to the base of the Blue Ridge Mountains to share their special family style sound of Gospel music.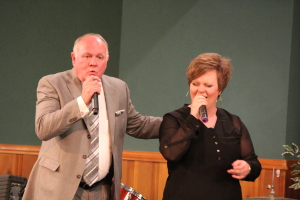 Donnie Williamson is the group's leader both on and off the platform, and sings baritone. His lovely and talented wife, Lisa, joins him by carrying the soprano vocals. Karl Rice, who stands beside Darin Hebert singing bass, shares lead and tenor parts alternatively with Lisa.
The program opened with the new single, "I've Got to Tell Somebody." This tune focused the attention of everyone in the room with the clear message that everything sung would be focused on salvation in Jesus. Donnie introduced the next song as a brand new selection, written by Lisa and titled "It Was the Word" from the latest release, Tell Somebody.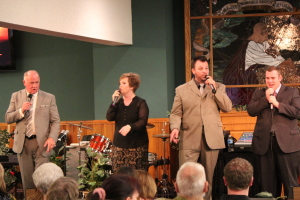 After sharing the new music, Lisa demonstrated the group's versatility when she began singing the classic, "We Shall Behold Him." Each member of the group took a verse and gave this special song a full range of delivery.
A concert with The Williamsons is truly a family affair. Daughters Olivia, age five, and Sadie, aged nine, also had an opportunity to sing with Mom and Dad. Sadie harmonized with Donnie in a tender arrangement of "Minute by Minute." These girls have their parents' ear for tight harmony and no doubt they will be participating in the ministry on a much greater level in the future.
Further demonstrating the mixed talent of the group, Rice was featured on the harmonica with Donnie providing the keyboard accompaniment on the song "Blood Stained Banner."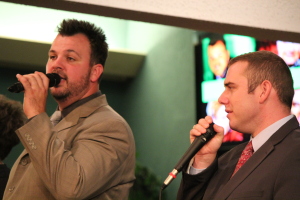 "The Gospel still works", said Donnie. This is such a simple statement to one of today's truths. Demonstrating the point, the Williamsons sang a Dawn Moss classic, "I Need You More Today." Moss was in the house and was completely flattered that Donnie included her song in the program.
Hebert was featured on "Way Down Deep in My Soul" with emphasis on 'deep'! He has no problem laying down the deepest of tones. The floors as well as the pews were picking up the reverberation. From new music to old, and from young to elderly, the Williamsons had now included everyone in the concert. Other engaging tunes included "Searching" and "I Know Who Holds Tomorrow."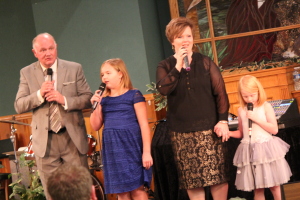 Rice shared the testimony of his youth when he surrendered his life to following Jesus. Speaking from the depth of his soul, the altar began to fill with people. Yes, it was an old-fashioned, soul-searching, altar invitation!
And now the Williamsons had shown why the latest chapter of their ministry is called, "Tell Somebody." In a recent interview, Donnie stated, "I believe this is the most powerful music we have ever recorded. The music is filled with the message of Christ that will uplift those who listen and touch them no matter where they are in life." On this day in Virginia, they had certainly done that!
For the Williamsons' tour schedule, visit www.williamsonsmusic.com . All pictures courtesy of Candi Combs.
For more concert reviews and artist features, see the latest SGN Scoops magazine. Visit www.sgnscoops.com
Tags:
Candi Combs
,
concert review
,
gospel music
,
southern gospel
,
The Williamsons
,
Virginia
Posted in
announcements
,
artists
|
Comments Off

on Candi's Catch-ups: The Williamsons
Written by Staff on October 2, 2014 – 10:25 am -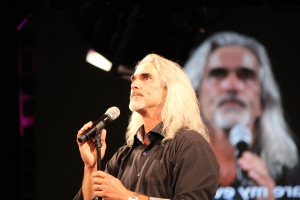 By Candi Combs
Thomas Road Baptist Church and Liberty University is all abuzz this week with anticipation of An Evening of Worship with Guy Penrod, Friday, October 3. Dress rehearsals at the church are on track for Thursday as LU students prepare to lend choral arrangement vocals for the event.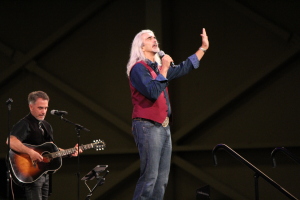 The Dove Award and Grammy Award winning vocalist Guy Penrod said, "Going to Lynchburg is a lot like going Home!"
While attending college in Lynchburg at Liberty Baptist College (now Liberty University) Guy displayed his talent with the Sounds of Liberty. He quickly became a favorite of Thomas Road Baptist Church and Liberty's student body. Shortly after graduating, Guy and wife Angie found their way to Nashville. It was there, that work as a studio vocalist led to the invitation to become the lead singer for the Gaither Vocal Band.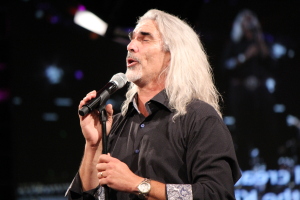 Guy has now established a solo ministry that has him booking dates internationally. With that unmistakable voice and the ability to communicate like few others can, you do not want to miss the singer recognized around the world on his special night back home.
Each time Guy comes home to Lynchburg it is an extraordinary evening. Guy's normal program takes a back seat when he comes home to Lynchburg. October 3, 2014 will be a wonderfully unique night of Praise and Worship to the King as Guy performs favorites from his debut album 'Breath Deep', selections from the award winning 'Hymns' album and his current project release 'Worship'.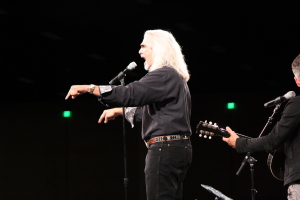 When  Penrod graces the stage at the famed Thomas Road Baptist Church, he will be joined on stage by a 240-voice choir, live background singers (coming in from Nashville just for the night) and an extensive band of Nashville best musicians.
The powerhouse vocalist wishes just one thing for the night "…..to join the younger generation and the older generation in one unified voice, lifting praise to the KING OF KINGS. We are going to mix Hymns and Worship songs for a wonderfully unique night of WORSHIP to the LORD. So everybody come join us. I would love to see you there."
Byron Davis with Lift HIM Up Events told SGN Scoops that they are thrilled to invite everyone to this special DVD taping with Gaither Music Group.
Plan to be in Lynchburg, Va., October 3rd – 6:30 pm at the Worship Center at Thomas Road Baptist Church. Tickets are still available!
Photographs by Candi Combs
Tags:
Candi Combs
,
Christian Music
,
gospel music
,
guy penrod
,
Liberty University
,
Thomas Road Baptist Church
Posted in
announcements
,
artists
|
Comments Off

on Candi's Catch-ups: An Evening of Worship with Guy Penrod ready to tape!
Written by Staff on September 27, 2014 – 1:28 pm -
By Candace Combs
Jason Crabb certainly took a leap, and it worked! This leap was an unusual set on the Friday night of the National Quartet Convention. Following Crabb's performance, the rest of the night was different. Crabb had brought those in attendance back to their roots. And from there, the other stage artists were able to build on sharing a deeper faith. Certainly innovative, creative and very gutsy, but Crabb pulled it off!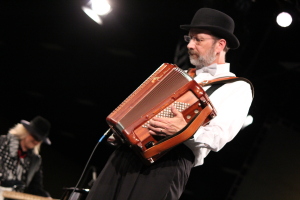 The National Quartet Convention's inaugural move to Pigeon Forge, TN is complete. As the week progressed, adjustments were made to the minutest details. Traditionally, Friday night is the NQC shining moment. However in 2014, Friday was the culmination of an army of coordination efforts and proved to be the highlight of a week of special moments. But, something extraordinary happened when Jason Crabb and company took center stage.
There was great anticipation in the room as the Crabb team took time to set up a very different scene.   Jason Crabb entered the stage with a large team of band members dressed in Derby hats, suspenders, and girls dressed in vintage dresses, wearing gloves. This was definitely not going to be an ordinary set for Crabb. This was also one situation where the pictures truly tell the tale.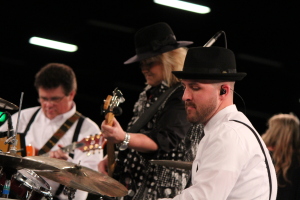 As the lights went up, the multiple screens in the room went to scratchy black and white. An accordion player began this unusual set while Jason began singing very traditional gospel tunes, 40's style around a big old style silver microphone. The backup singers swooned with harmony to Jason's smooth sounds.
His eldest daughter joined Crabb on stage, singing the answer lines to "This Little Light of Mine" while sharing the microphone with her dad. No special arrangement, just pure classic Sunday School style innocence of an era gone by.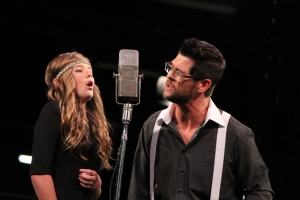 The "concept style" production was totally outside the box for this NQC crowd who has grown accustomed to groups singing their most current radio releases. Crabb sang nothing that was flashy, until the group sang "America the Beautiful". During the bridge, Crabb saluted the veteran's in attendance. All eyes were focused on the stage when the understated set came to a conclusion.
Do not be deceived; something very special happened in that 20 minutes. The atmosphere in the room of over 12,000 completely changed. The air was no longer charged with hype. It had been replaced with simplicity.   Sometimes, simple is the easiest form of communication.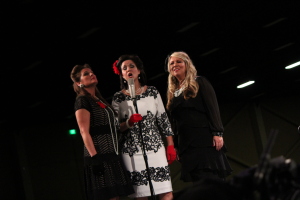 Congratulations to the entire Jason Crabb Ministries team for thinking outside the ordinary and bringing a simple faith in God to the heart of the stage!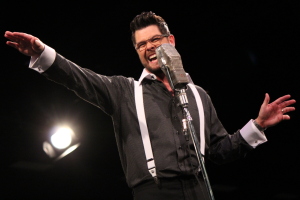 Tags:
Candace Combs
,
Candi Combs
,
Christian Music
,
gospel music
,
Jason Crabb
,
national Quartet Convention
,
nqc
Posted in
announcements
,
artists
|
Comments Off

on Candi's Catch-ups: Jason Crabb Takes a Leap of Faith
Written by Staff on September 22, 2014 – 2:49 pm -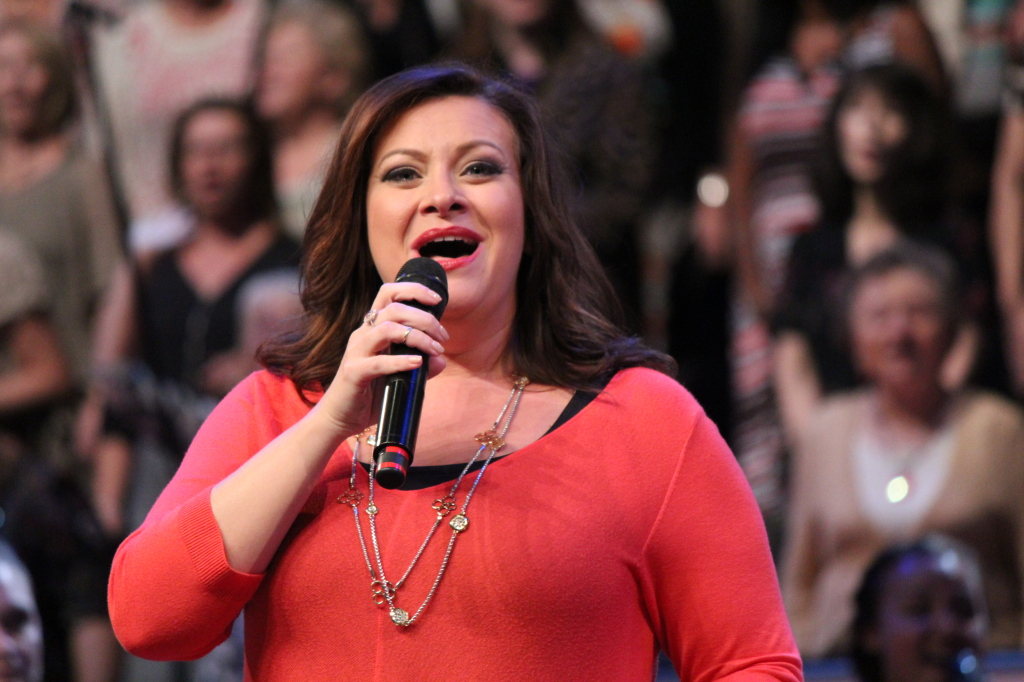 By Candace Combs
Members of Thomas Road Baptist Church in Lynchburg, VA, the home of Liberty University, have been challenged. Pastor Jonathon Falwell, son of the church's founder, Jerry Falwell, has asked to multiple campus congregations to think: 'What If…?'
There was no better choice to kick off the series than TaRanda Greene. TaRanda traveled to Virginia to join worship leader Charles Billingsley along with the TRBC choir and orchestra for a morning full of praise and worship.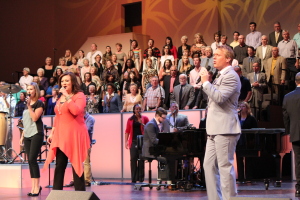 Each music selection revolved around the central theme of declaring God as Holy and culminated with focus on the Cross. TaRanda joined the praise team in leading the congregation with "You are Holy" and "For You are Holy".
Ramping up the music with the stage lighting turning red, TaRanda sang "The Wonderful Cross" with Billingsley and the entire TRBC Worship Team. The biggest treat came when TaRanda began "This Blood".   Her exquisite vocal ranges made every listener feel the power of Jesus blood. At the bridge, the full choir joined while everyone in the room was standing. TaRanda clearly shared her heart in the words, "I've come to tell you He's alive! And, He's coming back again"!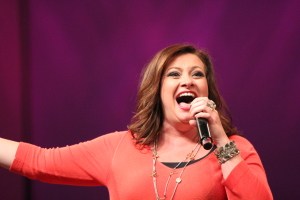 TaRanda Greene, a young girl from Tennessee met and fell in love with a Gospel singer, and together they became The Greenes. Just four years ago this week, Tony Greene was called to glory. What if God took this young woman and brought her to many stages beside her husband, and then left her alone to raise two young daughters? Surrounded by loving family and countless fans, TaRanda has faced every challenge with the strength she gets from the Lord.
Recently, TaRanda made her first pilgrimage to Israel with In Touch Ministries. "I never imagined a piece of land could change my life," stated Greene. "I knew that Jesus changed my life years ago, but the experience of walking in His steps…wow!" Greene is still continuing to process all the feelings from the experience.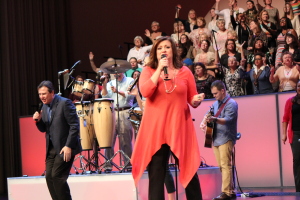 Watch for new music coming from TaRanda Greene and Stow Town Records. This new solo project encompasses several music genres. It is entirely possible that songs will appear on various charts. "I'm very excited to see where God will open new doors", Greene commented. This project is set to release November 10.
Like everyone who was in attendance at Thomas Road Baptist Church, TaRanda Greene left Virginia asking, "What if…."
Stand by; if this lady keeps singing like this, there is no limit! For more on TaRanda visit http://tarandamusic.com/
Tags:
Candi Combs
,
Charles Billingsley
,
sgn scoops
,
Taranda Greene
,
The Greenes
,
Thomas Road Baptist Church
,
Tony Greene
Posted in
artists
,
concert reviews
|
Comments Off

on Candi's Catch-Ups: TaRanda Greene at Thomas Road Baptist Church
Written by Staff on September 18, 2014 – 12:05 pm -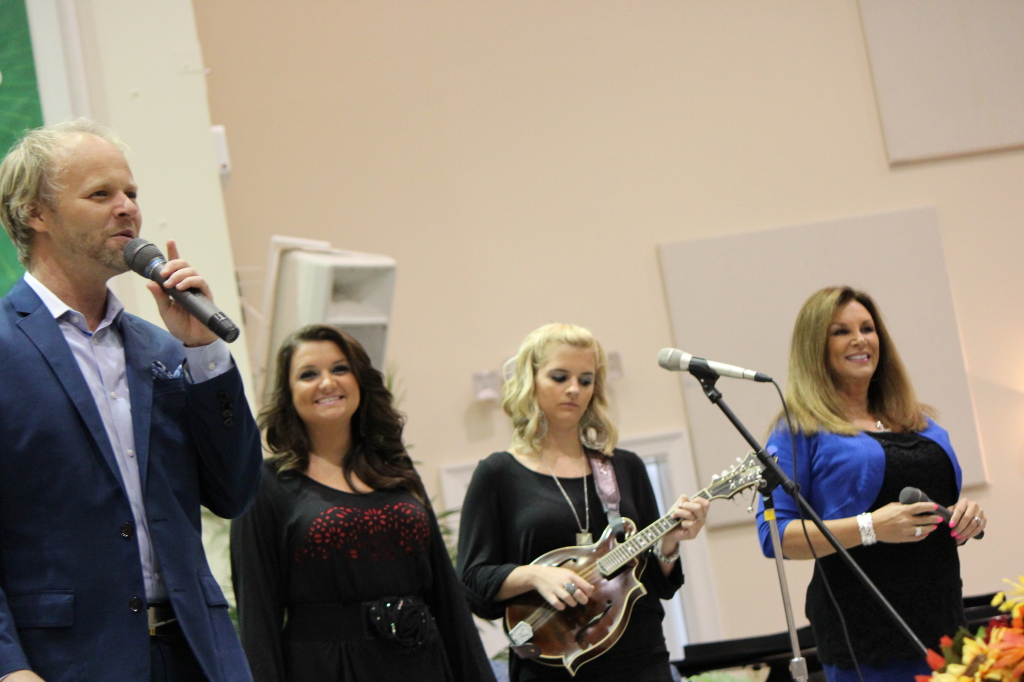 The Blue Ridge Mountains were recently filled with the melodious sounds of one of Southern Gospel's most talented families! The Nelons were guests of Crossroads Baptist Church in Fishersville, Virginia. After an introduction from Melody Vaughn of Joy FM's Morning Joy Ride, The Nelons took the stage with Jason, Kelly, Amber and Autumn.
Getting the crowd engaged right from the start, The Nelons opened with a Gaither classic, "I Don't Want to Get Adjusted" and then went right into "We Shall Wear A Crown". The classics continued with "And I Know, Yes I Know".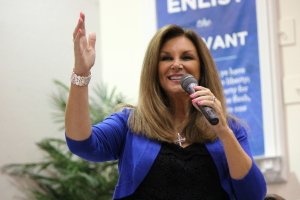 The Nelon's most requested song was performed next, bringing everyone into a spirit of worship. Kelly Nelon has sung, "O For a Thousand Tongues To Sing" for many years, yet it always moves the heart.
Kelly Nelon is the daughter of the quintessential Gospel icon, the late Rex Nelon. Rex brought Southern Gospel into the hearts of thousands. As Kelly shared her heart regarding the legacy that Rex brought, his granddaughter, Autumn, stepped to the microphone to sing a song dedicated to his memory, "Grandpa, Tell Me 'Bout the Good Ole Days." Autumn has become quite an accomplished mandolin player which she played while Jason Clark backed her on an acoustic guitar. The music world needs to take notice; this young lady is the real deal. Her vocal range is wide and strong. It is refreshing to watch her as she is standing on the threshold of breaking wide open.
Fresh out of the studio is the Nelons' latest project, "Hymns, The A Capella Sessions". The Nelons' tight family harmony was best demonstrated in Jason's arrangement of "The Hallelujah Chorus". With precise vocal artistry, they raised the roof to this precious song for the ages.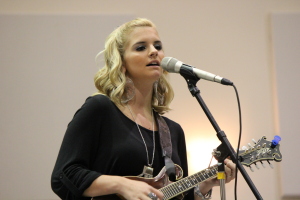 The award winning music video featuring Jason, "Excuse Me, Are you Jesus?" was performed while telling the story of a man hurrying through an airport when he disrupts an apple cart vendor operated by a visually impaired woman. The anxious passenger misses his gate call in order to restore the cart. There is great imagery in the video of how God restores our dismantled lives.
The next set began with "He's More Than Wonderful" which featured the Nelons' special four-part harmony. Joining the Nelons on stage was Crossroads' Pastor who joined in with, "We're Going Home To Jesus". The entire house was standing and clapping to this crowd favorite.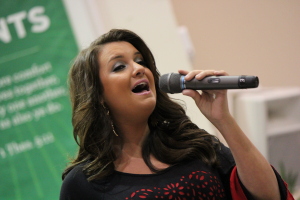 The group also sang, "Keep On the Firing Line," performed to Jason's arrangement using only vocals and including a chorus of "Onward Christian Soldier".   With a twist on vocals and the powerful voices of each Nelon, this song featured multiple key changes, which they performed with amazing accuracy.
Several years ago, Jason penned an arrangement especially for a very young Autumn. Even as a senior in high school, Autumn delivered "I Choose To Live" with complete confidence. This young Nelon is rising with a style unique to her own talents.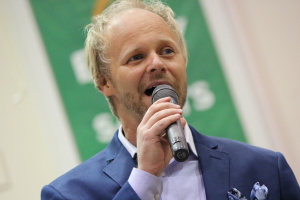 The program varied in a way that kept the audience entertained. Jason, Autumn and Amber began bringing the evening to a focus on salvation with "Blessed Assurance". Kelly took over with "Settled At the Cross". Amber, with perhaps the purest vocals in music today, then took center stage with "I Stand Amazed In the Presence". Jason contributed on the acoustic guitar as Amber joined in with her mandolin. The group concluded their concert with an emphasis on prayer.
After loading the bus following the concert, the Nelons shared a meal at a nearby restaurant. Somehow Jason got word that the woman taking payment for the meal was disappointed that she was unable to attend the concert due to her work schedule. Always ready to minister, the Nelons sang a song of encouragement for her benefit and to the thrill of the entire crowd gathered around.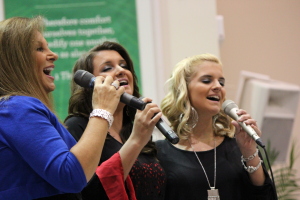 Always prepared to share their faith anytime, and anywhere, the Nelons touched many on this night in Virginia! Check out their itinerary and enjoy a live concert by visiting http://kellynelon.com/ .
Tags:
Amber Nelon Thompson
,
Autumn Nelon Clark
,
Candi Combs
,
Christian artists
,
gospel music
,
jason clark
,
Kelly Nelon Clark
,
southern gospel
,
the nelons
Posted in
artists
,
concert reviews
|
Comments Off

on Candi's Catch Up: The Nelons In Concert