Written by Staff on November 8, 2017 – 1:45 pm -
The award-winning duo, the Chrisagis Brothers, have certainly made a name for themselves in quality entertainment, in  Christian churches and arenas everywhere. Shawn and Brian Chrisagis have traveled throughout the U.S. with their powerful music ministry. They have a radio show heard on two different channels plus internet and youtube. The Brothers have gotten to be well loved and respected by top legends in CCM and Southern Gospel Music. They have two explosive Christmas Concerts starting this month.
Nov. 26 at 6:30 p.m., at the Faith Fellowship Church, in Bellaire, Ohio, the Chrisagis Brothers bring in the season with their "Wise Men Still Seek Him" concert, featuring two dynamic men from the Gaither Homecomings. Seven-time Grammy and 18-time
Dove Award Winner, plus CCM Hall of Famer, Russ Taff, who has become a dear friend of the Brothers, will be joining them once again for the third year. This year, the brothers have added the amazing vocalist of the Gaither Vocal Band, Adam Crabb, to the concert. The Chrisagises will be doing the title song with Taff and Crabb. You don't want to miss these four talented and anointed men together on one stage.
The following weekend, Dec. 2 at 6:30 p.m., the Brothers will be working with one of their best friends in the business, the sweetheart of Gaither Homecomings, Angela Primm, along with the incredible Bonnie Keen from First Call. These ladies will be doing duets with the Brothers. This will be a concert of love songs, Christmas ballads new and old,
and wonderful traditional memories. Bring your family and friends to worship and celebrate the Christ in Christmas at Faith Fellowship Church in Bellaire, Ohio, at 6:30pm.
The Chrisagis Brothers are then headed to Branson, Miss., to perform on the Jim Bakker show, and for some meetings to bring their award-nominated "Legends Concerts" to a theater in Missouri. As you can see, the Brothers are busy until the new year. In 2018, the Chrisagis Brothers are in charge of a Women's Conference called "All that Glitters," for actress Jennifer
O'Neill, who the Brothers have known and worked with for the last 27 years. The Conference will feature Angela Primm and Nancy Stafford from Matlock tv series fame. Plus, they will be going to the Holy Land in April for a 10-day ministry tour.
The concerts overseas will be televised and will be a powerful witnessing tool for the Jewish nation. Legendary CCM artists will join them, like Paul Clark, and Chuck Girard from Love Song.
For more info on the Chrisagis Brothers ministry or events, or to book them, please check out their website
For the latest issue of SGNScoops magazine click here
For more gospel music news click here.
For online gospel music click here.
Tags:
Adam Crabb
,
Angela Primm
,
Bonnie Keen
,
ccm
,
Chrisagis Brothers
,
christmas music
,
gospel music
,
russ taff
Posted in
announcements
,
artists
|
Comments Off

on Chrisagis Brothers Christmas Concerts include Adam Crabb, Russ Taff, more
Written by SGN Scoops on April 11, 2013 – 5:54 am -
NASHVILLE, Tenn.— For the third consecutive year, the Winter Jam Tour Spectacular reigns as the #1 tour in the world (first quarter). Leading 
Pollstar's
2013 Worldwide First Quarter Ticket Sales Charts – Top 100 Tours, Winter Jam attendance surpassed all other tours to date this year, including outings by Pink, Maroon 5, Justin Bieber and Bon Jovi, among others.
Concluding its 18th season March 30 with a record-setting 42 sellouts since launching in January, the 44-city mega tour hit some of the country's largest arenas. With a combined total audience of nearly 554,000 people, this year's tour was the biggest in Winter Jam history.
Founded and hosted by GRAMMY®-nominated NewSong, the Winter Jam 2013 Tour Spectacular was headlined by GRAMMY®-winning, multi-platinum recording artist TobyMac. Presented by World Vision and promoted by Premier Productions, the tour also featured RED, Matthew West, Jamie Grace, Sidewalk Prophets and Royal Tailor, with a message from national speaker Nick Hall. Additionally, the Youth Music Vault Pre-Jam Party included performances from Jason Castro, OBB and Capital Kings.
Highlights of this year's unprecedented tour included sellouts at such top venues as Chicago's Sears Centre; Atlanta's Philips Arena; The Sprint Center in Kansas City; Oklahoma City's Chesapeake Energy Arena; and Cleveland's Wolstein Center, among numerous others. Winter Jam's capacity "hometown" stop at Nashville's Bridgestone Arena February 9 featured a string of special guest appearances, including Newsboys' Michael Tait, Francesca Battistelli, Mandisa and for KING & COUNTRY. The tour concluded March 30 at San Antonio's AT&T Center, with an opportunity for fans around the world to view the show live online.
"Without fail, God uses Winter Jam to touch lives for His Kingdom in ways that exceed our greatest expectations every year," said NewSong's Eddie Carswell, founder of Winter Jam. "Record sellouts have allowed more people than ever to hear the Gospel of Jesus Christ during the tour, while providing opportunities to help the least of these around the world. Behind the scenes, Winter Jam is a special family. Lifelong friendships are made among the tour's amazing artists and crew."
Created by NewSong in 1995, Winter Jam has consistently featured the genre's biggest names, introducing Christian music to new audiences across the country while providing a powerful platform for the Gospel message.
For further information, visit www.jamtour.com or  www.turningpointpr.com.
PHOTOS:
Top: TobyMac and Jamie Grace (credit: David Kelly) 
Middle: RED (credit: Kurt Heinecke)
Lower: NewSong's Russ Lee (l) and Matt Butler (credit: David Kelly
Tags:
ccm
,
Christian Concerts
,
Christian Music
,
Contemporary Christian Music
,
Jamie Grace
,
Jason Castro
,
Matthew West
,
New song
,
Nick hall
,
RED
,
Winter Jam
Posted in
announcements
|
Comments Off

on WINTER JAM REIGNS AS #1 TOUR IN THE WORLD FOR THIRD CONSECUTIVE YEAR
Written by SGN Scoops on March 20, 2013 – 5:56 am -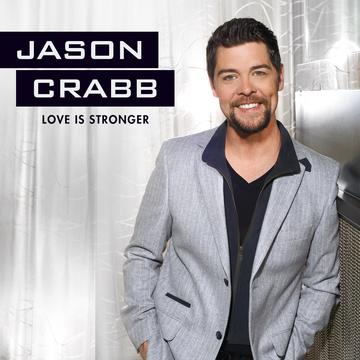 March 19, 2013 – (NASHVILLE, TN) The reviews are in and critics are raving about Love Is Stronger, the latest release from Grammy award-winning vocalist, Jason Crabb. The second studio release from 17-time Dove Award-winning vocalist has garnered attention from both Christian and mainstream press including CCM Magazine, Entertainment Tonight, Associated Press, and Fox News, among others.
Additionally, the release was highlighted by iTunes – the largest distributor of digital music – as a "New & Noteworthy Release" on the main iTunes page as well as Christian & Gospel page. iTunes selects these spots for releases they deem to be be significant additions to the musical landscape. AOL Music also turned their spotlight onto the project by hosting an AOL Music Listening Party where listeners could stream the entire CD for free during release week.
Produced by a trio of musical heavyweights – Jay DeMarcus (Rascal Flatts), Ed Cash (Chris Tomlin), Wayne Haun (Jessica Simpson, Celine Dion) – the project has received amazing support among reviewers and music fans alike. "I've been blown away with how warmly this new music has been embraced," said Crabb. "I am so proud of this project and my prayer is that the music would touch the listener and give them encouragement."
Crabb kicked off his release in high-gear as Free Chapel hosted a live CD release celebration featuring Jason, his band and a live orchestra. The event, streamed to over 40,000 people in more than 35 countries, featured special guests Pastor Jentezen Franklin, Andy Andrews and producers Jay DeMarcus and Wayne Haun. From there, Jason was interview by Fox News' Lauren Green via satellite from Rome, Italy where. Jason continued his high-octane release week taking the stage of the Grand Ole Opry where he debuted two new tracks from the project and he wrapped up the weekend with an appearance at Billy Graham's "The Cove."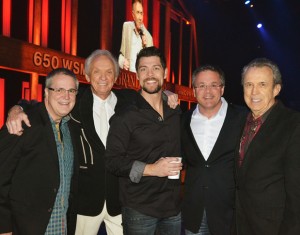 Here's just a sample of what people are saying about Love Is Stronger:
"Grammy-winning Christian singer Jason Crabb impressively drives home the theme of how genuine love can be even if there's heartache and grief. His soaring voice, lyrics of enduring faith and solid production on the 11-track set continue to prove why he is the Gospel Music Association's reigning male vocalist and artist of the year."
– Associated Press

"Love is Stronger is a breakthrough album that will thrust Jason Crabb into a bright spotlight…Jason uses tremendous vocal control as he slides effortlessly from soft, tender notes to full-on power belting… Kari Jobe joins her voice with Jason's on "Love Wins." The song defies categorization and should reach and bolster many…. This (album) has huge potential to expand Crabb's audience…Packed from start to finish with strong songs, versatile vocal performances, and an abundance of energy and emotion, this album is not limited to a single musical category…A gem of a record"
– New Release Tuesday

"Few artists on today's musical landscape possess Jason Crabb's ability to move effortlessly from one musical style to another, erasing boundaries between country, pop and gospel with the smooth, rich voice that has made him a Grammy winner and the Gospel Music Association's reigning Male Vocalist and Artist of the Year"
– AOL's The Boot

"No corn fluff to be found here…rich interpretations of positive lyric themes are set against solid arrangements…Crabb's soulful tone weaves through this record… An eleven-track gem."
– Music News New York

"Jason Crabb's new album (Love Is Stronger) is impressive."
– Huffington Post 

"One of the most anticipated releases of 2013…He is definitely one of the most talented vocalists out there.  Love Is Stronger is definitely one of the best albums of 2013."
– Christian Music Review

"…One of the most talented artists this industry we call CCM has ever seen…Spine-tingling artistry…Each moment of the new album is emotive and beyond the confines of any one genre…"
– CCM Magazine

"One of the most gifted vocalists to rise in popularity the past decade…A collection of strong tunes…Brilliant vocal showcases."
– Roughstock

"Crabb has never been more himself: he shows a greater command over his vocals and he has never sounded more passionate…This CD really brings out the new man in Crabb – one who is confident when he rocks and yet provides the heart pabulum when he croons."
– Breathecast

"…Truly magical…Powerful, Jason's delivery is heartfelt and flawless…"
– Absolutely Gospel

"…Truly fulfilling…One of the strongest gospel albums of this year."
– Nashville Country Club
From the reviews, it is evident that Love Is Stronger, and the overriding messages of love and encouragement contained in the lyrics, have resonated strongly. The 11-track CD was released on March 12, 2013 and contains lyrics that echo Crabb's own real-life.
Along with the release of the new project, Jason reached a social media milestone during release week crossing over 100,000 "likes" on Facebook. "I love my Facebook family! I love the way everyone prays for and interacts with each other," Crabb comments. "It's amazing what one comment can lead to. Many times I've posted a scripture or encouraging thought and someone replies back to tell me that it was exactly what they needed at that time."
Love Is Stronger is available wherever music is sold and online digitally at iTunes, Amazon, and Rhapsody among others.
Connect with Jason Crabb
Website :: www.JasonCrabb.com
Facebook :: www.Facebook.com/JasonCrabbMusic
Twitter :: www.Twitter.com/JasonCrabbMusic
Photo: From L-R: Paul Franklin, Mel Tillis, Jason Crabb, Pete Fisher (Opry General Manager) and Buck White (The Whites) all smiles as Jason gets ready to take the Grand Ole Opry stage. Photo courtesy Nelon PR
Tags:
ccm
,
Ed Cash
,
Entertainment Tonight
,
Free Chapel
,
Grand Ole Opry
,
Jason Crabb
,
Jay DeMarcus
,
jentezen Franklin
,
Love Is Stronger
,
Southern Gospel Music
,
Wayne Haun
Posted in
announcements
|
Comments Off

on JASON CRABB HITS A HOME RUN WITH LOVE IS STRONGER!
Written by SGN Scoops on August 7, 2012 – 6:42 pm -
Conference Features Top CCM and Country Music Industry Musicians In Workshops and Concerts October 4, 5 and 6
NASHVILLE, Tenn. (August 7, 2012) – After almost a decade of successful events in a variety of cities, the popular Christian Musician Summit is set to come to Nashville for the first time, with a schedule that includes workshops and performances featuring some the best musicians in the CCM and Country music industries, including Ashley Cleveland, Phil Keaggy, Ron Block, Allen Shamblin, Brenton Brown & The Worship Republic, Steve Taylor, Tom Hemby, Cindy Morgan, Zoro the drummer, and many others. CMS Nashville will be held October 5 and 6 at Grace Chapel in the historic Leiper's Fork area of Franklin, Tenn., in partnership with Kingdom Bound Ministries. A set of one-day bootcamps for songwriters, guitarists, vocalists and indie artists also is scheduled for October 4.
"I'm especially excited about the Nashville conference because this summit brings together top songwriters from two musical genres — CCM and country," says Bruce Adolph, co-founder of the Christian Music Summit conferences and president of the Adolph Agency, Inc. "Participants will have the unique opportunity to learn from songwriters who write for the mainstream market from a Christian worldview."
Each day will feature conference sessions, workshops and performances, followed by nightly concerts. One Sonic Society (featuring Jason Ingram, Stu G from Delirious and Paul Mabury), a CCM Songwriters in the Round (Cindy Morgan, Ashley Cleveland, Ben Glover, Ian Eskelin and Paul Moak), Dave Cleveland, Tom Hemby Band, Newworldson, Country Songwriters in the Round (Don Poythress, Tim Rushlow, Ed Hill, Casey Beathard and Allen Shamblin), and Mia Fieldes are among those scheduled for the concerts.
"What a great opportunity for training and encouragement," says award-winning Christian recording artist and songwriter Brenton Brown. "I can't recommend the Christian Musicians Summit more highly!"
"I have had the privilege to be a part of the Christian Musician Summit conferences over a number of years now, and I can tell you it is an event that both educates and encourages musicians, vocalists, technicians and anyone who desires to improve their skill and have an impact in this world with their God-given talents," says Grammy-nominated recording artist and world-renowned guitarist Phil Keaggy, who will teach a workshop and also perform at the CMS Nashville event. "The people who have tirelessly put all this together are true servants and amazing human beings that I have come to love and respect."
"Bringing the Christian Musician Summit to Nashville is a dream come true for me," Adolph says. "This is our 10th year in Seattle and we also have been producing the conference in Buffalo, N.Y., and Sacramento, Calif., for years. But Nashville has so much talent in one region, and we are so excited about the caliber and stature of the musicians and artists who will be teaching at the conference. You do not want to miss this one!"
For more information, including conference rates, and to register, visit christianmusiciansummit.com. To like on Facebook, go to facebook.com/groups/christianmusiciansummit or follow on Twitter (@cmsproductions).
Photo caption: Brenton Brown, right, performed at CMS @ The Chapel 2012 in Buffalo, N.Y. Brown is set to perform at CMS Nashville October 5 and 6. (Brown Buffalo Photography photo)
About Christian Musician Summit:
The Christian Musician Summit conferences, co-founded by Adolph and Matt Kees, president of Christian Musician Summit, Inc., are designed to inspire and assist worship leaders, musicians, technicians, pastors, songwriters, and independent artists to sharpen their skills for God's glory. In addition to the workshops and concerts, the CMS conferences also feature exhibits with audio/video and music companies who offer products and services for the Christian church market. These events provide a time for musicians and technicians of all levels to come and learn, network and fellowship.
In addition to CMS Nashville, CMS Northwest is scheduled for November 9-10 in Seattle, and CMS at The Chapel in Western New York is scheduled for May 3-4, 2013, in Buffalo, N.Y. CMS Nashville and CMS at The Chapel are presented in partnership with Kingdom Bound Ministries.
For more information about Christian Musician Summits, visit christianmusiciansummit.com.
Tags:
ccm
,
Country Music Industry
,
Kingdom Bound Ministries
,
Musician Summit
,
Phil Keagggy
,
Steve Taylor
Posted in
announcements
|
Comments Off

on CHRISTIAN MUSICIAN SUMMIT COMES TO NASHVILLE
Written by Scoops Staff on October 13, 2010 – 11:12 am -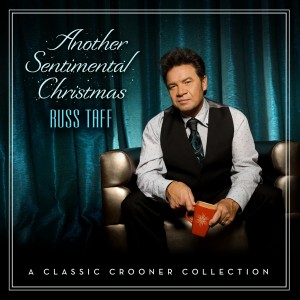 NASHVILLE, Tenn.—Five-time GRAMMY® Award winner and legendary recording artistRuss Taff has just released a new, long-awaited Christmas recording, Another Sentimental Christmas (A Classic Crooner Collection), available today everywhere music is sold.  The Spring Hill Music Group release marks the second Christmas collection from Taff, who showcases the vocal power and musical style that have made his debut Christmas album a staple in the collections of countless fans for over a decade.
Another Sentimental Christmas, produced and arranged by James Hollihan, contains such Christmas classics as "The Christmas Song," "Christmas Time Is Here," "Jingle Bells," "Winter Wonderland" and "Silent Night" in addition to the favorite "Count Your Blessings (Instead of Sheep)," penned by Irving Berlin for the 1954 movieWhite Christmas and made popular by Rosemary Clooney and Bing Crosby among others.
The release includes Taff's emotional rendition of "Peace," a song released by Michael McDonald and written by McDonald along with Beth Nielsen Chapman, and also the well-known "Christ Is Born," written by Domenico Bartolucci and Ray Charles.  The release is stylistically reminiscent of recordings by balladeers such as Tony Bennett and Frank Sinatra with its lush orchestration and big band influences.
"For those of us who have a hard time putting away the Christmas tree, Russ Taff'sA Christmas Song has become one of the perennial 'musts' of the season," stated Melissa Riddle Chalos, writer/editor/media consultant for RiddleMeThis Communications.  "In fact, I've put 'another Russ Taff Christmas CD' on my Christmas list for 19 years now.  So you can imagine my delight at the arrival ofAnother Sentimental Christmas. The only question that remained:  'Could it possibly live up to the first?'
"But the answer came as sure as Grandma's Christmas fruit cake will go mysteriously missing just in time for dinner:  Yes.  This one stands right up there with its 'auto repeat' original, filed carefully alongside Bing Crosby, Burl Ives, Charlie Brown Christmas, Steven Curtis Chapman's The Music of Christmas, The Muppets' A Red and Green Christmas, Amy Grant's Home for Christmas and Tom Hemby's An Acoustic Christmas…yet another reason to keep that tree up 'til February."
"Ever since I released my first Christmas album years ago, I've wanted to record another one," described Taff, "and this felt like the right time to do it.  James (Hollihan) and I have been making music together since high school, and he knows my voice better than anyone else—somehow he has a way of always getting the best vocal performances out of me!  We had a ball framing some of my favorite Christmas songs, creating something that has that same fat, big-band feel that people seemed to love so much about my first Christmas album.
"We've included some classics that everybody always wants to hear this time of year because I love those songs too. But one of my favorites is something I just found called 'Peace.'  It's written by Beth Nielsen Chapman and Michael McDonald and is one of the most vulnerable Christmas songs I've ever heard…it just wiped me out!  The song is saying, 'Lord, I'm weak, I struggle, I'm feeling all alone out here…it's Your grace I seek…in You I find my peace.'  It's a simple, beautiful Christmas prayer that perfectly describes the longing in each human heart for a relationship with our Father.  And the birth of Jesus was God's answer to that prayer."
A multiple GMA DOVE Award winner and GMA Hall of Fame inductee, Taff has been described by Billboard Magazine as "the single most electrifying voice in Christian music."  Currently traveling over 100 dates annually, his musical journey has garnered fans across multiple genres including pop rock, southern Gospel, country and rhythm and blues.  A regular on the Gaither HOMECOMING videos and arena tours, Taff has released nine solo recordings in addition to others made during his tenure with groups such as The Imperials and The Gaither Vocal Band.
Another Sentimental Christmas, available now online and at retailers everywhere, is distributed by EMI CMG Distribution.  Taff will be performing on this year's Gaither HOMECOMING Christmas arena tour.  For further information, visit www.russtaff.com.  For further inquiries regarding Another Sentimental Christmas or for artist interviews, please contact cwinstead@springhillmusic.com.

Tags:
ccm
,
christmas
,
homecoming
,
new music
,
russ taff
Posted in
new music
|
Comments Off

on FIVE-TIME GRAMMY® AWARD WINNER RUSS TAFF BRINGS IN THE CHRISTMAS SEASON CROONER STYLE
Written by Scoops Staff on September 10, 2010 – 10:32 am -
Read more about the work of Compassion International in this month's SGN Scoops Magazine, coming Monday, Sept 13!
By Stephan Archer | compassion.com

Compassion International, the world's largest Christian child development and sponsorship organization, will share its message of hope during Disney's "Night of Joy," on Sept. 10-11 at Walt Disney World, near Orlando, Fla. During the two-night music festival some of the country's top Christian artists will be advocating on behalf of the world's poorest children.
Compassion International will sponsor concerts at the forecourt stage of Cinderella Castle at the Magic Kingdom. Some of the artists performing at the event are also Compassion advocates and include Mercy Me, Tenth Avenue North and Thousand Foot Krutch.
During the event, those in attendance will have the opportunity to learn how they can change a life by sponsoring a child through Compassion International.
"We are very excited to include Compassion International in Disney's Night of Joy," said Jay Zavada, Director, Global Special Events for Disney Parks. "Walt Disney World is the place 'Where Dreams Come True' and Compassion International supports the dreams of children around the world."
Compassion works effectively through local churches to release children from poverty in 26 of the world's poorest countries. As the world's largest one-to-one child development and sponsorship organization serving more than one million children worldwide, Compassion takes an individualized, holistic approach to meet the personal needs of each child.
"The opportunity for Compassion and our talented advocates to speak up for children around the world during an event like Night of Joy is simply monumental for an organization like ours," said Mark Hanlon, senior vice president of Compassion International, USA. "The fact that Disney's core purpose is to engage and entertain children complements Compassion's commitment to bring children the hope and love they so desperately deserve."
Compassion International is the world's largest Christian child development organization that permanently releases children from poverty. Founded in 1952, Compassion successfully tackles global poverty one child at a time, serving more than 1 million children in 26 of the world's poorest countries. Recognizing that poverty is more than a lack of money, Compassion works holistically through local churches to address the individual physical, economic, educational and spiritual needs of children – enabling them to thrive, not just survive. Charity Navigator, America's largest charity evaluator, has awarded Compassion its highest rating—four stars—for nine consecutive years, placing Compassion in the top one percent of all charities.
Tags:
ccm
,
compassion international
Posted in
causes
,
Christian interest
|
Comments Off

on Compassion International to Sponsor Disney's Night of Joy
Written by Scoops Staff on June 8, 2010 – 12:23 pm -
New CD Streets July 27, 2010 And Features 12 New Songs From Peterson
Nashville, TN (June 7, 2010) —- The eagerly-awaited new album from singer/songwriter Andrew Peterson, Counting Stars, will release July 27, 2010. The CD, produced by the artist's long-time collaborators, Ben Shive and Andy Gullahorn, is the second project from Peterson to be released by Centricity Music.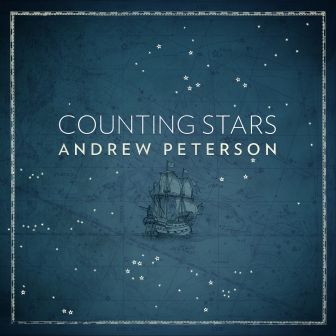 "We at Centricity Music feel like it is such a privilege to partner with Andrew Peterson," says Steve Ford, Vice President of Sales/Marketing, Centricity Music.  "When he delivered 'Counting Stars,' it reminded the entire staff of why we love Andrew.  The twelve finely crafted songs are produced in a way that draws the listener into a place of revelation, a place where you see your life through Andrew's eyes. This is a gift few songwriters have and that's why we are excited about 'Counting Stars.'"
The bulk of material for Counting Stars was recorded within eight days in Washington State during January 2010, as Peterson camped in a recording studio with Shive, Gullahorn, Gabe Scott and engineer, Todd Robbins.  They loaded up their guitars, hammered dulcimer, accordion, dobro and banjo, flew from Nashville to the Northwest and started collaborating.  The twelve new songs were written over a two-year period by Peterson, who is one of the most respected songwriters in several genres of music.  Counting Stars gives intimate glimpses of everyday life that is so important to everyone's heart….family, friendship, community and home.
The first single from the new album is "The Reckoning," which has just gone for radio adds and is already receiving airplay from such stations as, KCRN/San Angelo, TX and KNLB / Phoenix, AZ.  Peterson wrote the song while sitting on the porch of his home outside of Nashville when a severe thunderstorm was rolling into the area.
"I love the humility that a big, dangerous storm system gives us," Peterson explains. "Everyone remembers they're quite small and powerless in the scheme of things. In the twenty-first century, with jumbo jets and air conditioning and high-speed internet, we still sometimes have to run for our lives and hide in the closet under a blanket."
"Dancing In The Minefields" is already becoming a favorite tune from the CD, as it is a thought provoking song that despite the title is a positive love song. And we're dancing in the minefields/We're sailing in the storms/This is harder than we dreamed/But I believe that's what the promise is for. "World Traveler" addresses the wander-lust that lives in all of us and lets us know that the grand adventure can be in our own backyard. "In The Night" celebrates how hope lives on even through our daily pain and struggles, while "Fool With A Fancy Guitar," reminds us that we are all priests who live in the Kingdom of God.
"The title Counting Stars ties the themes of relationship and hope together in the hope of God's promise to Abraham," says Peterson.  "We're a part of the cloud of witnesses, passing the promises of God to our children and their children, building this Kingdom that has no end."
Tags:
andrew peterson
,
ccm
,
Centricity Music
,
new music
Posted in
new music
|
Comments Off

on INGER/SONGWRITER ANDREW PETERSON TO RELEASE HIS SECOND PROJECT ON CENTRICITY MUSIC….COUNTING STARS
Written by Scoops Staff on June 3, 2010 – 3:37 pm -
BRANSON, Mo. – (June 3, 2010) – Excitement continues to build for the 2nd Annual Branson Gospel Music Covention which returns to Branson, Missouri this month. Rod and Kelly Burton of YMR Productions, LLC are excited to announce the addition of Grammy and Dove Award winning soloist Russ Taff to the event's growing list of performers.
Russ Taff's music has won him not only a wide audience and critical acclaim, but a total of five Grammy Awards and nine Gospel Music Association Dove Awards. He has been hailed by Billboard Magazine as "the single most electrifying voice in Christian music."
"We are so excited about having Russ participate in this year's Branson GMC," mentioned Rod Burton of YMR Productions, LLC. "Russ and his wife Tori have become great friends of mine and Kelly's, and we are humbled to see him support this event! We know that his passion and talent are going to add a lot to our program this year!"
Russ Taff joins the growing list of performers that have already been announced. The following artists are scheduled to make first-time appearances during the week long event as well: Dino, HisSong, Melody Boys, Ricky Atkinson, Mystery Men Quartet, The Northmen, Buddy Liles, and the newly-formed Freedom (featuring John Rulapaugh and Josh Garner).
YMR Productions, LLC also announced the return of many of the most requested artists from the 2009 event including (but not limited to) the Chuck Wagon Gang, Blackwood Quartet, Kenny Bishop, Young Harmony, Beyond the Ashes, Shannon Bunch, Wendy Word + forgiven, Eric Hinson and Hinson Revival (which began at the 2009 event), McMillan & Life, English Family, Sunday Edition, 2nd Generation, The Roarks, and Ron Brewer.
In addition, several high profile companies and organizations will be present during the event – including Compassion International, AbsolutelyGospel.com (formerly SoGospelNews.com), Sky Angel Network, Gospel Music Today, HIS Choice Music, Mansion Entertainment, Family Friendly Entertainment, Southern Spin Entertainment, SGMRadio.com, SGN Scoops Digital, and many more!
A full list of artists and organizations that will be present during the event can be found at http://www.bransongmc.com .
More information about the Branson Gospel Music Convention can be found at http://www.bransongmc.com or by calling (708) 960-0111.
More information about YMR Music Productions, LLC. can be found at http://www.ymrmp.com or by calling 708-960-0111.

About YMR Music Productions
YMR Music Productions, LLC. is a corporation formed initially for the exclusive purpose of organizing, promoting, and producing the Branson Gospel Music Convention.  The production company recently started a series of concerts all around the country that supports local communities and help organization.  The first Give the Gospel concert took place in November 2009.
Tags:
branson gmc
,
ccm
,
russ taff
Posted in
announcements
|
Comments Off

on Russ Taff Added as Featured Performer at Branson Gospel Music Convention
Written by Scoops Staff on June 3, 2010 – 3:24 pm -
Nashville, TN (June 2, 2010) —- Dove nominated Burchfield Brothers, are garnering press accolades and television appearances in support of their latest CD, Times And Seasons. Jon and Ben Burchfield, comprise the duo for one of the most talented and unique musicians in the Christian and mainstream genres.  Both brothers are classically trained musicians and Times And Seasons is an instrumental collection of great hymns and timeless classics, which features the multi-talented Burchfield Brothers playing guitar, marimba and Irish flutes.  And the incredible gifts of these two musicians are definitely not going unnoticed.
CCM Magazine – ….The Burchfield Brothers now release their greatest hits entitled Times And Seasons. It's a proper descriptor for the familiar tunes within, as the Tennessee duo utilizes an impressive sonic palette to uniquely frame each song within.
ChristianMusicToday.com – …. there's no ignoring the pair's compelling performances and enviable dexterity. Though strictly an instrumental album, the project has a prayerful demeanor and plenty of praise undertones.
Phantom Tollbooth – For my first Burchfield Brothers album, I appreciate the way you can relax, recognize your favorite inspirational melody and know it is in safe hands with a velvet touch.
While garnering great press for Times And Seasons, the Burchfield Brothers have been very visual with television appearances on Crystal Cathedral, Atlanta Live and an upcoming appearance on Focus 4/Cornerstone Television in August.  They have also taped interviews for Campus Crusade for Christ radio shows, The Lighthouse Report and Women Today. At the same time, the brother duo retain an active touring schedule that will have them performing in Colorado, Illinois, Texas and Pennsylvania this summer.  The Burchfield Brothers remain one of the most popular touring artists who have been performing for seventeen years, have appeared before more than 1.2 million fans and logged around one million miles.
Times and Seasons is the eleventh CD for the Burchfield Brothers and features some of Jon's and Ben's favorite songs from their previous albums, which includes; "To Him Who Sits on the Throne," "Amazing Grace," "Be Thou My Vision," "Doxology," "Heart Of Mary" and "Sunset Coast."  The project is available on the duo's website, www.burchfieldbrothers.com, and digitally online at iTunes.com.
Tags:
Burchfield Brothers
,
ccm
,
new music
Posted in
artists
|
Comments Off

on DOVE NOMINATED BURCHFIELD BROTHERS GARNER SOLID REVIEWS AND TV BOOKINGS IN SUPPORT OF LATEST CD RELEASE TIMES AND SEASONS
Written by Scoops Staff on May 29, 2010 – 8:32 am -
The Project's First Single, "Yours To Take," Is The Highest Debut This Week At #23 On The Christian AC Indicator Chart
Nashville, TN (May 26, 2010) —- It's been a whirlwind of activity for singer/songwriter Jimmy Needham around the release date of his third project, Nightlights. The project's street date was May 18, 2010 and immediately the album
sent fans into the stores and online to buy a copy. For the first time in his career, Needham debuted at #9 on the Contemporary Christian Combined Album Chart with sales that doubled his first two releases.  At the same time, Nightlights reached the #1 position on the Digital Album charts.
After the success of Needham's first two projects, expectations were high for the development of this artist and Needham did not disappoint his fans, radio or media.  CCM magazine proclaims, The growth curve climbed exactly as imagined…the Houston native's progression continues at the same impressive rate as before on Nightlights. Radio is also responding to Needham's first single from the album, "Yours To Take," as it's the highest debut this week at #23 on the Christian AC Indicator chart.
"Jimmy has truly become an artist whose staying power continues to rise with each new release," says Andrew Patton, GM/VP of Label Operations, Inpop Records.  "The growth in sales and continued strong radio airplay shows the consumer base responding and growing with each record.  Just spend a few minutes listening to fan comments on the social sites or through digital outlets, and you'll see for yourself the impact his songs and artistry is having on people."
Nightlights was produced by Calvin Turner (Marc Broussard) and features twelve new songs written or co-written by Needham, with the thirteenth song being a remake of the pop classic, "How Sweet It Is (To Be Loved By You)."  Millions of fans were treated to a live performance of the new tunes during a worldwide broadcast of Needham's CD release party in The Woodlands, TX.   An upcoming feature in the Houston Chronicle will feature the concert in an artist profile of Needham on May 28th. Needham was in Nashville this week to perform "Yours To Take" live on Nashville's Fox 17 TN Mornings and then taped "How Sweet It Is (To Be Loved By You)" on WSMV's Better Nashville. The show will air on May 28th.  The following week, Needham has several interviews on tap that includes Lifeway's Stand Firm Magazine, The Christian Manifesto and CMAddict.com.
Photo ID (left to right): Shane Tallant, co-host, TN Mornings; Jimmy Needham; Kelly Sutton, co-host TN Mornings
Tags:
ccm
,
charts
,
jimmy needham
,
songs
Posted in
songs
|
Comments Off

on JIMMY NEEDHAM'S NIGHTLIGHTS BECOMES RECORD BREAKING PROJECT DEBUTING AT #9 ON CONTEMPORARY CHRISTIAN COMBINED ALBUM CHART AND #1 ON DIGITAL ALBUMS CHART