Written by Staff on October 16, 2019 – 6:49 pm -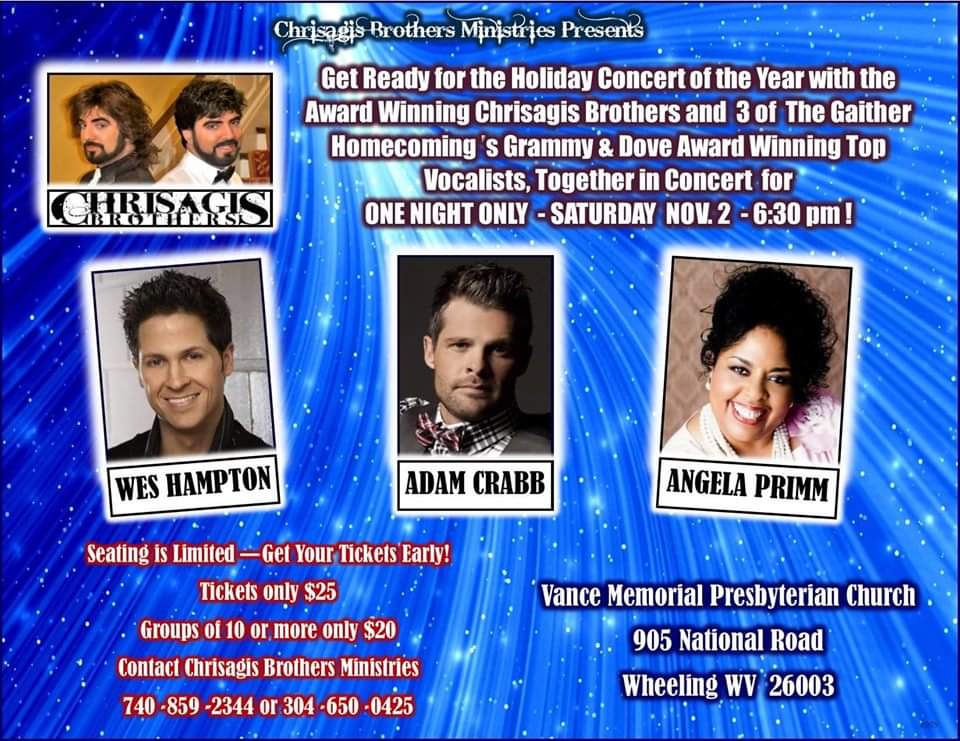 The Chrisagis Brothers are chameleons in the world of Christian music. Known as the twins of pop/rock gospel, Brian and Shawn say they are growing up and so is their music, as they enjoy the release of their most recent CD. The Southern gospel flavor of the "Color of Love" is a great accompaniment to their newest event in their Legends concert series.
On Saturday, Nov. 2, at 6:30 p.m., in Wheeling, West Virginia, the Chrisagis Brothers will be doing a special Legacy concert with three of the world's most loved Southern gospel singers. Gaither Homecoming artists, Wes Hampton, Adam Crabb and Angela Primm, will present a Thanksgiving message of music, along with Christmas songs, and gospel favorites.
This festive celebration will be held at Vance Memorial Church, 905 National Road, in Wheeling, West Virginia, 26003.
Brian and Shawn Chrisagis are always paving new territories in ministry. The brothers have been going strong for over 36 years in ministry life, beginning as youth pastors. Then they developed Good News Network, a unique television series for children, which ran three years and syndicated on SkyAngel and other channels.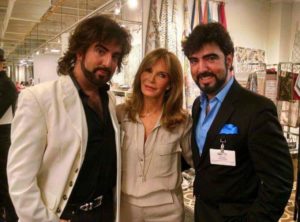 From there, they developed a reputation as ministers to Hollywood, bringing many celebrities to know this Jesus they serve, as well as becoming personal assistants to several of the stars. They produced children's books, a toy line, and have also released 10 CDs of their own music.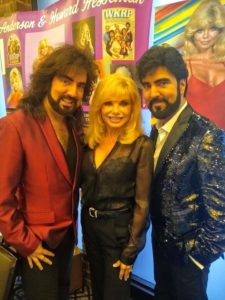 The Brothers have won many awards for their music ministry and television series. On top of all this, they've had radio shows, interviewed friends from both Hollywood and Christian music, performed all over the world and created their own brand.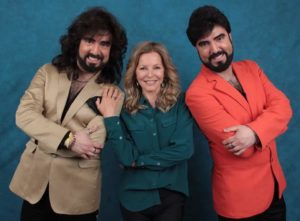 Through everything, the Chrisagis Brother's message stays the same, that Jesus loves everyone and died for all to be saved. Solid teachings are presented in every Chrisagis concert, and these two never do a concert without a prayer or altar call.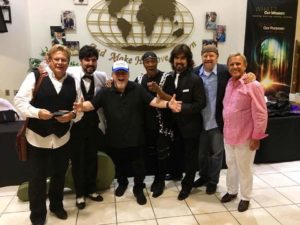 Next year, the Brothers are working on a Legends of Hollywood event and other projects. To keep up to date with these movers and shakers for God's kingdom, click HERE 
For more Gospel music features, read the latest SGNScoops Magazine HERE.
Download SGNScoops Magazine In PDF 
Here
Find SGNScoops Magazine On Facebook 
Here
Listen To Todays Gospel Music Here
Tags:
Adam Crabb
,
Angela Primm
,
Chrisagis Brothers
,
gospel music
,
Southern Gospel Music
,
Wes Hampton
Posted in
announcements
,
artists
|
Comments Off

on Chrisagis Brothers present Legends concert with Wes Hampton, Adam Crabb and Angela Primm
Written by Staff on January 24, 2018 – 2:46 pm -
How often do you meet twins who have the same talent, vision and ministry giftings? The Chrisagis Brothers are internationally-known Christian music artists, who annually present a Legends Concert to honor pioneers of Christian music such as Russ Taff, Michael English, Rambo McGuire, Dino, and many more.
Brian and Shawn's support of artists across Christian music genres has increased their notability in the Southern gospel arena as well, with Christmas concerts featuring Adam Crabb, Russ Taff, Angela Primm, Bonnie Keen, and the Blackwoods.
The Chrisagis Brothers have a strong emphasis on family in their ministry and one reason for this is their heritage. "We are Italian and Greek, so family has always played an important part of our lives," says Shawn.
"When we were born, we were born with life-threatening allergies and the doctors said we would never live past the age of one year old. We were dying for seven years of our lives and could not go outside because we were allergic to the sun. We couldn't eat anything but soybean milk, sardines, rice-cakes, and peanut butter.
Shawn recalls, "Through the love of our strong family, the three generations who lived in one home, including our Mom, Dad, and our Grandparents and our brother Anthony, we twins survived the odds because of love and faith.
"Our Mom always said that the acronym of 'FAMILY' stood for Forget About Me, I Love You. Our family lived that daily and at seven years old we were healed," continues Shawn. "Our Mom became born again and found out how to break the curse of sickness, death and disease in our home in the name of Jesus. When she did that, we were instantly healed."
The twins' strong faith is proclaimed nightly in their onstage appearances.
Tags:
Chrisagis Brothers
,
Christian Music
,
gospel music
,
Jaci Velasquez
,
Leon Patillo
,
Michael English
,
Phil Keaggy
,
russ taff
Posted in
artists
,
Christian interest
|
Comments Off

on Chrisagis Brothers champion legendary artists Russ Taff and Michael English
Written by Staff on November 8, 2017 – 1:45 pm -
The award-winning duo, the Chrisagis Brothers, have certainly made a name for themselves in quality entertainment, in  Christian churches and arenas everywhere. Shawn and Brian Chrisagis have traveled throughout the U.S. with their powerful music ministry. They have a radio show heard on two different channels plus internet and youtube. The Brothers have gotten to be well loved and respected by top legends in CCM and Southern Gospel Music. They have two explosive Christmas Concerts starting this month.
Nov. 26 at 6:30 p.m., at the Faith Fellowship Church, in Bellaire, Ohio, the Chrisagis Brothers bring in the season with their "Wise Men Still Seek Him" concert, featuring two dynamic men from the Gaither Homecomings. Seven-time Grammy and 18-time
Dove Award Winner, plus CCM Hall of Famer, Russ Taff, who has become a dear friend of the Brothers, will be joining them once again for the third year. This year, the brothers have added the amazing vocalist of the Gaither Vocal Band, Adam Crabb, to the concert. The Chrisagises will be doing the title song with Taff and Crabb. You don't want to miss these four talented and anointed men together on one stage.
The following weekend, Dec. 2 at 6:30 p.m., the Brothers will be working with one of their best friends in the business, the sweetheart of Gaither Homecomings, Angela Primm, along with the incredible Bonnie Keen from First Call. These ladies will be doing duets with the Brothers. This will be a concert of love songs, Christmas ballads new and old,
and wonderful traditional memories. Bring your family and friends to worship and celebrate the Christ in Christmas at Faith Fellowship Church in Bellaire, Ohio, at 6:30pm.
The Chrisagis Brothers are then headed to Branson, Miss., to perform on the Jim Bakker show, and for some meetings to bring their award-nominated "Legends Concerts" to a theater in Missouri. As you can see, the Brothers are busy until the new year. In 2018, the Chrisagis Brothers are in charge of a Women's Conference called "All that Glitters," for actress Jennifer
O'Neill, who the Brothers have known and worked with for the last 27 years. The Conference will feature Angela Primm and Nancy Stafford from Matlock tv series fame. Plus, they will be going to the Holy Land in April for a 10-day ministry tour.
The concerts overseas will be televised and will be a powerful witnessing tool for the Jewish nation. Legendary CCM artists will join them, like Paul Clark, and Chuck Girard from Love Song.
For more info on the Chrisagis Brothers ministry or events, or to book them, please check out their website
For the latest issue of SGNScoops magazine click here
For more gospel music news click here.
For online gospel music click here.
Tags:
Adam Crabb
,
Angela Primm
,
Bonnie Keen
,
ccm
,
Chrisagis Brothers
,
christmas music
,
gospel music
,
russ taff
Posted in
announcements
,
artists
|
Comments Off

on Chrisagis Brothers Christmas Concerts include Adam Crabb, Russ Taff, more
Written by Staff on April 10, 2017 – 1:26 pm -
The dynamic duo of Christian music, Brian and Shawn Chrisagis, known as the Chrisagis Brothers, are bringing a powerhouse lineup to this years' 2017 Legends event. The Chrisagis Brothers are gathering together five classic artists from Christian music, including Southern Gospel, Rock, Ballads, Contemporary and Classical, all in the name of Jesus, music.
Artists to appear include Grammy and Dove Award winners, and members of the Gospel Music Hall of Fame: Dino Kartsonakis, Michael English, Phil Keaggy, Wayne Watson, and also the three-year staple for the Legends concerts, Scott Wesley Brown.
This year Brian and Shawn are also bringing along their long time friend and sister in Christ, legendary actress, super model and author, Jennifer O'Neill, to cohost with the Chrisagis Brothers. The event is Aug. 19, 2017, at The J.B. Chambers
Performing Arts Center in Wheeling, W,V. This beautiful center holds 1200 seats waiting to be filled with Christian music fans from across the United States.
This is the third year for the Legends event and each time the brothers bring their A-Game to the table with acclaimed artists. This year the legends are the cream of the crop. The duo will welcome Dino, known as a pianist extraordinaire, an artist who has been performing in his own stage show in Branson for many years.
Dino will take the stage with Phil Keaggy, one of the top three best guitarists in the world. Phil is world-renowned and has played with the Beatles.
Michael English is known as a solo artist and as a member of the multi-awarded Gaither Vocal Band. This man has had an amazing career and his voice is one of the greatest in Southern Gospel music.
Wayne Watson is best known for his duet with Sandi Patty, "Another Time and Another Place," but has won many awards and has had numerous No. 1 hit songs on the CCM charts.
Last is Scott Wesley Brown, the anchor man at the Legends concerts, and one of the greatest songwriters and Generals for God in his 40 years+ of ministry.
Welcoming these artists to the Legends concert event are the Chrisagis Brothers, award winners and nominees in several areas. They are especially proud of
winning the Extraordinary People Award for Duo of the Year. These two have ministered for over 35 years and have won many Hollywood Stars to Jesus.
They have a radio show called "It's a God Thing" that has allowed many of Hollywood elite to share their faith. Some of their friends and guests in Hollywood are Lindsay Wagner, Erik Estrada, Jennifer O'Neill, Joe Penny, Loni Anderson, Morgan Brittany, Cheryl Ladd, Kevin Sorbo, Corbin Bernsen, Pat Boone, Dolly Parton, Alana Stewart (from the Farrah Fawcett Foundation – who shared Farrah's faith in Jesus on the radio show.)
The Chrisagis brothers have also been very powerful forces in bringing their Legends events to various areas in the United States. These guys have won favor with CCM pioneers in the business and with Hollywood personnel. For more info on these two incredible ministers who are making a difference check out their website here.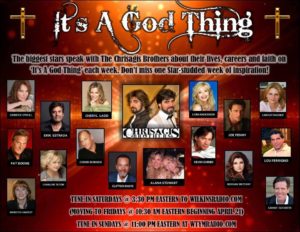 For more Gospel music news, click here.
Tags:
Chrisagis Brothers
,
Dino
,
Dino Kartsonakis
,
Jaclyn Smith
,
Jennifer O'Neill
,
Michael English
,
Phil Keaggy
,
Scott Wesley Brown
,
Wayne Watson
Posted in
announcements
,
artists
|
Comments Off

on Michael English and more at 2017 Chrisagis Brothers Legends concert event
Written by Staff on November 24, 2016 – 5:14 pm -
Contact: Lynda Sullivan, 740-859-2344
YORKVILLE, Ohio, Oct. 27, 2016 /Christian Newswire/ — This years Extraordinary People Award for Christian Duo of the Year went to the Chrisagis Brothers, who are becoming known world-wide. The awards were voted on by 200 countries and the Brothers are in great demand, within the past few weeks they have been scheduled to do concerts in Florida, Texas, New York, and even Pakistan (which had to be done through Skype). They are also booked before the year is over in North Carolina, South Carolina, Georgia, Pennsylvania, West Virginia, and Ohio.
On November 12th the Chrisagis Brothers will be at the Heritage Awards. Their Christmas CD called I Believe In Christmas, is up for two awards, and the Brothers are up for four, such as: Best CD, Song of the Year, Duo of the Year, and Event of the Year (for The Legends Concert, which featured Scott Wesley Brown, Chuck Girard, Steve Archer, David Meece, etc.).
For Christmas the Chrisagis Brothers will be in concert Dec. 3rd with Russ Taff, the iconic legendary male vocalist who won six Grammy Awards, 11 Dove Awards, and has been inducted into the Christian Music Hall of Fame. Also scheduled to minister in song is the acclaimed Gaither vocalist Angela Primm, who is one of Christian music's most popular females of the era. Angela is the most explosive, energetic, spirited artist you will ever find. Putting the four together in one concert will be a blessing for all. The Dec. 3rd concert is at Journey By Grace Church at 4803 PA 51 Belle Vernon, PA 15012 AT 6:30 p.m.
The Brothers are also excited that they will be traveling Dec. 12-14th with one of their greatest inspirations in ministry the legendary Christian music pioneer Scott Wesley Brown. The Brothers call Scott one of the most anointed generals in God's Army. They will be guests on Watchmen Broadcasting TV Network on Dec. 12-13th with Brown. Then on Dec. 14th they will be on the Dove Network TV series Nite Line.
If that wasn't enough they have teamed up with Prison Fellowship International to help
children world-wide. The Brothers also have been doing a Christian Radio Show every week for Wilkins Radio, called It's A God Thing. They have interviewed famous guests such as Christian Music's Sweetheart Evie Tornquist, actress Jo Ann Pflug, director Kevin Mcafee, and iconic TV and film star Corbin Bernsen, among others. The Brothers say in the new year they have some major super stars lined up from iconic TV shows and award winning films.
For more info Click on the Chrisagis Brothers website here.
Tags:
Angela Primm
,
Chrisagis Brothers
,
Christmas concert
,
christmas music
,
gospel music
,
russ taff
Posted in
announcements
,
artists
|
Comments Off

on Chrisagis Brothers' Busy Schedule with Russ Taff, Radio, TV, Awards and Tour
Written by Staff on September 6, 2016 – 10:46 am -
The award winning duo, the Chrisagis Brothers, put together the second annual Legends Event 2016. This year they showcased five incredible singers: the anointed balladeer with a missionary heart one of Christian Music's most beloved singer / songwriters – Scott Wesley Brown; from Santana to Hosanna, the rock star who changed the face of Christian Music forever, Leon Patillo; the Big Band Crooner, a true legend with one of the strongest voices in music, Dave Boyer; the multi-Grammy Award winner for his Country style music, seven Dove Awards and 11 top hits, Bruce Carroll; the preacher crying out in the wilderness like John the Baptist, who had 21 hit songs that hit number one on the charts, Steve Camp.
The crowds went nuts and revival hit Bethel Park, Pennsylvania as the artists took the stage. The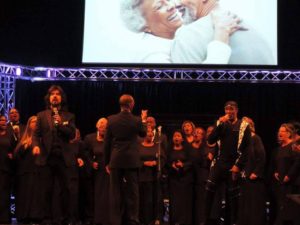 Chrisagis Brothers sang the opening song and hosted the event which was a variety type show. Throughout the night videos from Evie, Honeytree, Steve Archer, Farrell & Farrell, Chuck Girard, Kim Boyce, Greg Nelson, and Word Record's Dusty Wells played greetings. There were also heartfelt tributes to such greats as Larry Norman "If I Were a Singer," sung by Steve Camp and Laurie Labishak, Mark Heard performed a tribute version of "Castaway," by Bruce Carroll and Becki Hedrick, and a tribute to Walter Hawkins "Oh Happy Day," was performed by Leon Patillo, Brian Chrisagis and a 70 voice choir that got the entire audience up and rocking. The night included two dance groups for two different numbers and an American Tribute with Veterans and flags, engaging the audience with the Las Vegas-style production.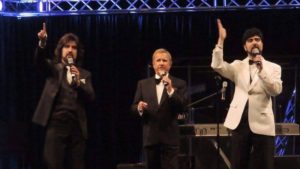 Dave Boyer and the Chrisagis Brothers then paid tribute to the Gaithers by singing a medley of their songs. Emotions ran high as Scott Wesley Brown and Shawn Chrisagis sang a new song, "Finally There," paying tribute to all those who carried the message of Jesus and are in Heaven today. The Holy Spirit ministered in a powerful way as Steve Camp gave the message and altar call.
With the two years of huge success with the events, Brian and Shawn Chrisagis are forming a organization for the pioneers of Christian music with Leon Patillo, Scott Wesley Brown and Bruce Carroll to help Vets in music survive.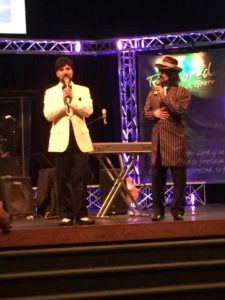 Next year they are hoping to do four events per year and have the Legends tour in different cities. So be on the look out for this amazing tour. For more info on next years Legends please log onto: chrisagisbrothersministries.org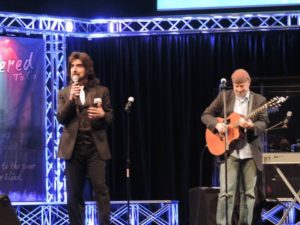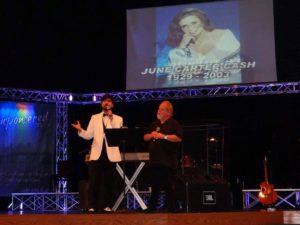 Tags:
Bruce Carroll
,
Chrisagis Brothers
,
Dave Boyer
,
Legends Event
,
Leon Patillo
,
Scott Wesley Brown
,
Steve Camp
Posted in
announcements
,
artists
|
Comments Off

on Bruce Carroll, Steve Camp, Scott Wesley Brown among artists in Legends Event 2016
Written by Staff on January 6, 2015 – 2:27 pm -
Once in a while you happen upon an artist that completely defies genre definition. If you hear a clip of the Chrisagis Brothers on You Tube, you might consider that they are Contemporary. Someone else might say they are Christian Comedians. Some others might qualify them as Children's Entertainers. One listen to the recent "Lovin' Out Loud" with the boogie-woogie piano and you might think they are more of the Country/Southern side of the spectrum. What is undeniable is that the Chrisagis Brothers and their ministry team are singing their message of Christ's love for the world to hear, regardless of the label they might be given.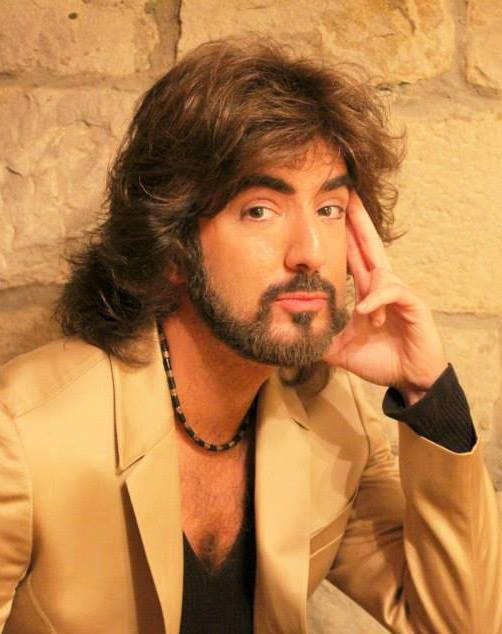 Brian and Shawn Chrisagis are identical twins who began singing at the age of 16. "I was so shy that I passed out and then I hit my eye on the doorknob in the bathroom because I was that nervous to sing," says Shawn. "I was bleeding everywhere but once I recovered and got prayed over the show had to go on, so I sang with my brothers with a patch over my eye from the bleeding. How embarrassing!" From singing with their brother while their Mother preached, the twins went on to using puppets on a Children's television program. After winning awards for their programs, Brian and Shawn began recording original music that ranges from Christian Pop to Country/Inspirational/Worship.
The musical influences of the brothers span from Farrell and Farrell, Russ Taff and Larnelle Harris to The Beatles, The Judds and Bon Jovi. They have used these influences to create their own sound, with a message that touches the heart of God and His people.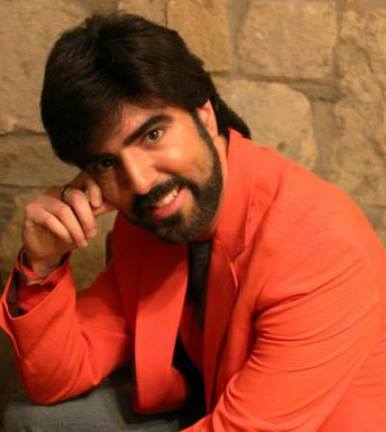 "We want everyone who comes to our concerts to know that Jesus loves them and that they are special," says Brian. "The message is: 'For God so loved the world that He gave His only begotten Son that whosoever believes in Him will not perish but have everlasting life." There is no sin too bad that it can't be forgiven and we are all sinners saved by grace who need a Savior. The concerts we do never talk down to folks but stir them up with a roller coaster of emotions; like laughing, singing, crying and being moved to receive when we do altar calls. We always end the night with people praying the prayer of salvation. People really are touched and leave the concerts different from how they came." Read more »
Tags:
Chrisagis Brothers
,
Christian artists
,
Christian Music
,
gospel music
,
sgm radio
Posted in
artists
,
SGM Radio
|
Comments Off

on Chrisagis Brothers: Winning The World By Any Means