Written by Staff on December 10, 2019 – 10:27 am -
Christmas is my favorite time of the year. I pretty much begin decorating right after Halloween. Because of our traveling schedule, Christmas is usually the only holiday I decorate for. During this time, it looks like Christmas regurgitated all over my house. I have the 1960's Christmas cartoon philosophy to decorating.  
Romans 12:2 NLT "Don't copy the behavior and customs of this world, but let God transform you into a new person by changing the way you think. Then you will learn to know God's will for you, which is good and pleasing and perfect."
With the Christmas season upon us, the same old discussions of what is excess versus what is not enough, tend to begin to war in our minds as well as in the Christian community. Asking ourselves, are we missing the 'real' reason for the season by our rushing around in a fury of activity? Like Paul, I say, work out your own salvation with fear and trembling. Allow the Holy Spirit to guide you, not the media nor your church peers.  
I really hate how we tend to judge others, by what is either going on in our own lives or what is going on culturally in our society. The other night Chuck and I, after a very long day of work, went out to eat at a restaurant. Both of us had our cell phones out, checking our social media, e-mails, and just basically decompressing from our day. We were chatting about what we had seen on our Facebook pages, and I thought of how many times we judge others doing this very same thing. We are seeing them as not connecting, instead of what it was for us, our time to relax and reconnect with what was going on in our family's lives.  
Gal. 5:1 MSG. "Christ has set us free to live a free life. So take your stand! Never again let anyone put a harness of slavery on you." 
Gal. 5:14 NLT. "For the whole law can be summed up in this one command: 'Love your neighbor as yourself.'"
I love what verse 14 says; for the 'whole law' can be summed up in this one command, love. Isn't this what the season of Christmas is all about; God so loved us that he sent his son. And that son was sent not to condemn us but to save us. Isn't this the very foundation for Christmas? We celebrate the birth of God's Son into this world and how it changed the very fabric of time.
I have been meditating on Romans 12:2 lately. In that scripture, it tells us not to copy the behavior and customs of this world. What are the behavior and customs of this world? Jesus said to us that the world would know we are different because of our love for one another. What does that look like, practically, in your life? He also tells us that even the tax collectors, the dregs of society, love those who love them.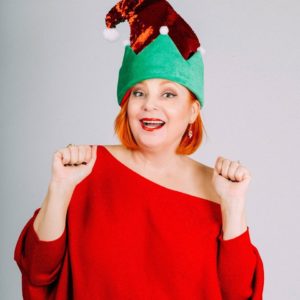 Our country is the most divided than I can ever remember it being. Now is our time as believers to stand up and love. Chuck and I have been married for 31 years. During that time, we both had had to choose to love the other, even when we were unlovable. Any parent will tell you that sometimes it is hard to love the child that may resent you or blame you for the pain and hurt they have experienced. You may love them, but being "in love" with them is a whole different experience.
Go on a search for love this Christmas season. Learn to love yourself again and allow God to help you to love others. So many people are in pain. Longing for someone to come along and make a difference in their lives. That difference just might be you. 
Someone, somewhere just might be asking God to reach out to them, and God may be asking you to be his hand extended. Think of the one person right now that brings up the most difficult emotions…do you have their face in your mind? Now maybe you need to reach out to them? Or perhaps they need your prayers right now? This is how we are transformed by the renewing of our minds. By changing the way you think about a person or a circumstance changes the brain cells in your brain, it releases healing to you.
This is how our world will change. I love the scene in the movie Elf. They are trying to get Santa's sleigh to fly, and they remember what Buddy the Elf said about singing Christmas carols and spreading cheer for all to hear. Christians have the power to spread Christmas cheer all year long because our Christmas cheer is about Christ and how he came to save us, and our world. 
This Christmas season, you can change the very atmosphere around you by bringing the love of God to those around you. Not the judgment you believe God has for the world, but his love. Scripture tells us that love is large and incredibly patient. Love is gentle and consistently kind to all. It refuses to be jealous when blessing comes to someone else. Love does not brag about one's achievements nor inflate its own importance. Love does not traffic in shame and disrespect, nor selfishly seek its own honor. Love is not easily irritated or quick to take offense. Love joyfully celebrates honesty and finds no delight in what is wrong. Love is a safe place of shelter, for it never stops believing the best for others. Love never takes failure as defeat, for it never gives up. Let us become different, showing love for others, and being the change you want to see around you.
The world is waiting for you.
By Selena Day
Selena Day is a motivational speaker and is available to speak at your conference or event.  You may contact her at selenaday@me.com http://www.queenliving.org  http://facebook.com/queenismsbyselenaday. Photographs courtesy of Selena Day.
Read more Gospel Music News in the latest SGNScoops Magazine Online HERE.
Tags:
christmas
,
Chuck Day
,
Gospel
,
Love
,
music
,
Selena Day
Posted in
Christian interest
,
Devotionals
|
Comments Off

on Selena Day: Christmas Love
Written by Staff on December 9, 2019 – 6:46 pm -
It's that time again. Christmas is a time when family and friends come together and celebrate the birth of Jesus Christ, the greatest gift to humankind. While I enjoy opening presents, listening to music, and eating great food, I have realized more and more that none of that matters much compared to Jesus and family.
Over the years my family has struggled financially and experienced loss, but we always manage to have a fun and meaningful holiday season. I will always cherish being with family playing games, eating food, and going to look at Christmas lights. It is my hope that reading the following memories from your favorite Southern gospel artists will get you in the spirit of Christmas and remind you to cherish the time you have with family and friends. 
Merry Christmas…
Matt Fouch (Legacy Five): "Being able to now be the head of my family and read the story of Jesus birth on Christmas Day to my family."
Matt Dibler (Inspirations): "My favorite Christmas memory was a tradition we had. Every Christmas Eve we would turn out all the lights and use only candles and the lights from the Christmas tree. We would sing Christmas Carols and read the Christmas story from Luke 2 and have family prayer. I think of it every year.."
Jeff Collins (Producer): "I have several great Christmas memories, as my parents made Christmas very special for my sister and I throughout our childhood. But there was one particular year that was extra special. I was around 11 or 12 years old and had asked Santa Claus for a minibike. After what seemed like years, Christmas Eve arrived, and I was hoping and praying Santa would make my wish come true. Lo and behold, on Christmas morning when Mom and Dad let us come down the hallway and around the corner to the living room, there sat my minibike. I was so happy. I was itching all morning to get outside to ride it, but first we had to open all of our presents, eat breakfast, and then finally go outside. 
We finally got the bike out in the carport and Dad says, 'Start her up, Jeff.' This minibike was a bare-bones kind of minibike with a basic Briggs and Stratton lawn mower engine. Anyhow, I started pulling on it, trying to start it. I pulled until my arm was like Jell-O. No start. My dad pulled on it for another 30 minutes. A neighbor was there by then, pulled on it for 30 minutes. Man, was I getting frustrated. I should mention here that there is an on and off switch between the handlebars and the seat. We had it in the 'on' position. Another neighbor had showed up by now. It was getting close to lunch. He reached down and haphazardly turned the switch to the 'off' position, pulled the engine, and it started. Just like that. But finally… I got to ride my minibike. I was one happy 11 year old."
Arthur Rice (Kingdom Heirs): "In the fall of 1987, my dad had a brain aneurysm. I was with the Kingsmen at the time and they had folks praying all over the country. He came out of the surgery great and the only paralysis was his memory. He didn't know who we were or what had happened. Just before Christmas he said it was like he heard a switch in his head go on and he started remembering us little by little. He was able to come home for Christmas and shortly after that all his memory returned. The Lord gave us 14 more years with him. It was a very thankful Christmas."
Mark Trammell (Mark Trammell Quartet): "The year my dad and mom went without Christmas so they could buy my first bass guitar. I didn't know it until years later. Priceless lesson in unselfish lifestyle."
Josh Feemster: "I think it would have to be the last Christmas with my grandma. She was so much fun. This particular Christmas she stayed at our house. My dad, brothers and myself went to a Christmas event without my mom and grandma. She just wasn't feeling well so they decided to stay home. This particular trip was memorable because of the sleeting going on during the drive,kinda rare in Alabama in December. Anyway, it was Christmas Eve and when we got back to our house Santa had already been there. All of our presents were out and Grandma convinced me that she helped him unload them. She was the greatest. We had a great time and I'll never forget eating her chicken and dressing one last time the next day. Within a month she was in heaven. I don't really remember what toys I got but I'll always remember how happy she was to be with us."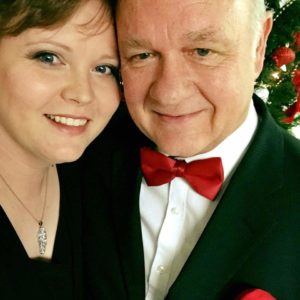 Lisa Williamson (The Williamsons): "When I was 16, my family and I were going through a pretty tough time. My mom had broken her ankle so our spirits were down. We hated to even ask, but my sister Rachel and I really wanted a PlayStation for Christmas. We didn't want to get our hopes up, but we sure were hoping to see that thing under the tree on Christmas morning. A week or so before Christmas, Mom came into the living room on her crutches wearing a brand new tee shirt. The back of it had a very bright, colorful, and recognizable logo…PlayStation. We kept asking her where she got her shirt, but all she would do was smile. Needless to say, we opened a PlayStation on Christmas morning."
Randy Crawford (Formerly of The Kingsmen): "Not so much a memory as it is something I miss. My grandmother on my father's side always used to have a "sock" for us grandkids. It truly was a sock. But it was filled with fruits, candy, and old fashioned peppermint stick candy. We used to cut a hole in our oranges and suck the juice out through the peppermint candy. I miss my grandmother so much, and love she put into our 'socks'."
Maria Kramer Wolfe (The Kramers): "My favorite Christmas memory, or tradition, is putting up the Christmas tree while listening to traditional Christmas music and baking Christmas cookies. I love family time the most, so getting together with family during the Christmas season is a rich blessing."
Steve Ladd (The Old Paths): "My favorite Christmas memory is my first Christmas as a father. Christmas took on a whole new meaning to me since then… my children's face and the excitement made me not care if I ever got another gift."
Tammy Burns (Troy Burns Family): "My favorite Christmas memory was 1974. My oldest brother got married right after Christmas and our whole family was together for the last time on this earth. It seemed like it was the happiest time we had ever had with family and friends. That next year my little brother, Tommy, went home to be with the Lord after battling cancer for 12 years. He was only 12. I will always cherish that Christmas."
Judy Nelon: "Rex and I had been dating a while. We spent a few days with his 98-year-old mom and his other family members in his hometown Asheville, N. C., during Christmas. It was the sweetest time. We exchanged gifts and it was interesting –  we gave each other exactly the same Christmas card, he bought his in Atlanta and I bought mine in Nashville. It said 'Only You.' We knew from the start we were a match. As he was driving me back to Nashville we stopped in Waffle House. He asked if I had expected a engagement ring for Christmas and I was honest and said. 'Yes, I did.' He said, 'Okay then, will you marry me?' He had plans for a ring but he couldn't wait. He was the funniest, sweetest and most unique man. I'll always love Rex Nelon."
Les Butler (Butler Music Group): "Christmas 1971, I was nine. My parents bought me an upright piano. Little did I know that instrument would play such an integral part in my life."
Riley Harrison Clark (Tribute Quartet): "Every year while growing up in Oklahoma, my family went to Silver Dollar City for Christmas. So many memories were made and even more funnel cakes were eaten. Going there is a Christmas tradition I will never forget."
Stephen Adair (Dixie Echoes): "One year my dad was in the hospital after a series of strokes during the Christmas season. He was still in the hospital on Christmas Day, so my mom and I packed up all of the gifts that were under the tree and took them to his hospital room. We had Christmas there complete with hot chocolate, the Macy's Christmas Day Parade, and the best hospital food we could find. We were together, and that's what made that Christmas so special."
Bob Sellers (Soloist): "When I was about 10 years old, my parents asked my sister and I to clean out our closets of any toys, clothing, etc. that we could live without (only good stuff), and we took it to this one room cinder block home where a family with about six or eight kids lived. My dad had cut them a load of firewood and we gave them that, plus all the stuff my sister and I had put together. I'll never forget the look on those kids' and their parent's faces. They were about our same age, and although we were far from wealthy, they looked at us and my parents like we were angels or something. I guess to them we were, at least that year. I'm thankful for godly, loving parents who instilled the true meaning of Christmas in me."
Nic Holland (Poet Voices): "Probably my last Christmas with my mom before she died, 2003. We knew she didn't have long to live and enjoyed every second of just being together. I have no memory of one single present I got that year but my time with Mom I'll never forget."
Duane Allen (Oak Ridge Boys): "My wife gave birth to Jamie, our baby girl, on Dec. 13. Early on Christmas morning, Norah Lee slipped out of bed, dressed Jamie up real pretty, put her in her little portable bed and placed her under the Christmas tree. Then, Norah Lee came back to the bedroom, woke me up and led me to the living room to see my Christmas present."
Scott Brand (Gold City): "I couldn't possibly narrow it down to one. Christmas is my favorite time of the year. When I was a kid, my grandparents, along with my great grandmother, would come spend four or five days with us around Christmas. The Brand tradition was to cook a ham in Coca Cola all night on Christmas Eve. I can still to this day smell that cooking through the house. Just family getting together and keeping traditions alive would be my Christmas memories as a kid."
Randa Jordan (Jordan Family Band): "I was eight years old, and money was something we never had much of. I knew that Daddy and Mama didn't have enough money to go out and buy me and my brother new toys, and yet somehow I was okay with that. I was a dreamer, and I enjoyed the most simple things that surrounded me. We lived in what seemed like to me the most wonderful apartment in downtown Rome. Two stories, hardwood floors, a screened in back porch, huge living room, and the front yard was next to the busy road where the town's bus and trolley would pass throughout the day. I loved that apartment so much. The staircase was huge to me and I loved dressing up and and walking up and down them like a princess out of a fairy tail book. The morning of Christmas, 1989, I wasn't sure what to expect, but my brother and I woke up, and at the direction of Daddy and Mama, we waited on the big staircase till they instructed us to come into the living room. Bubbling with joy and wearing my little white gown and house shoes, I walked into a living room that was covered in gifts. Clothes, toys, games everywhere. The couches and chairs were covered, items set up all across the floor and gifts under the tree. It was like a dream. Dad and Mom had went "yard sale-ing" and "goodwill-ing" and loaded up without spending much at all. That was one of the best days of my life."
Sarah Davison (HighRoad): "When I was a young girl we had a huge snowstorm come through – probably 13-14 inches of snow – and it was so heavy that we lost power for several days including Christmas Eve and Christmas day. I remember Dad firing up the wood stove and Mom making homemade soup on top of the wood stove. We played board games and got some old hymnals out and gathered around the piano. It was the most quiet, peaceful Christmas I can remember and by far my favorite one too."
Amber Nelon Kistler (The Nelons): "My favorite Christmas memory is sitting around the table playing games with my whole family and grandparents at their house. Then eating the dinner my grandmama cooked …twice a year… Thanksgiving and Christmas."
Compiled by Justin Gilmore
First published by SGNScoops Magazine in December 2018
Tags:
Arthur Rice
,
christmas
,
gospel music
,
Inspirations
,
Kingdom Heirs
,
legacy five
,
mark trammell quartet
,
Matt Fouch
,
Southern Gospel Music
,
The Oak Ridge Boys
Posted in
announcements
|
Comments Off

on A Southern Gospel Christmas: Christmas Memories from Your Favorite Artists
Written by Staff on November 21, 2019 – 6:33 am -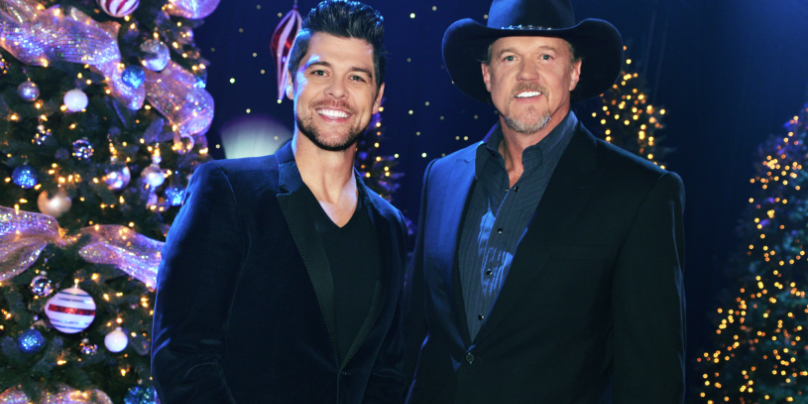 Trace Adkins Selects Jason Crabb As Special Guest for Performances during The Gift of Christmas with Trace Adkins and Friends Residency at Gaylord Opryland.
NASHVILLE, Tenn. (November 21, 2019) — Country superstar Trace Adkins has selected popular Christian music vocalist, Jason Crabb, as one of his special guests during The Gift of Christmas with Trace Adkins and Friends residency during Gaylord Opryland's A Country Christmas. Crabb will perform on select evenings as his schedule allows.
Throughout the evening, the 2-time GRAMMY winner will join Trace to entertain fans with Christmas standards, classics and favorite traditions as part of Gaylord Opryland's A Country Christmas.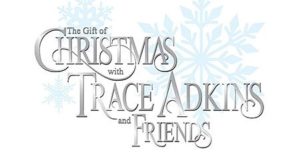 The Gift of Christmas with Trace Adkins and Friends will be held through November 24 at the Wildhorse Saloon and November 27 through Christmas Day in the Tennessee Ballroom of Gaylord Opryland in Nashville.
Tickets are on sale now at ChristmasAtGaylordOpryland.com.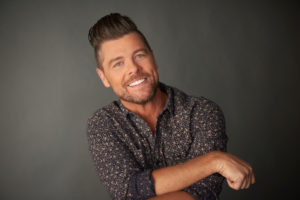 About Crabb joining the residency, Adkins says: "I could say many things about Jason Crabb, but I will keep it short. Jason Crabb is one of the best singers in the world. Nuff' said."
This is not the first time Adkins and Crabb have shared the stage. Previously, Crabb joined Adkins' Christmas tour and performed at Trace's Jammin' To Beat the Blues charity event as well as first meeting on the popular NBC show, Celebrity Apprentice.
Crabb states: "I am so excited to be joining my friend Trace Adkins for another Christmas season and super excited to be a small part of Gaylord Opryland's A Country Christmas. We're going to have a great time celebrating the birth of Jesus and I can't wait! See ya' there."
"I am honored to be a part of this longstanding tradition at Gaylord Opryland's A Country Christmas during such a special time of the year," said Trace Adkins. "The resort knows how to do Christmas, and I can't wait to be part of the tradition again. I'm really proud of the show we have prepared for this year and hope people walk away from it feeling the spirit of the season."
Adkins, a multiplatinum artist and Grand Ole Opry member, will bring his gift of song and unique baritone to fans for multiple shows throughout the holiday season, performing his hit songs and holiday favorites. Prior to Adkins' performance, concert-goers will enjoy a multi-course feast prepared by the resort's renowned chefs.
The dinner show is just one of many activities happening during A Country Christmas at Gaylord Opryland including ICE! which is back with a new theme, A CHRISTMAS STORY™; Rudolph the Red-Nosed Reindeer: The Musical at the Grand Ole Opry House; SoundWaves, the nation's first truly upscale water resort, which maintains a perfect 84-degree temperature all year long; an ice skating rink, ice tubing and more.
The following dates are when Jason Crabb will appear during The Gift of Christmas with Trace Adkins and Friends during A Country Christmas at Gaylord Opryland:
November 24, 2019
November 27, 2019
December 7, 2019
December 9, 2019
December 11, 2019
December 16, 2019
December 18, 2019
December 19, 2019
About Trace Adkins
Towering baritone Trace Adkins has sold more than 11 million albums and charted more than 20 singles in his 25 years in Nashville, a remarkable run for one of country music's most easily identifiable stars. With over one billion spins on Pandora (10 million per month), one million followers on Spotify and nearly 200 million plays on YouTube, the Louisiana native is back in the studio after releasing his 12th studio album, Something's Going On, on BBR Music Group/Wheelhouse Records in 2017. A three-time GRAMMY Award nominee, Adkins has won three Academy of Country Music Awards, including the 2009 Single of the Year Award for "You're Gonna Miss This" and Vocal Event of the Year with Blake Shelton for "Hillbilly Bone" in 2010. The Grand Ole Opry member is also an author and spokesman for the Wounded Warrior Project and The American Red Cross, for whom he raised more than $1.5 million dollars as winner of NBC's All-Star Celebrity Apprentice. In recent years, Adkins has performed for our service members across 12 USO Tours. In his 2007 autobiography, A Personal Stand: Observations and Opinions from a Freethinking Roughneck, Adkins recounted his rise to fame, brushes with death, and battles with personal demons. Adkins has also acted in multiple films and television shows, playing a tough-as-nails biker in "The Lincoln Lawyer" (starring Matthew McConaughey), a desperate father in "Deepwater Horizon" (starring Mark Wahlberg) and a wise oracle of a tattoo artist in the family friendly film "Moms' Night Out" (starring Patricia Heaton, Sean Astin, Sarah Drew). His most recent role was that of MercyMe's real-life manager, Brickell, in the box office smash "I Can Only Imagine." The film was the third biggest selling movie on its opening weekend in America. Adkins lends his talents hosting the INSP Network's Ultimate Cowboy Showdown, launching October 14. For tour dates and more information, visit Twitter, Facebook and Instagram @TraceAdkins.
About Jason Crabb
In his career, Kentucky-born Jason Crabb has been honored with 2 GRAMMY awards along with 22 GMA Dove Awards – being named the Gospel Music Association Dove Awards Artist and Male Vocalist of the Year along with Song of the Year – along with a host of industry honors and recognitions, with chart-topping hits that inspire the multitudes. Among his honors, he is the youngest member to be inducted into the Kentucky Music Hall of Fame, and his hometown of Beaver Dam, KY recognized him by naming a street as Jason Crabb Drive.
Crabb's electrifying stage presence, powerhouse vocals and magnetic personality have endeared him to millions across the world – through extensive personal appearances, media coverage, and social media including over 20 million views on YouTube.
Crabb's latest record, Unexpected, released on April 20, 2018, was honored with a GRAMMY® at the 61st Annual GRAMMY Awards® in February 2019 and was named by USA Today as one of 2018's best albums. The project was produced by Jay DeMarcus (Rascal Flatts) and features Gary LeVox (Rascal Flatts) and Kaya Jones, as well as a song written with disco icon, Gloria Gaynor.
About A Country Christmas
A Country Christmas at Gaylord Opryland Resort attracts more than 1 million visitors annually with its 3 million twinkling lights, acres of stunning decorations and exceptional entertainment. With each passing year, the shows and attractions dazzle guests include everything from a larger-than-life nativity display and Christmas dinner shows to ICE!—an astonishing display of colorful sculptures and slides hand carved from 2 million pounds of ice. The resort's nine acres of indoor gardens and waterfalls are transformed into a fanciful world of towering Christmas trees, oversized wreaths and ornate details that provide breathtaking views from every direction. A Country Christmas has been hailed as one of the "Ten Great Places to Catch up with Santa" by USA Today; "The Most Christmassy Hotel in the Nation" by the Travel Channel's "Extreme Christmas;" one of the top 10 places to spend Christmas in the world by Travel + Leisure; and a "Nashville treasure" by Southern Living.
Read more Gospel Music News in the latest SGNScoops Magazine Online HERE.
Tags:
christian country
,
christmas
,
christmas music
,
gospel music
,
Jason Crabb
,
Trace Adkins
Posted in
announcements
,
artists
|
Comments Off

on Trace Adkins Selects Jason Crabb As Special Guest for Christmas Residency at Gaylord Opryland
Written by SGN Scoops Staff on November 11, 2019 – 2:23 pm -
Nashville, TN  – Just in time for the Holiday Season, StowTown Records announces the digital release of a new Christmas recording from one of Christian music's most iconic voices, TaRanda Greene. Spirit of Christmas is reintroduced as a "Deluxe Version" featuring 5 new songs! This project marks the first of its kind from the 2019 GMA Dove Award winner for Inspirational Song of the Year. "Christmas is such a special time of the year and I am thrilled to have the opportunity to produce the deluxe version of this Christmas recording," TaRanda says with a big smile.
Spirit of Christmas Deluxe features several Christmas classics, including "Have Yourself A Merry Little Christmas," "Jingle Bells," "O Come, O Come Emmanuel" and "Silver Bells,"  just to name a few. Also included are show stoppers like "O Holy Night," "I Wonder As I Wander" and sure-to-become-classics like "Give Love On Christmas Day" and the title cut, "Spirit of Christmas." The remake of the Whitney Houston classic "Who Would Imagine A King?" is another welcome addition to this stellar recording.
"This recording is very special to me," TaRanda explains. "People always ask for classic Christmas songs, so that is what we wanted to do. With five of the songs having a three-piece band, we wanted to take the listener back to a time when life was much more simple; when kids popped popcorn, strung it around the Christmas tree, and the family snuggled around the fireplace and reflected on the true Reason for the Season, the birth of the Christ Child. This recording was so much fun to record, and I hope the listener enjoys the finished product as much as I enjoyed recording it."
For years, TaRanda has been inspiring listeners worldwide with her authenticity, energy and unmatched vocal ability. This latest recording effort will no doubt offer listeners even more inspiration. Spirit of Christmas Deluxe promises to offer much listening enjoyment throughout the 2019 Holiday Season and quite possibly for many years to come.
Spirit of Christmas Deluxe is distributed by Sony/Provident Distribution and is available worldwide on all digital music platforms.
TaRanda: Spirit of Christmas Deluxe Track List:
Still, Still, Still/O Holy Night
Give Love On Christmas Day
Cool Yule w/Up On The Housetop
Who Would Imagine A King?
Jesus, What A Wonderful Child w/I'm His Child
I Wonder As I Wander
That Spirit of Christmas
Auld Lang Syne
Have Yourself A Merry Little Christmas
It's Beginning To Look A Lot Like Christmas
Jingle Bells
O Come, O Come Emmanuel
Silver Bells
Tags:
christmas
,
Taranda Greene
Posted in
announcements
|
Comments Off

on Dove Award Winning Recording Artist, TaRanda Greene, Releases New Christmas Recording
Written by Staff on August 18, 2019 – 10:51 am -
Arden, North Carolina (August 16, 2019) — Horizon and Sonlite artists are sharing the true meaning of Christmas and celebrating the season by using their music ministries to tell the story of Christ's birth and inspire reverence toward His coming.
With this in mind, the Down East Boys, 11th Hour and Master's Voice are releasing Christmas albums on October 11. All are available for pre-order now.
Down East Boys, Comfort And Joy
The Down East Boys are sharing the nativity story on Comfort And Joy, their Christmas EP featuring classic songs, smooth harmonies and a high-energy medley. The voices of lead Ricky Carden, baritone Daryl Paschal, bass Zac Barham and tenor Doug Pittman set the tone for a season of rejoicing in Christ's birth.
Beginning with the title track, this collection reminds that Christmas is about celebrating Christ's birth and the joy and salvation it brought — and still brings us. The lyrics of "Comfort And Joy" say each year, Jesus makes the weary world rejoice, and we should praise Him.
"Glorious Impossible" follows, recounting the miraculous nativity story, telling us to open our hearts and souls to receive His love. The Down East Boys' rendition of the classic "Little Drummer Boy" is joyful in its message. With happy hearts, we can serve Jesus with whatever gifts we have, no matter how small they seem. The collection also features an upbeat, quartet version of "Children Go Where I Send Thee" and a Celtic feel to the old world tune "Wexford Carol."
Comfort And Joy closes with "Carol Of The Bells Medley," a festive, high-energy song that shows the Down East Boys' vocal talent. The voices come together to create a moving medley, that ends on the note, "Christmas is here!"
Pre-order 
Comfort And Joy 
HERE
.
11th Hour, The Greatest Gift
Capturing the wonder and awe of the Christmas season, 11th Hour's The Greatest Gift features familiar, upbeat and joyful songs that spread the news of Christ's birth.
Beginning with a festive, "Angels We Have Heard On High," this album immediately shows 11th Hour's vocal talent. With soprano Amber Eppinette taking lead, the song sets the tone of joyful anticipation and celebration during Christmas.
Alto Jaquita Lindsey sings lead on the somber "What Child Is This," sharing the Biblical story of Christmas and inspiring reverence toward the miraculous birth of Christ. On "Home For The Holidays," "Christmas Medley – Winter Wonderland, Sleigh Ride, White Christmas," and "Go Tell It On The Mountain," tenor Logan Smith's fresh lead vocals bring holiday cheer and excitement on these traditional Christmas songs. "Joy To The World" embraces the overwhelming happiness Earth felt when Christ was born, while "O Holy Night" is a moment of stillness for quiet worship.
The album closes with the title track, written by Allan Eppinette. It's a moving reminder that God sending Jesus to die for our sins and bring salvation will be the greatest gift we ever receive.
Filled with a blend of familiar Christmas songs and hymns, 11th Hour's The Greatest Gift provides a joyful soundtrack for the season that celebrates family and fun, but keeps the true meaning of Christmas.
Pre-order The Greatest Gift HERE.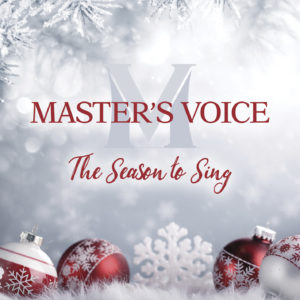 Master's Voice, The Season To Sing
Master's Voice brings a traditional quartet style to The Season To Sing, a Christmas album that tells the story of Christ's birth and the meaning it holds for all of our lives. With only a few traditional Christmas songs, Master's Voice captures the spirit of the season with new music about finding joy in life because of salvation.
The album begins with "The Season To Sing," an upbeat song about angels announcing the arrival of Christ, moving people to rejoice and celebrate this moment of joy.
"How Many Kings," "Reaching" and "Come Make A Place In Me" capture how amazing and once in a lifetime God and Jesus are, and how their love knows no bounds, filling the emptiness in our hearts whenever we need it. "Still Makes Me Sing," with an upbeat driving feel, details the endless happiness Christ's birth brought to Earth.
"From Bethlehem to Calvary" and "Beautiful Star of Bethlehem" share stories of Christ's birth and life on Earth. He brought light to those who needed it, and continually guides people through life to learn and grow through Him.
A few traditional songs, "Silent Night," "Go Tell It On The Mountain" and "I'll Be Home From Christmas" complete the collection, adding reverence and joy to the Christmas season.
With every song sharing the joy, awe and wonder of Christ's birth, The Season To Sing is a timeless, Southern Gospel Christmas collection from Master's Voice.
Pre-order The Season To Sing HERE.
About Down East Boys
For more than 30 years, the Down East Boys quartet has traveled from coast to coast, Canada and Mexico. Starting in eastern North Carolina the group chose the name from that region called Down East, but quickly expanded its ministry and has now recorded more than 20 projects and has had more than 40 songs reach the top of the Singing News charts. They had back-to-back #1 singles with "Beat Up Bible" and "Testimony Time," both from their most recent album, One Day In The Past. The Down East Boys features lead singer Ricky Carden, baritone singer Daryl Paschal, bass singer Zac Barham and tenor singer Doug Pittman, who each bring a richness to the group's music and have been noted by industry leaders and singers as some of the best. The Down East Boys have been afforded many great accolades to their credit. From performing with many evangelists through the Billy Graham Evangelistic Association, singing at Southern Baptist State Conventions and Evangelism conferences all over the country, to all the awards and nominations and the hit songs, nothing changes the goal of this group and that is to share the gospel of Jesus unto all the world.
About 11th Hour
Over the last ten years of traveling on the road, 11th Hour has seen God do some incredible things. With musical influences such as Karen Peck and New River, The Martins, Gold City, and The Kingsmen, 11th Hour has stayed fresh and relevant while maintaining a versatile sound, able to lead congregations in moving times of worship. After reaching high acclaim, in 2012, 11th Hour signed a recording contract with Crossroads Music. They've had five #1 songs on the Singing News chart and been nominated for numerous awards in Southern Gospel music such as Singing News Trio of the Year and AGM Album of the Year, while Amber Eppinette was nominated for Soprano of the Year. 11th Hour features Eppinette, alto singer Jaquita Lindsey and tenor singer Logan Smith.
About Master's Voice
Since 1995, Master's Voice has been committed to bringing an evangelistic approach to singing and preaching the life-changing gospel of Jesus Christ till all know…or He returns. This team is also devoted to musical excellence, understanding that this "music with a message" requires the utmost professionalism, preparation, commitment, clarity, doctrinal soundness and passionate vocals. The group features founder, owner and tenor singer Ricky Capps; lead singer T.J. Evans; baritone singer David Folenius; bass singer Jerry Pilgrim; musician Theron Perry; and sound technician Chuck Howe.
About Crossroads:
Crossroads is a market leader in the Southern Gospel, Bluegrass, and Americana fields. Established in 1993, following the combination of Horizon Music Group and Sonlite Records, Crossroads now operates several divisions including Crossroads Label Group (Horizon Records, Sonlite Records, Mountain Home Music, Skyland Records, Pisgah Ridge Records, Crossroads Records, and Organic Records), Crossroads Distribution, Crossroads Radio Promotions, Crossroads Publishing Group and Crossroads Recording Studios. Led by a strong executive team of Christian music and Bluegrass music veterans, Crossroads combines cutting-edge technology with creative innovation to connect fans with our artists' life-changing music.
For more Gospel music features read the latest SGNScoops Magazine HERE.
Download SGNScoops Magazine In PDF
Here
Listen To Todays Gospel Music
Here
Tags:
11th Hour
,
christmas
,
Down East Boys
,
gospel music
,
Masters Voice
,
Southern Gospel Music
Posted in
announcements
,
artists
|
Comments Off

on Get in the Christmas spirit with albums from the Down East Boys, 11th Hour and Master's Voice
Written by Staff on February 17, 2019 – 1:06 pm -
Jason Crabb and his wife, Shellye, were married 20 years ago. After two decades, they have grown a family, observed twenty Christmas Eves, developed a thriving career in Christian music, and celebrated many awards, including Grammy, Dove, and Diamond.
Jason, along with his brothers and sisters, still makes limited appearances as the Crabb Family, 22 years following their first appearance, and get together as a family as often as possible.
This artist knows that the best things in life are the things that last. Things like faith, love and family. And gatherings during one of the most holiest times of the Christian calendar.
"We really like to get together with family," says Jason about his Christmas traditions. "It's just family time. The perfect Christmas for me, would be to go back home to Kentucky and spend it with my family. To go to one of those little bitty Christmas plays that the kids do, in one of those little country churches that I grew up in. Watch Mary drop the baby Jesus doll in the manger scene. Those things you just never forget. You know, the main thing for me is Jesus and family during that time."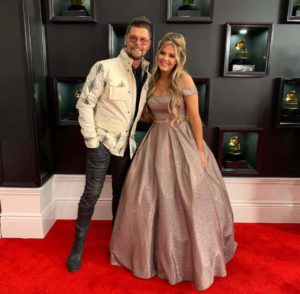 The Crabb family has been blessed with the ability to share their love for Jesus musically, and now Jason has started flexing his songwriting muscles on his latest award-winning release, "Unexpected." Not every song on this recording is one he has written, however.
"The best song always wins, doesn't matter if you wrote it or whoever else," Jason states. "But how can we get up and say 'this is me,' if we didn't have any part of the creation? I didn't think I had it in me to create it.
"So I've gotten wise," Jason grins. "I've got people around me to help me, you know, get with writers, to get with people that are a great help to put all the pieces together of what I want to say, to glue it all together, make a great piece of artwork. Instead of one holding the brush, there's three, and then the band comes along and there's numerous people.
Tags:
Christian Music
,
christmas
,
gospel music
,
Grammy award
,
Jason Crabb
,
Revival of Love
Posted in
Christian interest
,
sgn scoops magazine
|
Comments Off

on Jason Crabb: Praying for a Revival of Love
Written by Staff on December 25, 2018 – 2:36 pm -
Editor's Last Word for December 2018 SGNScoops Magazine – by Lorraine Walker
Merry Christmas! I love this season and the way people seem happier and more open to talking about spiritual things. Yes, I'm that person who wears the shirts and sweaters and socks with all things Christmas on them. People have said that I even have reindeer antlers on my car…but that, of course, is just a rumor.
Our cover artist, Jason Crabb, also loves Christmas, and I hope you enjoyed his feature this month. I had such a good time talking with him recently when he sang at my church. We are both equally intense people and I so enjoyed digging into his thoughts on various subjects. What a terrific communicator, both on and off stage.
We featured other artists of course that I have also enjoyed, like Les Beasley, who recently passed. We were unable to feature a tribute to Ernie Phillips as it was too close to press time, but I know of his contribution to gospel music and that he has many family, friends and fans that mourned his passing. I became a Kingsmen fan after Ernie's tenure, mainly because of knowing Parker Jonathan, who joined when Garry Sheppard was the group's tenor. Ernie, however, was an incredible talent and will be greatly missed.
I was also thinking of the passing of seasons when I read Rob's Publisher's Point. I hope you have read it and gleaned the knowledge that this season of your life is God's way of preparing you for the next. I want to add to that with another piece that I am trying to learn and develop in my own life.
One of the buzzwords lately seems to be "mindfulness." I know that can be used and misused in so many ways, and also taken to the extreme. I think some uses are not spiritually healthy for Christians. However, the literal meaning is great for all of us.
Mindfulness to me is living in the moment; not dwelling in the past or future, not thinking about what we should do or should have done. If we are being mindful or
paying attention to each day, each moment, of each season we are in, both spiritually and physically,  maybe we would be more relaxed as well as appreciating each other more.
Perhaps paying attention to each moment and more attention to those around us will make this season even more special. Maybe we will even notice others more, share more smiles, hold our loved ones closer, and be more aware of the special gift of Jesus this Christmas. God bless you this holy season!
Read the latest issue of the SGNScoops Magazine HERE.
Download SGNScoops Magazine PDF 
Here
Listen To Today's Gospel Music 
Here
Tags:
Christian Music
,
christmas
,
Ernie Phillips
,
gospel music
,
Jason Crabb
,
Lorraine Walker
,
Mindfulness
,
new year
,
SGNScoops Magazine
Posted in
Christian interest
,
sgn scoops magazine
|
Comments Off

on Lorraine Walker: Becoming mindfully aware of your world this Christmas and New Year
Written by Staff on December 24, 2018 – 2:23 pm -
Publisher's Point for December 2018 by Rob Patz
Greetings everyone and I want to wish you a very Merry Christmas! We are in the month of December here at SGNScoops Magazine and wow, where has the year gone? It has gone by way too fast.
I can't believe we're already talking about Christmas and New Year. Of course, as you get older, it goes by faster; or perhaps there is so much more going on in your life that it just seems that way. I don't know, I haven't figured that part out yet, but I want to wish you and yours a very Merry Christmas from all of us at SGNScoops magazine. We're excited about another year of growth and about the events that have taken place throughout 2018.
Speaking of seasons, we are in winter now and of course, the holidays, but life is a lot like that. We as Christians move through many different seasons in our life. So often we don't look at our experiences; we are always either looking back or looking forward. I want to challenge you today that whatever season you're in, wherever you're at right now in your life, that you take the time to enjoy that season.
If you are like a lot of people, when they go through a season that maybe you don't like –  like perhaps a winter season in your faith – that you have to believe that the future, and your spring, is just around the corner. Try to believe that whatever God is doing in your life, whatever is challenging you right now, that God will move you into the next phase of the next season. We're not here for forever. You may feel like this season has gone on far too long but you also need to realize that God is just getting ready for the next thing.
Think about this: The shepherds out in the field that saw the star and then saw the angel who said that the Savior was born in a manger.
Now, think about their life. They were sheep-herders, they lived that life, they were out in the field; they probably didn't think anything about the next season of their life, or about what was ahead for them.
They didn't realize at that moment that up to this point – I mean think about how cool this was – their life as shepherds led to this point.
They didn't realize that they were going to go and see the King, that they were going to see the Savior, the King of the Jews.
It is incredible how their lives were prepared. It was like they were in a training for this day. They weren't at the point of fulfilling what they were going to do but they were in a training moment.
Then a star comes, the angel appears, they are told that the Savior was born and that they have to see the King! Their lives change at that moment. You can read the whole story about what happens to the shepherds but their lives change at that moment forever. If they hadn't been prepared as shepherds prior to this point, they wouldn't have there that night, or been able to go to the stable.
I want you challenge you today to think about your life. Right now, this season. It may be a winter season in your spiritual life, or in your physical life, but I want to challenge you today that this moment is preparing you for what the future holds for you. Like the shepherds, I want you to be prepared for the next season, which could come at any moment. I want you to be ready.
A new year is coming for you, a new season is coming. After all, we already are thinking about spring, we're getting ready for it, preparing for it. I know I am. It's cold right now and I'm excited about what's to come. I'm excited about that next season.
We need to be excited, prepared, seeking and doing what God has for each of us in this season of life. One moment completely changed the lives and focus of the shepherds. It can happen just that quickly for you.
Hey, I want to invite you to come and be a part of Southern Gospel Weekend in Oxford, Alabama, on March 21 – 23, 2019. Three great days of gospel music in Alabama. We want you to be there.
Also, make plans to be a part of Creekside 2019, Oct. 27 – 31, for four great days of gospel music in Pigeon Forge, Tenn.. We are going to have a blast and we want you to be there. Email me for details about either of these events, or how the Lord is changing your life, at rob@sgnscoops.com.
Read the latest issue of the SGNScoops Magazine HERE.
Download SGNScoops Magazine PDF 
Here
Listen To Today's Gospel Music 
Here
Tags:
challenges
,
Christian life
,
Christian Music
,
christmas
,
gospel music
,
rob patz
,
season
,
sgnscoops
Posted in
Christian interest
,
sgn scoops magazine
|
Comments Off

on Merry Christmas from Rob Patz: Is this season of your life preparing you for the next?
Written by Staff on December 13, 2018 – 1:03 pm -
If the calendar says "December" and David Phelps is ready to sing, it can only mean one thing: It Must Be Christmas!
Phelps, the powerful tenor who is one of gospel music's most recognizable voices, has been bringing the message of hope through Jesus Christ across the country in his annual "It Must Be Christmas" tour.
We caught up with David after he performed to an enthusiastic crowd at Shelby Christian Church in Shelbyville, Ky. It had been a night of dynamic worship, fun and a challenge to help others.
"It has been great," Phelps said of his 20th Christmas tour. "We have just been blown away."
And if the night in Shelbyville was indicative, that reaction goes both ways. The energy flowing from Phelps and his backup band of six musicians and
two vocalists — Phelps' daughters, Callie, and Maggie Beth — charged a crowd of about 1,000 slightly more than two weeks before Christmas Day.
The tour is sponsored by the KORE Foundation, which promotes the work it does in Haiti, helping farmers become self-sufficient in the poultry business. Midway through the program, Phelps paused so that concert-goers could see a
video of the foundation's work and be challenged to contribute.
It's about giving for the One who gave his life. And Phelps makes sure the concert focuses on the season that celebrates God becoming man.
"We drop our non-seasonal music and just do completely Christmas for the month of December," Phelps says. "It's a lot of fun."
Early in the concert, he sang the theme song of the tour, "It Must Be Christmas" and soon after covered Jackie DeShannon's big 60s hit, "What the World Needs Now is Love, Sweet Love." Phelps tied the message of the pop song to loving Christ and loving others.
He says the message reaches people who are searching and he says it's not uncommon for an attendee to share how the concert has affected him. "We are always humbled and honored when that happens that our music can reach someone on such a personal level," he says. "It's always just amazing. We hope that we are honorable vessels to deliver the message of hope that is in the songs."
Phelps says the Christmas season presents an opportunity to share the message of Christ through song. "Definitely. It's a great time to come together and celebrate renewal," he says. "It's the end of the year and it's starting over again and that's what Jesus represents too on many levels. I think it's a great time of the year for everybody, no matter where they are. They may have not stepped in a church all year long, but they love to come together to listen to Christmas music and to celebrate."
Phelps became a household name in Christian music during his 15 years as a member of the Gaither Vocal Band. He's coming up on two years of touring strictly as a soloist and says 2018 has been a blessing.
"To this point, it's been very, very busy, but we're good," he laughed.
Phelps says his decision to leave the Gaither Vocal Band has presented an opportunity to expand his creativity. "For Bill, it was a job. I would do what he asked me to do. If he wanted me to sing a certain line, I would do that," Phelps explains, "and that was wonderful! I enjoyed it and stayed there for a long time. He is a great mentor to me.
"But out here, we get to express ourselves a little more as a soloist."
Phelps closed his concert with what might be his signature song, "Oh, Holy Night" and a rousing version of "Feliz Navidad."
But even though the It Must Be Christmas Tour continues through Dec. 21, Phelps says 2019 promises to be another big year. "We have a new video coming out just before Easter. It's called The Hymnal Project," he says. "We have been working on that and we will be
touring nationally and internationally. We will be recording, too."
And come December, 2019, David Phelps will be traveling the country to celebrate Christ's birth once again.
By John Herndon
John Herndon writes regularly for SGNScoops Magazine, and has his own blog here as well.
Tags:
bill gaither
,
Christian Music
,
christmas
,
christmas music
,
david phelps
,
Gaither Vocal Band
,
gospel music
,
John Herndon
,
SGNScoops Magazine
Posted in
artists
,
sgn scoops magazine
|
Comments Off

on It Must Be Christmas when David Phelps sings in December
Written by Staff on December 12, 2018 – 11:05 am -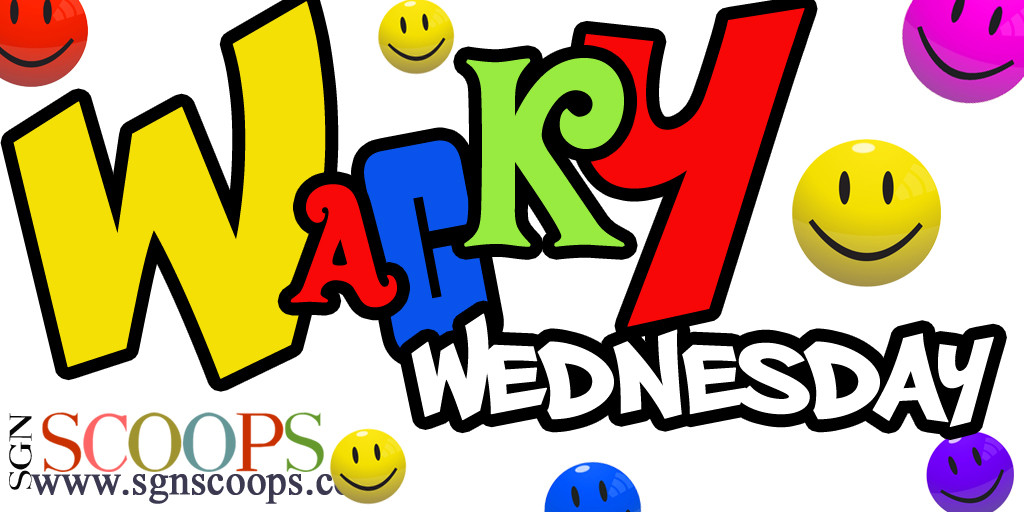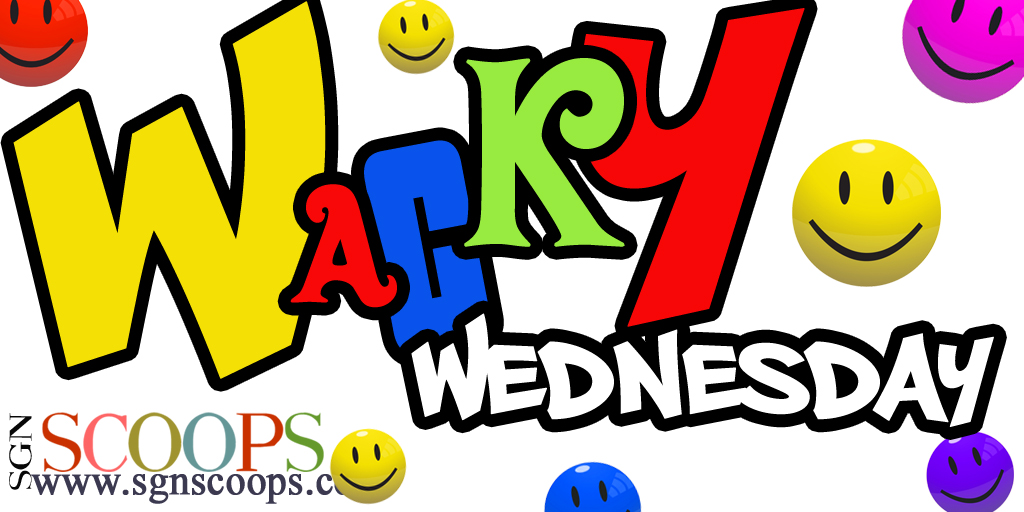 It's Christmastime here on SGNScoops and we have a brand new Christmas edition of Wacky Wednesday just for you. This time, our question was: What is your favorite Christmas song and why? Let's shake our Gospel music snowglobe and see what answers the artists have for us.
Thanks again to our special Social Media girl, Jantina de Haan, for securing these responses for us. We hope you enjoy it. Merry Christmas!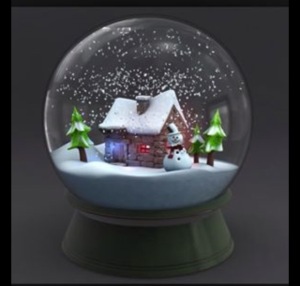 Mark Byrd: "Mary Did You Know." I love the way this song has such a sweet flow but tells a story of a mighty King and Savior.
Eric Bennett: "Hope Has Hands" © Phill Cross; I love the way he describes baby Jesus. Hope has Hands, Freedom has Feet; Truth will stand, The Word will speak. The Holy and Lovely will finally embrace. For Love has a Heartbeat and Grace has a Face…"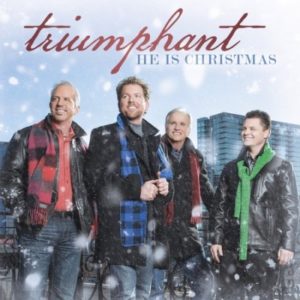 Adam Crabb: "O Holy Night," because it talks about the birth of our Savior and to me, this song is the true spirit of Christmas.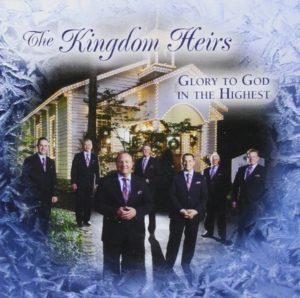 Jaquita Lindsey: "Do You Hear What I Hear." I remember trying to learn it on the piano, which I never learned to play the piano 🙂 I don't have a particular reason for liking it. Just because.
Greg Sullivan: "There's a New Kid In Town." I like this song because not many people in Bethlehem knew that Jesus had been born and it focuses on how God became man in form of a child. This child would be the Savior of the world.
Randa Jordan: "White Christmas." I loved the movie as a little girl, loved Bing Crosby, and it stayed with me all these years. It brings to me the happiest of memories.
Arthur Rice: "I'll Be Home For Christmas." The song came out in 1943 during WW2 and it was written from a soldier's perspective of wanting to be home
with their families for Christmas, even though the last line reveals it wouldn't be a reality.
The song always reminds me of the reality that so many of our men and women won't be home for Christmas. And how appreciative we should be for the sacrifice of them and their families, and we pray for their safe and speedy
return home.
Mark Bishop: Wow.. that's a tough one. It's hard to narrow it down to one song. For the simplicity of the beautiful message and the melody, it's hard to beat "Silent Night." It exemplifies what we should be focusing on at Christmas time, over shopping and gifts. It always makes me a little melancholy, too. Likewise, with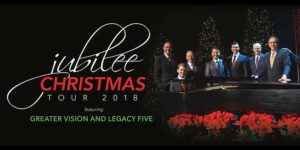 "Oh Holy Night." My sleeper choice would have to be "The Little Drummer Boy." I love the story that it tells and that we don't need to bring great gifts to Jesus like the three wise men, we only need to give Him the talents that He gave us. But the greatest Christmas gift of all is to give back to God what He gave us, to begin with.
Matt Fouch: I have a funny one…'You're a Mean One, Mr. Grinch." I love the original cut on this song and it fits the bass range just perfectly. People always smile when they hear you sing it, It's a lot of fun.
Autumn Clark: "The Christmas song." Because it is so beautiful and the story it tells.
Scott Peek (DJ of KNMG Radio): "We Are The Reason." The message can be no clearer. He came to earth as a baby for us. All 33 years of His life were about us His willingness to die on the cross was about us. And it all started that first Christmas morning…"WE ARE THE REASON!"
Harley Madden: "I'll Be Home For Christmas," I think maybe my favorite song for Christmas. And the reason I say that is, back in 1985 my sister passed, and I miss her everyday. But now I think about it, she made my mom a promise for Christmas that year. And that was: She would be home for Christmas. Even though we may not have got our wish for her to be at her earthly home for Christmas, she was made new in her Heavenly home. Sitting at the feet of Jesus. I can't wait to get to Heaven, to be able to see her again and give her a big hug.

A Wacky Wednesday Merry Christmas from SGNScoops
Tags:
Adam Crabb
,
Arthur Rice
,
Christian Music
,
christmas
,
christmas music
,
Eric Bennett
,
gospel music
,
Greater Vision
,
Greg Sullivan
,
Harley Madden
,
Jaquita Lindsey
,
Jordan family band
,
Kingdom Heirs
,
legacy five
,
Mark Bishop
,
Mark Byrd
,
Matt Fouch
,
nelons
,
Scott Peek
,
Triumphant
,
Wacky Wednesday
Posted in
artists
,
SGNScoops Wacky Wednesday
|
Comments Off

on Christmas Wacky Wednesday from SGNScoops