Written by Staff on August 6, 2020 – 9:41 am -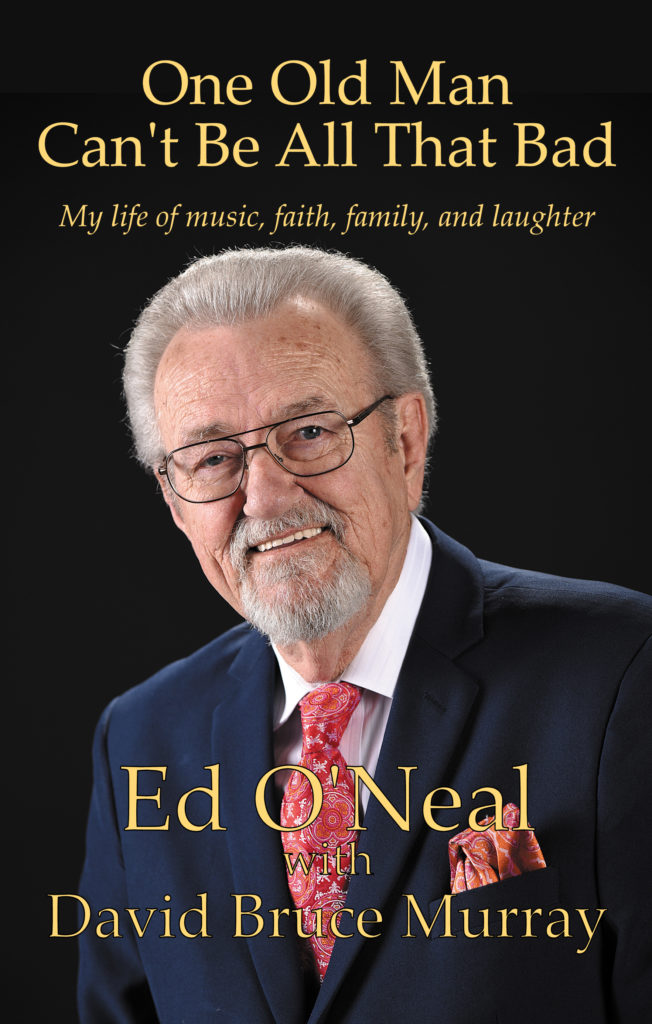 One Old Man Can't Be All That Bad: Legendary Southern Gospel Music Association Hall of Fame Member, Ed O'Neal, Releases Memoir
Kinston, NC – Many talented vocalists and musicians step onto concert stages across the country year after year; however, only the faithful and dedicated overcome the pressures of life on the road. Ed O'Neal, whose name has been synonymous with Gospel Music for 60 years, can certainly be labeled as one of the faithful and dedicated.
O'Neal joined The Dixie Melody Boys in early 1960s and became owner and manager of the quartet a few years later. Over the years, O'Neal and The Dixie Melody Boys, have enjoyed tremendous success. In 2000, O'Neal was named recipient of the Marvin Norcross Award, the highest honor presented at The Singing News Fan Awards Ceremony each year. Additionally, in 2004 he was inducted into the Southern Gospel Music Association Hall of Fame.
While success has abounded, adversities have also been encountered. In fact, over the past six decades O'Neal has seen over 90 personnel changes. "That has to be a record in this business," he says with a chuckle. Yet with all the changes, the Dixie Melody Boys and Ed O'Neal have stood the test of time. O'Neal, with the assistance of writer David Bruce Murray, chronicles those ups and downs in a new memoir, One Old Man Can't Be All That Bad.
Within the pages of One Old Man Can't Be All That Bad, O'Neal shares stories from his youth, growing up in Raleigh, NC, as well as how he met the love of his life, Mama Joy, as she was affectionately known to the many alumni of Ed O'Neal University – the group of men who at one time were members of The Dixie Melody Boys. The 84-year old also shares all about the trendsetting DMB Band, who made waves in the mid-80s with their progressive musical stylings, as well as his various business ventures, and the many hijinks he has experienced with the cast of characters he has traveled with during his career.
Murray, O'Neal's co-author, is the owner of the industry websites 
SGHistory.com
 and 
MusicScribe.com
 and has been writing about Southern Gospel music in various forms for more than 25 years. "I had a blast helping Ed put his amazing life story into book form," Murray states. "As we were working together, we laughed a lot and also shed a few tears as I am sure many of the readers will as they read about Ed's life filled with music, faith, family and laughter. No one can tell a story quite like Ed O'Neal."
Ed O'Neal's love for his family, the people he has met through Gospel music, his desire to always present quality music, united with his desire to never compromise his responsibility to spread the Gospel are most evident within the pages of this historical account. This biography conveys the story of a man who has enjoyed blessing after blessing, while remaining dedicated and faithful to his music, his family and his Father.
Did you know that you can receive the printed, full-color version of SGNScoops Magazine by subscription? Find out more 
HERE
.
Find SGNScoops Magazine On Facebook 
HERE.
You can download the latest edition of SGNScoops Magazine 
HERE.
Read the latest edition of SGNScoops Magazine online
HERE
.
Listen To Today's Gospel Music
HERE
Tags:
Dixie Melody Boys
,
Ed O'Neal
,
gospel music
,
hall of fame
,
Southern Gospel Music
Posted in
announcements
,
artists
|
Comments Off

on SOUTHERN GOSPEL MUSIC ASSOCIATION HALL OF FAME MEMBER, ED O'NEAL RELEASES MEMOIR
Written by Staff on May 9, 2018 – 8:42 am -
Last evening, May 9, 2018, Karen Peck Gooch of Karen Peck and New River was inducted into the Gospel Music Association Hall of Fame, during a star-studded ceremony. The evening was also a fund raiser for the Hall of Fame.
Karen Peck Gooch has been singing gospel music for 30 years, received many nominations and awards, traveled around the world with her music, and yet still retains humility and a sweet spirit that draws just as many fans as her beautiful voice.
Karen wrote this on her Facebook page following the ceremony. "Tonight was a highlight of my career. Special thanks to Ed Leonard for presenting me with the GMA Induction. Special thanks to The Isaacs and Jason Crabb for singing for me. (They were incredible!) Special thanks to Jackie Patillo and the GMA for being a friend to all of us! It was awesome having Rickey Gooch, Matthew Gooch, Kari Gooch, Susan Peck Jackson, David Jackson, Sue Peck Music, Bill Music, Kelly Nelon Clark, Grant Gibson sitting at my table. Peggy G. Fauscett, Pamela Cooper Unthank, Harper Agency, Daywind Music, NQC, and so many fellow artists were there to support me and I will never forget it! I love every one of you! Thanks to Chip Woods for the amazing pictures and Megan Clark for doing our makeup!
"I am so thankful to the Lord for allowing me to live my dream. 38 years ago I started singing professionally. I will forever be grateful to Alphus LeFevre and Rex Nelon for their incredible leadership and for their love for the Lord and this great music. I pray that the Lord will give me many more years of service to Him! Our best days are ahead! ❤️"
Follow Karen Peck Gooch on her Facebook page Here.
READ The latest PDF Version Of SGNScoops Magazine here.
Download The latest PDF Version Of SGNScoops Magazine HERE
Find SGNScoops Magazine On Facebook HERE
Listen Online To The Best In Todays Gospel Music HERE
Tags:
Ed Leonard
,
gospel music
,
Gospel Music Hall of Fame
,
hall of fame
,
Karen Peck
,
karen peck and new river
Posted in
announcements
,
artists
|
Comments Off

on Karen Peck Gooch inducted into the Gospel Music Association Hall of Fame
Written by Staff on June 22, 2017 – 7:33 am -
Special Showcase to be held on Tuesday during NQC 2017
Pigeon Forge, TN (June 19, 2017) – Excitement continues to build for the 60th Anniversary of NQC – Gospel music's largest annual event. The NQC and SGMA have announced a new partnership to present the inaugural SGMA Hall of Fame Induction Ceremony and Benefit Concert to be held on
Tuesday, September 26, 2017
during the afternoon at the LeConte Convention Center in Pigeon Forge, TN.
The program will honor the 2017 Hall of Fame class of inductees – Troy Burns, LaBreeska, Hemphill, Randy Shelnut, and Tony Greene – and will also feature special performances by the Jim Brady Trio, the Hoppers, the Kingdom Heirs, Karen Peck & New River, the Second Half Quartet, the Guardians, Triumphant, the Whisnants, and Tribute. Serving as master of ceremonies will be SGMA Hall of Fame member, Dr. Jerry Goff.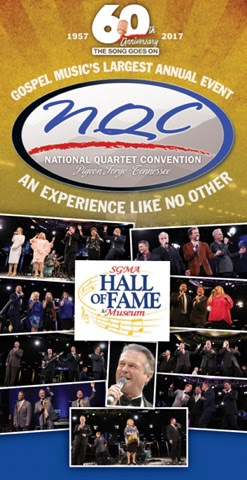 The event will serve as a benefit for the SGMA Hall of Fame and Museum, which is located at the main entrance of Dollywood. The Hall of Fame and Museum features many important pieces of memorabilia and historic artifacts of Southern Gospel Music history.
"We are so grateful to the NQC Board of Directors for partnering with us to help keep the vision of the SGMA alive," states Arthur Rice, SGMA President. "This special event will be our biggest fundraiser of the year. Many of the legends who have been inducted into the Hall of Fame will be present to participate in the concert. Having all these artists in one place, at one time, onstage… will be one of the highlights of the convention."
Admission for this event is $20.00, the same price as all of the other NQC Showcase Spectaculars, and can be purchased at www.nqconline.com or on site at NQC. The event will be from 1:00 p.m. – 3:00 p.m. on Tuesday, September 26, 2017, at the LeConte Convention Center in Pigeon Forge.
Information about all the daytime and evening activities at the NQC can also be found at www.nqconline.com.
The addition of this program is just one more reason why the 60th Anniversary NQC will be an event you just can't miss!
Connect with NQC:
www.NQConline.com
www.Facebook.com/NQConline
www.Twitter.com/NQConline
Connect with SGMA here.
Tags:
Arthur Rice
,
hall of fame
,
nqc
,
sgma
Posted in
announcements
,
artists
|
Comments Off

on NQC AND SGMA PARTNER FOR INAUGURAL SGMA HALL OF FAME INDUCTION AND BENEFIT CONCERT
Written by Staff on August 20, 2014 – 2:55 pm -
SGN Scoops writer and Gaither homecoming favorite, Lou Wills Hildreth, is currently recovering at home following ankle surgery. Lou is under the care of her husband Howard, their son Dr. David Hildreth and daughter Kathryn Mumaw.
Lou is well known in Southern Gospel and is recognized as a member of both the GMA and Southern Gospel Music Association's Halls of Fame.
Please join us in praying for Lou's healing. She would love to hear from all who are praying for her. Please write to Lou at PO Box 271106,  Houston TX 77277. Email can be sent to gosplvideo@aol.com.
We look forward to welcoming Lou back to Creekside Gospel Music Convention in November for her "Lou Hildreth Honors." We trust that all of her friends will join her for that event. For more information, visit http://www.creeksidegospelmusicconvention.com/
Tags:
gma
,
hall of fame
,
Houston Texas
,
Lou Hildreth
,
sgn scoops
,
southern gospel
Posted in
announcements
,
artists
|
Comments Off

on Lou Hildreth Recovering From Surgery
Written by Staff on August 19, 2014 – 10:38 am -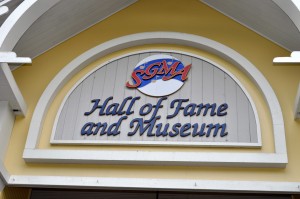 By Marcie Gray Imagine walking down a hallway filled with familiar faces and voices, some of whom you have listened to since you were a small child, some whom you have met, and perhaps, a few you may be privileged to call friends or family! Just inside the gates of The Dollywood Theme Park in Pigeon Forge, Tennessee lies a journey through the history of Southern Gospel music, just waiting to be explored.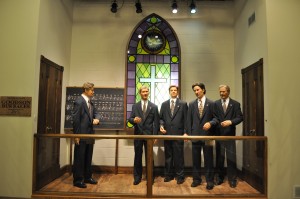 Established in 1994, and opening its Hall of Fame and Museum doors in 1999, the Southern Gospel Music Association (SGMA) is a professional preservation association of artists, songwriters, industry workers and fans, founded to preserve, protect and promote Southern Gospel Music, its history and heritage. The artists within have dedicated their ministries to delivering a message built around biblical truths and spiritual values, and what a legacy they have left and are still leaving! It's like homecoming week every time I walk through the SGMA Hall of Fame. As I enter the doorway, the first thing that catches my eye is a shaped note typewriter, surrounded by various song books and a chalk board with a music staff on it. Originally, Southern Gospel music was sung by quartets, many who used songbooks with notes identified by their shape.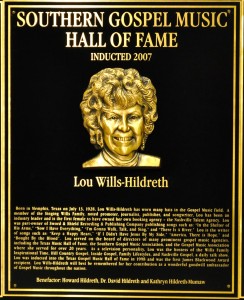 The tour continues as I sit in a church pew and listen to an animatronic quartet singing "Give the World a Smile." There is literally something to look at in every corner as I wander through the museum. A collection of vinyl records, a replica of The Blackwood Brothers' bus, instruments and clothing from legendary artists and collectibles, each having a story of their own to tell, are displayed throughout the museum. The centerpiece of the museum is the Hall of Fame, where bronzed plaques of legendary faces line the corridor. One hundred and fifty-five faces grace the walls of the corridor. Each individual who is inducted is honored with a plaque that bears their picture and a list of achievements in the Southern Gospel industry. Danny Jones, Editor of The Singing News and Executive Director of the SGMA shares, "The Southern Gospel Music Hall of Fame is the home to more than 3,000 Southern Gospel artifacts, not to mention a place where 155 members of the Southern Gospel community are honored. Earlier this year, as we were getting the museum ready for Dollywood's opening day, I cleaned all 155 of those 40-pound bronze plaques that hang in the Hall of Fame. It was impossible not to re-read what each plaque said and truthfully, the memories of many of those special people came flooding back to me. It almost like I could talk to George, Glen, Jake, Rex, Brock, J.G. Anthony, Roger, J.D. —and more—again. Suddenly they didn't feel so far away now that they've gone on to their eternal reward.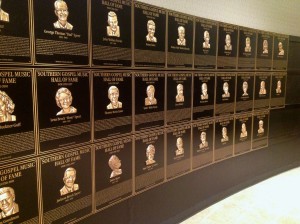 "As I cleaned each plaque I was reminded of how each of those men and women are on the Hall of Fame roster shaped this thing called Southern Gospel Music. Long-time fans need to come to the Hall of Fame and just relive those days. New fans need to come to the Hall of Fame and learn about those made Southern Gospel Music what it is today. It's more than a roomful of plaques–it's a roomful of incredible memories." One of our own SGN Scoops contributors and one of those who have helped shape Southern Gospel Music, Lou Wills Hildreth, was inducted into the SGMA Hall of Fame in 2007.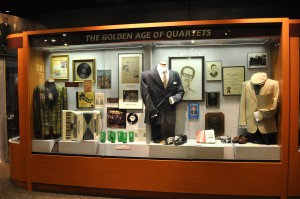 In early February of this year, SGMA President Arthur Rice was minding his own business in Florida, preparing to board a cruise ship with The Kingdom Heirs when his cell phone rang. On the other end one of Dollywood's fine maintenance men was calling to let Arthur know that a water pipe had burst inside the Hall of Fame and was spewing water throughout the building. Though the water flow was stemmed before any harm could be done to any of the artifacts housed there, substantial facility damage requiring significant repair work was experienced. In the ensuing days, the Dollywood maintenance and construction teams worked diligently to return the Hall of Fame and Museum to its "pre-flood" condition in time for the 2014 opening day festivities.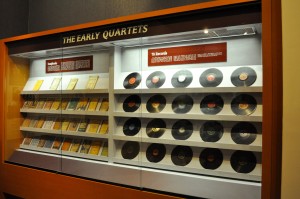 We recently talked to Travis Bridgeman of the Advisory Board of the SGMA Hall of Fame and Museum. "In September 2013, I was elected to the Advisory Board," says Travis Bridgeman. "I had the privilege to walk on the red carpet during SGMA Day at Dollywood for the 2013 Hall of Fame Induction. I am an administrator for the SGMA Facebook and Twitter pages. I post news and facts about the Hall of Fame, as well as recognize the birthdays and anniversaries of the deaths of Hall of Fame members. As a member of the advisory board, I also make recommendations to the executive board to help them with policy and promotion." Bridgeman continues, "Our theme for this year is Raising the Awareness, which is our campaign to make Southern Gospel music fans and artists aware of the contributions of the Hall of Fame members and how they can keep their memory and our music alive. The SGMA operates the Hall of Fame and Museum from the support of its membership. It is important to join the SGMA to help us preserve the heritage of Southern Gospel music for the generations that have no first-hand knowledge of the pioneers of our music. Each month, over 30,000 people visit Dollywood and have an opportunity to walk inside the only brick-and-mortar museum paying tribute to our legacy and the genre of Southern Gospel music. It is the living link to our past, and stands as an example of the excellence we should strive for today."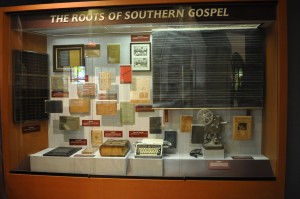 The SGMA Hall of Fame and Museum welcomes more than one million visitors annually to read and observe displays and memorabilia from a century of gospel music. Thousands of items from some of the greatest singers, writers and musicians are displayed. The facility includes a gift shop, which carries one of the country's largest Southern gospel music selections. The SGMA also specializes in vintage and difficult-to-find Southern gospel music products. The SGMA current membership ranks in the thousands with members from almost every state and several foreign countries. Members come from all walks of life joined by a love for the music, an appreciation for the positive, uplifting lyrics and the music's central message of salvation through Jesus Christ. The artists in this industry have traveled thousands of miles, often through adverse conditions, to entertain, minister and create a musical genre for which the SGMA is committed to preserving. In 2014, inductions will be conducted during the week of the National Quartet Convention in Pigeon Forge, Tennessee. Some of the inductions will take place during the nightly NQC programming while other inductions will take place during the Singing News Fan Awards. These inductions are included at no extra cost in your NQC admission.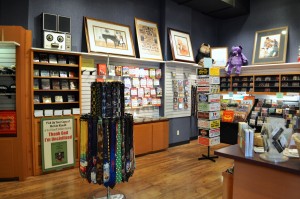 If you have not yet visited the SGMA Hall of Fame and Museum, a wonderful time to do so would be during Dollywood's National Southern Gospel And Harvest Celebration, which takes place from September 22, 2014 through November 1, 2014. During those six weeks of wonderful Southern Gospel music, there are opportunities to see your favorite artists in concert, all included in the price of your Dollywood ticket! Visit http://www.dollywood.com/themepark/entertainment/Harvest-Celebration-Gospel-Performers.aspx to view the schedule of artist appearances.
You can be an important part of helping the SGMA Hall of Fame and Museum to preserve the rich heritage of Southern Gospel music we all love. Visit http://sgma.org/ to find out how you can join the SGMA family. Annual membership is $20, and a lifetime membership can be received for a gift of $1,000. You can also contact the SGMA at (865) 908-4040. From all of us whose hearts are touched by Southern Gospel music and the history that has shaped it into what it is today, we want to say "Thank you" to the SGMA Hall of Fame and Museum Directors and staff. Thanks to your efforts, the legacy of those who came before us will be remembered for generations to come. Photographs and Written by Marcie Gray First Published July 2014 in SGN Scoops digital magazine. For the current issue of SGN Scoops, visit the SGN Scoops website at https://www.sgnscoops.com/
Tags:
Arthur Rice
,
Danny Jones
,
Dollywood
,
hall of fame
,
Marcie Gray
,
Pigeon Forge
,
Southern Gospel Music Association
,
Tennessee
,
Travis Bridgeman
Posted in
christian entertainment
,
sgn scoops magazine
|
Comments Off

on Southern Gospel Music Association's Hall Of Fame
Written by SGN Scoops Staff on January 8, 2011 – 6:33 pm -
On January 1st, the Dixie Melody Boys were notified that they have been included in the 2011 class of inductees for the
Christian Music Hall Of Fame. This years list of inductees include Watne Watson, Take 6, Nicole C. Mullen, DeGarmo and Key, Jeoffrey Beward and Susie Luchsinger as well the Dixie Melody Boys. The Christian Music Hall Of Fame honors artists from all genres of Christian Music. The induction ceremony will be held on November 5th. More details will announced at a later date.
The Dixie Melody Boys, one of the legendary names in Southern Gospel Music, are celebrating their 50th Anniversary in 2011. "I am more excited about the future of the group than I have been in many years. With so many special events and projects planned for this year, 2011 will be a great year for the Dixie Melody Boys." said Ed O'Neal, owner and Hall of Fame bass singer. The Dixie Melody Boys can be seen weekly on their nationally syndicated television show, Great American Gospel. The Dixie Melody Boys are represented by the Haper Agency. For more information, go to
www.dixiemelodyboys.com
Tags:
Ed O'Neal
,
Great American Gospel
,
hall of fame
Posted in
announcements
,
awards
,
Christian interest
|
Comments Off

on Dixie melody Boys Inducted Into Hall Of Fame
Written by Scoops Staff on March 20, 2010 – 11:33 am -
5-time Grammy winner Larnelle Harris has been named as one of the newest inductees to the Kentucky Music Hall of Fame. Harris joins fellow Kentucky artists and musicians Keith Whitley, Patty Loveless, Steve Wariner, John Michael Montgomery, The Goins Brothers, and Molly O'Day to be officially inducted next year during a ceremony in Lexington, Kentucky on April 7, 2011.
This latest honor marks Harris' third Hall of Fame induction, having joined the Gospel Music Hall of Fame as well as the Amateur Radio Hall of Fame. Harris is the only person in history to be a member of all three organizations.
"I am extremely humbled by this," says Harris. "I am a proud Kentuckian and this honor means a great deal to me and my family."
In a career that spans three decades, Harris has garnered numerous accolades for his music including five Grammy Awards, eleven Dove Awards (gospel music's Grammy equivalent) which include three Male Vocalist of the Year honors, and a Stellar Award, among numerous other music awards. He has garnered nineteen #1 radio singles and countless top 10 hits. Songs such as "How Excellent Is Thy Name," "I Miss My Time With You," "I've Just Seen Jesus," plus many others, including his signature song, "Amen," are now considered modern gospel classics.
Harris' accomplishments represent some significant moments in music history. Harris was the first gospel artist to perform inside the Kremlin after the fall of the Soviet Union.  He is one of a handful of celebrities to receive the Ad Council's Silver Bell Award for Distinguished Public Service in recognition of his song "Mighty Spirit" as the theme song for the longest-running Public Service Announcement in television history.
In a few weeks, Harris will perform for the U.S. troops during Easter services at the Fort Lee army base in Virginia. Harris has been a favorite performer for the U.S. Armed Forces for many years, having performed at the 38th Parallel in Korea as well as many other army bases throughout the world.

Harris is a lifelong Kentucky resident. He was born in Danville and later made his home in Louisville where he still resides with his wife, Cynthia (Mitzy), to whom Harris has been married for over 38 years. The couple has two grown children and three grandchildren. Harris has been given Honorary Doctorate degrees in music from both his alma mater, Western Kentucky University as well as Campbellsville University in Campbellsville, Kentucky.
Harris continues to perform concerts in the U.S. and abroad, and this year, has teamed up with Steve Green for the "Teach Me to Love" tour.  For further information, visit: www.Larnelle.com. Tickets are on sale now at the Hall of Fame. For more information about the Kentucky Music Hall of Fame & Museum call 1-877-356-3263 or visit www.KYMusicHallofFame.com.
Tags:
artists
,
hall of fame
,
larnelle harris
Posted in
artists
|
Comments Off

on Five-time Grammy Winner Larnelle Harris Marks Another Career Milestone
Written by Scoops Staff on February 19, 2010 – 1:01 pm -
CHURCH HILL, Tenn. – Popular trio Brothers Forever has been nominated for their first Christian Music Hall of Fame Visionary Award.  The trio received a nominated for Southern Gospel Group of the Year.  Other artists nominated for the award include the Booth Brothers, Gaither Vocal Band, The Nelons, and Legacy Five.
Curtis Hagy of Brothers Forever said, "Its an incredible honor to be nominated alongside such talented groups, especially with two of the greatest groups to ever grace the stage of gospel music – The Gaither Vocal Band and The Booth Brothers.  Being a group that's only in its sixth year, this is an incredible honor and all of nominees represent what we strive to achieve in our music and ministry."
The nominees for the Visionary Awards were announced on Monday, February 15, 2010. The winners will be announced live during the annual award show to be held on November 6, 2010.
This is the second Visionary Awards show and the third show inducting artists into the Hall of Fame.  The hosts for the 2010 Visionary Awards were announced last week and will be hosted by award winning artists David Meece and Babbie Mason. The show will be live in the Dallas, Texas area and the location will be announced in the next few weeks.
Fans are urged to go to the charity web site at www.hallmuseum.com and vote for their favorites in each category.
Brothers Forever recently wrapped up a successful run on the 2009 Breakthrough Tour.  The 2009 Breakthrough Tour saw Brothers Forever in several states including North Carolina, South Carolina, Georgia, Massachusetts, Washington, Idaho, Texas, Arizona, Florida, Louisiana, and Alabama.
Brothers Forever are currently booking dates for their upcoming Spring tour.  More information on that will be announced at a later date.
To visit the newly designed Brothers Forever website, visit http://www.brothersforever.net
.
Tags:
brothers forever
,
hall of fame
Posted in
awards
|
Comments Off

on Brothers Forever Nominated In 2010 Christian Music Hall of Fame Visionary Awards
Written by Scoops Staff on November 7, 2009 – 10:46 am -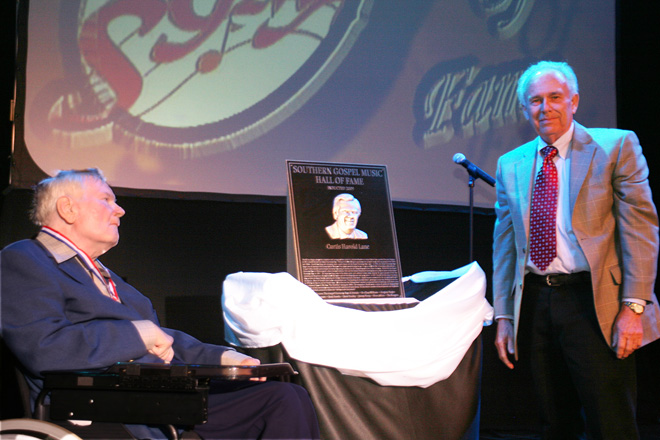 Southern Gospel Music Association board member Bob Brumley (right) inducts Harold Lane in the Southern Gospel Music Hall of Fame recently at Dollywood. (Photo: Randall Franks)
Singer and songwriter Harold Lane of Lebanon, Tenn., originally of Huntington, W.V., attended his induction into the Southern Gospel Music Hall of Fame at Dollywood recently in Pigeon Forge, Tenn.
"Lane is a singer, songwriter, musician and arranger whose career in, and contributions to gospel music have spanned the past 55 years," said Charlie Waller, SGMA executive director. "Lane formed the Gospel Harmony Boys, a professional group that continues to minister still today — 55 years later."
Lane joined the Speer Family in 1967 following the death of "Dad" Speer where he worked for 22 years.
Some among his many songs are "Touring That City," "I'm Standing on the Solid Rock," "The Next Time He Comes," and "What Sins Are You Talking About," he said.
"What Sins Are You Talking About" was the instrumental theme for the TV show "The Hitchhiker" in the 1990s.
The Gospel Harmony Boys performed Lane's "I'm Standing on the Solid Rock" in honor of his induction and Dr. Jerry Goff introduced him to the stage.
Mr. Lane was not able to speak and his daughter Judy Huff spoke on his behalf.
She said if her father could, he would say 'Thank you very much' esoecially to the Gospel Harmony Boys who made the nomination.
"Daddy's never been one to be in the limelight," she said. "If you know him at all, you will know what kind of a Christian man he is."
She read a poem reflecting her loving thoughts about her dad's life and the tremendous legacy he gave their family as a man.
"Many times he sat with paper and pencil arranging and writing songs for the faithful," she said. "The songs he wrote came from the heart…."
The other 2009 SGMA class of inductees are Neil Enloe, Ed Hill, Don Light, Bill Lyles, Elizabeth "Lady" Mull, Billy Todd and Charlie Waller.
Country Music Hall of Famer Barbara Mandrell received the James D. Vaughn Impact Award at the event.
The Southern Gospel Music Association is a non-profit organization that maintains the Southern Gospel Museum and Hall of Fame, the only facility honoring this genre of music, for the historic preservation of the accomplishments of the music and its people. Museum hours match those of Dollywood. Donations are tax-deductible. Individuals and businesses may donate to assist with honoring inductees with special bronze plaques that are displayed in the Hall of Fame. For more information about the museum or its inductees, visit www.sgma.org.
Tags:
artists
,
hall of fame
,
sgma
Posted in
artists
,
industry news
|
Comments Off

on Harold Lane among 2009 Hall of Fame inductees