Written by Staff on September 9, 2013 – 11:42 am -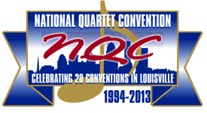 Change is always hard and the NQC Board made a bold step twenty years ago when they announced the move from Nashville to Louisville for Gospel Music's favorite yearly event.
From scheduled sings on the Belle of Louisville to concerts in the downtown square; from impromptu songs in various area restaurants to special gatherings in local hotels; from Elvis sightings to Uncle Sam in the Exhibit Hall, there are many unforgettable moments for the Gospel music fan at NQC.
As a writer for SGM Radio and SGN Scoops, I've had the opportunity to interview many interesting people at NQC.
Over the years, I have been privileged to interview such artists as Karen Peck,  Kim Hopper,   Susan Whisnant,Marshall Hall,  Jim Mahalick, Shelly Brown of The Browns, Wayne Haun, Jeff Pearles, The Apostolic Boys, The Skyline Boys, The Prophets, Rambo McGuire, The Booth Brothers, Mark Trammell Quartet, Greater Vision, Legacy Five, Triumphant Quartet, Brian Free and Assurance, and Jonathan and Jordan Wilburn, among others.
Many of these artists wouldn't have the time to sit with an interviewer during an ordinary concert setting. NQC is also the opportune time for fans to also talk with their favorite singers. What a great opportunity it is to attend NQC and be able to sit down with the makers of the music!
SGM Radio and SGN Scoops would like to extend a special thank you to the board of the National Quartet Convention for continuing on a tradition that began many years ago, for making the necessary decisions for the growth of the festival and for embracing artists, fans and industry alike as we celebrate together our music and our faith.
We look forward to 2014 in Pigeon Forge!
****As a fan who attended the first Louisville NQC, I have many memories of the National Quartet Convention at Freedom Hall. I'm sure our readers do as well, and I invite you to submit these memories for posting here this week. Please submit your NQC thoughts and pictures to lorraine@sgnscoops.com
Tags:
brian free and assurance
,
Greater Vision
,
Jeff Pearles
,
Jim Mahalick
,
Jonathan and Jordan Wilburn
,
Karen Peck
,
Kim Hopper
,
legacy five
,
louisville
,
mark trammell
,
marshall hall
,
National Quartet Convention 2013
,
nqc
,
Pigeon Forge
,
Rambo McGuire
,
Shelly Brown
,
susan whisnant
,
The Apostolic Boys
,
the booth brothers
,
The Browns
,
The Prophets
,
The Skyline Boys
,
triumphant quartet
,
Wayne Haun
Posted in
announcements
,
artists
,
christian entertainment
,
Christian interest
,
gospel events
,
guest
,
industry news
,
scoops
,
sgn scoops magazine
,
special feature
,
Uncategorized
|
Comments Off

on Leaving Louisville: Twenty Years of NQC
Written by SGN Scoops Staff on October 9, 2012 – 8:56 pm -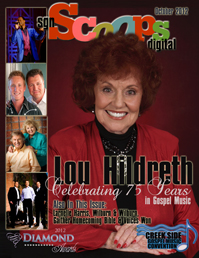 We are pleased to celebrate 75 years in Gospel Music with Ms. Lou Wills Hildreth in this edition of SGNScoops Magazine. Sandi Duncan Clark captured many of this living legend's memories in this month's cover story. Also in this edition enjoy ministry updates from Larnelle Harris, Voices Won, Freedom, Wilburn & Wilburn, the Hinshaws and Jim Mahalick. Get a peek inside the SGNScoops booth at the 2012 NQC as well as follow Charlie Sexton around as he talks to fans who attended this year's event. Laura speaks with Gospel Music Historian, Dean Adkins, Sandi shares a conversation with Greg Bentley regarding "talent competitions" and Rhonda Frye speaks with Gloria Gaither about the new Gaither Homecoming Bible. See who released new music and find out who is topping charts! Enjoy several inspirational articles including one from guest writer, Janene Dubbeld and keep up with Jeff Hawes as he travels the world with Karen Peck and New River! Don't miss the latest update on the Creekside Gospel Music Convention too! We excited to share about this year's outreach project! This month is packed with the latest news in the world of gospel music delivered by a dedicated staff with many years experience in the Industry. Please share with friends and remember- Always digital, always free…… always good!
Please Click Here
Tags:
Charlie Sexton
,
Creekside Gospel Music Convention
,
Dean Adkins
,
freedom
,
Gaither Homecoming Bible
,
Gloria Gaither
,
Gospel Music Historian
,
Greg Bentley
,
Janeen Dubbeld
,
Jennifer Campbell
,
Jim Mahalick
,
Karen Peck
,
larnelle harris
,
Laura Kennedy
,
Lorraine Walker
,
LYNDA RANDLE
,
Ms. Lou Wills Hildreth
,
national Quartet Convention
,
Rhonda Frye
,
rob patz
,
Scott Rhoades
,
southern gospel
,
Southern Gospel News
,
the Hinshaws
,
Voices Won
,
wilburn & wilburn
Posted in
announcements
,
christian entertainment
,
sgn scoops magazine
|
Comments Off

on October 2012 Edition Of SGNScoops Magazine