Written by SGN Scoops Staff on July 29, 2019 – 9:01 am -
People's Tabernacle Church, 64 Airways Blvd, Savannah, TN will welcome "JONATHAN WILBURN" former lead vocalist of Gold City Quartet, on Sunday, August 4, 2019 at 6:00PM. Pastor Josh & Ashley Franks will also appear. For more information, go to www.ptcsavannah.com
Tags:
Jonathan Wilburn
,
Southern Gospel Concert
Posted in
announcements
|
Comments Off

on Jonathan Wilburn In Concert August 4
Written by Staff on July 4, 2019 – 9:30 am -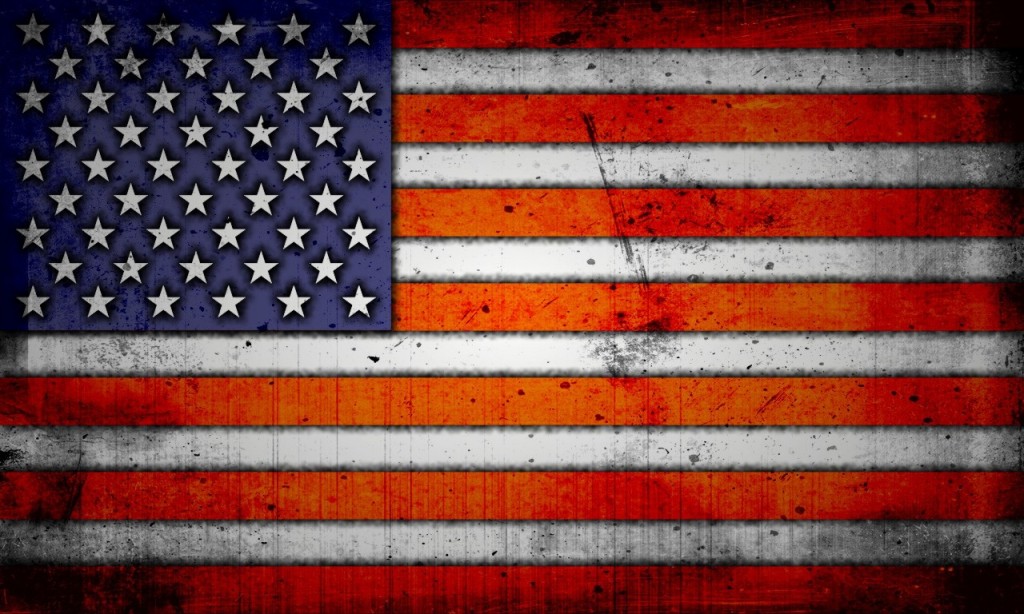 Gospel music artists across America are celebrating July 4th in many different ways. How are they celebrating independence day? Many are having a great time with family and friends enjoying this 4th of July. Others will be hard at work making sure there are great family-friendly events for listeners to enjoy.
Debbie Bennett says she will be with family. Vonda Armstrong says she will be swimming, cooking out, and watching a fireworks show with family.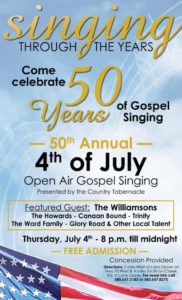 Jonathan Wilburn: Wilburn and Wilburn are headed to Somerset, Kentucky, for the big King Of Kings Radio 4th of July celebration with our friend Kevin Spencer! Free singing and fireworks!
Yvonne Dodrill of the Dodrill Family: Our church stakes out a large area on a hill at our local park. We all eat together and then watch the fireworks, which go off right above our heads! It's awesome! Our family looks forward to it every year.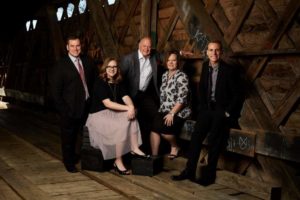 Donnie Williamson: 50th anniversary of this great event (in Lorne Grove) Honored to be a part! (See poster) (Free)
Scott Whitener of the Carolina Boys: Me and the boys are singing at the Fourth of July town festival in White Pine, Tennessee.
Jessica Horton: Cookout lunch with my family. To make it simple, we are doing "bring your own meat" for the grill and potluck sides to share.
David Greshem: I am singing in the annual 4th of July parade in Douglasville, Georgia. I will be riding a float right through the middle of town It will be exciting! God bless our country!
Tanya Goodman Sykes: Spending the afternoon with our dear friends Ken and Lisa and a passel of other folks.
Lottie Squires, of WCKB :I'll work until 5pm, because a radio station never closes…and then I'll go see the Down East Boys!
Chuck Day: Flying to Houston, Texas, to do a 4th of July show in Spring, Texas.
Wayne Shuford: Singing at a Peach Festival with Pine Ridge Boys…
Karen Connell of the Connells: Hannah & Heather are leading worship at church camp this week. Chris and I are headed there tomorrow (4th) for the holiday to visit old friends a bit and Chris will be preaching the evening sermon.
Faron Lewis: Enjoying a wonderful weekend in the great mountains and town of Pagosa Springs,Colorado;c , hiking, roastup some s'mores, enjoy some family fellowship and watch the firework show the town hosts. Has always been a family tradition!
Tammy Dunaway of the Dunaways: On the road ..
Bink Mooney: Promised Land Quartet is in concert. We are singing in the 53rd Annual Celebration of Freedom in Stanley, Virginia.
Paula McDougle: Purpose will be singing at our local "Jam on Sloss Lake." This is an all-day free event sponsored by our local officials.
Adam Dungey of Bros. 4: Hanging with family. Cooking, 4 wheeler riding.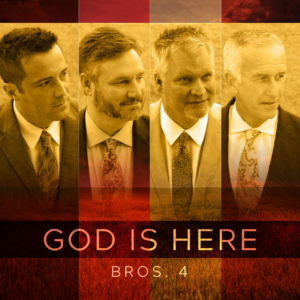 Bonita Eileen: Celebrating this beautiful country and my freedom to worship Jesus Christ with my family and friends not just on the 4th of July but everyday I live. Recovering from surgery and eating watermelon and grilled burgers with my kiddos.
Tim Griffin: Having a private sing along with The Griffins and The Bledsoes and a fish fry with about 30 guests at Myrtle Beach.
Rusty Rowan of Pardoned: Nashville with the wife and kids!
Debra Wilson of Eagle's Wings: Family. Probably some music. Eating.
Eric Baker: The Bakers will be singing an old fashioned tent revival in Cortland, N.Y. Starts tonight and goes thru Sunday.
Danny Daniels of Matchless Grace: We always try to go and see the fireworks. Our daughter Amanda was born on July 5th. When she was little, we could see the fireworks displays from 3 different cities right from our front lawn. We would tell Amanda "Everyone in the world was celebrating her Birthday." lol. Well she's still a Princess to us!
Dianne Wilkinson: I will be attending a family reunion in my hometown, Blytheville, Arkansas, of my mother's side of my family…the Hardins. This reunion has been continuous since my Great Grandparents' era. We are smaller in number, but still love to be together. Thankful for our Christian heritage.
Greg Sullivan: Fishing for the first time at Sam Rayburn Reservoir in Brookeland Texas with my wife Lisa and her older brother Foster.
Jim Visser: Spending some quality time camping with my family…. a much needed break!

Steve Dover of ClearVision Quartet: Smoking several racks of ribs and going to the Sand Mountain Potato Festival.
Todd Seaborg: Big Blessin is singing for the town of McLean, Miss.. We do a couple of hours of Gospel music before the fireworks show. This is our fifth year in a row.
Shelia Heil: Working at home.
Stephen Sigmon of Sounds of Jericho: Family time for sure…cooking…eating….fireworks in our neighborhood. Celebrating America….and how good God has been to her.
Jason Dyess: We always go to a friend's property and cookout all day, ride four wheelers, the kids slide down a redneck water slide. We close the day with a big fireworks show.
Tammy Norris: I'm sharing the Gospel of Jesus Christ at a July 4th singing in Williamsburg, Kentucky! Declaring my freedom through the blood of Jesus! What better way to celebrate? Hot dogs, sweet fellowship and praising our Lord!
Charlie Griffin: Singing and ministering in an annual Tennessee campmeeting.
Mark Mathes: BBQ, yard games and fireworks with family and friends.
Sara Lewis: Singing at the local Potato Festival and going to watch fireworks over the lake in Guntersville.
Vernon and Susan Gibbs of the Gibbs Family: Island Lake God and Country Day BBQ, July 4th day..Fireworks Extravaganza from barge in middle of island lake..The Gibbs Family along with other singers and also Murf the Surf..
Christie Hemphill: Watching fireworks!
Earl King: Singing at Foothills Gospel Music Park 2303 Prospect Road Carnesville, Georgia, 10:00 a.m. until 5:00 p.m.
Tom Walker of the Walkers: Staying at home, nursing my wife back to health after surgery.
Greg Inman: I'm in Washington, D.C. and I plan to attend the President's Speech at the Lincoln Memorial, as well as enjoy the flyovers of each branch of the military and then the D.C.fireworks. I not bragging but……wait, I am bragging. It's okay to be jealous.
Elaine Harcourt: Staying in where it's cool and watching some of my DVDs.
Edna Wright: Family outing and picnic at the Atlanta Zoo!
Brenda Ann Denney: I will be celebrating the 4th with my kids and grandkids in Los Angeles, California.
Don Paff: Getting together with friends to eat and play Canasta! Boys beat girls.
Donna Journey of the Journeys: Relaxing, cooking out at our fire pit and going to see fireworks in our hometown.
Kevin Lane and Bobby Hunter: Our group, Isaiah 61, will be singing in Irwinton, Georgia, under the fireworks display.
Harvey Madden: Cooking and out and going to enjoy my Independence Day celebration with my family and friends.
Jan Harbuck: Traveling to Branson, Missouri, to sing at Jammin' for Jesus! Celebrating Jesus and helping our veterans.
Brian Davis: Sleeping in 'til 5 a.m. or so….having a family picnic at my sister's house (less to clean up that way)… Relatives coming in from California, N.Y.C. and Texas.
Bruce Yates: Singing with Crystal Valley Trio at the Linton Freedom Festival in Linton, Indiana.
Angela Parker of Mercy Rain : My son will be playing trumpet with the Gilbert Marching Indians in the Gilbert Peach Festival Parade. After that we will spend time hanging out at the Gilbert Peach Festival, then we will spend the evening watching the fireworks that end the Gilbert Peach Festival. Can I type Gilbert Peach Festival enough?
Terry Kanipe of the Singing Epps Family: Hanging with family. Then going to church. And then find some fireworks to admire. Wanda Epps Kanipe loves fireworks!
Thank you to all those who let us know how they are planning on celebrating Independence Day. May all of our readers enjoy the 4th of July!
Tags:
Chuck Day
,
Dodrill Family
,
Dunaways
,
Eagle's Wings
,
Goodman Revival
,
Gospel music artists
,
Jonathan Wilburn
,
Pardoned
,
Southern Gospel Music
,
Williamsons
Posted in
announcements
,
artists
|
Comments Off

on Gospel Music Artists celebrate July 4th
Written by Staff on April 25, 2019 – 8:27 pm -
Event set to take place April 25-28 
Carthage, TN – The Jackie Wilburn Memorial Spring Sing kicks off April 25 at the Smith County Agricultural Center in Carthage, TN, with several of Southern Gospel Music's most popular and talented recording artists taking the stage to honor the memory of the late Jackie Wilburn. The event will take place four straight days, April 25 through 28, and will be hosted by Jackie's son, Jonathan.
"My dad was not only a wonderful, anointed preacher of the Gospel for many years but he was the patriarch of the Wilburns," Jonathan shares. "He truly 'walked the walk' and set a tremendous example for my brothers and me, and it is an honor to carry on the rich heritage that  he set for us."
In honor of this exciting event, Smith County has deemed the week of April 22 as Southern Gospel Week for Smith County.
In the 1980s, Jackie and his wife, Elaine, began touring and singing with their sons, as The Wilburns. The family achieved national prominence throughout two decades, enjoying such hit songs as "Outside The Gate," When Dust Shall Sing" and "Resting Place."
Throughout the four-day event, joining popular soloist Jonathan Wilburn, will be Elaine Wilburn, as well as the dynamic duo of Wilburn & Wilburn, which features Jonathan and son, Jordan, marking three generations of Wilburns together on stage for the event. Thursday night's line-up will feature Gold City and Jay Parrack, with Jonathan Wilburn, as well as a Gold City Reunion as both Jonathan and Jay were members of the popular quartet for more than a decade. Other talented recording artists scheduled to appear throughout the weekend will include The McKameys, The Perrys, The Inspirations and talented pianist, James Rainey. No tickets are required for the event; however, the requested donation for general admission seating is $10 per person at the door. A love offering will also be received.
Concerts Thursday, Friday and Saturday will take place beginning at 7:00pm each evening, with Sunday's matinee starting at 2:30pm. The Smith County Agricultural Center is located at 159 AG Center Lane in Carthage. The Ag Center is located on Hwy 53 North, just off I-40, a short drive from Music City, USA, Nashville, TN. Plenty of camping is available on the grounds of the Smith County Ag Center.
Complete information regarding the Annual Jackie Wilburn Memorial Spring Sing is available at 
www.jonathanwilburn.com
 or by calling 256-459-4769.
Download the latest edition of SGNScoops Magazine
HERE
Tags:
gospel music
,
Jonathan Wilburn
,
Southern Gospel Music
,
The Inspirations
,
The Mckameys
,
the perrys
Posted in
announcements
,
artists
|
Comments Off

on JONATHAN WILBURN TO HOST JACKIE WILBURN MEMORIAL SPRING SING DURING SOUTHERN GOSPEL WEEK IN SMITH COUNTY
Written by Staff on September 28, 2018 – 8:31 am -
PIGEON FORGE, Tenn. (September 26, 2018) –  It was a terrific Thursday filled with music and message at NQC. The day started bright and early with morning chapel service as the Mark Trammell Quartet and Mike Speck led the crowd in worship, followed by a message from one of the most dynamic preachers today, C.T. Townsend.
Moving forward into the day, Dennis Swanberg gave convention-goers a laugh-break with his comedy.
Next up was Bill Gaither and his Homecoming Friends, filling the LeConte Center with classic songs made popular on the Gaither videos.
The evening concerts were hosted by Josh Franks. Tonight's performers were: Gaither Vocal Band, Ernie Haase & Signature Sound, Hoppers, Legacy Five, Jonathan Wilburn, Gold City, Ball Brothers, Greater Vision, Tribute Quartet, Mark Trammell Quartet, Jim Brady Trio, Dr. David Jeremiah, Primitive Quartet, Three Bridges, Kingdom Heirs. Power half-hour performances by Tim Menzies, Torchmen, Jordan Family Band, Debra Perry & Jaidyn's Call
Among tonight's highlights were the classic harmony of the Gaither Vocal Band, and the comedy of Bill Gaither and his sidekick, Kevin Williams and the moving testimony of Josh Townsend – pianist for Legacy Five – as he told of suffering abuse at the hands of his father in the womb before he was even born. The abuse left his twin dead before birth and Josh suffered a stroke before being delivered. Due to this, doctors told his mother that he would never have use of his left hand, to which Josh testified tonight – "they were wrong." The crowd – with tears streaming down their face – gave Townsend a standing ovation after he performed the song, "God's Been Good."
NQC – the National Quartet Convention – continues until Saturday, September 29, 2018, at the LeConte Center in Pigeon Forge, TN. Over 40,000 people are expected to enjoy the concerts and festivities planned.
Coming up tomorrow, Friday, September 28, 2018:
Chapel with Jim Brady Trio and the First Baptist Church Indian Trail Choir and message by Dr. Mike Whitson
Blazing Pianos
Dr. David Jeremiah
Matinee Extravaganza
Evening Concerts featuring: Erwins, Dixie Echoes, Nelons, LeFevre Quartet, Taylors, Mark Trammell Quartet, McKameys, Lynda Randle, Perrys, Jeff & Sheri Easter, Isaacs, Joseph Habedank, Hoppers, Triumphant, Karen Peck & New River and Ernie Haase & Signature Sound
NQC – the National Quartet Convention – was founded in 1957 by gospel music legend and former backup vocalist for Elvis Presley, J.D. Sumner who co-produced the event with James Blackwood. The annual convention was moved in later years to Nashville, TN and then to Louisville, KY where it was held for 20 years.
Tags:
Ball Brothers
,
C.T. Townsend
,
Dr. David Jeremiah
,
Ernie Haase & Signature Sound
,
Gaither Vocal Band
,
gold city
,
Greater Vision
,
hoppers
,
Jim Brady Trio
,
Jonathan Wilburn
,
Kingdom Heirs
,
legacy five
,
mark trammell quartet
,
nqc
,
Primitive Quartet
,
three bridges
,
Tribute Quartet
Posted in
announcements
,
artists
|
Comments Off

on NQC RECAP: THURSDAY, SEPTEMBER 27, 2018
Written by Staff on March 26, 2018 – 4:41 pm -
We Love Our Southern Gospel Music History, (WLOSGMH) is one of Facebook's most unique groups. The page features a host of exclusive videos, audio clips, photos, stories and memorabilia being shared on a daily basis. Those exclusive tid-bits are what really allows the group to share the history of southern gospel music came to be one of the most faithful and popular Christian music forms.
In the many years since the Franks Stamps Quartet, there have been some true iconic performing artists. The Blackwood Brothers, Statesmen, Sunshine Boys, Stamps Quartet, Weatherfords, Cathedrals, LeFevres, Sego Brothers and Naomi, Goss Brothers and the list could go on and on.
Yet one family group really stood out for many years as a true leader in the field, The Speer Family. The family had several resurgent periods of popularity that marked gospel music. When the group disbanded in 1998, seventy six years of history were logged in the annals of gospel music.
With the recent deaths of Ben Speer and Rosa Nell Speer Powell, the last original performing family members, there has been a void in gospel music. Yet their impact lives in the lives of those adopted family members who are still singing and ministering.
This year, the WLOSGMH Convention runs March 26 and 27, 2018 to the Murfreesboro, TN Clarion Hotel Ballrooms.
On Tuesday evening the WLOSGMH Convention will feature a special SPEER FAMILY TRIBUTE.  This special tribute to the legendary Speer Family is planned to highlight some history of the legendary family. Some vintage footage of the Speer Family through the years will be shown. Former Speer Family members will grace the stage including Joyce West Black, Ann Downing, Jeanne Johnson, Sue Dodge, Linda Robinson Sholar, Karen Apple Young, and Daryl Williams, They will be singing some of your favorite songs. Doug Young and Gene McDonald will join this all-star lineup of talent to create that unique Speer Family sound. Tom Powell, Rosa Nell Speer Powell's son, will be conducting a choir featuring many of the great songs written by Dad Speer. Several Speer Family members are expected to be in attendance. You don't want to miss this once-in-a-lifetime treat!
Convention notes for the two day event. Monday 5:30/Dinner – 6:45/Concert
Tuesday Morning activities, followed by lunch, afternoon activities, you are on your own for supper. Tuesday Evening Concert at 6:00 PM. Daytime activities include funny stories, show and tell, gospel music movies, etc. Times subject to change.
TALENT for the one of a king music history convention includes the who's who in southern gospel music. Chuck Wagon Gang (Monday night only), Mercy's Well (Monday night only), Sherman Andrus, Ann Downing, The Sheltons (Monday night only), Jeanne Johnson, Sue Dodge, Charlie Griffin, Michael Stanton, Jordan's Bridge, Eddie Crook, John Wyrick, Joyce Black West (of the Speer Family), Jonathan Wilburn, Ellen Marsh, Ed Hill, Brad Smith, Donnie Williamson, Songfellows Quartet (Monday night only), Administrators Quartet, The Collectors Quartet, John Crenshaw, Hannah Kennedy, Harold Timmons, Rita Spillers, Bill Kelley, Doug Young, Karen Apple Young and Gene McDonald. (Talent subject to change.)
For more information contact Harold Timmons via Facebook with a private Facebook message or email h.t@comcast.net, or call 615-885-8000 and leave a message.
Download The PDF Version Of SGNScoops Magazine HERE
Find SGNScoops Magazine On Facebook HERE
Listen Online To The Best In Todays Gospel Music HERE
Tags:
Ann Downing
,
Bill Kelley
,
Brad Smith
,
Charlie Griffin
,
Donnie Williamson
,
Doug Young
,
Ed Hill
,
Eddie Crook
,
Ellen Marsh
,
Hannah Kennedy
,
Harold Timmons
,
Jeanne Johnson
,
John Wyrick
,
Jonathan Wilburn
,
Jordan's Bridge
,
Joyce Black West
,
Karen Apple Young
,
Michael Stanton
,
ohn Crenshaw
,
Rita Spillers
,
Sherman Andrus
,
Songfellows Quartet
,
Speers
,
sue dodge
,
The Sheltons
Posted in
announcements
,
artists
|
Comments Off

on WLOSGMH CONVENTION SPEER TRIBUTE IS TUESDAY NIGHT
Written by scoopsnews on December 12, 2017 – 8:34 am -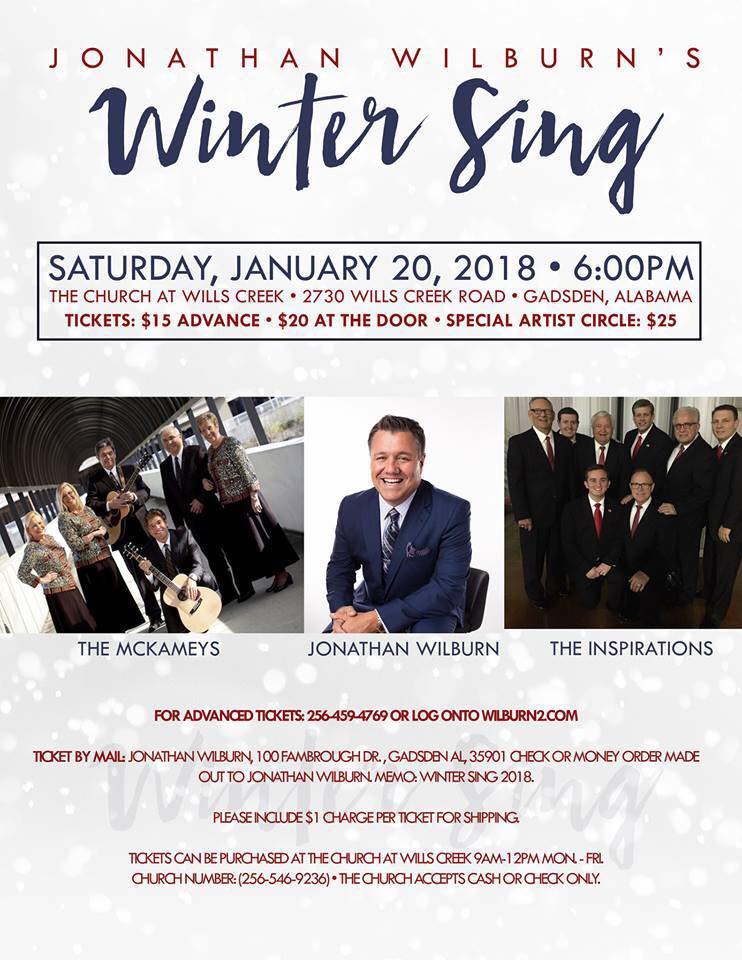 The McKameys and The Inspirations have been coming to Gadsden AL for well over 20 years for an annual Winter Sing. I have been given the task to start promoting this event plus sing. The McKameys and The Inspirations are great friends of mine and my family. What an honor it is to continue this awesome event with some of my favorite people. I want to invite everyone to come and join us on January 20 at 6pm at the Church at Wills Creek. The church is located just off of Hwy 759 at the Black Creek Pkwy exit on Wills Creek Rd. 2730 Wills Creek Rd to be exact. You can call 256-459-4769 for ticket information and you may also order tickets at this number with all major credit cards. You may also stop by the Church at Wills Creek to purchase tickets at the church office. You can also send a check or money order to Jonathan Wilburn 100 Fambrough Dr, Gadsden AL, 35901. Hope to see you there!! All ticket prices are located on the flyer.
Blessings
Jonathan Wilburn
Tags:
Jonathan Wilburn
Posted in
announcements
|
Comments Off

on A Message from Jonathan Wilburn
Written by scoopsnews on January 13, 2016 – 9:56 am -
A note from Jonathan Wilburn:
I found out today from a radio station that they would be removing our song from their playlist due to a listener complaining. The song is "You Asked Him to Leave". It deals with how we have turned our backs on God and blamed Him for the problems we have. If one person can have this kind of influence, imagine what a bunch of Christians could do who are willing to stand? We ask for your help to get the message of this song heard.We ask you to call your local stations and ask them to play "You Asked Him To Leave" by Wilburn and Wilburn. We ask you DJs to help us get this message to your listeners. We have to take a stand!On a side note the song jumped from 50 to 21 in one month. God is still in control! P.S. If you call your station and they say they don't have it. Please message me with the stations email address or mailing address and I will personally see to it that they receive this single.
More Gospel NEWS
Tags:
Jonathan Wilburn
,
wilburn and wilburn
Posted in
announcements
|
Comments Off

on A note from Jonathan Wilburn….🎶
Written by Staff on October 23, 2014 – 1:40 pm -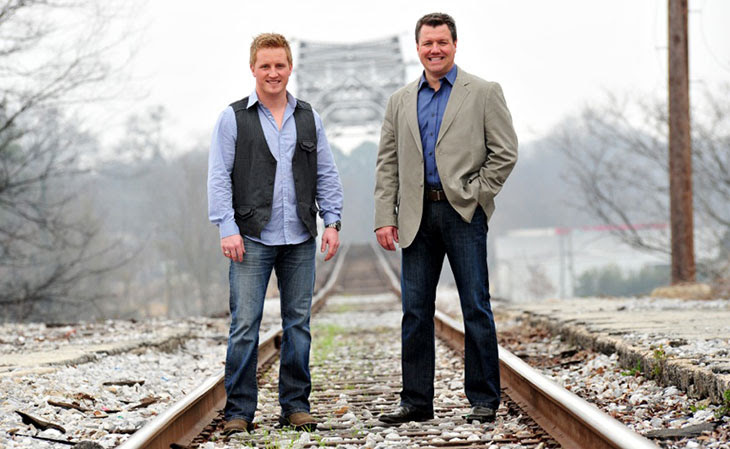 Jonathan Wilburn has been around Southern Gospel for as long as he has been alive. Son of Elaine and Jackie Wilburn, Jonathan learned his craft at the knees of one of the best duos in Southern Gospel. He sang with his parents until the age of 16 and then moved on to anchor the lead position of the award-winning Gold City Quartet for several years. His powerful voice now blends well with his son, Jordan, as they sing together in Wilburn And Wilburn, carrying on the family tradition as they sing about their faith. [Editor's note: article first published December 2013]
Jonathan Wilburn has always been the friendly extravert who naturally falls into the position of group spokesperson. Just as he has had to answer the same questions from interviewers all his life, he must at times tire of giving the same answers. For our "In Depth" article, we tried to find out some different things about Jonathan that you may not know. We have tried to let Jonathan tell it in his own way.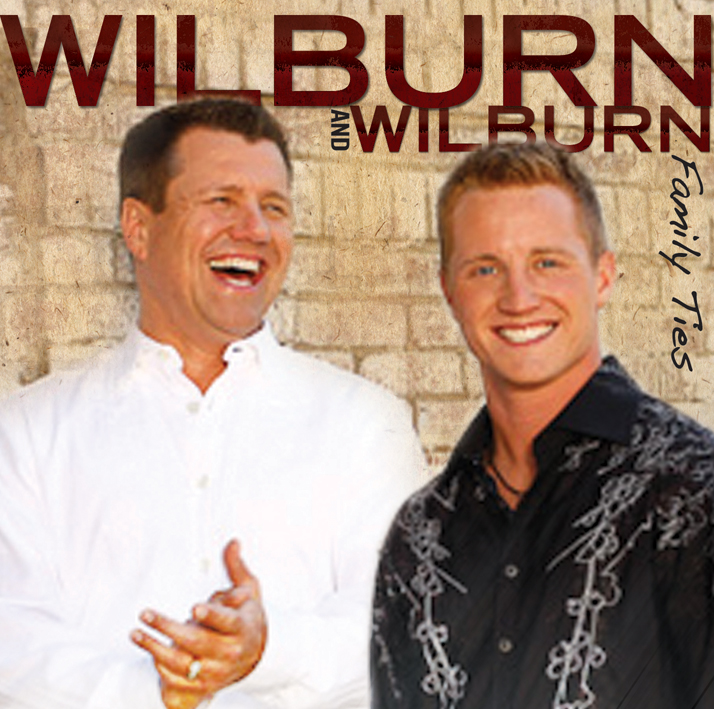 Jonathan began singing with his son Jordan in 2011, releasing their first CD, Family Ties. In 2012, they won the Singing News' Horizon Group of the Year, with Jordan picking up the Horizon Individual Award. It seems like their group began at the top and stayed there, but Jonathan says it wasn't as easy as it may have appeared.
"Getting started in a new business or venture is never easy but in our case was made some what easier due to the fact that I traveled singing Southern Gospel Music for most of my life up until 1996. That is when I took the lead position with Gold City. I stayed with Gold City for 12 years until 2008.
Jonathan continues, "That was a tough decision when I felt it was time to leave. Gold City had become like family to me. Tim Riley and Daniel Riley were great to live with and work with over those years. I could not have asked to be treated any better than I was with Gold City. My decision to leave was completely personal and all my decision."
"During the time I was off the road, working at a local Ford dealership, I began to notice that my son was developing as a singer himself. I would come home and all he wanted to do was watch or listen to Southern Gospel music. That is when I began accepting some dates for us to sing from time to time. One day at work God spoke to my heart. He said all He needed was a father and son to tell folks about The Father and The Son! Now I know there are some who might say, "Yea we have heard this before." I will tell you this: my position as one of the top sales people at Ronnie Watkins Ford brought home a good living! This was not for fame or money. It is what God laid on my heart, period. It makes no difference if anybody believes that or not as long as God and I have it worked out. I guess I learned that from my Dad, Mr. Jackie Wilburn."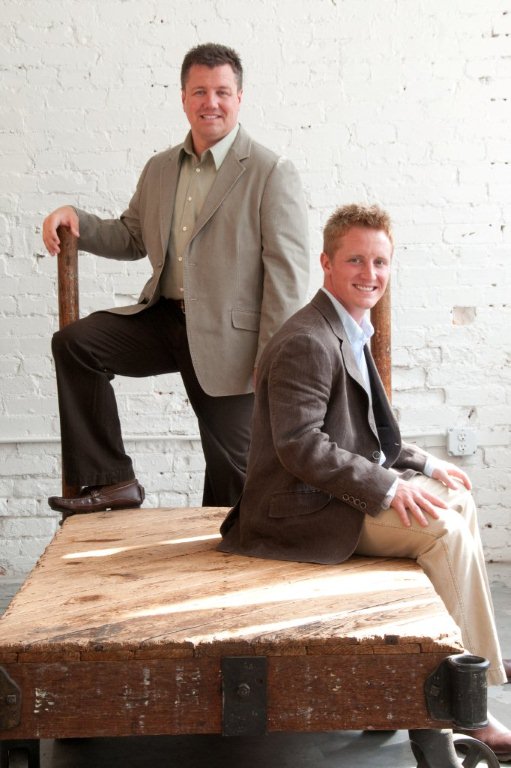 "Wilburn and Wilburn was not an over-night success, by no stretch of the imagination!" Jonathan continues, "I have been singing now since I was 12 years old. I remember our first National Quartet Convention in Nashville, Tennessee and hoping one day to be able to sing on that stage. Well after a lot of hard work over the years, God has blessed me with an opportunity to sing and travel with my son Jordan. We have had some great songs written by some of the best writers in Southern Gospel music. That is the key! Good songs with good music."
God has taken Wilburn and Wilburn along a path of rich blessing. "We were signed by Daywind Records with an awesome support staff there, then a very highly-sought-after booking agent, Michael Davis at The Dominion Agency. We have a great producer in Ben Isaacs. We also have wonderful support from pastors, promoters and many others that have become our friends over the years. God has truly blessed our efforts. It has not all been easy. This is hard work keeping a ministry on the road. I have a whole new respect for my dad and Tim Riley!"
Jonathan shares what it has been like over the last three years. "Traveling with my son Jordan has already been a great trip. We travel about 120 dates a year. Some may ask, "Is that healthy for a father and son to be together that much?" Well, Jordan and I have a unique relationship. We have always been able to just be very truthful with one another and get passed stuff. That means a lot when traveling. It's putting disagreements and problems in the rear view mirror. He is my son who is also my best friend. He has even become more special since he and his wife, Lauren, are expecting my first grandchild. We know it is a little girl. My, my, my, I am done. Stick a fork in me because I am going to spoil that kid to death!" 
For the time being, Jonathan and Jordan travel light. "Right now it is just two men and a truck," Jonathan laughs. "I am going to try to add a utility picker one day, but for now economics won't allow us to hire anybody. I will not hire a musician unless I can take care of him. From time to time we have a dear friend from Georgia, Jim Cox, who helps us drive on the longer runs we are required to make."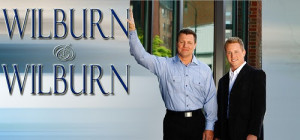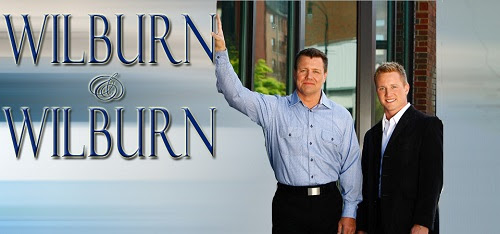 It is obvious that Jonathan loves his current career and singing with his son. However, there is a part of him that is still is a quartet-man. He says if he could sing with anyone for just one performance, it would be in one of the most beloved quartets of all time. "I have a wide selection of groups that I have loved and listened to over the years, but if I could just pick one that I have never sung with it would be The Cathedrals; the era with Danny Funderburk, Gerald Wolfe, Mark Trammell, Glen Payne and George Younce!"
However, as this is a dream that won't come to fruition until all the members reach Heaven, we had Jonathan pick out some singers that he would choose in order to increase his current duet into a quartet. His choices for bass vocalist would be either Gene McDonald or Aaron McCune. On tenor, he would pick Steve Ladd or Jay Parrack. "I believe these four guys to be some of the best artists not traveling with a group full-time in gospel music!"
With Christmas swiftly approaching, Wilburn and Wilburn turn their thoughts toward home and hearth. "Christmas is very special to all of my family," says Jonathan. "This is going to be a very special one, though, because both of my children are married now and we will be together for the first time. We always go to my Mom's, Elaine Wilburn's, on Christmas Eve. It is a tradition that has been in our family for over 40 years. I have never missed a Christmas Eve night on Wilburn Lane in Carthage Tennessee. Family and friends from all walks of life gather at my Mom and Dad's house to celebrate the birth of Jesus. Yes, we really celebrate. I ain't talking people forced to be there. We get there early and stay late. Singing, testifying, eating, telling old stories and yes we love it! Just family and friends enjoying each other's company. The love we share on this special night is awesome. It may be a little too "country" for some folks but we like it just the way it is. Sometimes there are just as many outside as there are inside!" Jonathan laughs. "We always have a tender Tennessee Christmas!"
With the end of the year in sight and a new one just around the corner, we asked Jonathan what his goals were for Wilburn and Wilburn in the coming months. "I hope and pray Wilburn and Wilburn will stay in the will of God in 2014. I am not sure where that will lead us, but we pray He gives us enough wisdom to pursue the things and set the goals that will bring Him honor and glory."
Jonathan has always been open and vocal about his desire to see lost hearts come to know his Lord and Savior. His music with Jordan is all about ministry and reaching those who are hurting and alone. Therefore, it was no surprise to hear his favorite scripture and a little Wilburn preaching too. "Romans 10:13- For whosoever shall call upon the name of the Lord shall be saved!" Jonathan continues, "This scripture is not just speaking to the lost souls. When Jesus was on that boat, with His disciples, they thought everything was going to be fine as long as Jesus was just there. Well the storm came, the lightening flashed and the thunder rolled! They were in fear for their lives. Then one called out to the Master! Remember Romans 10:13. Jesus got up from his sleep, walked out on deck and just spoke: "Peace, be still" and the waves fell, the thunder and lightning ceased. We are seeking for Jesus and the peace He brings but very few are calling on His Name! I will tell you this: if you are not in a storm, you are headed for one or coming out of one. Remember Rom 10:13 and before you go under, just call on Him. He will see you through!"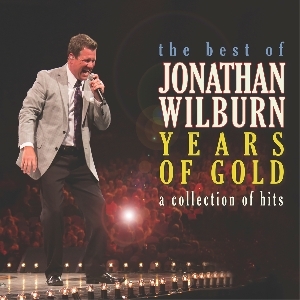 It's good to see a family tradition of faith that lasts throughout generations. The kind of personal faith, like that of Jonathan Wilburn, is more than something inherited; it is the kind of spiritual change that is experienced deeply and daily. We are so thankful that Jonathan is continuing on the tradition of communicating that kind of faith to his generation and beyond.
By Lorraine Walker
First published by SGM Radio website  in December 2013
For current features on SGM Radio website, please visit http://www.sgmradio.com/
Tags:
Christian Music
,
gospel music
,
Jonathan Wilburn
,
Jordan Wilburn
,
Lorraine Walker
,
sgm radio
,
southern gospel
,
wilburn and wilburn
Posted in
artists
,
SGM Radio
|
Comments Off

on In Depth With Jonathan Wilburn
Written by Staff on May 14, 2014 – 2:04 pm -
Gadsden, AL (May 9, 2014) In a world where words often have double meaning, kind of like a Bass singer and catching a Bass on a fishing line Wilburn and Wilburn has also taken on new meaning. For the past few years Wilburn and Wilburn has meant father and son singing together. It seems now it means cousins playing together.
Jonathan Wilburn the father half of Wilburn and Wilburn joyously stated "It's double trouble in the Wilburn household. It's all because there are two brand new Wilburn and Wilburn fans. Marley Lynn Wilburn and Julia Elaine Vines have finally made their grand entrance into the world. I never knew that having grandbabies could put such a big smile on my face."
Marley is a St. Patrick's Day baby. She was born on March 17, 2014 at 5:21 pm at St. Vincent's Hospital in Birmingham, Alabama. Marley is the daughter of Jordan and Lauren Wilburn. According to her dad, she came out showcasing a strong set of lungs. Marley weighed 7 lbs 7 oz and was 19 1/2 inches long with a head full of dark hair. Marley is named after her maternal grandmother, Lynn.
Julia Elaine Vines made her a debut appearance just a few days before Mother's Day. There's no greater gift than that. Julia was born May 8, 2014 at 7:56 pm at St. Vincent's Hospital in Birmingham, Alabama. Julia is the daughter of Dexter Vines and Jessica Wilburn Vines. She weighed 6 lbs 15 oz and was 20 inches long with beautiful blonde hair. Julia is named after her maternal great grandmother, Elaine Wilburn, who is a staple name in Southern Gospel Music.
With these two baby girls being born just 7 1/2 weeks apart, it is no doubt that a forever friendship is in their future. Will these two make a new addition to Wilburn or Wilburn, or part two of the dynamic duo? I guess we all need to stay tuned.
To learn more about Wilburn and Wilburn, the singers, go to http://www.wilburn2.com or https://www.facebook.com/WilburnandWilburn .
To book Wilburn and Wilburn contact the Beckie Simmons Agency at http://bsaworld.com or beckie@bsaworld.com .
**** 
About Wilburn & Wilburn
Wilburn & Wilburn, the Father – Son team of Jonathan and Jordan Wilburn are continuing the tradition for three generations. Jonathan spent the first 16 years of his Southern Gospel Music career singing with his family, the Wilburns, one of Gospel Music's most beloved and respected families. In 1996 Jonathan would move to Gadsden, Alabama where he would anchor the lead position with Gold City for the next 12 years.
Adding a dimension to this group is Jonathan's son Jordan. Feeling his call to sing Gospel music at a young age, it is a great match of Father and Son to create a great sound and an excitement that enhances any worship service.
Tags:
Christian Music
,
gospel music
,
Jonathan Wilburn
,
Jordan Wilburn
,
southern gospel
,
wilburn and wilburn
Posted in
announcements
|
Comments Off

on Wilburn and Wilburn Takes On New Meaning