Written by Staff on June 16, 2015 – 4:57 pm -
I have the utmost joy of bringing this beloved article to you this month, on this particular day, at this precise moment. It's an honor for me as a 'Southern Gospel brat' myself to write about and interview my peers in our Gospel Music world. While sailing on the Caribbean Sea a few months back, I beamed with happiness when Karlye Hopper accepted my interview offer. It's my hope that you, as the reader, will catch a glimpse into the soul of the outrageously talented, tender hearted, incandescently brilliant and one-of-a-kind original that is Karlye Jade. It's time to take center stage, Miss Hopper…
Erin: How have you been able to maintain your own identity while still being a part of the prestige that comes with the Hopper name?
Karlye: I don't think it's ever been a question whether or not I'm my own person. I know my place and that people know me as "the Hoppers' daughter," I'll never not be that in this or any music industry. But, I have a pretty…um…"unique" sense of style and an outspoken personality. I'm also quite tall. That helps.
Erin: With the changes that have taken place as a family and as a group, when did you personally feel the call to join the ministry?
Karlye: Back in the summer of 2013, Connie (yes, I casually refer to my grandmother and the rest of the family by their first name-I like to keep from being presumptuous) completely lost her voice in the middle of a week-long tour. I got a phone call after the show that night… "You're flying into Birmingham at noon tomorrow, bring a nice dress." I sang alto––for the first time ever––the entire set that night, and the next night in front of 5,000 at the Mabee Center with the Homecoming Tour. (Yikes!) Since then, countless obstacles have been thrown at this group and caused more than one member to leave the road for extensive periods. Just filling in and helping out is why I started doing this, but the shy teenager on the back row is why I've continued. My youth and vulnerability (yeah, people can tell I'm not a pro and see my stage anxiety) have brought innumerable young girls to my side of the merchandise table; these beloved struggle with eating disorders, self-harm, abuse, etc.––the unmentionables of Christianity. I've been given a heritage, a platform and a privilege that allows me to, even if we don't exchange a word, show these kids just like me, that God can put joy into a seemingly hopeless heart. Being young is hard, Erin, and we have to build each other up. I'm lucky enough to get the opportunity to do that to complete strangers in different cities each night.
Tags:
Christian Music
,
Erin Stevens
,
gospel music
,
Karlye Hopper
,
sgn scoops
,
The Hoppers
,
The Stevens
Posted in
announcements
,
artists
,
christian entertainment
,
Christian interest
,
sgn scoops magazine
,
special feature
,
Uncategorized
|
Comments Off

on Younger Perspective on Karlye Hopper by Erin Stevens
Written by SGN Scoops Staff on May 7, 2015 – 2:46 pm -
Welcome to the merry month of May 2015 edition of SGNScoops magazine! We are so glad you stopped by to read all the delectable Gospel music morsels we have cooked up for you this month. We will start with the icing on the cake: super quartet, Triumphant, graces our cover and is presented by writer Paige Givens.
May is the month for mothers and we celebrate all moms with two features: Three generations of Crabb/Bowling women talk with Tina Wakefield about their relationships, and young mother, Lindsay Huggins, talks to Hannah Webb about her song, "Praying Women."
Other artists featured include Karlye Hopper, Debra Perry and Jaidyn's Call, The Riders and The Taylors. We take you to three concert events by way of a collection of photographs, so sit back and enjoy the Southern Gospel Weekend, the NQC Spring Break and the Truthseekers Homecoming.
If Southern Gospel were compared to the NFL, how do you think it would measure up? Just ask Ike and Sheri LaFontaine. Lou Hildreth, Laurette Willis, Vonda Easley, Dusty Wells, Jeff Steele, Kelly Nelon Clark, Sherry Anne and Stephen Widener all have words to inform, entertain and intrigue you this month.
Thank you for reading SGN Scoops! Please download this issue to read again and again. Flip through it below. Tell your friends, show your family. Share the good news with someone today.
Tags:
Football
,
Karlye Hopper
,
southern gospel
,
Southern Gospel Music
,
Southern Gospel Weekend
,
The Riders
,
The Taylors
,
Triumphant
Posted in
announcements
,
sgn scoops magazine
|
Comments Off

on May 2015 SGNScoops Magazine
Written by Staff on March 26, 2015 – 2:39 pm -
Waynesville, NC (March 26, 2015) – The Dominion Agency is thrilled to welcome America's Favorite Family of Gospel Music, The Hoppers, to their fine roster of artists.
This multi-award winning family group has been singing to global audiences for 58 years with appearances ranging from presidential religious inaugural ceremonies and New York's Carnegie Hall to singing conventions and church platforms. To begin working with such an outstanding group, with such a rich history in Gospel music, brings a new sense of excitement to the Dominion Agency.
President and CEO, Michael Davis, expresses, "I am so honored to be representing one of the most celebrated artists in the history of Gospel music, The Hoppers. With 58 years of ministry and still going strong, The Hoppers are thrilling and blessing audiences night after night. What a privilege to work with this Godly family for whom I have so much love and respect!"
"After 58 years of successful in-house representation, The Hoppers are excited to announce we are teaming with Michael Davis and The Dominion Agency," states Dean Hopper. He continues, "This new relationship will allow us to reach many new audiences as we declare the Gospel through the unique sound our family is known for."
To schedule The Hoppers for your church, concert, or ministry event call Michael Davis at 828-454-5900 or email him here: scheduling@thedominionagency.com.
To learn more about The Hoppers, visit TheHoppers.com.
Like them on Facebook HERE.
And, follow them on Twitter @hoppersmusic.
To learn more about the entire Dominion Agency roster of fine artists, visit thedominionagency.com.
Mailing Address:
PO Box 1277
Waynesville, NC 28786
Phone:
828-454-5900
828-454-5917
###
*Pictured: (l to r) Karlye, Connie, Mike, Claude, Kim, and Dean Hopper.
Tags:
Christian artists
,
Claude Hopper
,
Connie Hopper
,
Dean Hopper
,
Dominion Agency
,
gospel music
,
Karlye Hopper
,
Kim Hopper
,
Micheal Davis
,
mike hopper
,
southern gospel
,
The Hoppers
Posted in
announcements
,
artists
|
Comments Off

on The Dominion Agency Welcomes America's Favorite Family of Gospel Music, THE HOPPERS
Written by Staff on August 26, 2014 – 12:13 pm -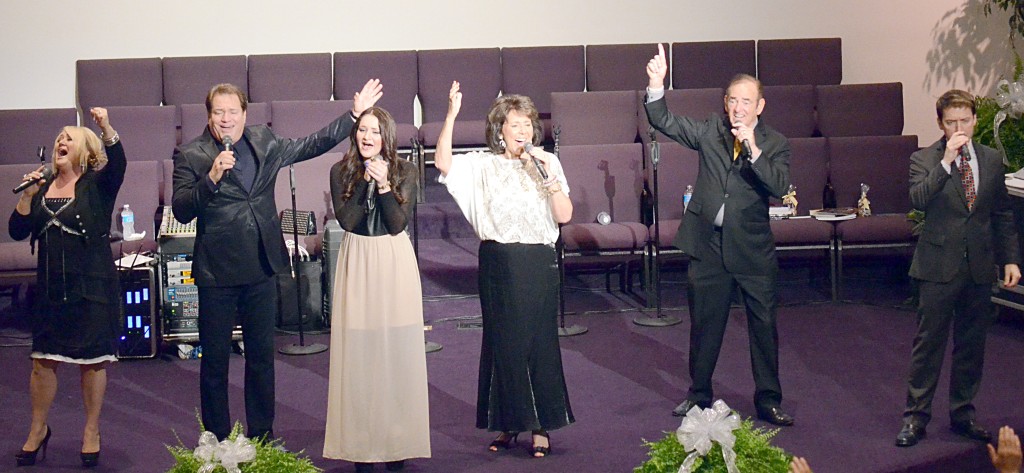 By Craig Harris
The Hoppers are one of Gospel music's best-loved families. They have been given awards and accolades and number-one songs for many years as audiences embraced their powerful harmonies. After 57 years, they are still going strong and pause for a moment to remember the past, live in the moment and look forward to the future during a conversation with SGN Scoops. Excitement abounds as each of the Hoppers speaks of their history, current happenings and possibilities in the years to come.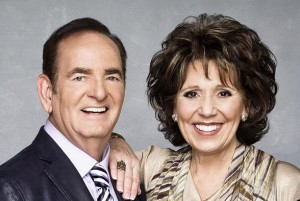 "I remember when we started; we'd have probably paid somebody to let us sing," Connie Hopper laughs. "We went to a church one night and sang and got $12.73 in the offering plate." Needless to say, much has changed since the Hoppers starting performing in 1957. They were then known as the Hopper Brothers and Connie. "In 1970, we quit our jobs and went on the road full time," she remembers. "It was three of the brothers and me."
Connie joined the group as the pianist and eventually married Claude Hopper. She began singing when Claude's brother, Steve, left the group. "We have been so fortunate to support ourselves through the work God has called us to do, and none of that has been by accident, nor any of our own doings," Claude explains. "Every day that we are blessed to travel is attributed to the support and prayers of each individual audience. We're like a turtle sitting on a fencepost. You know he did not get there by himself."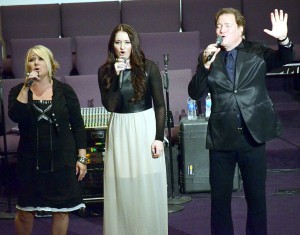 Connie wasn't the only current group member to come on board as a musician. Claude and Connie's son, Dean, signed on as the drummer at the age of seven. "The only thing I knew was that I wanted to play drums, and I would do anything I could to play music," Dean points out. "I had a chance to play all these guys' big (drum) kits – Mark Ellerbee (of the Oak Ridge Boys), Rick Goodman, Ronnie Sego and Billy Blackwood. That's when the big bands were the big thing. Everybody had a four-piece band."
Dean lived the dream. He vividly remembers flying home from Portland, Ore., by himself as an eight-year-old in order get back to school after the group was out on a lengthy road trip. "Dean would sit and watch Ricky Goodman and different ones play the drums," says Connie. "He's always been a good boy. He worked and helped his daddy on the farm, but he wanted to travel all the time. But we kept him in school." Dean began correspondence school after ninth grade and has been on the road ever since. Dean adds, "I played drums for everybody, played on lots of records, and played on stage with everybody that would ask." He later played the bass guitar and eventually moved into a more visible role as a vocalist when his uncle Will Hopper left the group.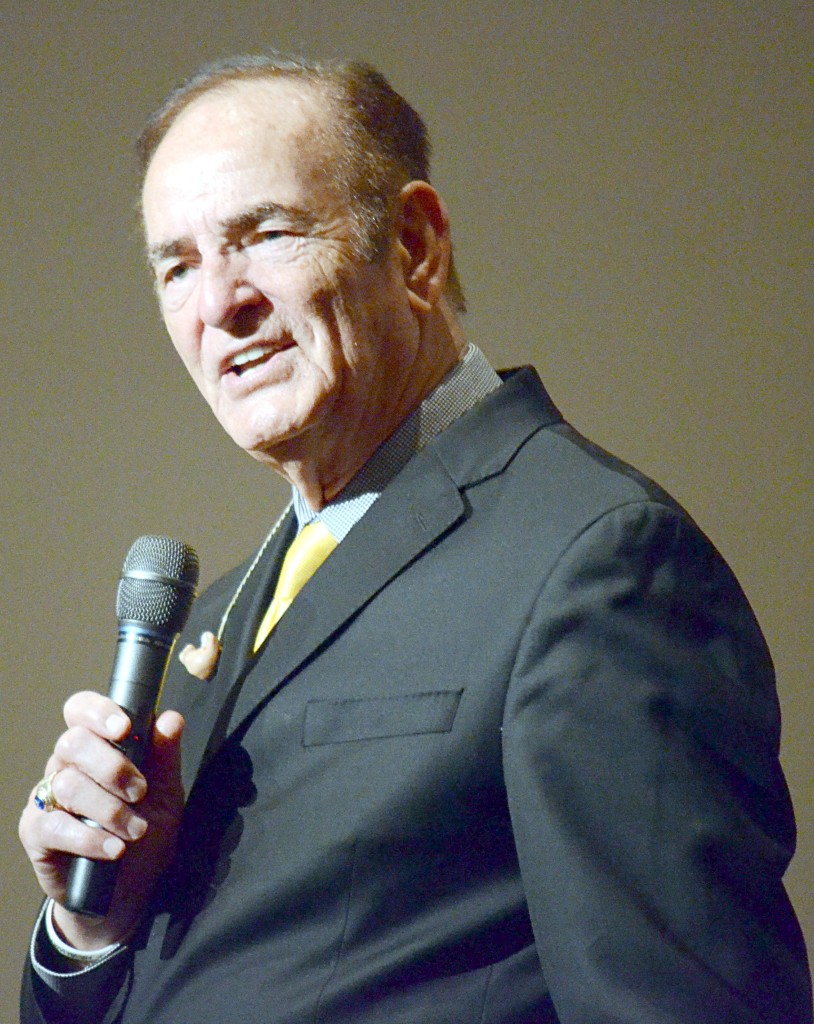 "(Claude) really leaned on Roger Talley a lot. Roger was an incredible part of this ministry for 10 years. Roger said, 'you need to go ahead and put Dean into that part.' At that time, I would sing one every now and again."
When Dean – who is seven years older than Michael – began playing the bass guitar, the door swung open for Michael. Roger Talley and Roger Fortner were also a part of the Hoppers' band at the time.
"Coming in as a 13-year-old kid, I was fortunate that I arrived when everybody still had a band," Michael noted. "Every weekend, we would go out, and I could stand on the side of the stage and watch people I respected. I'm thankful." However, he admittedly didn't have the same passion for it as quickly as Dean did.
"Michael was a different story," Connie explaines. "Michael wanted to stay at home and ride his motorcycle and hang out with grandpa. After Dean went out on the road, that just left Michael at home. His guidance counselor called me and said, 'Michael is smart, but he's just not doing his schoolwork. I think that's because you guys are gone.' We put him in correspondence (school). He was 13 years old when he started."
Michael adds, "I didn't envision a whole lot at 13 other than my dirt bike and my grandfather. I just loved spending time with my dad's dad. I spent a whole lot of time with him. He was my best friend. I've been blessed."
Michael is now singing the bass part during the majority of most concerts. "It seems to be working," Michael says. "They like us all up there as a family."
The current Hopper brothers have assumed different and more extensive roles in the day-to-day responsibility of the group. "I am proud, very proud," Claude emphasizes. "We never pushed them to be a part of this as boys. But now, seeing what they bring to the group and family as a whole, I don't know how we ever did it without them. Both are very talented in their own right and in very different facets. Where one is weak, the other picks up the slack, and vice versa. They know how to pry the very best from Mother and I, which is a wonderful asset to me as both a co-worker and a dad. God knew what he was doing when he blessed us with them."
Connie adds, "We never said, 'this is what you're going to do.' At this point, if one of them were to say 'this has been great, but I'm tired of this road,' that would be fine with me. I thank God for them. They're just great, and they're talented." Read more »
Tags:
Claude Hopper
,
Connie Hopper
,
Craig Harris
,
Dean Hopper
,
Karlye Hopper
,
Kim Hopper
,
Michael Hopper
,
sgn scoops
,
The Hoppers
Posted in
artists
,
sgn scoops magazine
|
Comments Off

on The Hoppers: Past, Present and Future