Written by SGN Scoops Staff on November 17, 2014 – 12:49 pm -
Grammy Winner's Inspiring Anthem "Love Is Stronger" Featured on Two-Disc Set
NASHVILLE, TN – Grammy winner Jason Crabb's powerful song, "Love Is Stronger," is featured as one of the top twenty-five most inspiring songs of faith on the new collection from Maranatha! Music's Top 25 series, Top 25 Country Songs of Faith. The brand has sold nearly 1.8 million copies since inception with 'Songs of Faith' the first country set in the series.
The twenty-one time GMA Dove Award winner joins a stellar line-up of artists featuring Rascal Flatts, Tim McGraw, Carrie Underwood, Lady Antebellum, Amy Grant, Dolly Parton, Wynonna Judd, Kenny Chesney, Chris Young, Johnny Cash and more.
From the moment Crabb heard "Love Is Stronger," he knew the song would
touch hearts. "Jay DeMarcus, my producer, brought this song to me," Crabb shares. "I immediately knew I had to record it this song – I knew it would touch people because it touched me. My wife Shellye was going through some very hard times when this song came into our lives – it helped me and I knew it would help others.
The song later came to life through a video directed by award-winner Roman White. Debuting nationally on USAToday.com, the video stars Ashley DeRamus, a young lady living with Downs Syndrome, bringing awareness to those living with the disease.
"This song shares a universal message of hope and encouragement," comments Crabb. "We're all going through something and this song reminds us that love – of Jesus, of our families – it's stronger than anything and will pull us through. I am honored that I was chosen to sing this song."
The album, available in stores and online, boasts all original artist recordings from some of the brightest, biggest, and best artists who are performing songs of faith notable for their uplifting lyrics.
Top 25 Country Songs of Faith is a double-disc collection including Grammy-winning artists from contemporary chart-topping acts to legendary hit-makers. Fans will recognize favorite No. 1 tracks, heartfelt duets, and a mixture of ballads and up-tempo songs.
There's no slowing down for this talented communicator. Jason Crabb is currently on the road with the "Music & Madness" tour with Mark Lowry & The Martins and also the "Learning To Laugh Again" tour with Chonda Pierce. He is featured on the soundtrack CD to Kirk Cameron's feature film Saving Christmas and is writing for a brand new project – his debut release on Provident Label Group's Reunion Records.
Top 25 Country Songs of Faith – Disc 1
1.     Bless The Broken Road – Rascal Flatts
2.     Touchdown Jesus – Tim McGraw
3.     Jesus, Take The Wheel – Carrie Underwood
4.     Long Black Train – Josh Turner
5.     What The World Needs – Wynonna Judd
6.     Hello World – Lady Antebellum
7.     I Need Thee Every Hour –  Amy Grant duet w/Vince GIll
8.     Baptism – Kenny Chesney duet w/Randy Travis
9.     That Old King James – Scotty McCreery
10.  Heaven Sent Me You – John Michael Montgomery
11.  Three Wooden Crosses – Randy Travis
12.  When I Get Where I'm Going – Brad Paisley feat. Dolly Parton
Top 25 Country Songs of Faith – Disc 2
1.     That's Why I Pray – Big & Rich
2.     The Man I Want To Be – Chris Young
3.     Love Is Stronger – Jason Crabb
4.     Holes in the Floor Of Heaven – Steve Wariner
5.     Ten Thousand Angels Cried – LeAnn Rimes
6.     This is God – Phil Vassar
7.     That's What I Love About
Sunday
– Craig Morgan
8.     When It's My Time – Rodney Atkins
9.     What Would Jesus Undo – Michael Boggs
10.  Angel Band – Vestal Goodman & George Jones
11.   Daddy Sang Bass – Johnny Cash
12.  I'll Fly Away – The Charlie Daniels Bad
13.  The Duck Dynasty Song – Amanda Ryan
Connect with Jason Crabb:
JasonCrabb.com
Facebook.com/JasonCrabbMusic
Twitter @JasonCrabbMusic
Tags:
amy grant
,
Carrie Underwood
,
Chris Young
,
Christian Country News
,
dolly parton
,
Johnny Cash
,
Kenny Chesney
,
Lady Antebellum
,
Rascal Flatts
,
TIM McGRAW
,
Wynonna Judd
Posted in
announcements
|
Comments Off

on Jason Crabb Joins Rascal Flatts, Tim McGraw, Carrie Underwood, Lady Antebellum, Amy Grant, Dolly Parton and More on New Collection: Top 25 Country Songs of Faith
Written by SGN Scoops Staff on October 29, 2011 – 10:15 am -
The Roys were named Inspirational Bluegrass Artist of the Year during last night's 17th Annual ICM Faith, Family &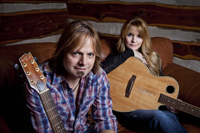 Country Awards Show. Siblings Lee and Elaine performed "That's What Makes It Love," with special guests Ricky Skaggs and The Whites, before a sold-out crowd. The song is from The Roys' current CD, LONESOME WHISTLE, which was recorded at Skaggs Place Studio and released in March on Rural Rhythm Records. The Awards show was held at Nashville's Schermerhorn Symphony Center, and co-hosted by GAC-TV's Storme Warren and Inside Edition's Megan Alexander.
"We are absolutely honored," says Elaine Roy of the duo's win. "We were raised on Bluegrass," adds her brother, Lee. "Faith and music are our life's touchstones." The two enjoyed a busy ICM week, entertaining crowds at a showcase with Doyle Lawson & Quicksilver, and at Power Source Magazine's #1 Inspirational Country Singles Party. These dynamic Bluegrassers continue a busy touring schedule through year's end, opening tomorrow night for John Rich and Darryl Worley at the Fall Festival at BamaJam Farms in Enterprise, Alabama. Additional dates include shows in Minnesota, Kentucky and Florida. The duo kicks off 2012 with their first-ever shows in Australia at the acclaimed Tamworth Festival.
The Roys have taken their signature sound to a host of Bluegrass gatherings this year, including: Turkey Tracks Bluegrass Festival; Tennessee Fall Homecoming; Rocky River Fall Bluegrass Festival; Niles, MI Bluegrass Festival, and Eastern Music Festival's Bluegrass Night. The duo has also introduced countless Country fans to the Bluegrass genre, performing at numerous high-profile events this Summer, kicking off Country Thunder Festival USA (where they opened for Lady Antebellum), Dollywood, Dogwood Park Concert Series and more. They've appeared on several Fox Television Network shows, Daily Buzz, ABC-TV's What's The Buzz, Daytime, GAC-TV, RFD-TV and numerous other popular programs and networks.
The Roys' recent hit, "Coal Minin' Man" rocketed up the Bluegrass charts, landing at #1 on Power Source's Bluegrass Top 35 Chart, #1 on HotDisc International Top 40 Chart, #3 on Bluegrass Unlimited's National Bluegrass Survey and #4 on Bluegrass Music Profiles' Top 30 Singles Chart.
The Roys were previously honored with the ICM's Duo of the Year Award in 2010 and 2009.
Tags:
Dollywood
,
Doyle Lawson & Quicksilver
,
Inspirational Bluegrass Artist of the Year
,
Lady Antebellum
,
LONESOME WHISTLE
,
Ricky Skaggs
,
The Roys
Posted in
announcements
,
christian entertainment
|
Comments Off

on The Roys Named Inspirational Bluegrass Artist of the Year At 17th Annual ICM Faith, Family & Country Awards
Written by SGN Scoops Staff on January 19, 2011 – 3:34 pm -
NASHVILLE, Tenn—January 19th, 2011—Gospel music mainstays Jeff & Sheri Easter visited Nashville last
night to enjoy the nominee celebration for the 53rd Annual GRAMMY® Awards, an annual gathering of nominees and members and officers of the National Association of Recording Arts & Sciences, Inc. (NARAS).
The couple met up with old friends and new acquaintances at the red carpeted event held at the Loews Vanderbilt Hotel in downtown Nashville in honor of their recent nomination, the second of their career, for Best Southern, Country or Bluegrass Gospel Album, recognizing the group's most recent GMA DOVE Award-winning release, Expecting Good Things (Spring Hill Music Group/She Loved Music), produced by Jeff & Sheri Easter and Greg Cole.
The 53rd Annual GRAMMY® Awards will take place at the STAPLES Center in Los Angeles, broadcast live on CBS on Sunday, February 13th, 2011. All information regarding nominated recordings for the 53rd Annual GRAMMY® Awards is available on www.grammy.com.
ABOUT JEFF & SHERI EASTER
Two-time GRAMMY®-nominated Jeff & Sheri Easter are Gospel music treasures. They are featured regularly on the Gaither HOMECOMING videos and international HOMECOMING tours in addition to their own heavy schedule of appearances. Jeff & Sheri are the recipients of six GMA DOVE Awards, 15 Singing News Fan Awards, three Society for the Preservation of Bluegrass Music Association Awards, two International Country Gospel Music Association honors, 16 Voice Awards, four Southern Gospel Music Fan Fair Awards, five SGN Scoops Diamond Awards, four Hearts Aflame Awards and three Cash Box Awards.
Formed in 1988 following childhoods as part of their respective, nationally-known family groups—The Lewis Family and The Easter Brothers, the married couple is joined today on stage by their children—Madison and Morgan Easter—who round out the group. The group is known for such hits as "Roses Will Bloom Again," "Praise His Name," "Thread of Hope," "Speak to the Mountain" and many others including "Born to Climb," which garnered a 2010 DOVE Award.
For further information, visit www.jeffandsherieaster.com.
Tags:
gaither
,
GRAMMY® Awards
,
Jeff & Sheri Easter
,
Lady Antebellum
Posted in
announcements
,
artists
,
Christian interest
|
Comments Off

on JEFF & SHERI EASTER Celebrate GRAMMY® Nod with Nashville Honorees