Written by Staff on October 12, 2020 – 12:25 pm -
Nashville, TN —  Legacy Five and The Wardlaw Brothers are two groups, from two genres of music traditionally separated more often by race than by the style of music.  Legacy Five is in Southern Gospel which consists of predominantly white artists.  The Wardlaw Brothers are in Gospel which is made up of predominantly black artists.  It is understood that music is divided into genres for industry cataloging purposes and creative stylistic referencing.  But music too often has a racial divide that supersedes creative content.
The Christian music genre is not exempt from its own dilemmas of racial division.  Racial barriers exist in an industry of believers who write and sing about the one God and His one Kingdom.  Also, the current climate of our nation is plagued with reoccurring racial injustices and cultural clashes.  But now, Legacy Five and The Wardlaw Brothers have joined together to be an example of one unified body.
Legacy Five and The Wardlaw Brothers unite for a ground-breaking collaboration called "9 Makes Us 1″.  Their nine voices fuse under the nine Fruit of the Spirit – Love, Joy, Peace, Goodness, Faithfulness, Patience, Kindness, Self-Control, and Gentleness to convey one message – unity.  This effort is a strategic and God-appointed mission to desegregate Christian music genre classifications by putting race aside to demonstrate black and white men bonding in a multicultural cohesive environment all to the glory of GOD.  The result is a beautiful and influential song of the same name "9 Makes Us 1".
"9 Makes Us 1 is a powerful song of unity that our nation and the world need to hear now," says Tony Wardlaw of The Wardlaw Brothers.  "The song simply says that there is no place for hatred and that we all need to have empathy for one another.  We must consider what it's like to walk in each other's shoes and try to look past each other's differences to live and survive as one – just as Christ Jesus would have us all be one."
"When I was first approached about Legacy Five joining forces with The Wardlaw Brothers, my answer was an immediate YES!  We're in!" Scott Fowler of Legacy Five states.  "The recording session was an amazing day of unity and brotherhood.  I know the Holy Spirit was there and this is not a publicity stunt for either group.  We are men of different backgrounds coming together with one goal – racial unity.  And, what better way to do that by being an example of the nine fruit of the spirit that make us one."
"9 Makes Us 1" is written by Luther Wardlaw and produced by Tyrone Dickerson and Luther Wardlaw.  This monumental musical effort will be available on all digital music outlets on October 16 released by Daywind Music Group, TWB Records and The Orchard.   The single will premiere exclusively on Monday, October 12 at 10 AM eastern on all SiriusXM Christian Music channels – Enlighten Channel #65, Kirk Franklin's Praise Channel #64, and The Message Channel #63.
Legacy Five has earned four GMA Dove Award Nominations that include two 2020 nominations  for Southern Gospel Song of the Year for "What Kind Of Man" and Southern Gospel Album of the Year for PURE LOVE.  They were also awarded The Southern Gospel Music Association Recording of the Year.  Their rich four and five-part harmony is delivered by group members Matt Fouch (bass), Bryan Walker (baritone), Scott Fowler (lead), Lee Black (tenor), and Josh Townsend is the group's pianist.
The Wardlaw Brothers have become one of Gospel music's most notable groups with their incredibly tight vocal arrangements and dynamic stage presence.  Tony, Luther, Carl, Jamie, and Rodney Wardlaw are biological brothers who have garnered a Stellar Award nomination for their GOD'S BEEN THERE album and a GMA Dove Award Nomination for their #1 Billboard Gospel Album STAND THERE.
Many social situations plague our world and sometimes seem hopeless.  But, through Christ and the power of unity, healing and change can be accomplished.  By believing and actively applying the fruit of the spirit, a wellspring of hope can be ignited and we can all live united as one.  That is the hope of 9 Makes Us 1.

Tags:
9 Makes Us 1
,
Fruit of the Spirit
,
gospel music
,
legacy five
,
Southern Gospel Music
,
The Wardlaw Brothers
Posted in
announcements
,
artists
|
Comments Off

on Legacy Five and The Wardlaw Brothers unite for "9 Makes Us 1″ 
Written by Staff on August 4, 2020 – 11:05 am -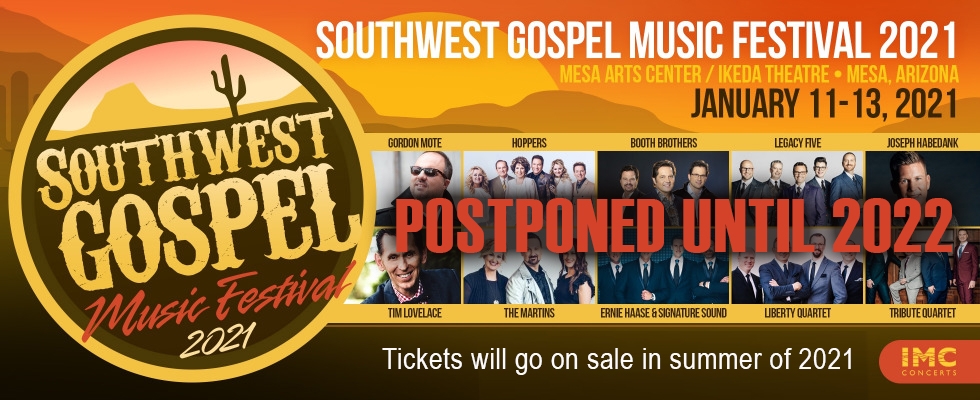 Johnson City, TN – In compliance with local and state mandates and recommendations limiting public gatherings due to COVID-19, IMC Concerts has announced plans to postpone the 2021 Southwest Gospel Music Festival, originally scheduled for January 11-13 in Phoenix, AZ.
"We are deeply saddened by having to postpone the SWGMF until 2022," IMC President, Landon Beene states. "It was a very difficult decision, but our team has been closely following updates by the CDC, as well as the local officials in the greater Phoenix area, and we felt this was the best decision to make at this time."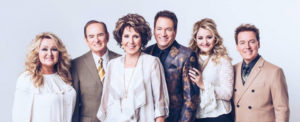 According to Beene, the postponement was made in the best interest of the event attendees, as well as the artists featured at the event.
"The health and well-being of our patrons is of the utmost importance. At this time, unfortunately, we are not able to provide a definite date as to when to expect things to be back to normal, which puts us in a challenging position."
Although a definite date is not being announced at this time, the new date is tentatively set for January 13-15, 2022.
"This is the date we are hoping to be able to make happen," Beene continues, "and we plan to offer the same wonderful line-up of artists that we had scheduled for the 2021 event."
Beene also states that all ticket holders from the 2020 event will be contacted directly by IMC representatives and will have the first option to renew their same seats once the event goes on sale in the summer of 2021.
"Unfortunately, the capacity restrictions in place make it impossible for us to plan, promote and host our event in January, 2021. With that said, we WILL RETURN, and we are already looking forward to this event in 2022. Our prayers are with the artists and the great fans of Gospel Music during these difficult and unprecedented times."
Did you know that you can receive the printed, full-color version of SGNScoops Magazine by subscription? Find out more 
HERE
.
Find SGNScoops Magazine On Facebook 
HERE.
You can download the latest edition of SGNScoops Magazine 
HERE.
Read the latest edition of SGNScoops Magazine online
HERE
.
Listen To Today's Gospel Music
HERE
Tags:
2021 Southwest Gospel Music Festival
,
gospel music
,
hoppers
,
imc concerts
,
legacy five
,
Southern Gospel Music
Posted in
announcements
,
artists
|
Comments Off

on IMC CONCERTS ANNOUNCES POSTPONEMENT OF SOUTHWEST GOSPEL MUSIC FESTIVAL
Written by Staff on April 1, 2020 – 3:37 pm -
Sunday night, March 29, 2020, we asked our readers to pray for Josh Townsend of Legacy Five. The talented young pianist suffered two seizures that night, after a full year without any seizures.
Legacy Five have been giving updates on Josh's health and also reposting reports from Josh's mother, Kevalyn Townsend. Kevalyn says:
Update 03/30/2020:
Last night, I had to make a decision about Joshua's health that I couldn't have imagined having to make 2 months ago!
After Joshua's second seizure, I had to decide if I was going to take him to the hospital, knowing that we could be separated for an indefinite amount of time AND risk exposing him to COVID-19, or keeping him home and monitoring him. I had to decide if the risk of a brain bleed/injury was less deadly than COVID-19 exposure. Joshua's neurologist told me that he would support my decision either way, but he wouldn't make the decision.
Knowing that I had the support of other acute care nurses, and knowing that I had immediate access to several physicians including Joshua's neurologist overnight, I made the decision to keep him home and monitor him.
I am blessed to report that he made it through the night without another seizure and he has no obvious signs of an acute brain injury. His back, head, and hand hurt from the fall and he chewed his tongue during the seizures so, his tongue is swollen and sore, but other than the "expected" pain, he appears to be doing well. I'm pretty sure that he is really tired of me shining a light in his eyes every hour to check his pupils and asking him orientation questions!
Today, we will follow up with his neurologist and PCP to develop a plan of care. I'm sure it will include a head CT and blood work, as soon as we can get it scheduled.
We want to thank everyone for the love and support shown through texts, messages, phone calls, and prayers!! This isn't an easy journey for Joshua but he knows he doesn't have to walk it alone!! ❤️
Please keep him in your prayers!
#Godsbeengood #WetrustHim
#Stayhome #Covid19kills
Update 04/01/2020
Joshua's head CT was unchanged – no bleeding or additional injury. His hand X-ray didn't show any fractures, just some soft tissue swelling. We are still waiting on his blood work to determine if his medication level is therapeutic or if we need to titrate up. He is sore from the fall and his tongue is still swollen but he is on the uphill swing! 🙌🏼
He will be posting a video sometime today to thank everyone for your love and support!! ❤️
Please keep him in your prayers. 🙏🏼
————————————————————-
We encourage all our readers to keep praying for Josh and his mom, and of course all of the members of Legacy Five.
Tags:
gospel music
,
Josh Townsend
,
legacy five
,
Pianist
,
Southern Gospel Music
Posted in
announcements
,
sgn scoops magazine
|
Comments Off

on Update on Josh Townsend of Legacy Five
Written by Staff on March 29, 2020 – 5:27 pm -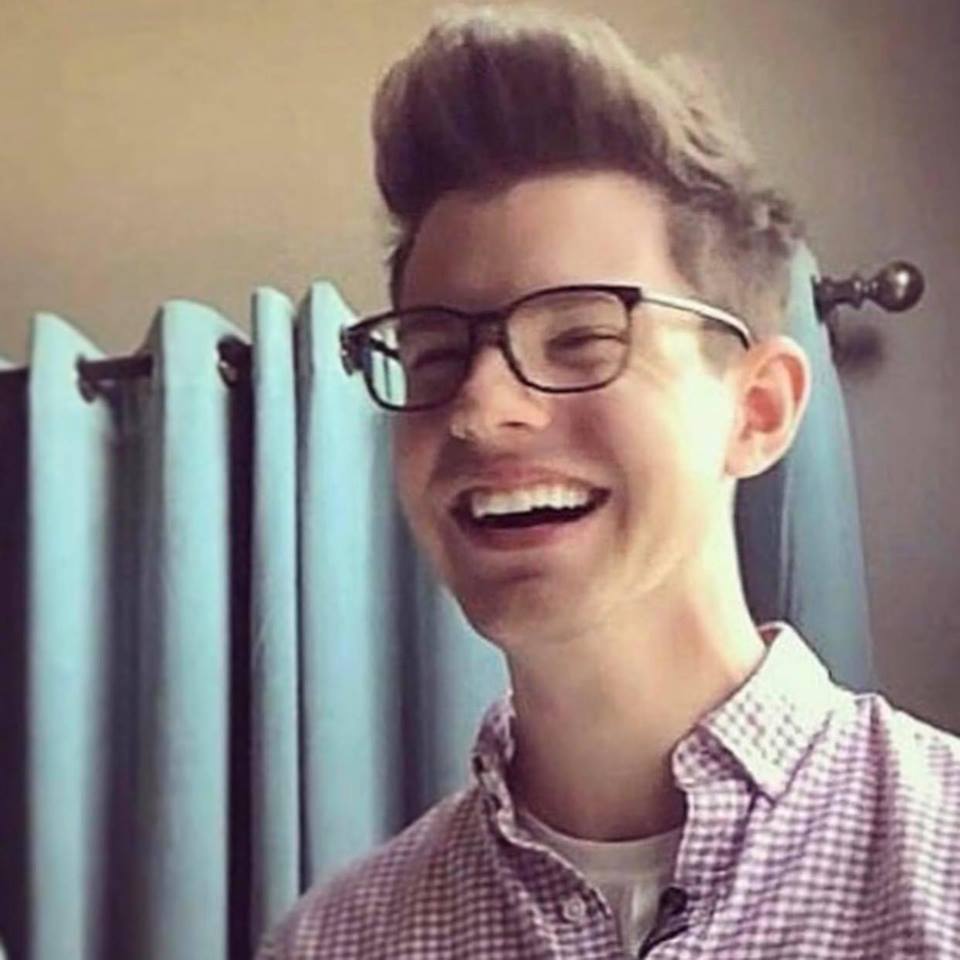 Josh Townsend is the pianist for Legacy Five. At 23, he already has a large following and is one of the best pianists in gospel music. Many know that Josh had a difficult beginning as his mom suffered abuse while carrying him. This caused multiple health serious health issues, and although the hand of the Lord has moved mightily in his life, he still has some difficulties. Early last year, Josh suffered seizures, and in February of 2020, he celebrated a full year seizure-free.
Phil Pugh of Southern Ontario, Canada, reported this afternoon:
Please send up some prayers for a friend in the gospel music industry; Josh Townsend had a seizure today and could use them, thanks.
This is all we know at this time. Please keep Josh Townsend and his brothers in Legacy Five in your prayers.
Tags:
gospel music
,
Josh Townsend
,
legacy five
,
seizures
Posted in
announcements
,
artists
|
Comments Off

on Josh Townsend needs our prayers
Written by Staff on March 19, 2020 – 6:07 pm -
Let's Come Together While Staying Apart
Initial Slate of Concerts Announced
NASHVILLE, Tenn. (Thursday, March 19, 2020) – Godsey Media Management is proud to present a chance for all of us – fans and artists alike – to come together and unite while practicing social distancing. Thousands of concerts have been postponed for Christian artists and we don't want you to miss a moment of the music. Godsey Media Management is set to present a new online concert series, "HOPE SINGS," featuring your favorite artists live in concert from our TV studio in Nashville, Tennessee, directly to you, wherever you are.
The process is easy: a "Family Pass" to each concert is one low price of $20.00 per concert. Click the concert link below, fill in your email address, create a password, choose your method of payment – that's it! You can enjoy the concert at the scheduled time and it will be available for 24 hours after the live broadcast. You can watch easily on your Smart TV, computer, tablet or phone. (one pass per household)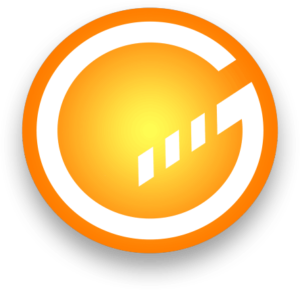 We as artists, creators, listeners, and as a community can continue to share the light, love, and hope of Christ in this troubled time. For many artists this low ticket price to their online concert will be there main source of revenue while touring continues to be limited. We know many friends and fans need encouragement and want to support the artists they love.
Scott Godsey says, "You can buy multiple tickets and gift them to your friends and family. This is truly a time for us to come together and give the world access to personal, interactive concerts that will bring hope and encouragement in a time of crisis. The artists need your support more now than ever and they are putting together some unique ideas to make these online concerts even more special for those who are willing to purchase a pass! We will be producing a high quality production with staging, lighting and multiple cameras to give the consumer a real experience like never before."
The initial schedule of concerts will feature Greater Vision, Ivan Parker, Legacy Five, Perrys, Gold City, Brian Free and Assurance, 11thHour, Aaron Wilburn and friends, Jim and Melissa Brady, Tribute, Freemans, Nelons, Jeff Stice, LeFevre Quartet, The Old Paths, and more to be announced.
Godsey Media Management is known for the nationally syndicated Music City Show as well as producing and broadcasting live events through TV networks and streaming platforms for many years.
Tags:
11thHour
,
Aaron Wilburn and friends
,
brian free and assurance
,
Freemans
,
Godsey Media Management
,
gold city
,
gospel music
,
Greater Vision
,
Hope Sings
,
ivan parker
,
Jeff Stice
,
Jim and Melissa Brady
,
lefevre quartet
,
legacy five
,
nelons
,
Perrys
,
Southern Gospel Music
,
The Old Paths
,
Tribute
Posted in
announcements
,
artists
|
Comments Off

on HOPE SINGS Introduced by Godsey Media Management
Written by Staff on January 30, 2020 – 2:57 pm -
Legacy Five Turns 20
At 20 years of age, the teenager becomes a young adult. The brain is still developing, but otherwise, most human beings are physiologically mature by this age. Gospel quartet Legacy Five enters this age of maturity in January 2020 and is fully embracing this by the release of "Pure Love," a dynamic re-awakening of the powerful Legacy Five sound first heard in their unofficial debut at the National Quartet Convention in September 1999. Scott Fowler, at the helm, is deftly guiding his group into their adulthood, with Josh Townsend, Matt Fouch, and newcomers Lee Black and Bryan Walker.
Who Fowler is now, is the result of God working in his life, bringing him into contact with Roger Bennett to form Legacy Five, and prior to that, leading him into ministry with the Cathedrals to sing with Bennett, Ernie Haase, and legends Glen Payne and George Younce. It was the Cathedrals that ignited Fowler's desire to sing. From that time to this, God has been fulfilling Fowler's dreams in a way even he could not imagine.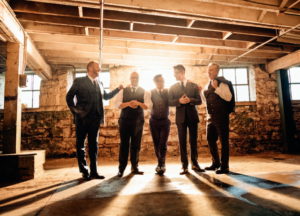 "I have been blessed to sing in a lot of amazing places in my 31 years (of professional gospel singing)," says Fowler. "I've sung at many of the churches in America that people would say are important to sing at. We have had United States Congressman and Senators in our audience over the course of 20 years. I have personally sung at a Billy Graham Crusade, in Cleveland, Ohio, where 70,000 people were packed in the Cleveland stadium."
Fowler relates a particularly poignant memory, "Legacy Five saying on the (Ground Zero) Observation Platform, the day it was dedicated in New York City, just weeks after 911. There was still smoke rising from the site and we stood on the Observation Platform (as) it was dedicated by Rudy Giuliani and we sang the national anthem." 
With all of these remarkable experiences, certain blessings stand out to the owner of Legacy Five.
"I had a husband and wife approach me in the lobby and tell me that they had been married for 46 years, and that they had decided to separate and dissolve their marriage," Fowler recalls. "She and he both informed me that evening, with tears in their eyes, that after being at our concert, they had decided not to do that and were going to get the help that they needed in their marriage. And what I love about the gospel is, whether it is presented in music or any other package, we didn't sing one song or say one word that night about how God can restore marriages. And yet he somehow was able to convey that message to that couple that night. And the amazing thing is, that he was able to convey a totally different message, concerning a totally different need, to two totally different people the same night. I love hearing those individual stories from people about what God does for them through our music."
God has worked through Legacy Five many times to change hearts.
"I think about the young lady a few years ago who came to us after the concert, weeping, saying that her life was a mess and that she had decided to take her life this very week," Fowler recalls. "But after being at our concert and hearing the message, she was given a new sense of hope."
Reminiscences over the life of Legacy Five would not be complete without talking about the group's co-founder Roger Bennett, who passed away March 17, 2007.
"I feel like I learned a lot from Roger," says Fowler. "A couple of things that I learned from him were, how possible it was to have a great attitude in the midst of great distress and difficulty.  Roger endured three bone marrow transplants and countless chemotherapy treatments, and I can probably count on one hand the number of days that I feel like he was living defeated that day. He was extraordinarily resilient and optimistic and positive and happy and joyful. He was always, always, always laughing."
"He taught me to be honest and transparent with myself and others.  He was a remarkable man. He was my best friend. And I still miss him fiercely," declares Fowler.
Frank Seamans was the tenor with the quartet when Bennett passed. He shares a great memory from this pivotal moment in the history of Legacy Five.
"When we lost Roger Bennett to cancer in 2007, we had no idea how to move forward," Seamans shares. "We were simply trusting God to help us and he certainly did. The first concert date after Roger's death was quite a challenge. How do we start? What do we say? What do we sing? How do we address our loss on stage? These were all questions we couldn't answer, but we prayed before going out and just asked God to lead us. We didn't have a plan, but we decided to sing three of our standards without saying a word and then see where God takes it from there. As we sang those first three songs, we noticed an adorable and very exuberant couple in their late 80's, sitting in the first row, clapping and singing along with every word. They were such an encouragement to us with their enthusiasm and sweet disposition. We stopped after those three songs and addressed the gentleman: 'Thank you so much for your enthusiasm, sir. You are such a blessing to us tonight. How many years have you two been married?' 
"'He grinned and answered, 'We're not married, we're on a date.' The whole place erupted in laughter, and the rest of the concert was so light and fun, we never had to think about any of those questions," Seamans concludes. "God knew exactly what we needed that night and we believe He placed that little couple on the front row just for us."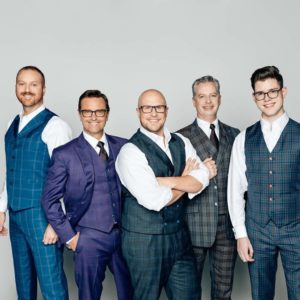 Laughter is something everyone needs and Fowler and his group often deliver that during their performance. Tim Parton learned this during his time as pianist for the quartet.
"Scott Fowler taught me about having fun on stage, and when I have fun, the audience can too," says Parton. "Scott also taught me that nothing happens by accident; you only see results when you've planned for results. Scott is a machine, but you'd never know it because he makes it look like he's just having a good time."
"Be who you are, there's an audience for almost everyone," Parton continues. "Enjoy the journey, support your friends, love people, love God. Fall, get back up. And forgive. "
"I had a super time with L5 and I don't think I ever laughed so hard than when I was on stage with them and Scott Howard forgot his words and made up an entire verse without skipping a beat," laughs Parton. "I couldn't see the piano keys for the tears."
As Parton recalls, the gang was full of hijinks, and even the boss wasn't exempt from the jokes.
"I recall hiding in Fowler's closet after a concert and waiting until he changed clothes to scare the daylights out of him," says Parton. "But one never does anything to Scott without him returning the favor, so I kept the shenanigans to a respectful level."
Parton concludes his recollections with this comment: "Being with L5 was such a super time  in my professional life when all heck was falling apart at home. So grateful for Scott, Glenn Dustin, Scott Howard, Frank Seamans, and Gary Buckner. We were Legacy Five."
Tags:
Bryan Walker
,
Josh Townsend
,
Lee Black
,
legacy five
,
Matt Fouch
,
Scott Fowler
Posted in
Christian interest
,
sgn scoops magazine
|
Comments Off

on Legacy Five: "What Kind Of Man" is Scott Fowler?
Written by scoopsnews on December 29, 2019 – 1:07 pm -
When the Legendary Cathedral Quartet retired in December of 1999, Scott Fowler and Roger Bennett decided to continue the rich musical tradition of Southern Gospel Quartet singing. Legacy Five was organized and had their official debut in January 2000 in Atlanta, Georgia. Since that day, they have made a major mark on the Southern Gospel Music world. Immediately audiences responded overwhelmingly to their four-part harmony and their ability to effectively communicate the message of Christ. Since the quartet's formation, they have established and maintained a firm place at the top of Christian music.
Legacy Five has enjoyed more success in their short career than many groups experience in decades. In their first ten years, The Singing News Magazine has nominated Legacy Five for some 75 Singing News fan awards. Year after year they are recognized as one of Gospel music's favorite southern gospel groups. The Southern Gospel Music Association honored Legacy Five with Recording of the year and they have had 2 Dove Award nominations.
Legacy Five has been featured on numerous video tapings of the Gaither and friends Homecoming Video series, which has sold multiple millions of copies worldwide. They have also appeared on In Touch, with Dr. Charles Stanley, as well as In Touch Ministries' sponsored cruises. Legacy Five is also regulars at Dr. David Jeremiah's Shadow Mountain Community Church in El Cajon, California. Viewers across America have seen Legacy Five on TNN, TBN, Sky Angel, INSP, GMT, The Odyssey Network and a host of local channels.
The rich four and five part harmony that Legacy Five has become noted for are the result of a masterful weaving together of five unique and versatile talents. Matt Fouch sings the bass, Bryan Walker sings the baritone, Scott Fowler sings the Lead, Lee Black sings the tenor and Josh Townsend is the group's pianist
Some 130 times a year, Legacy Five presents Gospel music in a way that has endeared them to audiences all across the United States and Canada.
(From L5 Website Bio)
Congratulations Legacy Five for Having the Number 1 Song  January  SGN SCOOPS!
WHAT AN AMAZING SONG!
More about Legacy Five HERE
Tags:
legacy five
,
What Kind Of Man
Posted in
announcements
|
Comments Off

on Congratulations to Legacy Five- Number 1 Song "What Kind Of Man"/ SGN SCOOPS MAGAZINE
Written by Staff on December 9, 2019 – 6:46 pm -
It's that time again. Christmas is a time when family and friends come together and celebrate the birth of Jesus Christ, the greatest gift to humankind. While I enjoy opening presents, listening to music, and eating great food, I have realized more and more that none of that matters much compared to Jesus and family.
Over the years my family has struggled financially and experienced loss, but we always manage to have a fun and meaningful holiday season. I will always cherish being with family playing games, eating food, and going to look at Christmas lights. It is my hope that reading the following memories from your favorite Southern gospel artists will get you in the spirit of Christmas and remind you to cherish the time you have with family and friends. 
Merry Christmas…
Matt Fouch (Legacy Five): "Being able to now be the head of my family and read the story of Jesus birth on Christmas Day to my family."
Matt Dibler (Inspirations): "My favorite Christmas memory was a tradition we had. Every Christmas Eve we would turn out all the lights and use only candles and the lights from the Christmas tree. We would sing Christmas Carols and read the Christmas story from Luke 2 and have family prayer. I think of it every year.."
Jeff Collins (Producer): "I have several great Christmas memories, as my parents made Christmas very special for my sister and I throughout our childhood. But there was one particular year that was extra special. I was around 11 or 12 years old and had asked Santa Claus for a minibike. After what seemed like years, Christmas Eve arrived, and I was hoping and praying Santa would make my wish come true. Lo and behold, on Christmas morning when Mom and Dad let us come down the hallway and around the corner to the living room, there sat my minibike. I was so happy. I was itching all morning to get outside to ride it, but first we had to open all of our presents, eat breakfast, and then finally go outside. 
We finally got the bike out in the carport and Dad says, 'Start her up, Jeff.' This minibike was a bare-bones kind of minibike with a basic Briggs and Stratton lawn mower engine. Anyhow, I started pulling on it, trying to start it. I pulled until my arm was like Jell-O. No start. My dad pulled on it for another 30 minutes. A neighbor was there by then, pulled on it for 30 minutes. Man, was I getting frustrated. I should mention here that there is an on and off switch between the handlebars and the seat. We had it in the 'on' position. Another neighbor had showed up by now. It was getting close to lunch. He reached down and haphazardly turned the switch to the 'off' position, pulled the engine, and it started. Just like that. But finally… I got to ride my minibike. I was one happy 11 year old."
Arthur Rice (Kingdom Heirs): "In the fall of 1987, my dad had a brain aneurysm. I was with the Kingsmen at the time and they had folks praying all over the country. He came out of the surgery great and the only paralysis was his memory. He didn't know who we were or what had happened. Just before Christmas he said it was like he heard a switch in his head go on and he started remembering us little by little. He was able to come home for Christmas and shortly after that all his memory returned. The Lord gave us 14 more years with him. It was a very thankful Christmas."
Mark Trammell (Mark Trammell Quartet): "The year my dad and mom went without Christmas so they could buy my first bass guitar. I didn't know it until years later. Priceless lesson in unselfish lifestyle."
Josh Feemster: "I think it would have to be the last Christmas with my grandma. She was so much fun. This particular Christmas she stayed at our house. My dad, brothers and myself went to a Christmas event without my mom and grandma. She just wasn't feeling well so they decided to stay home. This particular trip was memorable because of the sleeting going on during the drive,kinda rare in Alabama in December. Anyway, it was Christmas Eve and when we got back to our house Santa had already been there. All of our presents were out and Grandma convinced me that she helped him unload them. She was the greatest. We had a great time and I'll never forget eating her chicken and dressing one last time the next day. Within a month she was in heaven. I don't really remember what toys I got but I'll always remember how happy she was to be with us."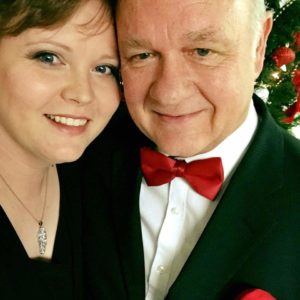 Lisa Williamson (The Williamsons): "When I was 16, my family and I were going through a pretty tough time. My mom had broken her ankle so our spirits were down. We hated to even ask, but my sister Rachel and I really wanted a PlayStation for Christmas. We didn't want to get our hopes up, but we sure were hoping to see that thing under the tree on Christmas morning. A week or so before Christmas, Mom came into the living room on her crutches wearing a brand new tee shirt. The back of it had a very bright, colorful, and recognizable logo…PlayStation. We kept asking her where she got her shirt, but all she would do was smile. Needless to say, we opened a PlayStation on Christmas morning."
Randy Crawford (Formerly of The Kingsmen): "Not so much a memory as it is something I miss. My grandmother on my father's side always used to have a "sock" for us grandkids. It truly was a sock. But it was filled with fruits, candy, and old fashioned peppermint stick candy. We used to cut a hole in our oranges and suck the juice out through the peppermint candy. I miss my grandmother so much, and love she put into our 'socks'."
Maria Kramer Wolfe (The Kramers): "My favorite Christmas memory, or tradition, is putting up the Christmas tree while listening to traditional Christmas music and baking Christmas cookies. I love family time the most, so getting together with family during the Christmas season is a rich blessing."
Steve Ladd (The Old Paths): "My favorite Christmas memory is my first Christmas as a father. Christmas took on a whole new meaning to me since then… my children's face and the excitement made me not care if I ever got another gift."
Tammy Burns (Troy Burns Family): "My favorite Christmas memory was 1974. My oldest brother got married right after Christmas and our whole family was together for the last time on this earth. It seemed like it was the happiest time we had ever had with family and friends. That next year my little brother, Tommy, went home to be with the Lord after battling cancer for 12 years. He was only 12. I will always cherish that Christmas."
Judy Nelon: "Rex and I had been dating a while. We spent a few days with his 98-year-old mom and his other family members in his hometown Asheville, N. C., during Christmas. It was the sweetest time. We exchanged gifts and it was interesting –  we gave each other exactly the same Christmas card, he bought his in Atlanta and I bought mine in Nashville. It said 'Only You.' We knew from the start we were a match. As he was driving me back to Nashville we stopped in Waffle House. He asked if I had expected a engagement ring for Christmas and I was honest and said. 'Yes, I did.' He said, 'Okay then, will you marry me?' He had plans for a ring but he couldn't wait. He was the funniest, sweetest and most unique man. I'll always love Rex Nelon."
Les Butler (Butler Music Group): "Christmas 1971, I was nine. My parents bought me an upright piano. Little did I know that instrument would play such an integral part in my life."
Riley Harrison Clark (Tribute Quartet): "Every year while growing up in Oklahoma, my family went to Silver Dollar City for Christmas. So many memories were made and even more funnel cakes were eaten. Going there is a Christmas tradition I will never forget."
Stephen Adair (Dixie Echoes): "One year my dad was in the hospital after a series of strokes during the Christmas season. He was still in the hospital on Christmas Day, so my mom and I packed up all of the gifts that were under the tree and took them to his hospital room. We had Christmas there complete with hot chocolate, the Macy's Christmas Day Parade, and the best hospital food we could find. We were together, and that's what made that Christmas so special."
Bob Sellers (Soloist): "When I was about 10 years old, my parents asked my sister and I to clean out our closets of any toys, clothing, etc. that we could live without (only good stuff), and we took it to this one room cinder block home where a family with about six or eight kids lived. My dad had cut them a load of firewood and we gave them that, plus all the stuff my sister and I had put together. I'll never forget the look on those kids' and their parent's faces. They were about our same age, and although we were far from wealthy, they looked at us and my parents like we were angels or something. I guess to them we were, at least that year. I'm thankful for godly, loving parents who instilled the true meaning of Christmas in me."
Nic Holland (Poet Voices): "Probably my last Christmas with my mom before she died, 2003. We knew she didn't have long to live and enjoyed every second of just being together. I have no memory of one single present I got that year but my time with Mom I'll never forget."
Duane Allen (Oak Ridge Boys): "My wife gave birth to Jamie, our baby girl, on Dec. 13. Early on Christmas morning, Norah Lee slipped out of bed, dressed Jamie up real pretty, put her in her little portable bed and placed her under the Christmas tree. Then, Norah Lee came back to the bedroom, woke me up and led me to the living room to see my Christmas present."
Scott Brand (Gold City): "I couldn't possibly narrow it down to one. Christmas is my favorite time of the year. When I was a kid, my grandparents, along with my great grandmother, would come spend four or five days with us around Christmas. The Brand tradition was to cook a ham in Coca Cola all night on Christmas Eve. I can still to this day smell that cooking through the house. Just family getting together and keeping traditions alive would be my Christmas memories as a kid."
Randa Jordan (Jordan Family Band): "I was eight years old, and money was something we never had much of. I knew that Daddy and Mama didn't have enough money to go out and buy me and my brother new toys, and yet somehow I was okay with that. I was a dreamer, and I enjoyed the most simple things that surrounded me. We lived in what seemed like to me the most wonderful apartment in downtown Rome. Two stories, hardwood floors, a screened in back porch, huge living room, and the front yard was next to the busy road where the town's bus and trolley would pass throughout the day. I loved that apartment so much. The staircase was huge to me and I loved dressing up and and walking up and down them like a princess out of a fairy tail book. The morning of Christmas, 1989, I wasn't sure what to expect, but my brother and I woke up, and at the direction of Daddy and Mama, we waited on the big staircase till they instructed us to come into the living room. Bubbling with joy and wearing my little white gown and house shoes, I walked into a living room that was covered in gifts. Clothes, toys, games everywhere. The couches and chairs were covered, items set up all across the floor and gifts under the tree. It was like a dream. Dad and Mom had went "yard sale-ing" and "goodwill-ing" and loaded up without spending much at all. That was one of the best days of my life."
Sarah Davison (HighRoad): "When I was a young girl we had a huge snowstorm come through – probably 13-14 inches of snow – and it was so heavy that we lost power for several days including Christmas Eve and Christmas day. I remember Dad firing up the wood stove and Mom making homemade soup on top of the wood stove. We played board games and got some old hymnals out and gathered around the piano. It was the most quiet, peaceful Christmas I can remember and by far my favorite one too."
Amber Nelon Kistler (The Nelons): "My favorite Christmas memory is sitting around the table playing games with my whole family and grandparents at their house. Then eating the dinner my grandmama cooked …twice a year… Thanksgiving and Christmas."
Compiled by Justin Gilmore
First published by SGNScoops Magazine in December 2018
Tags:
Arthur Rice
,
christmas
,
gospel music
,
Inspirations
,
Kingdom Heirs
,
legacy five
,
mark trammell quartet
,
Matt Fouch
,
Southern Gospel Music
,
The Oak Ridge Boys
Posted in
announcements
|
Comments Off

on A Southern Gospel Christmas: Christmas Memories from Your Favorite Artists
Written by Staff on November 24, 2019 – 11:25 am -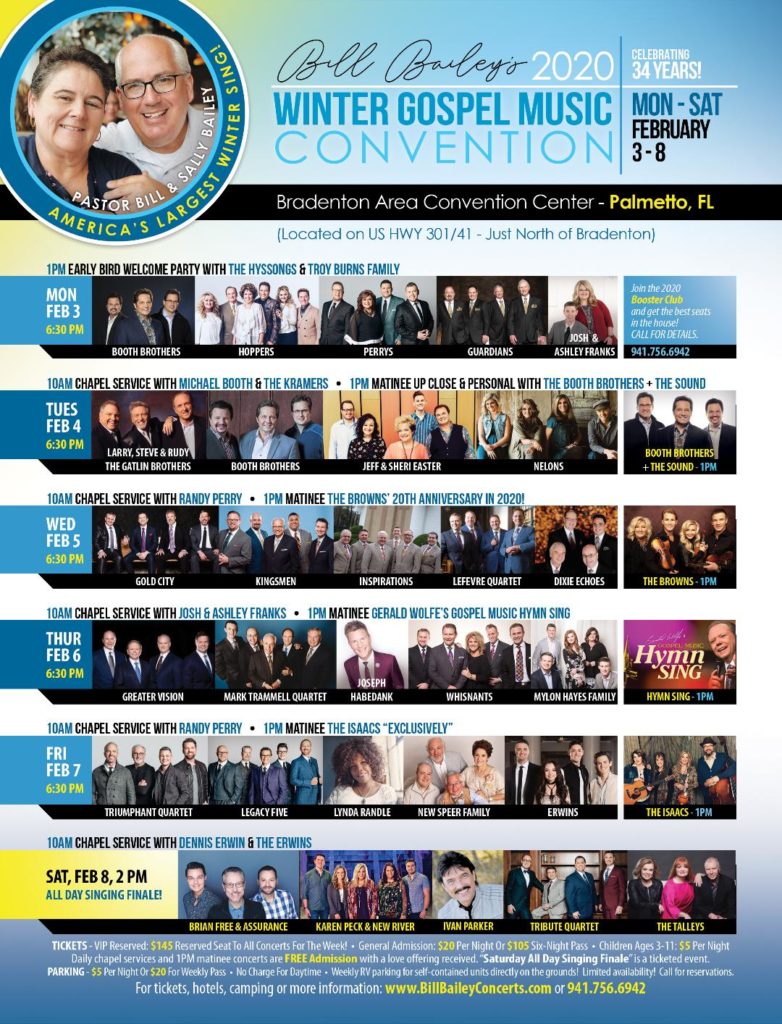 Bill Bailey's 2020 Winter Gospel Music Convention
will be held Monday-Saturday, February 3-8, 2020 in Palmetto, Florida at the Bradenton Area Convention Center.  Over 40 of gospel music's top artists will be appearing throughout the week – including special guest artist, 
Larry, Steve, & Rudy – the GATLIN BROTHERS,
 along with 
the BOOTH BROTHERS, HOPPERS, GREATER VISION, ISAACS, TRIUMPHANT QUARTET, LYNDA RANDLE, LEGACY FIVE, PERRYS, GOLD CITY, KINGSMEN, JOSEPH HABEDANK, KAREN PECK & NEW RIVER, INSPIRATIONS, and many others
!
This event is recognized as the largest southern gospel concert event in the nation during the winter.  This year's event also marks Bill Bailey's 34th anniversary promoting southern gospel concerts throughout the United States.
Monday, February 3rd  1pm
"Early Bird Welcome Party" with the Hyssongs and Troy Burns Family
Monday, February 3rd  6:30pm
"Grand Opening Night" with the Booth Brothers, Hoppers, Perrys, Guardians,
Josh & Ashley Franks
Tuesday, February 4th  1pm
"Up Close & Personal" with the Booth Brothers, and special guests, The Sound
Tuesday, February 4th  6:30pm
Larry, Steve, & Rudy – the Gatlin Brothers, Booth Brothers, Jeff & Sheri Easter, Nelons
Wednesday, February 5th  1pm
The Browns' 20th Anniversary in 2020!
Wednesday, February 5th  6:30pm
"All Male Quartet Night" with Gold City, Kingsmen, Inspirations, LeFevre Quartet, Dixie Echoes
Thursday, February 6th  1pm
Gerald Wolfe's Gospel Music Hymn Sing
Thursday, February 6th  6:30pm
Greater Vision, Mark Trammell Quartet, Joseph Habedank, Whisnants, Mylon Hayes Family
Friday, February 7th  1pm
"Exclusively" The Isaacs
Friday, February 7th  6:30pm
Triumphant Quartet, Legacy Five, Lynda Randle, New Speer Family, Erwins
Saturday, February 8th  2pm
"All Day Singing Finale" with Brian Free & Assurance, Karen Peck & New River,
Ivan Parker, Tribute Quartet, Talleys
Ticket options are available for the entire week or just specific nights. (Saturday "All Day Singing Finale" is a ticketed event.)
DISCOUNTED GROUP TICKETS ARE AVAILABLE FOR GROUPS OF 10 OR MORE!
Mon-Fri 1pm matinee concerts and 10am chapel services are free admission events, with a love offering received.  Limited amount of overnight parking for self-contained RV's is located on the grounds.
For tickets, camping reservations, hotels, or general information, call (941) 756-6942.
The Bradenton Area Convention Center is located at One Haben Blvd in Palmetto, just off US Hwy 301/41.
Read more Gospel Music News in the latest SGNScoops Magazine Online HERE.
Find SGNScoops Magazine On Facebook
Here
Listen To Gospel Music
Here
Tags:
2020 Winter Gospel Music Convention
,
Bill Bailey
,
booth brothers
,
Christian Music
,
Gatlin Brothers
,
gold city
,
gospel music
,
Greater Vision
,
hoppers
,
Inspirations
,
Isaacs
,
Joseph Habedank
,
Karen Peck & New River
,
Kingsmen
,
legacy five
,
LYNDA RANDLE
,
Perrys
,
Southern Gospel Music
,
triumphant quartet
Posted in
announcements
,
artists
|
Comments Off

on Bill Bailey's 2020 Winter Gospel Music Convention