Written by Staff on January 6, 2017 – 7:30 am -
Nashville, TN (January 4, 2017) –Allegiance Trio is excited to announce big changes for 2017. Corey Lackey has been named to the position of tenor singer.
"Corey is ready to step up. He brings a charisma to our ministry that will be exciting to watch," said Kasey Kemp, spokesman of the group. "We have formed a strong team and God is growing us. Allegiance Trio is positioned for the doors that are opening," Kemp continued.
Lackey, 22 years old, joined the Trio after relocating to Nashville from the Detroit, MI area. Previously, Lackey has been serving the group as the road manager and providing sound engineering.
"I am thrilled that Kasey and Jake are providing this opportunity. I have traveled many miles with these men and know that their hearts burn to sing. Standing beside them every night will be a distinct honor," Lackey responded.
Allegiance Trio further announces the "Time to Sing" Internet video program. Under the direction of Jake Sammons, the program features Southern Gospel artist testimonies that drive them to sing. The interviews provide a poignant view into the lives of these individuals.
Allegiance Trio is comprised of three men who combine their voices for one purpose, to align themselves to honor God with one voice. Along with Kemp and Lackey, Jake Sammons sings baritone and writes much of their music.
The acclaimed Wayne Haun and Nick Bruno skillfully produced the music for the Trio's newest project, It's Time To Sing. Gus Gaches directed the project under Song Garden Records label. Allegiance Trio has plans to release the next single from the project soon.
To keep abreast of news from Allegiance Trio, watch for their new website or click on their site on Facebook.
For more Gospel music news click here.
Tags:
ALLEGIANCE TRIO
,
Corey Lackey
,
gospel music
,
Jake Sammons
,
Kasey Kemp
,
Nick Bruno
,
Wayne Haun
Posted in
announcements
|
Comments Off

on Allegiance Trio Announces New Tenor Singer
Written by Staff on October 3, 2015 – 2:16 pm -
SGN Scoops roving reporters were out in full force during NQC this week. We hope you enjoy the portraits of faces we've all come to know and love.
Be sure to watch for the October issue of SGN Scoops where you will find even more photographs and stories of artists you love and will meet for the first time.
Thanks again to Craig Harris, Michelle and Pat Drummond and all of the SGN Scoops writers and Social Media team.
We hope everyone returns to Pigeon Forge on November 2 – 5 for the Creekside Gospel Music Convention. We can't wait! For more information and to reserve your FREE tickets click on to the Creekside website.
Tags:
booth brothers
,
Dixie Echoes
,
Greater Vision
,
hoppers
,
Keepers of the Faith
,
Kingdom Heirs
,
legacy five
,
McKameys
,
Nick Bruno
,
nqc
,
sgn scoops
,
Tribute
Posted in
announcements
,
artists
,
christian entertainment
,
Christian interest
,
gospel events
,
sgn scoops magazine
|
Comments Off

on SGN Scoops at NQC: Tribute, Hoppers, Booth Brothers
Written by Staff on July 13, 2015 – 8:44 am -
Franklin, TN (Mansion Entertainment) July 12, 2015 – The Griffith Family were recently in the Mansion Entertainment recording studios working with veteran producer Nick Bruno (Booth Brothers, Kingsmen, Quinton Mills and many others) to complete vocals for their debut, self-titled project for Mansion Entertainment.
Southern Gospel radio programmers and listeners have quickly embraced The Griffith Family's debut single, "I'm Here Because Jesus Went There" (written by Glen Bates), as it moves up the Singing News Top 80 charts and could very well become the group's first Top 40.
The group is comprised of the husband and wife team of Tony and Julie Griffith along with vocalist Amber Smith. The new project will feature songs from some of Southern Gospel's best songwriters such as Marty Funderburk, Daryl Williams, Rebecca Peck, Glen Bates and others and will be released by Mansion Entertainment with digital distribution through Sony RED in early October, 2015.
The Gray Dove Agency has recently added The Griffith Family to its roster of Christian Artists as the group moves to a full time, nation-wide touring schedule.
For more information regarding The Griffith Family's release and tour schedule visit GriffithFamilyMusic.com.
Tags:
gospel music
,
Mansion Entertainment
,
Nick Bruno
,
southern gospel
,
The Griffith Family
Posted in
announcements
,
artists
|
Comments Off

on The Griffith Family Complete New Album With Producer Nick Bruno For Mansion Entertainment
Written by SGN Scoops on January 15, 2014 – 9:09 am -
Moneta, VA (January 14, 2014) Mansion Recording Artist, The Mark Dubbeld Family open the year with a Newly Updated Website www.mjdubbeld.com and an exciting 3 month "His Love, That's Why" Southern Tour into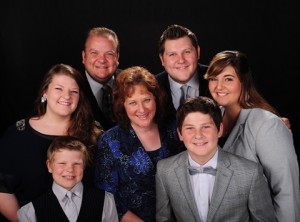 GA and FL. The family has been going south for the last 3 years and it has always been a blessing to so many.
This years Tour will take them to churches, and concert venues with opportunities to meet new friends and continue to expand the reach of the Mark Dubbeld Family. We encourage you to check us out at a concert near you.
Mark Dubbeld states "We are blessed to be sharing so many new songs from our latest CD release, "His Love, That's Why" produced by Nick Bruno and Mansion Records. I think many are going to love the new songs." Also, be looking for our new single to be released to radio "Higher Than I" written by Janene Dubbeld.
To learn more about the Mark Dubbeld Family go to our website www.mjdubbeld.com or www.facebook.com/MarkDubbeldFamily .
The Mark Dubbeld Family is booked by Michael Davis & Associates and Mountain Top Talent 828-454-5917 or www.mountaintoptalent.com .
Tags:
Dubbeld Family
,
Mansion Records
,
Mark Dubbeld
,
Mark Dubbeld Family
,
Nick Bruno
,
Southern Gospel News
Posted in
announcements
|
Comments Off

on Mark Dubbeld Family On Tour In The South
Written by SGN Scoops on April 10, 2013 – 10:49 am -
Franklin, TN (April 9th 2013) — Mansion Entertainment, a Franklin, TN based Christian Music Company, has signed the Mark Dubbeld Family to its Mansion Records division.  The Mark Dubbeld Family has had many recent successes with their release on Manor House Records titled, "On with the Praise".  Radio embraced the single releases of "I Didn't Buy It" and the strong ballad, "Inside the Gate", both penned by Janene Dubbeld.  Touring for the group has increased dramatically with these new successes and reviews of Dubbelds have been strong and frequent.
With this new signing of The Mark Dubbeld Family to Mansion Records, a new recording project is underway, produced by Dove Award Winning producer, Nick Bruno.  The project will feature songs written by Janene Dubbeld and is scheduled for release in late summer, 2013.
Bill Traylor, President of Mansion Entertainment, states, "Mark, Janene and all the Dubbelds are some of the finest and most talented people I have met.  It is an honor and major opportunity to work with such gifted people that present the message of the Gospel is such a clear and professional manner.  Janene's writing is incredible and Mark's leadership in vocals stands out as one of the best I've experienced.  We look forward to offering this new Mansion Records release.  It will be a blessing to all".
Mark Dubbeld, continues, "We have enjoyed working with Bill Traylor, and all the Mansion Entertainment team to grow our ministry. It has taken lots of hard work, prayer, and God's blessing but now we are seeing the fruits of our labor. We are excited about the progress, branding, and the doors that are opening for The Mark Dubbeld Family." 

For more information about the Mark Dubbeld Family, please visit www.mjdubbeld.com or call (540) 293-8467.
Tags:
Mansion Entertainment
,
Mansion Records
,
Mark Dubbeld Family
,
Nick Bruno
,
Southern Gospel News
Posted in
announcements
|
Comments Off

on Mansion Entertainment Signs the Mark Dubbeld Family to Mansion Records
Written by SGN Scoops on February 8, 2013 – 8:57 am -
Franklin, TN (February 7th 2013) – Pathway Records, a division of Pathway Enterprises, is proud to announce Dove Award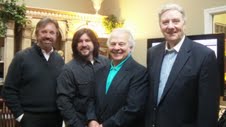 nominated Producer Nick Bruno will be joining the staff at Pathway.
With decades of performing and producing experience, Nick Bruno has produced many Gospel greats including: Squire Parsons, the Booth Brothers, The Kingsmen, and Quinton Mills. His career in performing includes working with such acts as the Rebels with Jim Hamill and Ron & Charles Booth, Coy Cook and the Senators, JD Sumnar and the Stamps and The Kingsmen. Along with his experience in Christian music, Nick has also worked as music director for a few of the largest theatres in Branson, Missouri. During his time there he worked with Christy Lane, Anita Bryant, Ferlin Husky, the Texans, and many other Grand Ole Opry stars.
When asked what he feels the role of a producer is for artists, Nick responded, "Long before any major artist is born into the world of Gospel Music there is a producer behind the scenes finding the right music and arranging it so the talent of the artist is showcased. A good producer is hard to find, but a producer who considers his role as part of God's plan to advance His kingdom is a rare gift from God indeed."   Bill Traylor, of Pathway and Mansion Entertainment states, "Nick is a rare talent and a good friend.  Nick will continue to produce major artists outside of Pathway, such as the Booth Brothers and others, but his talent and experience for Pathway and our current and future artists is invaluable".
Pathway Records is located in beautiful Franklin, Tennessee and offers several recording packages that are designed to fit a variety of needs. For more information about pricing and how to schedule studio time, please visit www.pebn.org and click on Pathway Records.
Tags:
bill Traylor
,
john mathis jr
,
Mansion Entertainment
,
Nick Bruno
,
Pathway Records
,
Southern Gospel News
Posted in
announcements
|
Comments Off

on Nick Bruno to Join Pathway Records as Producer
Written by SGN Scoops Staff on October 13, 2012 – 4:43 pm -
The Beelers, one of the fastest growing family groups in Gospel music today, recently performed at the World's Largest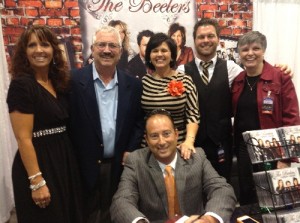 Chicken Festival in Laurel County, KY. This may be the most peculiar event that the Beelers have ever performed, but it was one of the most enjoyable.
Lead singer Cory Beeler states "It was a fun day of singing and a whole lot of eating chicken, but we were still afforded the opportunity to sing the Gospel to a crowd who wasn't necessarily familiar with Gospel music". The Beelers didn't hold anything back as they presented the Gospel in song, and made new fans in the process.
Sharing the stage with the Beelers were artists like Nick Bruno, the Galloways, and Candy Christmas, sisters, Robin and Tina said "We were honored to share the stage with artist who always sing with everything in their heart".
The Beelers recently signed an exclusive publicity agreement with AG Publicity. AGP President Deon Unthank said "We are proud to represent a group who is willing to step out of the box of traditional means to take the Gospel to the world".
Colonel Harland Sanders, founder of Kentucky Fried Chicken, is one of the most highly recognized figures in the world. Laurel County, Kentucky, located in the heart of the beautiful Daniel Boone National Forest, is proud to be the home of the Colonel's first and original restaurant established in the 1940's. Lee Cummings, co-founder of Lee's Famous Recipe Chicken, also began his career in 1952 with his uncle, Colonel Sanders, in Laurel County.
The Annual World Chicken Festival is a tribute to this heritage. We invite you to our international celebration the last full weekend of every September, in beautiful downtown London. All the "egg-citement" and entertainment for four fun filled day makes this one of Kentucky's largest festivals.
To book the Beelers contact: Beckie Simmons Agency – 615-595-7500
For Publicity contact: AG Publicity – Deon Unthank – 615-545-5315
About The Beelers
Cory, his sisters, Robin and Tina, THE BEELERS, are the new generation of this heritage with flavors of the past, present and future.  They are an extremely close and talented family.Cory Beeler is the youngest of the three siblings and was born as one of triplets, along with Rory who died at birth, and Tory, who died at the age of 5.
Cory is an incredibly anointed songwriter (it's just in his blood), singer and musician, as well as preacher of the Word.  Cory also plays guitar, harmonica and piano.
Robin is the middle sibling whom God has blessed with incredible vocal and arranging abilities.  Her talents also include piano and a comedy character they call "Sham", who is so funny and will "keep you in stitches"!  Husband, Steve, travels with the group as road manager/sound man.
Tina, the first born of The Beelers, is the mischievous one of the family, but also is the Rock!  Because their mother died when Cory was just a young boy at the time, Tina not only assumed the role of "big sister", but also became part Mother.  Her importance to The Beelers vocal performances are blessed by the same commitment she has to everything else in life.  Tina is an incredible singer with acontagious smile and helps "hold it all together!"
Tags:
Candy Christmas
,
Colonel Harland Sanders
,
Nick Bruno
,
sisters
,
southern gospel
,
Southern Gospel News
,
The Beelers
,
The Galloways
Posted in
announcements
|
Comments Off

on The Beelers Perform At The World's Largest Chicken Festival
Written by SGN Scoops on April 2, 2012 – 1:57 pm -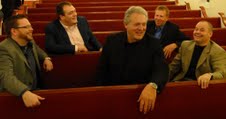 After an absence of over 30 years from gospel music, the Rebels Quartet have re-organized, and will travel on a limited schedule through the Southeast.  Having received the blessings of many of the group's former members, the desire of this quartet is to continue the vision set by the Rebels long ago, by singing many of the songs that the original quartet made famous, introducing new heartfelt messages in song, and seeing souls moved by the gospel of Jesus Christ.
The group's bass singer, Rick Fair, who has performed with other popular names such as Hovie Lister and the Statesmen, The Blackwoods, and the Palmetto State Quartet, actually began his gospel music career singing with the Rebels Quartet in 1972. Rick now celebrates his 40th year in gospel music singing in the group with which he began his career, The Rebels Quartet.
With its central base in the Sevierville, TN area, the new members of this legendary group include Rick Fair: Bass, David Fair: Baritone, Alan Kendall: Lead, Mike Young: Tenor, and Barry Patrick: Pianist.
Originated in 1950, in Tampa, Florida, the Rebels Quartet is remembered even today as one of gospel music's greatest singing groups.  The Rebels always remained dedicated to spreading the Gospel of Christ through song, and laid the foundation for musical ministry that is so widespread today.  Many of gospel music's greatest legends have graced the stage as members of the Rebels.  The original members of the quartet were Norman Allman: Bass singer, John Matthews: Baritone singer, Lee Kitchens: Lead singer, Horace Parrish: Tenor singer, and Jimmy Hand: Pianist.  Three of their most famous members, "Pappy" Jim Waits, London Parris, and Big Jim Hamill, are members of the Southern Gospel Music Hall of Fame.  Little Jimmy Taylor, Jay Berry, Ron Booth Sr., John Gresham, Nick Bruno, and Charles Booth are among some of the groups most prestigious and loved alumni.
The new lineup of the quartet is currently making preparations to record two new albums, one of which will feature several new songs, including two songs written by pianist Barry Patrick, as well as a recording of classic Rebels songs from the 1950s and 60s.
Be sure to visit The Rebels' website at www.therebelsquartet.com , and on Facebook at www.facebook/RebelsQuartet/
Tags:
Hovie Lister
,
Jay Berry
,
John Gresham
,
Nick Bruno
,
Rebels Quartet
,
Rick Fair
,
Ron booth Sr
,
Southern Gospel News
Posted in
announcements
|
Comments Off

on THE REBELS QUARTET RETURN
Written by SGN Scoops on October 12, 2011 – 1:06 pm -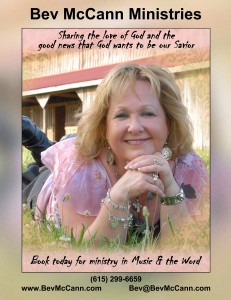 MURFREESBORO, Tenn. – (October 5, 2011) – Southern Gospel/Christian country singer/songwriter Bev McCann is excited to announce the release of her brand new recording – Love Never Ending.  Love Never Ending is the debut release from McCann on her new label home – Homeland Inspiration Group's Christian country imprint Mont Eagle Records.
 "I am so excited about the release of this new record," remarked Bev. "This album has been a real labor of love with a constant shift of producers and record labels. I'm so glad that I finally landed at Mont Eagle Records."
 Love Never Ending was produced by Scott Godsey (Toney Brothers) and Nick Bruno (Booth Brothers). In addition to Godsey, the album was engineered by Anthony Johnson. The album features many of the industry's top session musicians including Bruno, Kelly Back, Bruce Watkins, Duncan Mullins, Rob Tripp, and Scott Sanders.
 McCann penned an impressive 10 of the 11 cuts on the record, including personal testimonials like "Child of the King," "Hear My Cry," and "I Need You More."
 "God gave me so many great songs for this recording," mentioned Bev. "His inspiration was amazing, and I'm thankful that He would allow someone like me to write these songs."
 The debut single from the recording, "Hear My Cry," was shipped to Southern Gospel radio several weeks ago and is impacting radio now.
 While Bev's new website is currently being updated, you can visit her online on Facebook by logging in to http://www.facebook.com/people/Bev-McCann/1159313250 . Pastors, promoters, and individuals interested in booking Bev McCann for your ministry event, please call (615) 867-6852. About Bev McCannA few years ago, God began placing a burden on Bev's heart to expand her ministry beyond the four walls of our local church and to use music to touch the hurting hearts of His people. Bev recently performed on the historic Ryman stage through her participation in Country Music Association Week.  In addition, Bev is an artist advocate for Compassion International.
Tags:
Anthony Johnson
,
Bev McCann
,
booth brothers
,
compassion international
,
Homeland Inspiration
,
Mont Eagle Records
,
Nick Bruno
,
Scott Godsey
,
Southern Gospel News
,
Southern Gospel Radio
,
toney brothers
Posted in
new music
|
Comments Off

on Bev McCann Sings About God's Never Ending Love On Mont Eagle Records Debut