Written by Staff on April 6, 2020 – 2:21 pm -
The coronavirus pandemic has become the central focus of the world. Millions of people are quarantined, businesses are closed, and many hospitals are overwhelmed. Healthcare workers, delivery drivers, supermarket employees, and many others are forced to work long hours. Ordinary life has taken a momentary detour as we seek to make sense of these uncertain times.

Many people are looking for answers concerning how they and their family can stay safe. Others are wondering when life will return to normal. Some individuals question why God would allow this crisis to affect millions of people.

As the entertainment, sports, and recreational venues gradually close their doors, I sense in my spirit that God is calling us to set our eyes on Him. Whether we realize it or not, there are many things in life that capture our attention, distracting us from worshiping the Lord. From job-related tasks to family responsibilities, along with recreational activities and other items on our to-do lists, it would likely surprise each one of us to know how little time we spend focused on our Heavenly Father.

Even now, God has used this widespread disruption to clear many of our schedules, yet we may still find ourselves mindlessly scrolling through social media timelines or binge-watching our favorite television shows. The news reports can even encompass our very being, causing us to miss His still, small voice. When we put anything, even our families, in a position above God, we disappoint Him. On the contrary, when we look to Him for guidance, He is always standing by to help us.

The Lord said, "'When I shut up the heavens so that there is no rain, or command locusts to devour the land or send a plague among my people, if my people, who are called by my name, will humble themselves and pray and seek my face and turn from their wicked ways, then I will hear from heaven, and I will forgive their sin and will heal their land.'" (2 Chron. 7:13-14 NIV). Although we may never know why God allowed coronavirus to impact the world, we can know with full assurance that He will help us through this calamity if we pray and worship Him.

Regrettably, many people in the world today never call on the name of the Lord. Some Christians and non-Christians alike are more concerned with materialistic things than they are spiritual matters. Rather than being humble, they flaunt their wealth, their careers, their families, and any other prideful thing they consider important. Additionally, countless people in the world today engage in immoral behavior. From sexual immorality to murdering newborn babies, this world is on a downward spiral as they continually convey their absolute hatred and disobedience toward God.

Until we change our ways, we will not see a change. This not only applies to the literal act of social distancing, but also to the spiritual act of surrendering to God. We must all take the first step, which is to repent and to humble ourselves before the Lord. God's Word says, "Humble yourselves before the Lord, and he will lift you up" (James 4:10 NIV). He wants to help us and to encourage us, if we will yield our lives to Him.

Without question, we must all turn our eyes to the Lord. He will forgive our sins and heal our nations, if we humble ourselves, pray to Him, seek His face, and turn from our wicked ways (2. Chron. 7:14). I pray we can all let go of our worldly ways, and focus on the One who created us. God deserves all of the glory. Let us seek His face as we put our trust in Jesus Christ alone. He is the only One who can truly heal our land.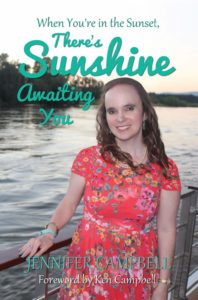 Author's Note: I am continually praying for everyone affected by this pandemic. It would be my honor to pray for you as well. If you have a prayer request, please email me at jennifer@jennifercampbell.net. May the Lord strengthen you and be your comfort during these difficult times.
By Jennifer Campbell
More about Jennifer:
Jennifer knows that God has a dream for her life. Whether she is on stage singing solo, singing with her dad as a duet, speaking at churches and other locations around the globe, or teaching English Language Arts at Suwannee Middle School, she knows God will always guide her footsteps in everything she does. She is grateful for the talents God has given her and she strives to use them for His glory every single day. God has blessed her with the ability to play the piano and drums. She has served as a Group Leader for Women of Faith as well.
Jennifer is a prolific writer, penning songs, writing an inspirational blog, and serving as a Feature Writer for SGN Scoops Digital Magazine, the first all digital Southern Gospel music magazine. She has written for SGN Scoops for over 20 years, including features on The Brooklyn Tabernacle Choir, Bill Gaither, Janet Paschal, Goodman Revival, Karen Peck and New River, The Whisnants, Canton Junction, The Hoppers, and many others. She was also honored to be able to write special tributes to Lari Goss and LaBreeska Hemphill.
Jennifer recently published her first book, an inspirational autobiography titled, When You're in the Sunset, There's Sunshine Awaiting You, which she hopes will inspire others through its message of hope. You can read a complimentary chapter by clicking this link, and you can also purchase a copy on Amazon. Already working on her second book, it is her prayer that God will give her the opportunity to publish many more books in His timing.
In addition, she has a food and travel blog at www.jennifersjourneys.net, where she featured William Jack Degel of Uncle Jack's Steakhouse and the Food Network show Restaurant Stakeout. Jennifer would love to have her own food and travel show one day.
(Excerpt from Jennifer Campbell's biography: http://www.jennifercampbell.net/biography.htm )
Did you know that you can receive the printed, full-color version of SGNScoops Magazine by subscription? Find out more 
HERE
.
Find SGNScoops Magazine On Facebook 
HERE.
You can download the latest edition of SGNScoops Magazine 
HERE.
Read the latest edition of SGNScoops Magazine online
HERE.
Listen To Today's Gospel Music
HERE
Tags:
COVID-19
,
Doubt
,
God
,
Hope
,
Jennifer Campbell
,
Jesus
,
Pray
,
worship
Posted in
Christian interest
,
Devotionals
|
Comments Off

on Jennifer Campbell: Hope in times of Misgivings and Doubt
Written by Staff on June 5, 2019 – 4:01 pm -
Karen Peck and New River sent out their newsletter today. Karen gave an update on her mama, who we've been praying for since the weekend.
Karen writes: "Thank you all so much for praying for our Mom. Last Sunday night she had a stroke on her left side and a blood clot on her brain. Our stepdad Bill got her to the hospital just in time. God began working miracles and today she is home resting! Mama is improving but still needs prayer. Please keep the prayers going."
For more on Karen Peck and New River click here.
Meet Mrs. Sue Peck Music
In April 2019, SGNScoops Magazine featured an interview by Cheryl Smith with Mrs. Sue Peck Music. We hope you enjoy meeting this lovely lady.
Sue Peck Music: Praying mother, serving daughters
Interview  by Cheryl Smith
We first met the sweet mother I am interviewing today last summer while attending the Karen Peck and New River Homecoming. Sue is gentle and down to earth, and has been so kind and gracious each time we have interacted with her. The imprint she has made on her children's and grandchildren's lives can be felt each time they minister through song as Karen Peck and New River. I hope you enjoy getting to know her a little better, as you read her inspiring inner views.
Cheryl Smith: Please tell us about yourself.
Sue Peck Music:  I am Sue Peck Music. I was born in Clayton, Georgia, on September 23, 1933. My father was James Wilson Tench, and my mother was Myrtie Loue Freeman Tench. When I was two years old, the family moved to Gainesville, Georgia, where my father owned a barber shop. My mother was a well known seamstress and homemaker. I had five sisters and two brothers. I came from a musical family. I played the piano for the church at the early age of 13. I walked to where I took piano lessons. My church, Athens Road Baptist Church, where Homer Morris was the pastor, generously paid for my piano lessons.
While at Airline High School in Gainesville, I was a star basketball player. I met Robert Ezra Peck during high school, and we were married on November 3, 1951. We eventually had three daughters: Sandra, Susan, and Karen.
Ezra was a very talented singer and Sunday school teacher. Many times in church, I would play the piano while my daughters sang. Years later, Ezra passed away at 59 years old, and while it was a very sad time for the family, we took comfort in knowing that he was in Heaven with the Lord.
Several months later I had the privilege of meeting a Southern gospel promoter, Bill Music, from Mansfield, Ohio. We eventually were married. We currently live in Georgia during the winter and spring. In the summer and fall, we live in Ohio.
Smith:  How did you first hear about Jesus?
Music:  My parents took me to church as a child. When I became a teenager, I began to love reading the Bible.
After I was married, I realized that I had never really been saved. I accepted Christ when I was 19 years old at Pleasant Union Baptist Church.
Smith:  Looking back, what do you identify as being one of the happiest seasons in your life, so far?
Music:  When all three of my daughters were born.
Smith:  Can you please share something special about each one of your children?  
Music:  Sandra is loyal and caring. Susan is dependable and kind. Karen is reliable and loving. All three have become wonderful wives, mothers, and my greatest accomplishments. I'm a proud mom.
Smith:  What are a few of your favorite memories from the days when your children were young?
Music:  Vacations, picnics, camping, singing their favorite songs.
Smith:  When did music become an integral part of your family's home life?
Music:  I played the piano while the girls would sing. All three of my daughters are very talented.
Smith:  How did you feel when you realized God was calling your children into full-time ministry?
Music:  I was very thrilled that they had surrendered to the call to reach people for Christ.
Smith:  As a mother, what has been the hardest thing for you to surrender and consecrate to God?
Music:  The hardest thing was when my children grew up and left home. However, I realized it was a part of life.
Smith:  How did you instill such a deep, genuine love and respect for God in the hearts of your children?
Music:  I always tried to set a good example. I've always loved the Lord.
Smith:  What advice would you give to parents who desire to see their children develop into adults who are willing to lay down their lives in service to God?
Music:  Teach them Godly values and always know that with the Lord's help, you can accomplish anything.
Smith:  What are some of the ways you currently support the ministry of Karen Peck and New River?
Music:  First of all, I pray for them and most of all I pray for the anointing. My husband, Bill, and I try to help out at the product table at the concerts.
Smith:  What do you most enjoy doing?
Music:  We've always had a lot of laughter in our family. I enjoy spending time with my husband, Bill. I love cooking for my children, grandchildren, and great grandchildren. Their favorites are macaroni and cheese, turkey and dressing, and peanut butter cake. It does my heart good to watch them enjoying my food and leaving those memories.
Smith:  What is your favorite song?
Music:  "Finish Well"
Smith:  If Jesus were to appear on earth in a physical form, and you had the opportunity to sit and talk with him, what would you most like to ask him?
Music:  Why would anybody reject you, when you've done so much for us?
Smith:  Describe one of the hardest things you have gone through. How did your faith in God sustain you during that time? What were some of the ways the Lord comforted you the most?
Music:  When I was diagnosed with cancer, I had so many people tell me that they were praying.  I could feel those prayers. The Lord carried me through with his strength and his love.
Smith:  What is one of the most pressing needs among God's people in these last days of time?  What can we do to make a positive difference and fill those needs?
Music:  First, to come together and pray for our nation and pray for our families to be saved.  It's important that we all live a good Christian life and spread his love and joy.
Smith:  How can we pray for you?
Music:  Pray that I can study the Bible more, and that my mind and body will stay healthy.
To enjoy the full interview, please visit www.homespundevotions.com, scroll down to "Inner Views," and click on Sue Peck Music's picture.
By Cheryl Smith. First published in SGNScoops Magazine April 2019
Tags:
Karen Peck
,
karen peck and new river
,
Pray
,
Sue Peck Music
Posted in
announcements
,
artists
|
Comments Off

on Keep praying for Mrs. Sue Peck Music!
Written by Staff on January 17, 2016 – 10:17 am -
There was another terrorist  attack last night, this time in Burkina Faso.  It this time, al Qeada is claiming responsibilty. Among those killed was Mike Riddering, an American missionary.
We reprint for you excerpts from The Toronto Star:
"Six Canadian aid workers and volunteers from Quebec are among those killed after a prolonged attack by Islamic extremists in Burkina Faso's capital, Ouagadougou.
There were 28 people of 18 nationalities killed and 56 others wounded after a 15-hour siege that ended Saturday night at a hotel popular with international business travellers on the busy Avenue Kwame Nkrumah in the city's centre, what one Paris-based newspaper dubbed the Champs-Élysées of Ouagadougou."
CNN reported: "The United States said one American died. 'We extend our condolences to the family of Michael James Riddering. Our thoughts and prayers are with his family at this difficult time, as they are with all those affected by this brutality,' State Department spokesman John Kirby said."
Fox News stated: "An American missionary and orphanage director was among the dozens killed by Al Qaeda-linked militants in the West African nation of Burkina Faso Friday night.
Mike Riddering was sitting in a cafe frequented by westerners across the street from the Splendid Hotel in the capital city of Ouagadougou when gunmen rolled up and opened fire.   A pastor from nearby Yako who worked with Riddering was able to escape, according to a family friend.
"Every week, Mike would go out and feed the widows in the surrounding villages," said Brant Brooks, who has known Riddering for three years, in an interview with Fox News."
Mike Riddering left behind his wife, Amy, and an adopted daughter.  They had been living in Burkina Faso since 2011. They had moved there from their home in southern Florida. Above photo courtesy of Fox News.
Please pray for this Missionary's family and the family of all those who were killed in this attack.
The world needs our prayers. As Karen Peck and New River would say: Pray Now!
SGNScoops extends sympathy and prayers to all the families of those who were attacked.
Tags:
Burkina Faso
,
Pray
Posted in
announcements
,
breaking news
|
Comments Off

on Burkina Faso attack: Pray for Missionary's Family
Written by Staff on June 7, 2015 – 8:03 am -
Help Drew Battle Leukemia
SGN Scoops received this note from the mother of Drew Bowman asking for prayer:
Over the past five or six weeks Drew had been looking pale, having daily headaches and running low grade fevers. We had taken him to the doctor multiple times and had treated him for strep, migraines and had gotten him glasses. Nothing was helping. He was continuing to get more and more pale, and having worse headaches.
I made him an appointment for May 19th and insisted she order blood work. We had that done around 2 pm and at 4:30 pm his pediatrician called to tell me he was severely anemic and she would call me as soon as all other lab results were in.
The next morning at 11:45 we got the call that would change our world forever.  Dr. Barnett told us that we needed to have Drew at Texas Children's hospital asap. I asked why and she said that the type of anemia she was hoping it was, it wasn't. She called the type he had aplastic anemia. She said to prepare to be there, at a minimum, three days. She then said he would definitely be getting a blood transfusion and bone marrow aspiration. They needed to rule out any type of blood cancer.
The next few day I'm positive God carried us through. By the night of the 20th, we knew he had some form of leukemia. They did many tests including spinal taps and bone marrow biopsy and on the morning of the 22nd, they told us he had ALL Leukemia.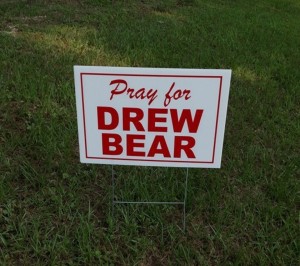 We are hoping our SGN Scoops family can be a blessing to The Bowman family. Pray for Drew and all the Bowman today.  Let's help them battle Drew's ALL
Leukemia. 
http://www.gofundme.com/drewbear
Tags:
Christian family
,
Drew
,
Go Fund Me
,
Leukemia
,
Pray
Posted in
announcements
,
causes
,
christian entertainment
|
Comments Off

on Let's All Help Drew in his Battle with Leukemia!